Highlights:
New Snapdragon platforms showcase unmatched on-device AI performance for a wave of generative AI devices and applications, with enhanced focus on immediacy, reliability, personalization and privacy.
Snapdragon X Elite is built from the ground up for on-device AI with an industry-leading NPU, along with best-in-class CPU performance and efficiency among Windows 11 PC platforms.
Snapdragon 8 Gen 3 has the most powerful NPU for mobile devices and uses the power of AI to enhance content creation, camera, gaming, sound and connectivity experiences for premium smartphones.
Partners including Microsoft, Meta, Google, HP, and multiple others show their support of on-device AI at Snapdragon Summit.
At Snapdragon Summit, Qualcomm Technologies, Inc. welcomed in the era of on-device AI with the launch of its premium tier, next-generation platforms for Windows 11 PCs and mobile devices – both designed with on-device generative AI experiences in mind. CEO Cristiano Amon showed how AI will have a profound impact on how you use your devices – and how Snapdragon can offer on-device AI experiences across a broad range of consumer electronics categories.
"We are entering the era of AI, and on-device generative AI will play a critical role in delivering powerful, fast, personal, efficient, secure and highly optimized experiences," said Amon. "Snapdragon is uniquely positioned to help shape and capitalize on the on-device AI opportunity and you will see generative AI going virtually everywhere that Snapdragon goes."
Snapdragon Summit is Qualcomm Technologies' annual premier event in Hawaii in which the Company launches its next-generation platforms and showcases the technologies that will power upcoming consumer devices such as flagship PCs and mobile phones.

This year's event features the launch of Snapdragon X Elite, a PC platform which outpaces competing laptop CPUs and sets a new bar in AI performance; and Snapdragon 8 Gen 3, a mobile platform which further scales on-device AI. The platforms showcase extreme speeds in generative AI tasks, such as on-device chat assistants for Windows 11 laptops (30 tokens per second) or image generation on a smartphone (less than a second using Stable Diffusion).
The Company also unveiled a new platform for Snapdragon Sound which uses AI for advanced noise cancellation; and Snapdragon Seamless, which lets devices work seamlessly together across manufacturers and OSes.
Partner executives joined the Snapdragon Summit to share visions of what consumers can expect in the next year and to underscore the importance of on-device AI.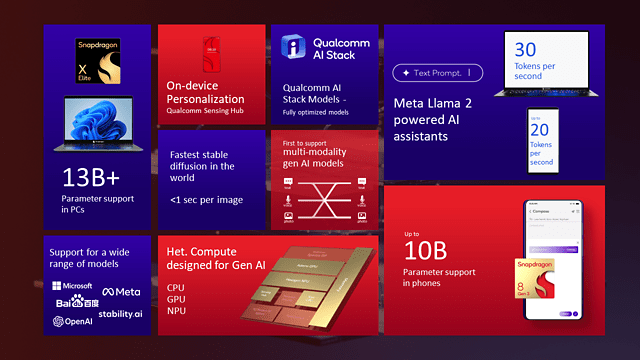 "Our years of AI development, including the most powerful combination of CPU, NPU and GPU available in devices, and our support of all leading models running natively, means we can bring the benefits of generative AI to users worldwide and across multiple device categories," Amon said. "The partner support we have at Snapdragon Summit is a testament to our standing in the industry as an on-device AI leader."
Day 2 of the Snapdragon Summit will offer details into the world of on-device generative AI with detailed sessions on each of the new products announced today. Livestream replays will be available on the Snapdragon Summit Event Hub.