Highlights:
The Snapdragon® X Elite platform features the custom integrated Qualcomm Oryon™ CPU – the new CPU leader in mobile computing – and delivers up to 2 times faster CPU performance versus the competition, matching competitor peak performance with one-third of the power.
Built for AI, Snapdragon X Elite is capable of running generative AI models with over 13 billion parameters on-device and continues to expand Qualcomm's AI leadership with 4.5 times faster AI processing power than competitors.
PCs powered by Snapdragon X Elite are expected from leading OEMs starting mid-2024.
At Snapdragon Summit, Qualcomm Technologies, Inc. today announced the most powerful computing processor it has ever created for the PC: Snapdragon X Elite. This groundbreaking platform ushers in a new era of premium computing by delivering a massive leap forward with best-in-class CPU performance, leading on-device AI inferencing, and one of the most efficient processors in a PC with up to multiple days of battery life. As AI transforms how we interact with our PCs, Snapdragon X Elite is designed to support the intelligent and power-intensive tasks of the future that will enable powerful productivity, rich creativity, and immersive entertainment experiences from anywhere.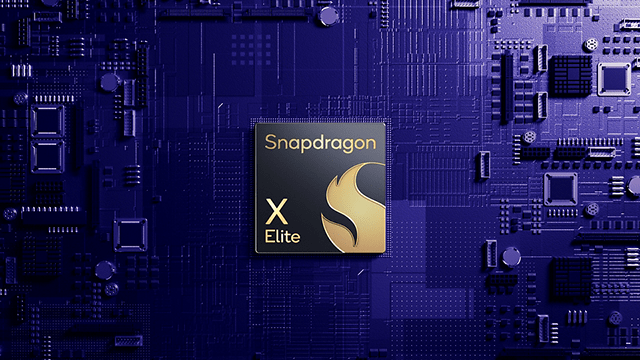 "Snapdragon X Elite represents a dramatic leap in innovation for computing as we deliver our new, custom Qualcomm Oryon CPU for super-charged performance that will delight consumers with incredible power efficiency and take their creativity and productivity to the next level," said Kedar Kondap, Senior Vice President & General Manager of Compute & Gaming, Qualcomm Technologies, Inc. "Powerful on-device AI experiences will enable seamless multitasking and new intuitive user experiences, empowering consumers and businesses alike to create and accomplish more."
PCs powered by Snapdragon X Elite are expected mid-2024.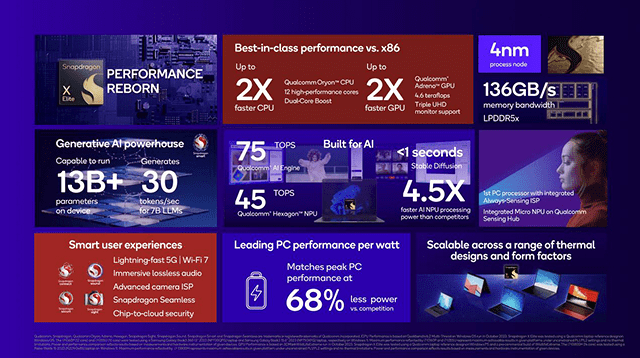 For more information, visit the Snapdragon X Elite webpage and product brief. To see reactions from key industry players, visit Snapdragon Summit Partner Quotes. Additional information, livestream replays, and event content will also be available on the Snapdragon Summit Event Hub. Learn more about the new naming for our leading PC platforms here.