Highlights:
The Qualcomm S7 and S7 Pro Gen 1 Platforms utilize an unparalleled level of on-device AI to deliver our most advanced, personalized, and responsive audio experiences.
The platforms deliver six times the compute power, almost 100 times the AI power of previous generation platforms and a new tier of ultra-premium performance at low power.
The S7 Pro Sound platform is the first to support Qualcomm Expanded Personal Area Network Technology (XPAN) and micro-power Wi-Fi connectivity to extend audio range across the home, building or campus, with support for up to 192kHz lossless music quality.
At Snapdragon Summit, Qualcomm Technologies International, Ltd. today announced the Qualcomm® S7 & S7 Pro Gen1 Sound platforms. Designed for earbuds, headphones, and speakers, these are our most advanced audio platforms ever, which with the combination of high-performance, low power compute, on-device AI, and advanced connectivity will ignite a new era of audio innovation to deliver breakthrough user experiences. The S7 Pro also includes micro-power Wi-Fi to extend the range of audio devices far beyond what is possible today using only Bluetooth – allowing users to walk around a home, building or campus while listening to music or making calls.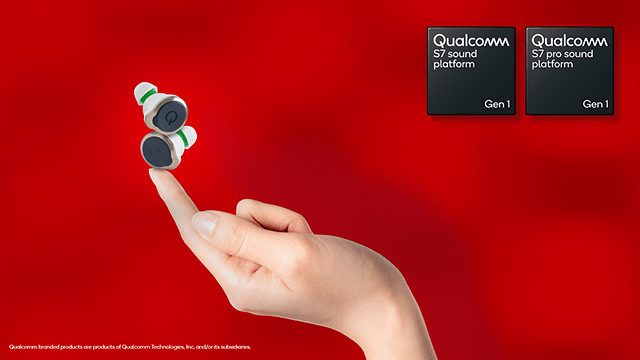 "These platforms set a new benchmark for high-performance sound at ultra-low power. They are packed with premium technologies that work together with on-device AI to deliver immersive and personalized audio experiences wherever you go – whether in a meeting, socializing, gaming, listening to music or just needing some quiet time," Dino Bekis, vice president and general manager, Wearables and Mixed Signals Solutions, Qualcomm Technologies, Inc. "The S7 Pro Platform with our micro-power Wi-Fi and revolutionary Qualcomm® XPAN technology further transforms the sound experience by enabling whole home and building audio coverage, support for up to 192kHz multi-channel lossless music streaming and enhanced multi-channel spatial audio for gaming."
Our Snapdragon Sound™ Technology is featured in our newest Snapdragon® 8 Gen 3 Mobile Platform and Snapdragon® X Elite and when paired with a device powered by the S7 or S7 Pro platforms consumer will experience sound in way that has not been possible until now.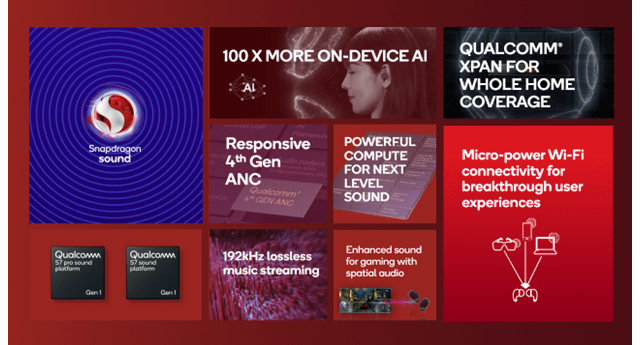 Our latest State of Sound Report found that premium audio experiences are front of mind for listeners, with 73% of respondents stating, "I make sure that sound quality on my devices gets better and better with every purchase." Demand for music quality is also at an all-time high, with 69% of respondents listing lossless audio quality as a purchase driver for their next set of earbuds.
For more information about the Qualcomm S7 Pro and S7 platforms, visit our website and product brief. More information from our State of Sound Report can be found here. Additional information, livestream replays, and event content will also be available on the Snapdragon Summit Event Hub.