ASUS ROG STRIX Z790-I Gaming WIFI is the topic of today's review and it's packed with rich feature peripherals to power modern PC.
Form factor
The ROG Strix Z790-I Gaming WIFI motherboard measures 170x170mm in Mini-ITX form factor and has 4 mounting holes for chassis installation.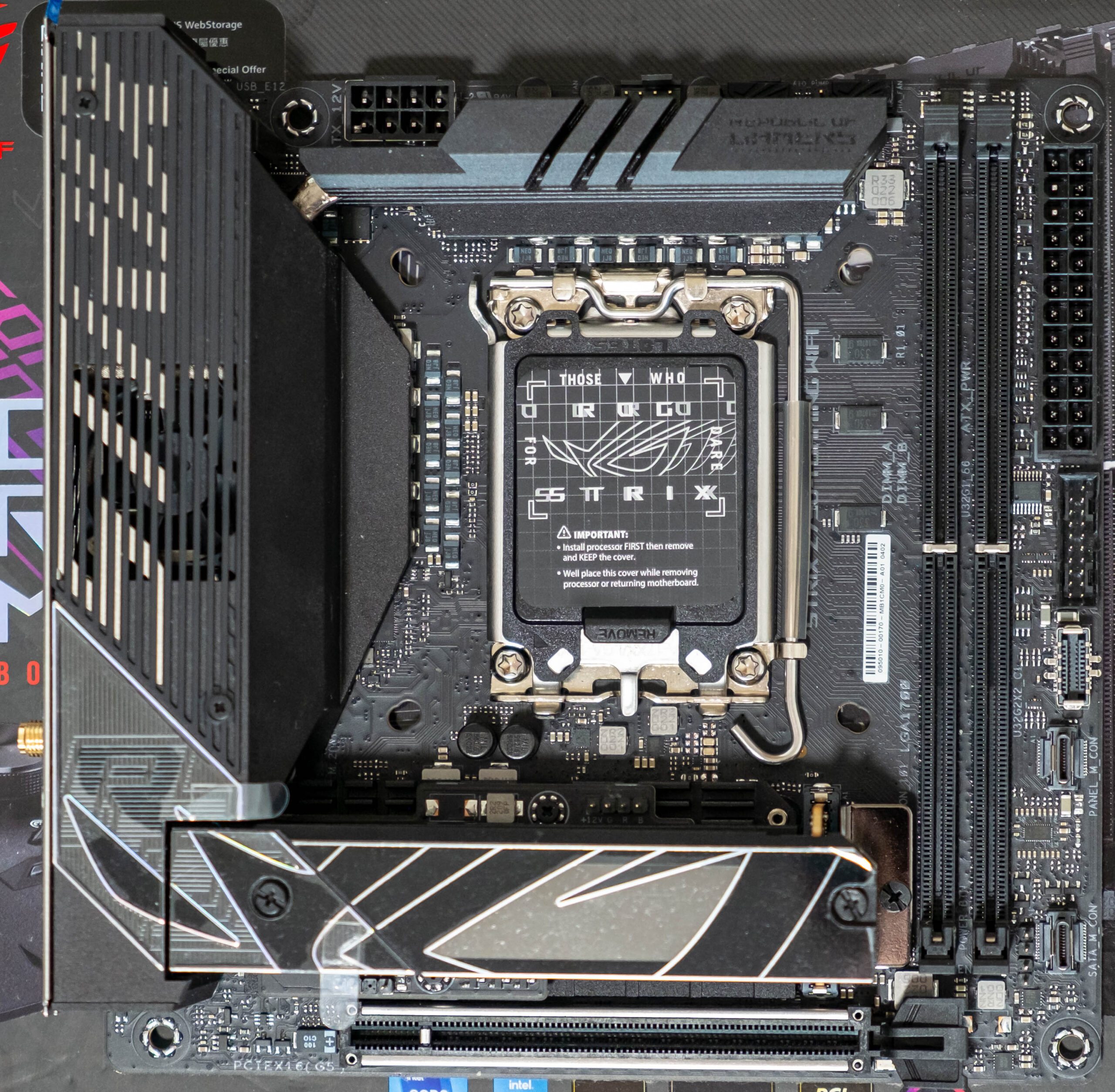 There are nothing at the reverse side. Unlike AMD series ROG STRIX X670E-I Gaming WIFI comes with a small black plate VRM Heat Sink.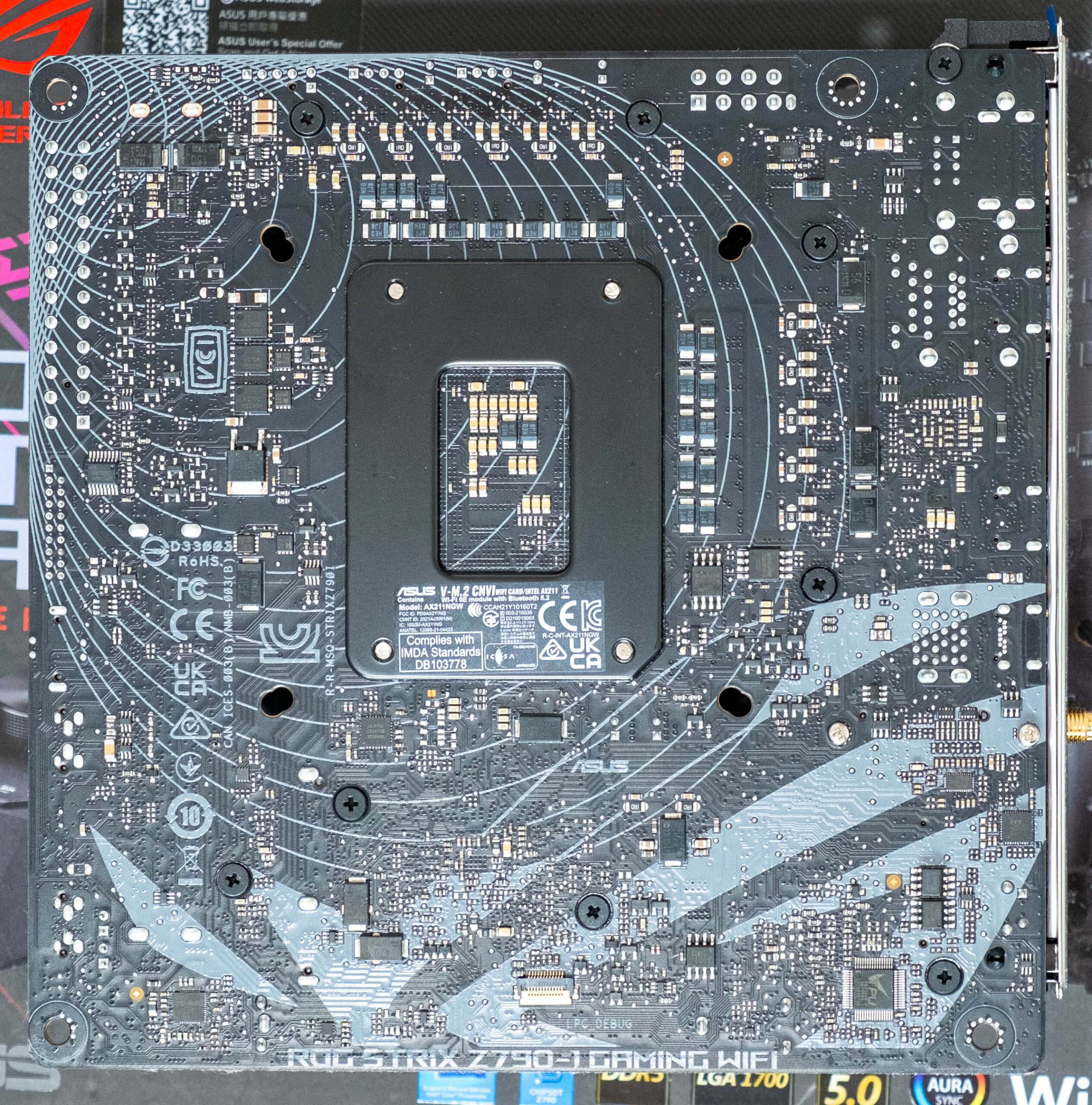 Intel's 13th generation CPUs will feature higher core clock speeds, feature more E-cores, support an additional USB 3.2 Gen2x2 connection, and support faster DDR5 memory.
Raptor Lake will not support Intel's AVX-512 instructions, a feature that was removed from Intel's desktop CPU lineup with Alder Lake after it was added with their 11th Generation Rocket Lake processors.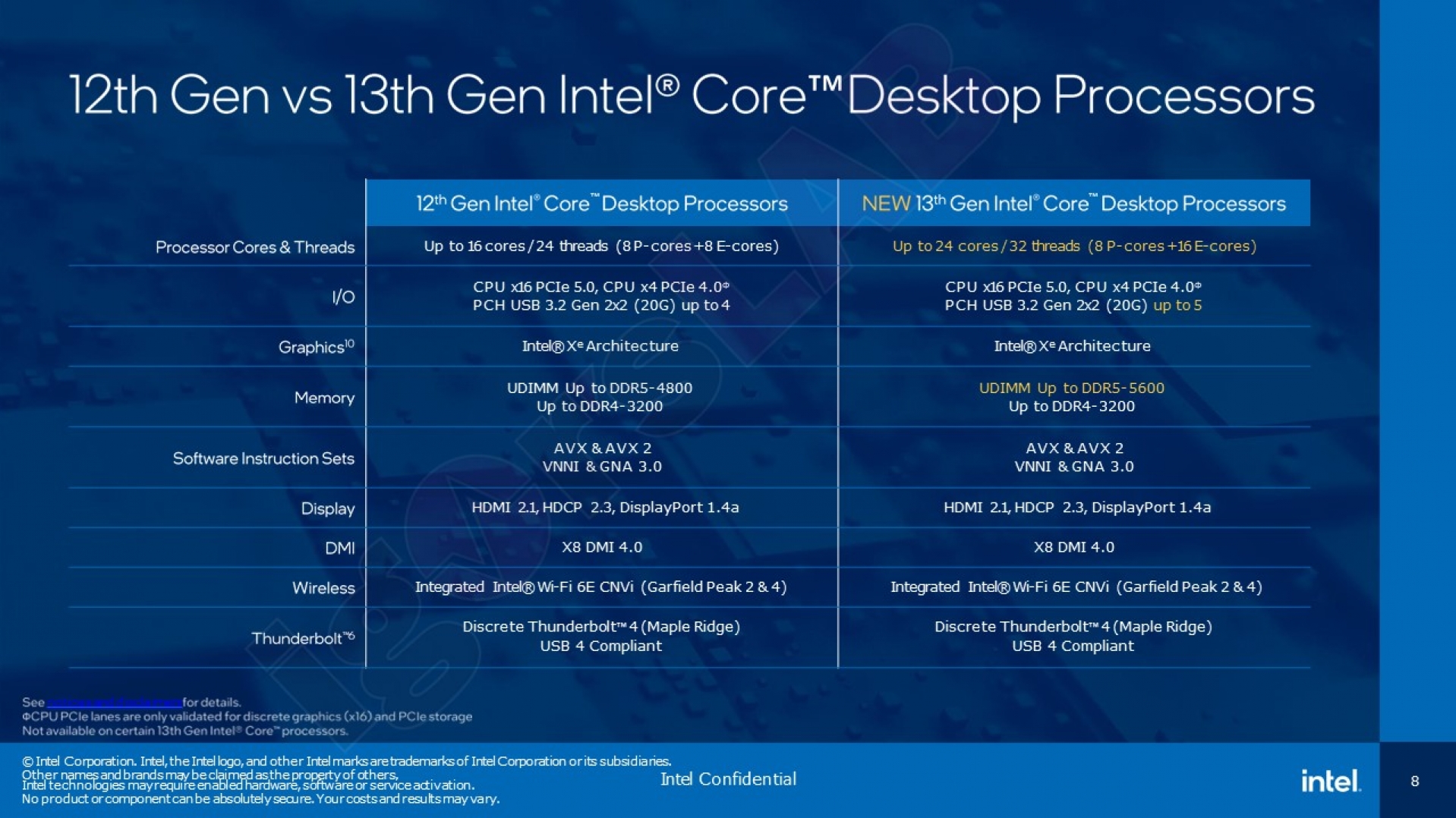 Motherboard Layout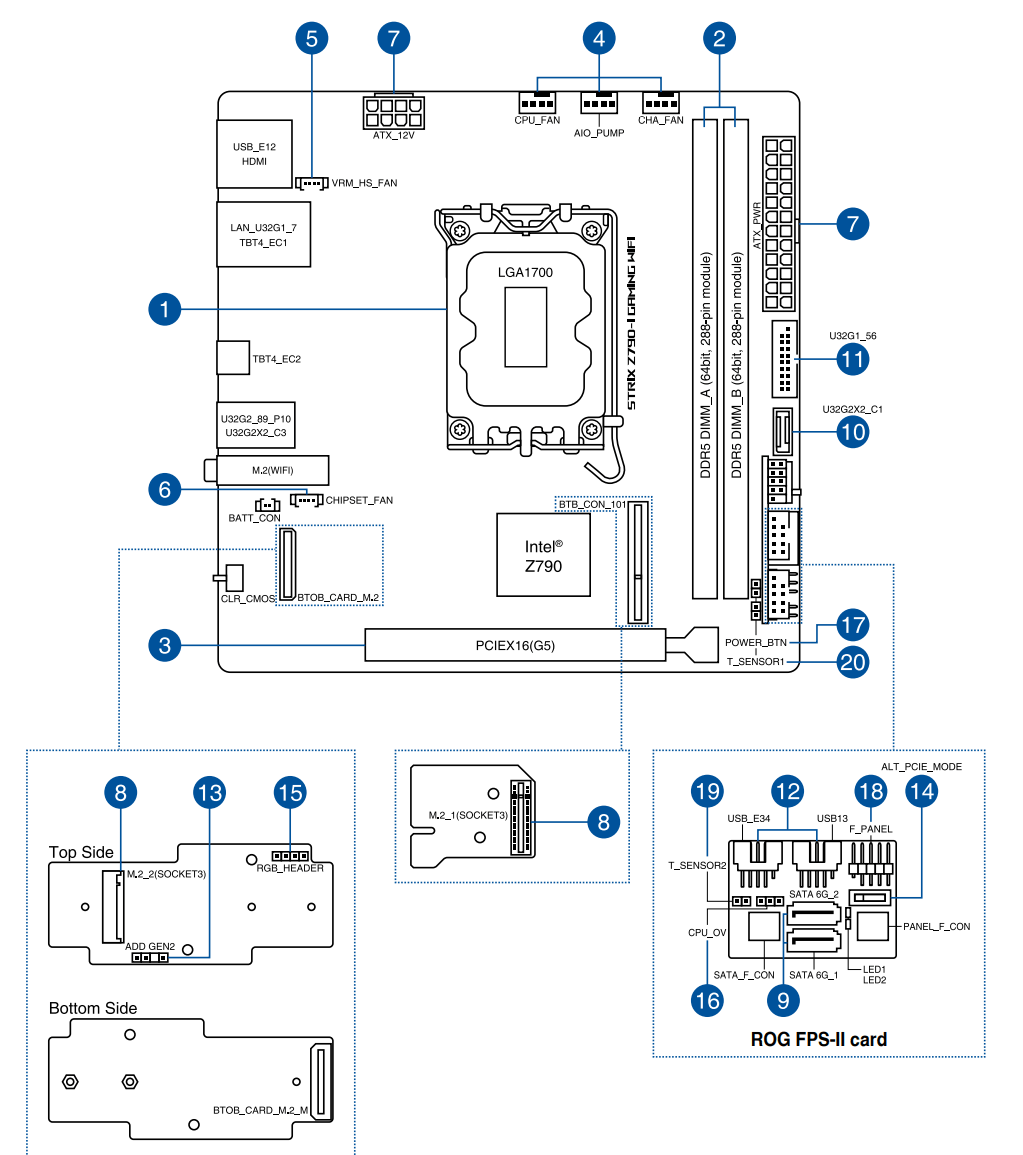 The Z790 system chipset received 28 PCI-e lanes (20 downstream PCIe Gen 4 lanes and up to 8 downstream PCIe Gen 3 lanes), a total of 38 high-speed ports (High Speed ​​​​In Out, HSIO), up to 4x integrated USB 3.2 Gen2x2 (up to 20 Gb / s) ports (although each of them requires support from two USB 3.2 Gen2, no matter from the Z790 itself or third-party hubs). The 13th generation of processors gives another 20 PCIe lanes, while 16 lanes are PCIe 5.0, 4 lanes are PCIe 4.0.'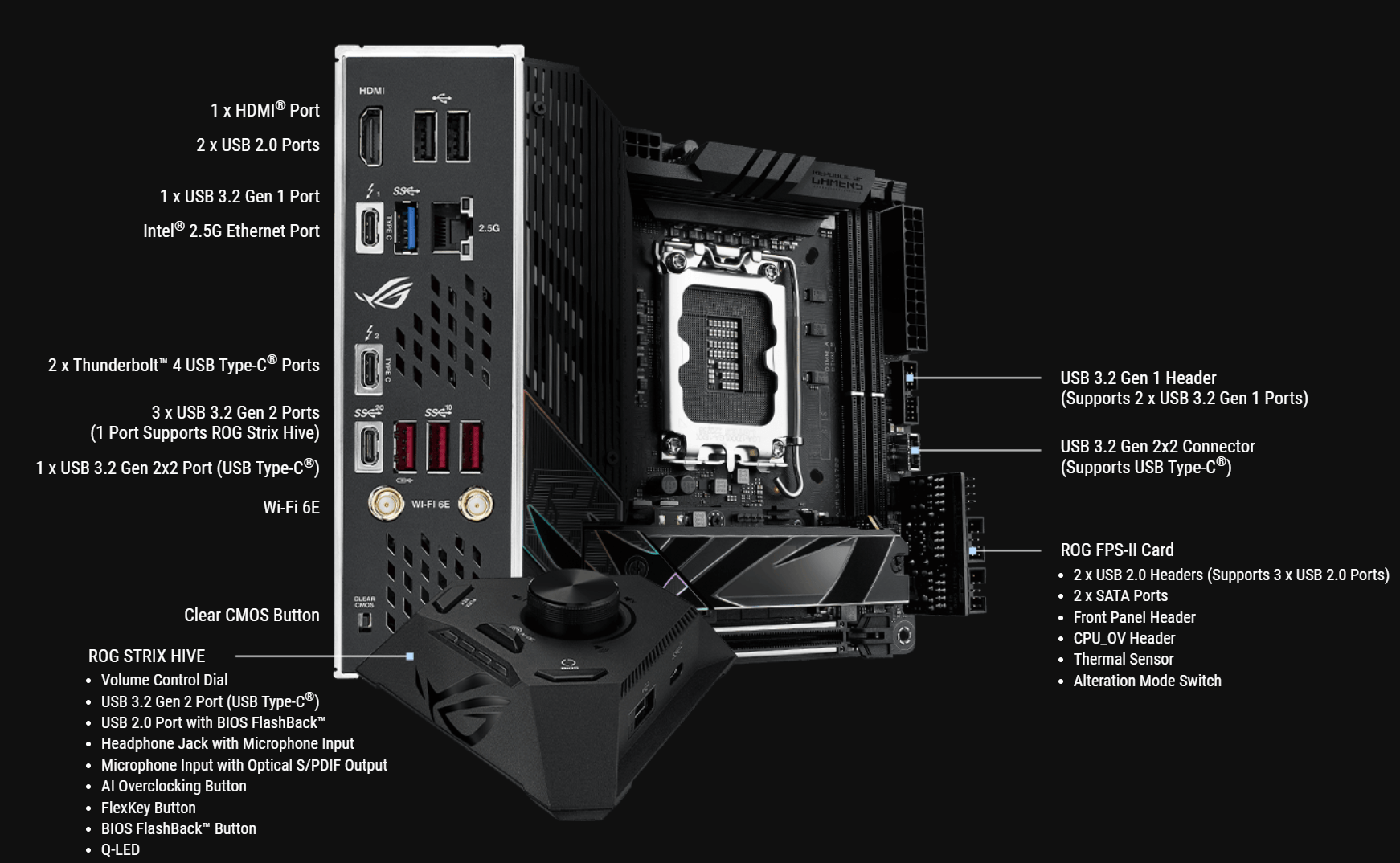 Peripheral functionality: USB ports, network interfaces, I/O
Now it's the turn of USB ports and other I/O. And let's start with the back panel, where most of them are displayed.
On the back I/O panel of connections including 1x HDMI (iGPU), 3x USB-A 3.2 Gen2 (10Gb/s), 2 x USB-A 2.0 (480Mb/s), 2x USB-C USB 4.0 Thunderbolt 4 (Intel JHL8540), 1x 2.5GBase-T (Intel I225-V), Intel WiFI 6E, Also present on the rear panel feature for the bios flashback is included.
The ASUS board has two DIMM slots for installing memory modules. The board supports unbuffered DDR5 (non-ECC) memory, and the maximum memory capacity is 64 GB. Of course, XMP profiles are supported.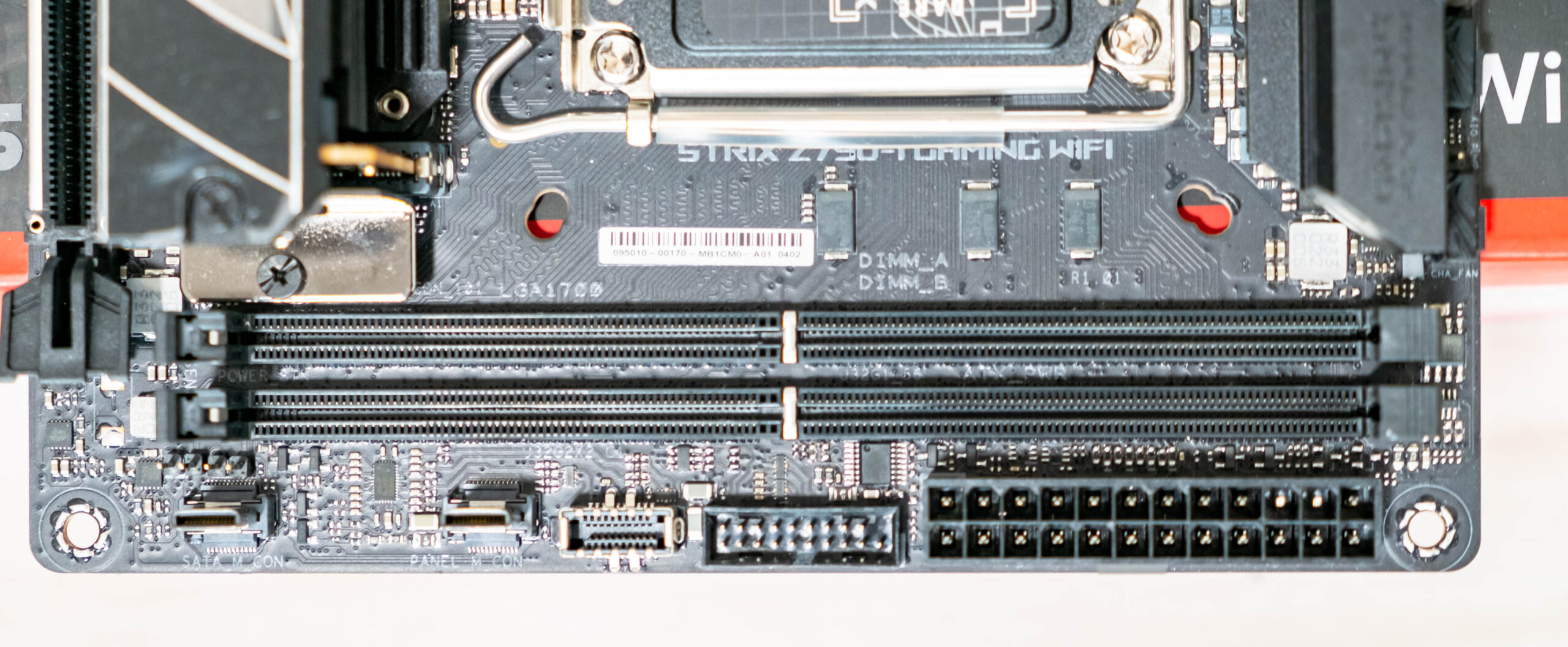 ROG FPS-II Card: 2x USB 2.0 Header, 2x SATA 6.0, Clear CMOS, F_Panel and Alteration mode switch.
The Alteration Mode switch allows you to switch the PCIe signal which comes from
The CPU from between Gen4 or Gen3 for the PCIe slot.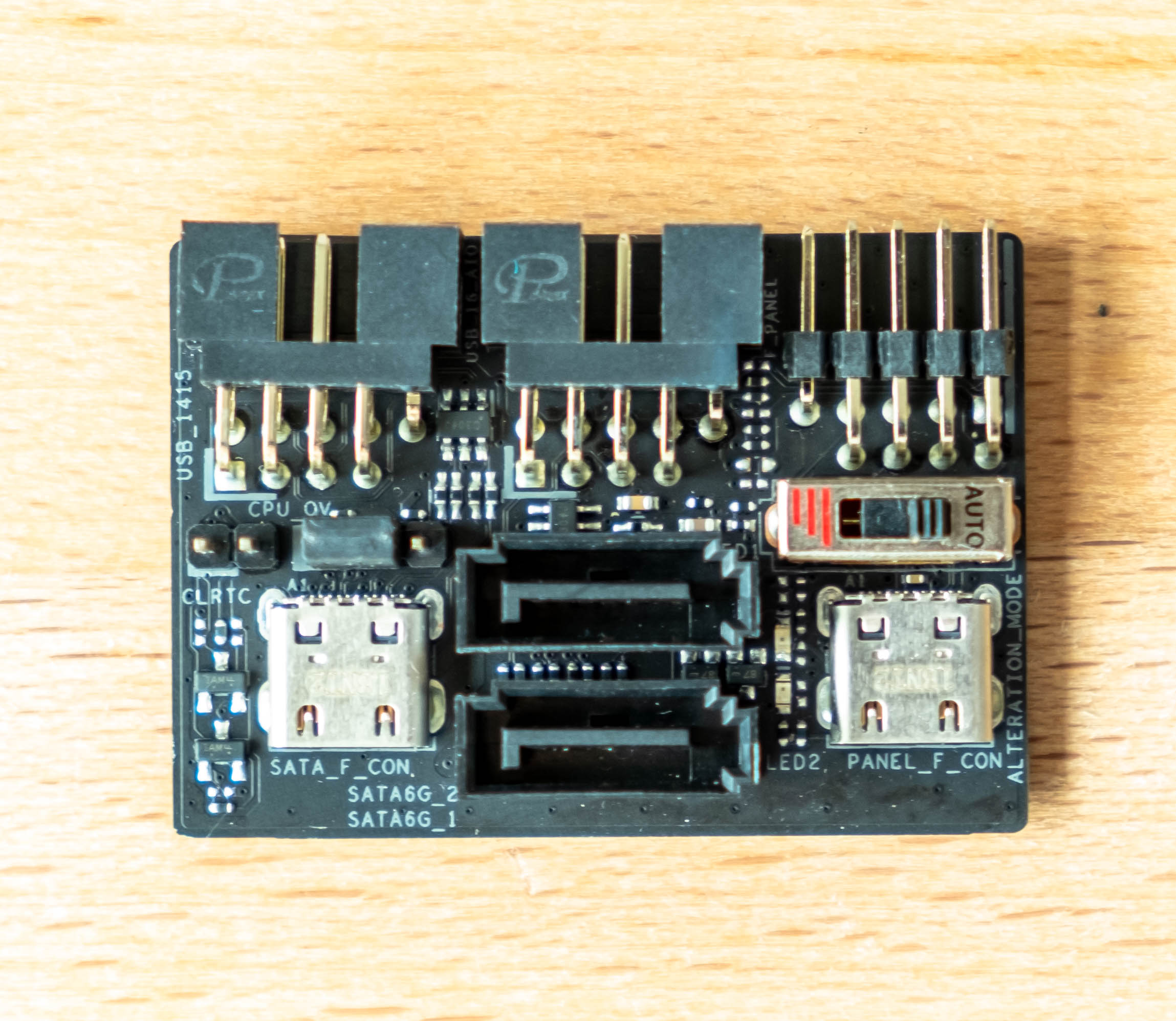 The PCIe x16 slot has stainless steel reinforcement that increases durability (which can be important if you change graphics cards quite often, but more importantly, such a slot can more easily withstand bending loads in case of installing a very heavy top-level graphic card. In addition, such protection protects the slot from electromagnetic interference.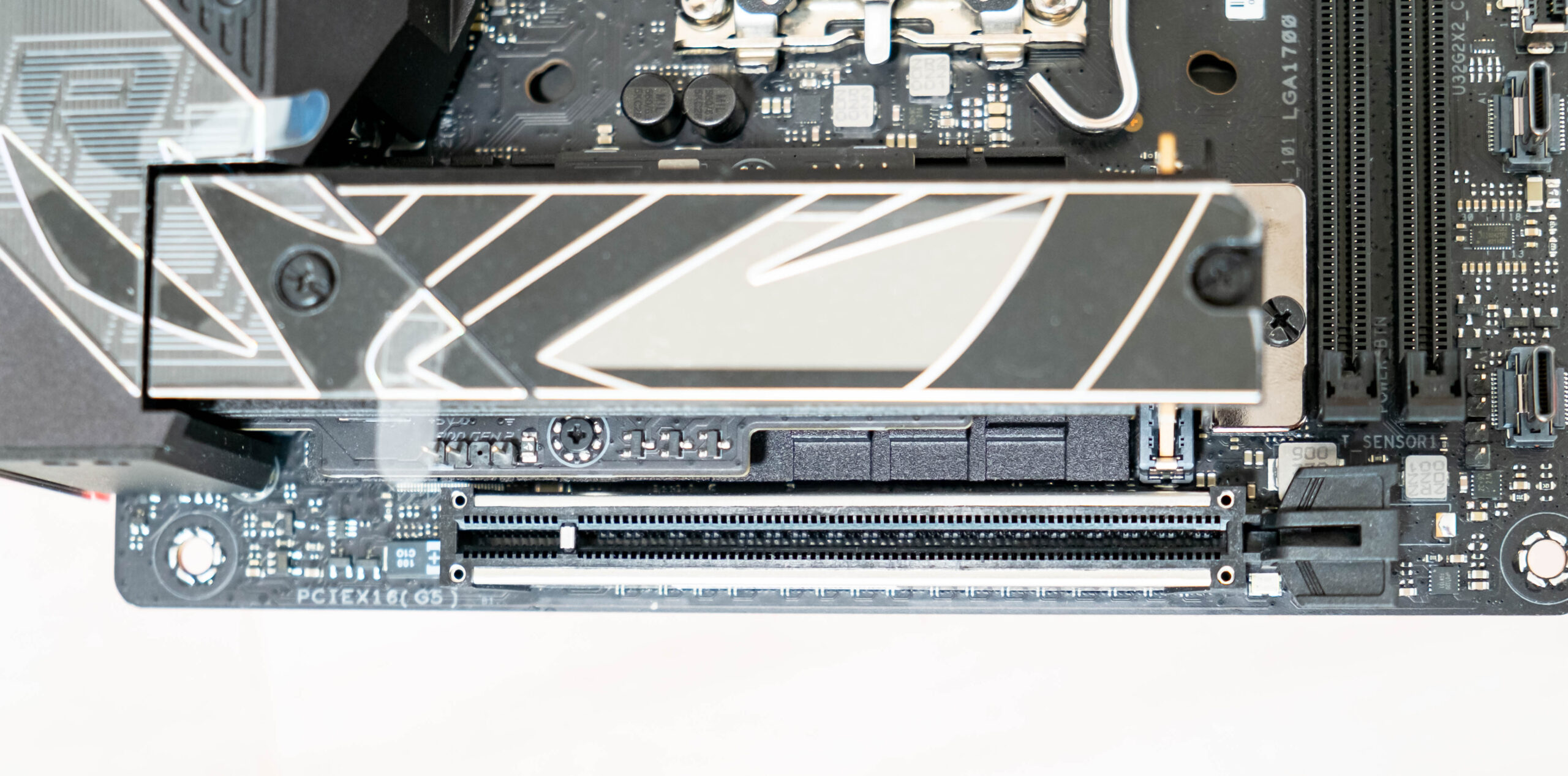 As we can see, the chipset cooling (a small heatsink located under the M.2_1 slot) is organized separately from the power converters. The M.2_1 & M.2_2 slot also has its own heatsink.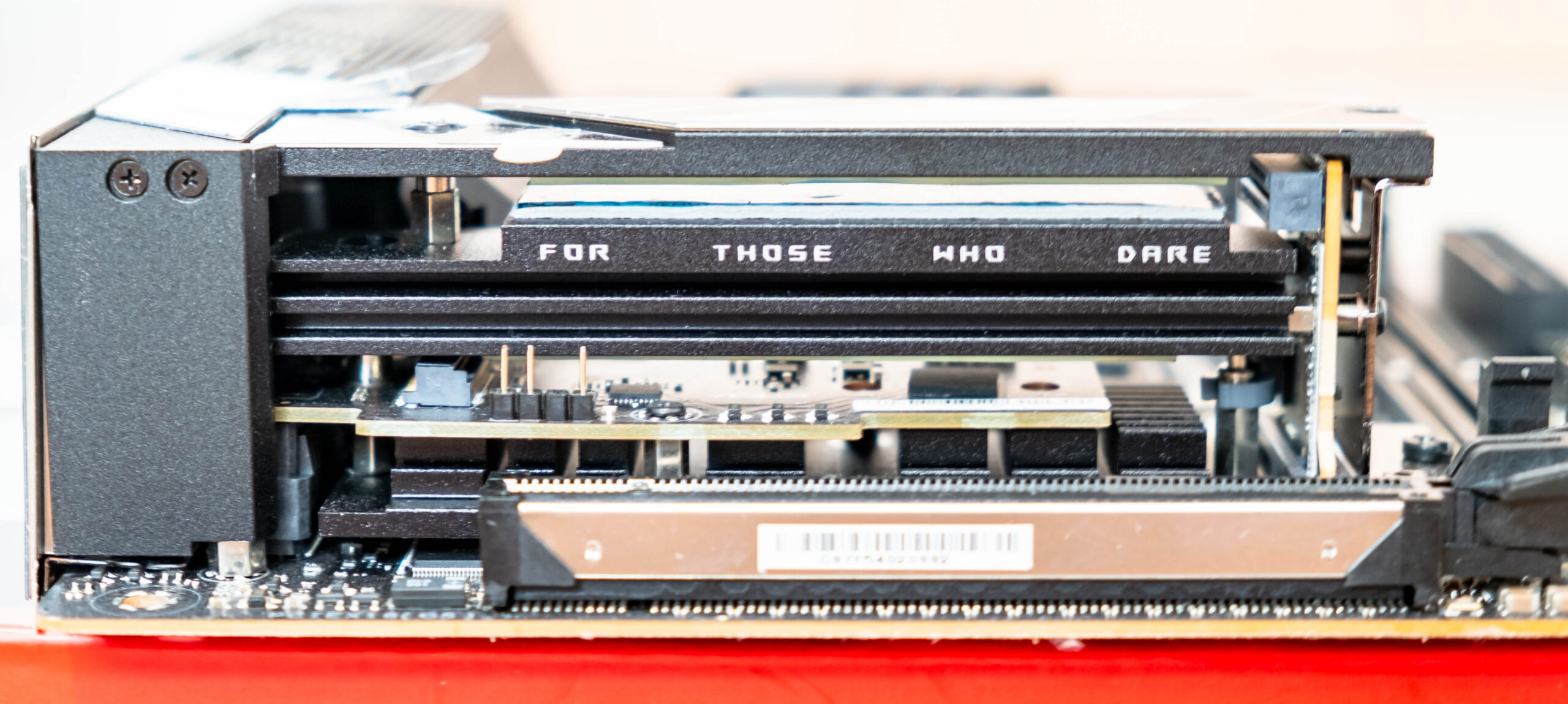 Intel Z790 Chipset
M.2_1 slot (Key M), type 2280 (supports PCIe 4.0 x4 mode)
M.2_2 slot (Key M), type 2242/2260/2280 (supports PCIe 4.0 x4 mode)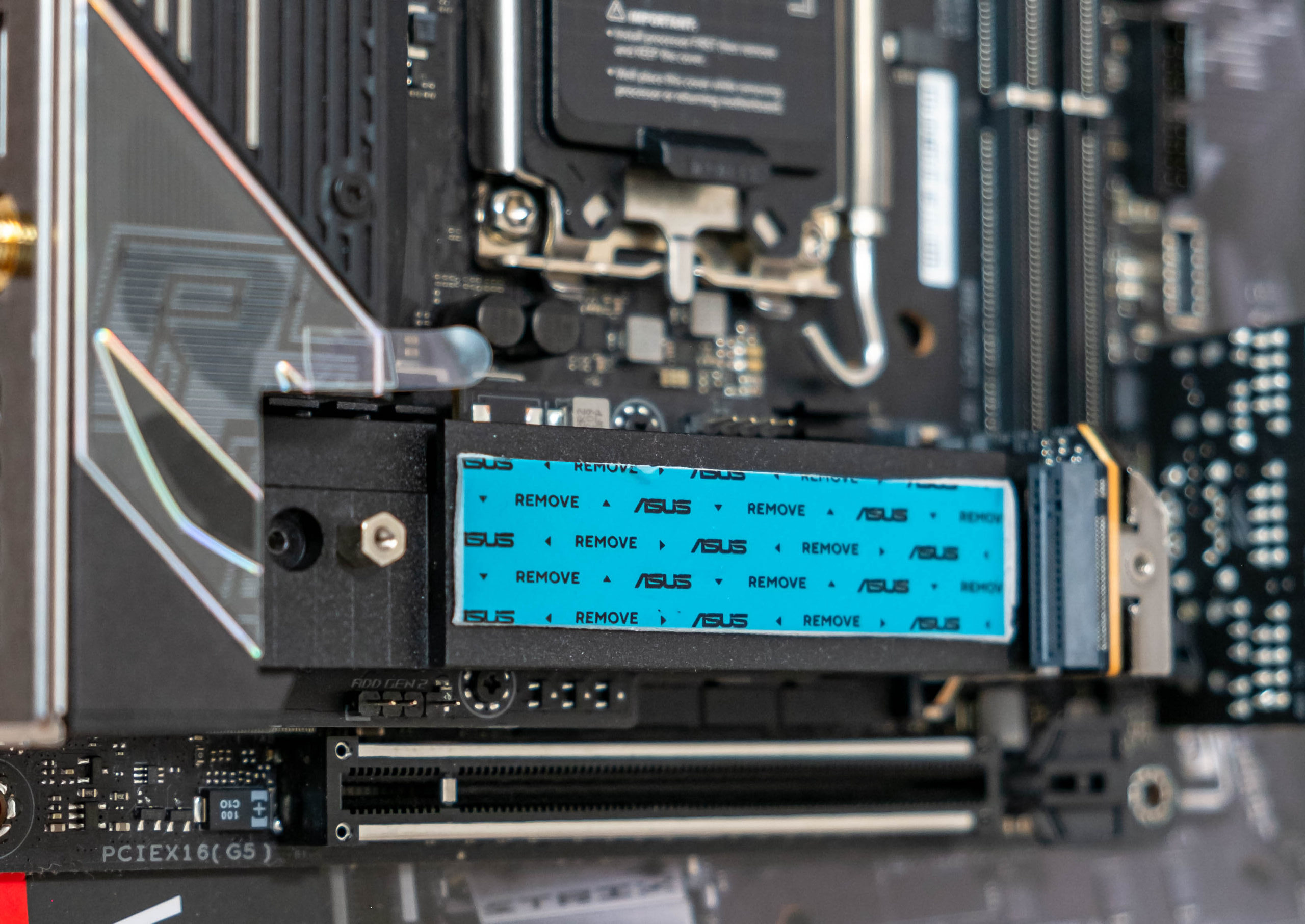 Heat sink for the Intel Z790 chipset.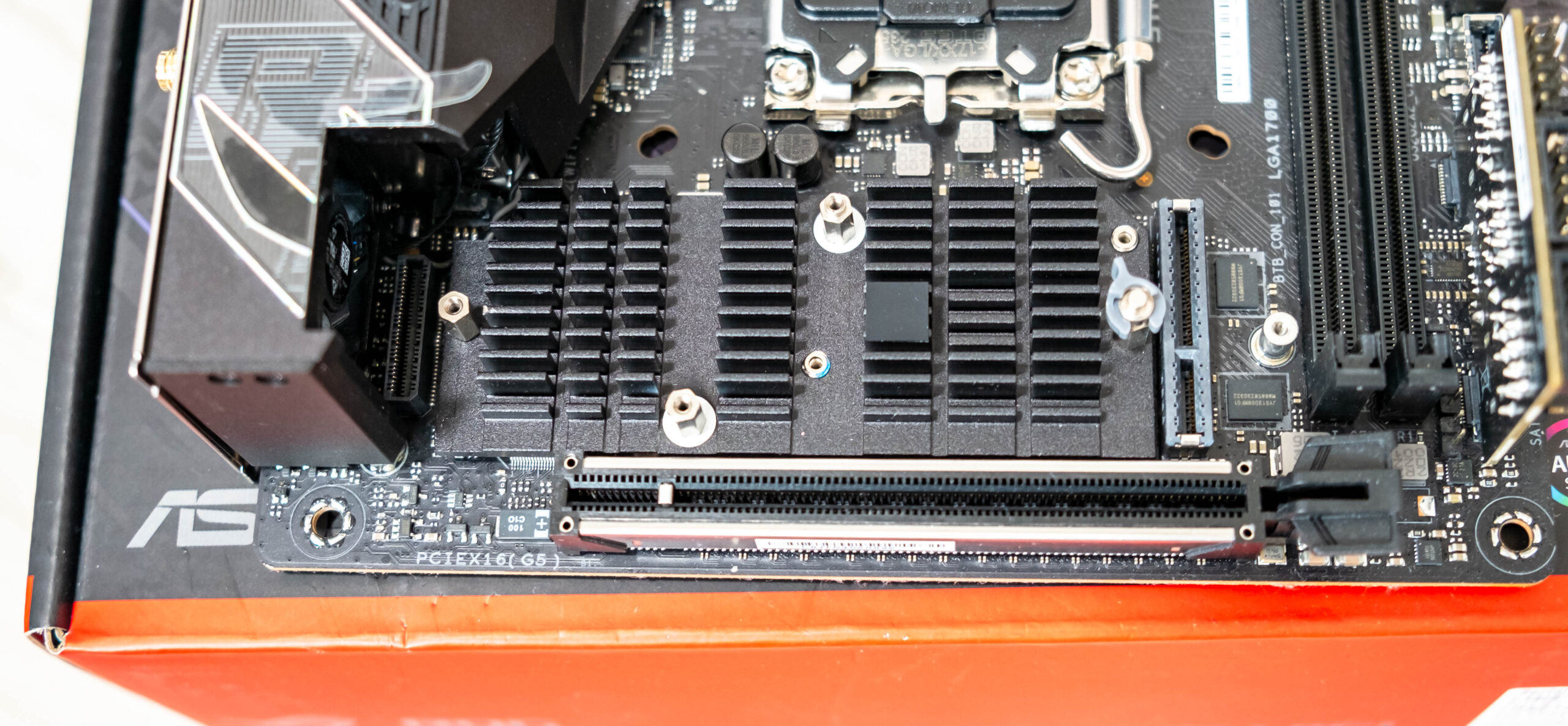 Intel Z790 Chipset is directly under the heat sink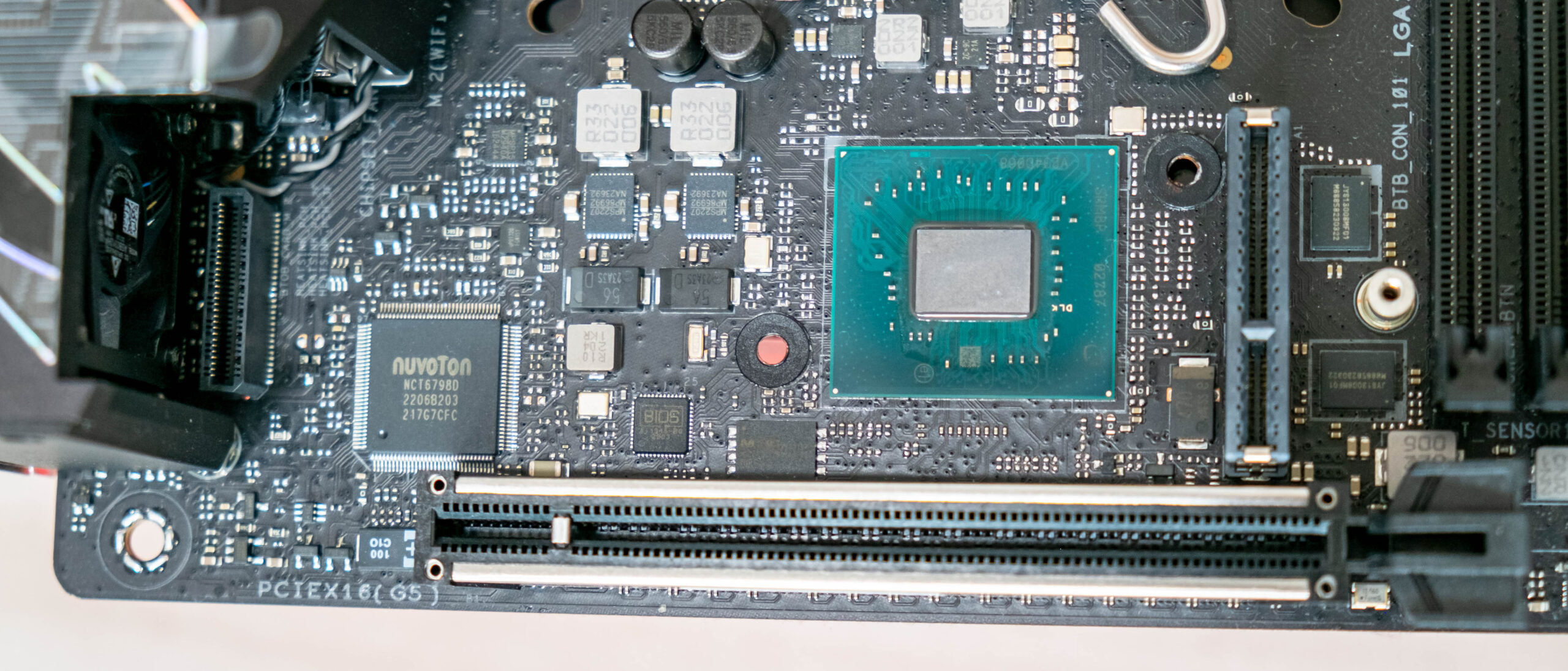 Single ATX12V (8 pins) powering the CPU.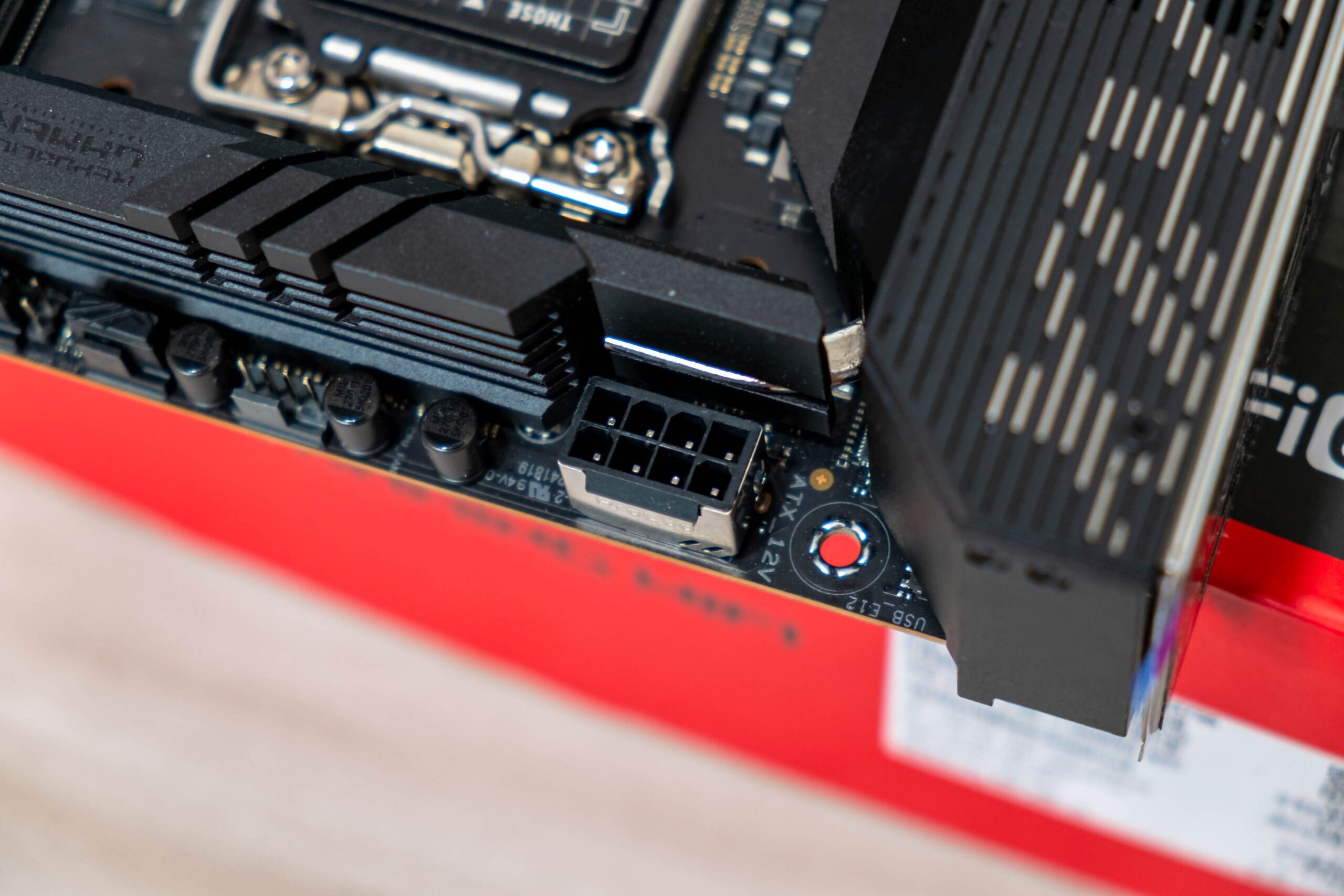 Power Phase Design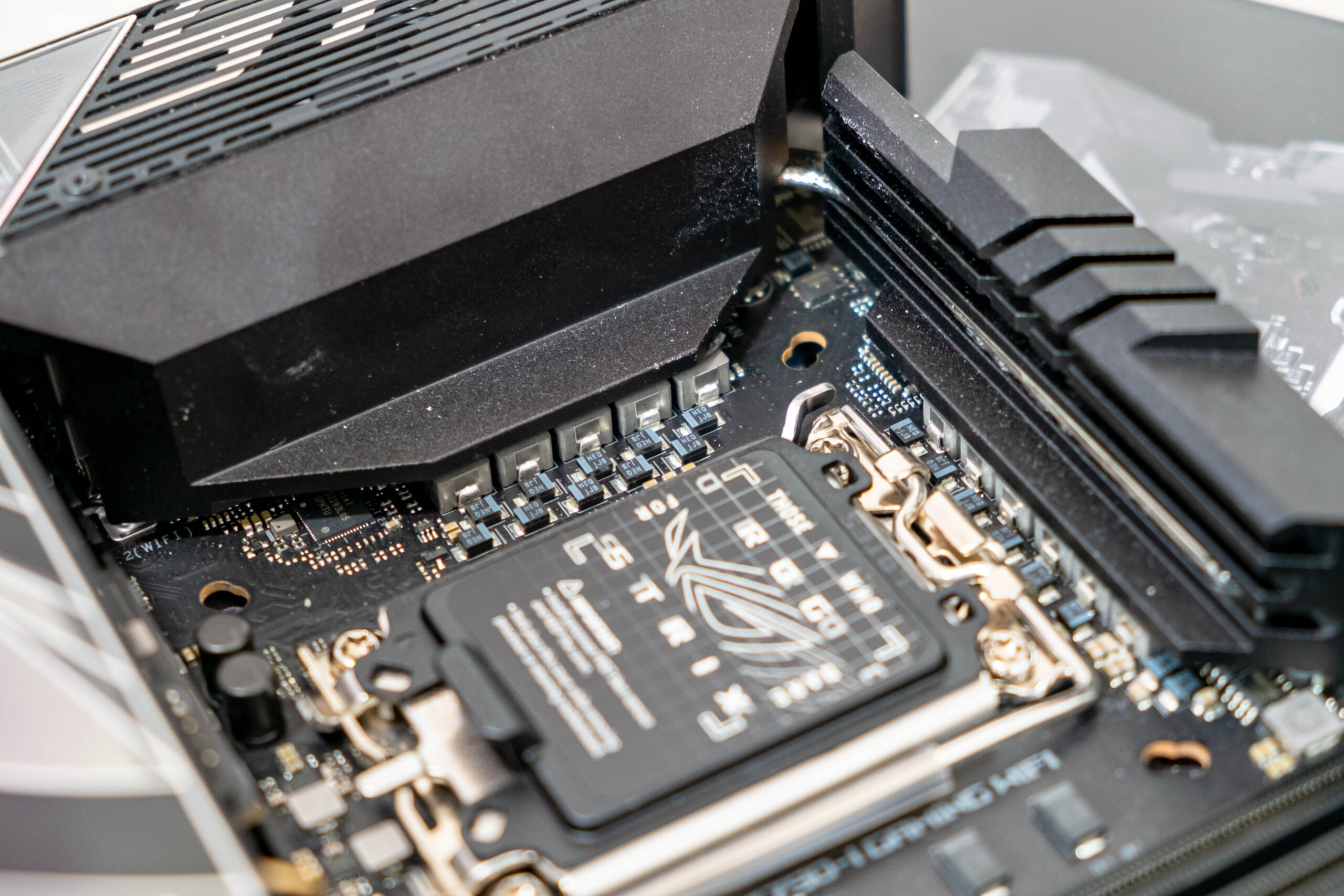 The processor power supply scheme is made according to the 10 + 1 + 1 scheme (12 phases in total, 10 for VCore, 1 for iGPU and 1 for VCCIO).
Each phase channel has a super ferrite choke and RAA 22010540 MOSFET from Renesas at 105A for VCore, RAA 22010540 at 105A for the integrated graphics core and SiC450 from Vishay for VCCIO at 40A. Powering the VCore and iGPU is Renesas' RAA229131 PWM controller with a maximum of 20 phases, so we see that the power circuit is fully direct without doublers or parallel flows.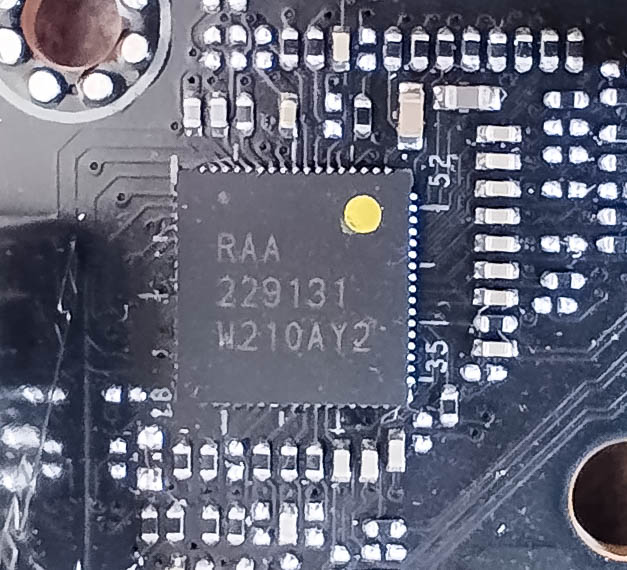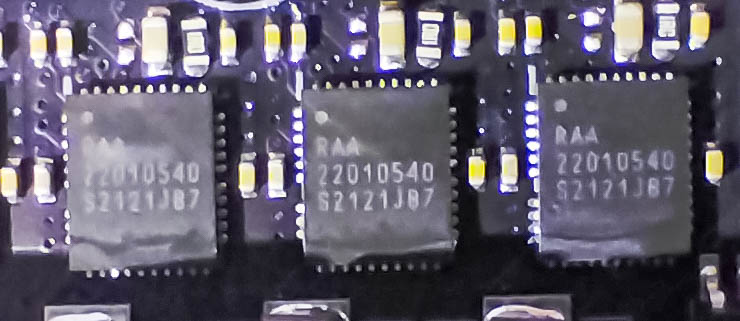 Two Delta ASB0312HP-00 fan blow directly inward to cool down the chipset and VRM.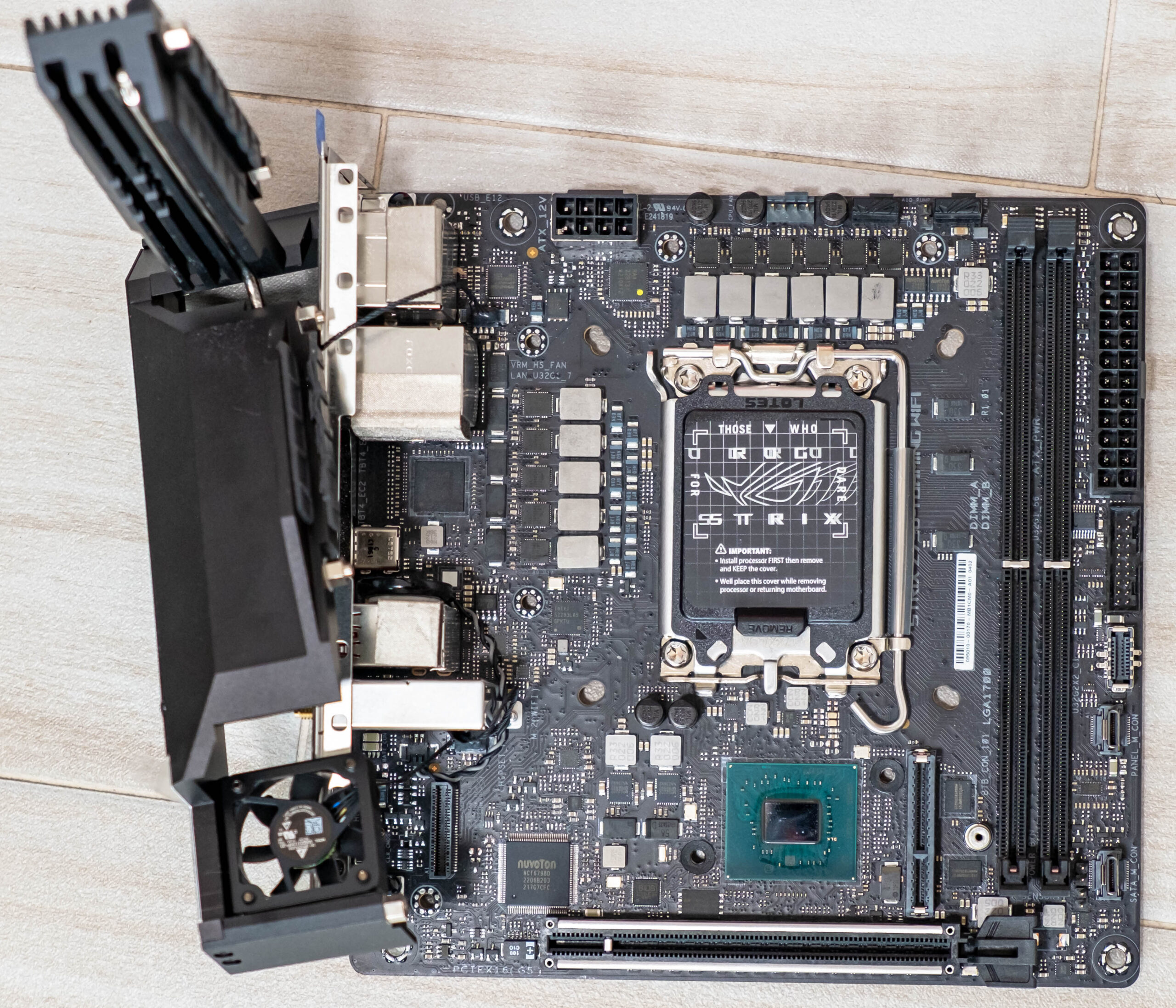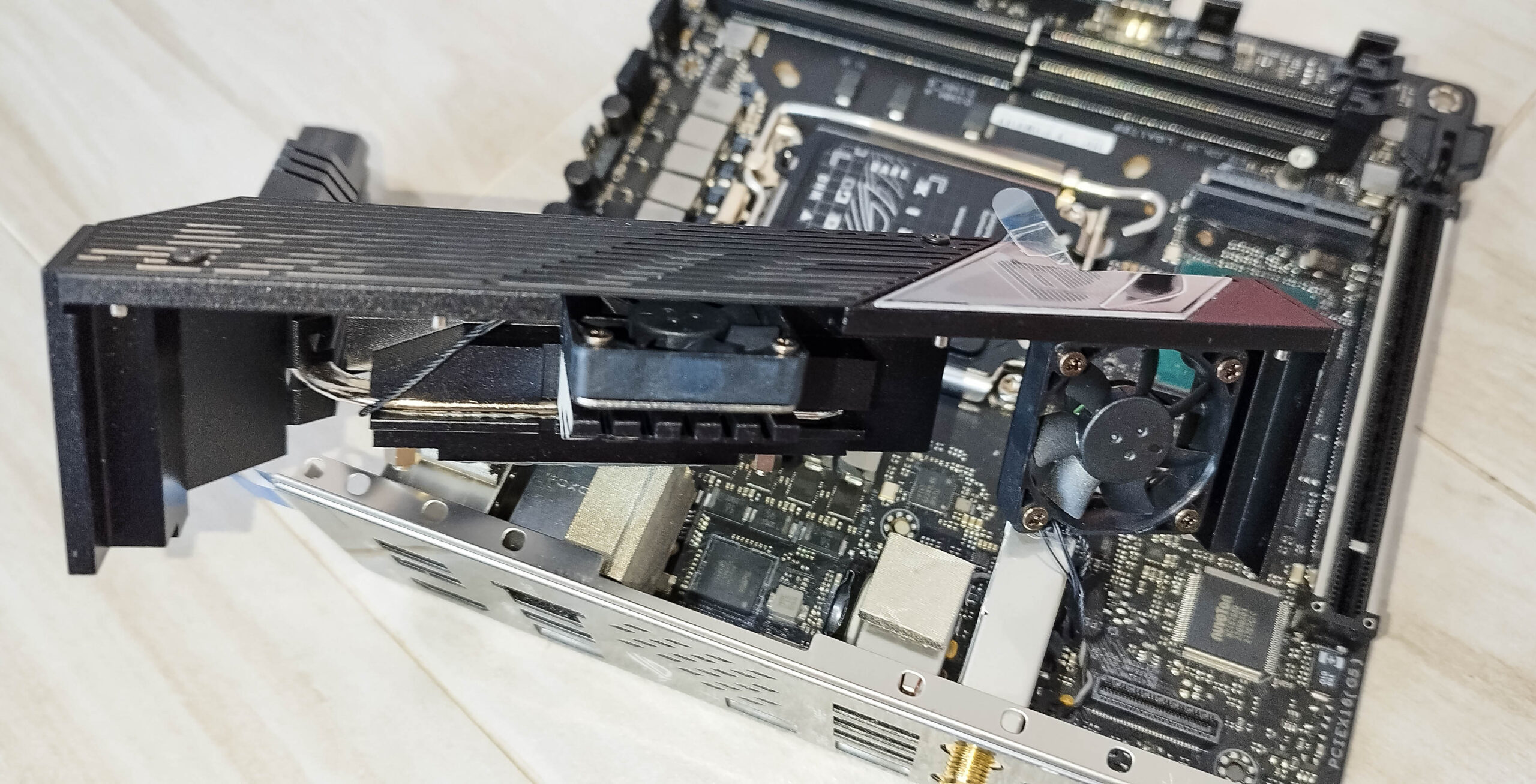 ROG STRIX HIVE
The all-new ROG Strix Hive brings critical controls and I/O within arm's reach, moving them from the cramped quarters of an SFF chassis to a compact peripheral that sits on the desktop. DIY-friendly buttons and diagnostic LEDs are brought front and center along with a large volume dial. On the sides, a varied group of I/O ports handle audio input and output and provide convenient connectivity for grab-and-go peripherals.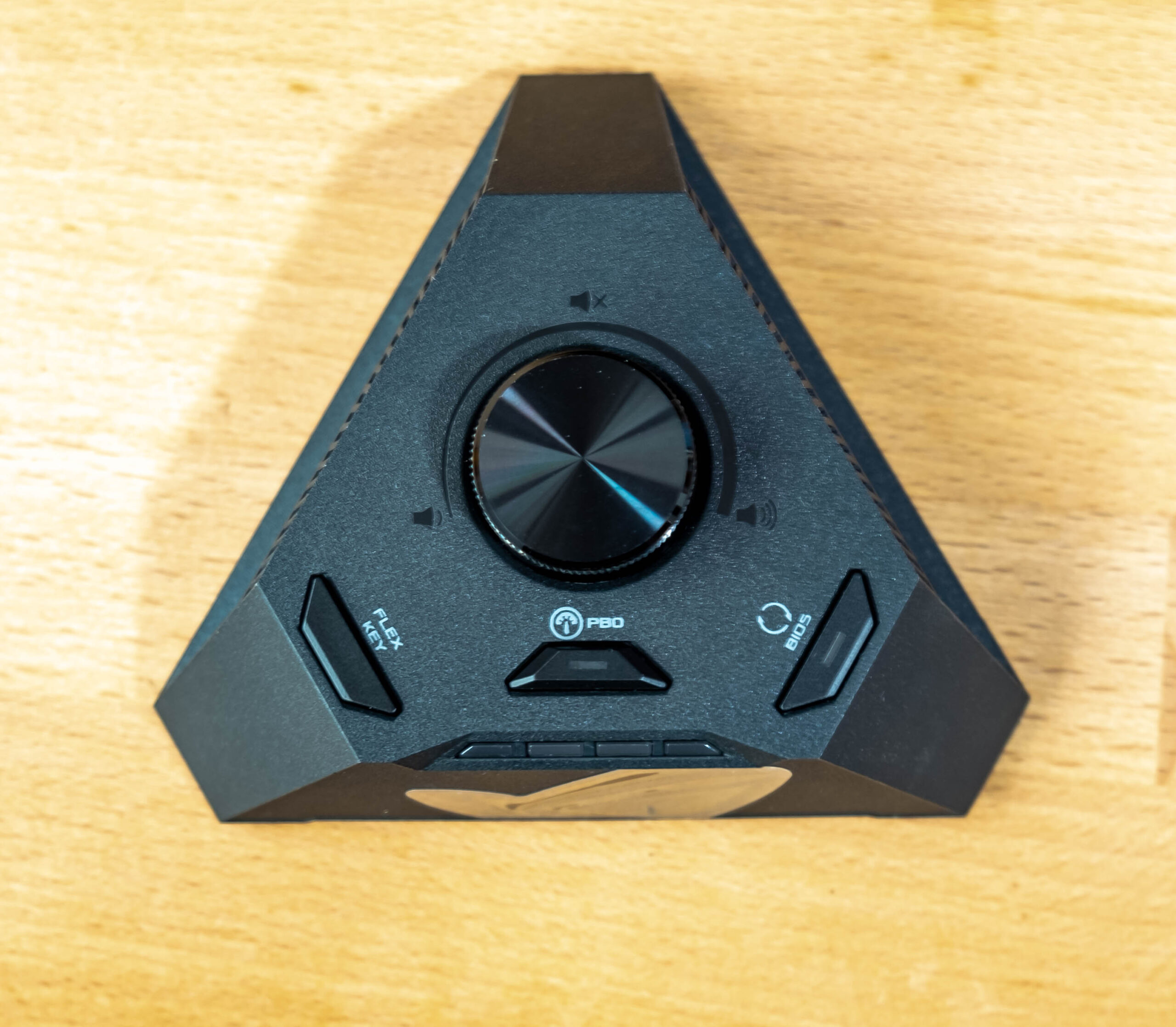 REALTEK ALC4050 CODEC & ESS® SABRE9260Q DAC
Typically, audio components are built into the motherboard's PCB. The ROG Strix Hive flips the script and offloads all of the audio processing to an external module. Inside, an ALC4050 codec is paired with an ESS® SABRE9260Q DAC, producing clean high-res audio with 118 dB SNR output and 94 dB SNR input and 32-bit / 384 kHz playback. I/O includes S/PDIF out that also supports 3.5mm mic input, and an additional 3.5mm combo jack that can host mics or headphones.
HYPER-GROUNDING TECHNOLOGY
The Hive's audio PCB features ROG Hyper-Grounding technology, which divides up analog and digital current return paths across separate layers to reduce noise, lower crosstalk, and deliver purer sound.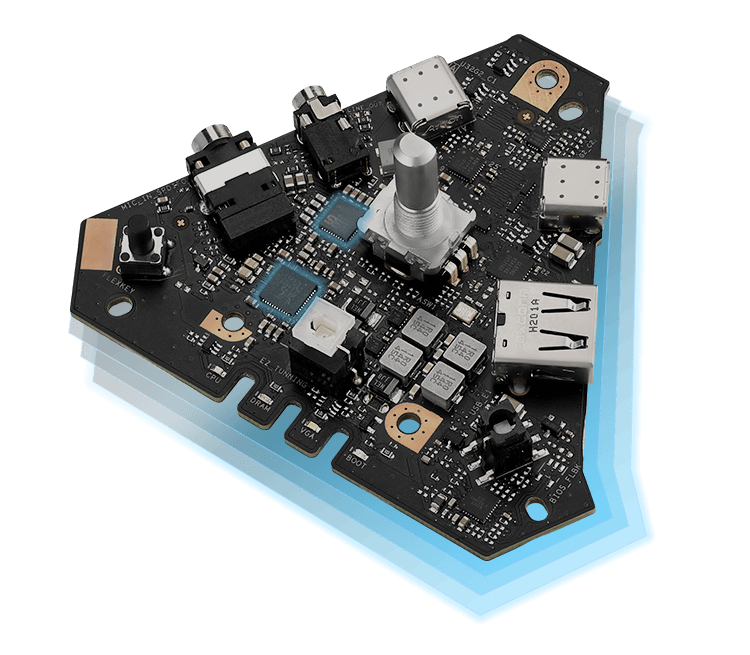 How We Test ASUS ROG STRIX Z790-I Gaming?
Intel Z790-I Gaming is a gaming motherboard from ASUS. As such, our workstation, based on an Z790-I Gaming motherboard and Intel Core i9 13900K 24 cores 32 threads processor.  The ram we will be using TeamGroup DDR5 5200Mhz memory kit. Intel UHD 770 and ADATA PCIe 4.0 1TB SSD is used as well to run with benchmark. On the Comparison, we will be using ASUS TUF X670E- Plus WIFI with AMD Ryzen 9 7900X and ASUS ROG STRIX Z790-I Gaming WIFI with Intel Core i9 13900K to run side by side to see perform better.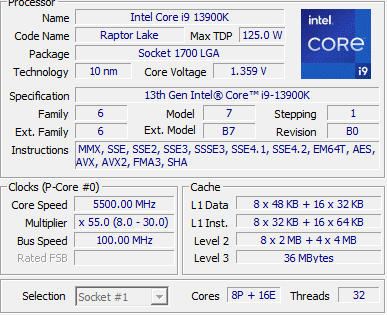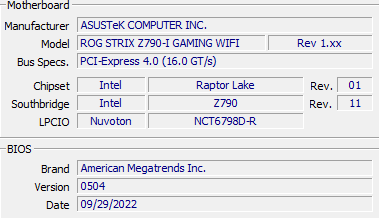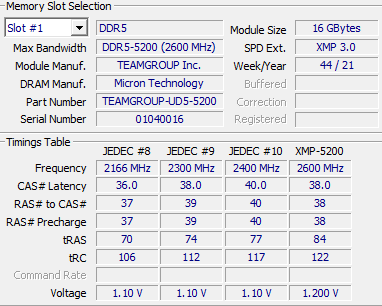 | | | | |
| --- | --- | --- | --- |
| | SYSTEM 1 | SYSTEM 2 | SYSTEM 3 |
| Motherboard | ASUS TUF X670E PLUS WIFI | AsRock Z790 PG-ITX/TB4 | ASUS ROG STRIX Z790-I Gaming WIFI |
| CPU | AMD Ryzen 9 7900X | Intel Core i9 13900K | Intel Core i9 13900K |
| Ram | TeamGroup DDR5 5200Mhz | TeamGroup DDR5 4800Mhz | TeamGroup DDR5 5200Mhz |
| GPU | AMD RDNA2 -2CU | Intel UHD 770 -32EUs | Intel UHD 770 -32EUs |
| SSD | ADATA PCIe 4.0 1TB | ADATA PCIe 4.0 1TB | ADATA PCIe 4.0 1TB |
| OS | Microsoft Windows 11 Pro 22H2 | Microsoft Windows 11 Pro 22H2 | Microsoft Windows 11 Pro 22H2 |
| Bios | 0809 – 23/10/22 | 2.03 – 6/10/22 | 0703 – 8/11/22 |
Cinebench R23
Improvements to Cinebench Release 20 reflect the overall advancements to CPU and rendering technology in recent years, providing a more accurate measurement of Cinema 4D's ability to take advantage of multiple CPU cores and modern processor features available to the average user
CineBench R23
Single Core
Multi Core
ASUS TUF X670E PLUS WIFI
2003
28176
AsRock Z790 PG-ITX/TB4
2226
35939
ASUS ROG STRIX Z790-I Gaming WIFI
2221
36064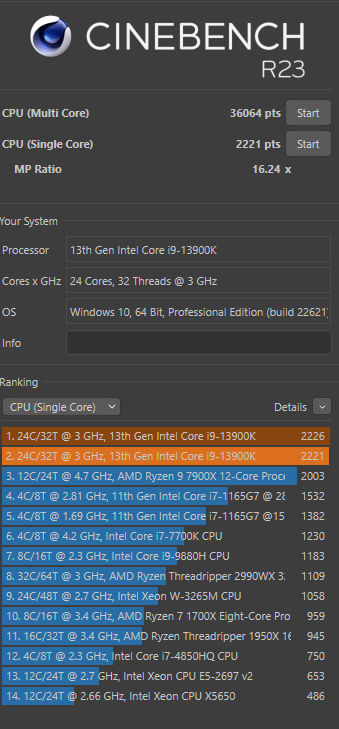 PCMark 10
PCMark 10 features a comprehensive set of tests that cover the wide variety of tasks performed in the modern workplace. With a range of performance tests, custom run options, Battery Life Profile, and new Storage benchmarks, PCMark 10 is the complete PC benchmark for the modern office.
PCMark 10
Essentials
Productivity
Digital Content
Score
ASUS TUF X670E PLUS WIFI
12512
11849
6867
7212
AsRock Z790 PG-ITX/TB4
12079
8537
7648
6624
ASUS ROG STRIX Z790-I Gaming WIFI
12091
8712
7807
6716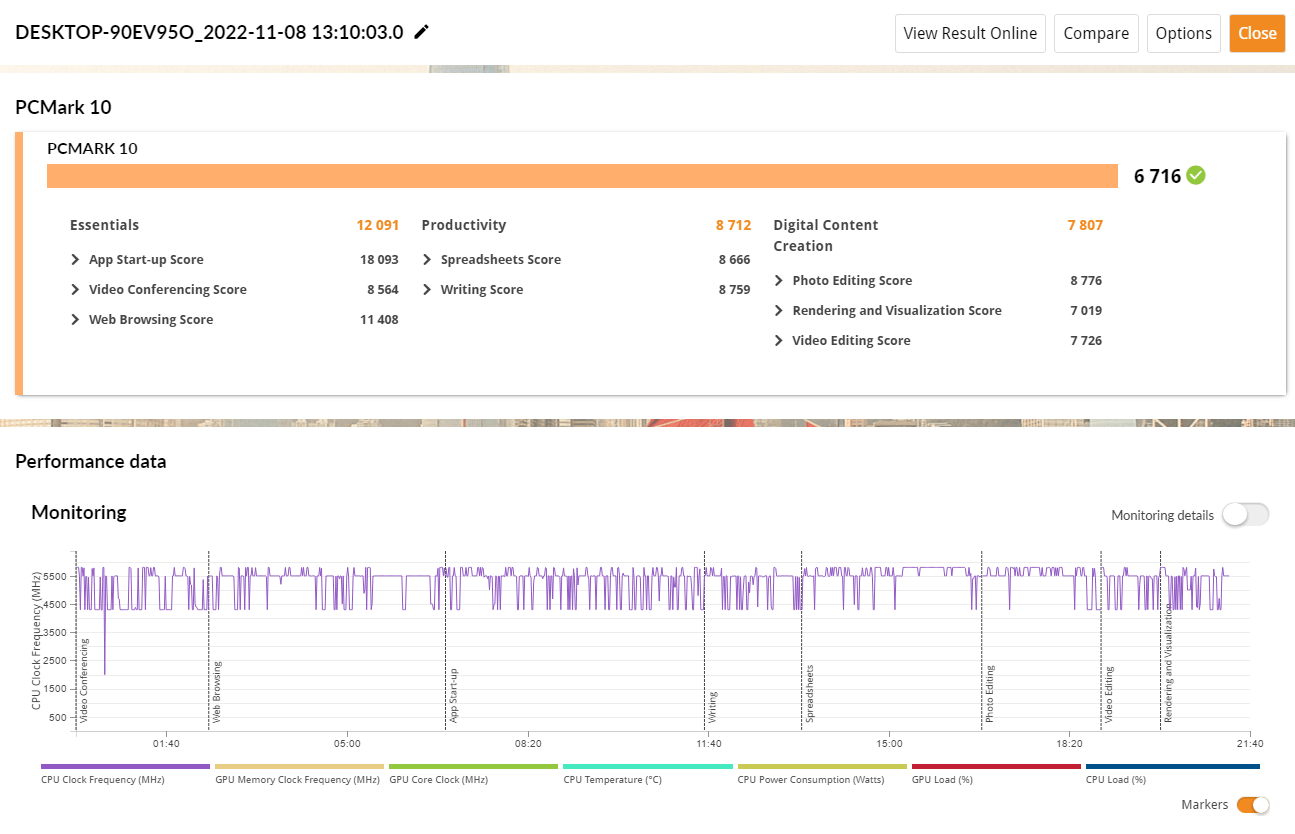 Geekbench 5
Geekbench 5 measures your processor's single-core and multi-core power, for everything from checking your email to taking a picture to playing music, or all of it at once. Geekbench 5's CPU benchmark measures performance in new application areas including Augmented Reality and Machine Learning, so you'll know how close your system is to the cutting-edge.
GeekBench
Single Core
Multi Core
OpenCL
ASUS TUF X670E PLUS WIFI
2156
18646
7618
AsRock Z790 PG-ITX/TB4
2166
22510
9797
ASUS ROG STRIX Z790-I Gaming WIFI
2197
24341
9707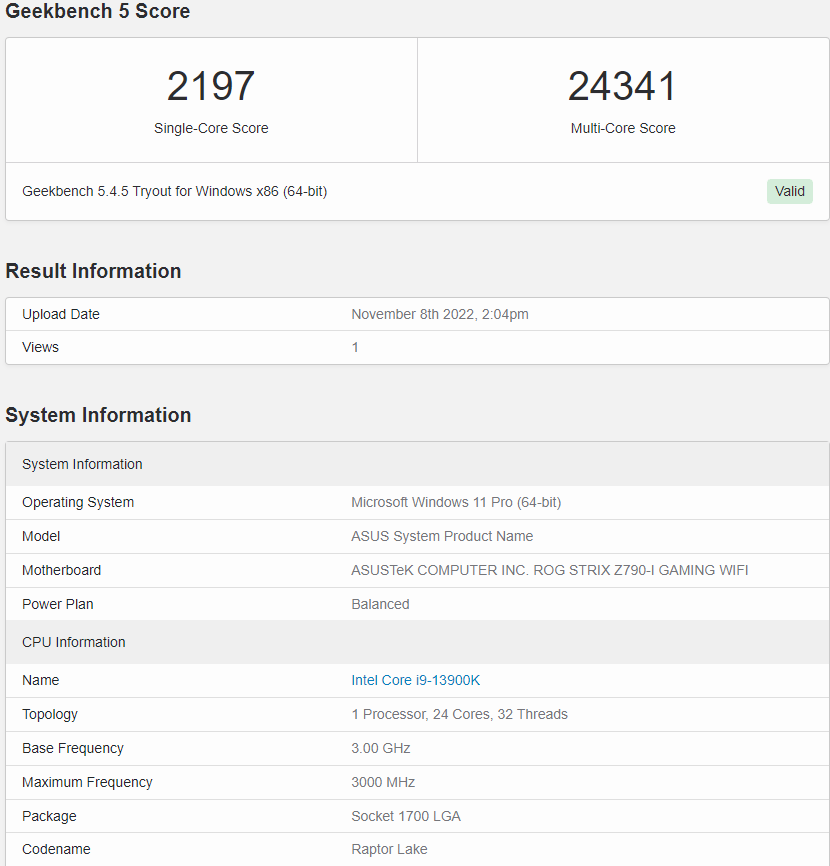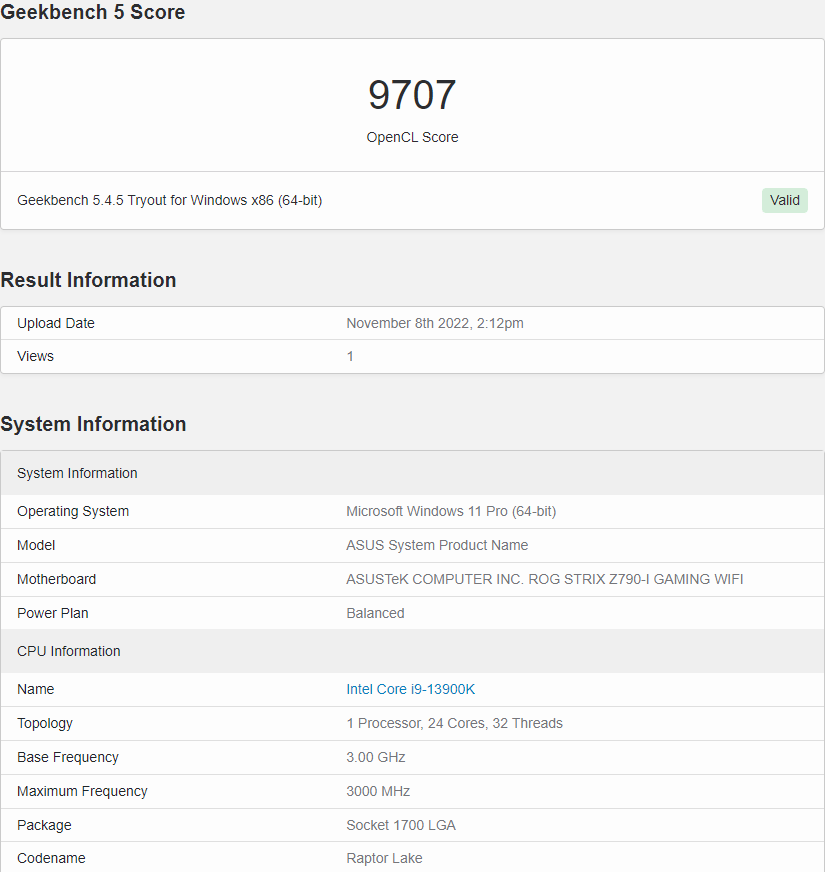 3Dmark Advanced Edition
3DMark includes everything you need to benchmark your PC and mobile devices in one app. Whether you're gaming on a smartphone, tablet, notebook, or a desktop gaming PC, 3DMark includes a benchmark designed specifically for your hardware.
3DMark Advanced Edition – CPU Profile
1 Thread
2 Threads
4 Threads
8 Threads
16 Threads
Max Threads
ASUS TUF X670E PLUS WIFI
1110
2177
4252
8001
11710
12853
AsRock Z790 PG-ITX/TB4
1237
2435
6473
8800
10685
14209
ASUS ROG STRIX Z790-I Gaming WIFI
1231
2369
4686
8845
11519
16443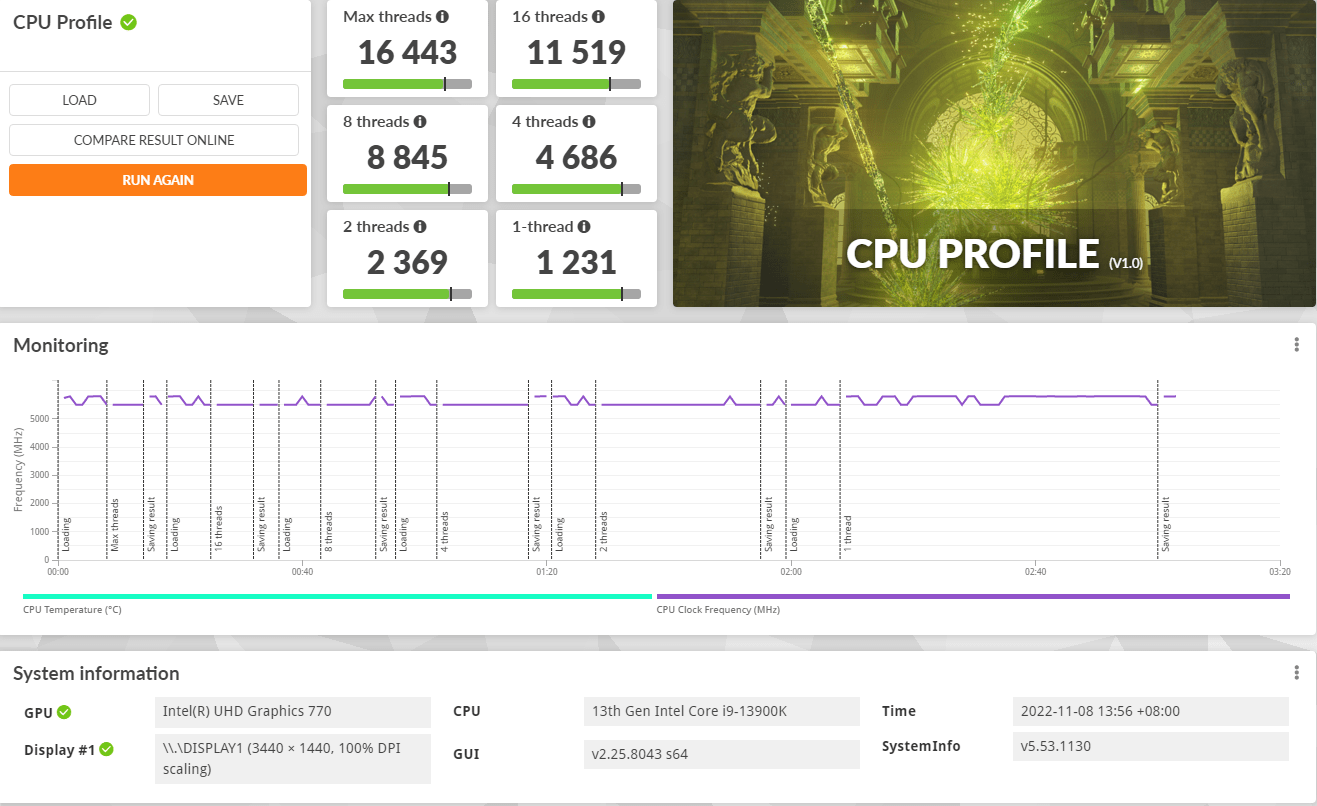 3DMark Advanced Edition
Fire Strike
Night Raid
Port Royal
Storage
Time Spy
Wild Life Extreme
ASUS TUF X670E PLUS WIFI
2150
10492
303
2598
818
1367
AsRock Z790 PG-ITX/TB4
2801
13617
Fail
2264
965
1981
ASUS ROG STRIX Z790-I Gaming WIFI
2840
13749
Fail
2945
975
1954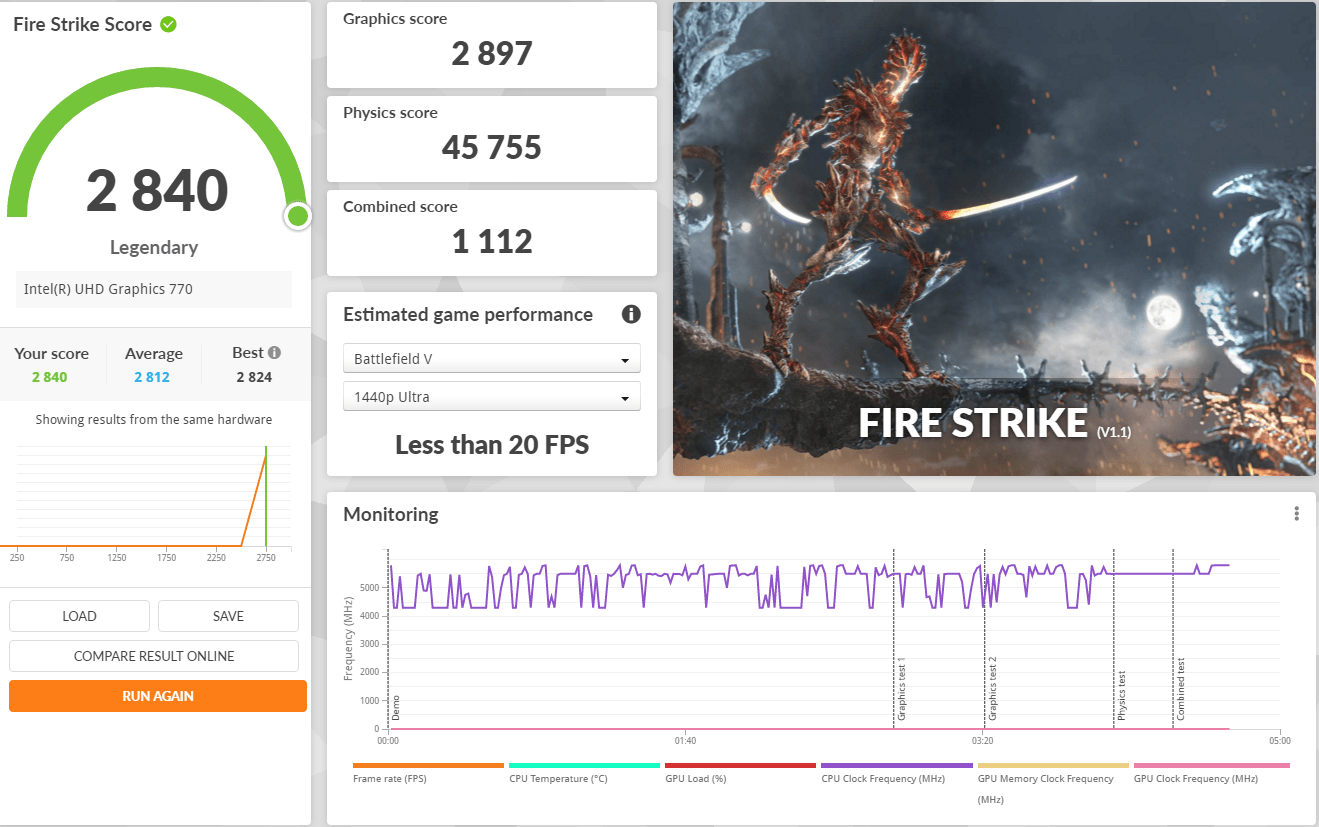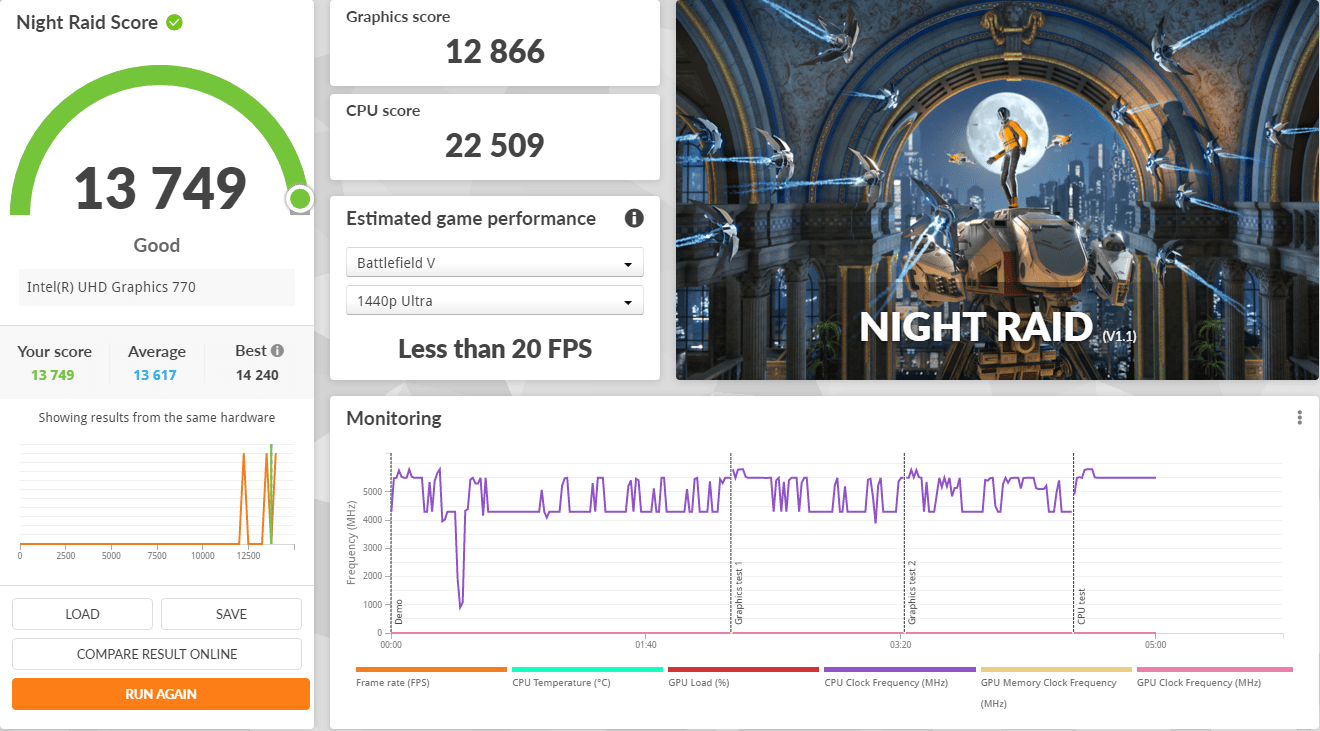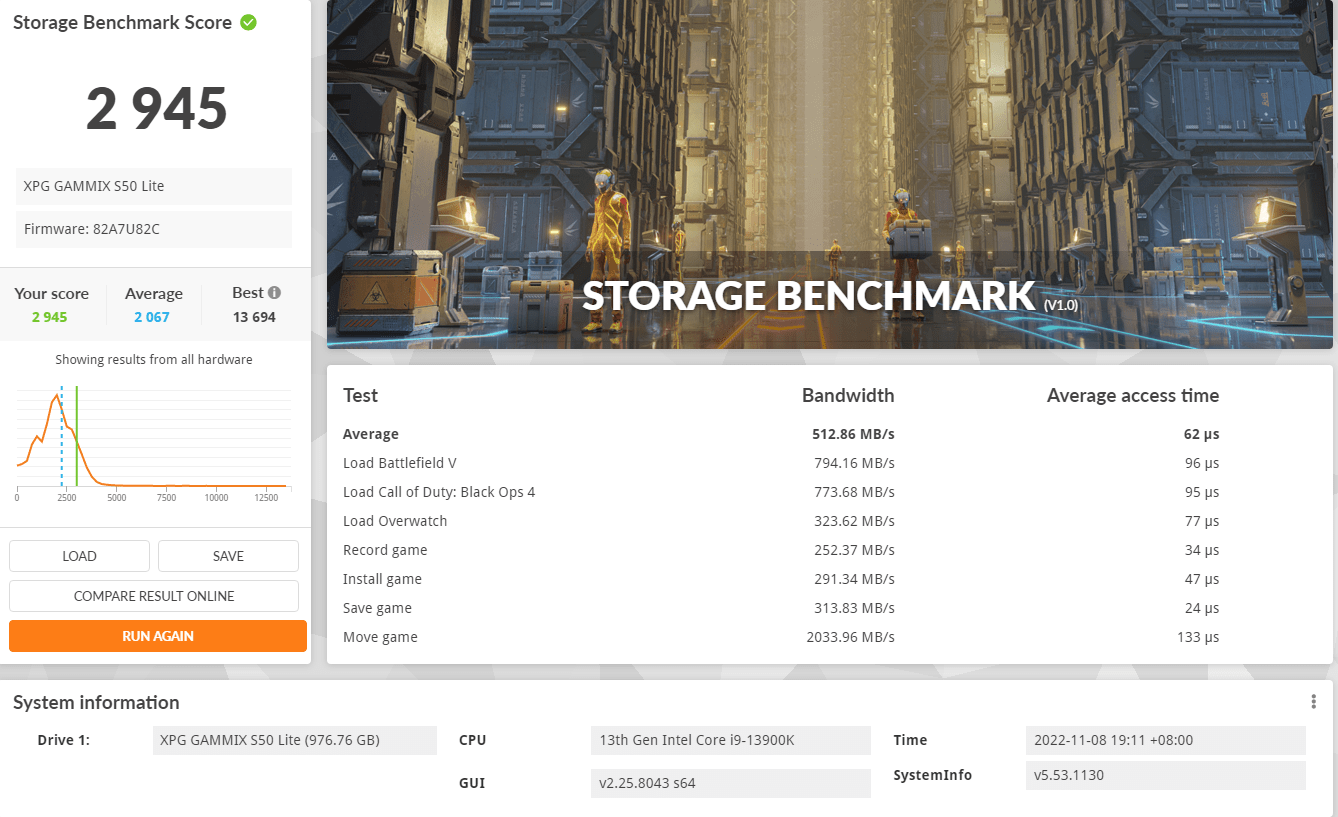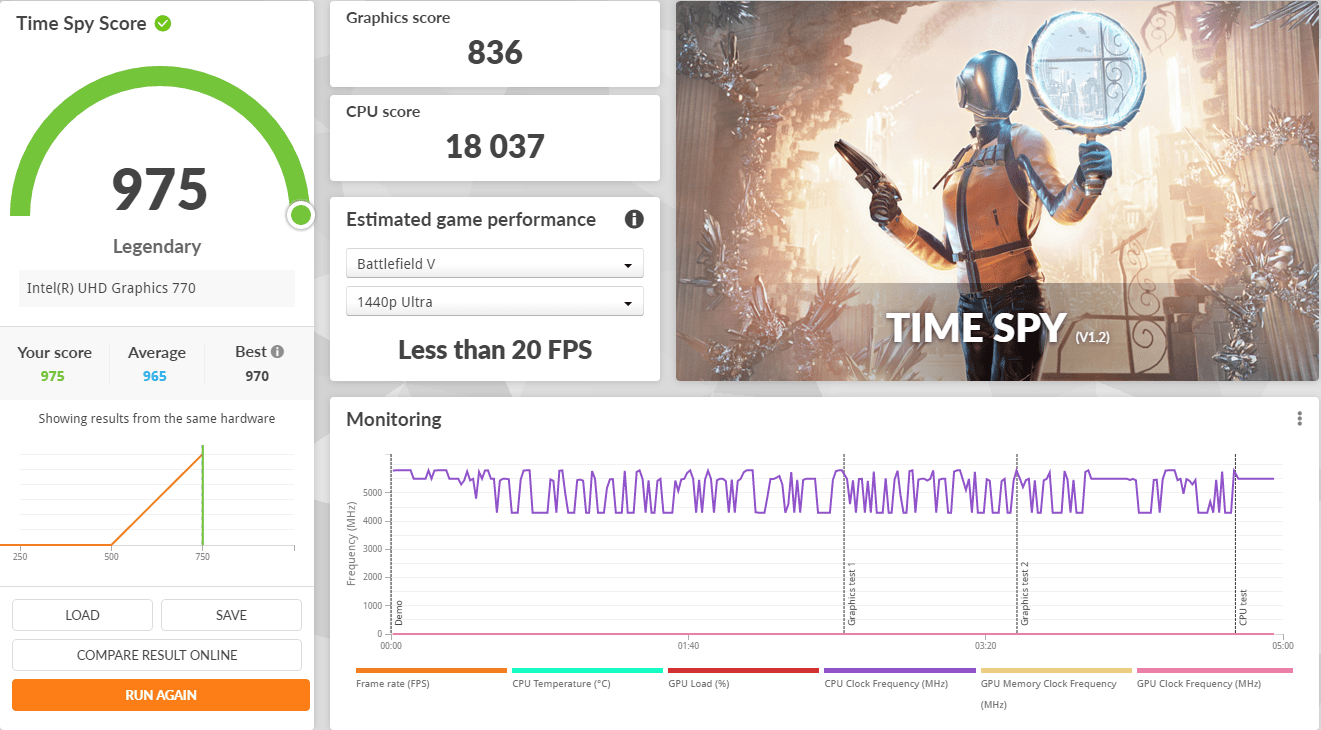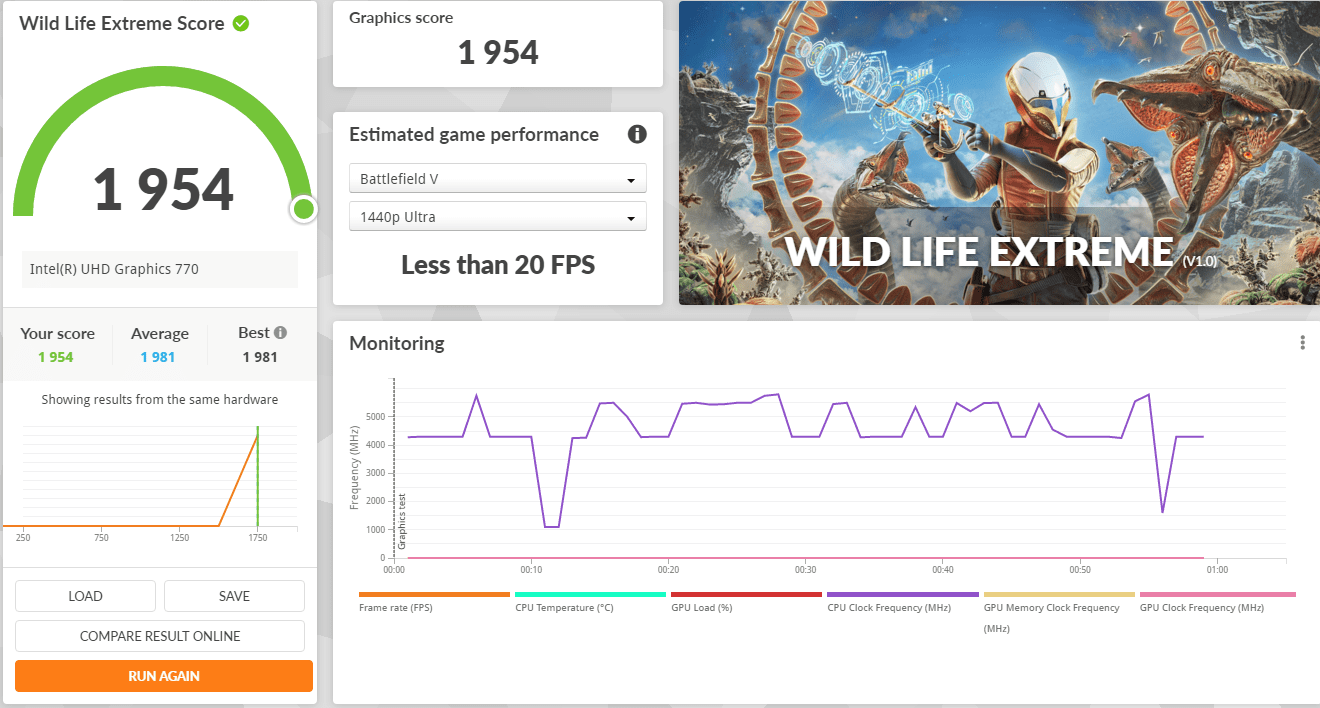 Passmark Benchmark
PassMark runs heavy mathematical calculations that stress the CPU's performance at compression, encryption, and physics-related tasks.
PassMark
CPU
2D
3D
Memory
Disk
Score
ASUS TUF X670E PLUS WIFI
52337.9
610.3
1587.3
3578.5
26947.8
5027.9
AsRock Z790 PG-ITX/TB4
58647
493
1983.1
3393.3
2167.8
3773.3
ASUS ROG STRIX Z790-I Gaming WIFI
62159.2
444.4
2013.3
3686.9
29809.8
4466