Today we have a new Intel B760 chipset-based motherboard for review, the ASRock B760M Pro RS socket LGA1700 motherboard.  This is a new, budget-conscious, DDR5 motherboard from ASRock based on Intel's B760 chipset.  Currently, you can find this motherboard bundle with Intel WIF/BT Kit for $239 on Lazada and ATX size at $259.
The Asrock B760M Pro RS is an inexpensive way to get into the latest and greatest Intel platform. It's made for users who don't require many USB ports, aren't planning on overclocking the processor and don't care to pay for features they likely won't use. If you want something on which to use the latest processors without breaking the bank, B760-based motherboards are the moment's weapons of choice for mainstream users on the Intel side of the fence.  That being said, this chipset does have limitations, such as being limited to PCIe 4.0 for NVMe slots, ASRock has added PCIe 5 for a single 16x slot. We are limited to PCIe slots being a mix of PCIe 5.0 and 3.0, with the ASRock B760M Pro RS having two of its PCIe slots (The Gen 5 x16 slot) coming from the processor, while the remaining Gen3 PCIe x4 slot is served by the B760 chipset.
The ASRock B760M Pro RS is a Micro ATX motherboard that features a black six-layer PCB. It is designed to fit into cases that support the Micro ATX form factor. The dimensions of the motherboard are 244x244mm, which is a standard size for Micro ATX motherboards. It's has 8 mounting holes, which are used for securely installing it into a compatible computer case. These mounting holes are positioned in a specific layout that corresponds to the screw holes on the case, allowing for proper alignment and attachment of the motherboard. Overall, the ASRock B760M Pro RS is designed to be a compact and versatile motherboard option for users who require the Micro ATX form factor.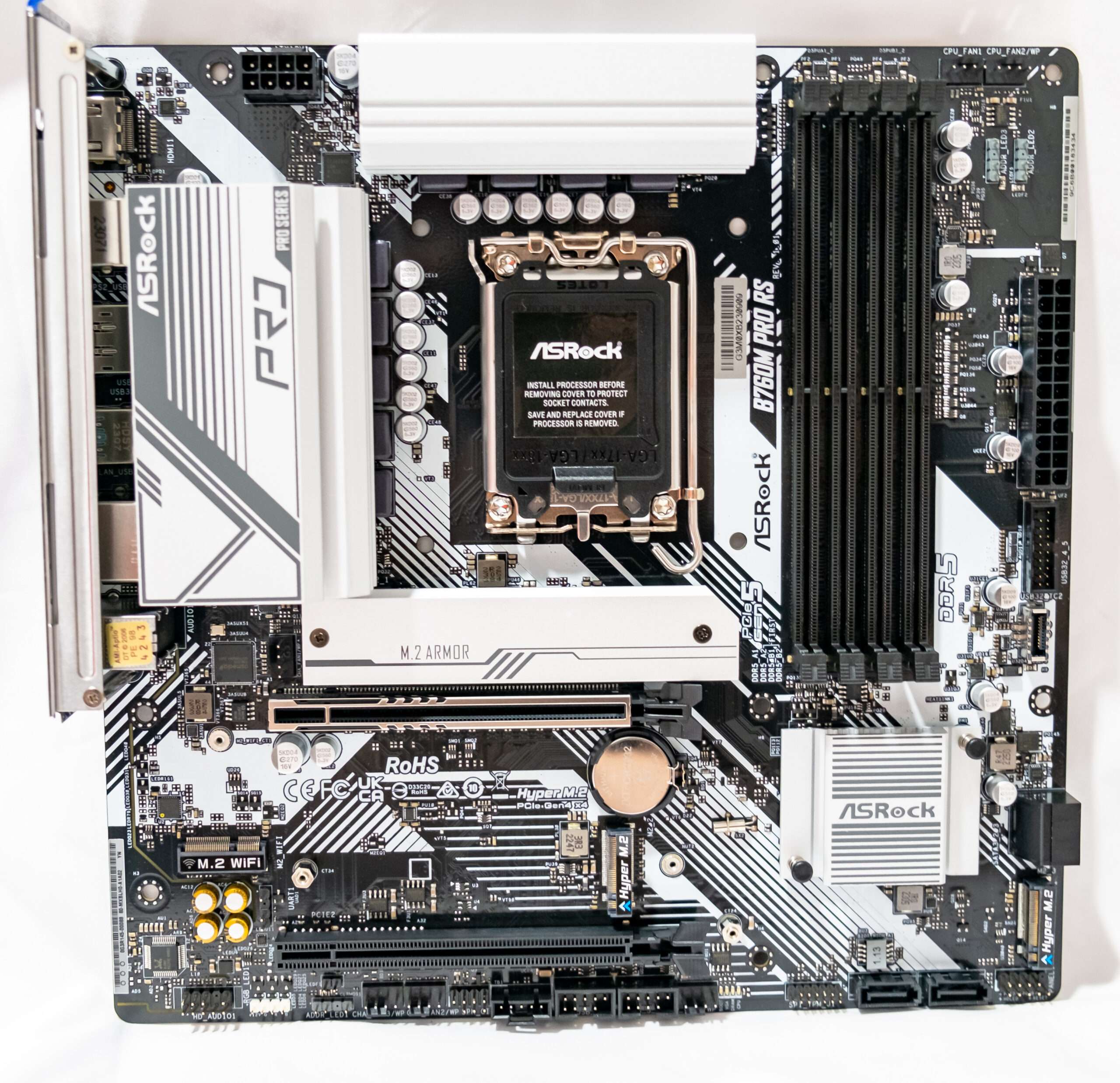 On the rear IO itself, there are a total of five USB ports, one USB 3.2 Gen 1  (Type-C ports). The other two Type-A are USB 2.0 and three Type-A USB 3.2 Gen 1 ports. Also located on the rear IO are the Wi-Fi antenna headers [Not included], the Realtek Dragon 2.5Gbe LAN port, as well as a Realtek ALC897 audio. When you're using an Intel IGPU and need video outputs, HDMI and DisplayPort here have that covered.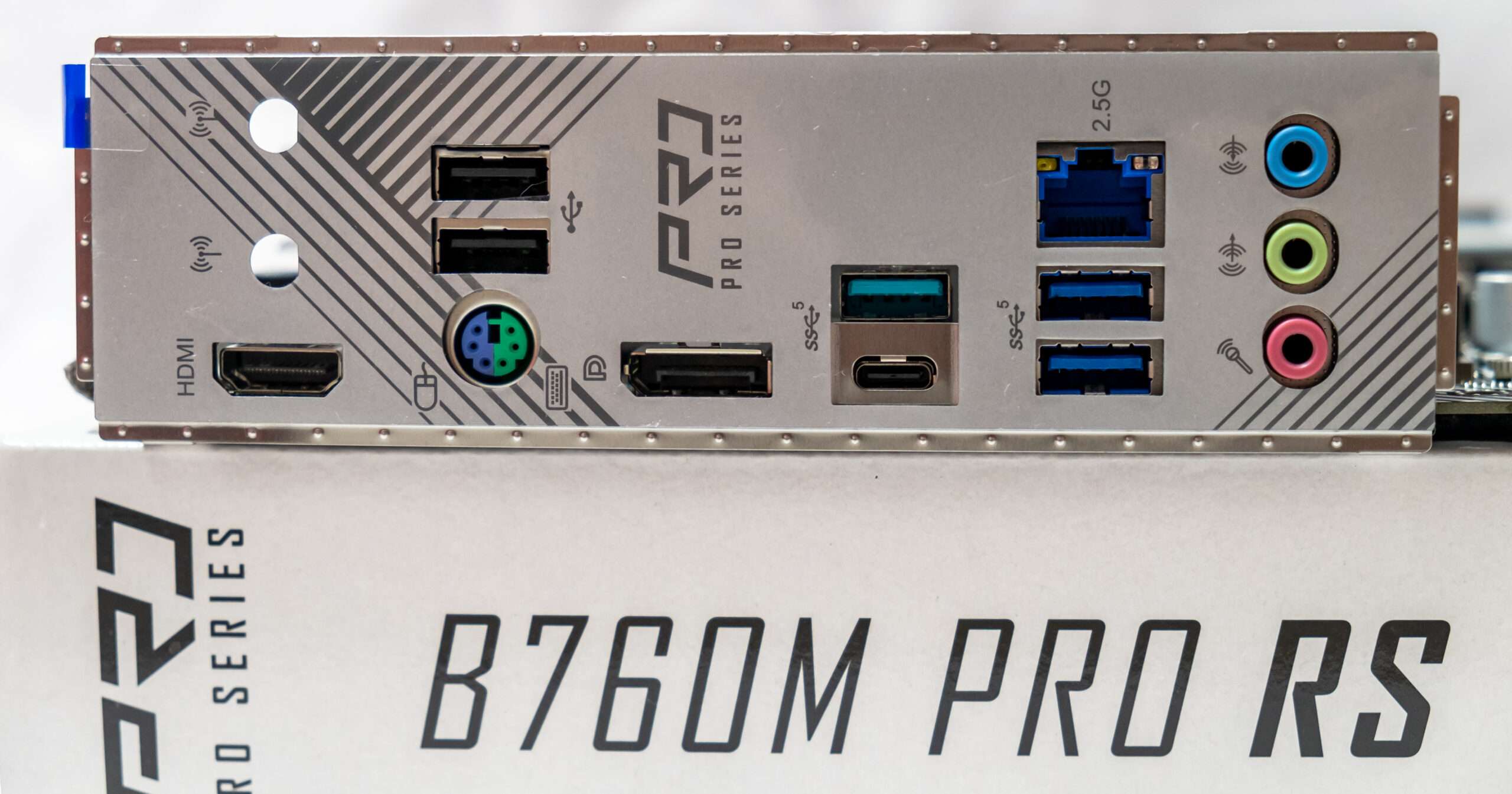 If you have WIFI/BT module and the antenna is mounted at the rear I/O panel.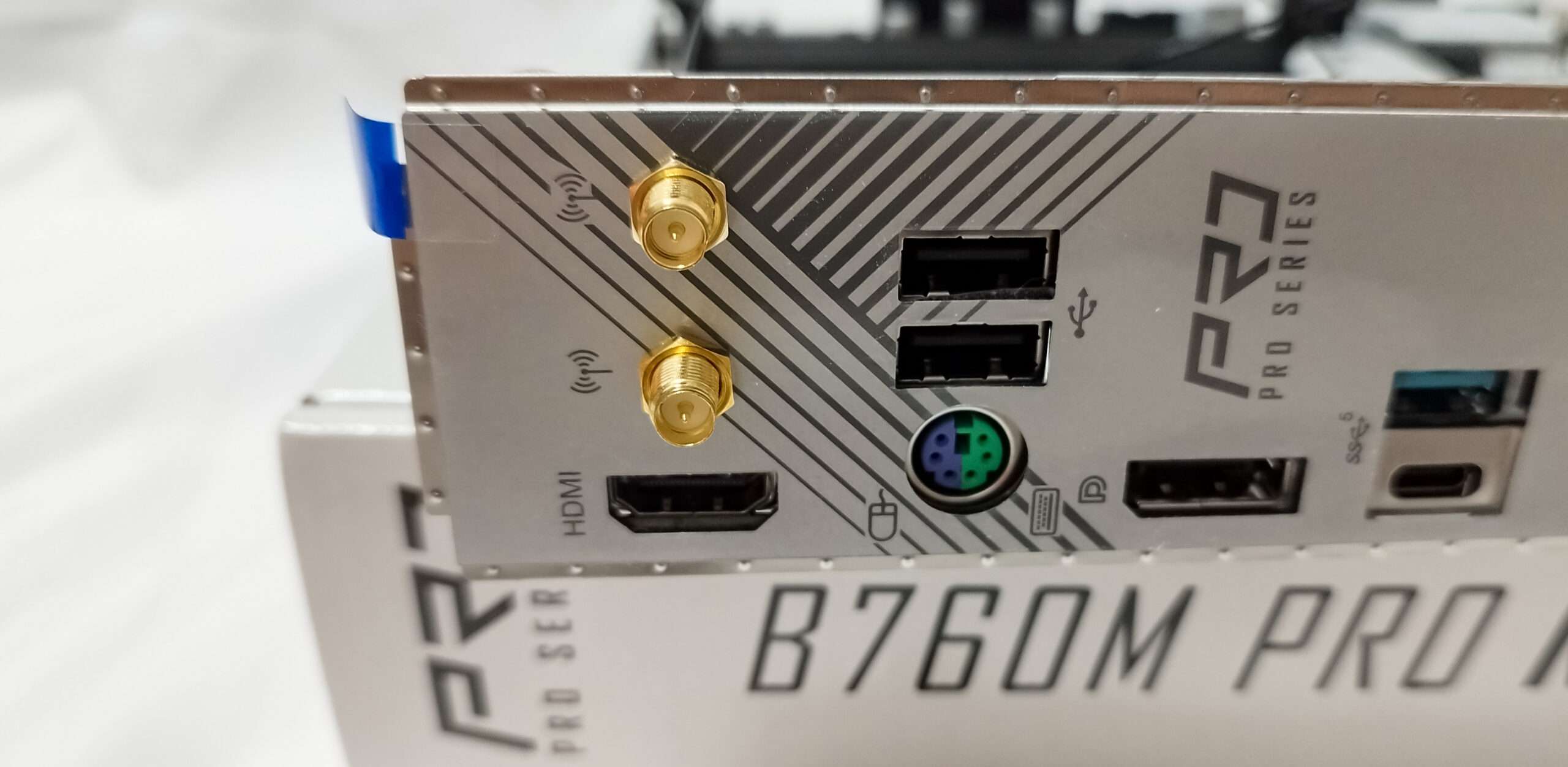 Specifications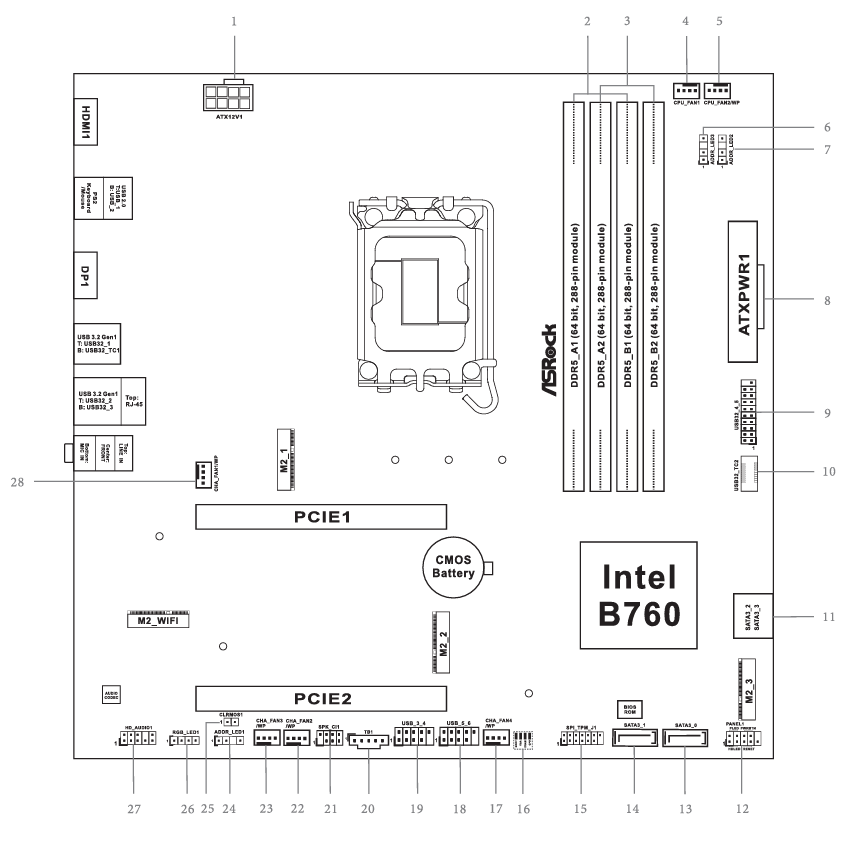 With the introduction of the 13th generation of Intel processors, motherboards based on 7xx series chipsets also appeared. Considering that 13xxx processors differ from 12xxx processors in essence by optimizations and higher frequencies due to minor changes in the technical process, the 7xx series chipsets differ slightly from their predecessors. Of course, along with the top-end Z790, mid- and low-budget chipsets of the B760/H770 level were also released. If we have already studied motherboards on the Z790 several times, then we have not yet had motherboards on the B760. And here is the first "swallow".
But first, let's look at the main differences between the B760, H770 and Z790 chipsets.
| Peculiarities | B760 | H770 | Z790 |
| --- | --- | --- | --- |
| Compatible with Intel processors | 12/13th Gen Core | 12/13th Gen Core | 12/13th Gen Core |
| PCIe version (processor) | 4.0 & 5.0 | 4.0 & 5.0 | 4.0 & 5.0 |
| Number of PCIe lanes (processor) | 20 | 20 | 20 |
| PCIe version (chipset) | 3.0 & 4.0 | 3.0 & 4.0 | 3.0 & 4.0 |
| Number of PCIe lanes (chipset) | 14 (10 x 4.0 & 4 x 3.0) | 24 (16 x 4.0 & 8 x 3.0) | 28 (20 x 4.0 & 8 x 3.0) |
| DMI Version | 4.0 | 4.0 | 4.0 |
| Number of DMI lines | x4 | x8 | x8 |
| RAM generation | DDR4 & DDR5 | DDR4 & DDR5 | DDR4 & DDR5 |
| Number of RAM channels | 2 | 2 | 2 |
| Maximum number of RAM slots | 4 | 4 | 4 |
| Maximum RAM | 128 GB | 128 GB | 128 GB |
| Number of SATA 6.0 Gb/s ports up to | 4 | 8 | 8 |
| USB 3.2 Gen 2×2 ports (20Gbps) up to | 2 | 2 | 5 |
| USB 3.2 Gen 2×1 ports (10Gbps) up to | 4 | 4 | 10 |
| USB 3.2 Gen 1×1 ports (5Gbps) up to | 6 | 8 | 10 |
| USB 2.0 ports up to | 12 | 14 | 14 |
| Built-in Wi-Fi | WiFi 6E | WiFi 6E | WiFi 6E |
| Bus frequency overclocking capability | No | No | Yes |
B760 Highlights and Differences:
the connection between the chipset and the processor via DMI has been reduced by 2 times, an artificial step taken by Intel marketers is obvious;
the total number of PCIe lanes is 14: 10 PCIe 4.0 lanes and 4 PCIe 3.0 lanes, which means a 2x reduction compared to the Z790;
the presence of 4 SATA ports comes in addition to 14 PCIe lines, while the Z790 already has 4 SATA ports in 28 lines;
support for up to 2x integrated USB 3.2 Gen2x2 (up to 20 Gb / s) ports (although each of them requires support from two USB 3.2 Gen2), up to 4x USB 3.2 Gen2 (10 Gb / s) and 6 USB 3.2 Gen1 (5 Gb / s) s). In general, high-speed ports (High Speed ​​​​In Out, HSIO) turned out to be 24.
support up to 12 USB 2.0.
The B760 chipset differs from the B660 only in the redistribution of the number of supported PCIe lanes: 10 lanes of version 4.0 and 4 lanes of version 3.0, while like the B660, respectively, 6 and 8.
The 12th and 13th generations of processors add another 20 PCIe lanes to this set, while 16 lanes (used for PCIe x16 slots) of the PCIe 5.0 version, the remaining 4 PCIe 4.0 lanes go to the M.2 slot. 12xxx / 13xxx processors can support both DDR5 and DDR4, so motherboard manufacturers are free to release products with both DDR5 and DDR4 slots. Let me remind you about the LGA 1700 processor socket, so there is no mutual compatibility with 11th and 10th generation processors.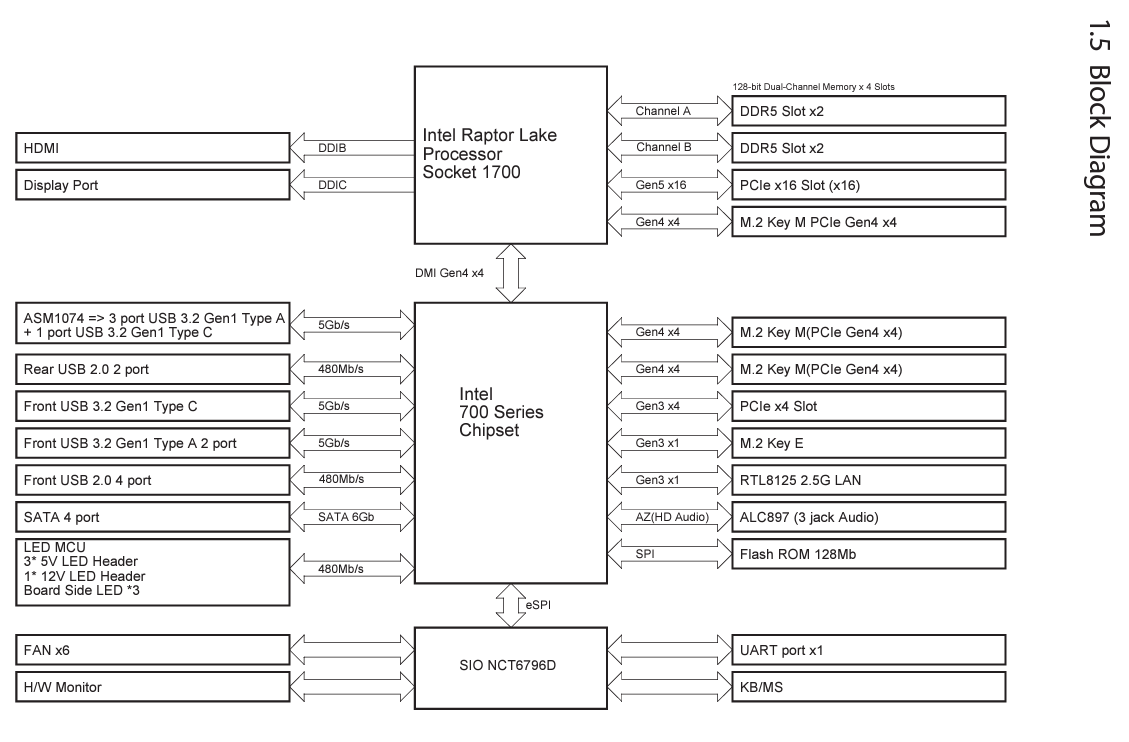 Formally, there is support for DDR5 memory up to 4800 MHz, but everyone is well aware, and motherboard manufacturers actively advertise this: frequencies up to 8000 MHz can now be used through XMP profiles. In particular, this board supports frequencies up to 7800 MHz.
12th and 13th generation Intel Core processors (compatible with socket LGA1700 and supported by B660/760) have 20 I/O lanes (16 PCIe 5.0, 4 PCIe 4.0), do not have USB and SATA ports. At the same time, interaction with the B760 goes through a special Digital Media Interface 4.0 channel (DMI 4.0 x4 (exactly x4!)). All PCIe lanes of the processor go to PCIe expansion slots and an M.2 port. Serial Peripheral Interface (SPI) is used to communicate with the UEFI / BIOS system, and the Low Pin Count (LPC) bus is used to communicate with I / O devices that do not require high bandwidth (fan controllers, TPM, old peripherals).
In turn, the B760 chipset supports a total of 24 I / O lines, which can be distributed as follows:
up to 12 USB ports (of which up to 2 USB 3.2 Gen2x2 ports, 4 USB 3.2 Gen2 ports, up to 6 USB 3.2 Gen1 ports, up to 12 USB 2.0 ports, USB 2.0 lines are also used to support 3.2 ports, and each USB port 3.2 Gen2x2 requires support from two USB 3.2 Gen2);
up to 4 SATA 6Gb/s ports;
up to 14 PCIe lanes (4 version 3.0 and 10 version 4.0).
Supported Processors
Intel 12th & 13th Generation Processor
Processor socket
LGA1700
Chipset
Intel B760
Memory
4 × DDR5, up to 192 GB, up to DDR5-7200 (XMP)
Audio
1 × Realtek ALC897 (7.1)
Network Controllers
1 × Realtek Dragon RTL8125BG Ethernet 2.5Gbps
Expansion Slots
1 × PCI Express 5.0 x16
1 × PCI Express 3.0 x16 (x4 mode)
Drive Connectors
4× SATA 6 Gb/s (B760)
1x M.2  (B760 PCIe 4.0 x4 for 2260/2280/22110 devices)
AsRock B760M Pro EA supports 12th/13th generation Intel Core processors, made for socket (socket) LGA1700.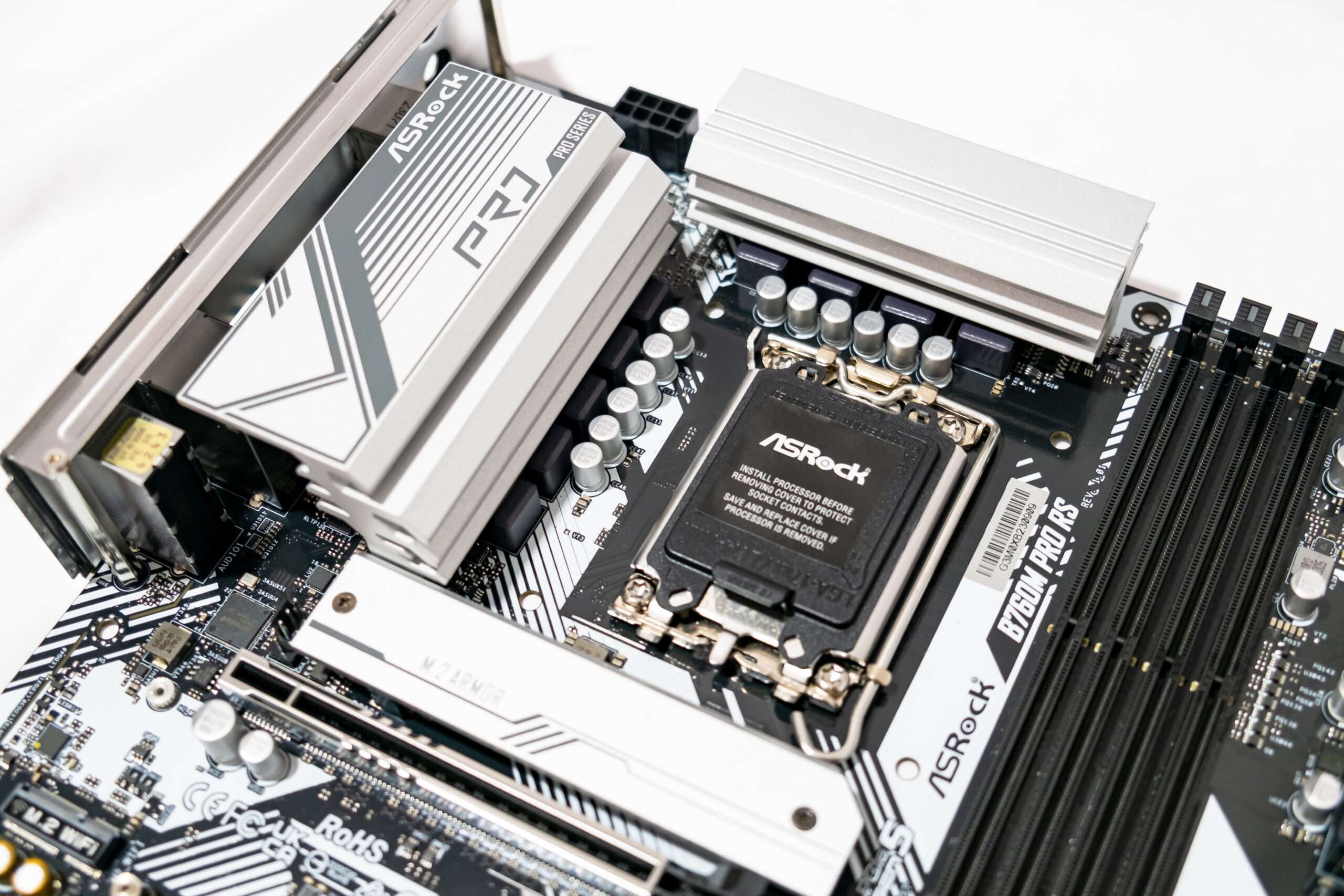 There are 4 DIMM slots for installing memory modules on the AsRock board (for memory to work in Dual Channel, if only 2 modules are used, they should be installed in A2 and B2, marked in red in the photo). The board supports unbuffered DDR5 (non-ECC) memory, and the maximum memory capacity is 192 GB. XMP profiles are supported. DIMM slots do not have metal edging to protect them from both physical damage and interference.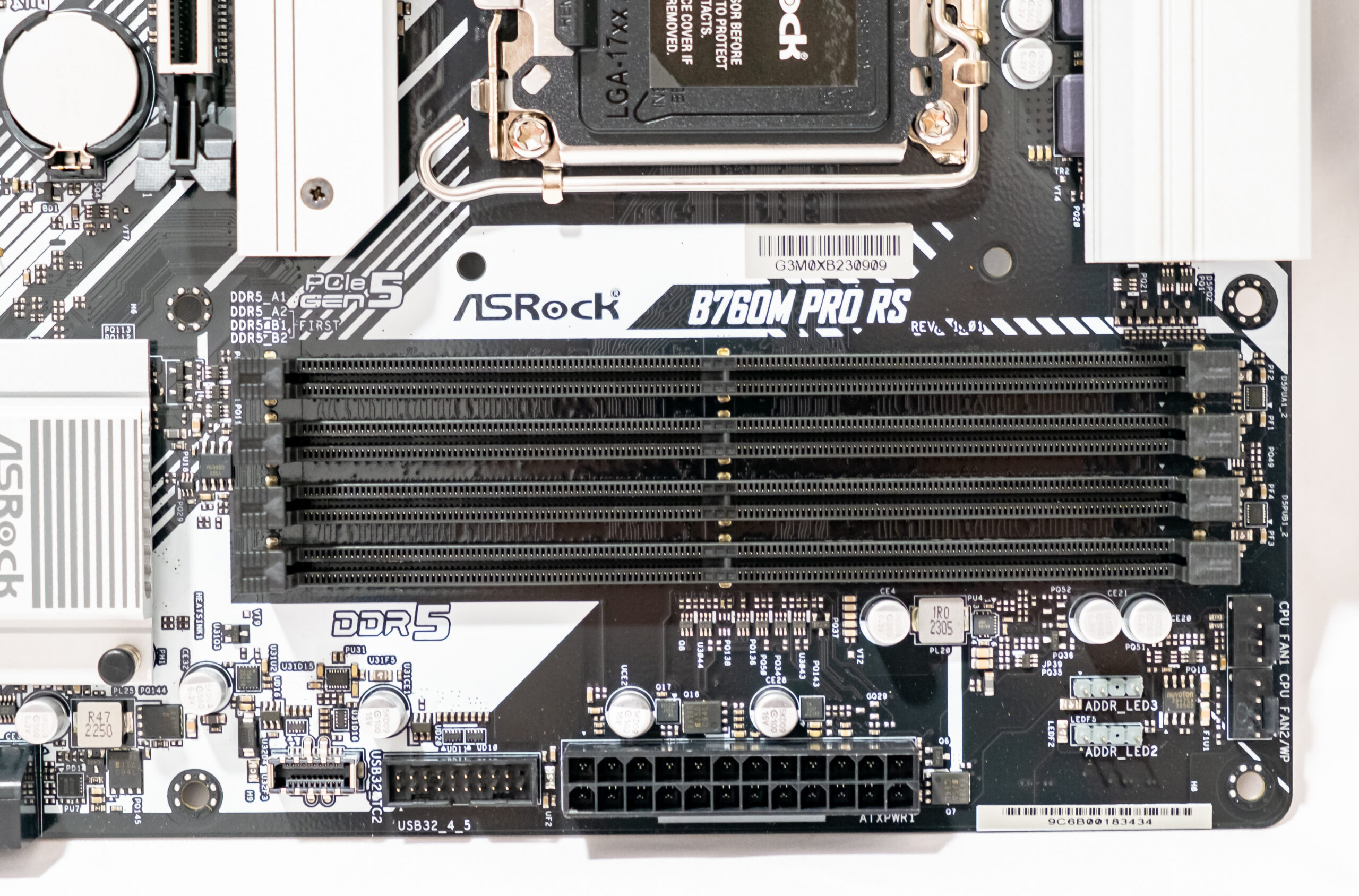 The first PCIe x16 "processor" slot has a stainless steel metal reinforcement that increases their reliability (which can be important in case of fairly frequent graphics card changes, but more importantly: such a slot can more easily withstand bending loads in case of installing a very heavy top-level graphics card In addition, this protection protects the slots from electromagnetic interference. Above the PCIe x16 slot on the ASRock B760M Pro RS motherboard, there is an M.2_1 slot. This slot is designed to receive data directly from the CPU, providing high-speed connectivity for M.2 solid-state drives (SSDs) devices.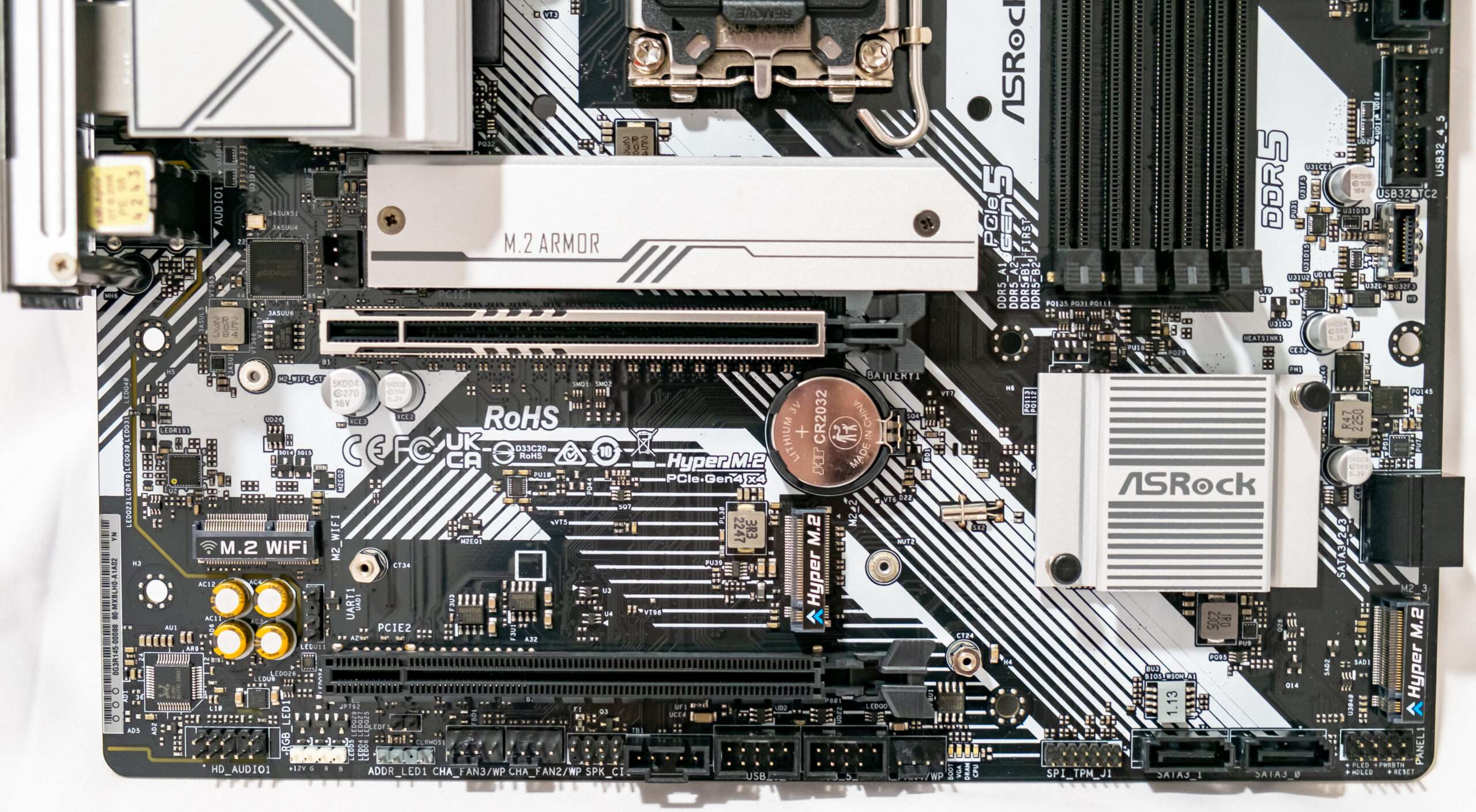 In total, the board has 4 Serial ATA 6 Gb / s + 3 slots for drives in the M.2 form factor.
The SATA ports are implemented through the B760 chipset and support RAID creation.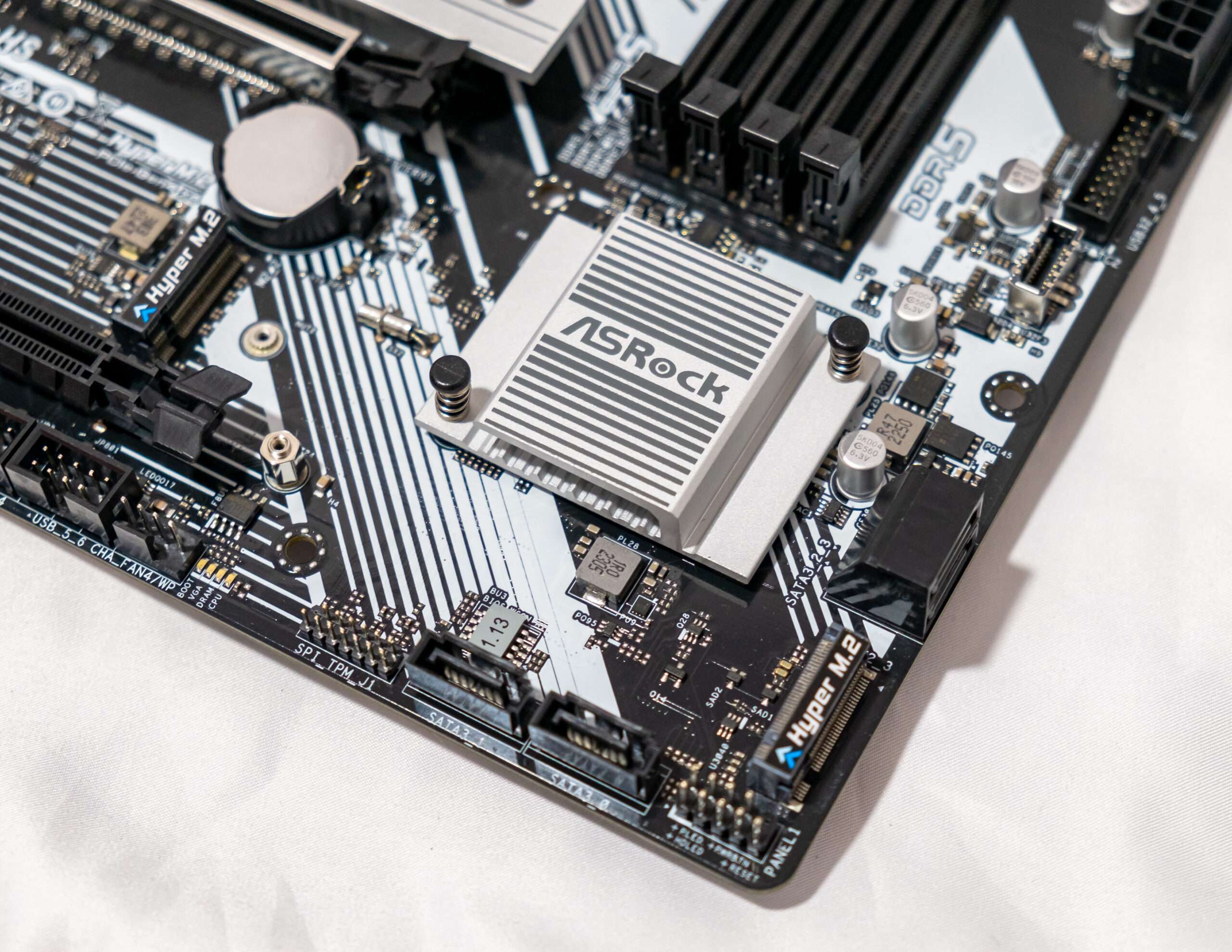 The ASRock B760M Pro RS motherboard actually requires a single ATX12V power connector with 8 pins to provide power to the CPU.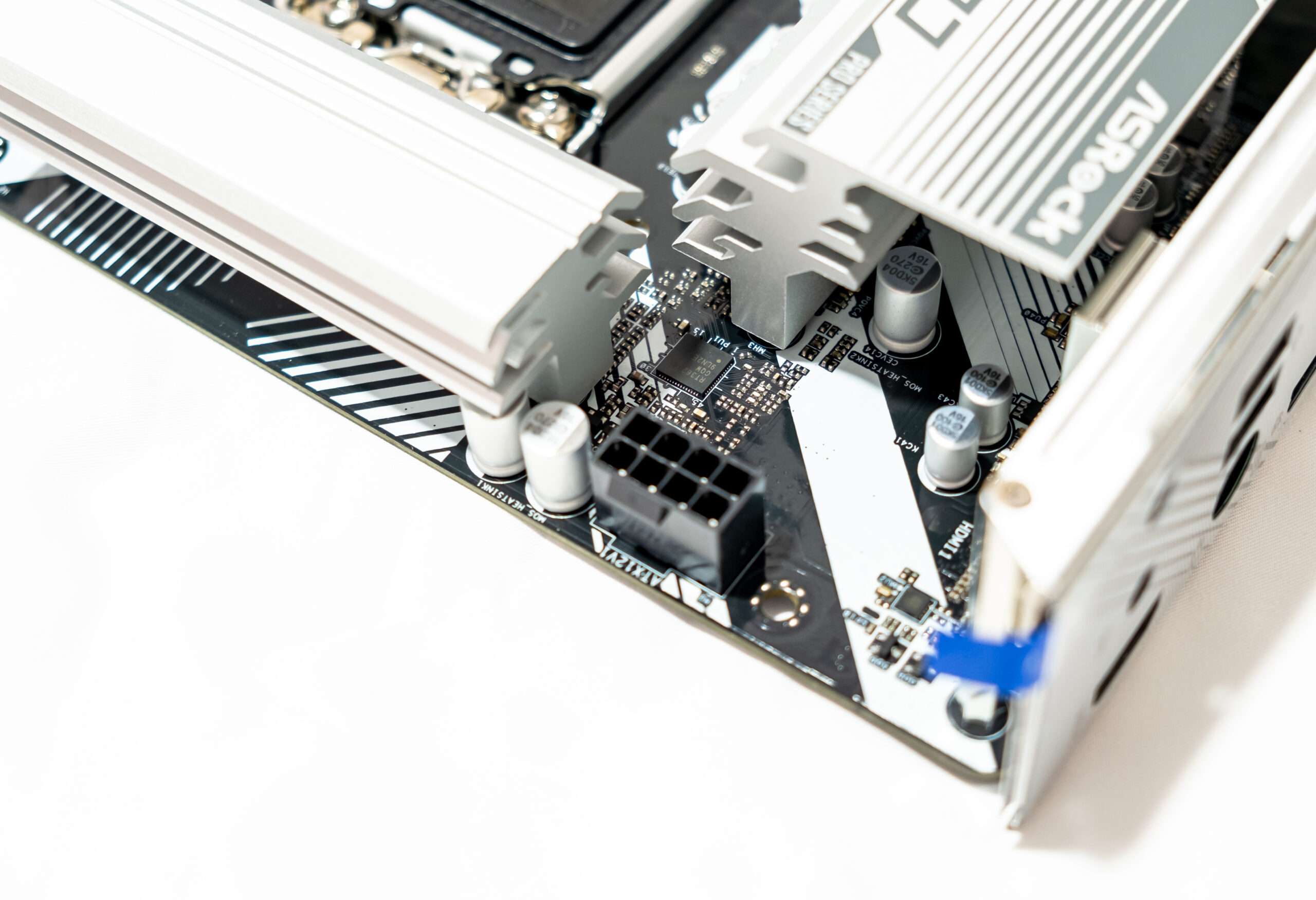 For Audio the ASRock B760M Pro RS uses a Realtek ALC897 Codec, allowing up to 7.1 channel sound, and utilizes Nahimic audio drivers.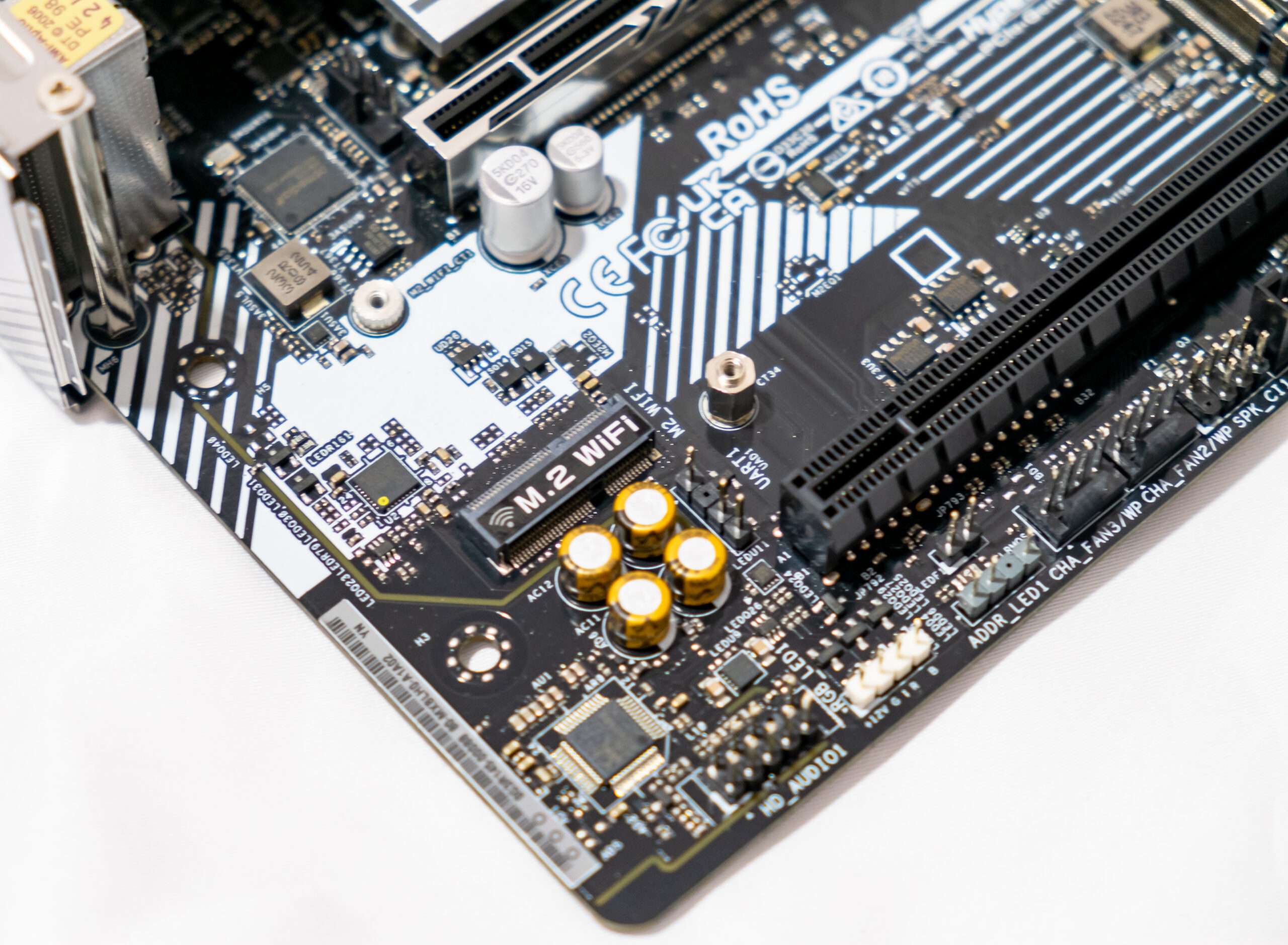 The board also includes additional M.2 Socket "2230" for WIFI/ Bluetooth module. The WIFI/BT upgrade kit is bundle with the motherboard.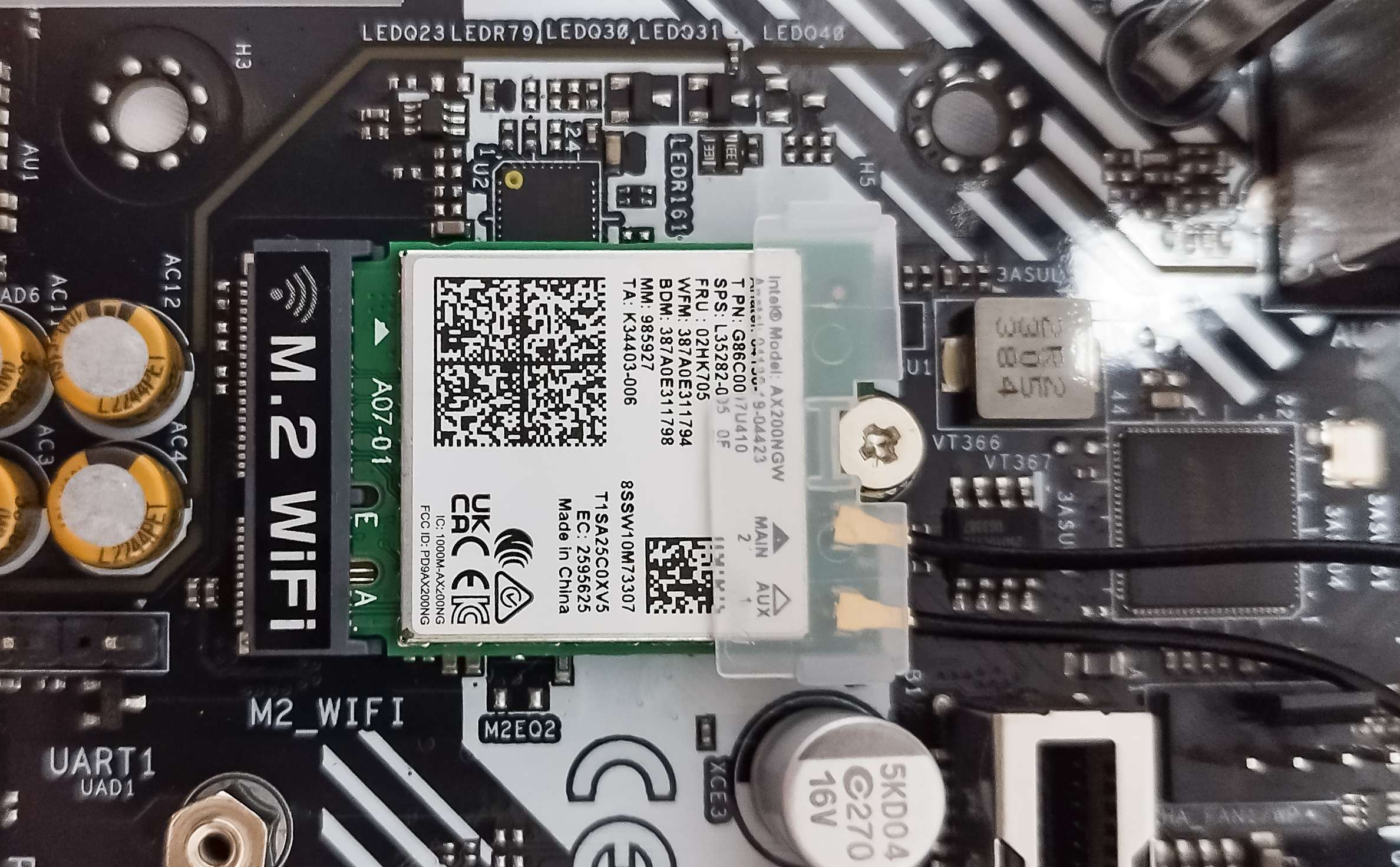 The ASRock B760M Pro RS motherboard may not be considered a high-end board, but it does feature robust cooling for its MOSFETs. MOSFETs are an essential component of the motherboard's power delivery system, responsible for regulating and supplying power to the CPU. ASRock has implemented heatsinks in the vicinity of the MOSFETs to aid in heat dissipation. These cooling features can contribute to better overall system stability and longevity, particularly when the motherboard is subjected to heavy loads or extended usage.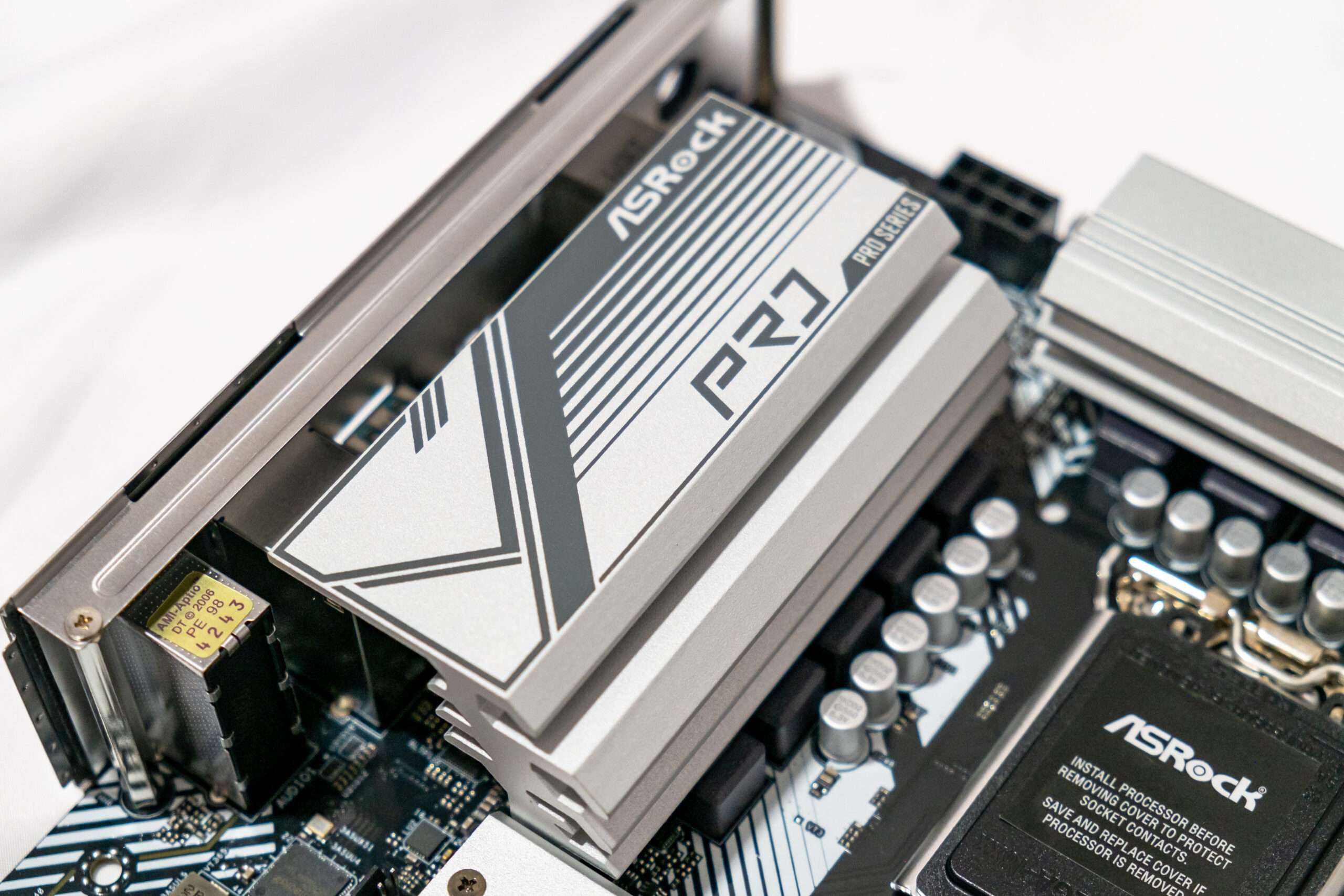 Dismantle & Component
To power the board, it has 2 connectors: in addition to the 24-pin ATX (it is on the right side of the board (on the left in the photo), there is also an 8-pin EPS12V.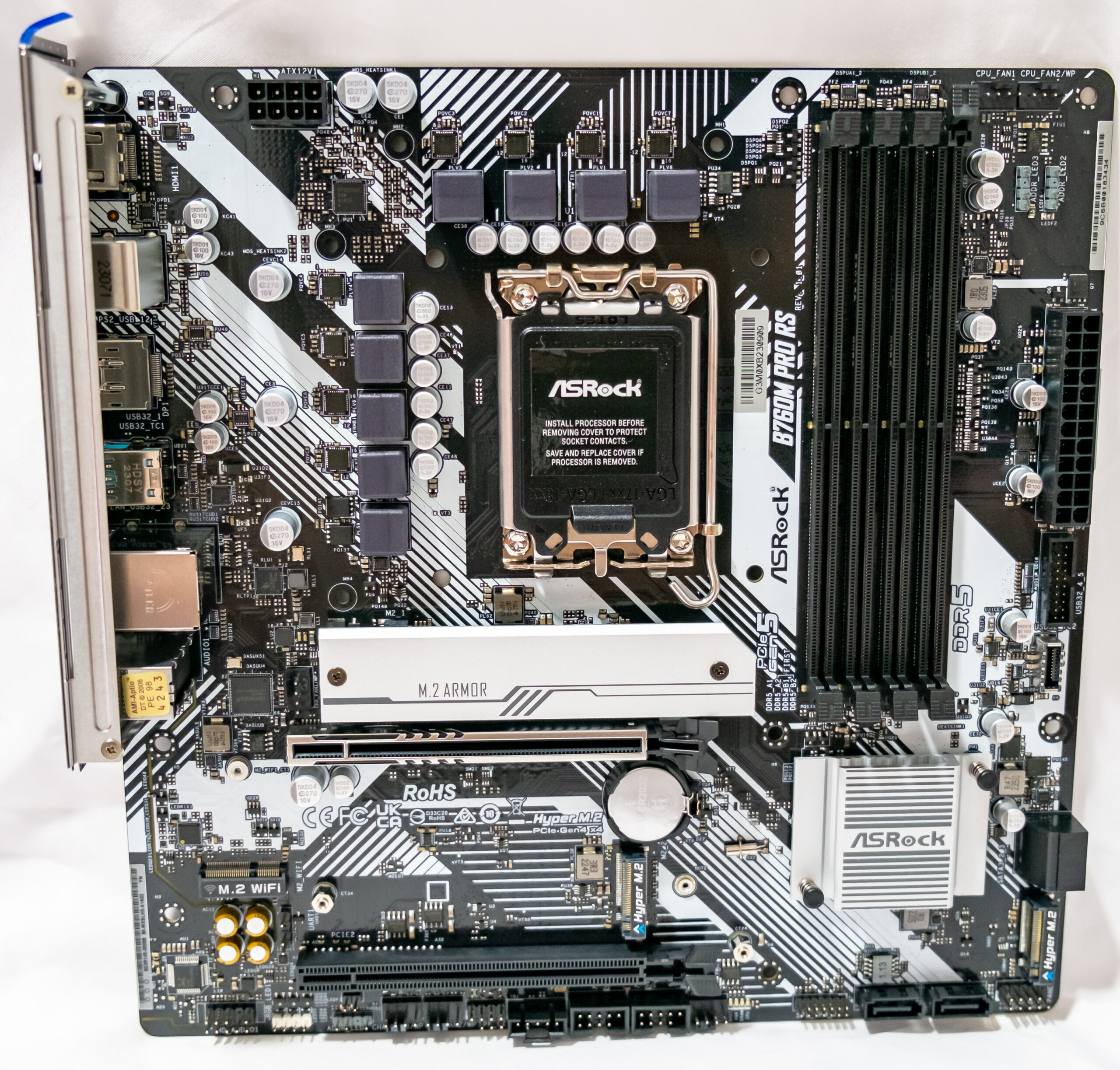 The power supply unit is a 7+1-phase configuration with teamed up performance and 50-amp integrated MOSFETs. On this board, AsRock used Vishay integrated MOSFETs, which have a maximum continuous current of 50 A, which means that the CPU can receive a maximum of 450 amps of current. The VRM controller is a RT3628AE from Richtek, and it is located on the top side of the board.
The circuit is covered with 7 + 1 + 1: 7 phases – the processor core, 1 phases – SoC (IGPU) and 1 phase – VCCAUX_MISC.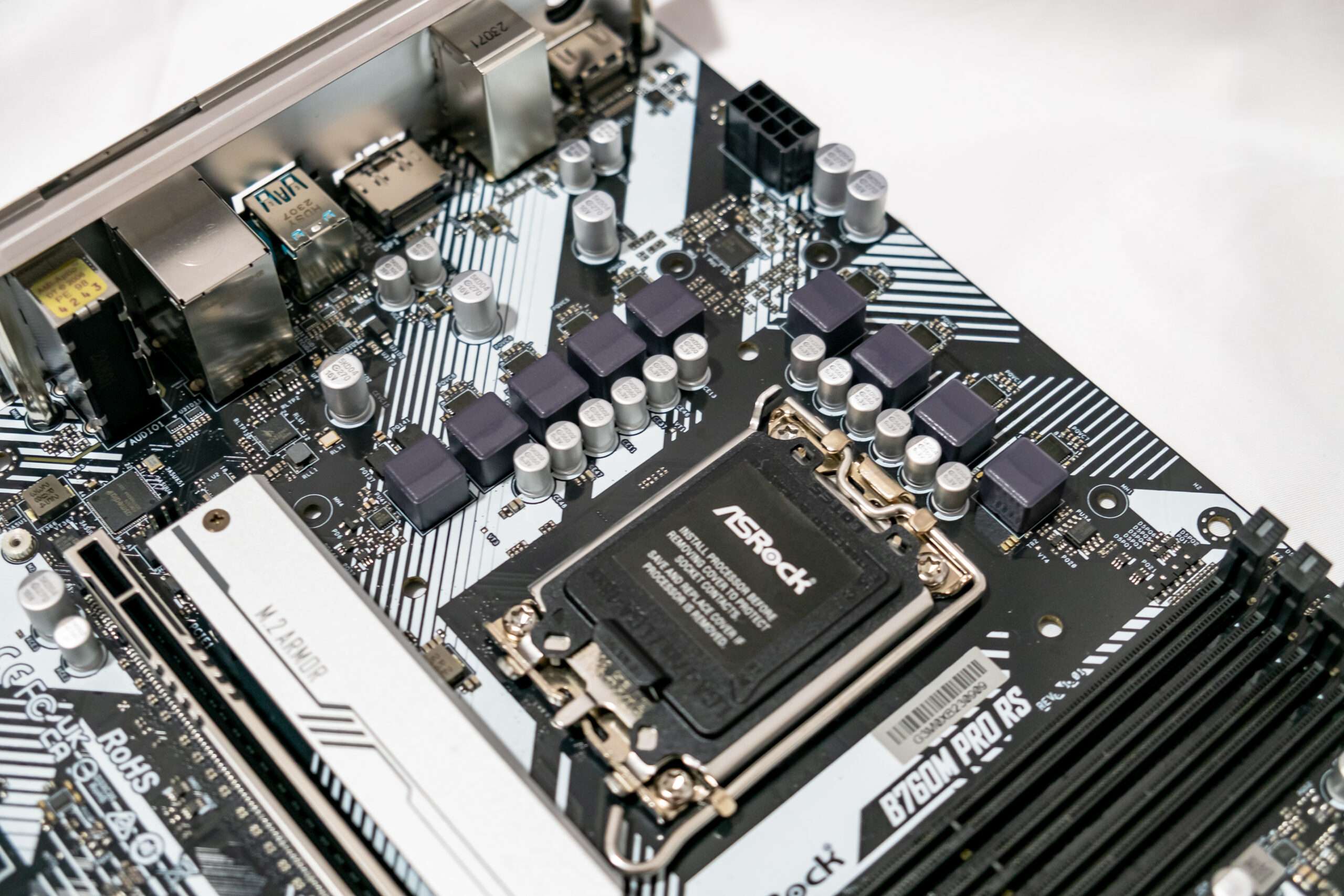 Each phase channel has a super ferrite choke and Vishay SIC654 MOSFET at 50A for VCore, integrated graphics core and VCCAUX_MISC.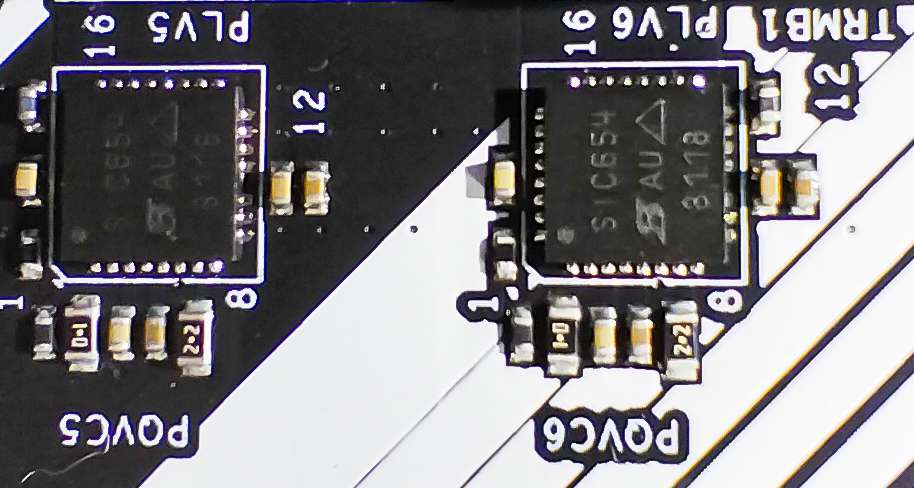 The RT3628AE PWM controller from the Richtek, designed for a maximum of 8 phases, manages the power supply circuit of the VCore and iGPU.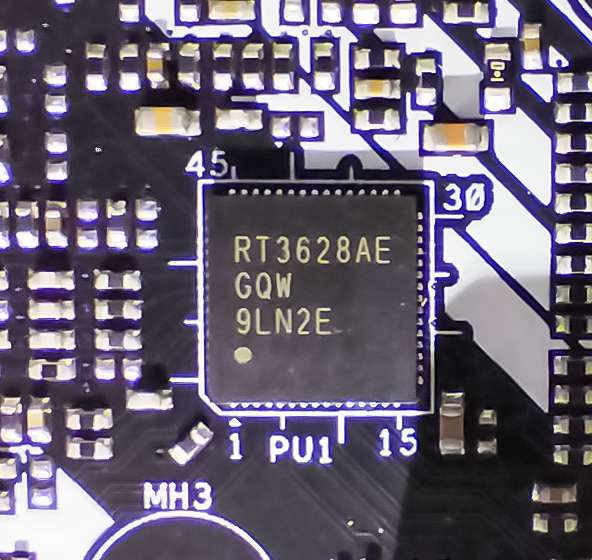 The Nuvoton NCT6796D-E controller is responsible for monitoring the state of the board, and also controls the operation of all fan sockets (as well as the entire Multi I / O).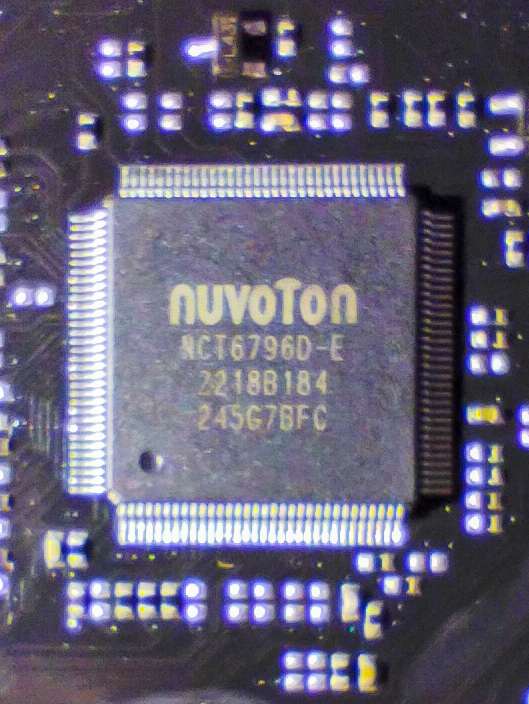 Realtek Dragon RTL8125BG 2.5G network chip supporting 10/100/1000/2500 Mbps network connection speed, and the network transmission performance is increased by up to 2.5 times, which can be higher Download games and transfer files at the fastest speed, and have a lower network delay value, bringing an extremely smooth connection experience.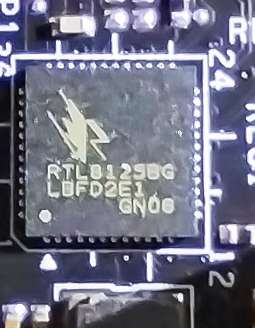 Realtek ALC897 audio chip, supports up to 7.1-channel theater-level surround sound, S/PDIF optical output, and has a line isolation design for left and right channels, and is equipped with ELNA TONEREX series high-quality Audio capacitors are common audio chip configurations for low- and mid-range motherboards.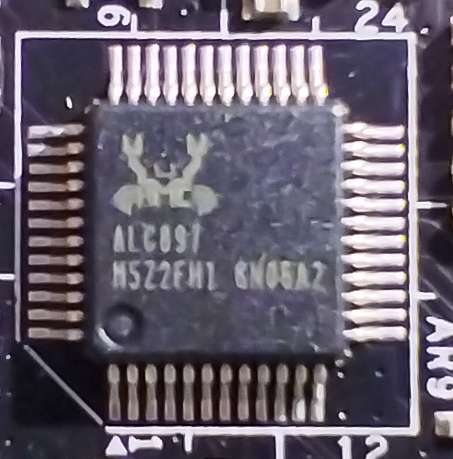 System configuration information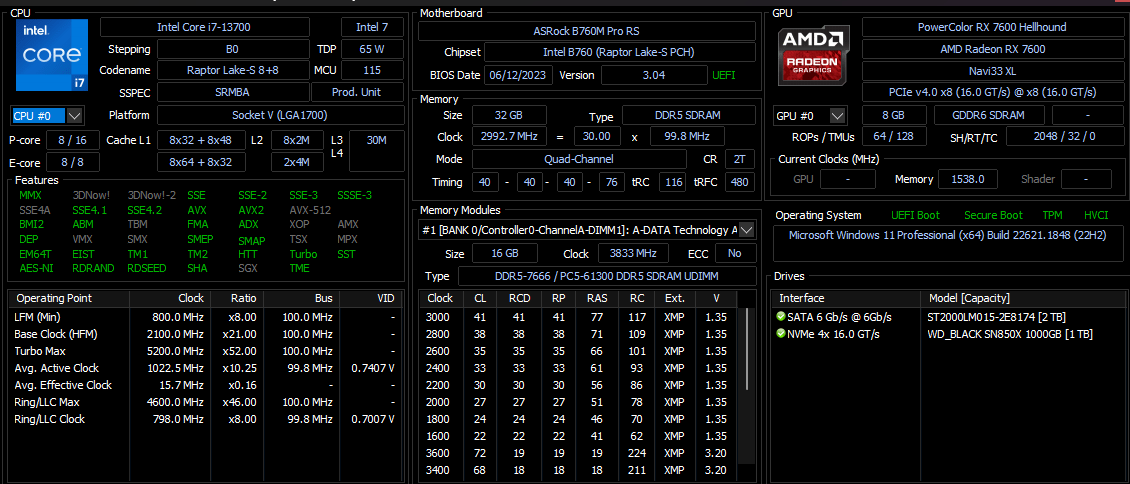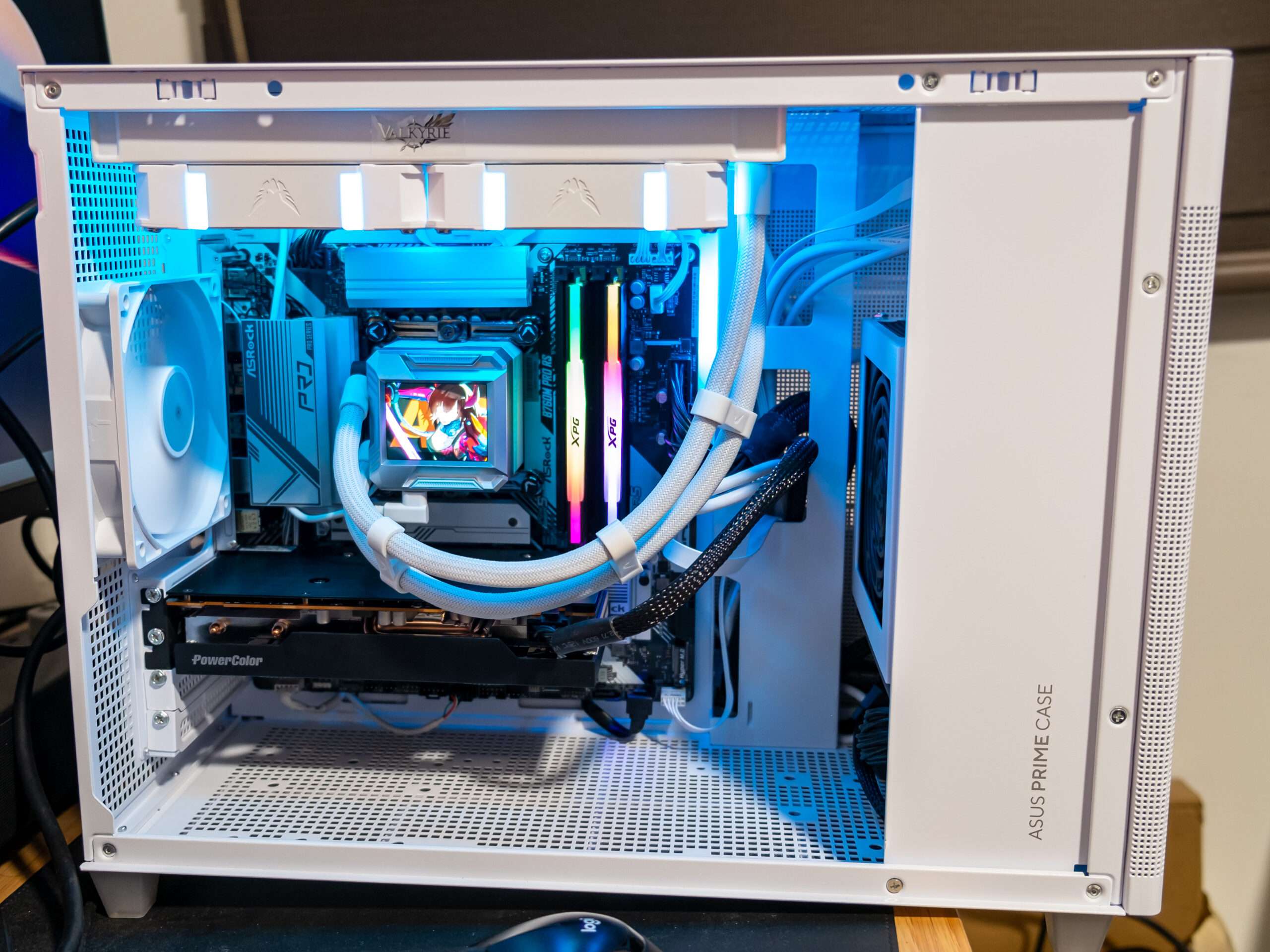 How We Test AsRock B760M Pro RS?
AsRock B760M Pro RS is a affordable motherboard from AsRock. As such, our workstation, based on a B760M Pro RS motherboard and Intel Core i7 13700 – 16 Cores 24 threads processor. The ram we will be using XPG DDR5 6000Mhz memory kit. PowerColor RX7600 FIghter and WD Black SN850X PCIe 4.0 1TB SSD is used as well to run with benchmark.
Cinebench R23
Improvements to Cinebench Release 20 reflect the overall advancements to CPU and rendering technology in recent years, providing a more accurate measurement of Cinema 4D's ability to take advantage of multiple CPU cores and modern processor features available to the average user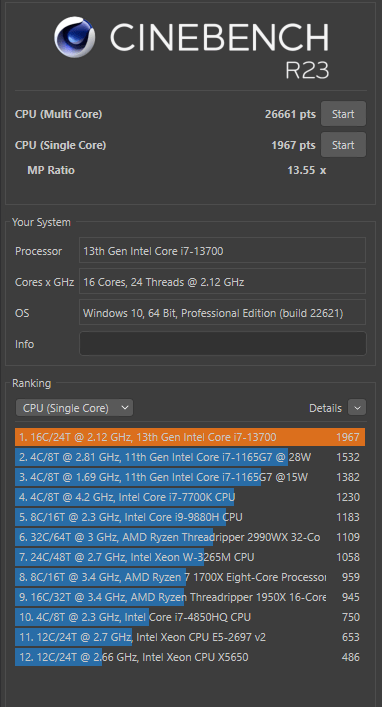 PCMark 10
PCMark 10 features a comprehensive set of tests that cover the wide variety of tasks performed in the modern workplace. With a range of performance tests, custom run options, Battery Life Profile, and new Storage benchmarks, PCMark 10 is the complete PC benchmark for the modern office.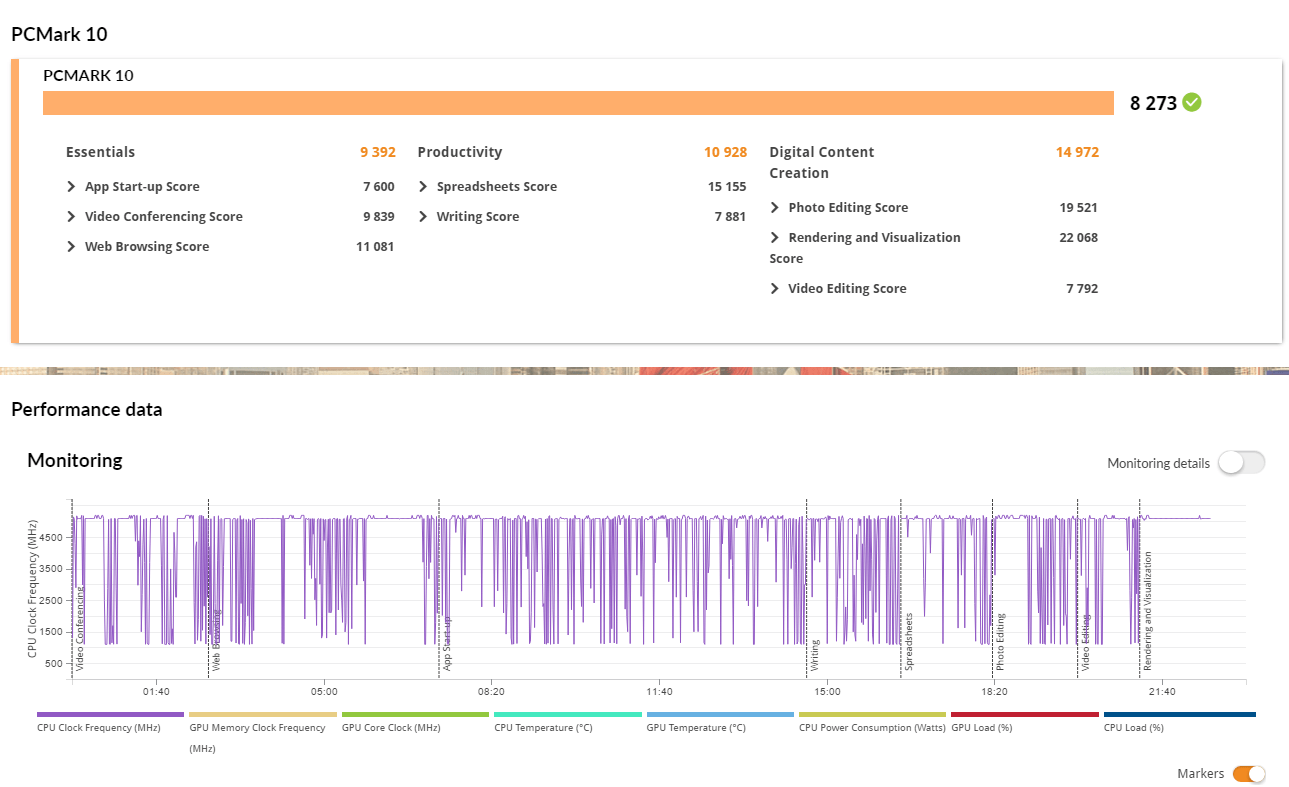 Passmark Benchmark
PassMark runs heavy mathematical calculations that stress the CPU's performance at compression, encryption, and physics-related tasks.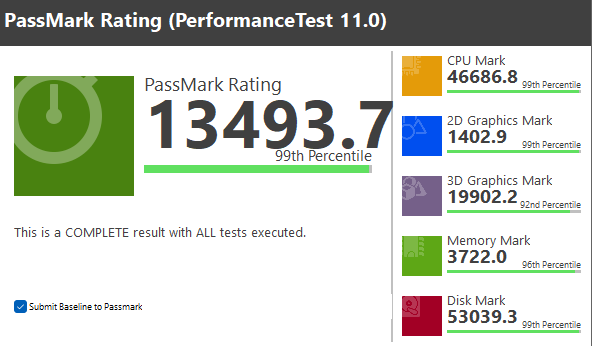 Pros
Best affordable B760 Board to support DDR5
Direct Power Phase
PCIe 5.0 for Graphics card
6-Layer PCB
2.5 Gbe LAN Port
Cons
Shouldn't include PS/2 port at rear I/O
low end Realtek Audio chip
WIFI/BT not included, unless bundle with it
Lack of ThunderBolt 4