The new ASUS TUF Gaming GeForce RTX 4070Ti 12GB GDDR6X is the third segment in 4000 series affair with a 3.15-slot design and triple-fan cooler. Underneath is the Ada Lovelace AD104 GPU on TSMC's custom 5nm node, with 12GB of super-fast GDDR6X memory.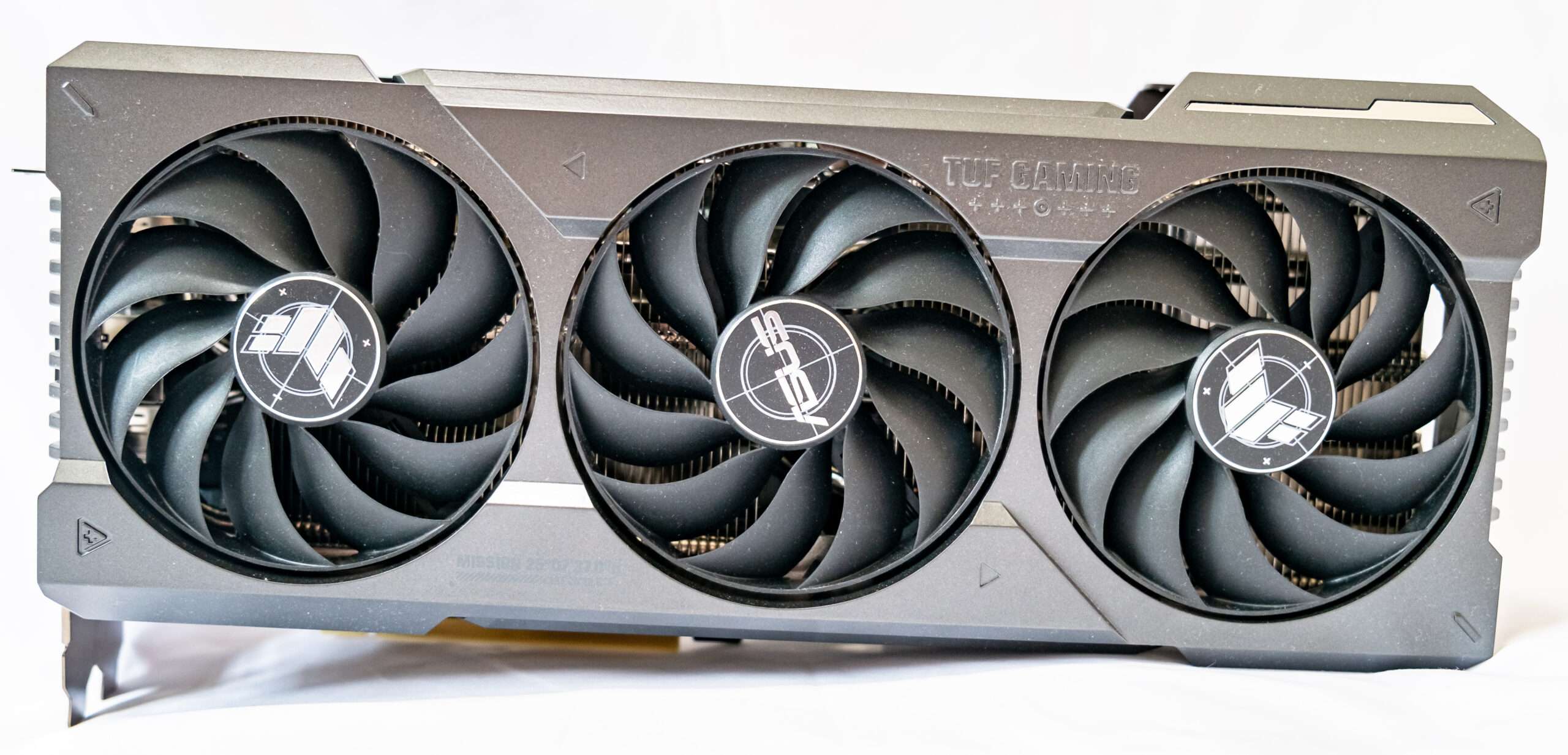 The GeForce RTX 4070Ti card is roughly on par with the RTX 3080 (10 GB), and besides, due to relatively adequate prices, coupled with a new architecture and lower consumption, the former are confidently replacing the latter in the world of gaming hardware. To the above advantages of the 4xxx line, you can add DLSS 3.0 version scaling technology, which works only with cards of this generation. In general, we can once again state that the RTX 4070 will provide excellent comfort in all games at maximum quality settings with disabled ray tracing and scaling technologies in resolutions up to 4K inclusive. In 4K, however, if the game allows, it is worth turning on DLSS.

Model
ASUS TUF GeForce RTX™ 4070Ti 12GB GDDR6X
Graphic Engine
NVIDIA® GeForce RTX™ 4070Ti
Bus Standard
PCI Express 4.0
OpenGL
OpenGL®4.6
Video Memory
12GB GDDR6X
Clock Speed
OC mode: 2580 MHz
Default mode: 2550 MHz (Boost Clock)
CUDA Core
5888
Memory Speed
21 Gbps
Memory Interface
192-bit
I/O Interface
Yes x 2 (Native HDMI 2.1a)
Yes x 3 (Native DisplayPort 1.4a)
HDCP Support Yes (2.3)
Dimensions
301 x 139.3 x 63mm
Recommended PSU
650W
Slot
3.15 Slot
The card has 12 GB of GDDR6X SDRAM placed in 6 chips of 2Gb each on the front side of the PCB. Micron memory chips (GDDR6X, MT61K512M32KPA-21 / D8BZC ) are designed for a nominal operating frequency of 2625 (21000) MHz.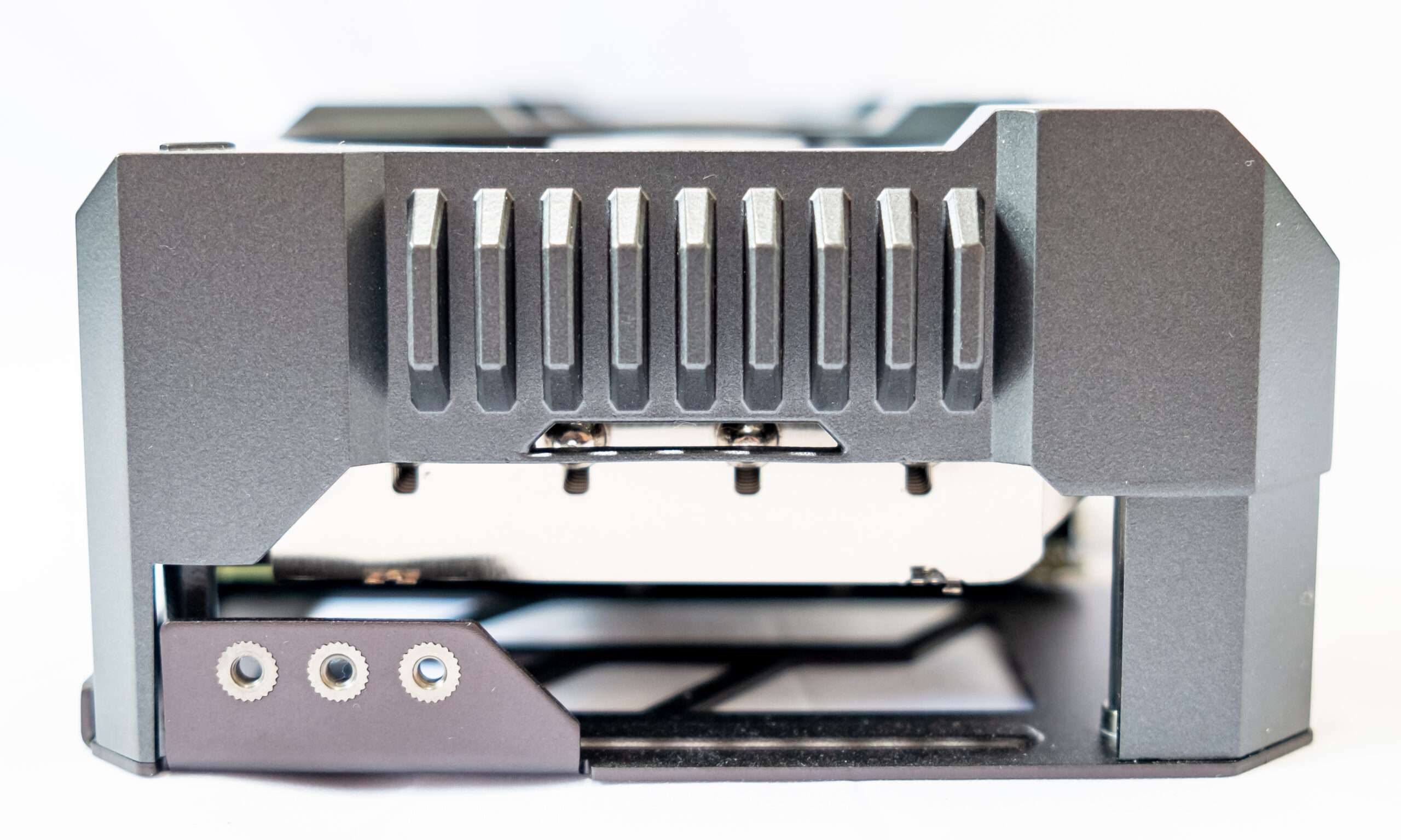 The back of the TUF GeForce RTX 4070Ti shows a large backplate fitting to the card which helps to cool and stiffens the card so as to not flex around. ASUS did redesign the backplate with TUF design.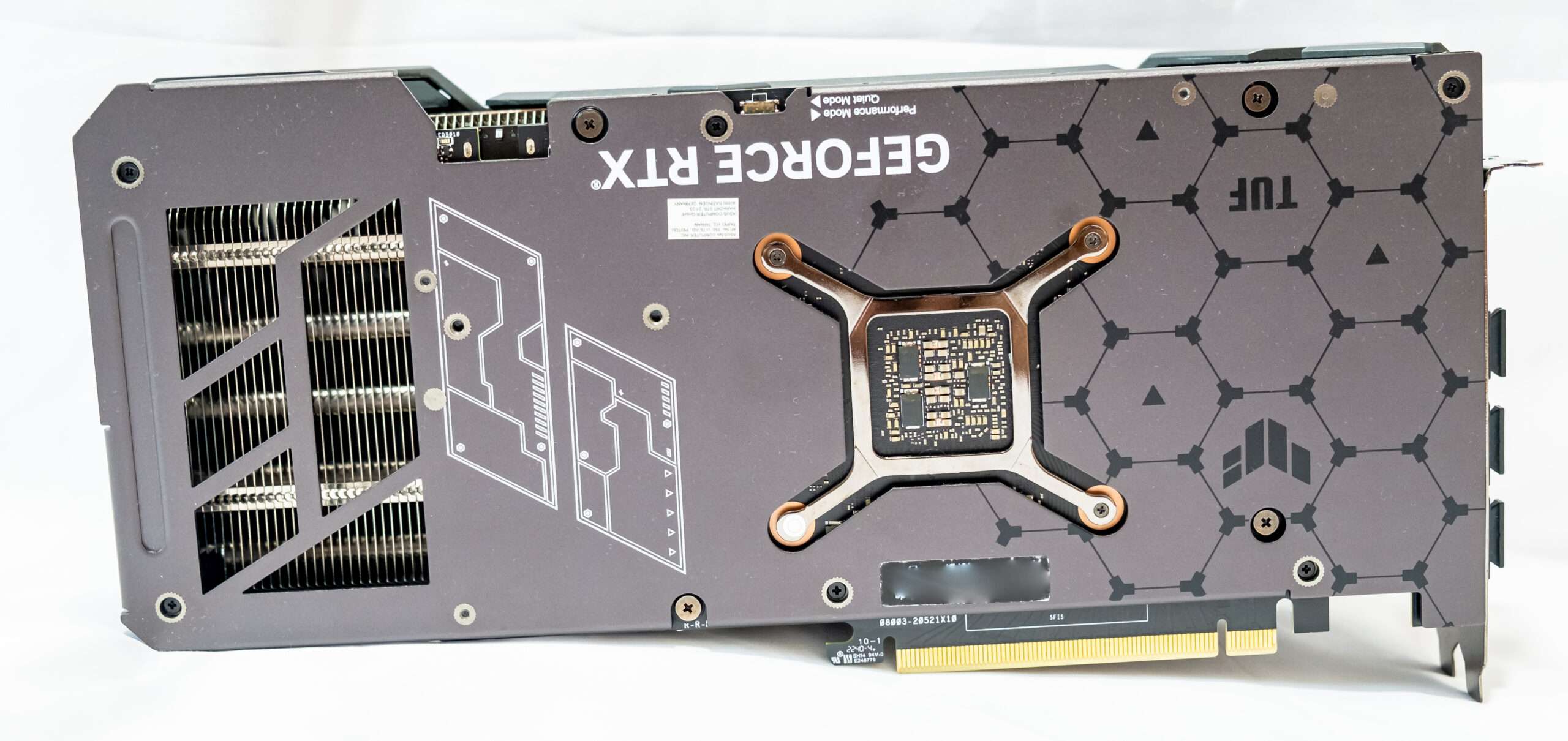 The TUF RTX 4070Ti OC is fitted with 12 Gigabyte GDDR6X memory, it runs at 21 Gbps (effective data rate) and that is a lot of bandwidth. The IO panel shows three DisplayPort 1.4a, and two HDMI 2.1a connectors that will bring 8K 60 Hz HDR to a single HDMI cable. No more USB type-C Virtual Link connector.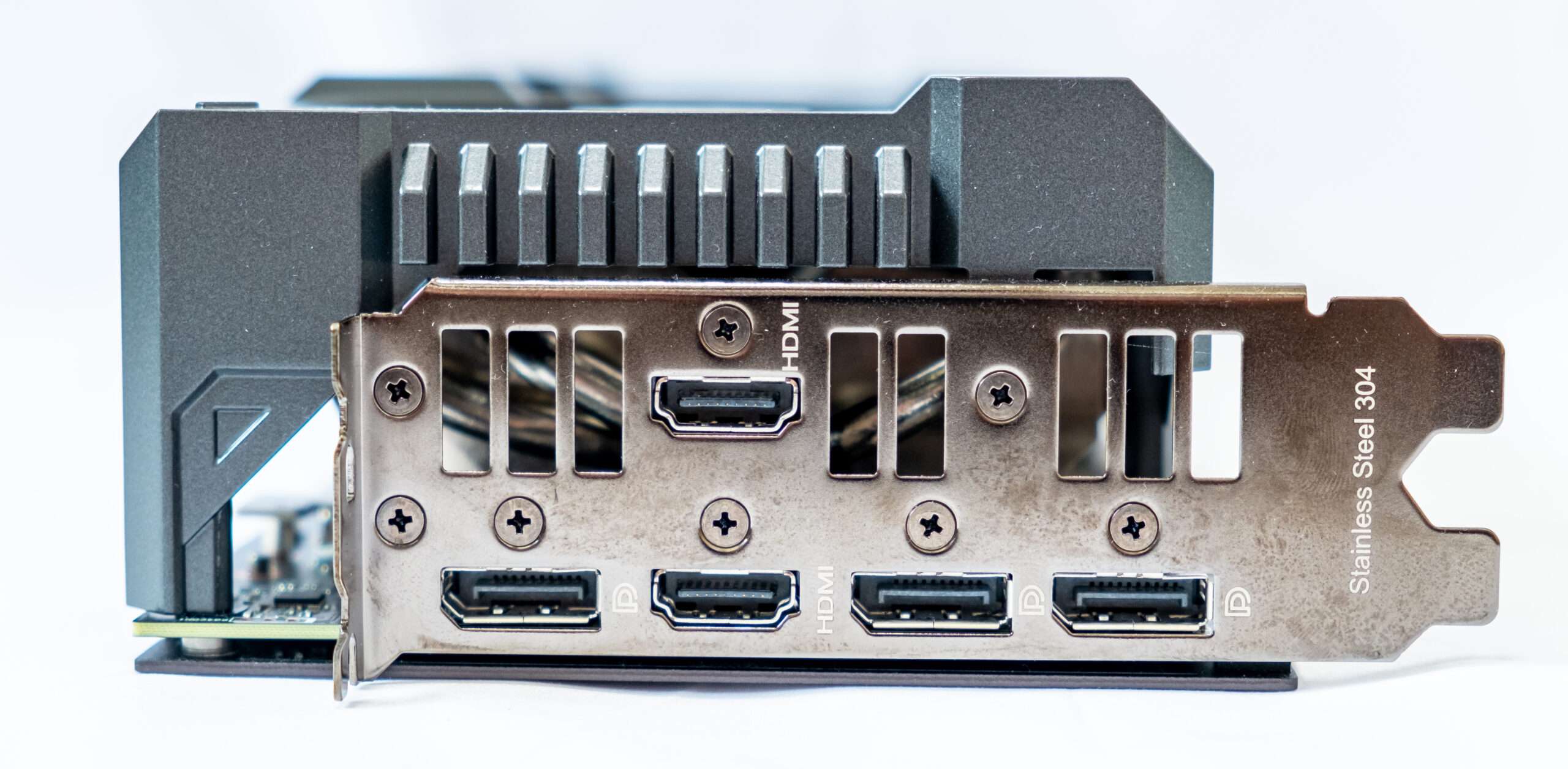 The two side fans spin counter clockwise to minimize turbulence and maximize air dispersion through the heatsink. All three fans come to a standstill when GPU temps are below 55 Celsius, letting you play less-demanding games or perform light tasks in relative silence. Fans start up again when temps are over 60 Celsius, referencing a speed curve that balances performance and acoustics for work or play.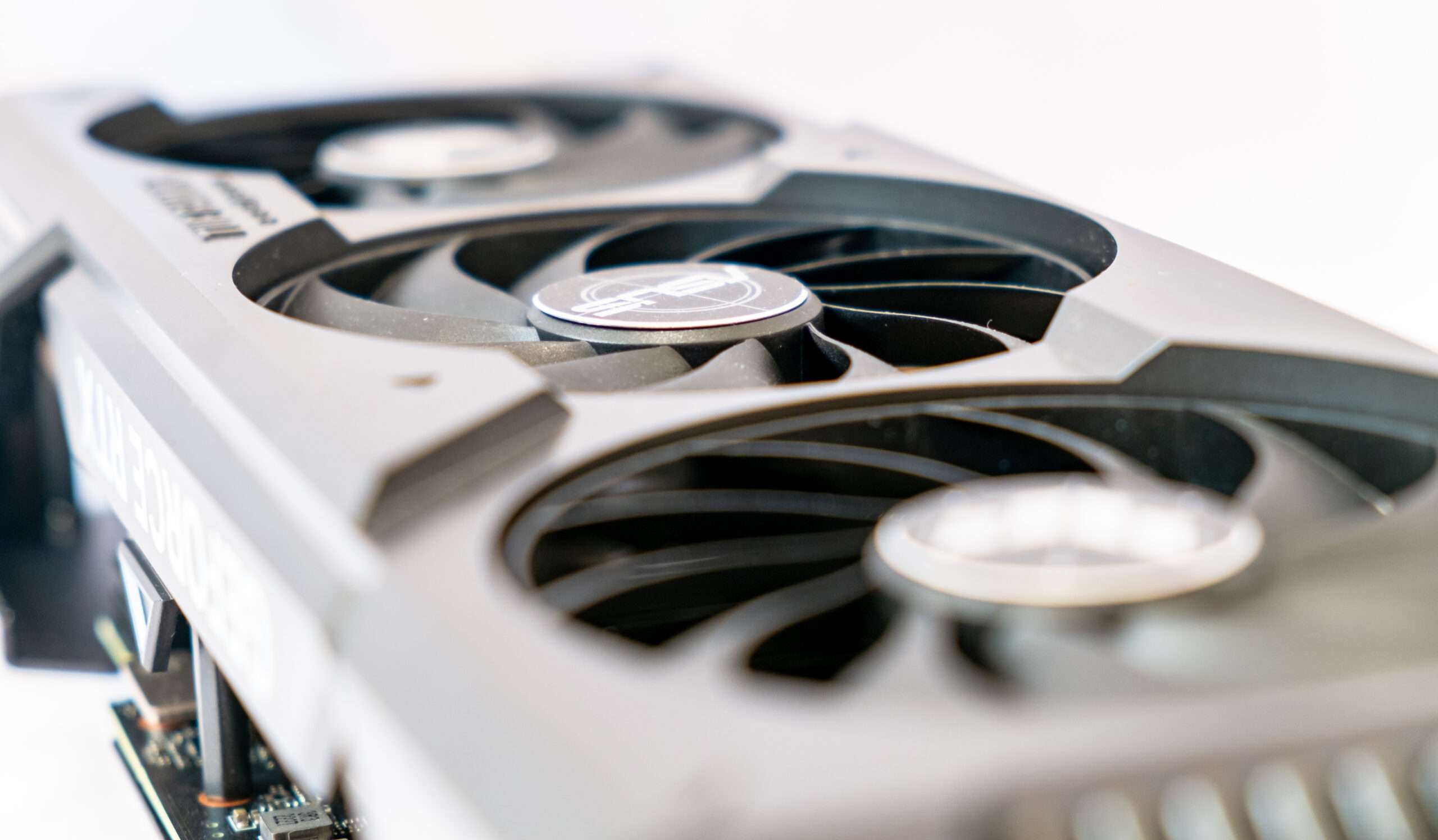 The card uses the new 12+4 pin ATX 12VHPWR connector, which is rated for up to 600 W of power draw. An adapter cable from 2x PCIe 8-pin is included (which is rated for up to 300 W).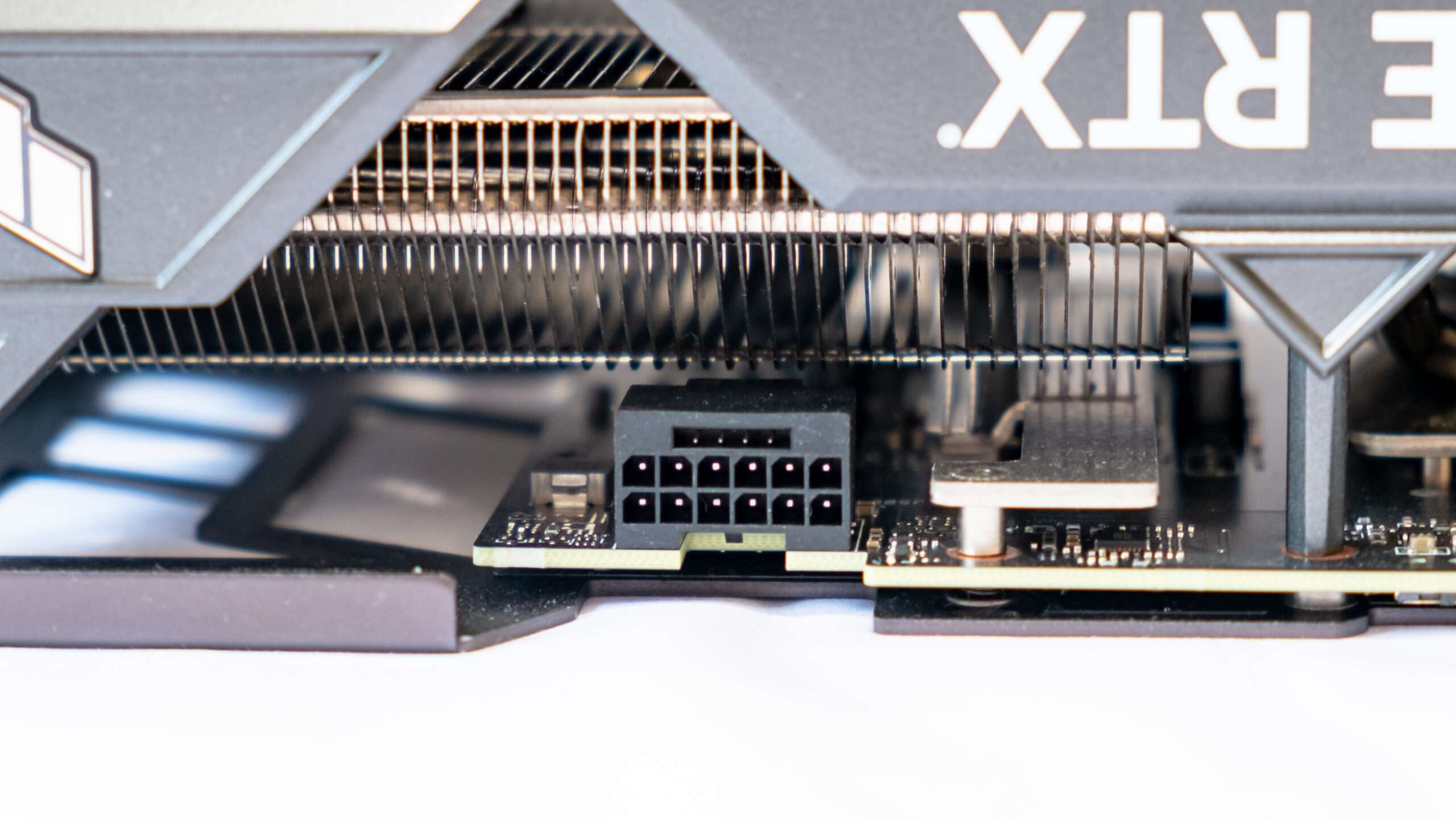 Auto-Extreme Technology is an automated manufacturing process that sets new standards in the industry by allowing all soldering to be completed in a single pass. This reduces thermal strain on components and avoids the use of harsh cleaning chemicals, resulting in less environmental impact, lower manufacturing power consumption, and a more reliable product overall.
Benchmark:
ASUS TUF RTX 4070Ti 12GB GDDR6X  is the third high range graphics card in Nvidia Ada Lovelace AD104-based segment. As such, our graphics workstation, based on an ASUS ROG Z790 Hero motherboard and Intel 13900k 24 cores processor.  The ram we will be using is  XPG 6000mhz- 32Gb memory kit. ADATA XPG GAMMIX S50 Lite 1TB M.2 NVMe SSD is used as well to run with benchmark. On the Comparison, we will be testing 3 GPUs to run side by side to see perform better.
| | |
| --- | --- |
| Model | DIY System |
| Motherboard | ASUS ROG Z790 Hero |
| CPU | Intel Core i9 13900K – 24 Cores/32 Threads |
| Cooling | EKWB-AIO 360 D-RGB |
| Ram | XPG DDR5 6000Mhz |
| SSD | ADATA XPG GAMMIX S50 Lite 1TB M.2 NVMe |
| OS | Microsoft Windows 11 Pro 22H2 |
| Bios | 0904 |
| | | | | | | | | |
| --- | --- | --- | --- | --- | --- | --- | --- | --- |
| Model | Graphic Engine | Bus Standard | Video Memory | GPU Clock | Boost GPU Clock | Memory Clock | Resizeable Bar | Driver |
| ASUS TUF RTX 4070Ti OC 12GB GDDR6X | RTX4070 AD104 | PCI Express 4.0 | 12GB GDDR6X | 2730 | 2760 | 1313 | Enable | 531.79 |
| ASUS  GeForce RTX 4060TI 8GB GDDR6 | RTX4060Ti AD106 | PCI Express 4.0 | 8GB GDDR6 | 2625 | 2655 | 2250 | Enable | 535.98 |
| PowerColor RX7600 Fighter | Navi 33 | PCI Express 4.0 | 8GB GDDR6 | 2250 | 2655 | 2250 | Enable | 23.5.1 |
GPUZ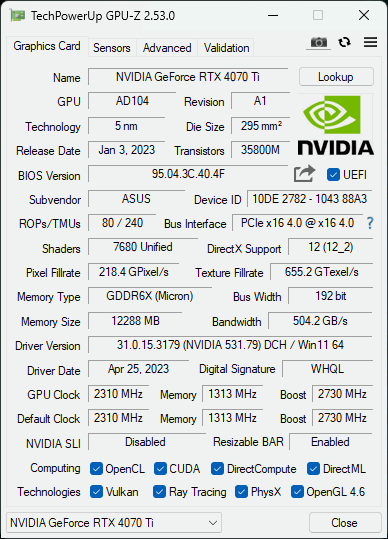 3Dmark Advanced Edition
3DMark includes everything you need to benchmark your PC and mobile devices in one app. Whether you're gaming on a smartphone, tablet, notebook, or a desktop gaming PC, 3DMark includes a benchmark designed specifically for your hardware.
3DMark Advanced Edition
Model
Speed Way
Fire Strike Ultra
Night Raid
Port Royal
Time Spy Extreme
Wild Life Extreme
ASUS TUF RT4070Ti
5417
13799
94007
14135
11299
46166
ASUS TUF RT4060Ti
3169
7574
86421
8104
6756
25589
PowerColor RX7600
1929
7219
76735
5399
5580
18159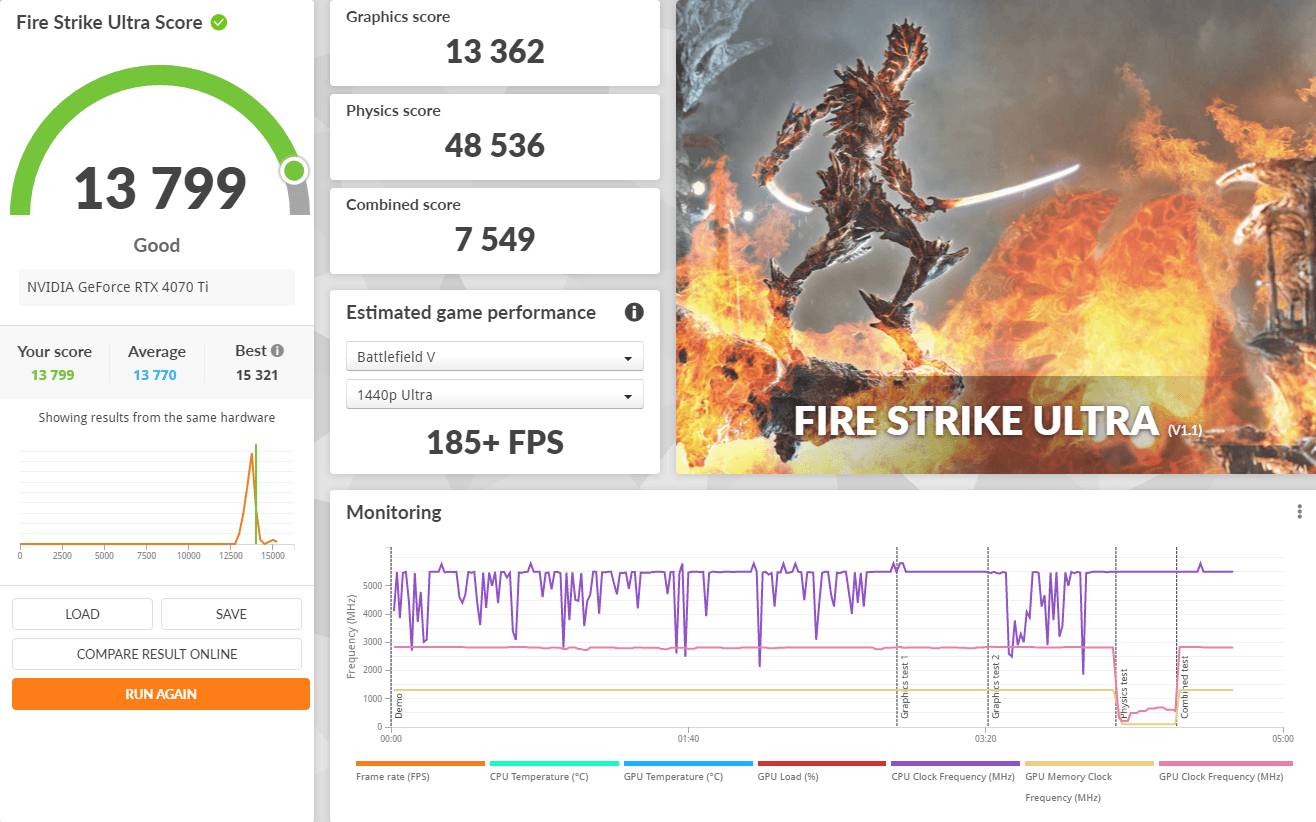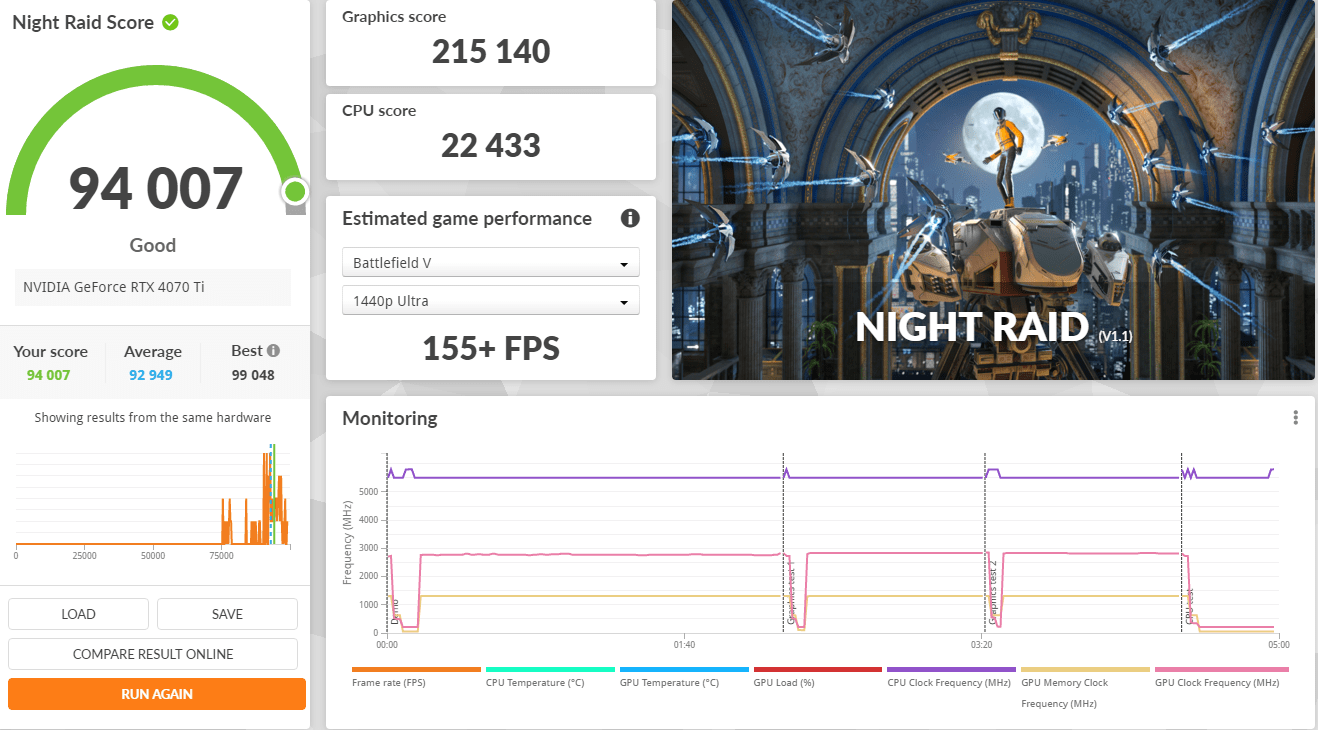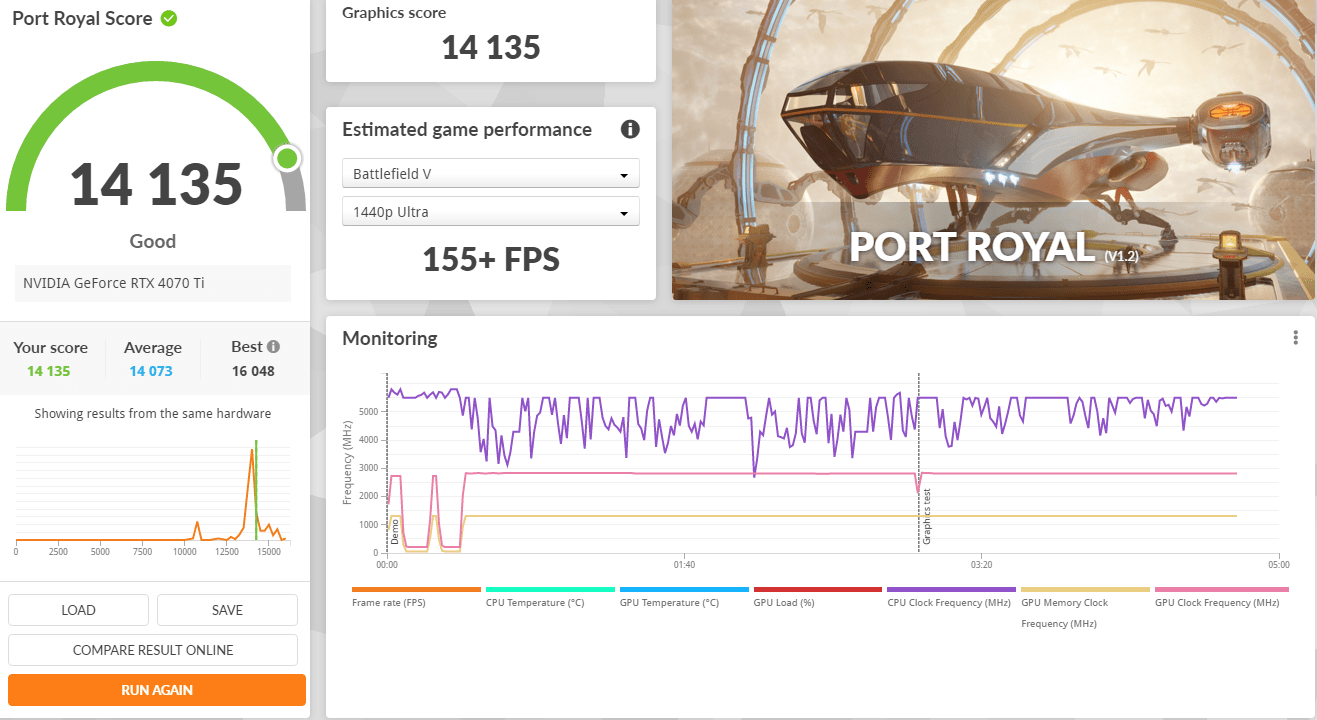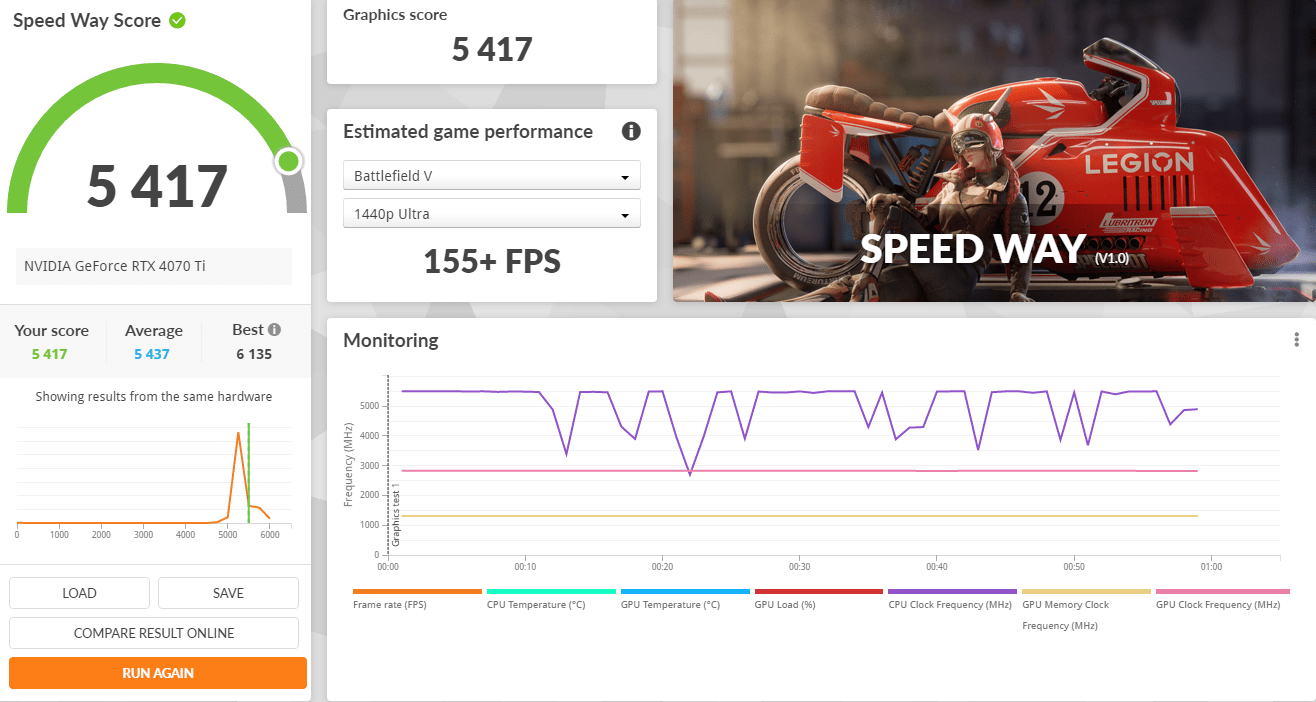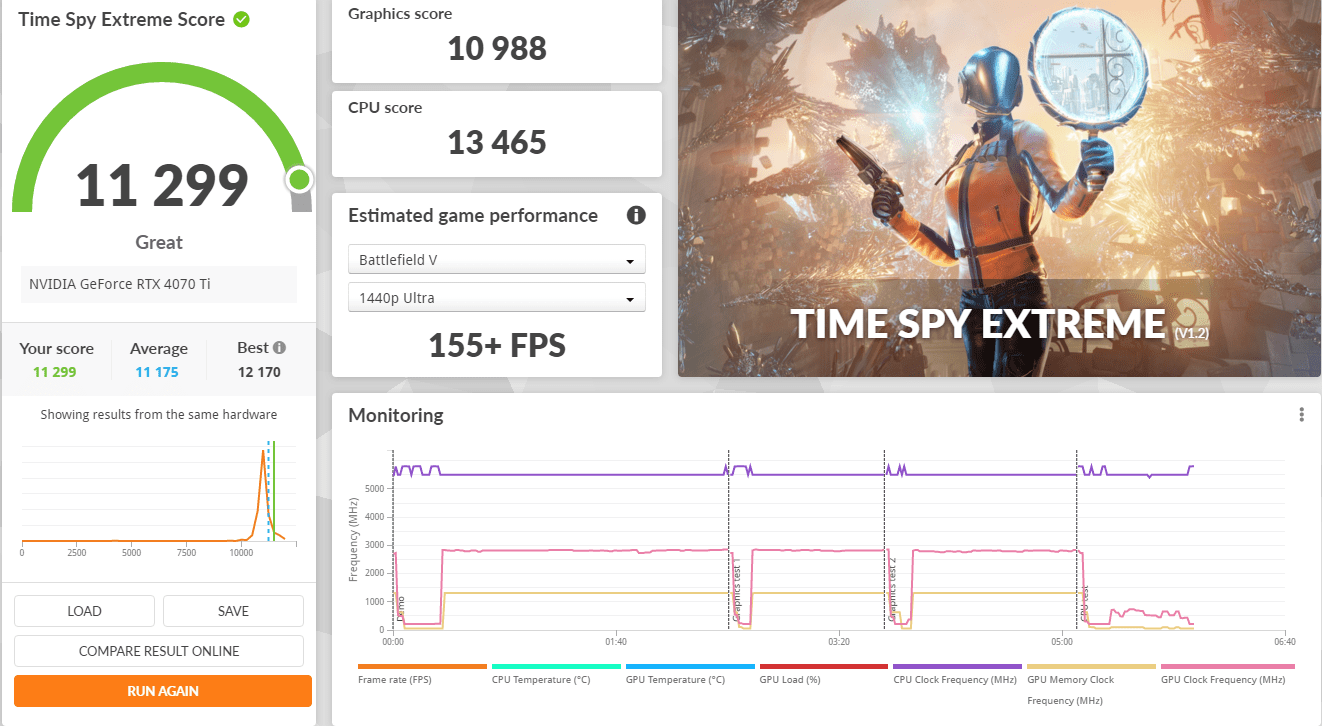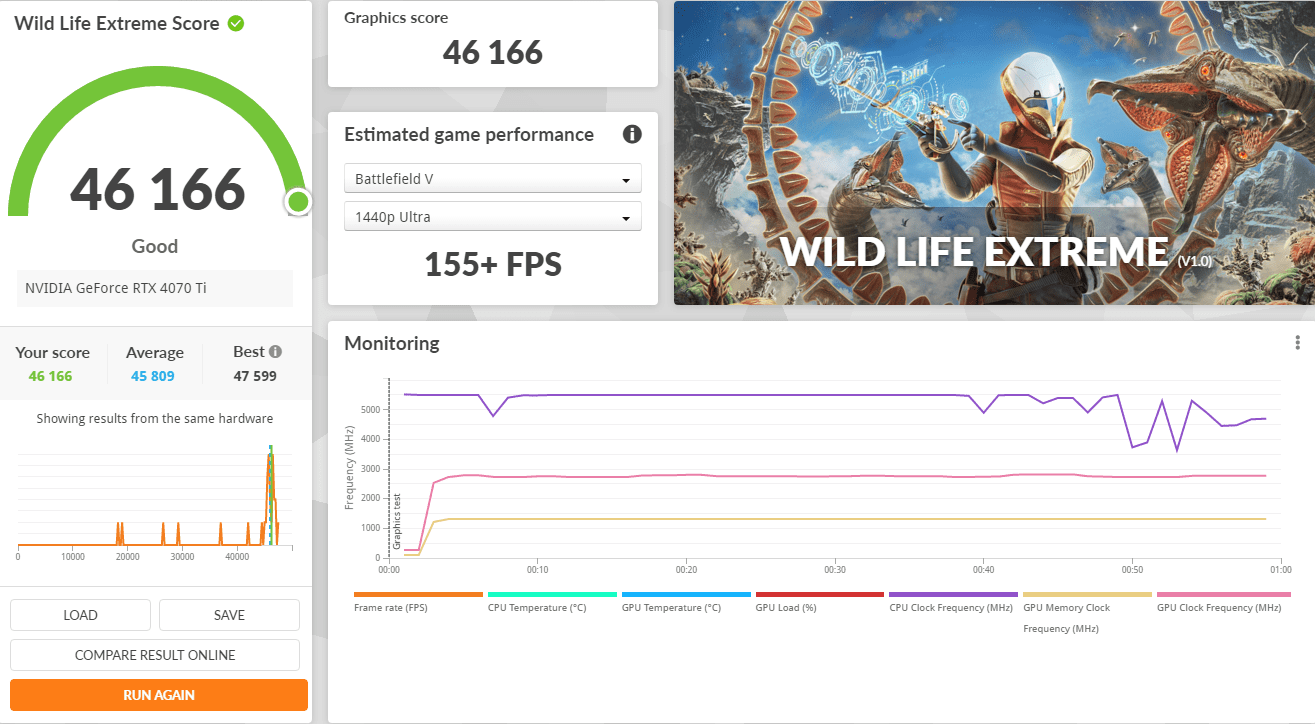 Ashes of the Singularity Escalation
As a real-time strategy title, Ashes is all about responsiveness during both wide open shots but also concentrated battles. With DirectX12 at the helm, the ability to implement more draw calls per second allows the engine to work with substantial unit depth and effects that other RTS titles had to rely on combined draw calls to achieve, making some combined unit structures ultimately very rigid.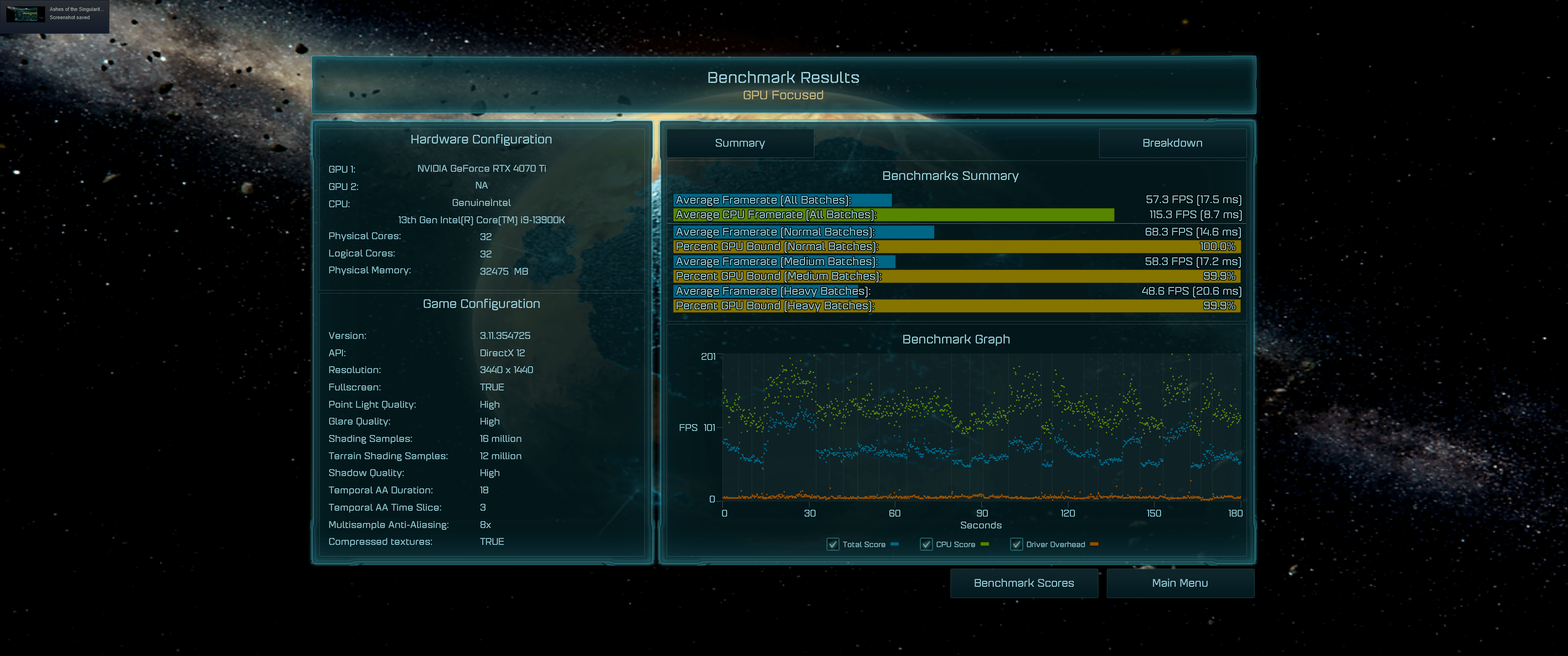 BaseMark GPU
Basemark GPU is a professional evaluation tool to evaluate and compare graphics performance across mobile and desktop platforms. Uniquely, it supports all major graphics APIs and operating systems.
BaseMark GPU
Model
Average
Minimum
Maximum
Overall Score
ASUS TUF RT4070Ti
221
183
334
22146
ASUS TUF RT4060Ti
124
104
197
12429
PowerColor RX7600
87
26
1377
8741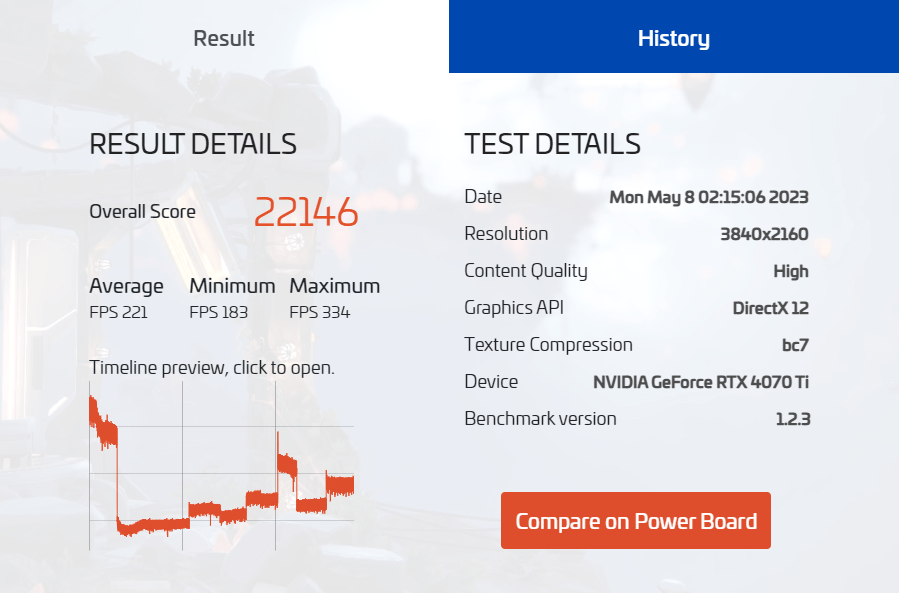 Heaven Benchmark
Extreme performance and stability test for PC hardware: video card, power supply, cooling system. Check your rig in stock and overclocking modes with real-life load! Also includes interactive experience in a beautiful, detailed environment.
Heaven Benchmark
Model
FPS
Minimum FPS
Maximum FPS
Score
ASUS TUF RT4070Ti
311.3
11
678.9
7841
ASUS TUF RT4060Ti
175.8
44.9
410.5
4428
PowerColor RX7600
136.3
44.6
309.6
3432
SuperPosition
Extreme performance and stability test for PC hardware: video card, power supply, cooling system. Check your rig in stock and overclocking modes with real-life load! Also includes interactive experience in a beautiful, detailed environment.
SuperPosition Benchmark
Model
Average
Minimum
Maximum
Score
ASUS TUF RT4070Ti
129.48
108.04
159.49
17311
ASUS TUF RT4060Ti
72.8
60.75
89.36
9732
PowerColor RX7600
56.11
48.58
67.53
7502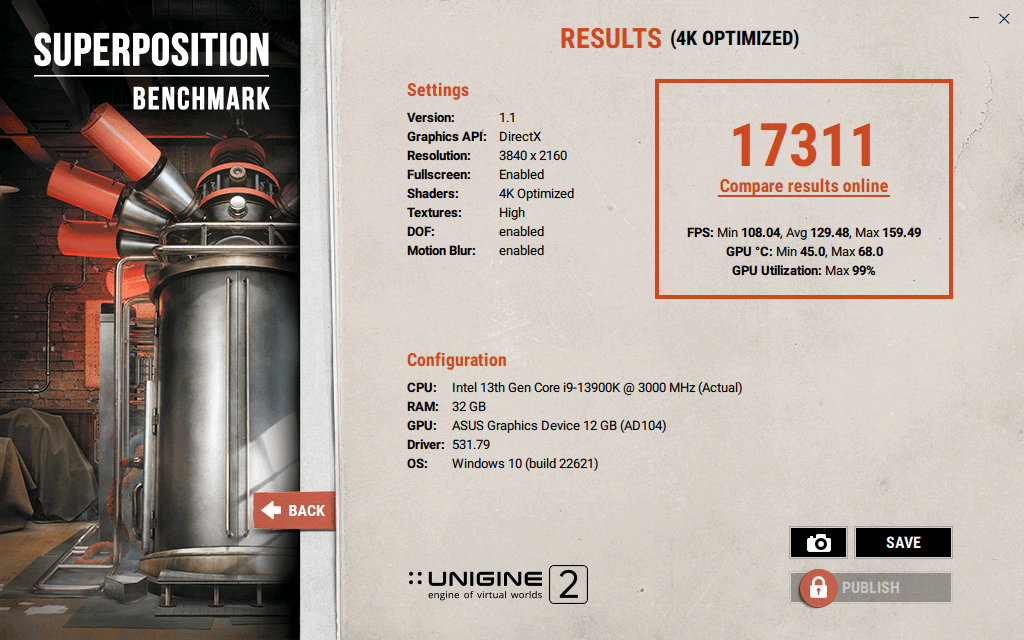 Batman Arkham Origins
Taking place before the rise of Gotham City's most dangerous criminals, the game showcases a young and unrefined Batman as he faces a defining moment in his early career as a crime fighter that sets his path to becoming the Dark Knight.
Batman Arkham Origins
Model
Average
Minimum
Maximum
ASUS TUF RT4070Ti
124
102
151
ASUS TUF RT4060Ti
214
121
371
PowerColor RX7600
123
104
147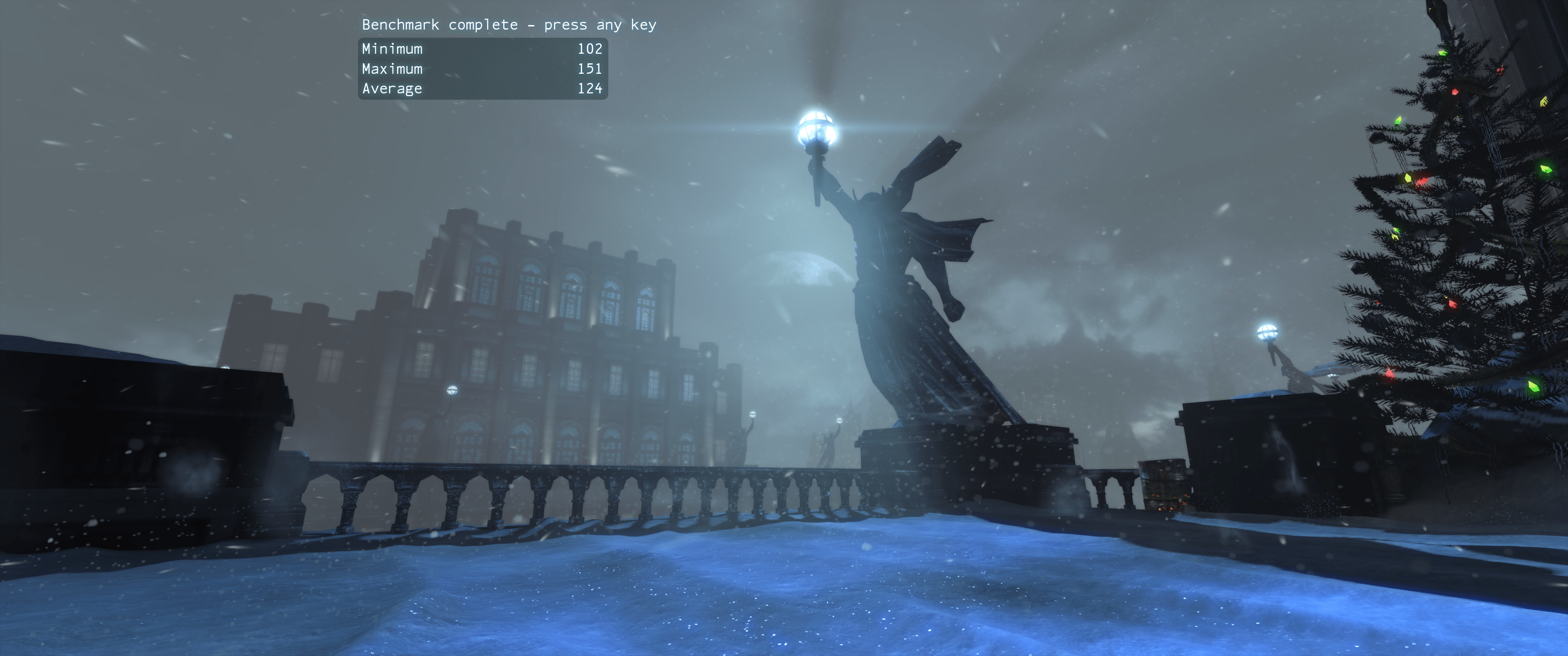 FarCry 6
Far Cry 6 supports ray tracing at launch, with the ability to enable DXR reflections and DXR shadows. But because DXR shadows are kind of pointless and not worth the performance hit, we haven't tested with them enabled, but I have taken a look at DXR reflections, so we'll look at that shortly using supported hardware.
FarCry 6
Model
Average
Minimum
Maximum
ASUS TUF RT4070Ti
114
85
130
ASUS TUF RT4060Ti
61
24
71
PowerColor RX7600
44
15
58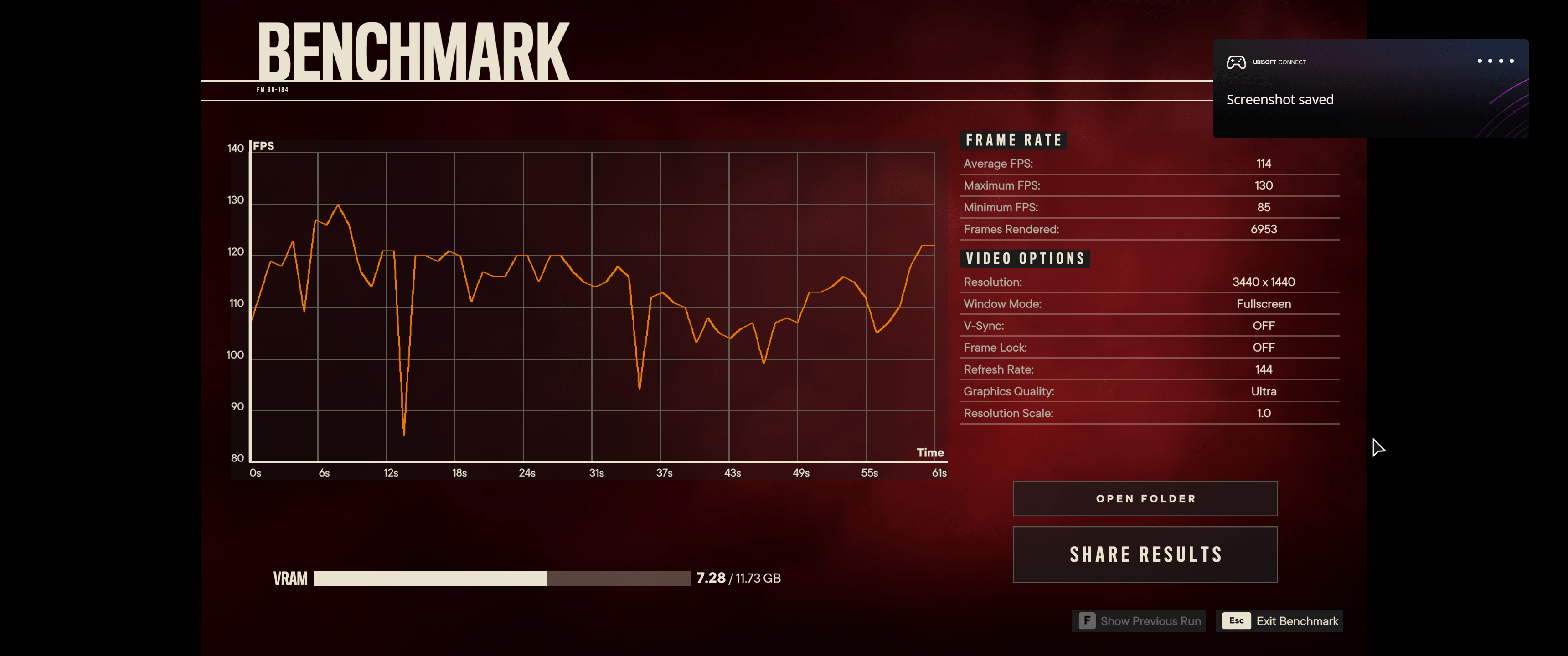 Sleeping Dog
In this open world game, you play the role of Wei Shen, an undercover cop trying to take down the Triads from the inside out. You'll have to prove yourself worthy as you fight your way up the organization, taking part in brutal criminal activities without blowing your cover.
Torn between your loyalty to the badge and a criminal code of honor, you will risk everything as the lines between truth, loyalty and justice become permanently blurred.
Sleeping Dog
Model
Average
Minimum FPS
Maximum FPS
ASUS TUF RT4070Ti
131.8
72
189.1
ASUS TUF RT4060Ti
90.9
51.8
180.8
PowerColor RX7600
62.9
40.6
83.6
Ghost Recon Breakpoint
Ghost Recon Breakpoint is a military shooter set in a diverse, hostile, and mysterious open world that you can play entirely solo or in four-player co-op.
Ghost Recon Breakpoint
Model
Total Score
Frames Score
FPS
ASUS TUF RT4070Ti
S
2251
130
ASUS TUF RT4060Ti
A
15165
88
PowerColor RX760
A
15499
90
Total War WARHAMMER
Addictive turn-based empire-building with colossal, real-time battles, all set in a world of legendary heroes, giant monsters, flying creatures and storms of magical power.
Total War WARHAMMER
Model
Average
Minimum FPS
Maximum FPS
ASUS TUF RT4070Ti
48.3
33
64
ASUS TUF RT4060Ti
29
19
38
PowerColor RX7600
15.7
12
19