The ASUS TUF Gaming Radeon RX 7900 XT OC Edition is built with the powerful graphics performance of the AMD RDNA3 architecture and is based on a new chiplet design. It offers dedicated 2nd gen RT Cores and 3rd gen Tensor Cores, new streaming multiprocessors, and high-speed GDDR6 memory to tackle the latest games. The ray tracing performance is suggested to be up to 50 per cent better than on the RX 6950 XT, while rasterization performance is expected to be up to 70 per cent better.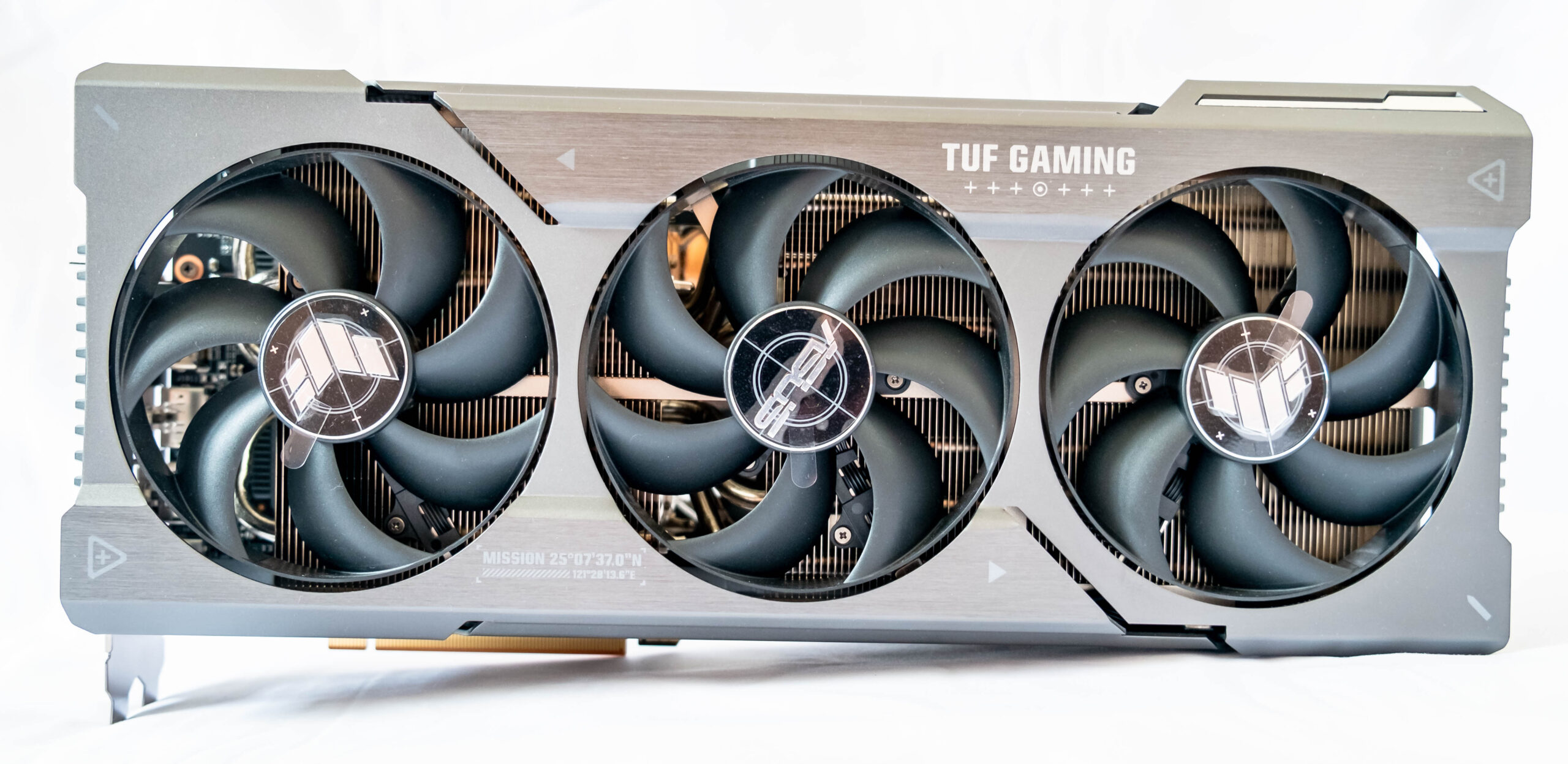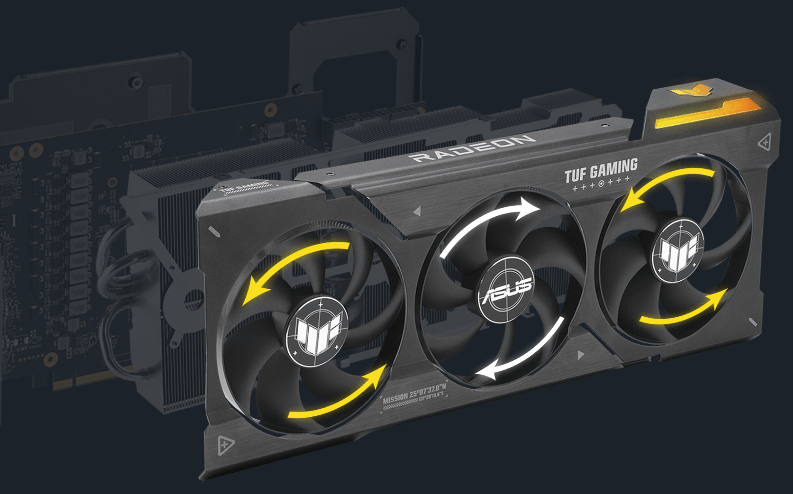 The fans are also new and upgraded from ASUS, being bigger and able to boost airflow and static pressure without sacrificing silence.
The two side fans spin counter clockwise to minimize turbulence and maximize air dispersion through the heatsink. All three fans come to a standstill when GPU temps are below 55 Celsius, letting you play less-demanding games or perform light tasks in relative silence. Fans start up again when temps are over 60 Celsius, referencing a speed curve that balances performance and acoustics for work or play.
Model
ASUS TUF Gaming Radeon™ RX 7900 XT 20GB GDDR6
Graphic Engine
AMD Radeon™ RX 7900 XT
Bus Standard
PCI Express 4.0
OpenGL
OpenGL®4.6
Video Memory
20GB GDDR6
Clock Speed
OC mode : up to 2450 MHz (Boost Clock)/up to 2075 MHz (Game Clock)
Default mode : up to 2400 MHz (Boost Clock)/up to 2000 MHz (Game Clock)
Stream Processors
5376
Memory Speed
20 Gbps
Memory Interface
320-bit
I/O Interface
Yes x 1 (Native HDMI 2.1)
Yes x 3 (Native DisplayPort 2.1)
HDCP Support Yes (2.3)
Dimensions
13.9 x 6.23 x 2.86 inches
352.9 x 158.2 x 72.6 mm
Recommended PSU
750W
Slot
3.63 Slot
The basis of the cooler is a large plate nickel-plated heatsink with heat pipes soldered to the sole of direct contact with the GPU and memory chips. The same heatsink also serves as a cooler for the VRM power converter components with the help of small soles. For a pair of VRM memory mosfets, a separate small heatsink is provided, screwed to the main heatsink. The back plate is made of aluminium with an electrically insulating coating and has a triple purpose: it serves as a PCB protection element, a stiffener, and carries a TUF logo.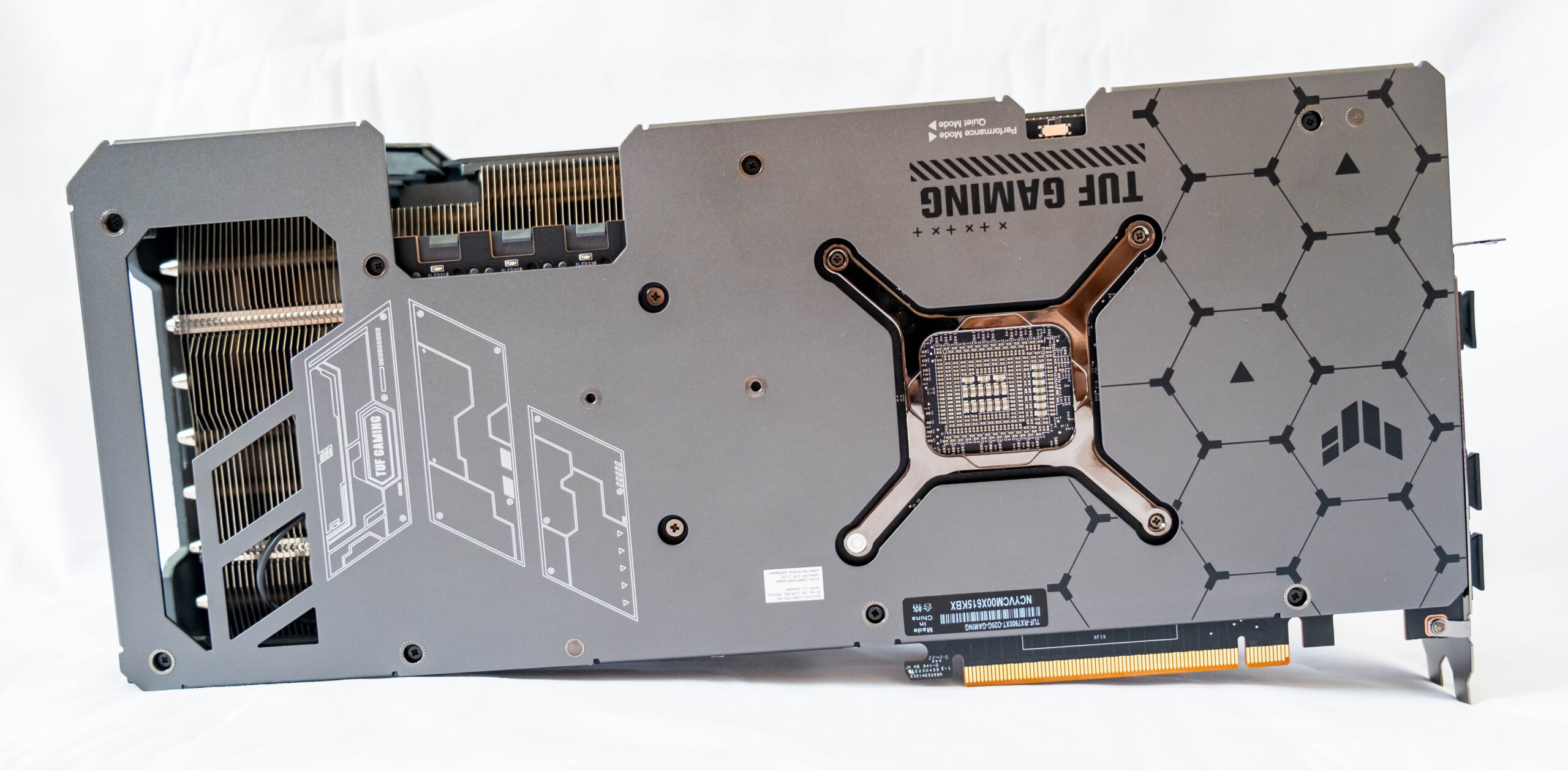 Power is supplied through three 8-pin connector. It has an LED indicator of correct power connection (in case of incorrect connection and in the absence of power, it lights up in red).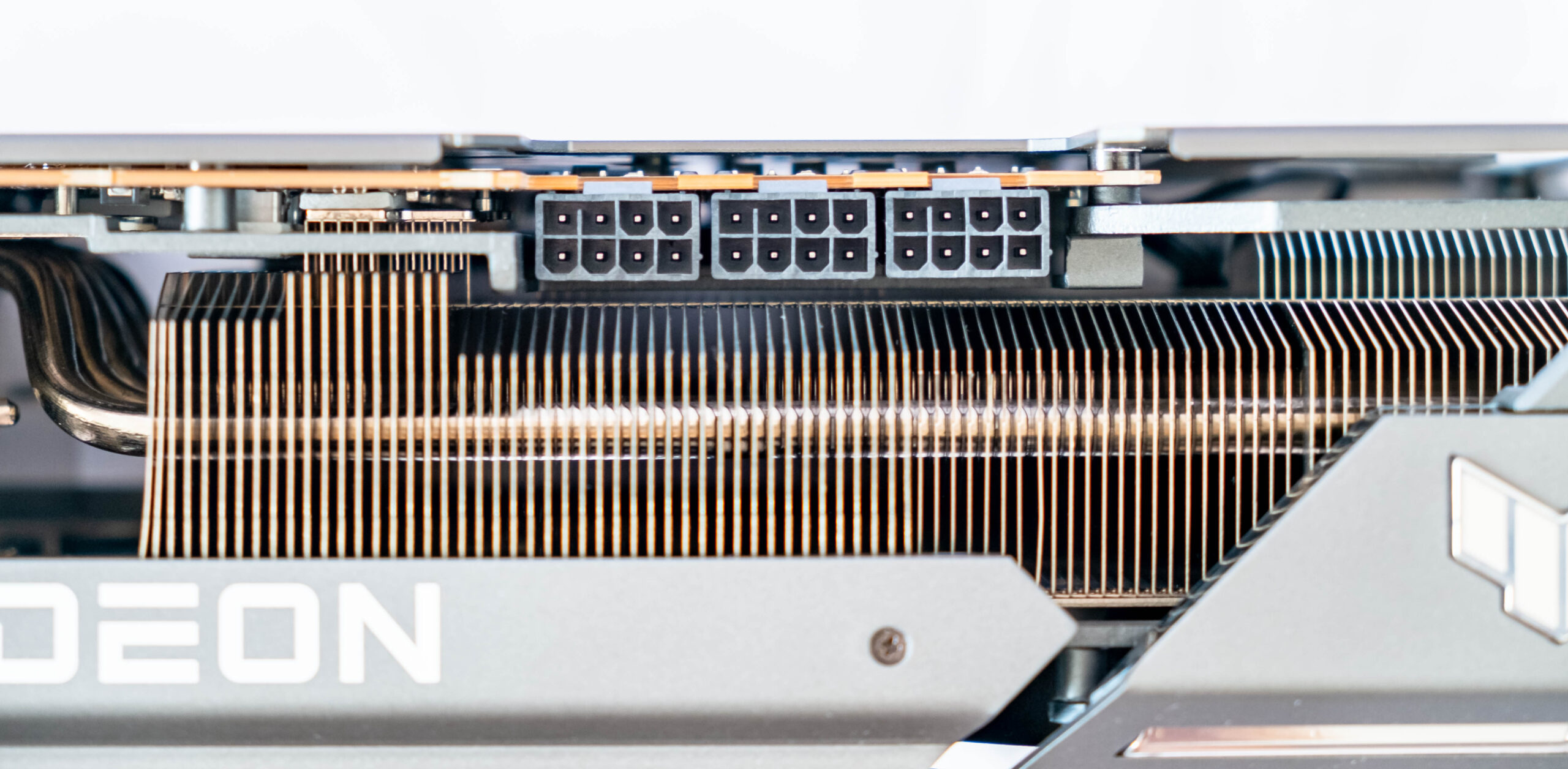 The graphics card has 4 video outputs: In addition to 3x DisplayPort 2.1 outputs, 1x HDMI 2.1 outputs (but no USB Type-C connector that supports DP2.1) However, the GPU can only output to 4 monitors at the same time, so this solution simply provides more flexibility when choosing video outputs.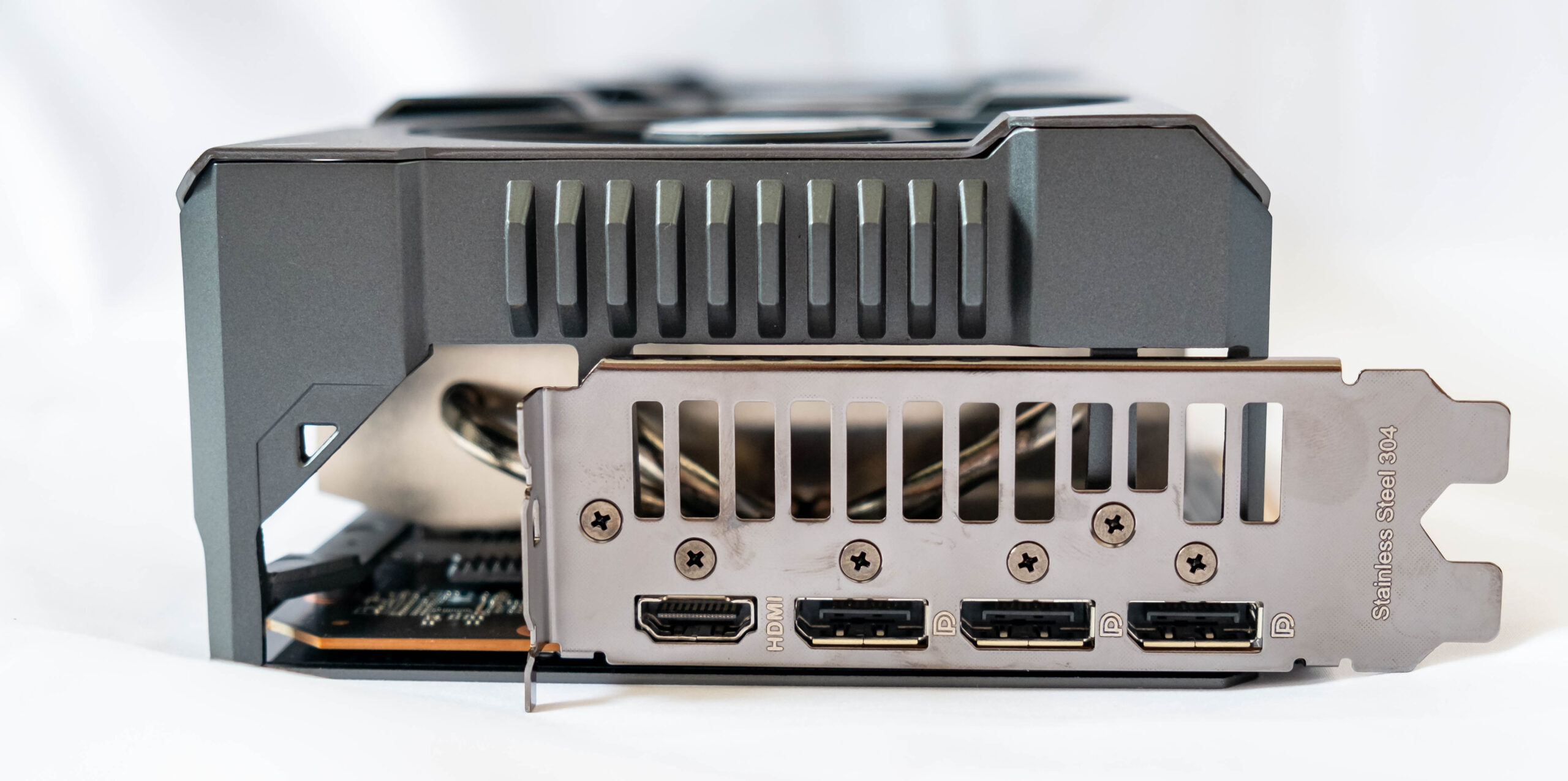 he card has a dual BIOS. There is a switch on the back plate of the card, in different BIOS versions (they are called Performance mode and Quiet mode – productive and quiet modes) different fan operation curves are set.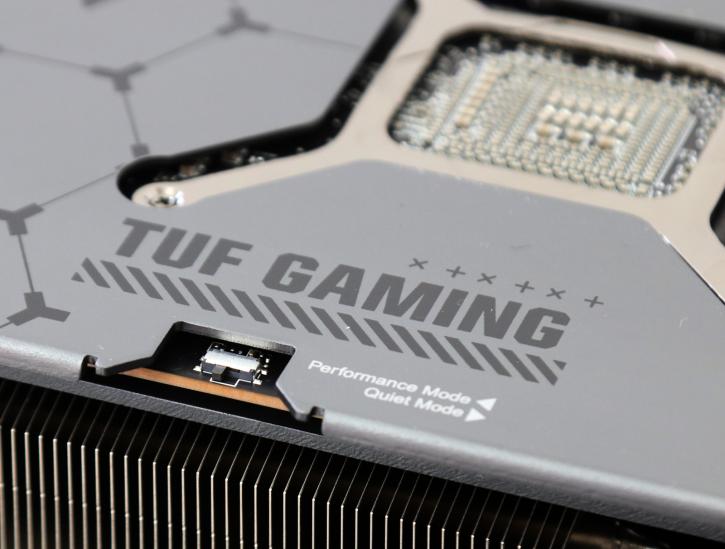 Auto-Extreme Technology is an automated manufacturing process that sets new standards in the industry by allowing all soldering to be completed in a single pass. This reduces thermal strain on components and avoids the use of harsh cleaning chemicals, resulting in less environmental impact, lower manufacturing power consumption, and a more reliable product overall.
Benchmark:
ASUS TUF Gaming Radeon RX 7900 XT OC Edition is the high range graphics card in AMD RDN3-based segment. As such, our graphics workstation, based on an ASUS Prime X670E-Pro Wifi motherboard and AMD 7900X 12 cores processor. The ram we will be using is XPG 6000mhz- 32 memory kit. ADATA XPG GAMMIX S50 Lite 1TB M.2 NVMe SSD is used as well to run with benchmark. On the Comparison, we will be testing 3 GPUs to run side by side to see perform better.
| | |
| --- | --- |
| Model | DIY System |
| Motherboard | ASUS X670E-Pro WIFI |
| CPU | AMD Ryzen 9 7900X – 12 Cores/24 Threads |
| Cooling | EKWB-AIO 360 D-RGB |
| Ram | XPG DDR5 6000Mhz |
| SSD | ADATA XPG GAMMIX S50 Lite 1TB M.2 NVMe |
| OS | Microsoft Windows 11 Pro 22H2 |
| Bios | 821 |
| | | | | | | | | |
| --- | --- | --- | --- | --- | --- | --- | --- | --- |
| Model | Graphic Engine | Bus Standard | Video Memory | GPU Clock | Boost GPU Clock | Memory Clock | Resizeable Bar | Driver |
| ASUS TUF Radeon RX 7900 XT 20GB GDDR6 | RX 7900 XT Navi31 | PCI Express 4.0 | 20GB GDDR6 | 2129 | 2499 | 2500 | Enable | 23.1.1 |
| ROG Strix GeForce RTX™ 4080 16GB GDDR6X | RTX4080 AD103 | PCI Express 4.0 | 16GB GDDR6X | 2205 | 2625 | 1400 | Enable | 528.02 |
| ZOTAC GAMING GeForce RTX 2080 AMP Extreme | RTX 2080 TUF104 | PCI Express 3.0 | 8GB GDDR6 | 1515 | 1875 | 1800 | Disable | 528.02 |
GPUZ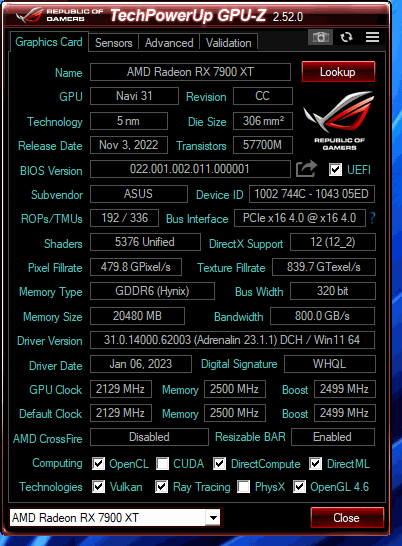 3Dmark Advanced Edition
3DMark includes everything you need to benchmark your PC and mobile devices in one app. Whether you're gaming on a smartphone, tablet, notebook, or a desktop gaming PC, 3DMark includes a benchmark designed specifically for your hardware.
3DMark Advanced Edition
Model
Speed Way
Fire Strike Ultra
Night Raid
Port Royal
Time Spy Extreme
Wild Life Extreme
ASUS TUF 7900XT
5256
17312
69031
14188
12444
45430
ASUS ROG RTX4080
7294
17626
66264
18298
13365
61063
Zotac RTX2080 AMP
2177
6352
56695
6133
5105
Error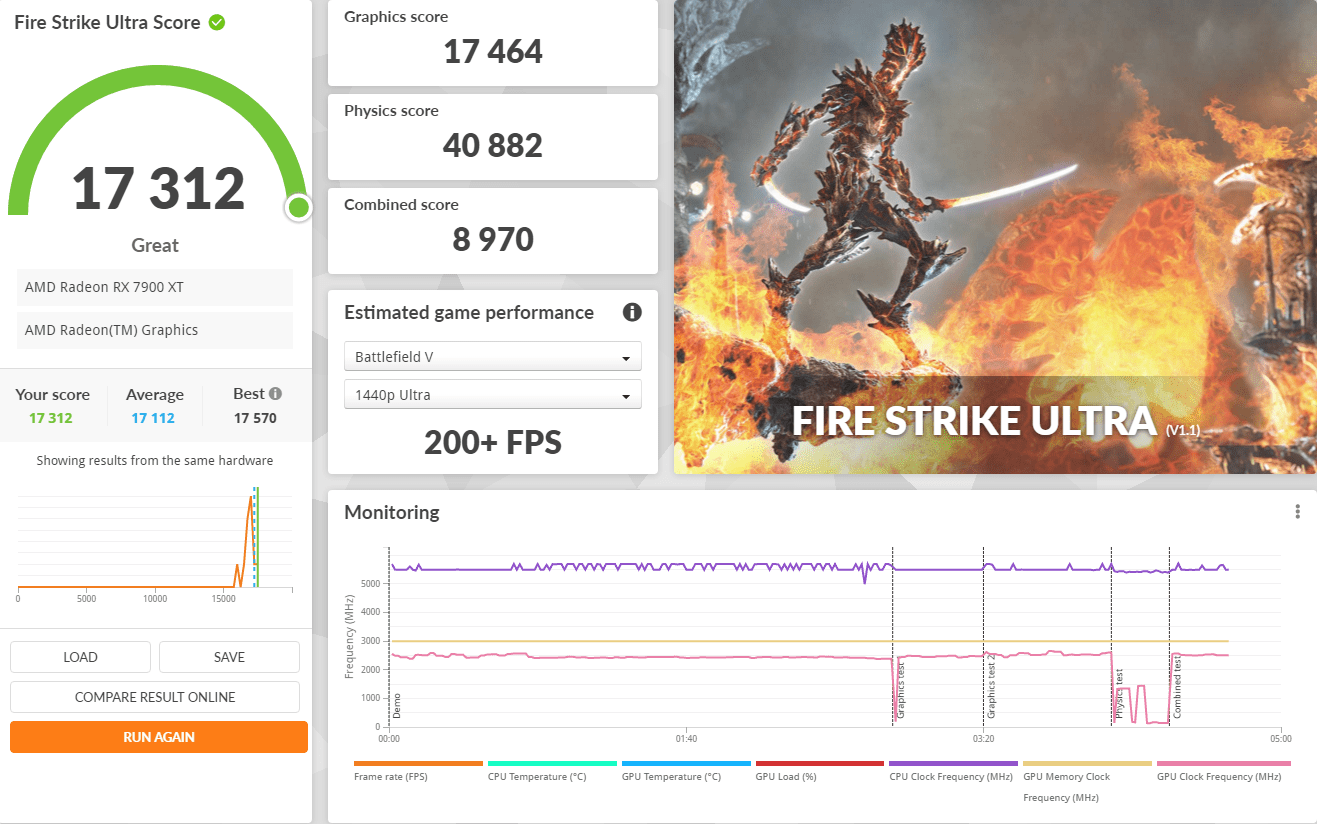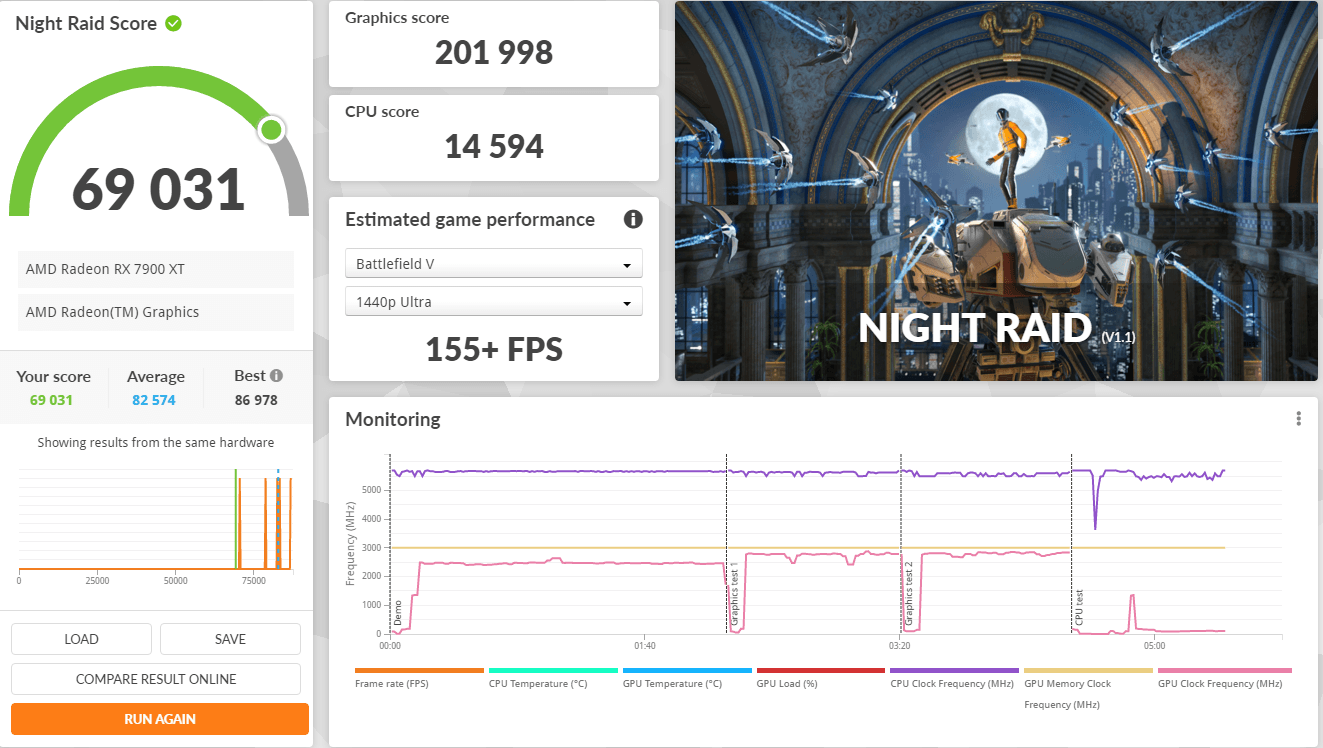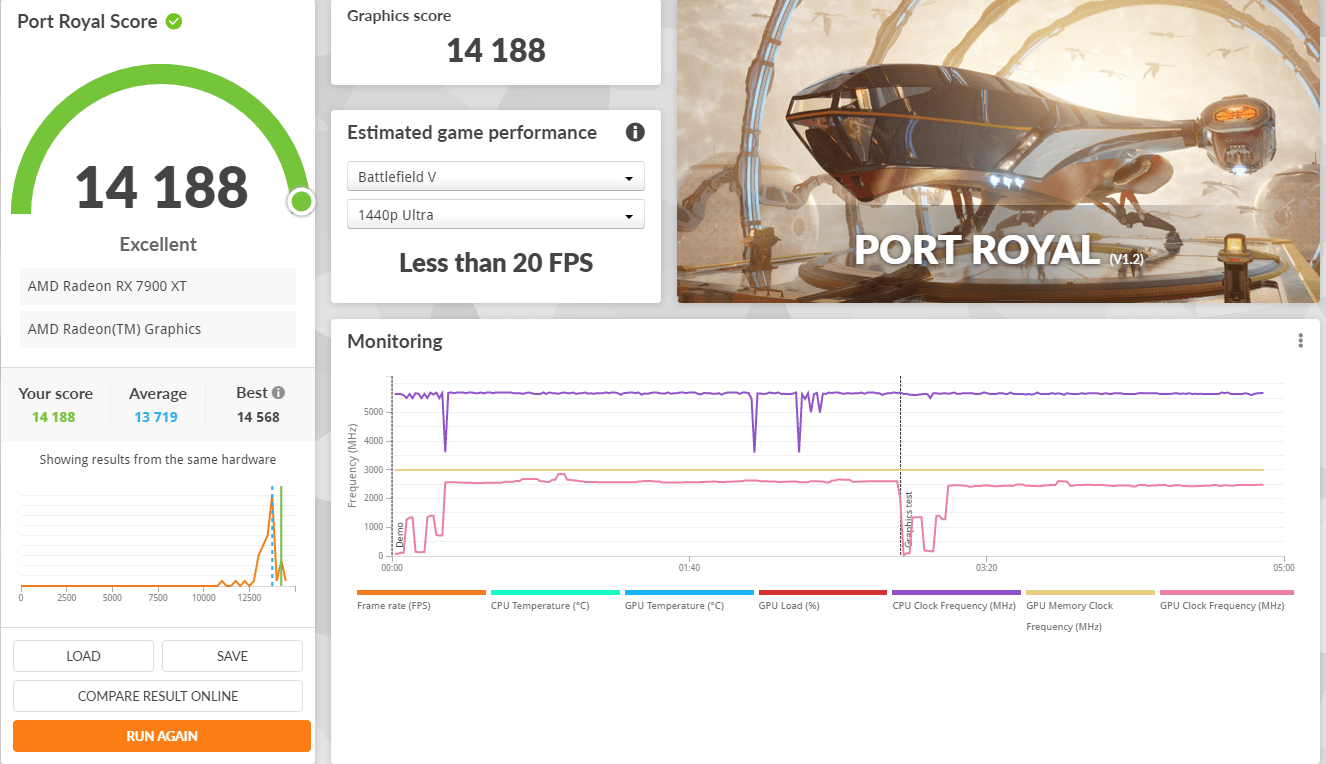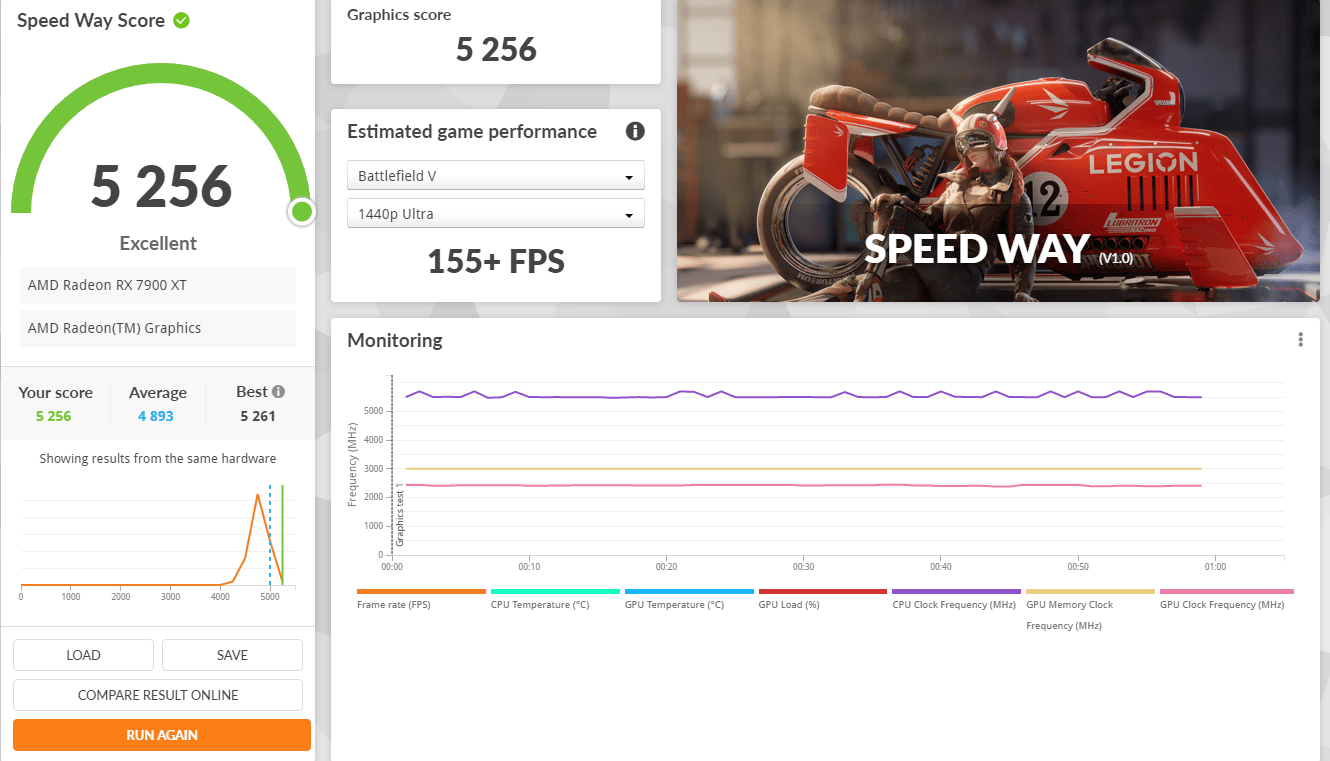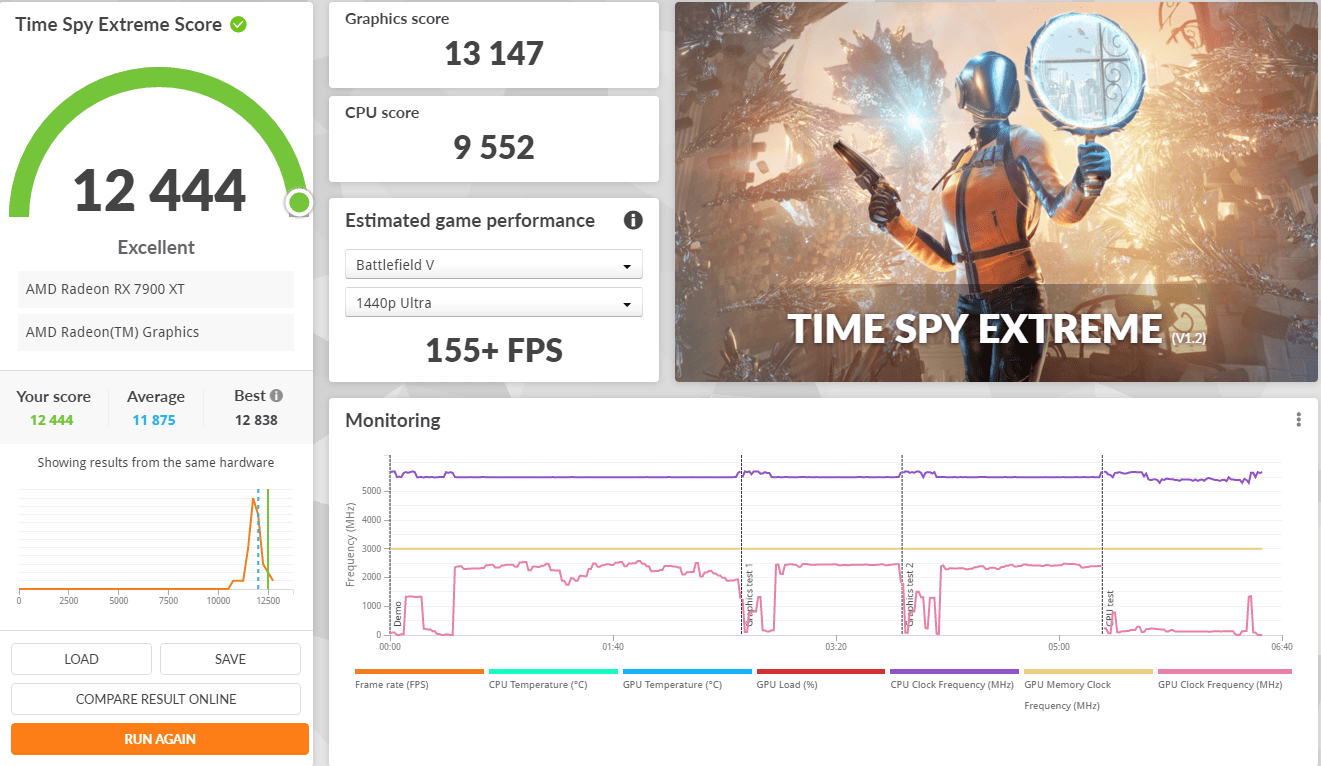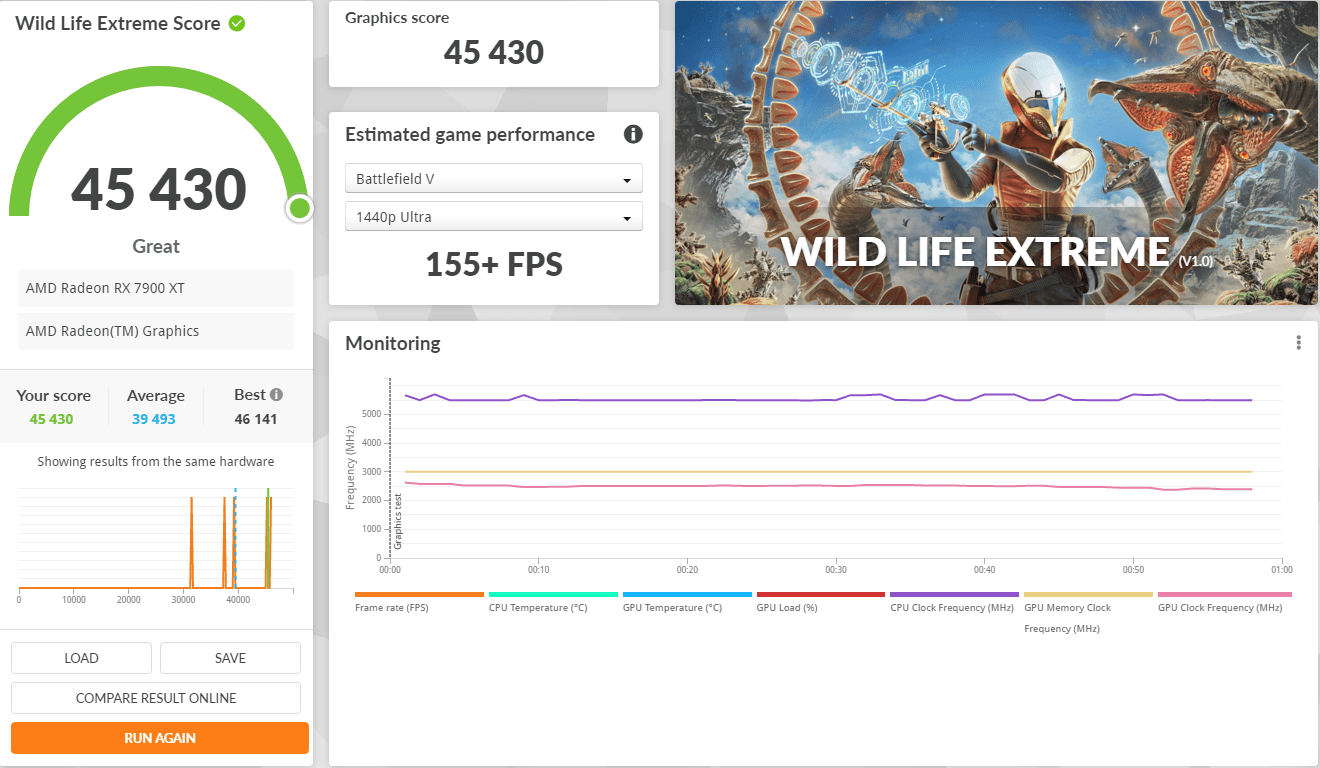 Ashes of the Singularity Escalation
As a real-time strategy title, Ashes is all about responsiveness during both wide open shots but also concentrated battles. With DirectX12 at the helm, the ability to implement more draw calls per second allows the engine to work with substantial unit depth and effects that other RTS titles had to rely on combined draw calls to achieve, making some combined unit structures ultimately very rigid.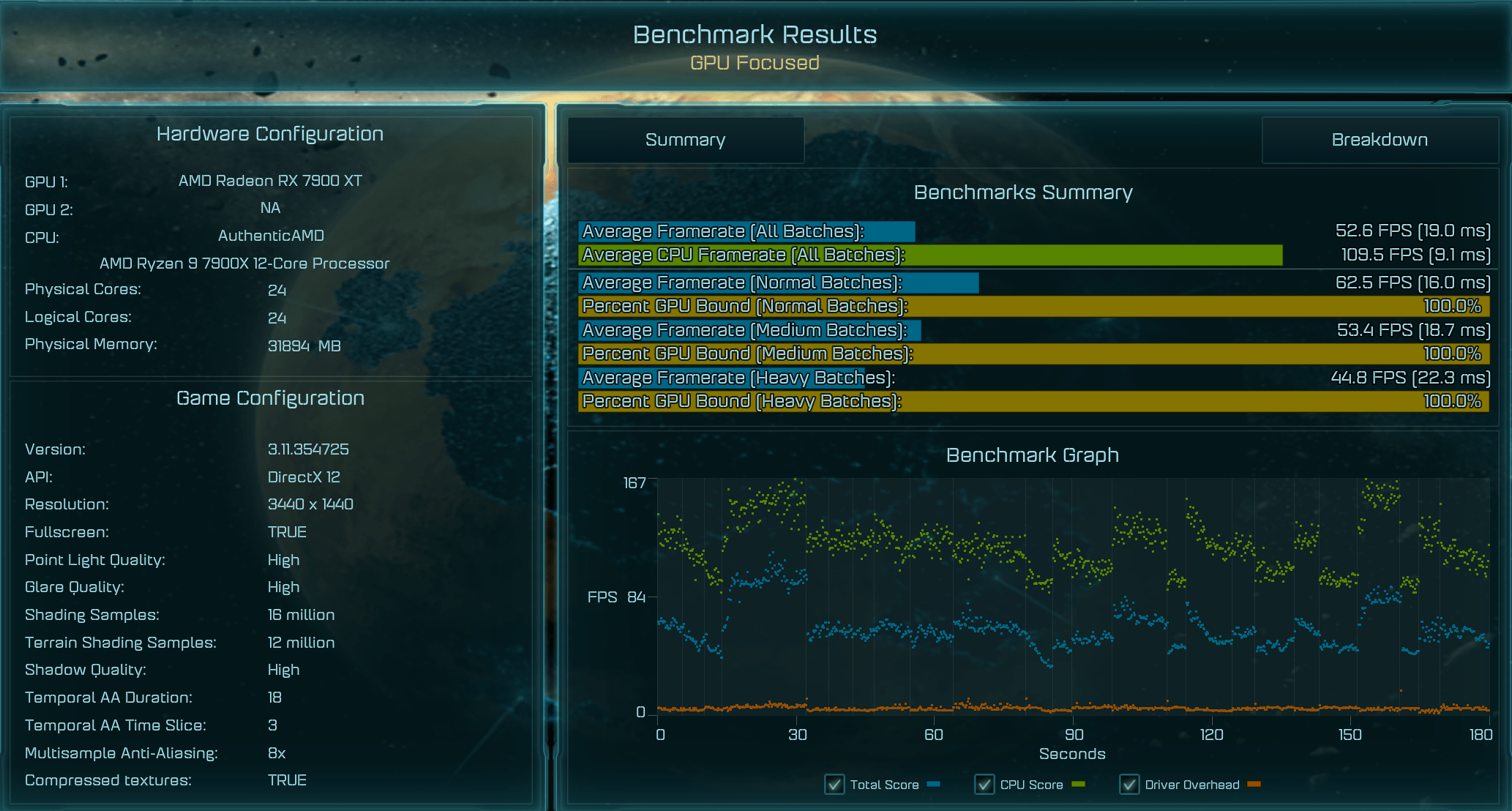 GFXBench 5.0
GFXBench is a high-end graphics benchmark that measures mobile and desktop performance with next-gen graphics features across all platforms. As a true cross-API benchmark, GFXBench supports all the industry-standard and vendor-specific APIs including OpenGL, OpenGL ES, Vulkan, Metal, DirectX/Direct3D and DX12.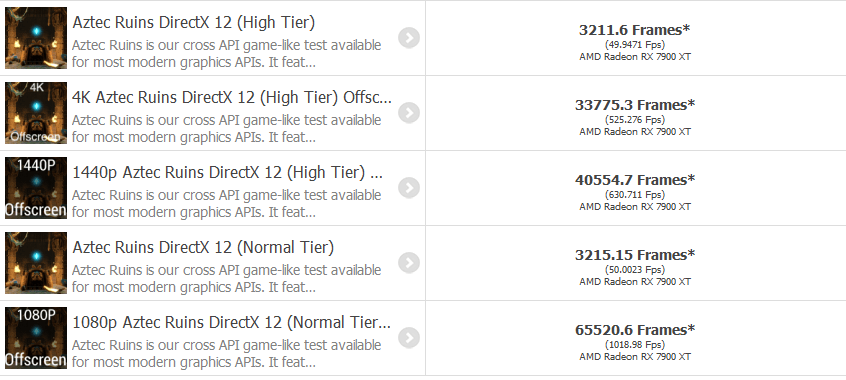 BaseMark GPU
Basemark GPU is a professional evaluation tool to evaluate and compare graphics performance across mobile and desktop platforms. Uniquely, it supports all major graphics APIs and operating systems.
BaseMark GPU
Model
Average
Minimum
Maximum
Overall Score
ASUS TUF 7900XT
233
123
357
23264
ASUS ROG RTX4080
298
245
430
29806
Zotac RTX2080 AMP
102
72
153
10158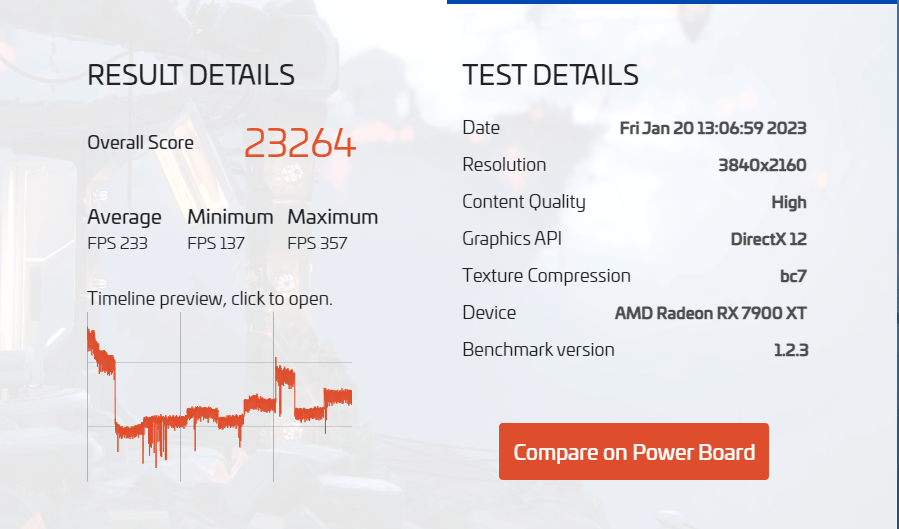 Heaven Benchmark
Extreme performance and stability test for PC hardware: video card, power supply, cooling system. Check your rig in stock and overclocking modes with real-life load! Also includes interactive experience in a beautiful, detailed environment.
Heaven Benchmark
Model
FPS
Minimum FPS
Maximum FPS
Score
ASUS TUF 7900XT
306.3
11.3
631.8
7716
ASUS ROG RTX4080
393.1
71.2
801.1
9902
Zotac RTX2080 AMP
159.8
56
390
4026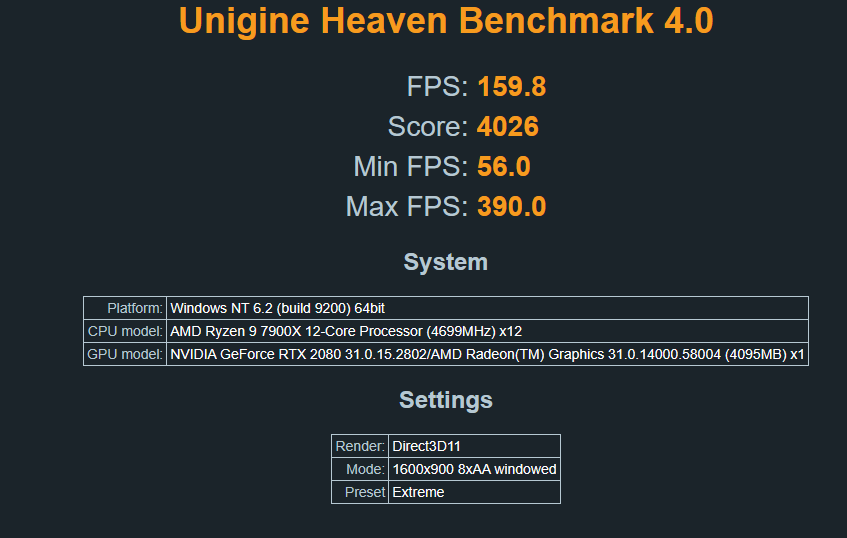 SuperPosition
Extreme performance and stability test for PC hardware: video card, power supply, cooling system. Check your rig in stock and overclocking modes with real-life load! Also includes interactive experience in a beautiful, detailed environment.
SuperPosition Benchmark
Model
Average
Minimum
Maximum
Score
ASUS TUF 7900XT
143.17
121.7
173.58
19141
ASUS ROG RTX4080
161.74
88.8
208.92
21624
Zotac RTX2080 AMP
55.16
46.09
71.07
7375
Batman Arkham Origins
Taking place before the rise of Gotham City's most dangerous criminals, the game showcases a young and unrefined Batman as he faces a defining moment in his early career as a crime fighter that sets his path to becoming the Dark Knight.
Batman Arkham Origins
Model
Average
Minimum
Maximum
ASUS TUF 7900XT
407
313
773
ASUS ROG RTX4080
178
114
254
Zotac RTX2080 AMP
183
136
255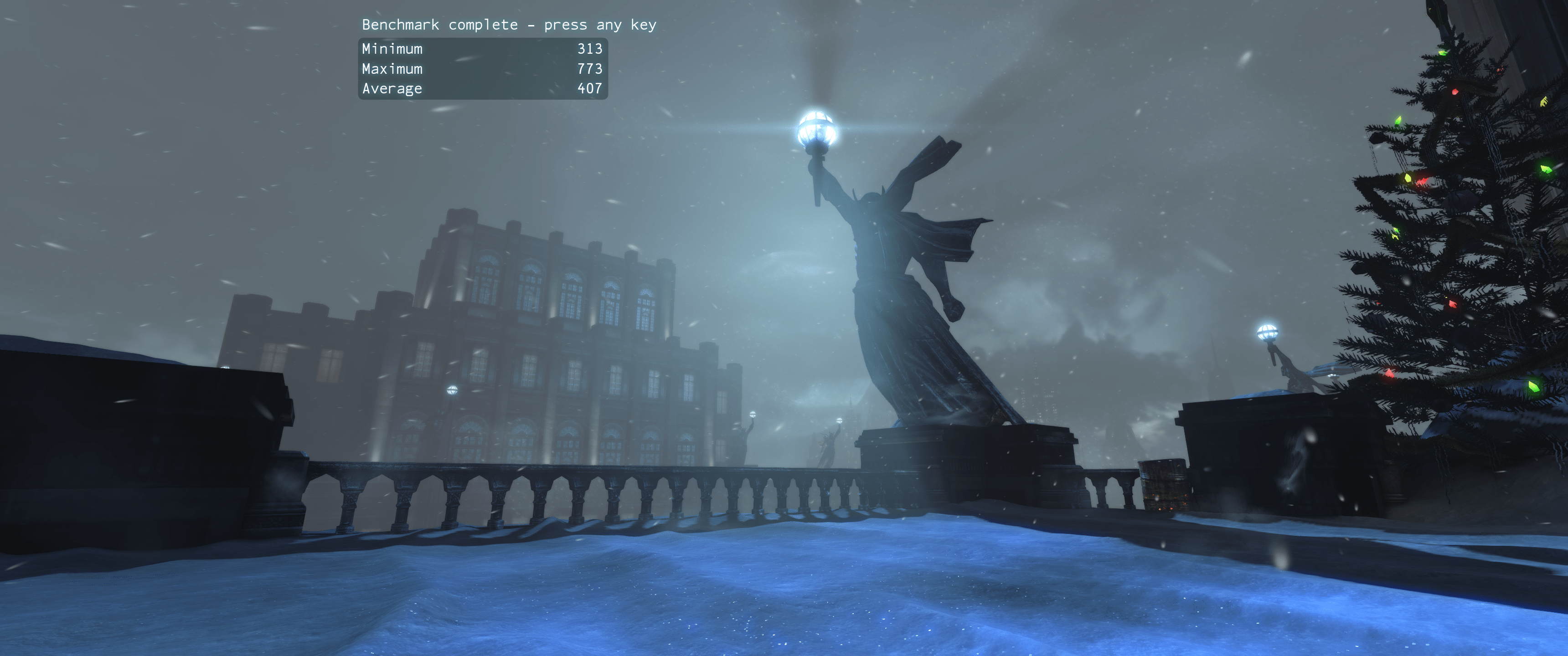 GTA V
This is a benchmark of GTA 5 (Grand Theft Auto V)
GTA V
Model
Average
Minimum
Maximum
ASUS TUF 7900XT
89.87
30.94
246.96
ASUS ROG RTX4080
96.57
38.24
114.49
Zotac RTX2080 AMP
57.08
16.1
150.13
FarCry 6
Far Cry 6 supports ray tracing at launch, with the ability to enable DXR reflections and DXR shadows. But because DXR shadows are kind of pointless and not worth the performance hit, we haven't tested with them enabled, but I have taken a look at DXR reflections, so we'll look at that shortly using supported hardware.
FarCry 6
Model
Average
Minimum
Maximum
ASUS TUF 7900XT
114
56
144
ASUS ROG RTX4080
107
85
144
Zotac RTX2080 AMP
45
25
66

Sleeping Dog
In this open world game, you play the role of Wei Shen, an undercover cop trying to take down the Triads from the inside out. You'll have to prove yourself worthy as you fight your way up the organization, taking part in brutal criminal activities without blowing your cover.
Torn between your loyalty to the badge and a criminal code of honor, you will risk everything as the lines between truth, loyalty and justice become permanently blurred.
Sleeping Dog
Model
Average
Minimum FPS
Maximum FPS
ASUS TUF 7900XT
49.9
49.2
51.4
ASUS ROG RTX4080
99.8
83.9
110.2
Zotac RTX2080 AMP
99.8
95.1
105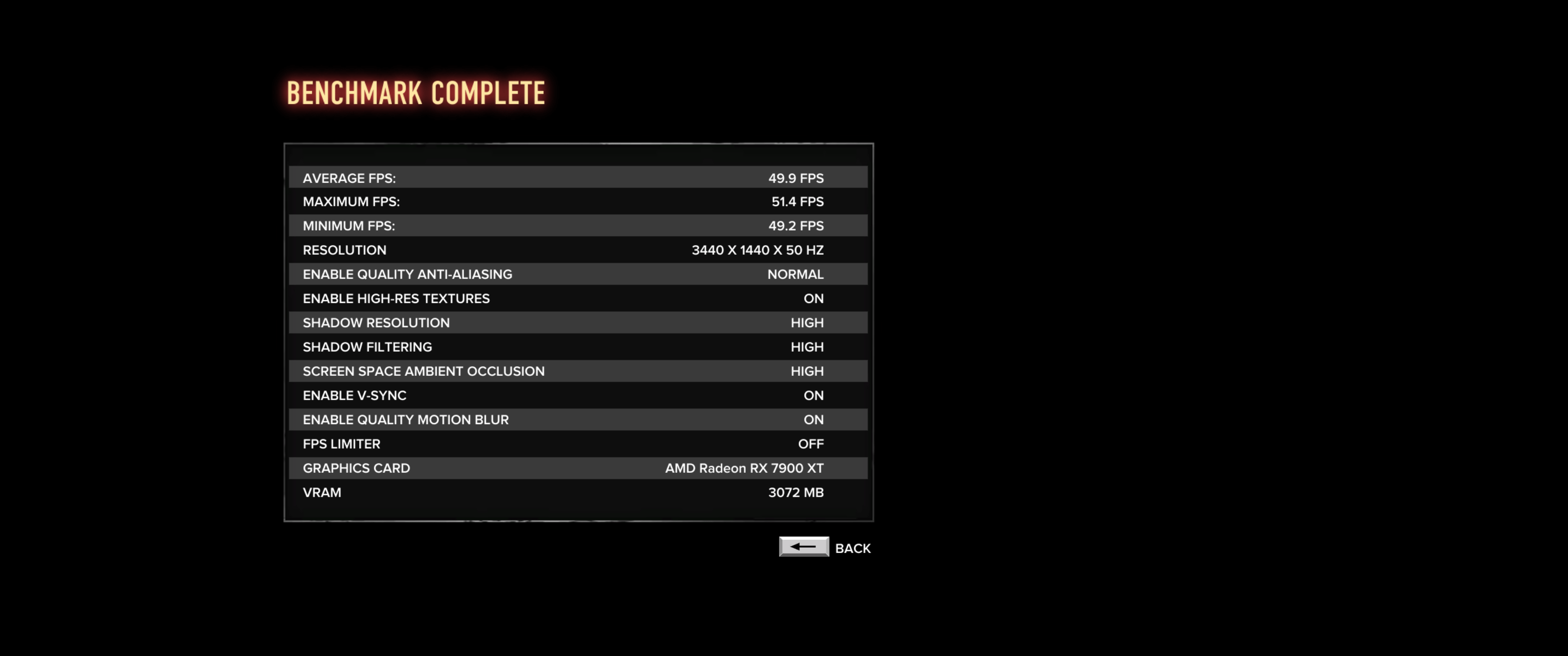 Ghost Recon Breakpoint
Ghost Recon Breakpoint is a military shooter set in a diverse, hostile, and mysterious open world that you can play entirely solo or in four-player co-op.
Ghost Recon Breakpoint
Model
Total Score
Frames Score
FPS
ASUS TUF 7900XT
S
22537
131
ASUS ROG RTX4080
S
26424
153
Zotac RTX2080 AMP
A
12701
74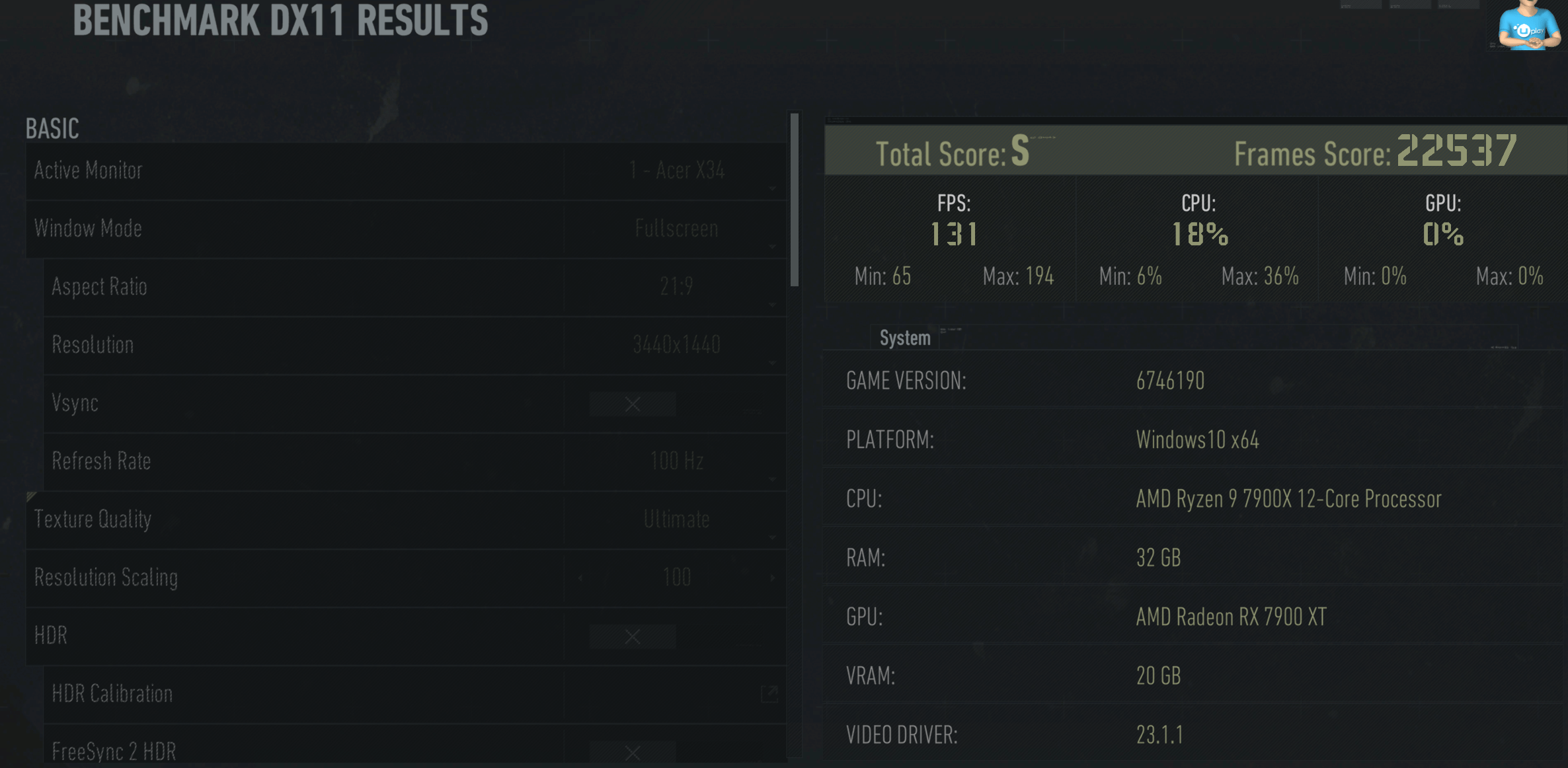 Total War WARHAMMER
Addictive turn-based empire-building with colossal, real-time battles, all set in a world of legendary heroes, giant monsters, flying creatures and storms of magical power.
Total War WARHAMMER
Model
Average
Minimum FPS
Maximum FPS
ASUS TUF 7900XT
133
67
185
ASUS ROG RTX4080
137.8
60
226
Zotac RTX2080 AMP
75.8
52
99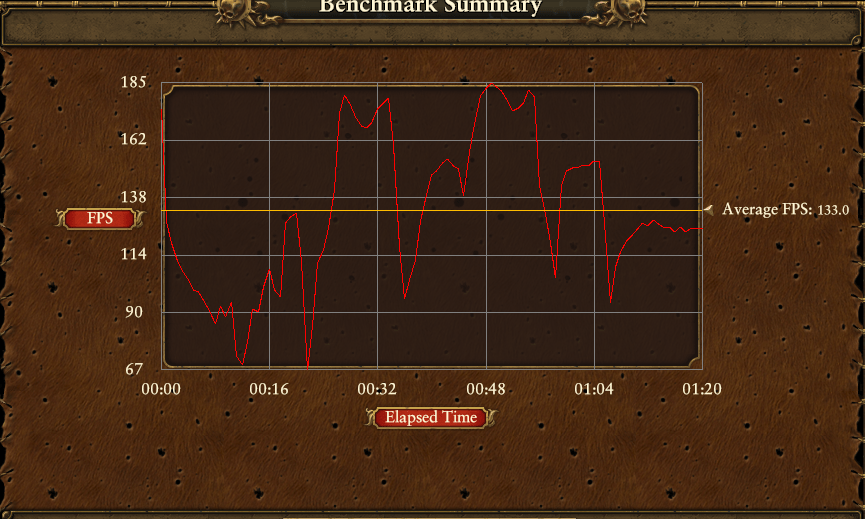 Furmark
100% Full load on GPU for 10 minutes
Furmark – 10 minutes
Model
Maximum Temperature
ASUS TUF 7900XT
62
ASUS ROG RTX4080
60
Zotac RTX2080 AMP
76