KEY POINTS
• Superb Gaming and Streaming: Up to NVIDIA® GeForce RTX™ 2070 SUPER graphics card enables high frame rates for esports and AAA titles.
• Multitasking Mastery: ROG aggressively adopts the latest AMD Ryzen™ processors to enable faster heavy-duty multitasking and content creation.
• Cooling Carries Performance: The chassis is efficiently cooled for superior performance and its easy-to-carry design offers everyday convenience.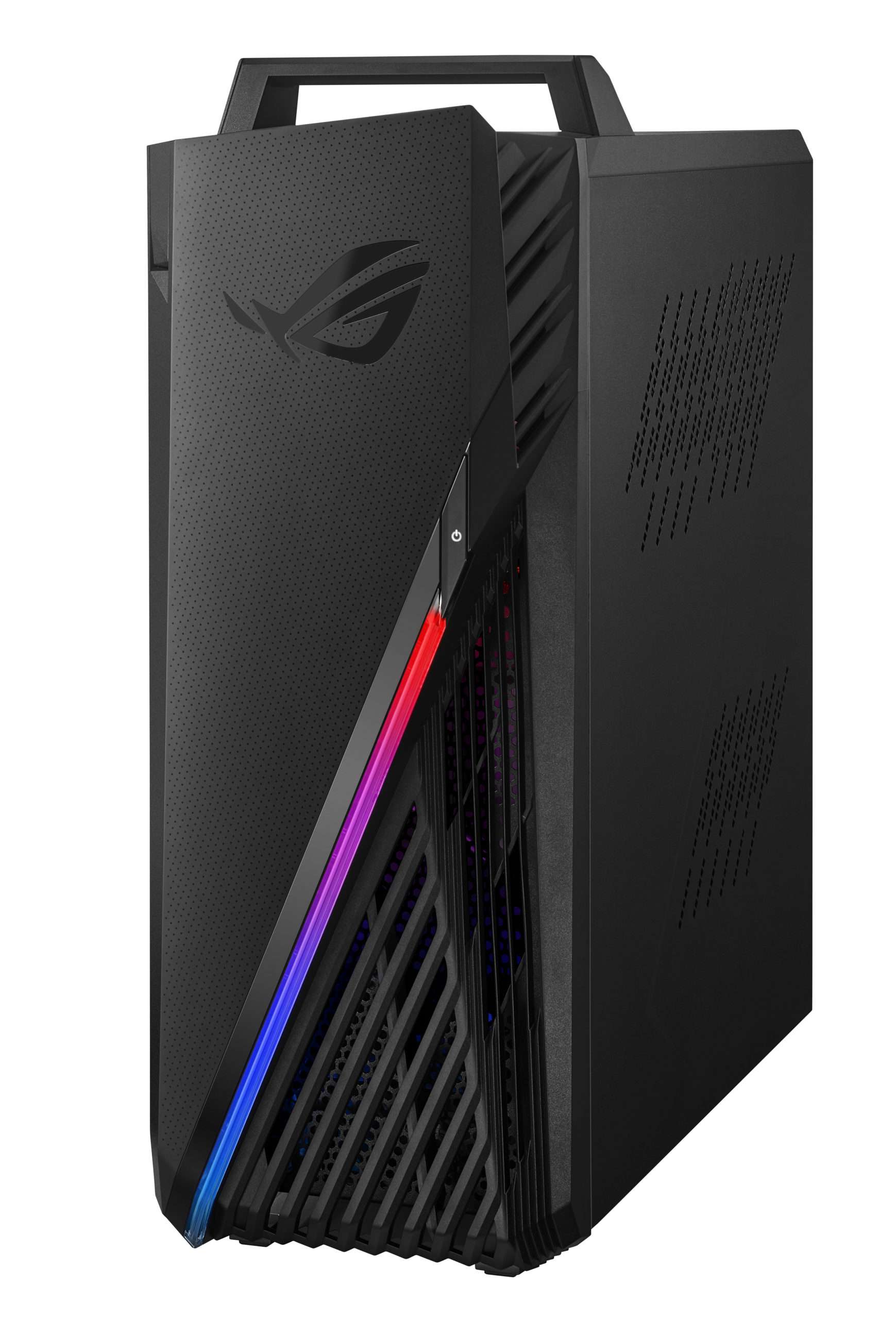 The ROG Strix GA15 (G15DH) Gaming Desktop
SINGAPORE (24 April, 2020) — ASUS Republic of Gamers (ROG) today announces the new ROG Strix GA15 (G15DH) gaming desktops that zero in on gaming fundamentals to fit serious e-sports performance into a convenient and portable package. Lean and lightweight, the new ROG Strix GA15 (G15DH) gaming desktop leverages powerful, latest-generation AMD Ryzen™ processors that capably handle hardcore gaming, streaming, and multitasking. Each desktop is compact and weighs only 10 kg, and a built-in carrying handle offers easy portability. The efficient cooling design helps quietly deliver a gaming experience that can hold its own at LAN parties, tournaments, and beyond.
Superb Gaming and Streaming
The discrete graphics generate the pixel-pushing power required for ultra-smooth visuals in the latest games. To run the latest titles at high resolutions or faster refresh rates, the ROG Strix GA15 (G15DH) is equiped with powerful graphics cards — up to NVIDIA® GeForce RTX™ 2070 SUPER. During internal testing, these machines pushed 240 fps with Full HD Epic details in Overwatch, and they hit triple-digit frame rates with Ultra details at Full HD resolution in the richly detailed sandbox of Far Cry 5.
This performance is due in part to the NVIDIA® Turing architecture behind the GeForce RTX™ series. Turing combines CUDA, RT, and Tensor cores dedicated to programmable shading, real-time ray tracing and AI acceleration to generate more realistic graphics and effects. A new video encoder also improves the ability of the ROG STRIX G15 GA15 to stream and game simultaneously, delivering higher-quality video with minimal performance impact. Known as NVENC, this dedicated hardware is optimised to work with video capture programs like Open Broadcaster Software (OBS), making it helpful for aspiring streamers.
Multitasking Mastery
The ROG Strix GA15 (G15DH) uses the latest 3rd Gen AMD Ryzen™ processors, continuing the ROG streak of aggressively adopting the latest technology. It is available with up to an AMD Ryzen™ 7 3800X processor that has 8 cores and 16 threads to easily handle demanding and varied workloads. These Ryzen chips are built with cutting-edge 7 nm process technology that fits more cores into less die area, enabling efficient, cost-efficient machines that pack impressive power. Top configurations add up to 32 GB of high-performance DDR4-3200 MHz RAM, ensuring responsiveness even under heavy loads.
Storage options include a superfast M.2-based NVM Express® SSD of up to 1 TB, offering ample room for apps. For larger game libraries, the system is available with 2 TB of mechanical storage. Users can download AMD StoreMI technology to accelerate dual-drive configurations. StoreMI caches the frequently accessed data on the SSD, melding the responsiveness of solid-state storage with the massive capacity of mechanical drives to speed up load times.
Cooling Carries Performance
An efficient cooling design helps get superior performance from core components. Inside, components are separated to help minimise thermal interference. The processors, discrete graphics and motherboard are isolated in the main chamber, while the storage bays and power supply sit below in a separate cooling zone. In addition, the processor is equipped with the tower cooler fans for a faster and quieter cooling effect. The dual-chamber design makes it easier to cool the hottest components. Widened vents in the exterior panels guide more air into the chassis, assisting in heat dissipation and allowing the ROG Strix GA15 (G15DH) to produce stealthy noise levels under 35 dB while gaming in Metro Exodus.
A convenient carrying handle strong enough to bear up to 30 kgf of sustained force is integrated in the chassis, making it easy to carry anywhere. It also offers a way to hang your headphones in style on a hook sleekly incorporated into the front chassis. The dynamic folding design helps keep your space clean and clutter-free, leaving more room for mouse movements and your favorite peripheral devices. The fold-down headphone hook can hold headsets weighing up to 3 kg, and it's strong enough to withstand the momentary force up to 10 kgf.
A Personalised Experience
Extensive personalisation features make it easy to customise these ROG Strix gaming desktops. The case comes with an EMI-shielded glass panel that showcases a range of internal components illuminated by RGB lighting. Customisable lighting also cuts across the front of the chassis with an evenly diffused glow. With compatible Aura Sync devices like the ROG Strix Flare mechanical keyboard and ROG Gladius II gaming mouse that can be bundled with these systems in some regions, it's easy to coordinate colours and effects across an entire setup.
The ROG Armoury Crate software offers tons of tuning options for lighting and other system settings. Users can create Scenario profiles that automatically load personal preferences when they launch specific games and applications. Scenario profiles detect the active application and adjust system performance, cooling, lighting and other settings to ensure an ideal configuration for the task at hand.
For a more personalised audio experience, the Sonic Studio III supports manual customisation and offers five specially tuned modes for different kinds of games. The software enables more immersive audio with virtual surround sound for stereo headphones. It also enhances recording quality by filtering out noise, reducing artifacts, and stabilizing input volume.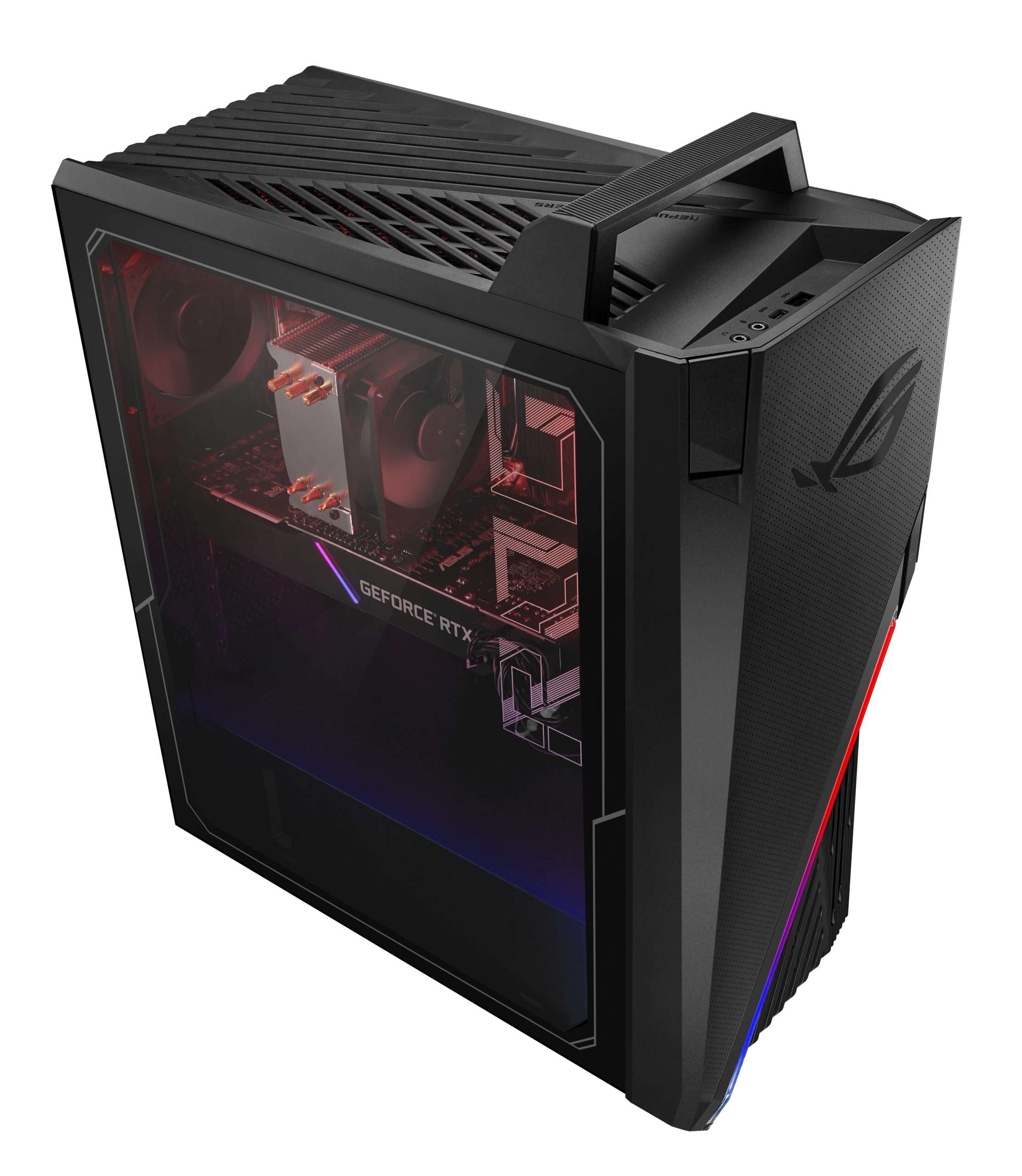 Gear Up and Go
The ROG Strix GA15 (G15DH) offers fast charging and data transfer via one reversible USB Type-C™ (USB-C™) port with peak interface bandwidth of 10 Gbps via USB 3.2 Gen 2. Five Type-A USB 3.2 Gen 2 ports make space for preferred peripherals and any other devices that benefit from fast data transfers.
An HDMI 2.0b port enables gaming or streaming 4K video on the big screen at up to 60 Hz. DisplayPort 1.4 outputs are available to drive high-refresh gaming monitors, including those compatible with NVIDIA G-SYNC® technology for a smoother gaming experience.
Gigabit-class networking manifests in two ways. Gigabit Ethernet offers a lower-latency connection for multiplayer gaming, while WiFi 5 provides fast wireless access for everyday streaming and web browsing. The WiFi card also integrates Bluetooth 5 to cut the cord for compatible devices.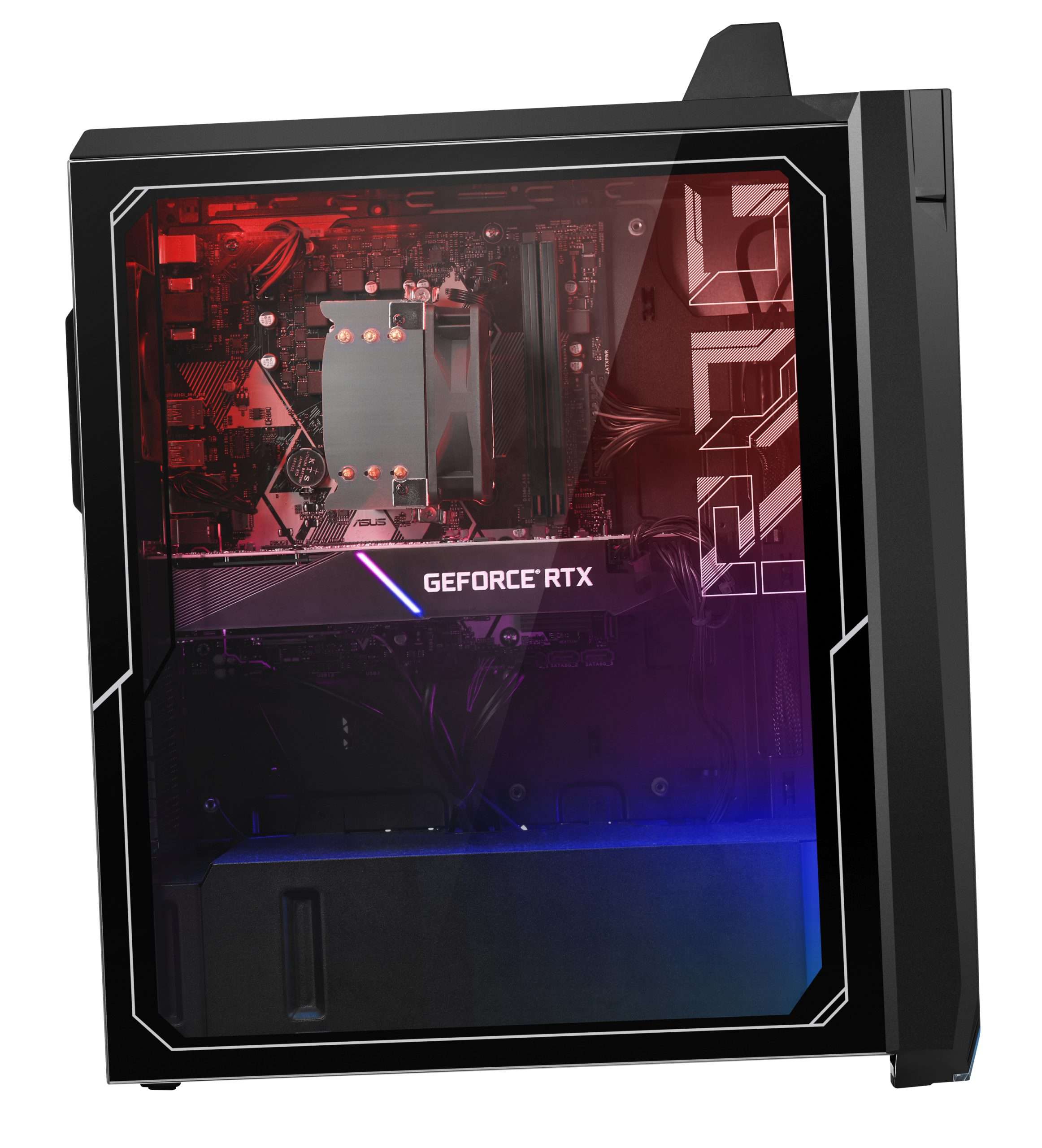 AVAILABILITY & PRICING
The ROG Strix GA15 (G15DH) will be retailing from $1,298 starting from today at the ASUS Exclusive Store, ASUS Online Store and all authorised retailers.