ASIS TUF Gaming AX5400 Dual Band Wifi 6 Gaming Router is one of the many gaming routers from ASUS for gamers. Gamers that wished to improved their latency and looking for better quality router at a great price can look no further.
Full of features like dedicated gaming port, Easy port forwarding and it even has support for ASUS Aimesh to create a seamless mesh network in your home.
Design
TUF stands for The Ultimate Force and is part of ASUS Gaming branding that caters for gamers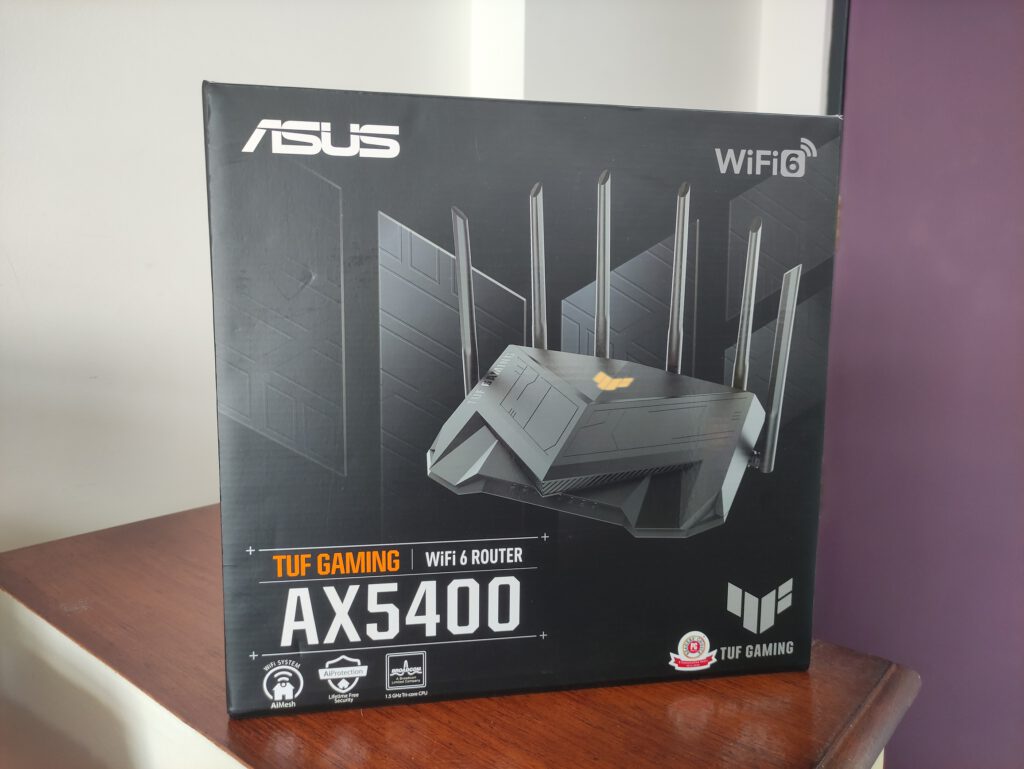 Premium box fit for a good looking router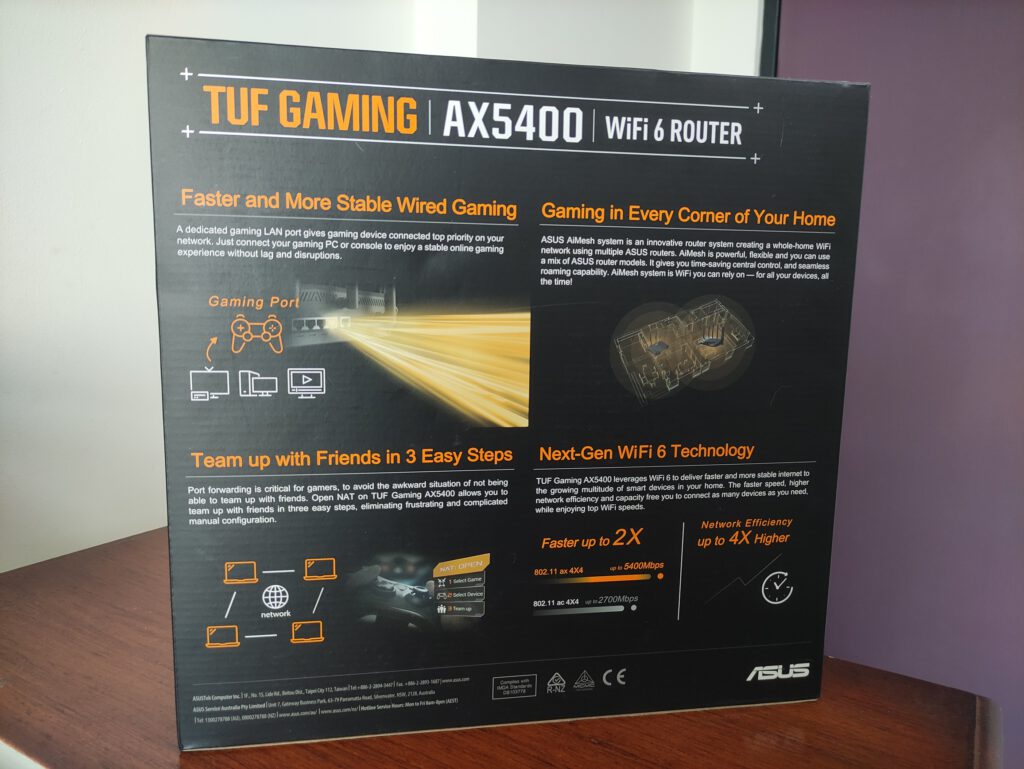 Some of the best features of the router are list at the back of the box

Here we have the router out of the box and it's looking sharp with all 6 antennas pointing up, but there's no wall mount so we can't mount it this way. Just looks cool

Here we have the natural position of the router with the antennas all pointing up as it should be.
*Tips don't point it at weird angles thinking that it will help your coverage!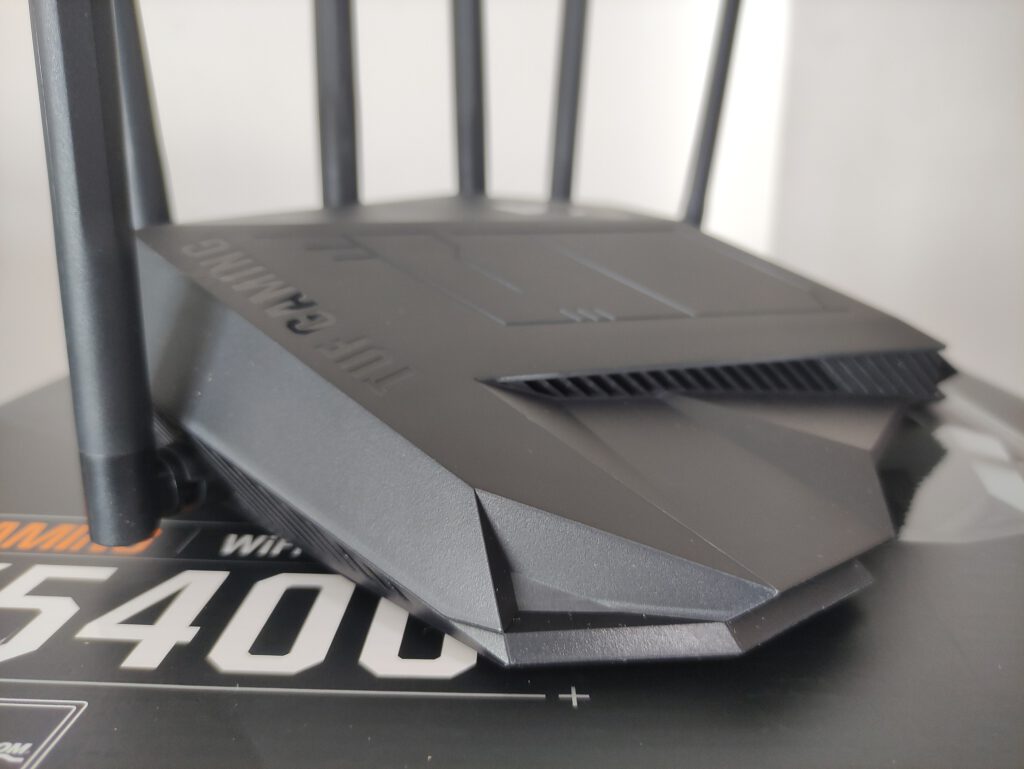 Edgy view of the left side of the router with the embossed TUF GAMING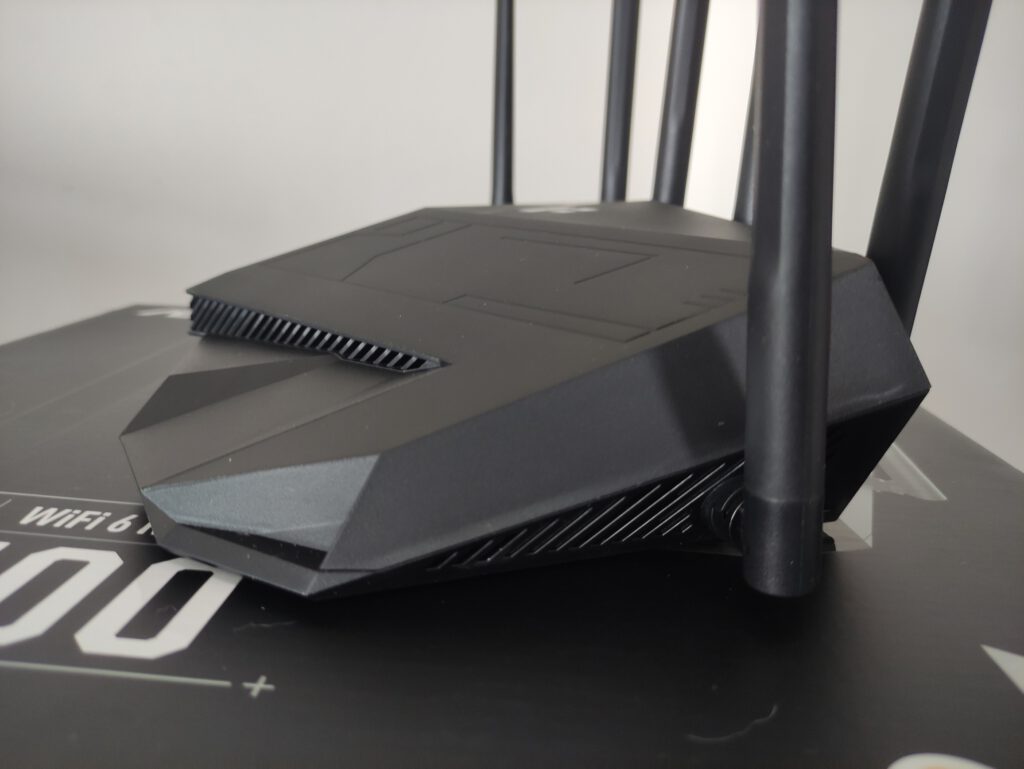 Clean looking on the right side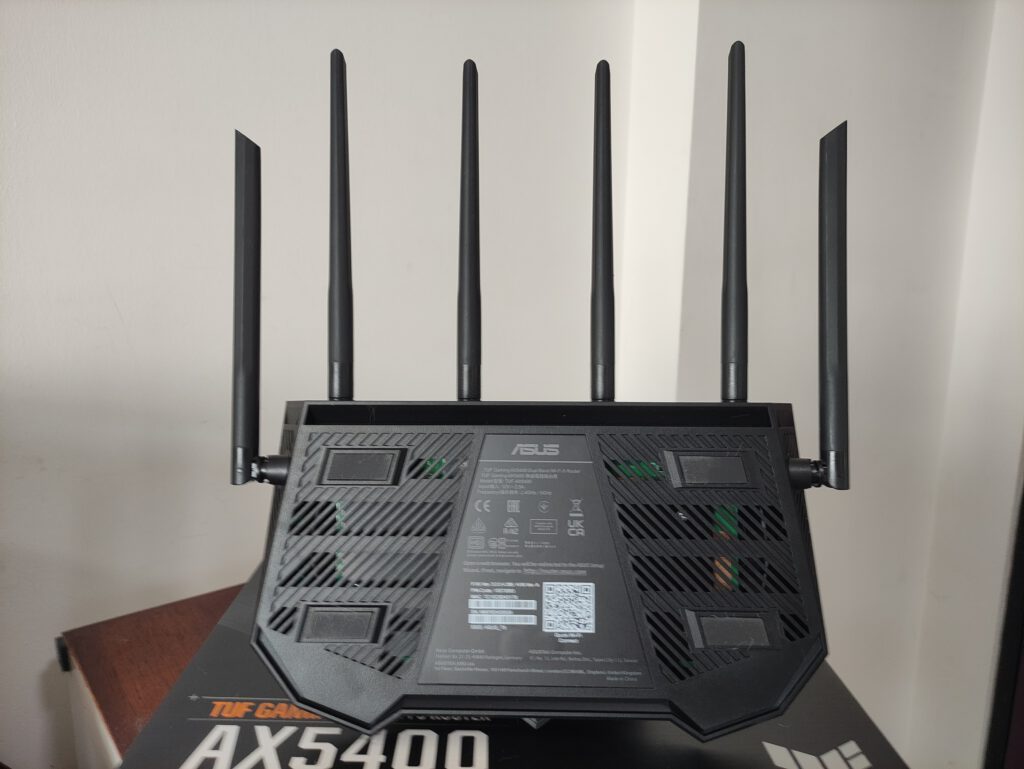 Here we see the underneath of the router with lots of ventilation holes to keep the router cool while working hard pushing packets.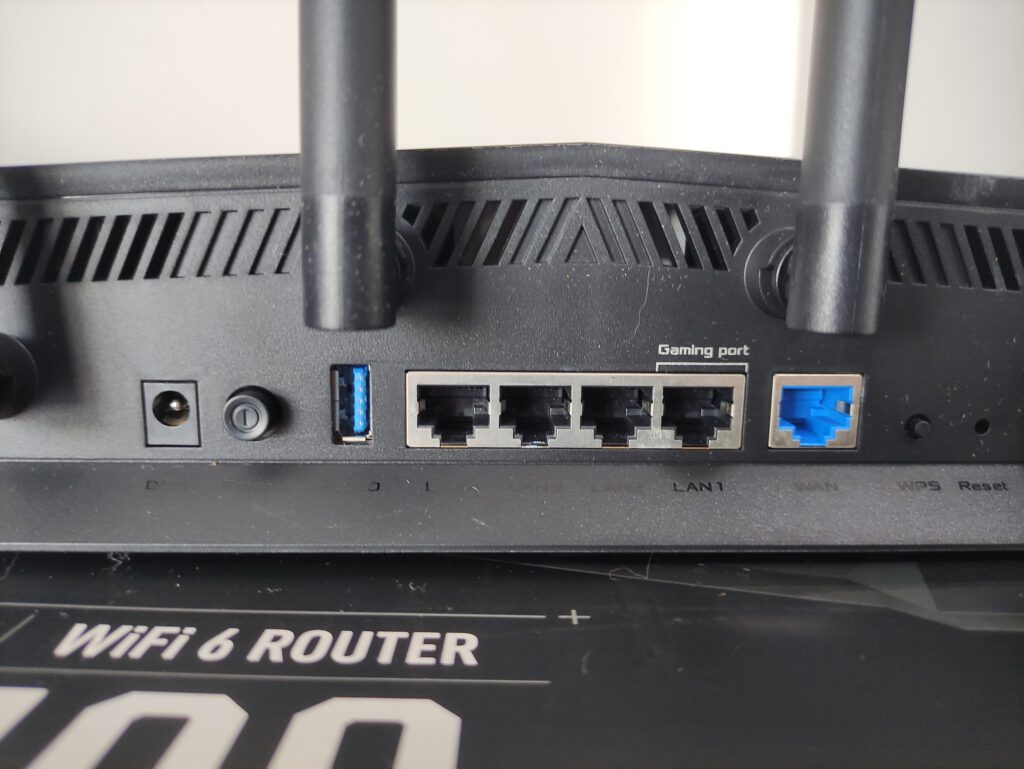 There are total of 4 LAN ports and 1 WAN ports, USB 3,0 port for USB application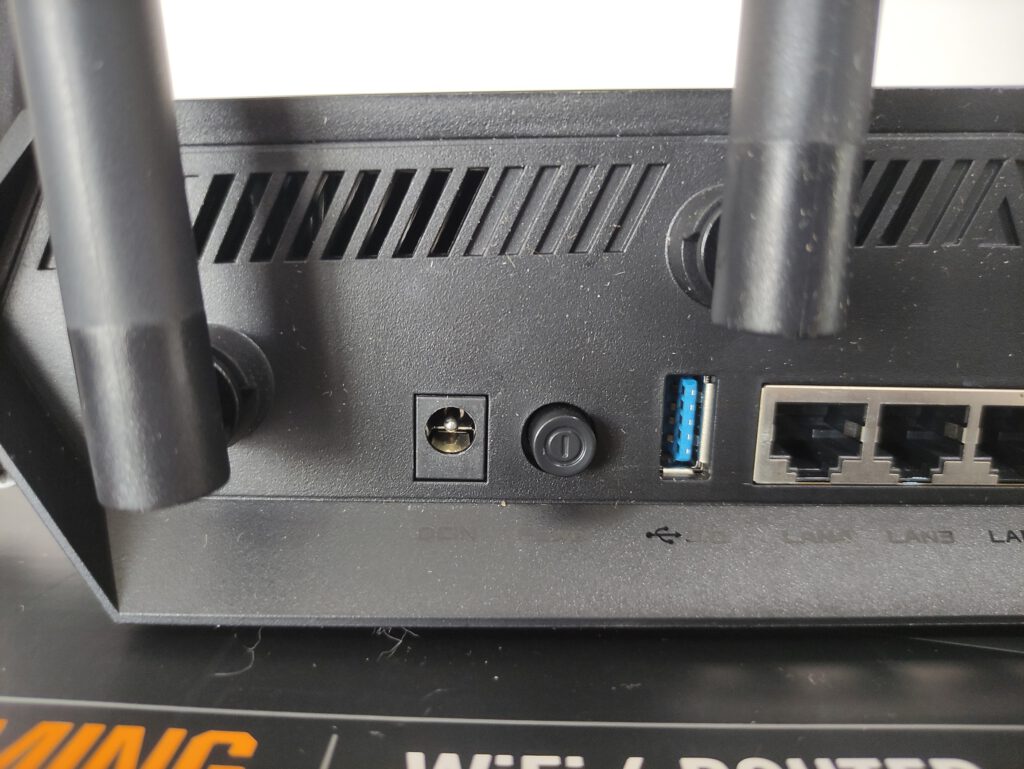 On the left there's the power slot with the power button next to it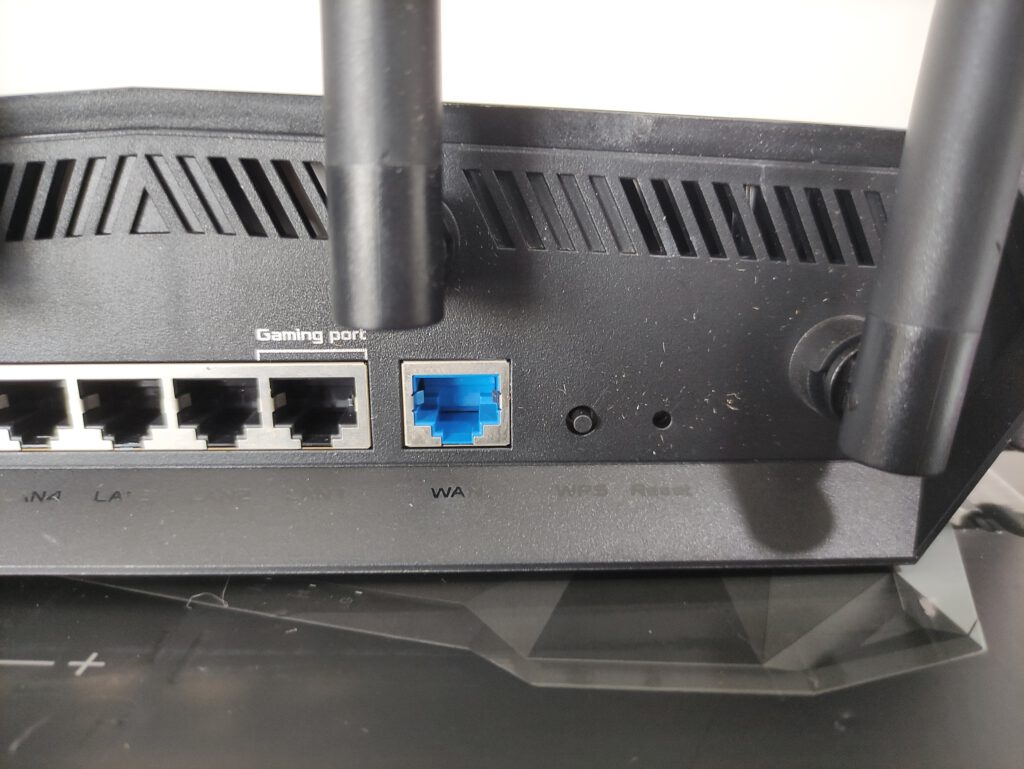 on the right we have the WPS button (keep it disabled for security reasons) and a pin hole to reset your router.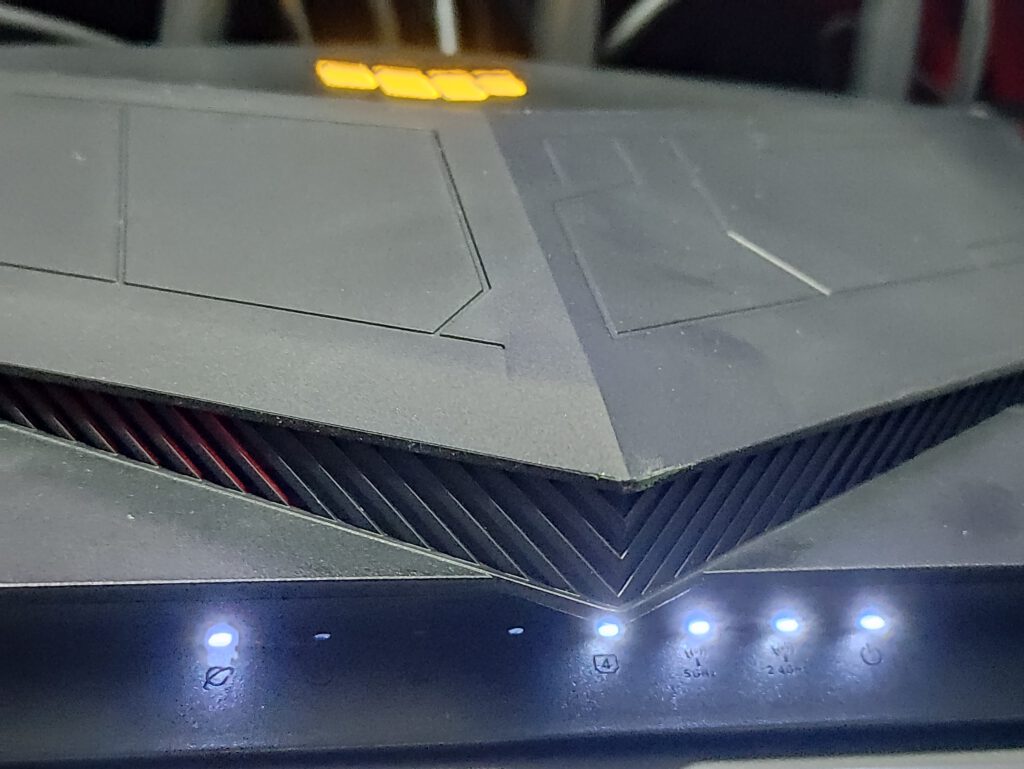 Really cool looking lights beneath the hood of the router, it's all part of the ventilation design
Hardware
The TUF Gaming Router is running on a  1.5 GHz tri-core processor and 512 MB RAM, with 256 MB of Flash to store configurations and firmware.
Aura RGB
Here we have the TUF logo with RGB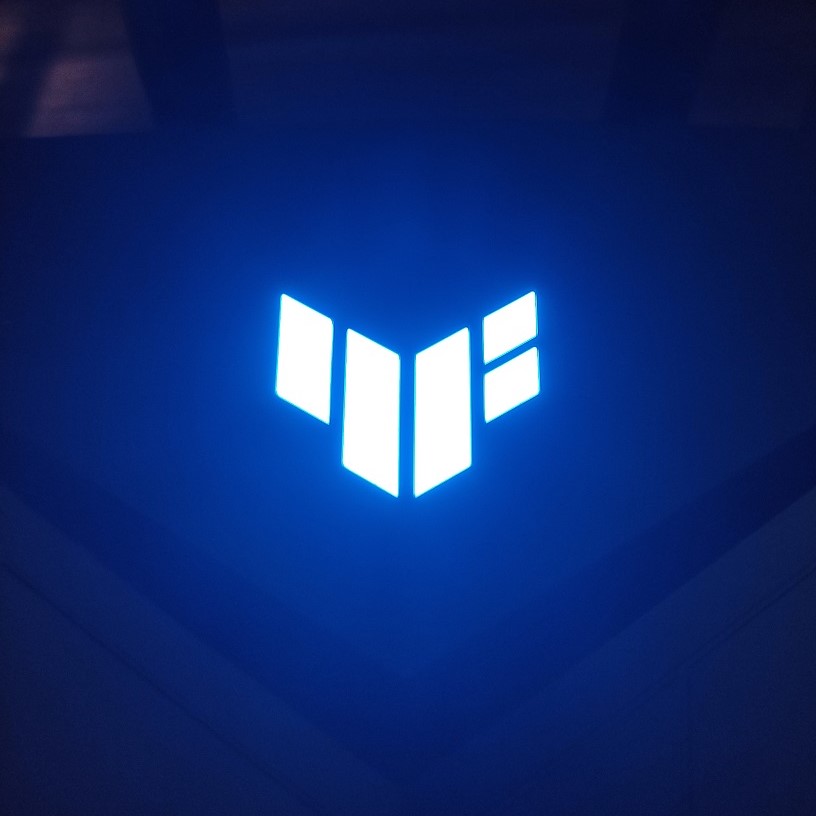 This can be changed anytime with a range of options like static, breathing wave and rainbow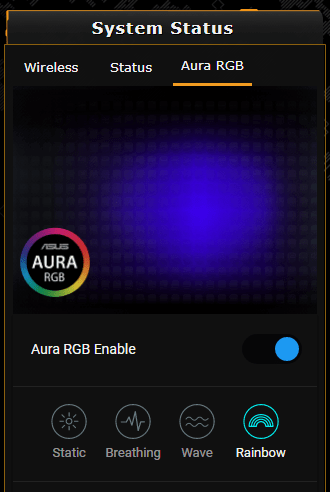 For Wireless Connectivity, the TUF AX5400 supports up to 4804 Mbps with Wifi 6 5GHz from the 4×4 MIMO but you have to set it to 160MHz channel. A cool feature that it also supports is the OFDMA, the OFDMA Orthogonal frequency-division multiple access (OFDMA) is a feature of Wi-Fi 6 (802.11ax) that allows access points to serve multiple clients at the same time.
In case you are wondering if there is any interference with older Wifi 2.4 GHz, there is a separate 2×2 2.4 GHz antennas to reduce interference, along with other enhancements like beamforming, which focuses the signal towards each device. This gives the routers the best way to send data to your devices.
Some of the Data Rates supported
Data Rate
802.11a : up to 54 Mbps
802.11b : up to 11 Mbps
802.11g : up to 54 Mbps
WiFi 4 (802.11n) : up to 300 Mbps
WiFi 5 (802.11ac) (1024QAM) : up to 4333 Mbps
WiFi 6 (802.11ax) (2.4GHz) : up to 574 Mbps
WiFi 6 (802.11ax) (5GHz) : up to 4804 Mbps
This may be a good feature but it has fixed antennas instead of the usual detached antennas that we usually find on typical WiFi routers, it could increase the wear and tear of the antennas.
On the inside there are double Aluminum Heatsinks with nanocarbon coating  to enhance emissivity heat dissipation,
With that and paired with good vent location, this helps to dissipate heat more efficently
Software
Always remember to update the firmware before sharing it with the family
Takes less than 10 minutes to update

I will highlight some of the better software features of this router
System Status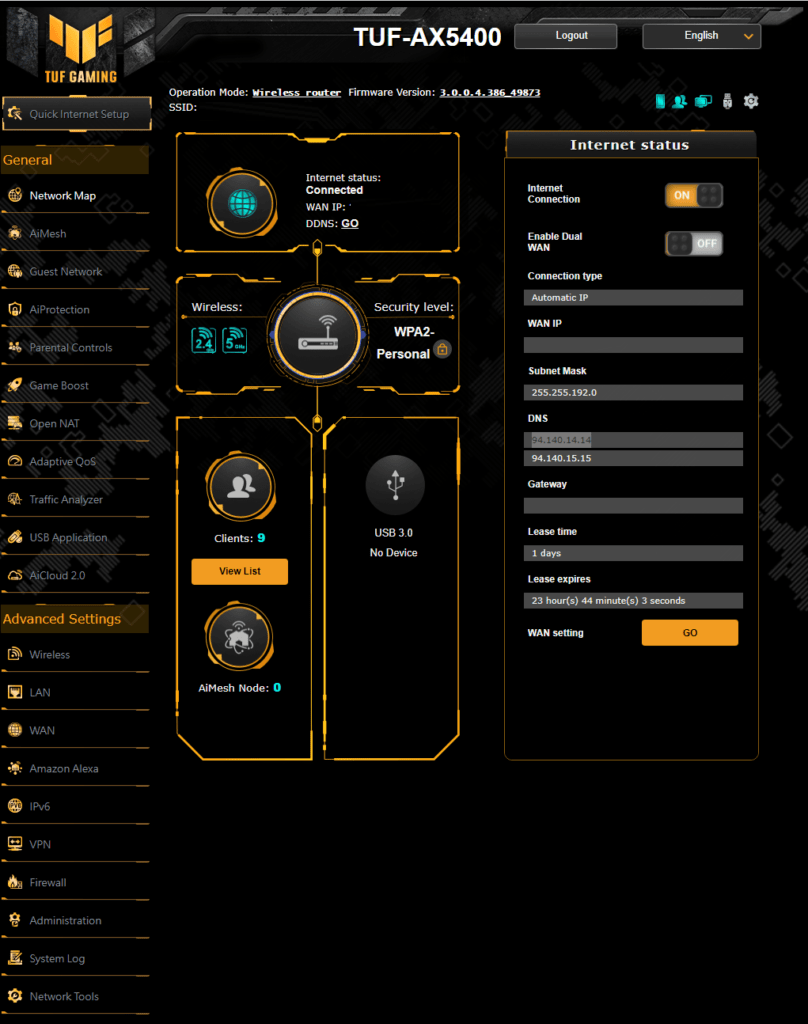 Main page where you find the most useful info and easy to access settings
AiMesh
Guest Network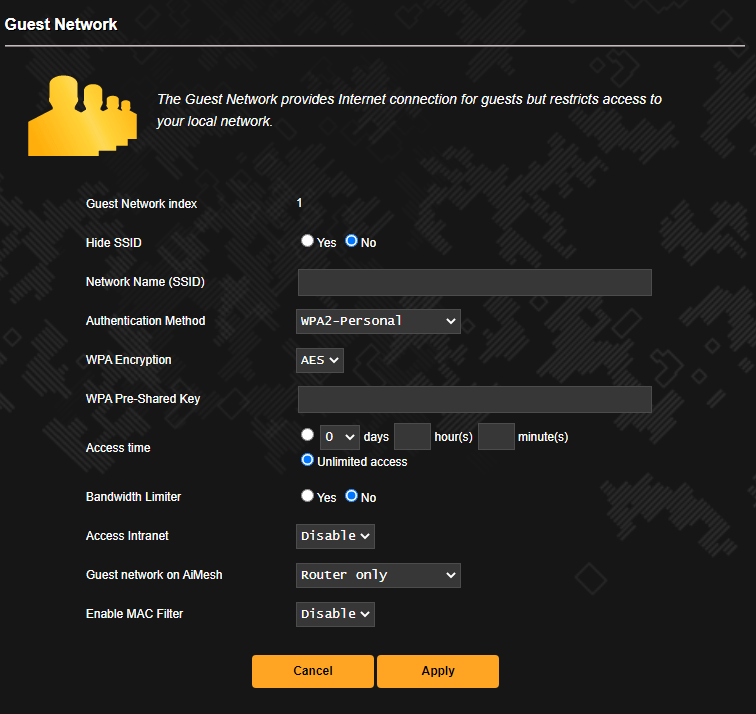 Setup a guest network for visitors to your home and you don't want to share your private network
AiProtection
Take note of this agreement to share info to Trend Micro when using ASUS AiProtection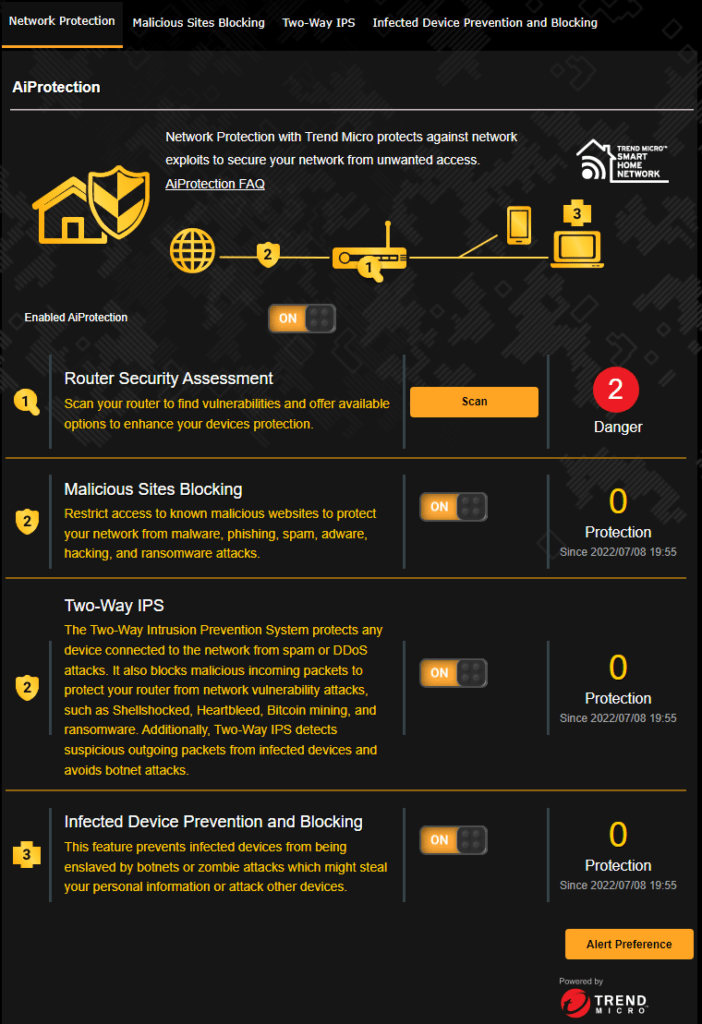 Network Protection with Trend Micro protects against network exploits to secure your network from unwanted access.
AiProtection – Malicious Sites Blocking
Restrict access to known malicious websites to protect your network from malware, phishing, spam, adware, hacking, and ransomware attacks.
AiProtection – Two-Way IPS
The Two-Way Intrusion Prevention System protects any device connected to the network from spam or DDoS attacks. It also blocks malicious incoming packets to protect your router from network vulnerability attacks, such as Shellshocked, Heartbleed, Bitcoin mining, and ransomware. Additionally, Two-Way IPS detects suspicious outgoing packets from infected devices and avoids botnet attacks.
AiProtection – Infected Device Prevention and Blocking
This feature prevents infected devices from being enslaved by botnets or zombie attacks which might steal your personal information or attack other devices.
Parental Controls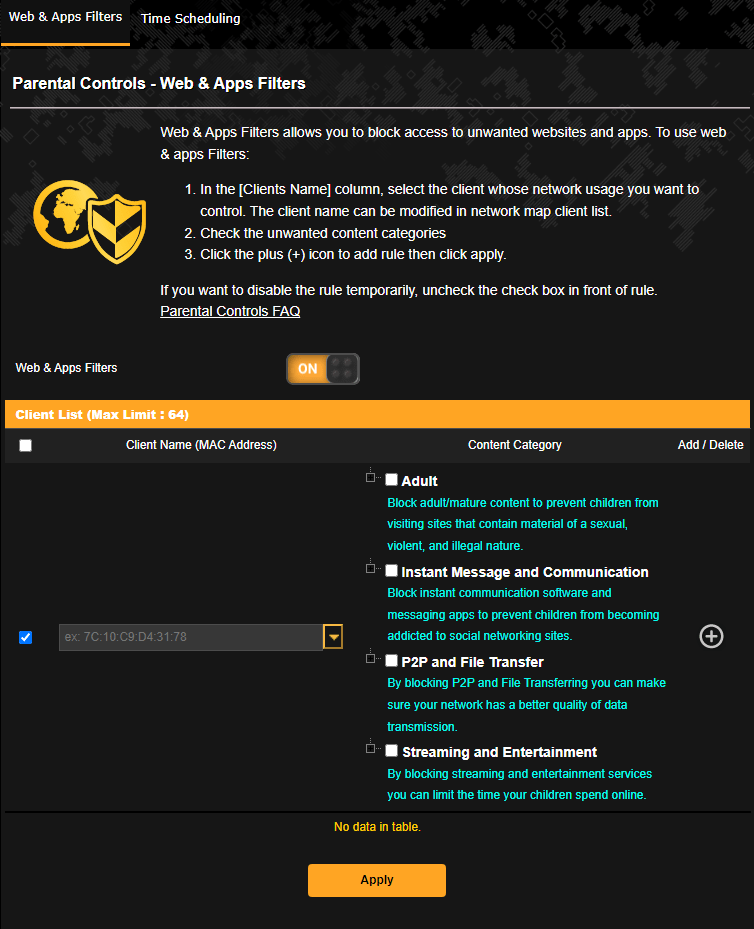 Web & Apps Filters allows you to block access to unwanted websites and apps.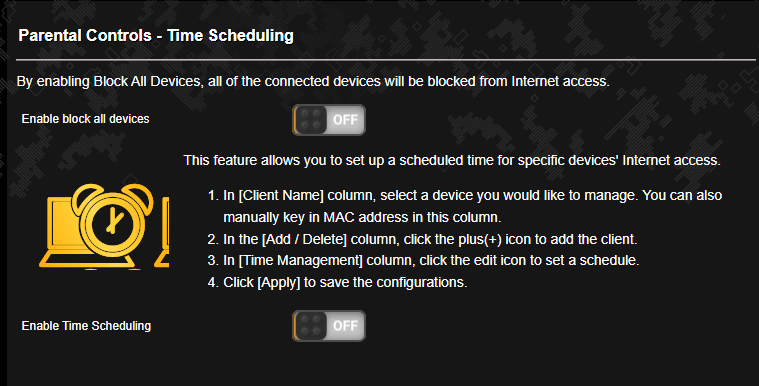 This feature allows you to set up a scheduled time for specific devices' Internet access.
Game Booster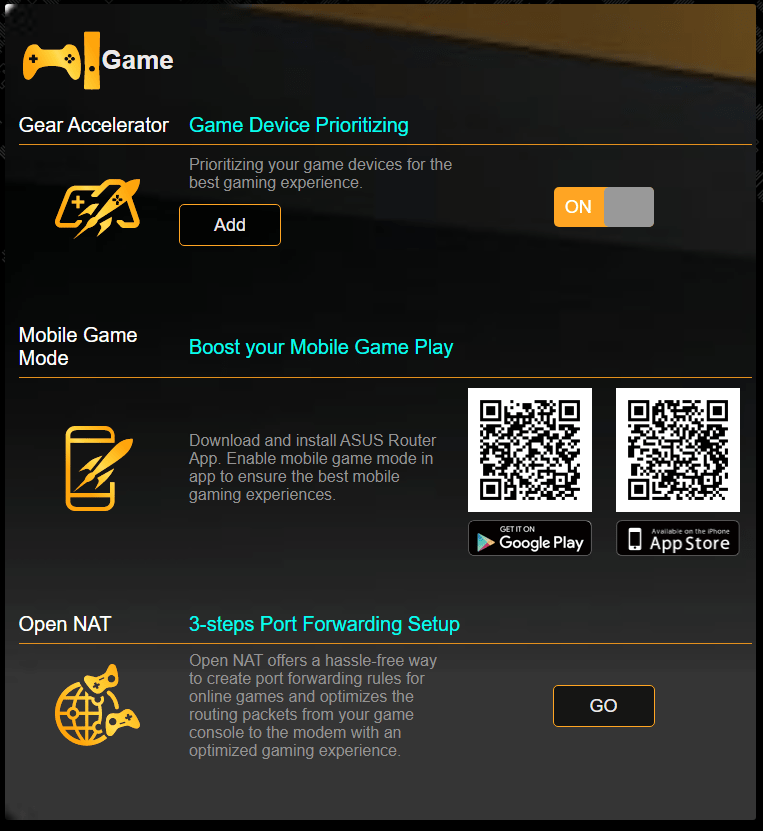 Game Device Prioritizing
Prioritizing your game devices for the best gaming experience.
Remember to download the App and enable mobile game mode

After setting my phone game mode it will put it as high device priority

more info can be found when selecting the device in the app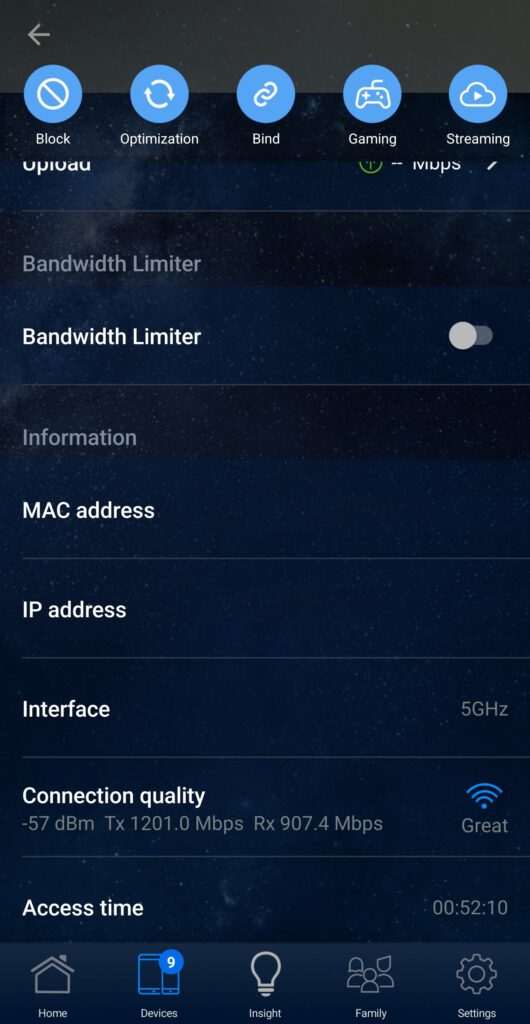 here we can see the connection quality and speed which is pretty high for a white guy.
So far with gaming mode turn on I feel it helps when playing games like Apex Legends and Free Fire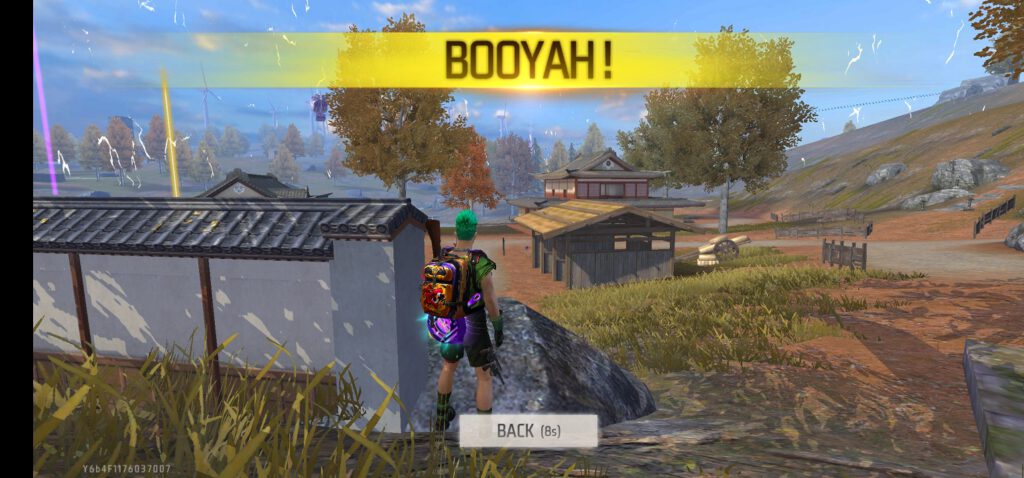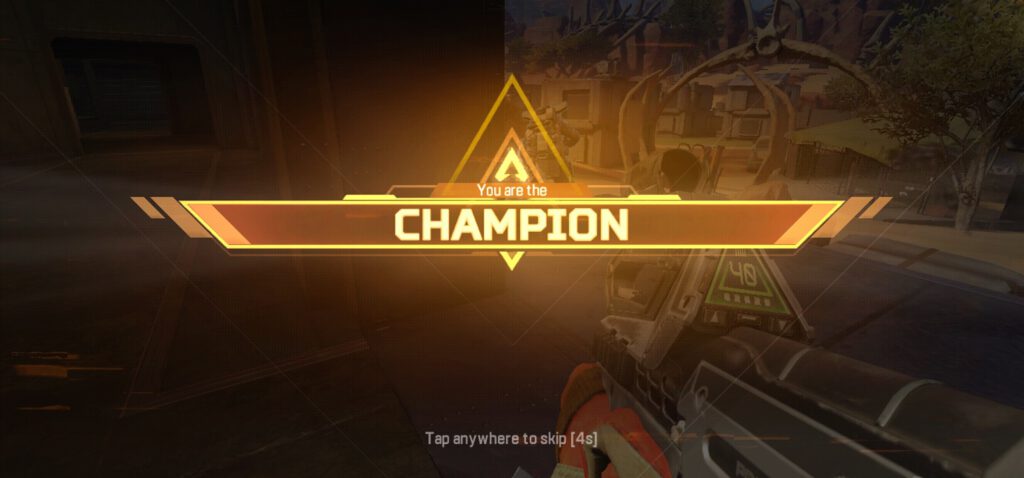 OpenNAT
OpenNAT offers a hassle-free way to create port forwarding rules for online games and optimizes the routing packets from your game console to the modem with an optimized gaming experience.
* To ensure the gaming connection, we suggest you use a Full Cone NAT. More details on NAT type, please refer to this 
FAQ.
Game Profile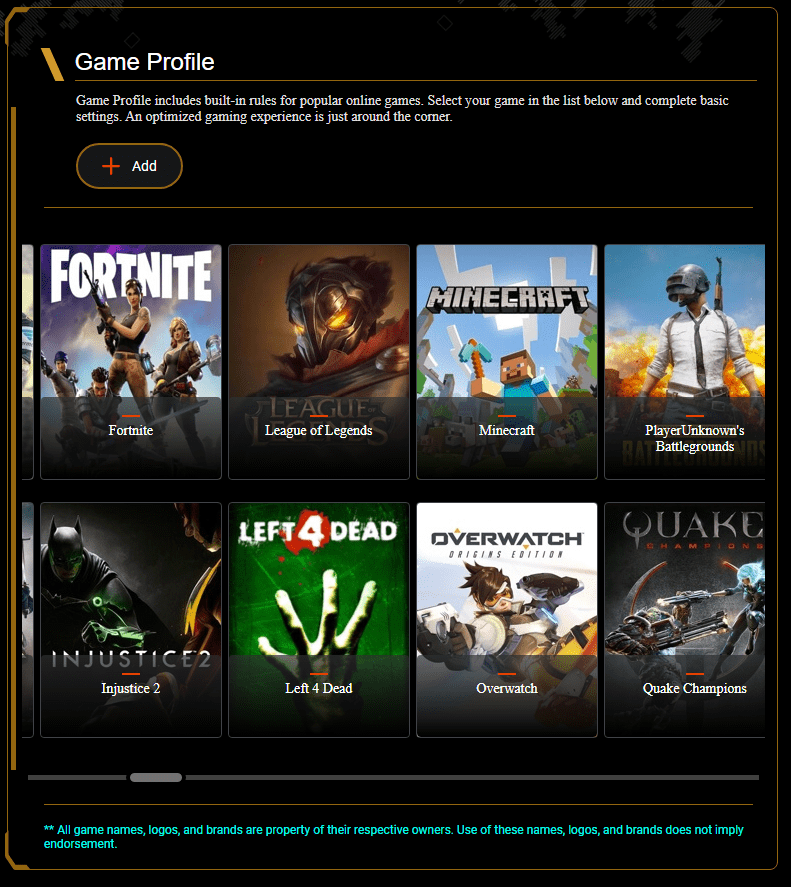 Game Profile includes built-in rules for popular online games. Select your game in the list below and complete basic settings. An optimized gaming experience is just around the corner.
An example I have setup the Game Profile for CS:GO on PC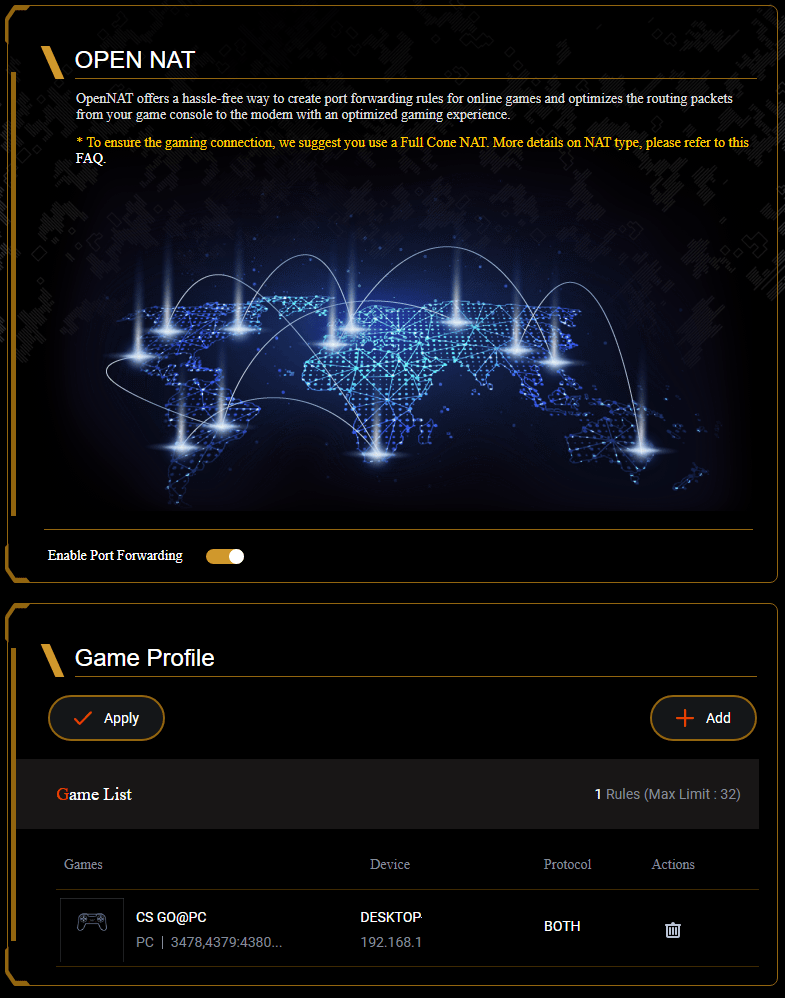 Enable Adaptive QoS settings so it's easier to use the mode and set it on the device for the best usage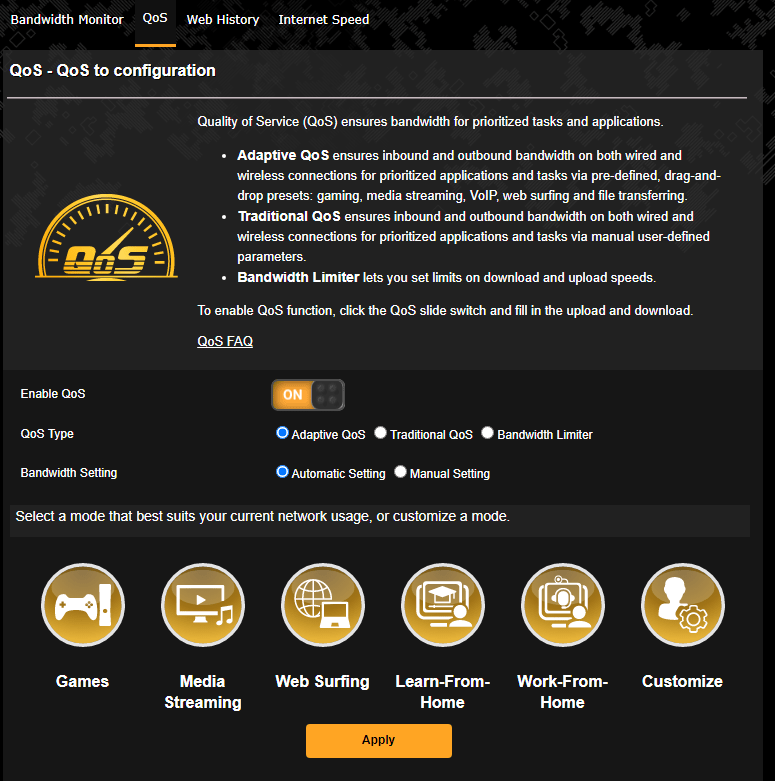 There's a Internet Speed test option and It's decent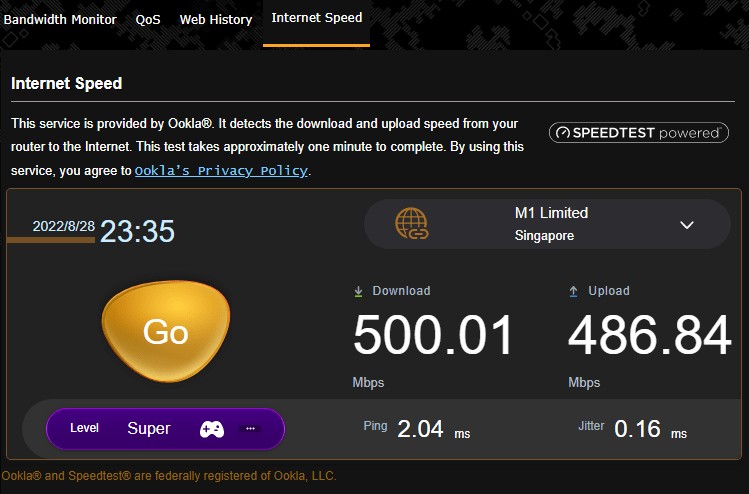 USB Application
A list of USB application to help you share files or even print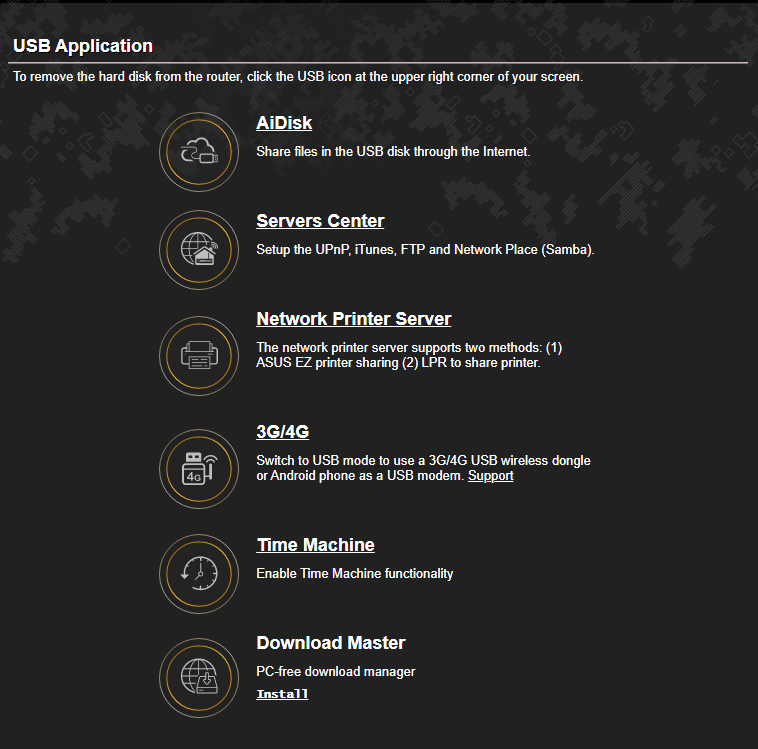 AiCloud 2.0
ASUS AiCloud 2.0 keeps you connected to your data wherever and whenever you have an Internet connection. It links your home network and online storage service and lets you access your data through the AiCloud mobile app on your iOS or Android mobile device or through a personalized web link in a web browser. Now all your data can go where you go.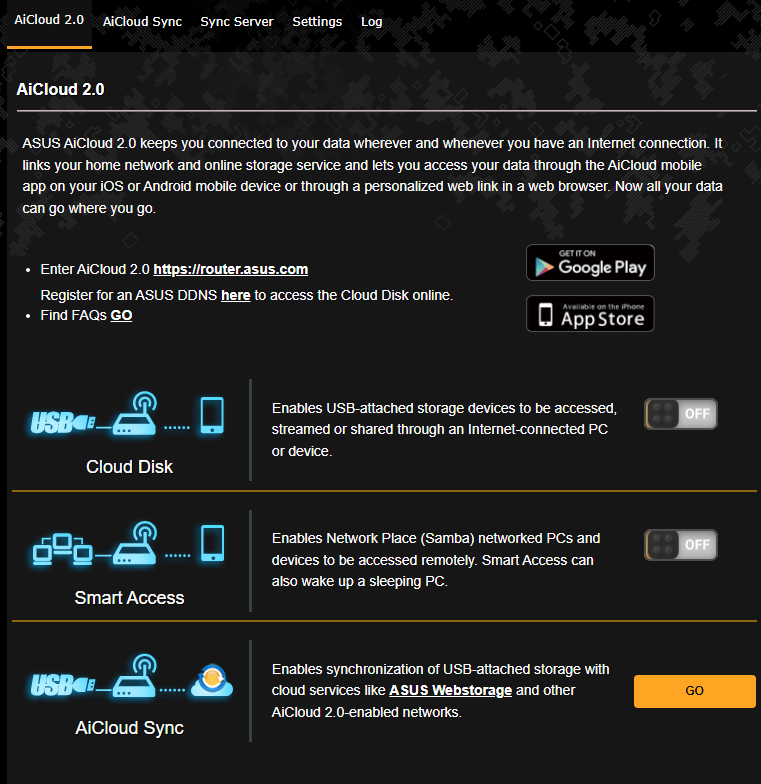 Tips* Don't turn this ON before setting any security settings!
Wireless Settings
Always set a very strong password (WPA Pre-Shared Key)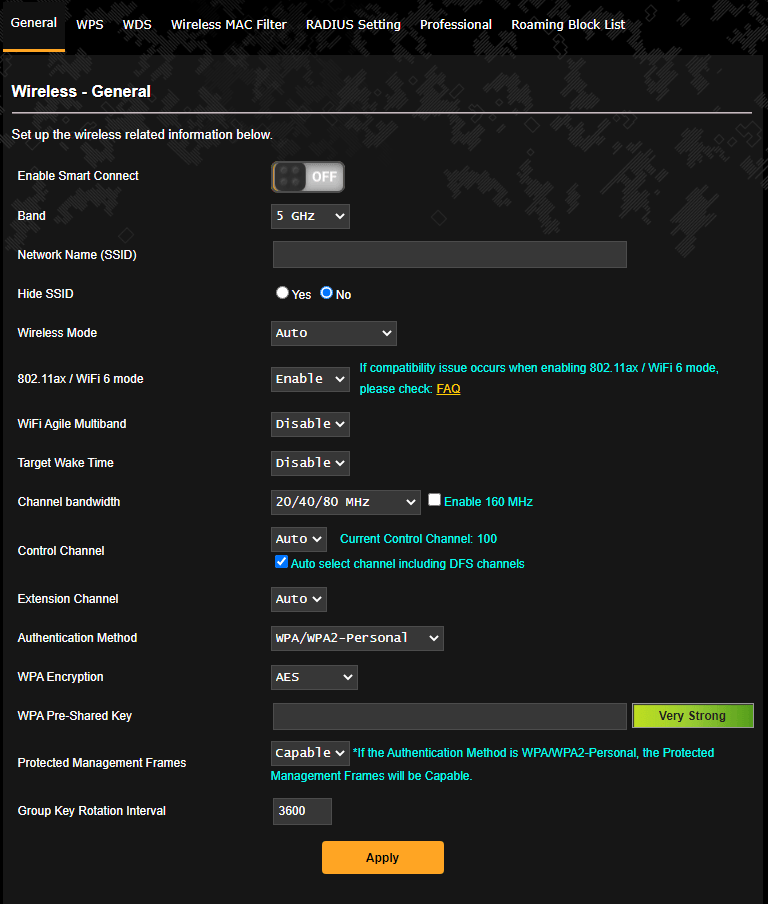 WPA2/WPA3
If you have many older device, I suggest to set it at WPA2-Personal, maybe in a couple years later set it to WPA2/WPA3-Personal for better security sense.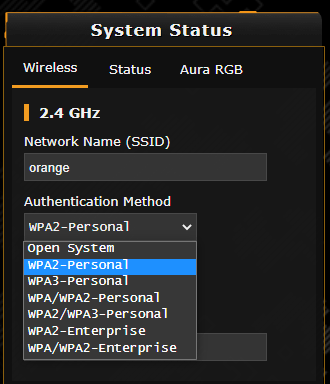 Channel bandwidth
If you want the TOP speed and your devices support it 4×4, change to 160Mhz if not leave it at default.
WAN Internet Connection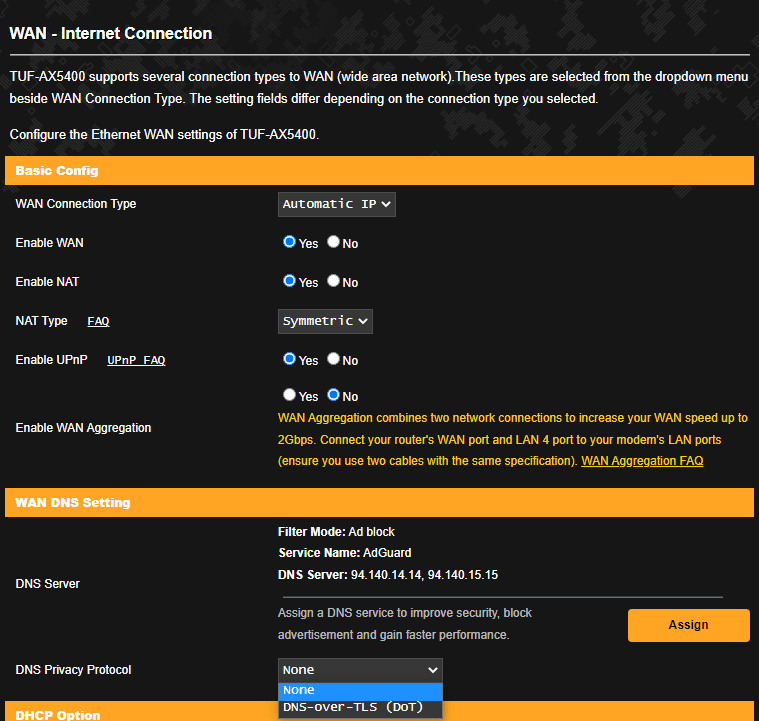 One of the good feature is the ability to use WAN Aggregation, this allows up to 2Gbps speed provided that you have 2 uplinks of 1Gbps. Other vise use the Dual WAN settings to ensure that if one links fail there's another link to keep your internet going 24/7!
DNS Server
I like that is a built-in DNS List to choose from, choose AdGuard if you don't like ads and it helps block out most of the annoying ads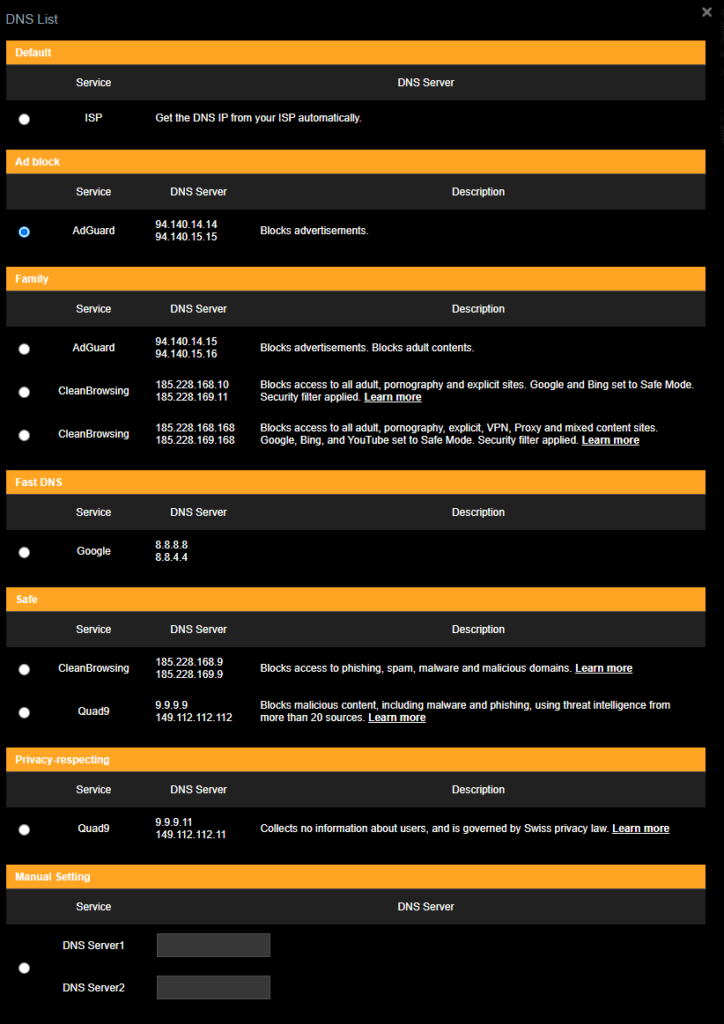 if you're concern about your ISP learning what kind of websites you go to there the DNS Privacy Protocol which can tunnel your dns queries via TLS.
Amazon Alexa Skill
Not sure if anyone does this but there's this feature to link your alexa to the router.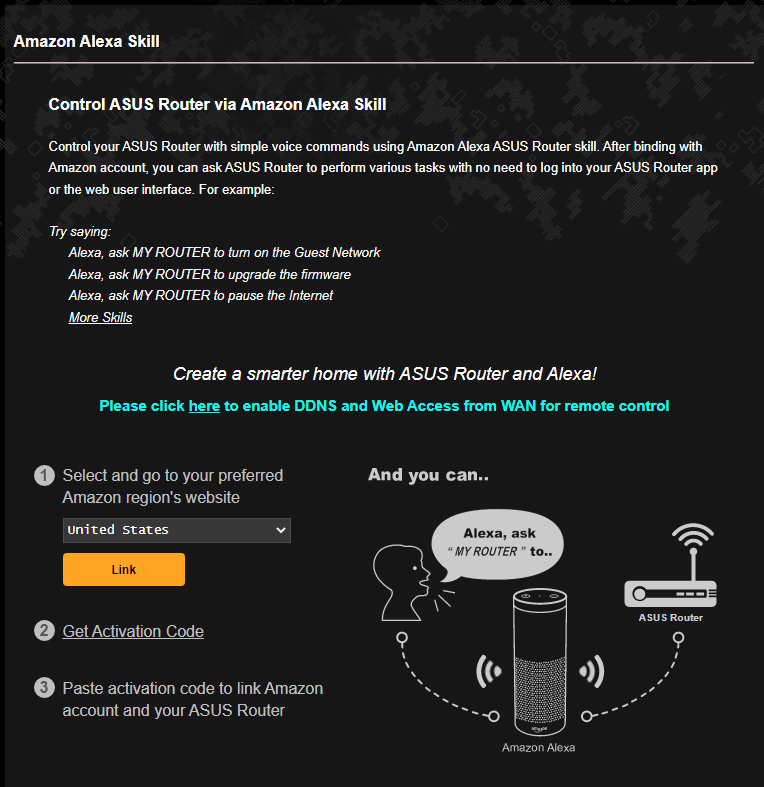 Control router with Alexa Commands
VPN Fusion allows you to connect to multiple VPN servers simultaneously and assign your client devices to connect to different VPN tunnels. Some devices like set-top boxes, smart TVs and Blu-ray players do not support VPN software. This feature provides VPN access to such devices in a home network without having to install VPN software, while your smartphone remains connected to Internet not VPN.
Good for trying stream shows not available in your country by using VPN and also good for gamers that are trying to play games that are region based and get better latency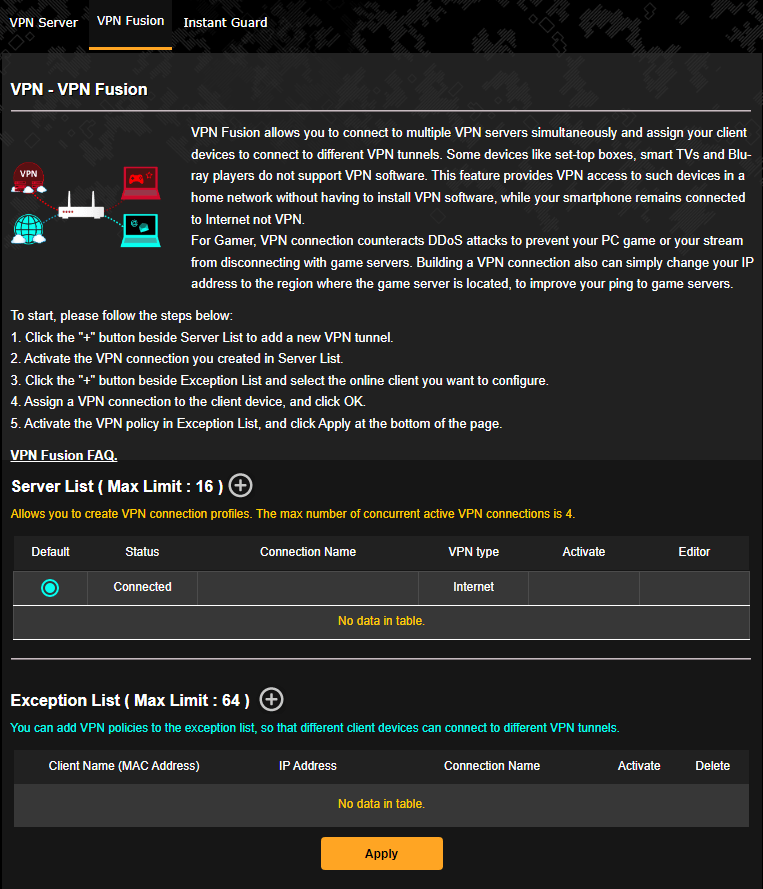 Conclusion
The ASUS TUF-AX5400 Dual Band WiFi 6 Gaming Router is a well rounded router for gamers that want to take it to the next level but not spend too much. The router can be setup easily and paired with the app. Besides the gaming features, it also boost most of the great functions found it other ASUS routers and can also double as a mesh network and even have the Aura RGB logo.