Support Top-tier Experiences Balancing Performance, Cost and Power
Qualcomm Incorporated (NASDAQ: QCOM) announced that its subsidiary, Qualcomm Technologies, Inc., has introduced two new mobile platforms, the Qualcomm® Snapdragon™ 660 and 630, both designed to support a leap in performance enabling advanced photography and enhanced gaming, in addition to long battery life and fast LTE speeds. The Snapdragon 660 and 630 Mobile Platforms include the Snapdragon 660 and 630 SoCs, which encompass the baseband functionalities, plus software and hardware components including RF front end, integrated Wi-Fi, power management, audio codec and speaker amplifier, all to support a comprehensive mobile solution.
"With the introduction of the Snapdragon 660 and 630 Mobile Platforms, we are thrilled that features such as improved image quality and fast LTE speeds will now be available in a wide array of devices without sacrificing performance or quality," said Kedar Kondap, vice president, product management, Qualcomm Technologies, Inc. "This ensures that a greater number of consumers will be able to take advantage of higher quality user experiences in camera, audio and visual processing, connectivity, improved CPU and GPU performance, fast charging, security and machine learning."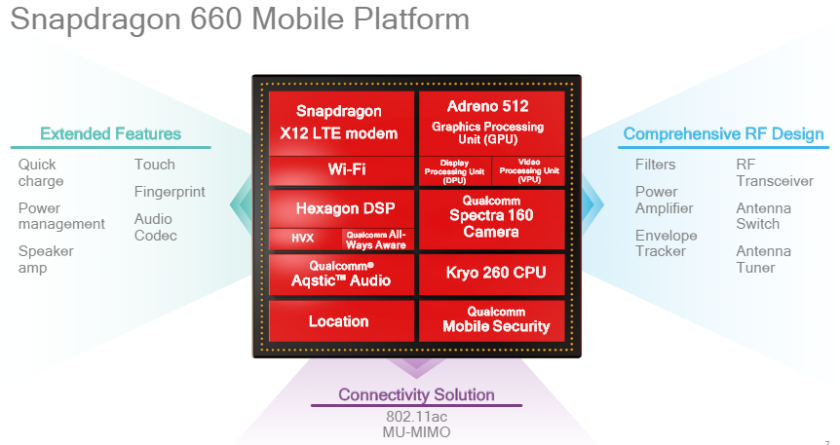 The Snapdragon 660 and 630 Mobile Platforms focus on seven categories of features:
Camera: The Qualcomm Spectra™ 160 premium camera ISP supports improved photographic image quality for more natural skin tones, superior low light photography, as well as better power efficiency and higher throughput for dual camera smartphones.  Also supported are features like smooth optical zoom, bokeh effects, dual pixel autofocus, and improved camcorder video stabilization;
Audio/Visual Processing: The Qualcomm® Hexagon™ 680 DSP featuring vector extensions (HVX) on the Snapdragon 660 Mobile Platform enables high performance, power efficient processing of imaging, computer vision, and machine intelligence workloads, another first in the 600 tier. Optimized software libraries include support for TensorFlow and Halide. Both platforms also support Qualcomm All-Ways Aware™ technology with support for the Google Awareness API. This technology provides Qualcomm Technologies' next generation of always-on contextual experiences and uses very low power running on the Hexagon DSP;
Connectivity: The Snapdragon 660 and 630 both feature a Snapdragon X12 LTE Modem, paired with the new SDR660 RF transceiver, which support peak downlink data rates of 600Mbps to the 600-tier lineup of SOCs for the first time. The Snapdragon 660 supports 2×2 MU-MIMO 802.11ac Wi-Fi for twice as much data throughput and up to 60 percent lower download power consumption as the Snapdragon 652. It also offers improved coverage, especially in homes, and offices with hard to penetrate brick and concrete walls as well as advanced features such as LTE/Wi-Fi antenna sharing, and Dual Band Simultaneous (DBS) operation. Both platforms also come with advanced RF front-end support including Qualcomm® TruSignal™ adaptive antenna tuning with carrier aggregation, designed to dynamically optimize signal quality in varying user conditions for wide network coverage and more consistent data and voice experience. The Snapdragon 660 and 630 are the first 600-tier chipsets with envelope tracking technology, including high-power user equipment (HPUE) support, for superior power efficiency and thermal performance. Both platforms also integrate powerful location engines with better sensitivity and support for new constellations (Galileo and QZSS) for faster location fix, enhancements to support mandatory emergency service requirements, as well as smoother pedestrian navigation with up to 50 – 75 percent lower power consumption (compared to previous generation). Both platforms also feature Bluetooth 5 support, which doubles the amount of data that devices can transfer compared to the previous iteration;
Improved CPU and GPU: The Snapdragon 660 Mobile Platform is the successor to the Snapdragon 653 and features a 20 percent improvement in the Qualcomm® Kryo™ 260 CPU and 30 percent improvement in the Qualcomm® Adreno™ 512 GPU performance, ensuring a better gaming and multimedia experience for end users. The Snapdragon 630, which succeeds the Snapdragon 625, offers a 30 percent increase in the Adreno 508 GPU performance over its predecessor, as well as a 10 percent increase in CPU performance over its predecessor. Both platforms are designed to offer excellent battery life;
Qualcomm® Quick Charge™ 4: The Snapdragon 660 and 630 Mobile Platforms feature the latest innovations in Quick Charge technology, which supports up to 5 hours of talk time in just 5 minutes of charging and up to 50 percent battery life in just 15 minutes of charging;
Security: Both platforms support Qualcomm® Mobile Security, which provides security focused hardware-based protection, user authentication and device attestation on the mobile device;
Machine Learning: OEMs and developers can also power immersive and engaging user experiences with machine learning on the Snapdragon 660 and 630 Mobile Platforms using the Snapdragon Neural Processing Engine SDK. This heterogeneous software framework offers support for Caffe/Caffe2 and TensorFlow, making it easy to target and run neural networks on the Snapdragon core that matches the power and performance profile of the desired feature – CPU, GPU or DSP/HVX.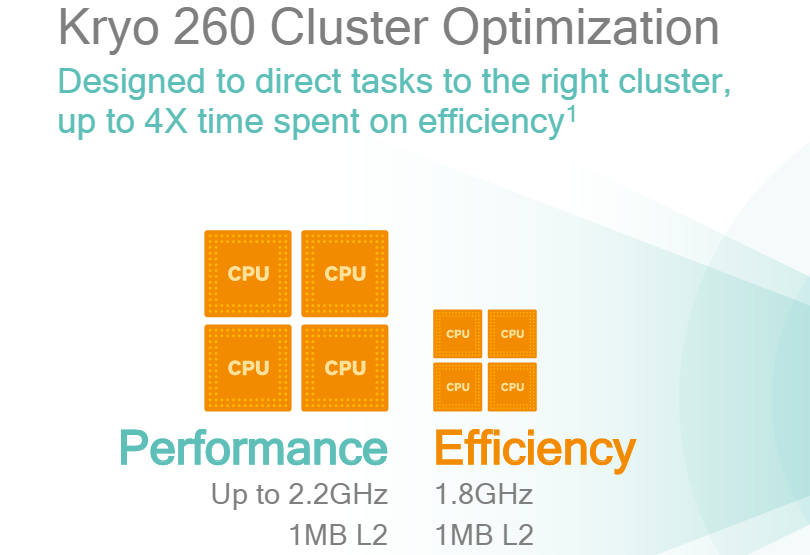 The Snapdragon 660 and 630 Mobile Platforms share the same modem and camera architecture, and are pin and software compatible, making it simpler and easier for original equipment manufacturers (OEMs) to build, test and calibrate their devices. Both platforms use a 14nm FinFET process and provide 4K video capture and playback capabilities, along with 8GB maximum memory and Vulkan API support. Additionally, the Snapdragon 660 Mobile Platform supports displays up to QHD (2K) resolution, whereas the 630 supports FHD/QXGA (1080p).