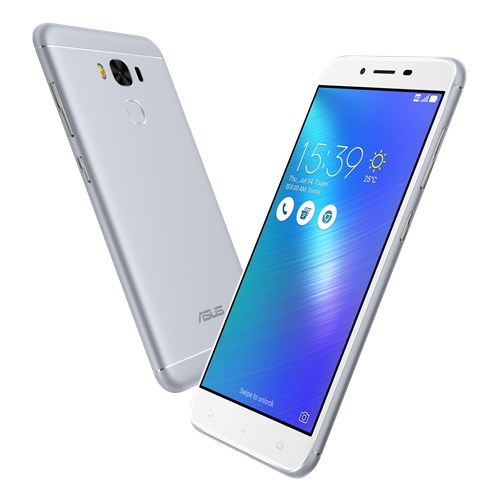 New ZenFone 3 Max variant features large 5.5-inch display, extreme standby time of up to 38 days, and camera with class leading laser autofocus
KEY POINTS
Extreme battery life: All-day talk time and up to 38 days of 4G standby from powerful yet compact 4100mAh lithium-polymer battery
Beautiful metallic design: Sophisticated aluminum-alloy body with rounded edges, 2.5D contoured display glass and diamond-cut edges
Convenient power bank: Doubles up as a power bank with reverse-charging capability for high-speed charging of other devices
Singapore, April 2017 — ASUS today announced a new variant of ZenFone 3 Max – the ZenFone 3 Max ZC553KL that offers an incredible 38 day standby time and a 16-megapixel camera with class-leading laser focus range. This is the second of the ZenFone 3 "Max" models that feature very large batteries which give them outstanding battery life. The new ZenFone 3 Max (ZC553KL) now offers users the option of a larger 5.5-inch display and camera with TriTech (phase detection, continuous and laser focus) as well as electronically-stabilized videos.
ZenFone 3 Max (ZC553KL) runs on a powerful, yet battery-frugal Qualcomm Snapdragon 430 processor that works efficiently with its high-capacity 4100mAh lithium-polymer battery to provide up to 38 days of 4G standby, 17 hours of talk time on 3G, 19 hours of Wi-Fi browsing on 4G/LTE, 72 hours of music playback and  18 hours of 720P video playback. ZenFone 3 Max frees users from battery-life worries, giving them ample power for a full working day and beyond, as well as the ability to act as a fast-charge power bank for charging other devices.
ZenFone 3 Max has a beautiful all-aluminum-alloy body with a Full high-definition (Full HD) 5.5in IPS display. A slim bezel gives it a remarkable 73% screen-to-body ratio that minimizes bulk.
Despite its incredible battery performance, ZenFone 3 Max weighs only 175 grams and is just 8.3mm thin – even slimmer than the 5.2-inch ZenFone 3 Max that is 8.5mm. This makes ZenFone 3 Max ZC553KL one of the lightest and most compact smartphones to offer over 4000mAh of battery power.
ZenFone 3 Max ZC553KL is equipped with a powerful Qualcomm Snapdragon 430 64-bit octa-core processor, paired with an Adreno 505 graphics processor that together, provide even more responsiveness and the ability to run graphically demanding games. It also has a fast 4G LTE Category 4 radio for up to 150Mbps mobile downloads.
Premium design for a natural grip
ZenFone 3 Max embodies the core values of industrial design, pairing beautiful aesthetics with uncompromising build quality to create an exceptional user experience. The finely sandblasted all-aluminum-alloy body with its comfortable rounded sides is enhanced with brilliant diamond-cut chamfered edges, and the contoured (2.5D) glass touchscreen is matched around the back by a gently curving rear cover that feels natural to hold. At just 175 grams and 8.3mm thin, ZenFone 3 Max is remarkably slim and light for a smartphone with such battery performance.
Every aspect of ZenFone 3 Max's design has been thoughtfully considered, from the balanced positioning of the display to the precise alignment of the retaining screws at the bottom. ZenFone 3 Max is premium design in every detail, and is available in four gorgeous colors to match the user's unique style — Titanium Gray, Glacier Silver, Rose Pink and Sand Gold.
For added security and convenience, ZenFone 3 Max has a fingerprint sensor that is conveniently positioned near the top of the rear panel, allowing the user's index finger rest naturally upon it. The fingerprint sensor allows rapid locking or unlocking of the phone, and can also be used for authentication by other apps. It registers up to five separate fingerprints, and accurately detects fingerprints regardless of the orientation of the finger on the sensor.
Making enormous energy go further
Users can never have too much battery life — and that's why ZenFone 3 Max ZC553KL includes two brilliant battery-extending technologies to squeeze even more power out of its 4100mAh high-density lithium-polymer cell. With this powerful battery and power-efficient processor, ZenFone 3 Max allows extended use of the phone with up to 38 days of 4G standby time, 17 hours of VoIP talk time on 3G, 72 hours of music playback and 18 hours of 720P video playback.
Users also have access to five preset power-management modes — including a manual Custom mode — that enable easy management of battery use and energy conservation, so ZenFone 3 Max ZC553KL performs just the way they need.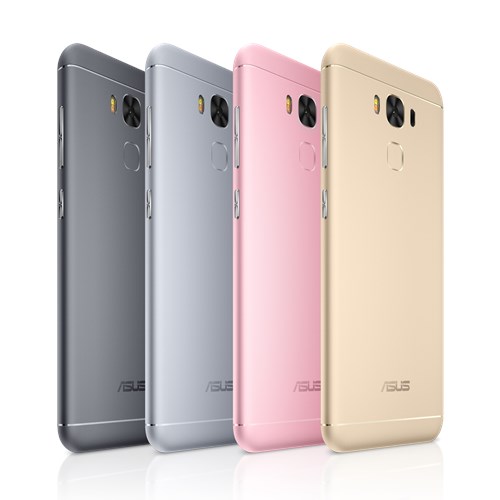 Performance – Sets the CPU to highest performance and screen brightness to maximum. This mode is ideal for gaming or online video playback.
Normal – The default setting, this mode intelligently adjusts CPU performance and screen brightness to conserve battery power.
Power Saving – In addition to automatically adjusting CPU performance and screen brightness to conserve battery power, this mode also disables both mobile data and Wi-Fi when the device is asleep to save even more power. It then reconnects access when the screen is turned on again. This mode is great for sleeping as it stops all online notifications until the device is awake again.
Super Saving – This mode works a little like Power Saving mode but goes a step further to close all network functions except phone, SMS, and alarm to provide a longer standby time. This mode can extend ZenFone 3 Max's standby time to an amazing 36 hours even with only 10% of the battery charge remaining.
Custom – Allows the user to customize all settings, such as CPU performance, brightness, and network functions.
A go-everywhere power bank
ZenFone 3 Max ZC553KL has more than enough battery power to allow it to double up as a power bank for charging other devices. Using the supplied USB on-the-go (OTG) cable. In this mode, ZenFone 3 Max can still monitor charge levels and will not allow its own battery to drain below 30%.
Capture reality, fast and steady
ZenFone 3 Max's ZC553KL's primary rear PixelMaster camera has a 16-megapixel resolution. It achieves an amazingly fast 0.03 seconds using its TriTech autofocus system that automatically chooses the best focus technology from three for any subject: phase detection, continuous contrast detection or a second generation laser focusing system which has a range of 1.5 meters – or about three times that of conventional laser focus systems. When shooting handheld videos with ZenFone 3 Max ZC553KL, an electronic image stabilization (EIS) system counteracts hand movements along three axes – yaw, roll and pitch – to ensure the resulting videos are stable and shake-free.
ZenFone 3 Max's powerful camera modes let users capture every precious moment. These include an  industry-leading Backlight (Super HDR) mode lets users see clearly through daytime shadow, while Super Resolution captures multiple shots simultaneously for a single photograph with stunning 64MP detail. And ZenFone 3 Max ZC553KL's Low Light mode takes clear and bright photos, even in poor lighting conditions.
AVAILABILITY & PRICING
ASUS ZenFone 3 Max (ZC553KL) is available in StarHub and M1 now.
It will be available in Challenger, Newstead, Best Denki, Gain City and all ASUS Concept Stores from 15th April 2017. Available colors are Titanium Grey, Sand Gold and Rose Pink.
Retailing at $328 SGD.
Please contact your local ASUS representative for further information.
Test conducted in 4G mode, with Wi-Fi, Bluetooth and data disabled. Calculation based on current-meter reading and typical battery capacity. Real-world performance will vary according to usage and environmental factors.
SPECIFICATIONS
ASUS ZenFone 3 Max (ZC553KL)
Construction
Premium-crafted all-aluminum-alloy design with 2.5D contoured glass
Slim 2.25mm bezel and 73% screen-to-body ratio.
Display
5.5 inch FHD 1920 X 1080 display
> 400cd/m2brightness
2.5D contoured glass
Processor
CPU
Snapdragon 430 Octa-core 64-bit processor
GPU
Adreno 505
Memory
RAM / ROM
3GM RAM/32GB ROM
PixelMaster
Camera
Rear Camera
16MP PixelMaster camera, five-prism Largan lens

Backlight (Super HDR) / Low Light / Beautification modes

Front Camera
8MP PixelMaster Camera, f/2.2 aperture
Camera features
64MP Super Resolution
Backlight (Super HDR) / Low Light / Selfie / Panorama / Beautification / Time Lapse / Effect modes
Wireless
Wi-Fi: 802.11 b/g/n, Wi-Fi Direct, hotspot
4G LTE: Category 4 150/50Mbps (download/upload)
Connectivity
Bluetooth® 4.1
Rear fingerprint security sensor
SIM card and SD slot
Slot 1:Micro SIM (2G/4G)
Slot 2:Nano SIM (2G/4G) / Micro SD
GPS
GPS, AGPS
OS
Android™ M with ZenUI 3.0
Battery
4100mAh

Supports Reverse Charging and Super Saving mode

Audio
ICEpower® enhanced speaker
Dual microphone with noise cancellation
Audio Wizard for enhanced audio experience
Dimensions
151.4 x 76.24 x 8.3mm
Weight
175 grams
Color
Titanium Gray, Rose Pink, Sand Gold