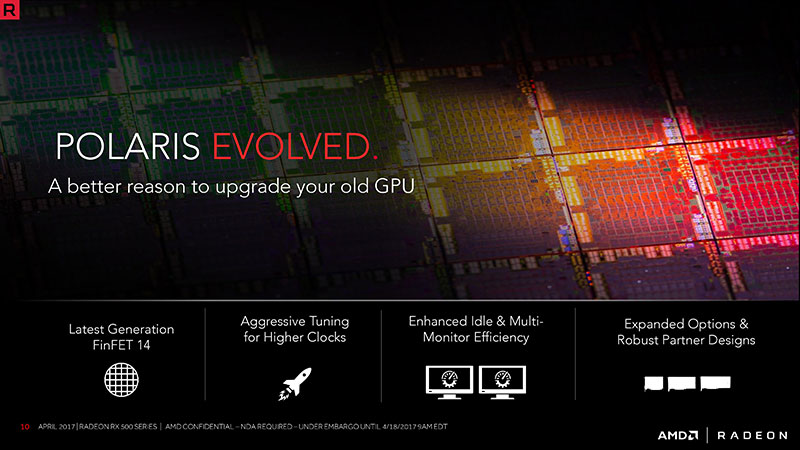 Today AMD (NASDAQ: AMD) introduced the Radeon™ RX 500 series, a new line of graphics cards featuring a powerful combination of improved game performance, higher clock speeds1, and a refined 2nd generation Polaris architecture, giving PC gamers the best reasons yet to upgrade their graphics.
The Radeon RX 500 series was designed specifically for system upgrades, catering to the 9 out of 10 PC gamers today who are hindered by outdated technology and aren't able to enjoy optimal experiences in modern games, smooth VR experiences, or the latest display technologies.2,3  Radeon™ RX 500 series graphics cards feature a variety of the most compelling new technologies and features including:
Optimized DirectX® 12 and Vulkan® gaming – The Radeon™ RX 500 series was engineered using the 2nd generation Polaris architecture. It was specifically designed to perform exceptionally well with low-level, next-generation APIs like DirectX 12 and Vulkan and it supports asynchronous compute for outstanding game and VR experiences.3 Radeon RX 500 series GPUs have been further refined with higher clock speeds, improved idle and multi-monitor efficiency, and the fine-grained controls gamers need to fine-tune their hardware.
Improved response times, more efficiency, and cooler operation with Radeon™ Chill – Radeon Chill is an advanced framerate controller for the Radeon™ RX 500 series that works automatically in the background (when enabled) to dynamically regulate framerates in today's most popular games based on the speed of mouse movements and the gamer's activity in a scene.4
Smooth, stutter-free gaming with Radeon™ FreeSync – Gamers can enjoy smooth framerates in virtually every game released, without the frustration of screen tearing and input lag using Radeon FreeSync, available on a wide range of affordable displays.5 For those that want to get even closer to pixel-perfect gaming, Radeon™ FreeSync 2 monitors harness low-latency, high-brightness pixels, excellent black levels and a wide color gamut to display high dynamic range (HDR) content, and feature Low Framerate Compensation (LFC) enabling stutter-free gaming when framerates dip below a monitor's refresh rate, all in a completely plug-and-play experience that eliminates the need to tweak settings in software or on the monitor.6
Awesome streaming, sharing, and gameplay capture with Radeon ReLive – The Radeon™ RX 500 series supports the industry's most revolutionary solution for capturing, customizing, and sharing gameplay. The Radeon ReLive software suite lets gamers enjoy smooth gaming and recording simultaneously, even on entry-level systems, with support for recording at 4K resolution at 30 and 60 FPS using HEVC and H.264 codecs.7 Radeon ReLive also integrates with the most popular game streaming platforms around the world.
"Radeon was built on the promise that all gamers can enjoy the most advanced graphics technologies in their favorite games. Our launch today of the Radeon RX 500 series doubles down on that effort. With higher performance, revolutionary gameplay capture software, latency-reduction technology, Day 0 driver support for game launches, open and affordable standards like Radeon FreeSync, and innovative features like Radeon Chill, we know gamers who have been patiently waiting to upgrade will have more than enough reasons to now," said Scott Herkelman, corporate vice president and general manager, Radeon Technologies Group.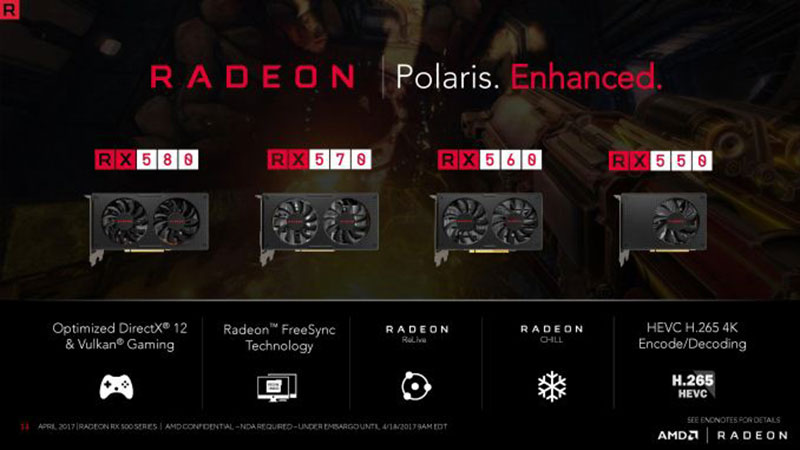 A wide range of Radeon™ RX 500 Series cards will be available to meet the needs of the overwhelming majority of gamers: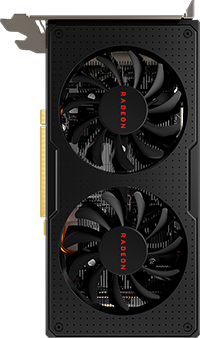 Smooth 1440p on the latest AAA games
DirectX 12, Vulkan® support
Premium Virtual Reality experience3
Radeon FreeSync™ 2 and HDR gaming Ready4,5
HDMI™ 2.0 and DisplayPort 1.4 HBR3/HDR Ready2
Radeon™ RX 580: For smooth 1440p gaming – The Radeon RX 580 delivers up to an average of 57% better performance compared to the Radeon™ R9 380X in testing8, delivering smooth gaming in leading AAA games  and VR experiences for an SEP of US$229 for the Radeon™ RX 580 8GB GDDR 5 graphics card, and an SEP of US$199 for the Radeon™ RX 580 4GB GDDR5 graphics card
1080p gaming with high quality visuals
DirectX 12, Vulkan® support
Desktop-class Virtual Reality3
Radeon FreeSync™ 2 and HDR gaming Ready4,5
HDMI™ 2.0 and DisplayPort 1.4 HBR3/HDR Ready2
Radeon™ RX 570: For maximum 1080p gaming – With 4GB of GDDR5 memory, the Radeon™ RX 570 boasts up to an average of 2.3X better performance compared to the Radeon™ R7 3709 for an SEP of US$169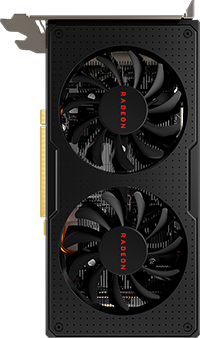 Outstanding 1080p performance in your favorite eSports and AAA games
DirectX 12 support
Radeon FreeSync™ 2 and HDR gaming Ready4,5
HDMI™ 2.0 and DisplayPort 1.4 HBR3/HDR Ready2
Radeon™ RX 560: For efficient 1080p gaming – With 2GB of GDDR5 memory, the Radeon™ RX 560 delivers up to an average 57% higher performance of the Radeon™ R7 36010 for a fluid and smooth gaming experience in the world's most popular games at an SEP of US$99
Made for eSports gaming
DirectX 12 support
Radeon FreeSync™ 2 and HDR gaming Ready4,5
HDMI™ 2.0 and DisplayPort 1.4 HBR3/HDR Ready2
Radeon™ RX 550: The doorway to PC gaming – Featuring 2GB GDDR5 memory, the Radeon™ RX 550 delivers up to an average 4X higher performance vs. competing integrated graphics, and up to an average of 1.7X the performance of the Radeon™ R7 250 at an SEP of US$79.11 The Radeon™ RX 550 is also ideal for home theater PCs with support for HDMI™ 4K60, 4K playback and HEVC content.5 It's also HDR ready, supports Radeon FreeSync 2 technology for smooth, tear-free gaming, and ships in many low-profile designs ideal for small form factor cases12
AMD Radeon RX 500-series cards

| | AMD Radeon RX 580 | AMD Radeon RX 570 | AMD Radeon RX 560 | AMD Radeon RX 550 |
| --- | --- | --- | --- | --- |
| GPU | Polaris 10 | Polaris 10 | Polaris 11 | Polaris 12 |
| Process | 14nm | 14nm | 14nm | 14nm |
| Transistors | 5.7 billion | 5.7 billion | 3 billion | 2.2 billion |
| Stream processors | 2,304 | 2,048 | 1,024 | 512 |
| Texture units | 144 | 128 | 64 | 32 |
| Render output units | 32 | 32 | 16 | – |
| Base clock | 1,257MHz | 1,168MHz | 1,175MHz | – |
| Boost clock | 1,340MHz | 1,244MHz | 1,275MHz | 1,183MHz |
| Memory | 4GB/8GB GDDR5 | 4GB GDDR5 | 4GB GDDR5 | 2GB GDDR5 |
| Memory clock speed | 8,000MHz | 7,000MHz | 7,000MHz | – |
| Memory bus width | 256-bit | 256-bit | 128-bit | 128-bit |
| TDP | 185W | 150W | 60-80W | 50W |
| Launch price | US$229 | US$169 | US$99 | US$79 |