The ASUS PRIME X670E-PRO WIFI have been released in the market for few months and it's still the latest AMD motherboard in the market. The Prime series, as the name already implies, refers to budget, however, unlike the heaped ROG Strix series (we all know that ROG is the Republic Of Gamers, that is, also a gaming direction), TUF Gaming boards do not have any special "highlights" or "baubles" for overclocking, the backlight is minimal or not at all, in general the design is simpler, well, the series simply means: "play a lot, hard, you'll have enough normal operation of the hardware, stability is guaranteed." Prime is the consider mid-low range segment that target normal user or gamer who looking for a budget board that comes with rich feature and performance.
The Asus PRIME X670E-PRO WIFI comes in a standard box of the series' signature design (in White and Silver theme). The kit is located under the board in a separate compartment.
The motherboards use 8-layer PCBs and operate dual 8-pin CPU power connectors. The 14+2 stage VRM solutions are built around 70A-rated Monolithic Power Systems MPS power stages and 5K-rated capacitors.
Form factor
The Asus PRIME X670E-PRO WIFI motherboard is made in the ATX form factor, has dimensions of 305x244mm, and it has 9 mounting holes for installation in the case.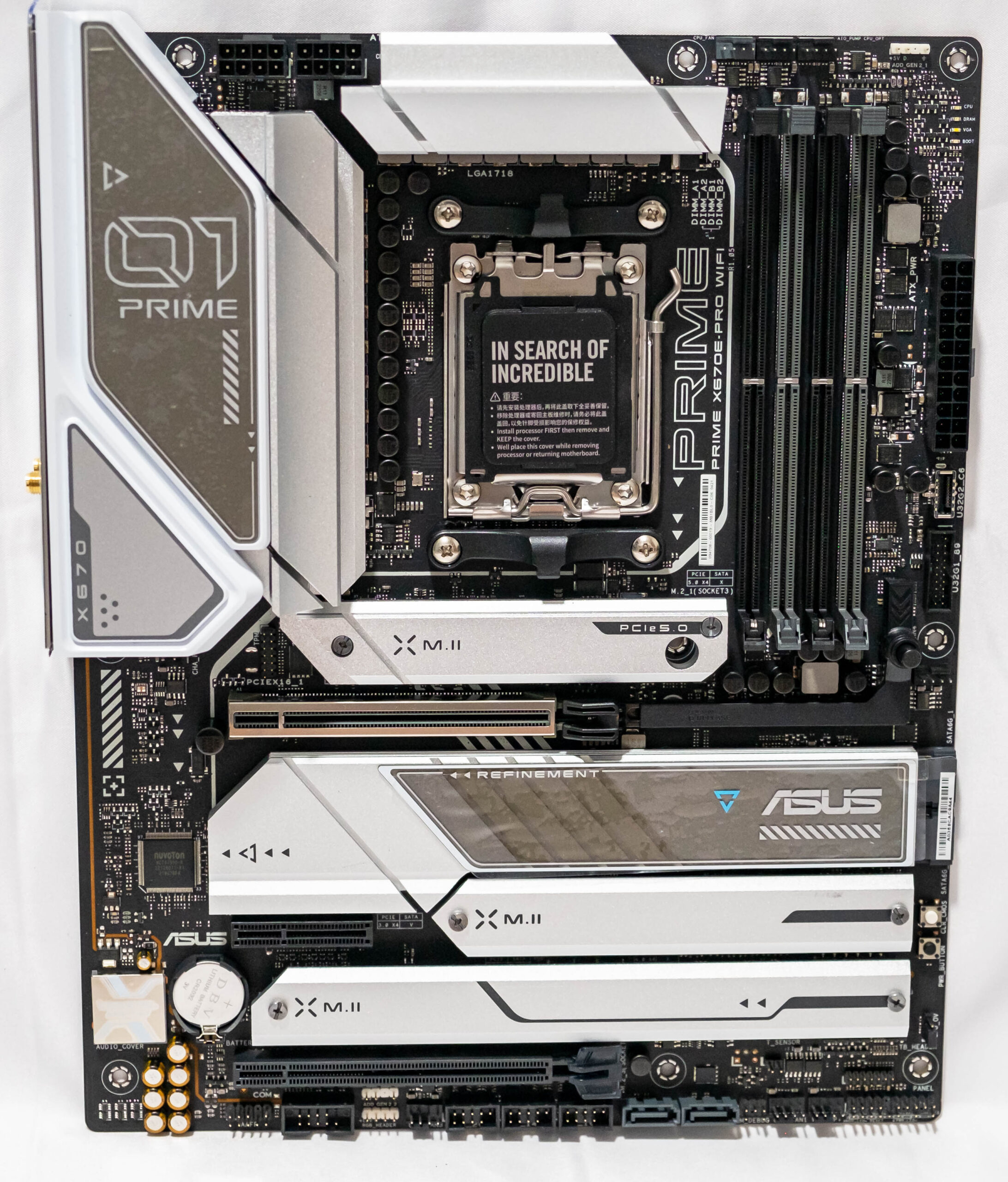 There is no protective plate (backplate).
On the rear IO itself, there are a total of ten USB ports, 2 of which are USB 3.2 Gen 2×2 (1 Type-C and Type A) and other is USB 3.2 Gen 2 (Type-C ports). The other three Type-A are USB 3.2 Gen 2 and five Type-A USB 3.2 Gen 1 ports. Also located on the rear IO are the Wi-Fi antenna headers, the Realtek 2.5Gbe LAN port, as well as a Realtek S1220A  5-plug audio stack with SPDIF. When you're using an AMD Ryzen 7000 series and need video outputs, HDMI and DisplayPort here have that covered.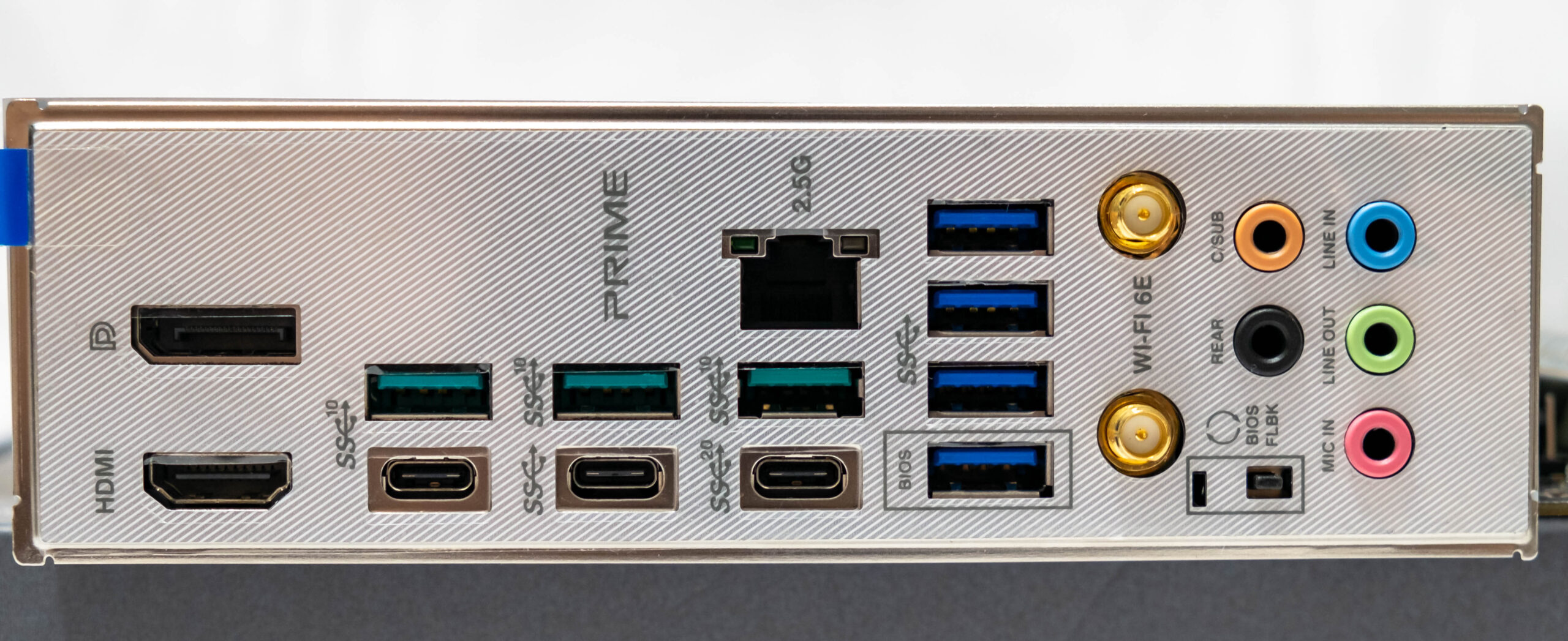 Specifications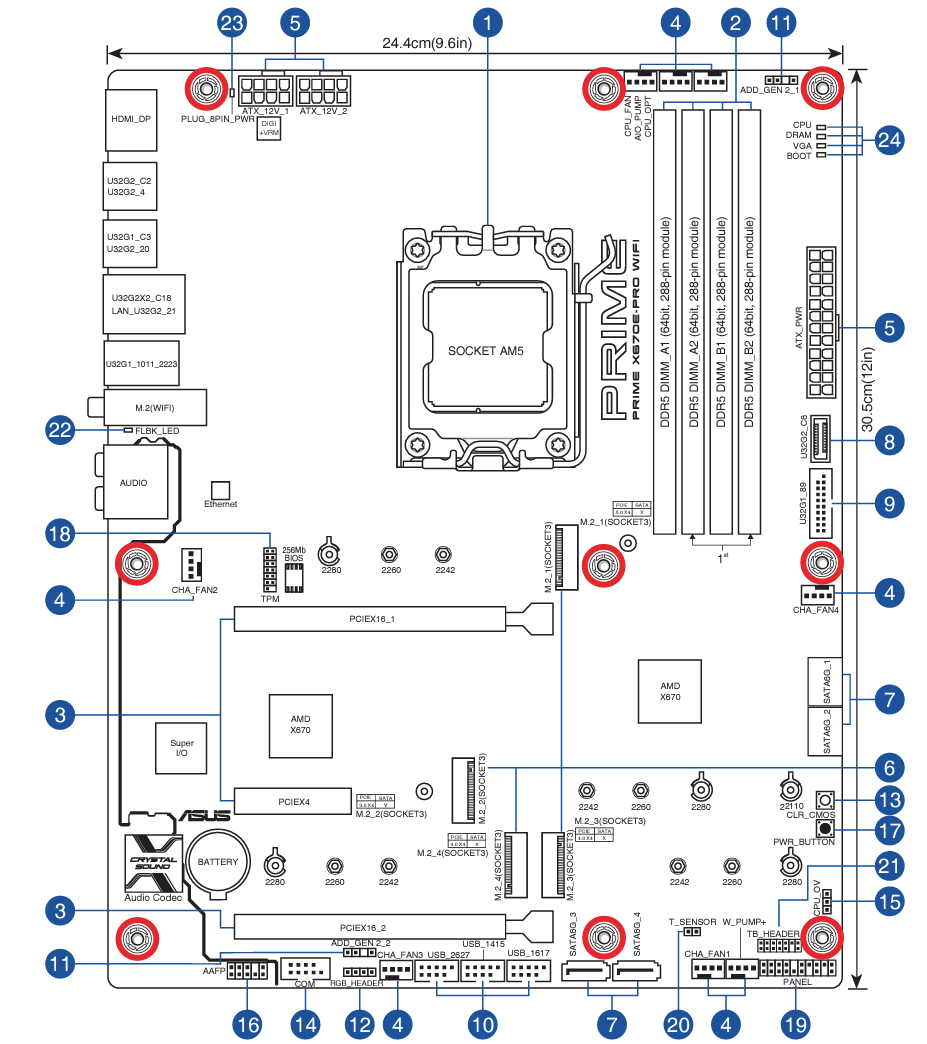 Supported Processors
AMD Ryzen 7xxx under AM5
Processor socket
AM5
Chipset
AMD X670E
Memory
4 × DDR5, up to 128 GB, up to DDR5-6400 (XMP/Expo), two channels
Audio
1 × Realtek S1220A (7.1)
Network Controllers
1 × Realtek Ethernet 2.5Gbps
1 × MediaTek Dual Band Wireless (Wi-Fi 802.11a/b/g/n/ac/ax (2.4/6 GHz) + Bluetooth 5.2)
Expansion Slots
1 × PCI Express 5.0 x16
1 × PCI Express 4.0 x16 (x4 mode)
1 × PCI Express 4.0 x16 (x4 mode)
Drive Connectors
4× SATA 6 Gb/s (X670E)
1× M.2 (CPU, PCIe 5.0 x4 for 2260/2280/22110 devices)
1x M.2  (CPU PCIe 4.0 x4 for 2260/2280/22110 devices)
1x M.2  (X670 PCIe 4.0 x3 & SATA for 2260/2280/22110 devices)
1x M.2  (X670 PCIe 4.0 x4 for 2260/2280/22110 devices)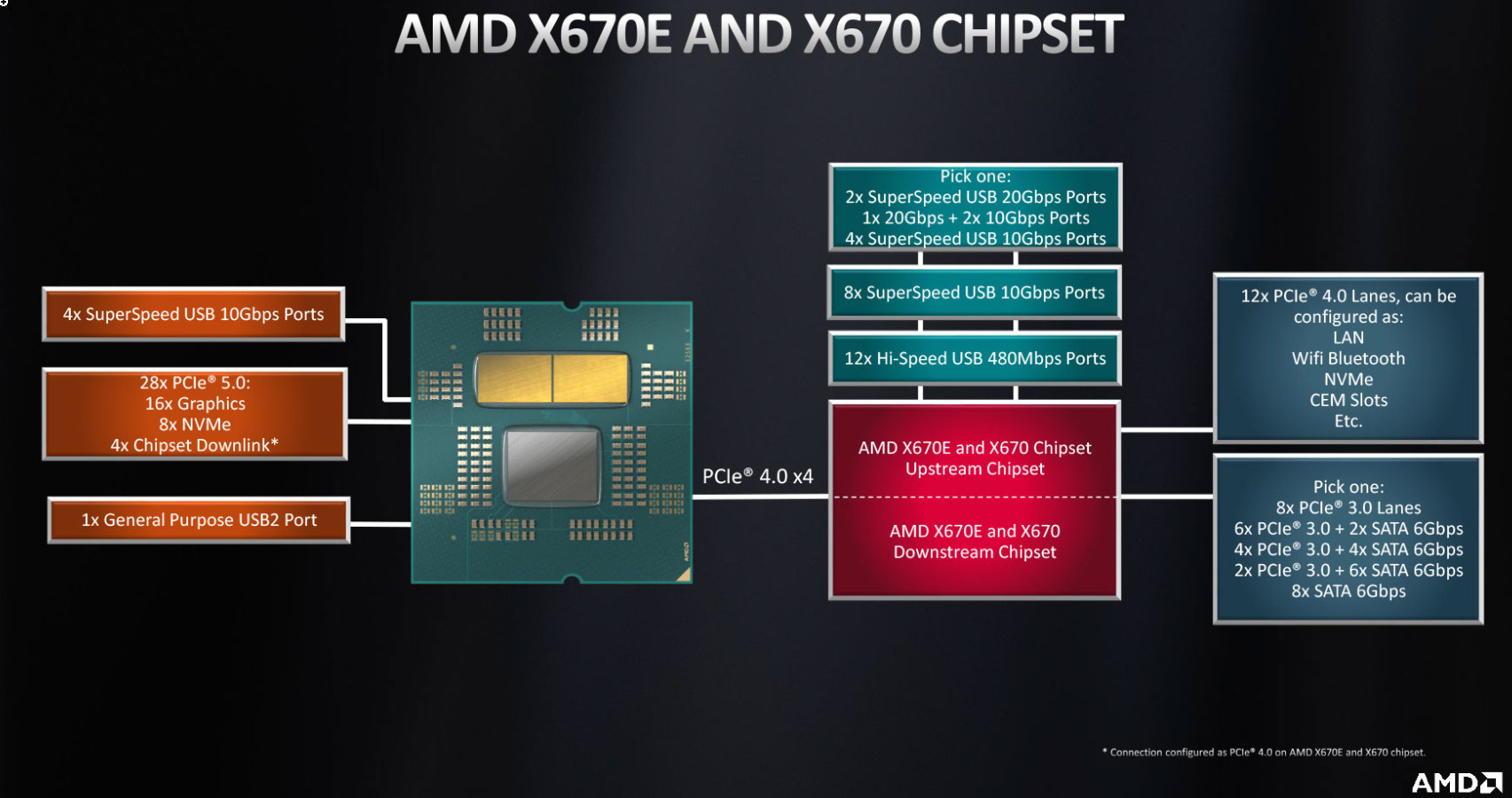 Ryzen 7000 processors support 3 USB 3.2 Gen2 Type-C ports, 1 USB 3.2 Gen2 Type-A port, 1 USB 2.0 port, 28 I/O lanes (including PCI-E 5.0), but 4 lanes of them go for interaction with X670/X670E, 16 more lanes are PCI-E 5.0 slots for video cards. There are 8 PCIe 5.0 lines left: 4 lines are an M.2 slot, the remaining 4 can be configured by motherboard manufacturers to choose from.
In turn, the X670/X670E chipset supports up to: 8 USB 3.2 Gen2 ports, 2 USB 3.2 Gen2x2 ports, 12 USB 2.0 ports, 24 I/O lines, of which again 4 are needed for communication inside chipset chips (see below). The remaining 20 lanes are distributed as 12 PCIe 4.0 + 8 PCIe 3.0 (including up to 8 SATA ports).
Thus, in total, from the X670 / X670E + Ryzen 7000 tandem, we get:
16 PCI-E 5.0 lines for video cards (from the processor);
2 USB 3.2 Gen2x2 ports (from the chipset);
12 USB 3.2 Gen2 ports (4 from processor, 8 from chipset);
13 USB 2.0 ports (1 from the processor, 12 from the chipset);
8 SATA 6Gb/s ports (from chipset)
8 lanes PCIe 5.0 (from the processor), 4 of which – to the M.2 slot, 4 – can form different combinations of ports and slots (depending on the manufacturer of motherboards);
12 PCI-E 4.0 lanes (from the chipset), which can form different combinations of ports and slots (depending on the motherboard manufacturer);
8 PCI-E 3.0 lanes (from the chipset), which can form different combinations of ports and slots (depending on the motherboard manufacturer).
Total: 25 USB ports, 28 free PCI-E lanes (including up to 8 SATA ports).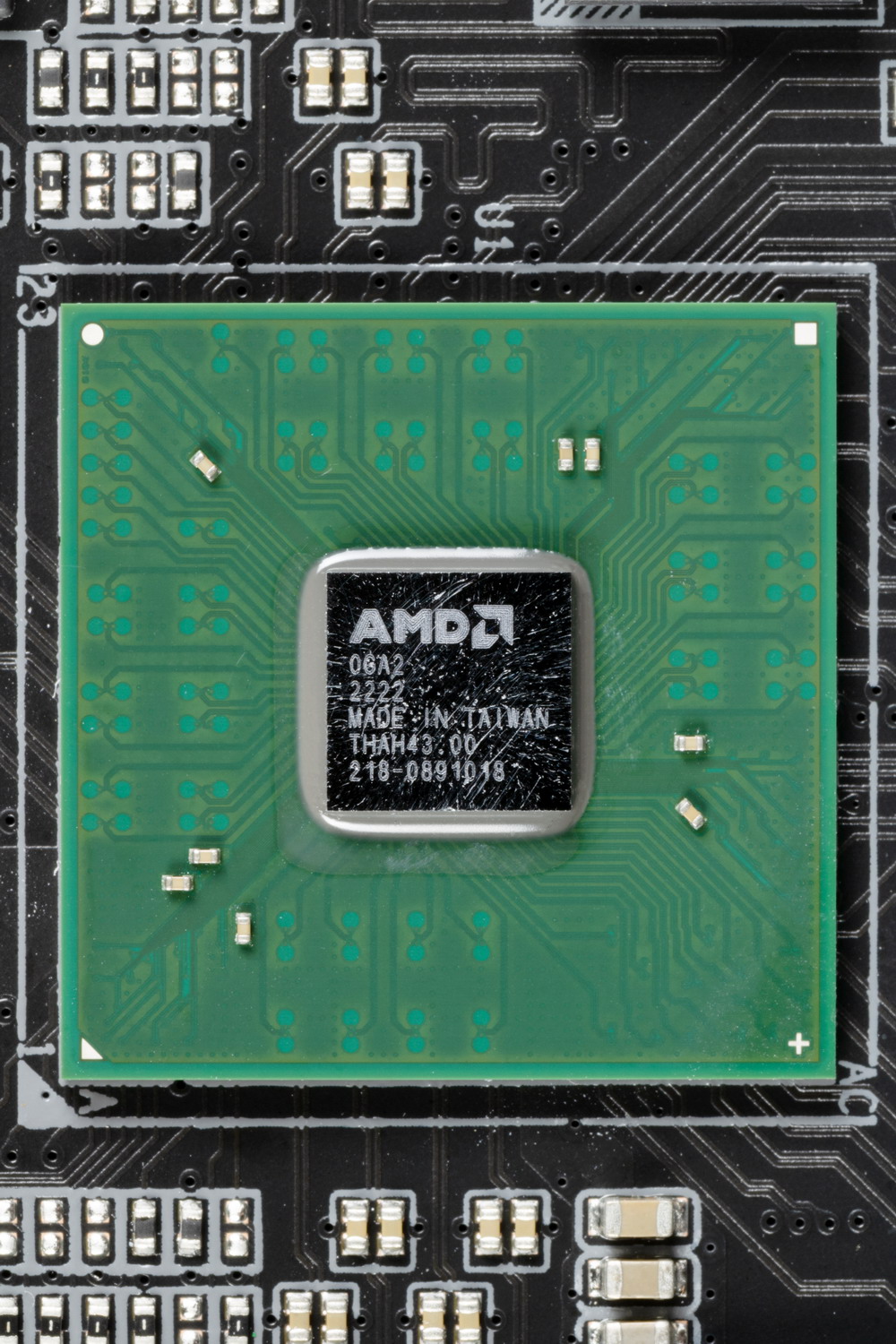 There are two main points to be made here:
Differences between X670 and X670E chipsets
Why the chipset consists of two chips.
The AMD X670 and X670E chipsets are completely equivalent in functionality (a set of ports and lines), but the PCIe x16 slot (for video cards) that receives data from the processor in the case of the X670E receives the PCie version 5.0, and in the case of the X670 – 4.0. The lack of version 5.0 in the video slot helps to reduce the cost of motherboards in the case of X670, because developers will be able to save on PCIe 5.0 signal amplifiers (redrivers), which are still very expensive, and motherboards with X670 do not have extremely strict requirements for PCB layout, to avoid signal distortion.
The X670/X670E chipset received a lot more ports and PCIe lanes than its predecessor, and in order not to get one very hot chip, remembering the problem of the X570 chipset, which at the initial stages required a very noisy fan, AMD divided the functionality into two chips according to the principle: uplink and downlink. The "upstream" chip is connected to the processor via PCIe 4.0 x4, and the "downstream" chip is connected to the "upstream" via another PCIe 4.0 x4 connection. Both chips are manufactured by ASMedia.
The new generation of Ryzen 7xxx supports both traditional DDR5 memory modules with Intel XMP (Extreme Memory Profile) (which are adjusted to the characteristics laid down in XMP through Direct Over Clock Profile (DOCP)), and modules with AMD's proprietary Expo profile.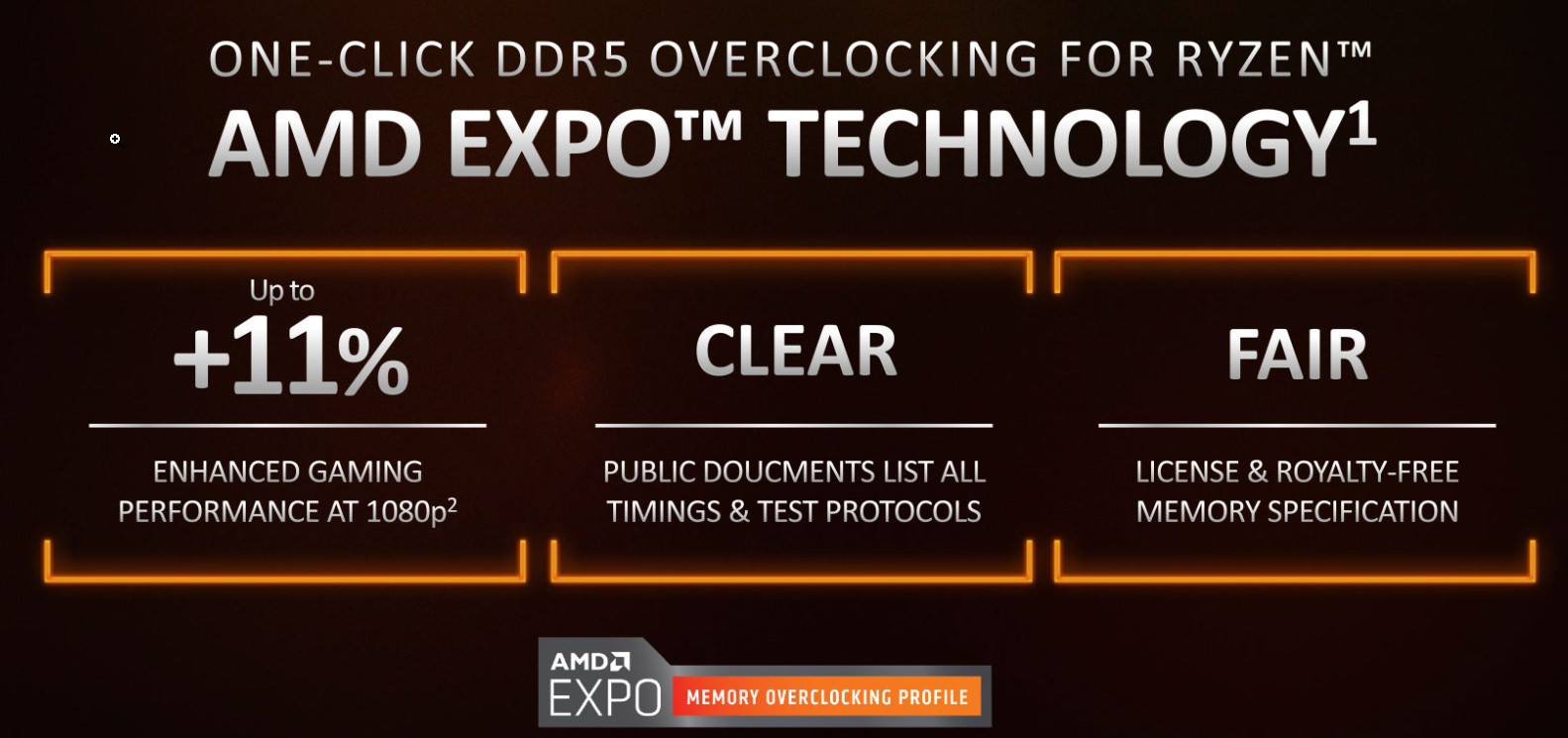 All this will be discussed in detail in the material on the Ryzen 9 7950X processor itself and the Zen4 architecture, here I will only note that so far we do not have such memory modules. (we used 6000MHz memory via XMP).
ASUS X670E Pro WiFi supports AMD 7000 generation processors made for socket AM5.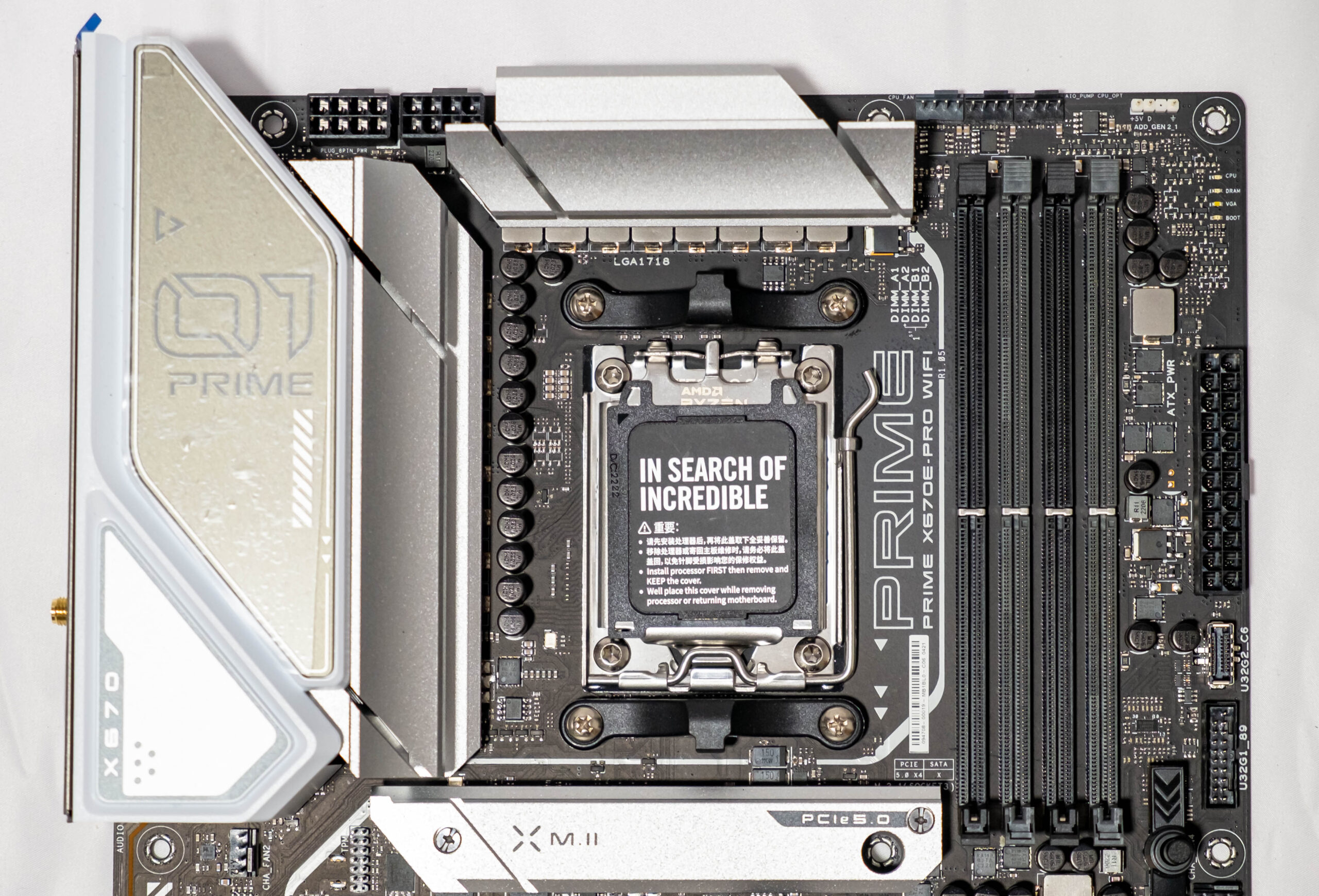 The new Q-Release is a new eject mechanism for ASUS motherboards with graphics card PCIe slots. It "unlocks the first PCIe slot's security latch with one tap, greatly simplifying the process of detaching a PCIe card."

To install memory modules on the ASUS board there are 4 DIMM-slots (for dual channel memory in the case of using only 2 modules, they should be installed in A2 and B2, marked in gray color). The board supports unbuffered DDR5 (non-ECC) memory, and the maximum memory capacity is 128 GB. XMP & EXPO profiles are supported.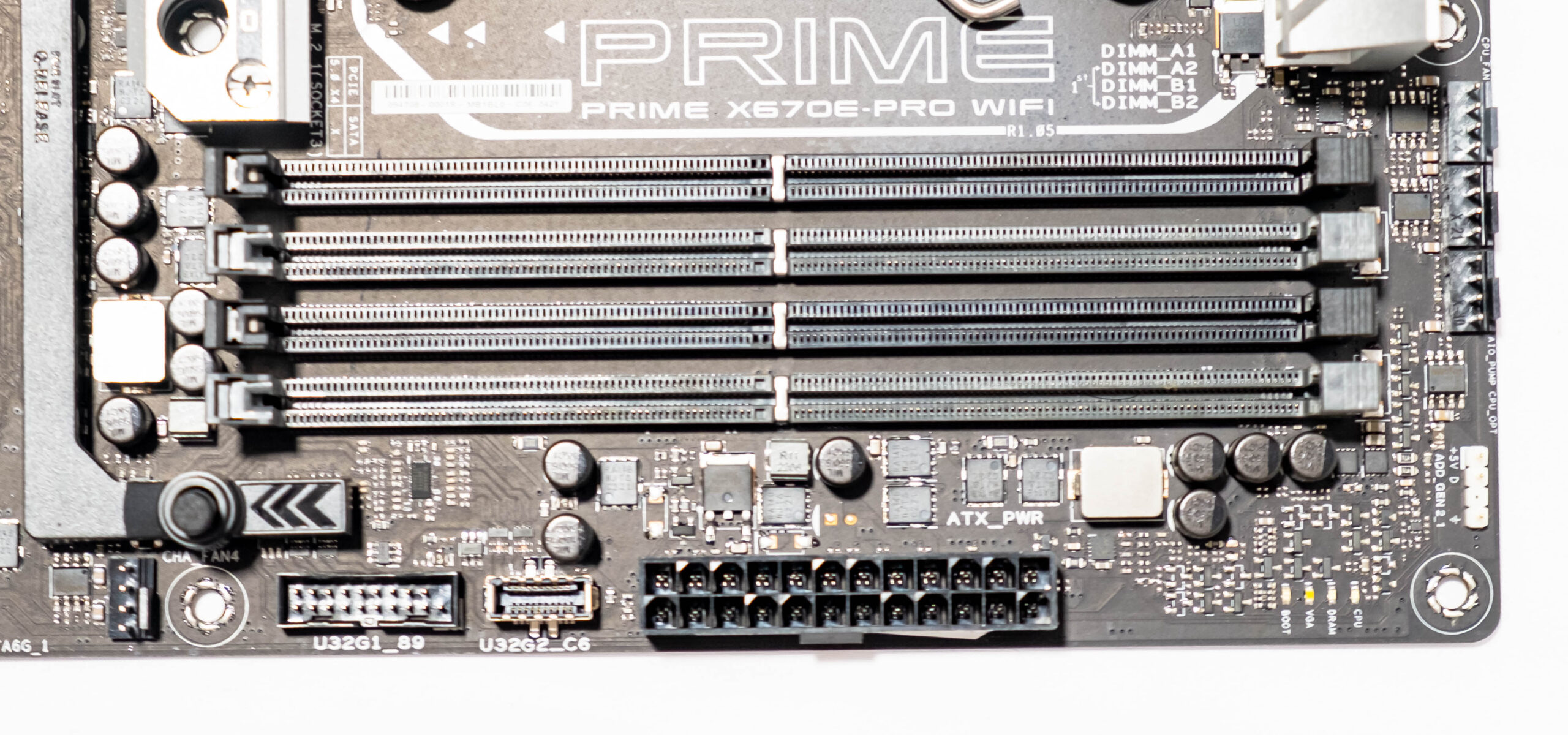 ASUS included two important buttons for troubleshooting user – Power switch & Clear Bios settings.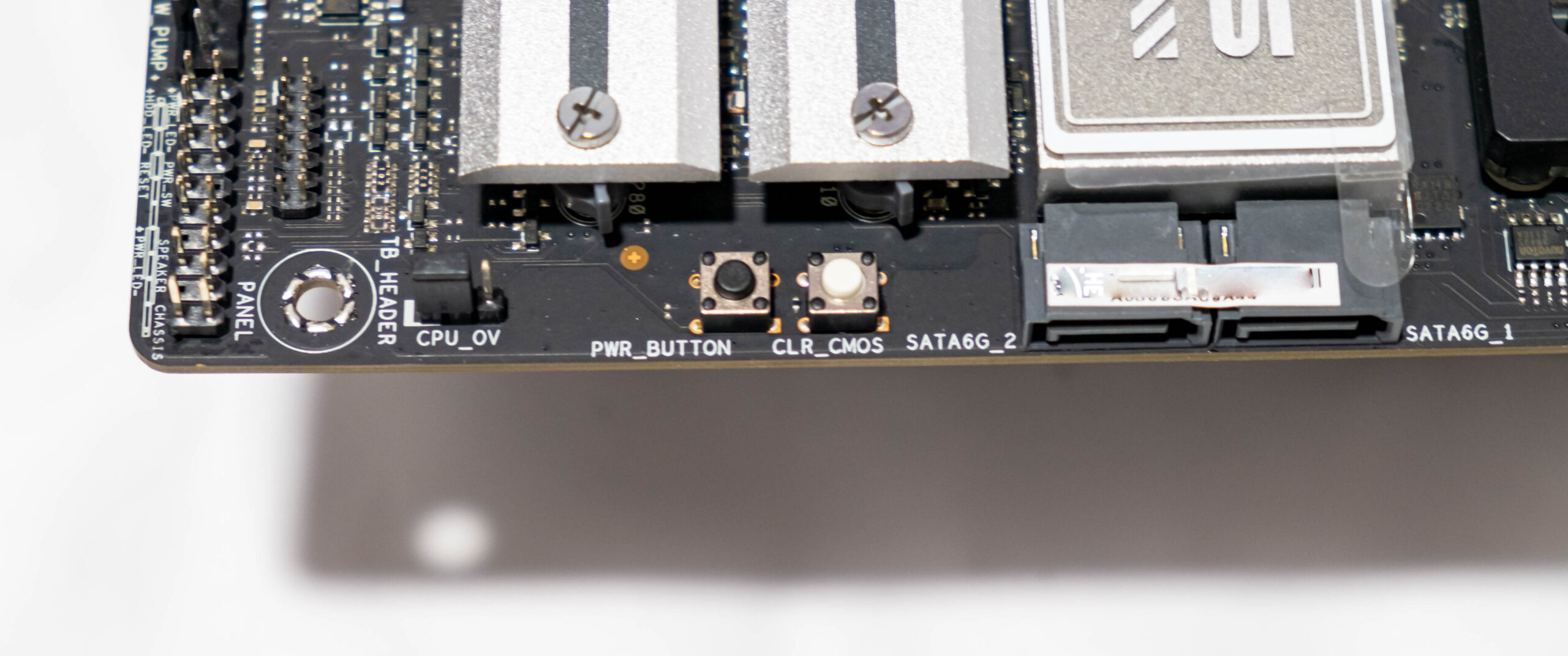 In total, the board has 4 Serial ATA 6 Gb /s connectors.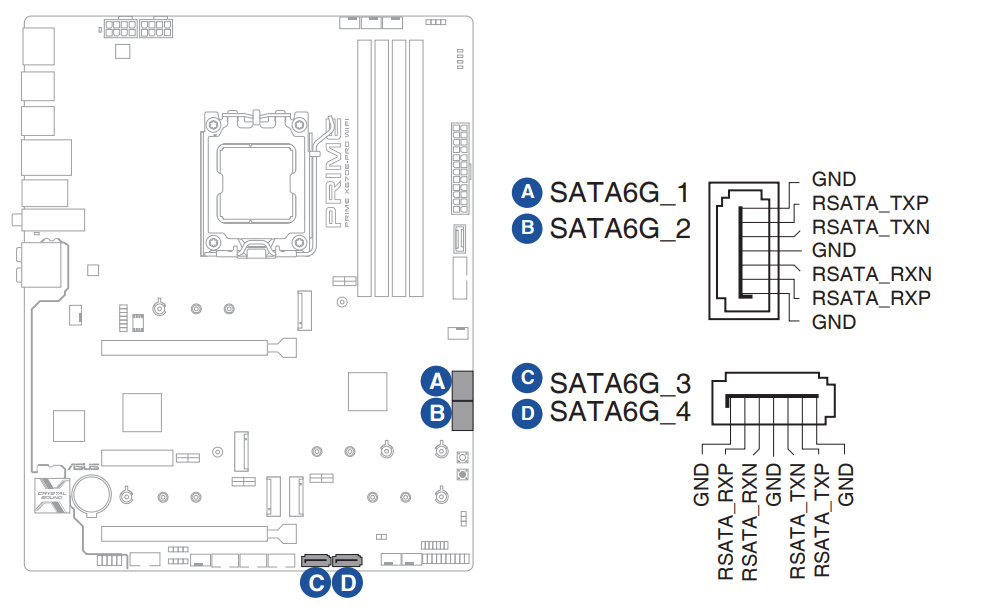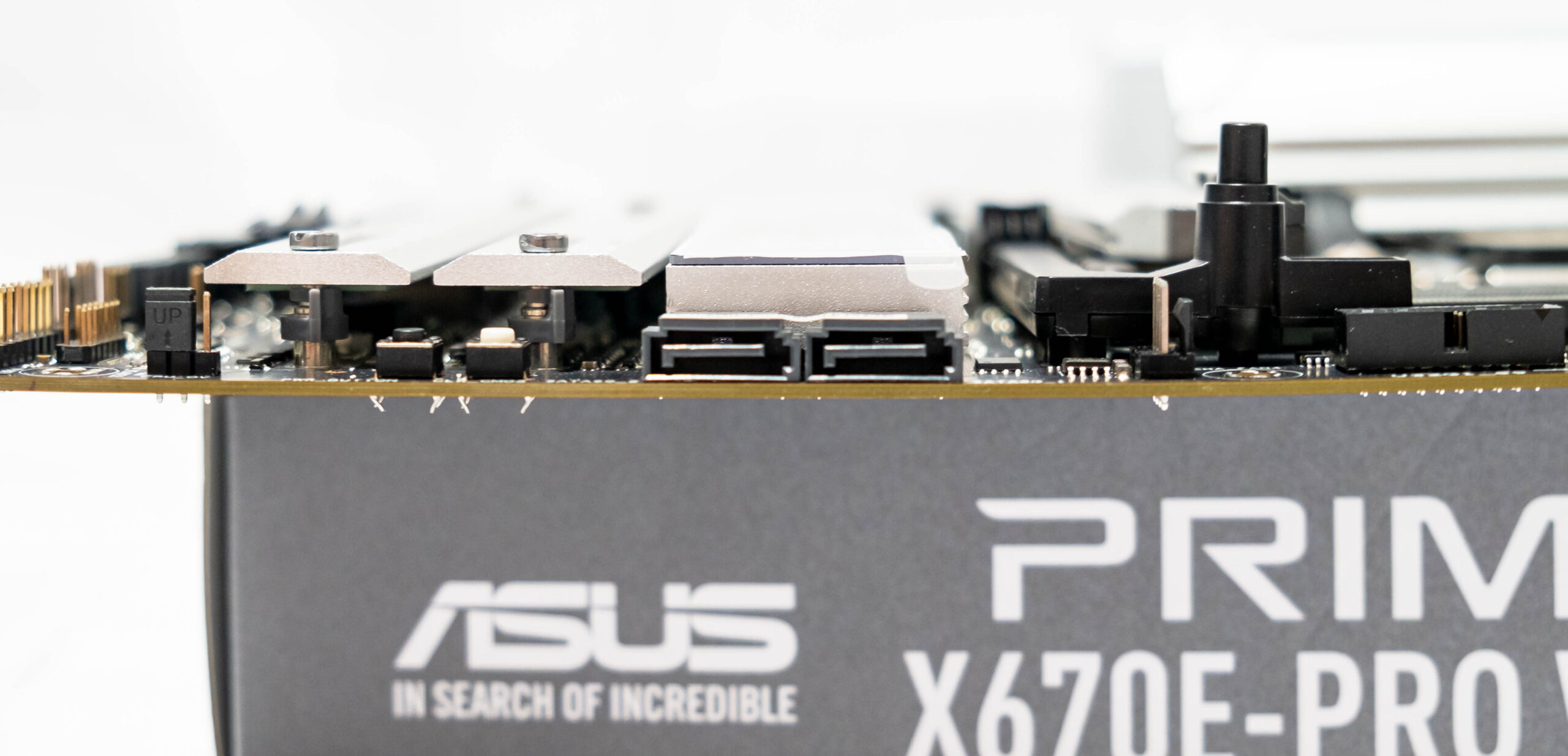 There are two ATX12V (8 pins) powering the CPU.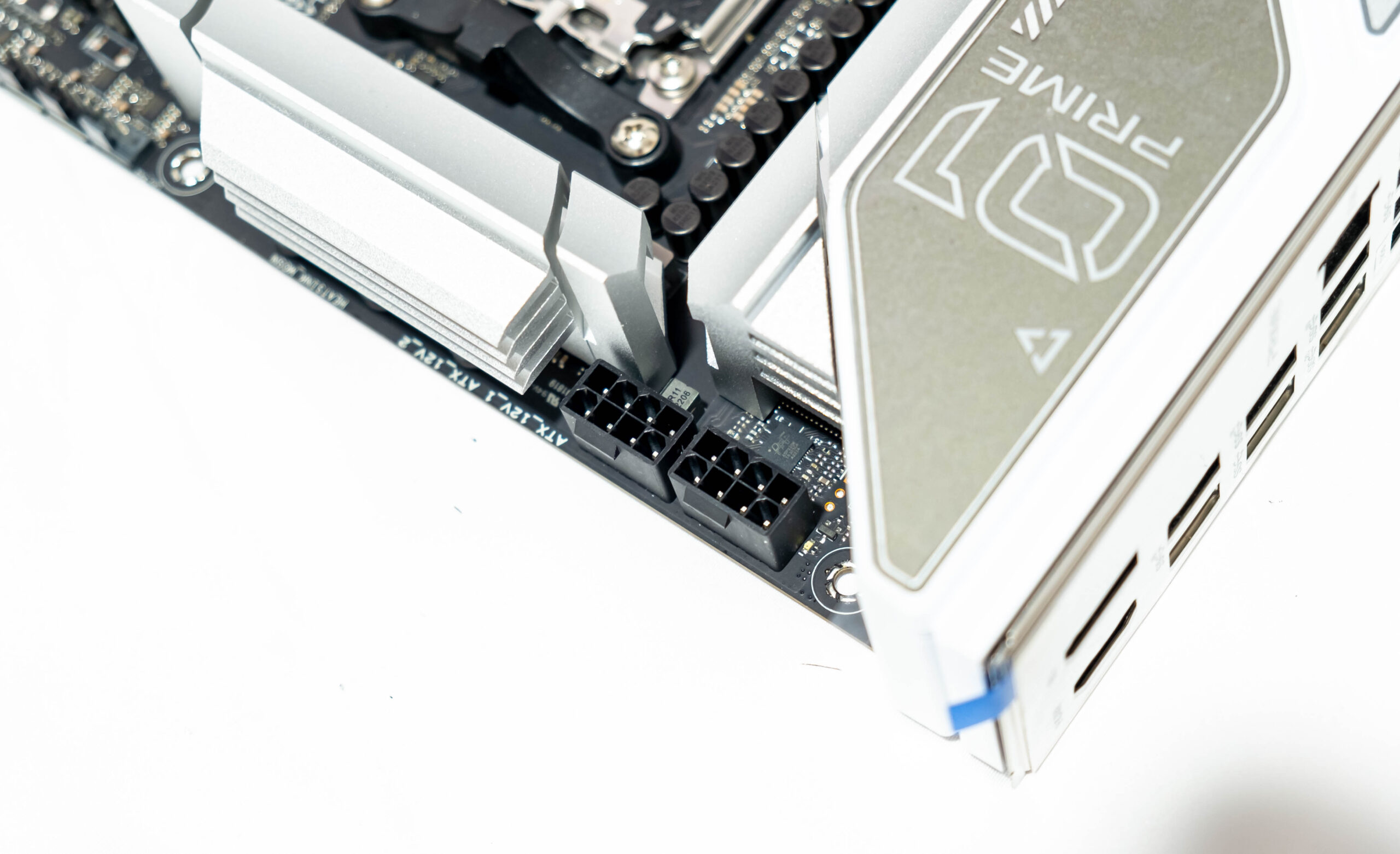 Dismantle
The circuit is cover with  14 + 2 + 1: 14 phases – the processor core, 2 phases – SoC (IGPU) and 1 phases – VDD_MISC.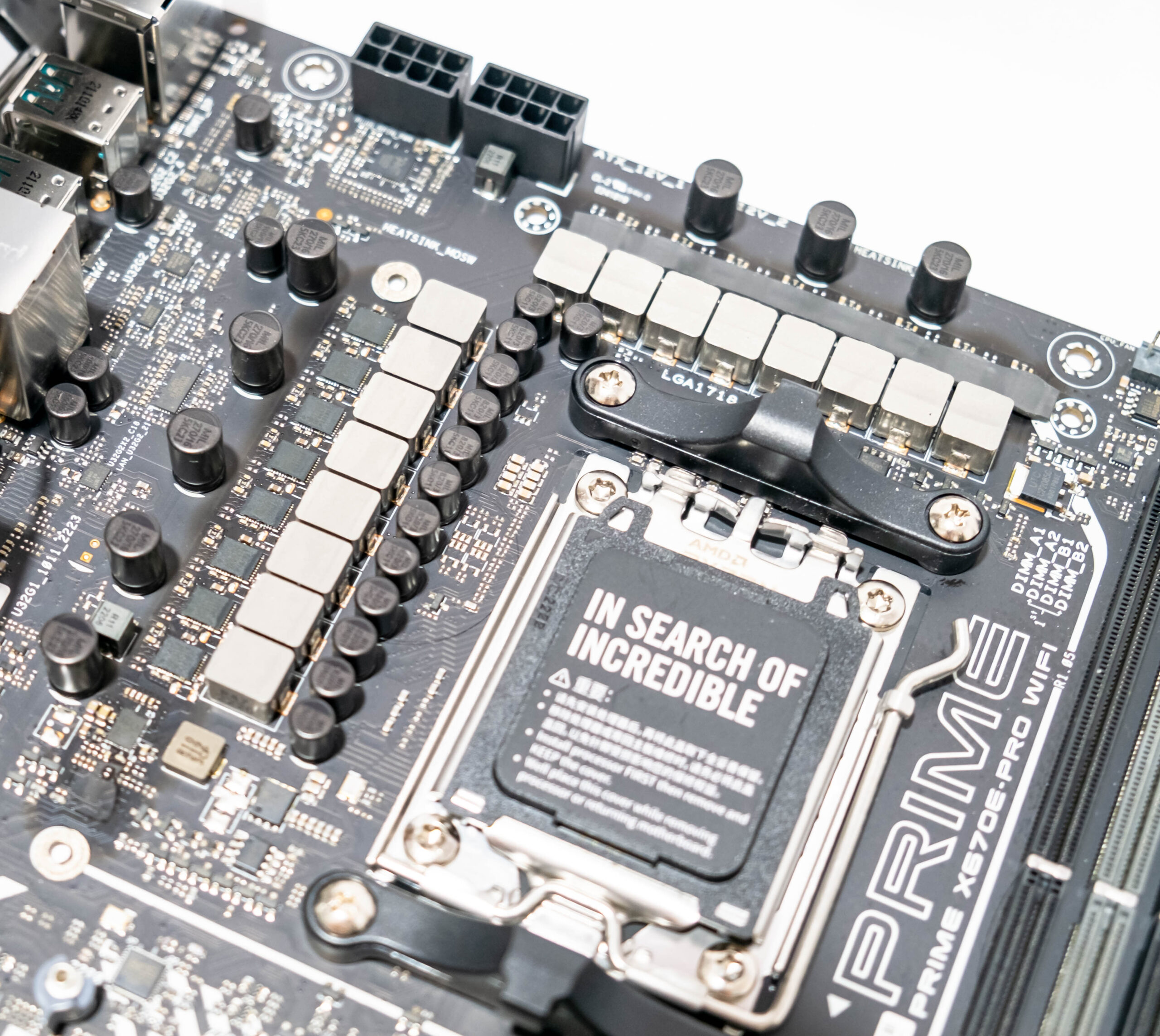 The power supply unit is a 14+2-phase configuration with teamed up performance and 70-amp integrated MOSFETs. On this board, Asus used Monolithic Power Systems' MPS2220 integrated MOSFETs, which have a maximum continuous current of 70 A, which means that the CPU can receive a maximum of 1,120 amps of current. The VRM controller is a DIGI+ brand ASP2206, and it is located on the bottom side of the board. Behind the integrated MOSFETs are MicroAlloy chokes and Black Metallic 10K capacitors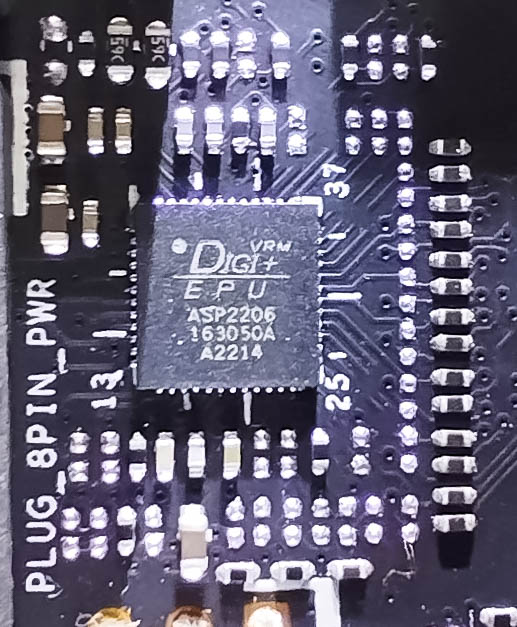 At the bottom of the board are the usual ports and headers, so there we find the front audio contacts, COM port, fan connector, RGB headers, three USB 2.0 internal connectors, two vertical SATA connectors, CL_RTC T_Sensor headers, front panel contacts, another 4-pin fan connector and LPC Debug header.
When it comes to storage, there are M.2_1 and M.2_3 slots managed by the processor. The X670 chipset manages M.2_2 and M.2_4 slots that are PCIe 4.0 x4 standard, and there are also four SATA 6Gbps ports with support for AMD RAIDXpert2 technology. All of them are equipped with the Q-latch SSD locking system, which is an excellent system. The two chipsets are located under the large cooler with the TUF GAMING inscription, separated from each other, and they get very hot during operation.
The M2_1 & M.2_3 receive data from the CPU, M.2_2 & M.2_4 receive data from the X670 chipset. All support 2260/2280/22110 module sizes.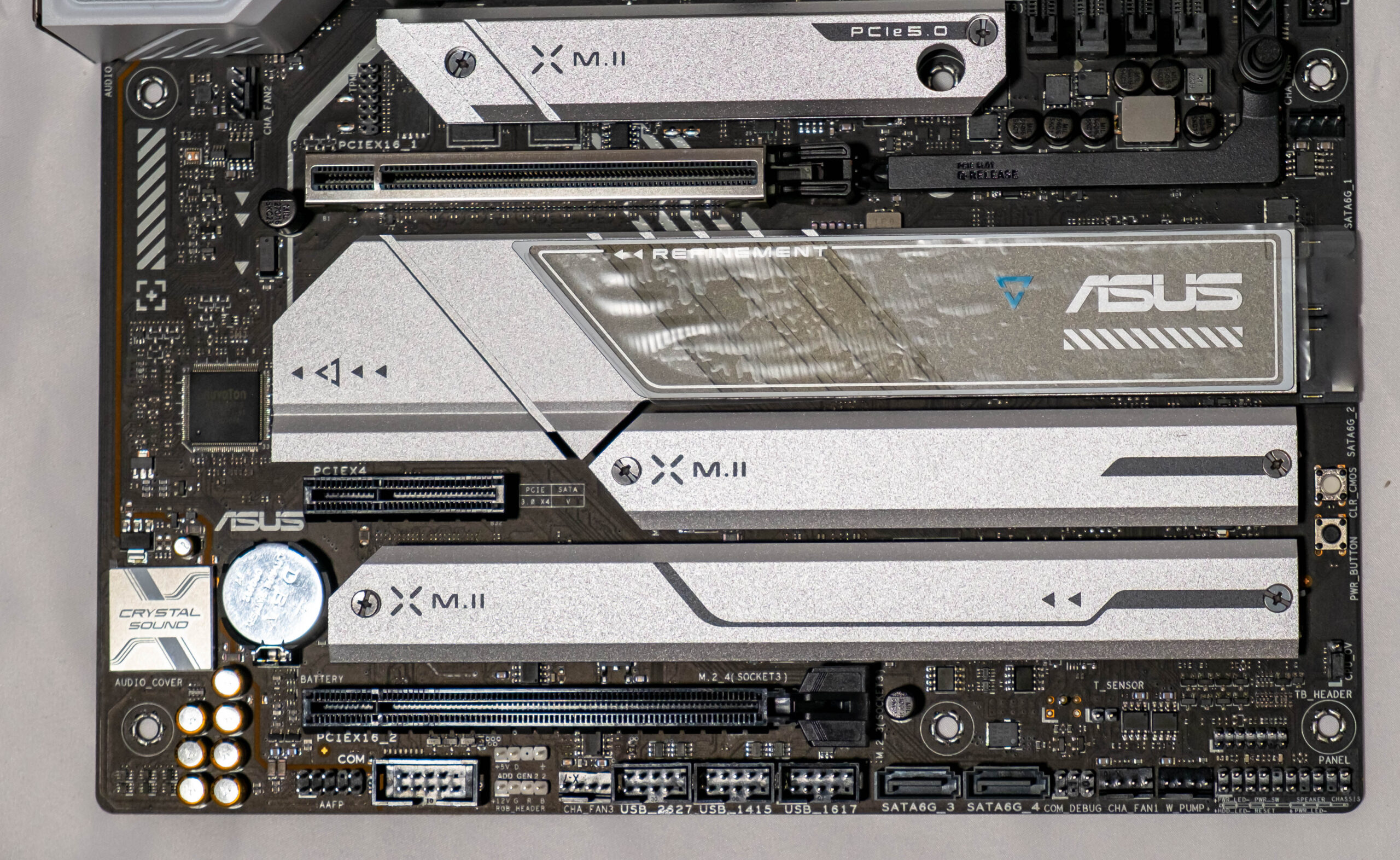 The X670E chipset has 20 PCIe lines (plus 4 lines per uplink with the processor). We count how many lines are spent on support (communication) with a particular element:
PCIe slot x16_2 (4 lines PCIe 4.0);
PCIe slot x16_3 (4 lines PCIe 4.0);
SATA 0,1,2,3 (4 PCIe 4.0 lanes);
M.2_2 Port (4 lines PCIe 3.0 & SATA – Share with SATA 1&2 bandwidth));
M.2_4 (4 PCIe 4.0 lanes);
Realtek (Ethernet 2.5Gb/s) (1 PCIe 3.0 lanes));
Intel AX210NGW WIFI/BT (Wireless) (1 line PCIe 3.0)
*AMD RAID Xpert Technology supports both NVMe RAID 0/1/10 and SATA RAID 0/1/10.
** M.2_2 slot shares bandwidth with SATA6G_1&2. When M.2_2 runs at PCIe x4 mode, SATA6G_1&2 will be disabled.
15 PCIe lanes (version 8 4.0 and version 7 version 3.0) were occupied, including 6 SATA ports.
Now let's look above at how the processors work in this configuration. All Ryzen 7xxx have 24 PCIe lines (plus 4 downlink lines with chipset). Let's see the distribution:
M.2 port (M2.1_CPU) (4 PCIe 5.0 lines);
M.2 Port (M2.3_CPU) (4 PCIe 4.0 lanes));
PCIe x16 (16 PCIe 5.0 lines);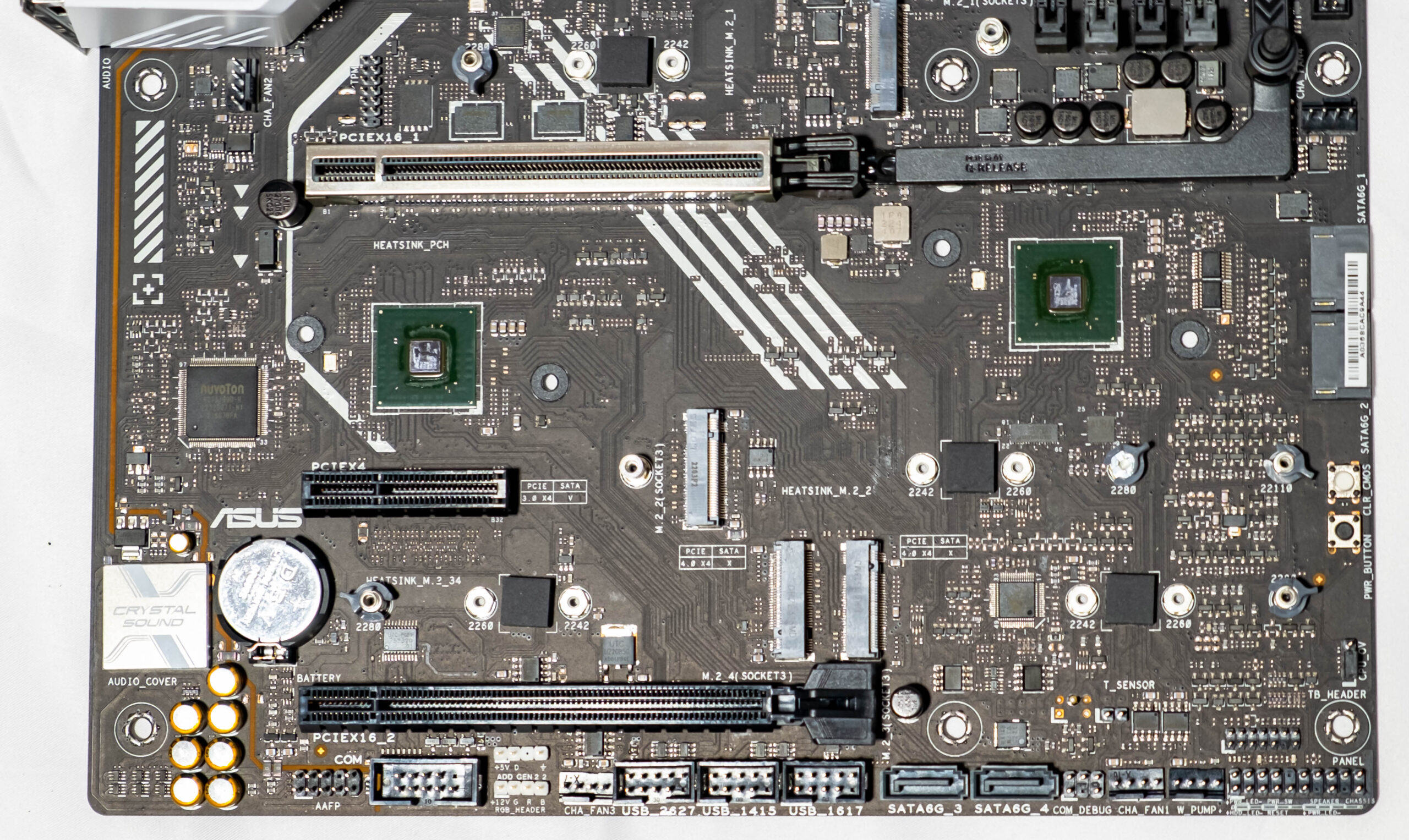 We know that the Realtek ALC1220A audio codec has been in charge of sound in most modern motherboards for quite a long time. It provides up to 7.1 channel audio output at up to 24-bit/192kHz resolution. We've already seen the Realtek manufacturer's new ALC4082 with improved 32bit/384kHz performance. However, in this motherboard, we see ASUS using the older ALC1220 codecs.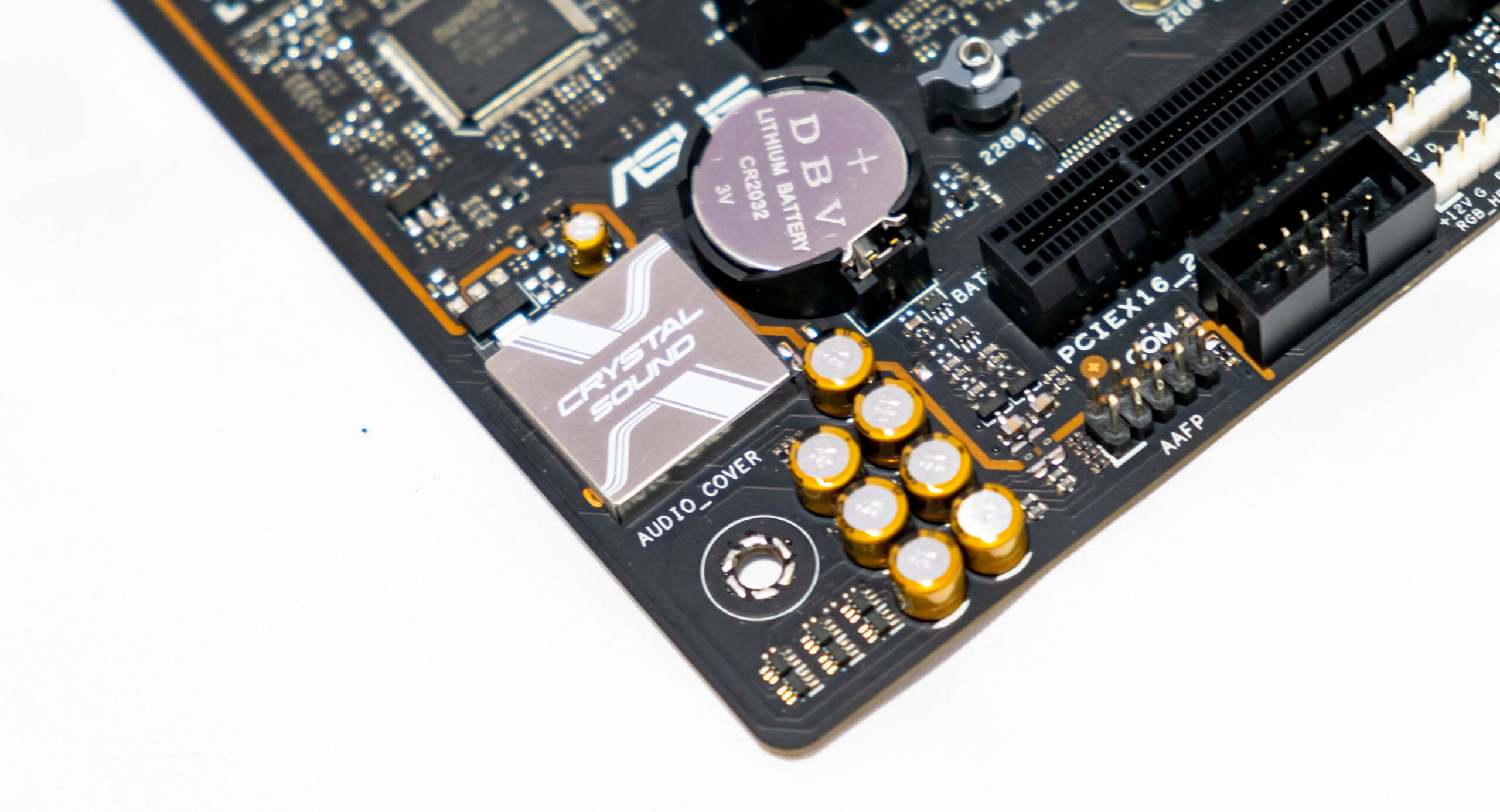 Benchmark
How We Test ASUS Prime X670E-Pro WIFI?
AMD Prime X670E Pro WiFi is a midrange motherboard from ASUS. As such, our workstation, based on an Prime X670E Pro Wifi motherboard and AMD Ryzen 9 7900X 12 cores 24 threads processor.  The ram we will be using XPG DDR5 6000Mhz memory kit. ASUS TUF 7900XT and ADATA PCIe 4.0 1TB SSD is used as well to run with benchmark.
PCMark 10
PCMark 10 features a comprehensive set of tests that cover the wide variety of tasks performed in the modern workplace. With a range of performance tests, custom run options, Battery Life Profile, and new Storage benchmarks, PCMark 10 is the complete PC benchmark for the modern office.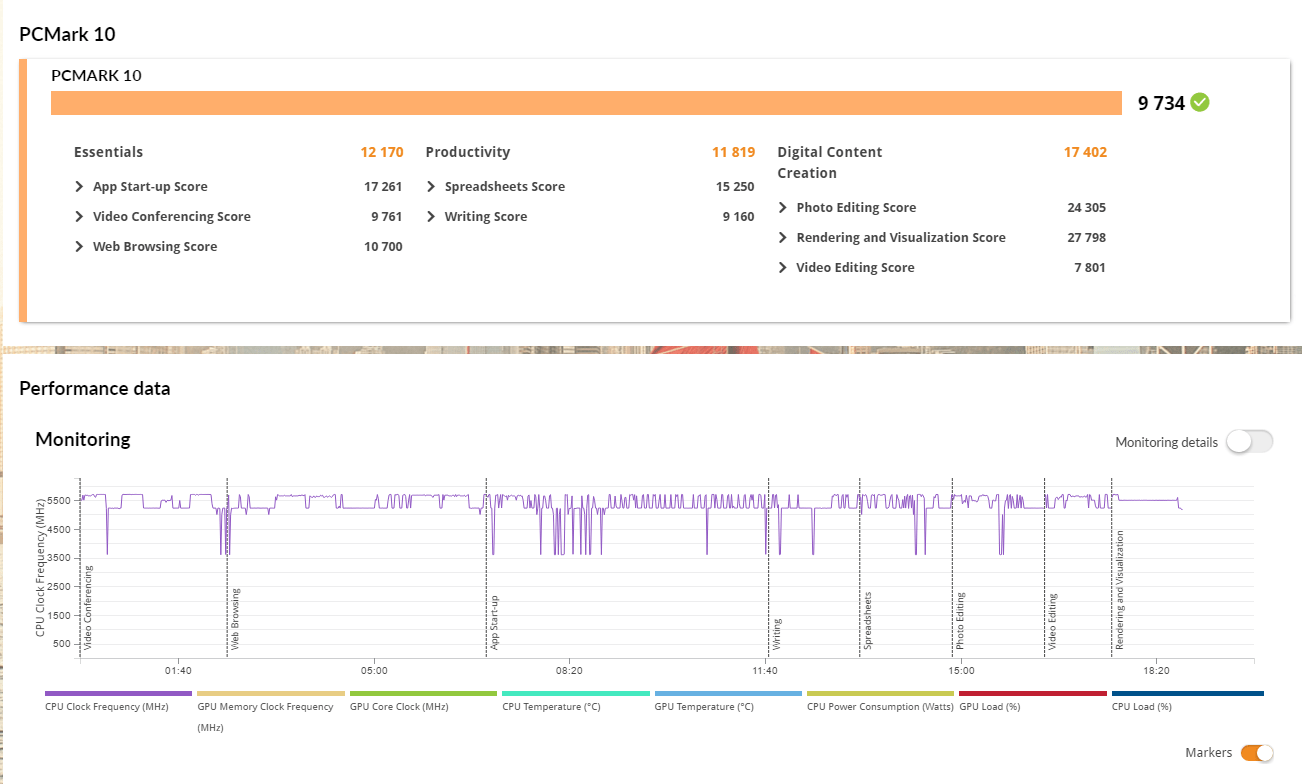 3Dmark Advanced Edition
3DMark includes everything you need to benchmark your PC and mobile devices in one app. Whether you're gaming on a smartphone, tablet, notebook, or a desktop gaming PC, 3DMark includes a benchmark designed specifically for your hardware.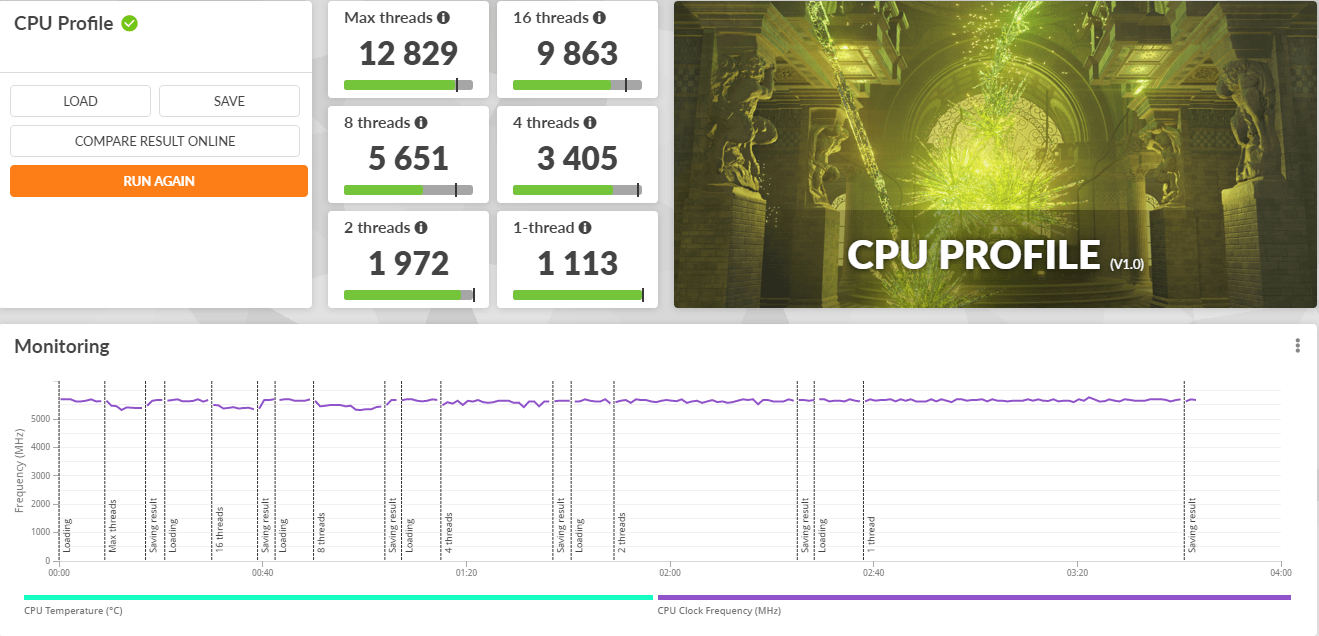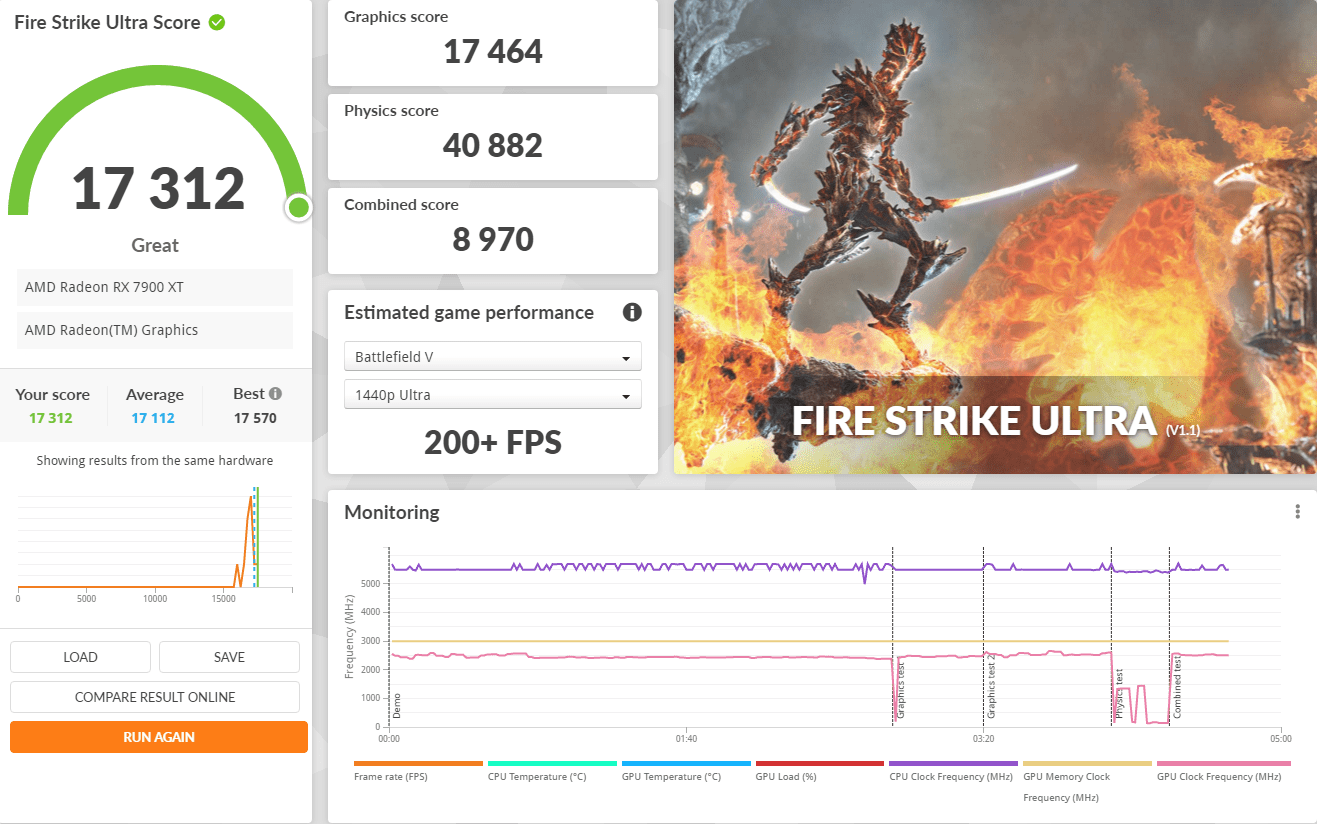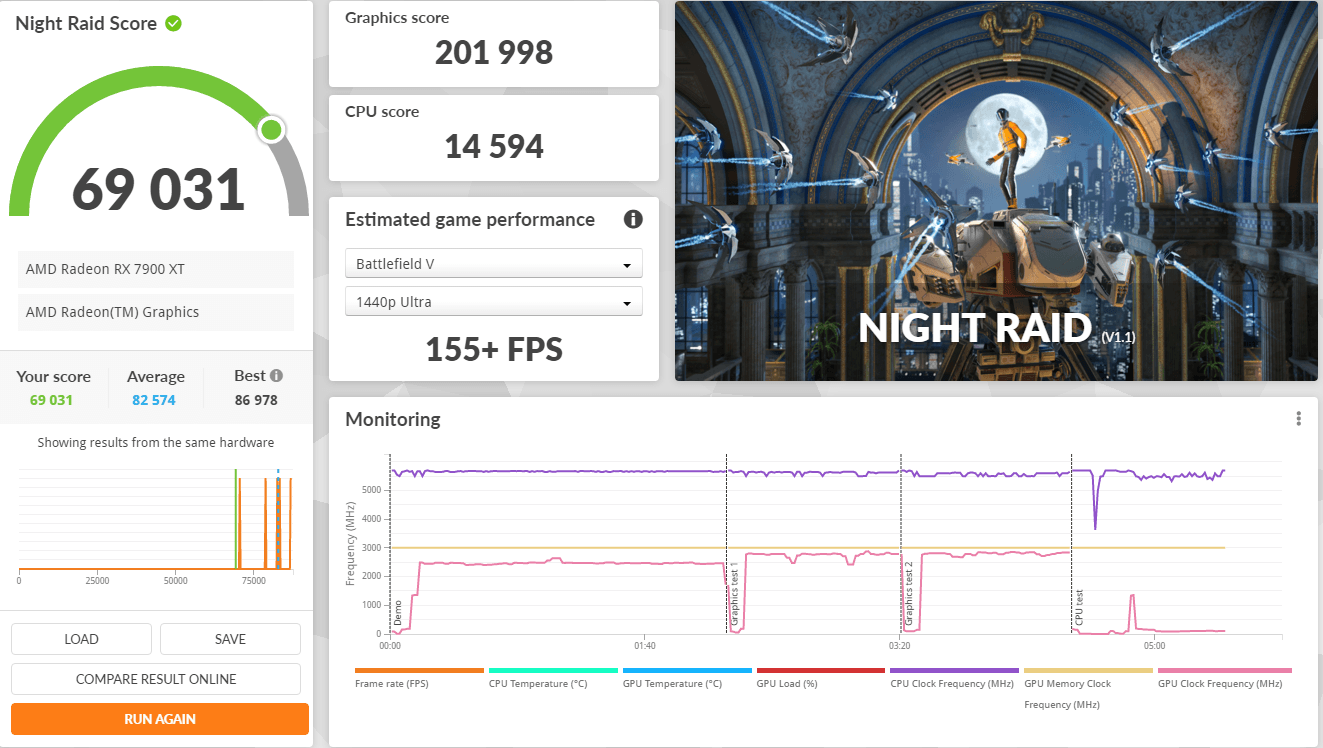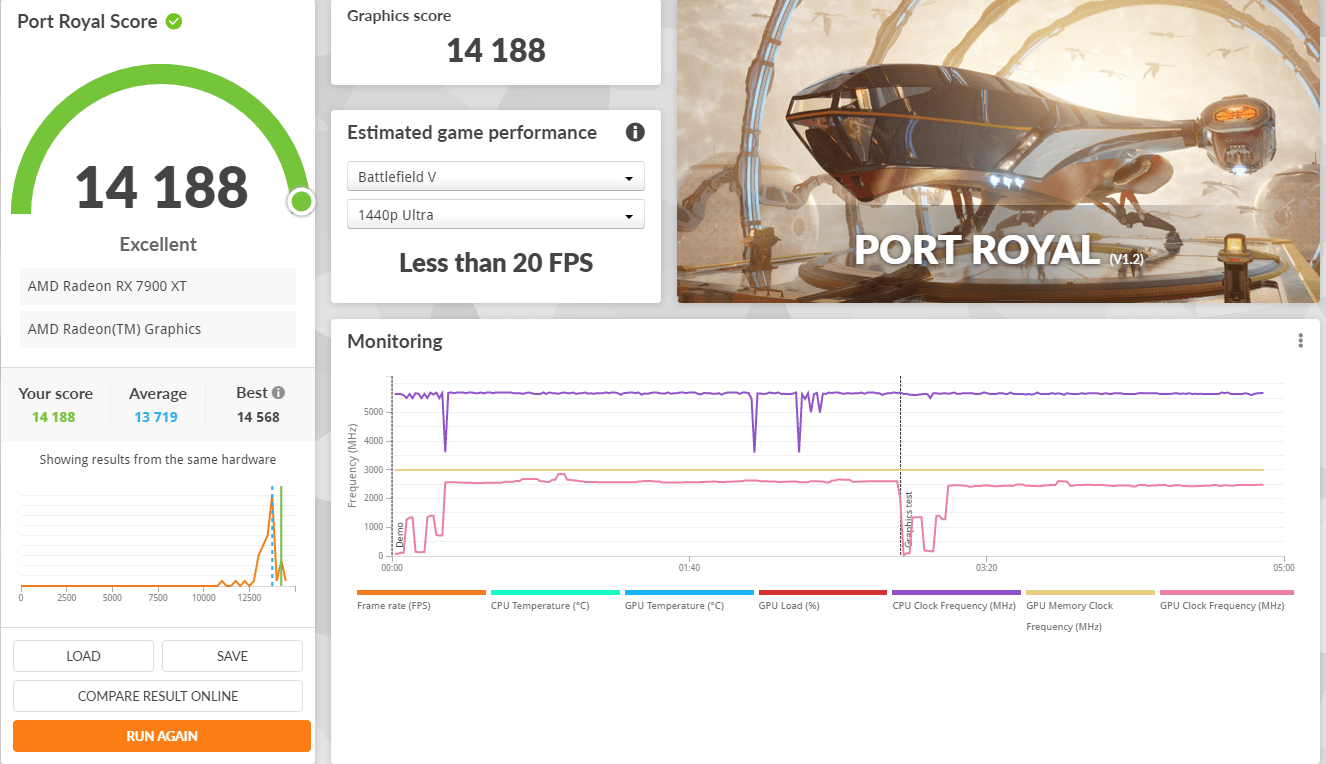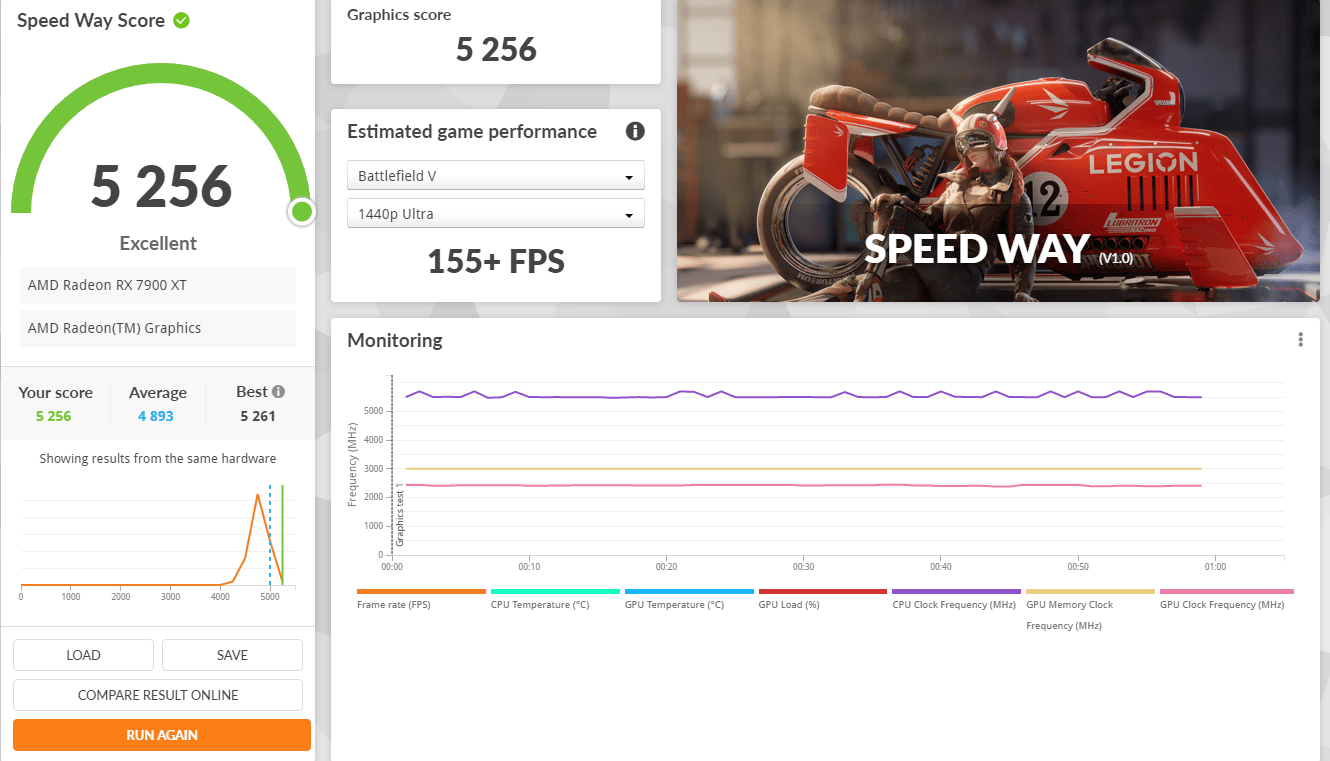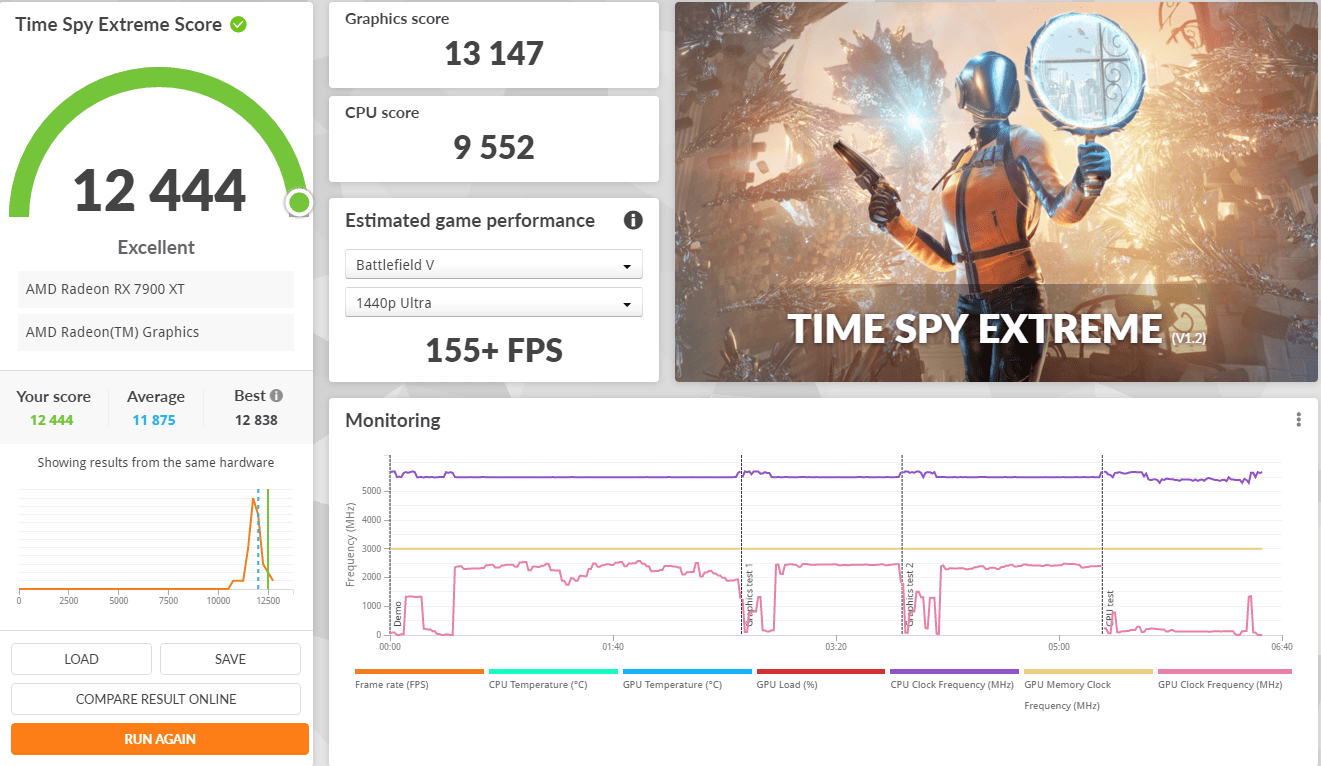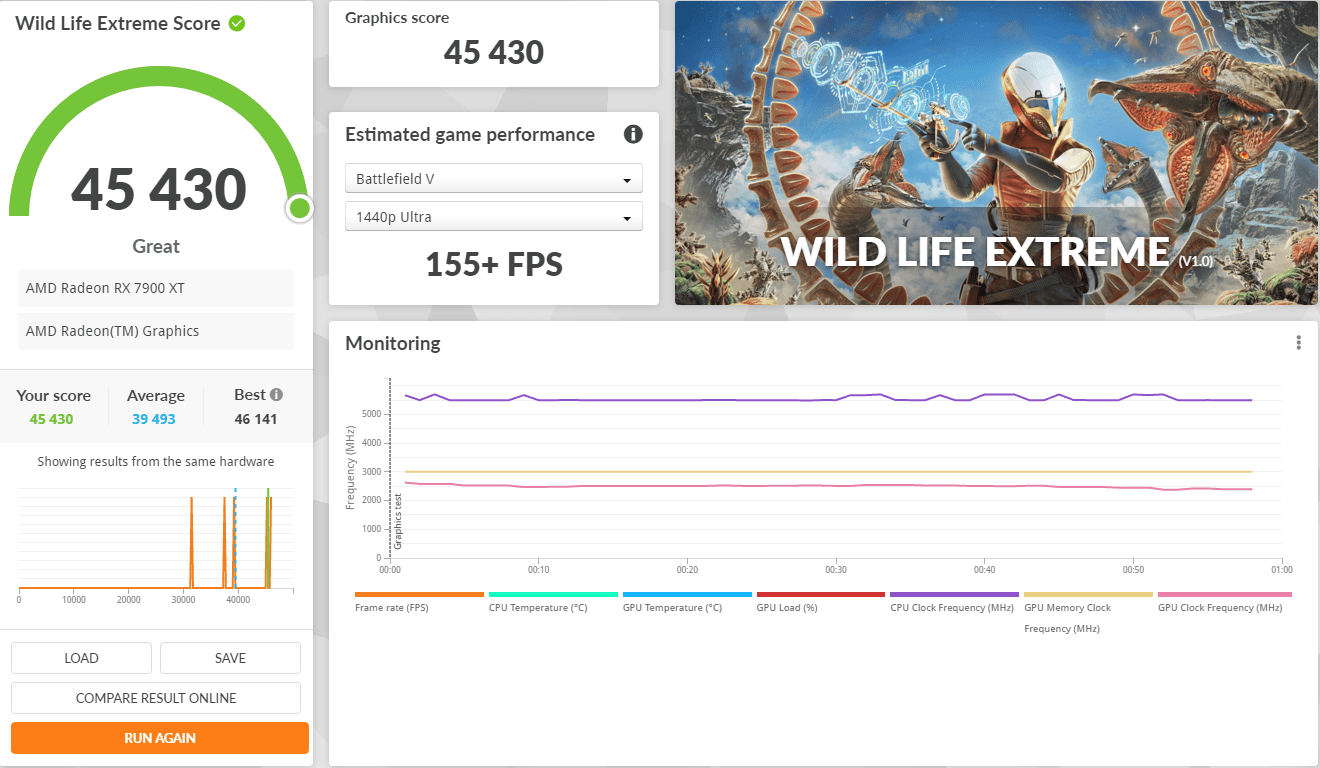 Ashes of the Singularity Escalation
As a real-time strategy title, Ashes is all about responsiveness during both wide open shots but also concentrated battles. With DirectX12 at the helm, the ability to implement more draw calls per second allows the engine to work with substantial unit depth and effects that other RTS titles had to rely on combined draw calls to achieve, making some combined unit structures ultimately very rigid.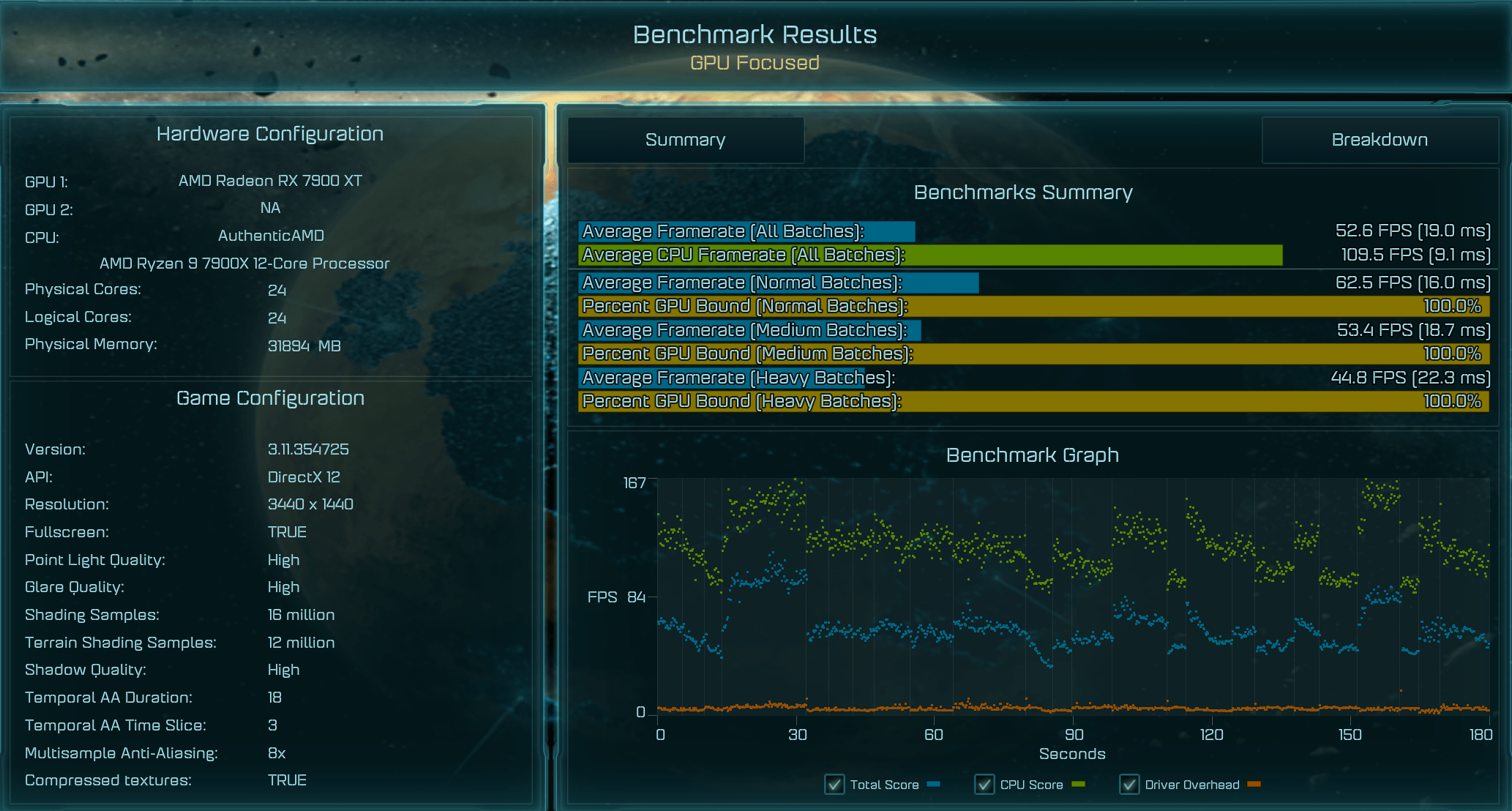 GFXBench 5.0
GFXBench is a high-end graphics benchmark that measures mobile and desktop performance with next-gen graphics features across all platforms. As a true cross-API benchmark, GFXBench supports all the industry-standard and vendor-specific APIs including OpenGL, OpenGL ES, Vulkan, Metal, DirectX/Direct3D and DX12.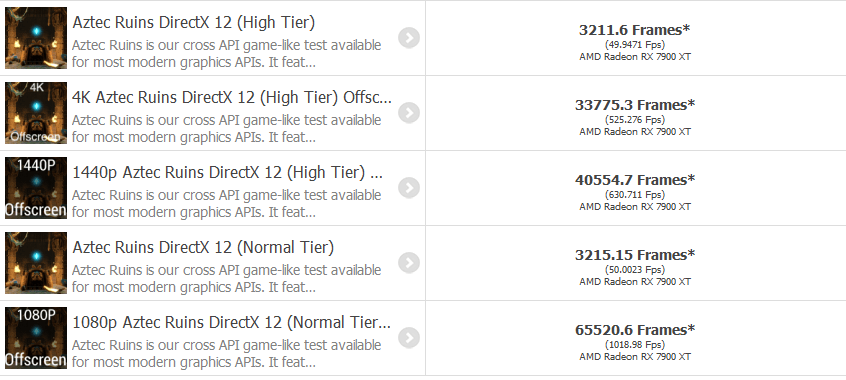 BaseMark GPU
Basemark GPU is a professional evaluation tool to evaluate and compare graphics performance across mobile and desktop platforms. Uniquely, it supports all major graphics APIs and operating systems.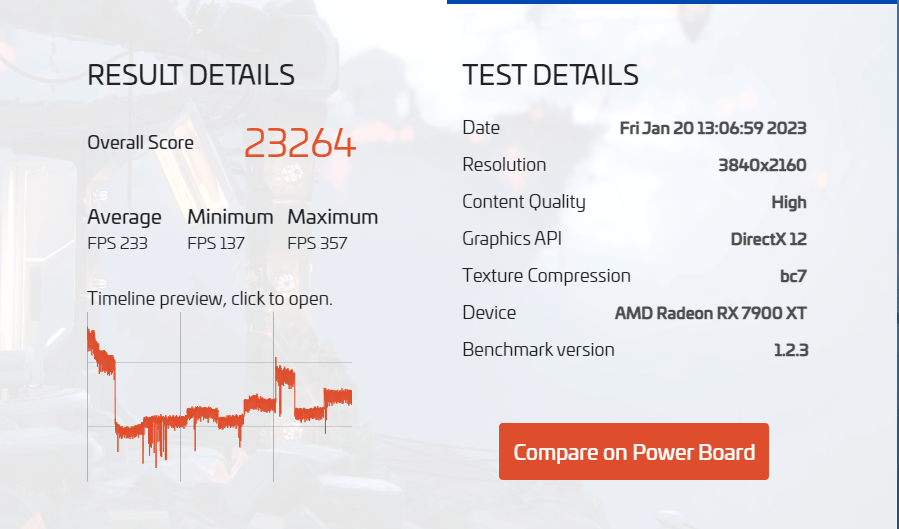 Heaven Benchmark
Extreme performance and stability test for PC hardware: video card, power supply, cooling system. Check your rig in stock and overclocking modes with real-life load! Also includes interactive experience in a beautiful, detailed environment.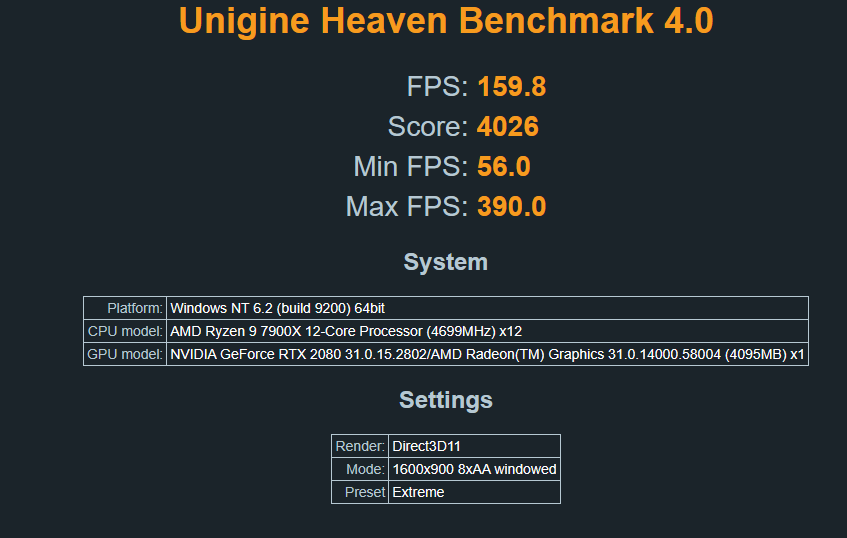 SuperPosition
Extreme performance and stability test for PC hardware: video card, power supply, cooling system. Check your rig in stock and overclocking modes with real-life load! Also includes interactive experience in a beautiful, detailed environment.
Batman Arkham Origins
Taking place before the rise of Gotham City's most dangerous criminals, the game showcases a young and unrefined Batman as he faces a defining moment in his early career as a crime fighter that sets his path to becoming the Dark Knight.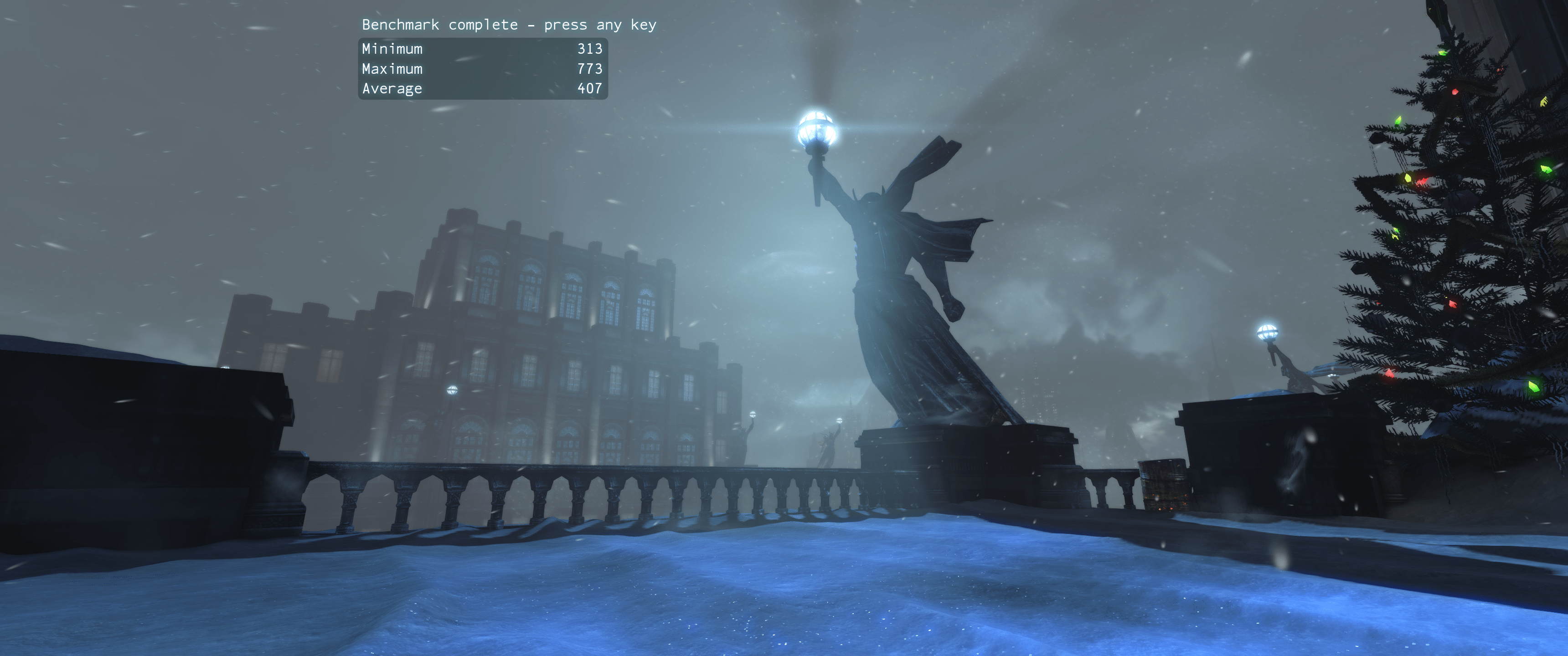 FarCry 6
Far Cry 6 supports ray tracing at launch, with the ability to enable DXR reflections and DXR shadows. But because DXR shadows are kind of pointless and not worth the performance hit, we haven't tested with them enabled, but I have taken a look at DXR reflections, so we'll look at that shortly using supported hardware.

Sleeping Dog
In this open world game, you play the role of Wei Shen, an undercover cop trying to take down the Triads from the inside out. You'll have to prove yourself worthy as you fight your way up the organization, taking part in brutal criminal activities without blowing your cover.
Torn between your loyalty to the badge and a criminal code of honor, you will risk everything as the lines between truth, loyalty and justice become permanently blurred.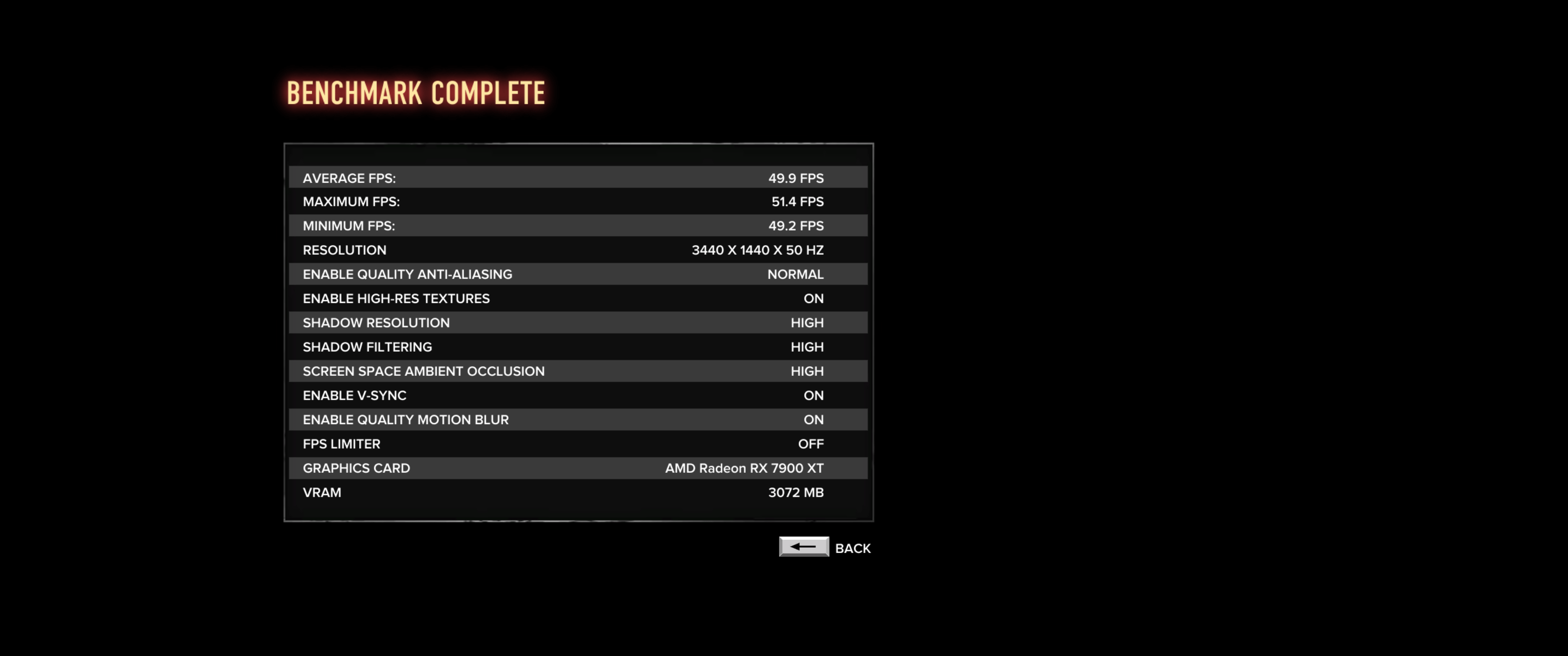 Ghost Recon Breakpoint
Ghost Recon Breakpoint is a military shooter set in a diverse, hostile, and mysterious open world that you can play entirely solo or in four-player co-op.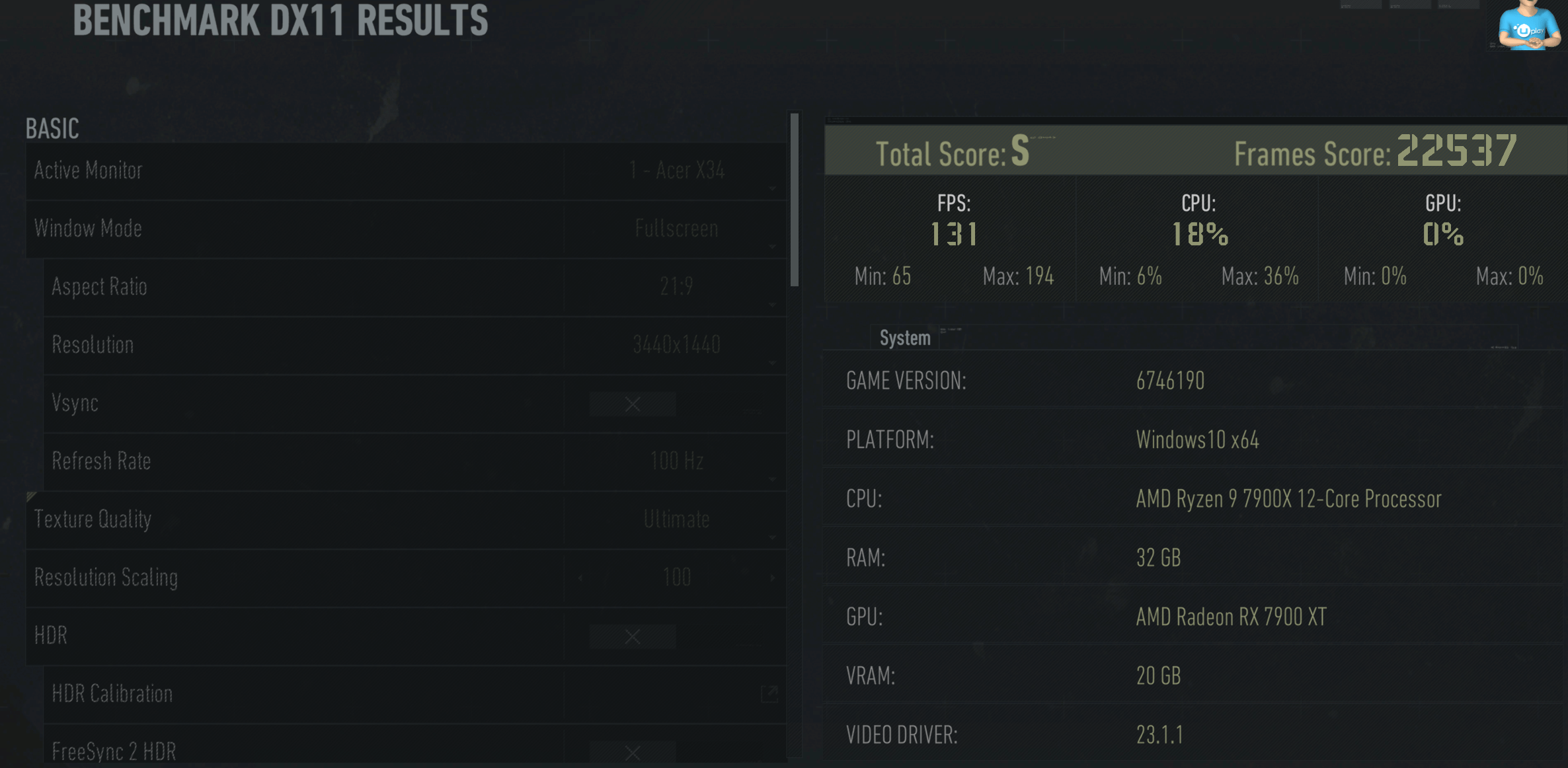 Total War WARHAMMER
Addictive turn-based empire-building with colossal, real-time battles, all set in a world of legendary heroes, giant monsters, flying creatures and storms of magical power.