This laptop from ASUS offers a lot of horsepower, but not extremely cheap; the manufacturer assigns them the role of a high-end hardware for studio and content creators, so you should expect flagship processor and features rich. Nevertheless, this is quite a solid product, and the presence in the line of a considerable model available with screen sizes 16 inches.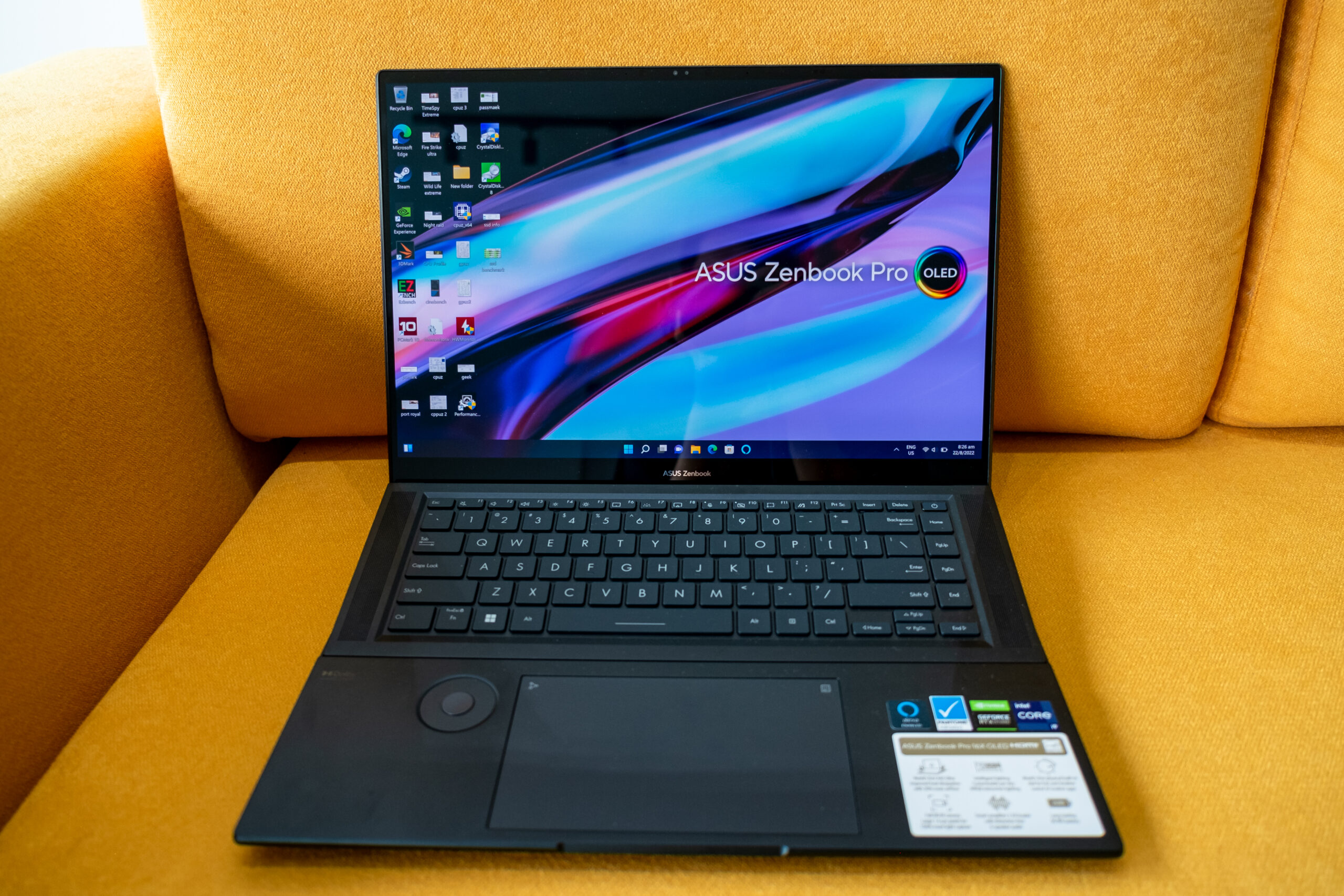 Configuration
We tested a laptop with a 12th Gen Core i9-12900H processor and 32 GB of memory. As for other components, two graphics, a 16-inch OLED screen with a resolution of 3840 × 2400, a 2 TB SSD, a 96 Wh battery are offered. The recommended prices are SGD $4999.
ASUS Zenbook Pro 16X OLED (UX7602, 12th Gen Intel)
CPU
Intel Core i9-12900H (10nm, 6+8 cores/20 threads, up to 5.0GHz, 45/115W)
RAM
32 GB LPDDR5-5200Mhz
Video subsystem
integrated Intel Iris XE Graphics
Nvidia GeForce RTX 3060
Screen
16″ 3840×2400 OLED (16:10) HDR (BOE NV160WUM-NH0) 60Hz
Sound subsystem
4 ways stereo speakers
Storage device
1 × SSD 2TB (Samsung MZVL22T0HBLB-00B00, M.2, NVMe, PCIe 4.0 x4)
card reader
SD Express 7.0
Network interfaces
Wireless network Wi-Fi
Intel WIFI 6E AX211 (IEEE 802.11a/b/g/n/ac/ax, 2.4, 5.0 GHz and 6GHz, MIMO 2×2, channel width 160 MHz)
Bluetooth
Bluetooth 5.3 *)
Interfaces and ports
USB
1 x USB 3.2 Gen 1 Type-A
2 x USB 3.2 Gen 1 Type-C with PD/DisplayPort 1.4a data/power support
Video outputs
1 × HDMI 2.1
2 × DisplayPort 1.4a (USB Type-C)
Audio connectors
1 x 3.5mm Combo Audio Jack
Input Devices
Keyboard
with digital NumberPad and illuminated
touchpad
clickpad
IP telephony
Webcam
1080p with IR and support Windows Hello
Microphone
yes
The fingerprint scanner
built into the power button
Battery
96WHrs Lithium Ion
Dimensions
350×251×169 mm
Weight without power supply
2.4 kg
Power adapter
200 W
Operating system
Windows 11 Home
Appearance and ergonomics
The colour of the case is dark. The cover and both body panels are metal.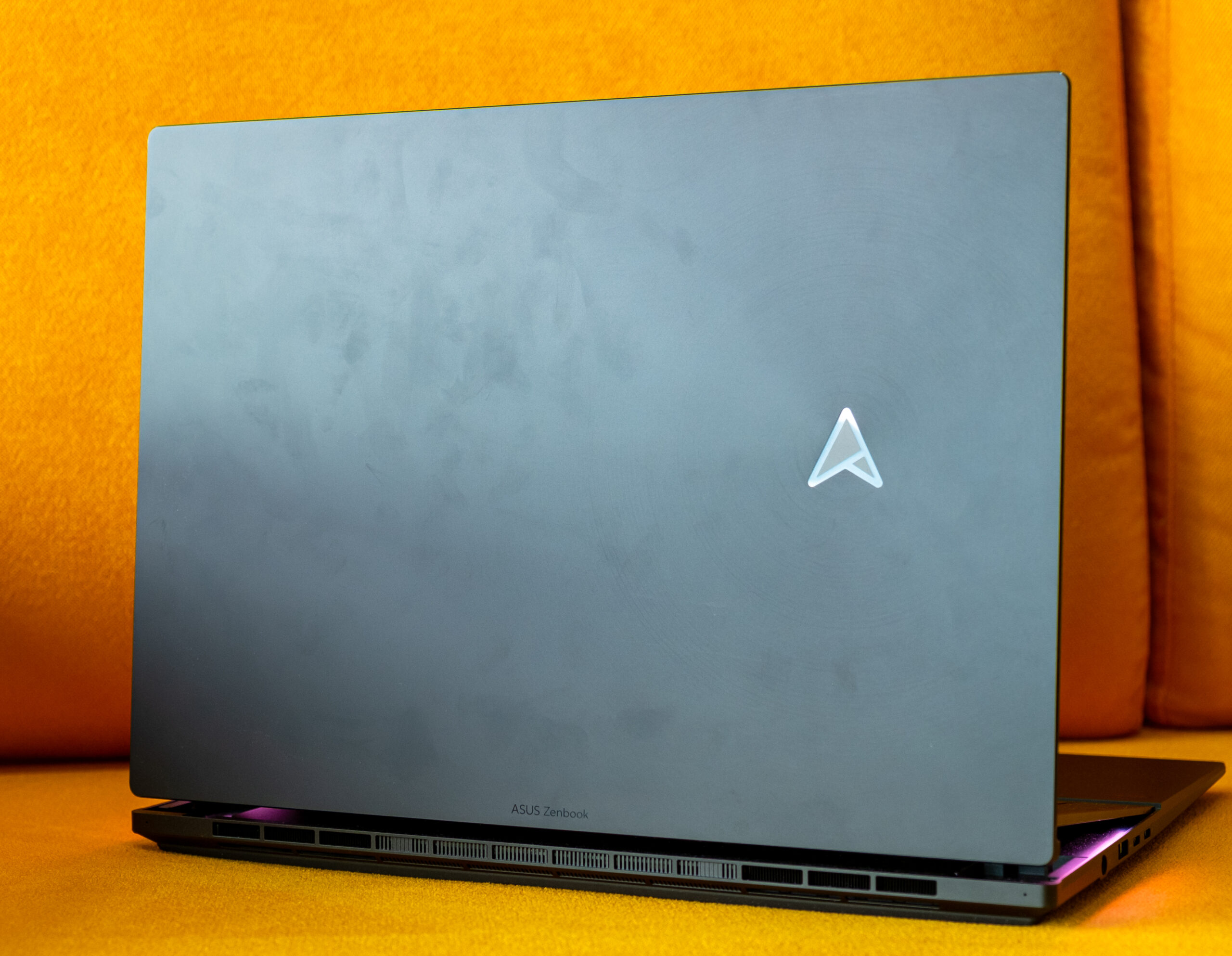 The design is classically strict, concise, without the "architectural excesses" that attract attention, which is typical for all ZenBook models.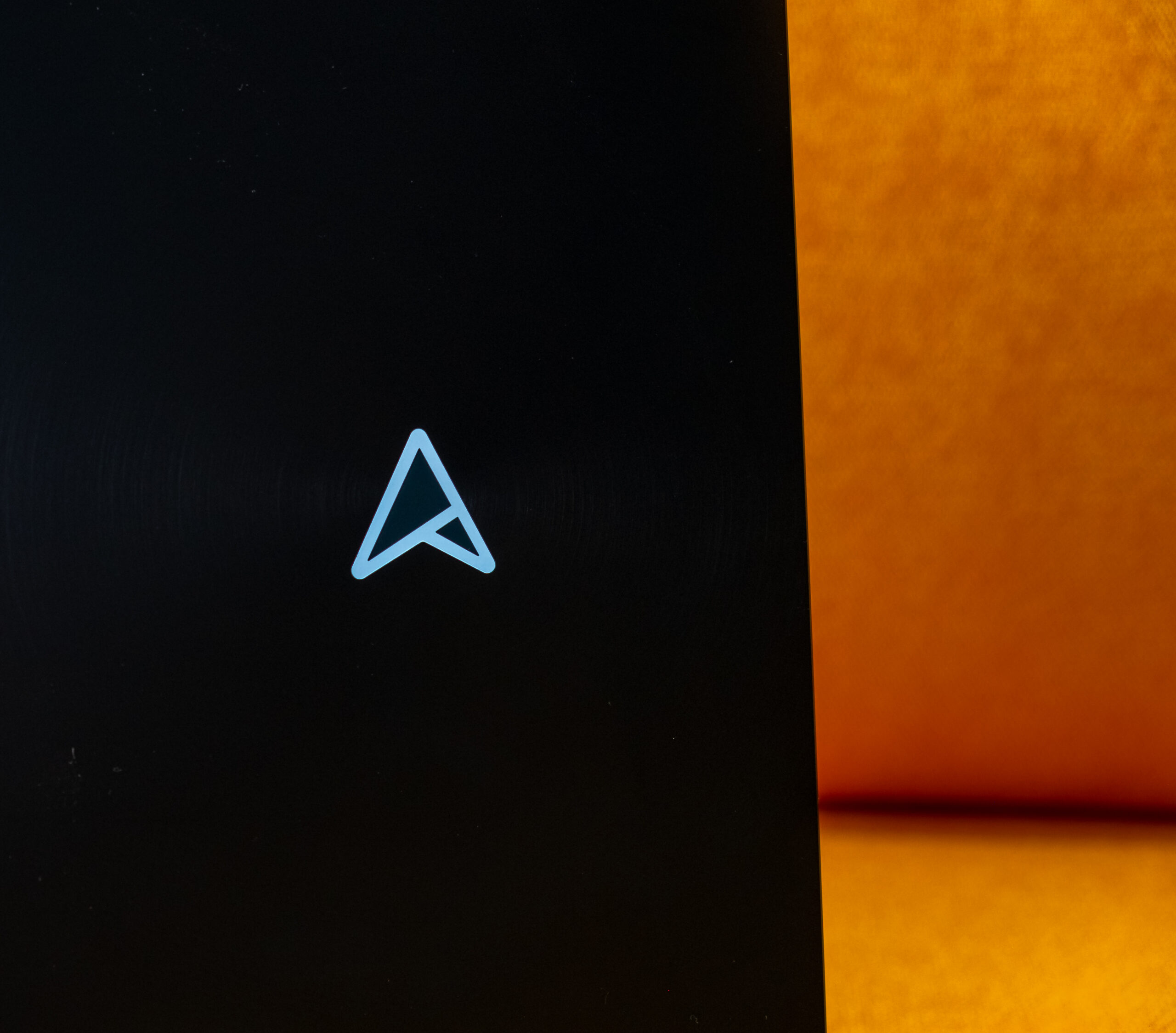 Thanks to the bevels at the front and side edges, the device looks rather "slim", although the thickness is not extremely small: the value of 169 mm.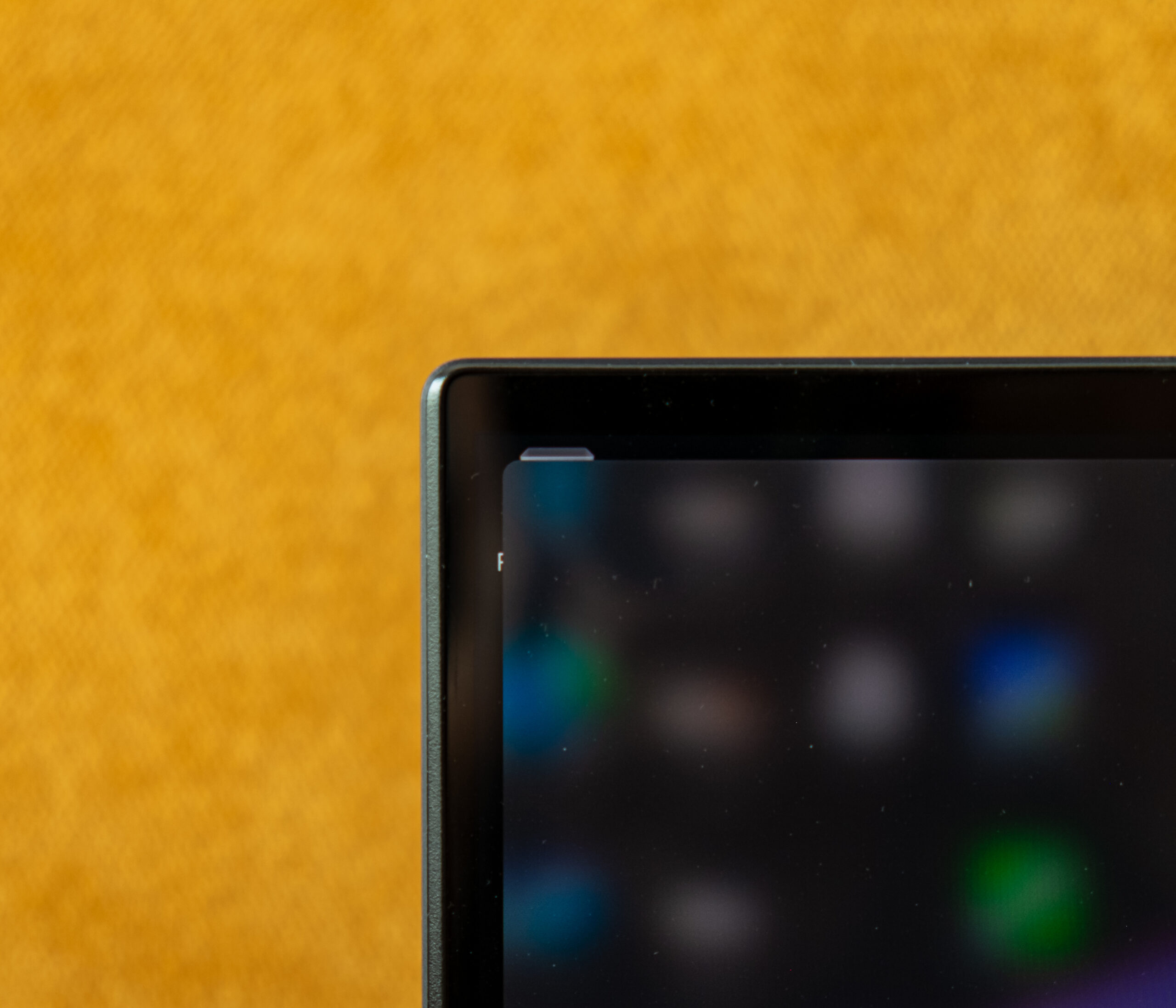 All surfaces are matte, slightly rough, handprints are hardly noticeable on them and come with anti-fingerprint coating on the outer surfaces keeps the elegant finish pristine.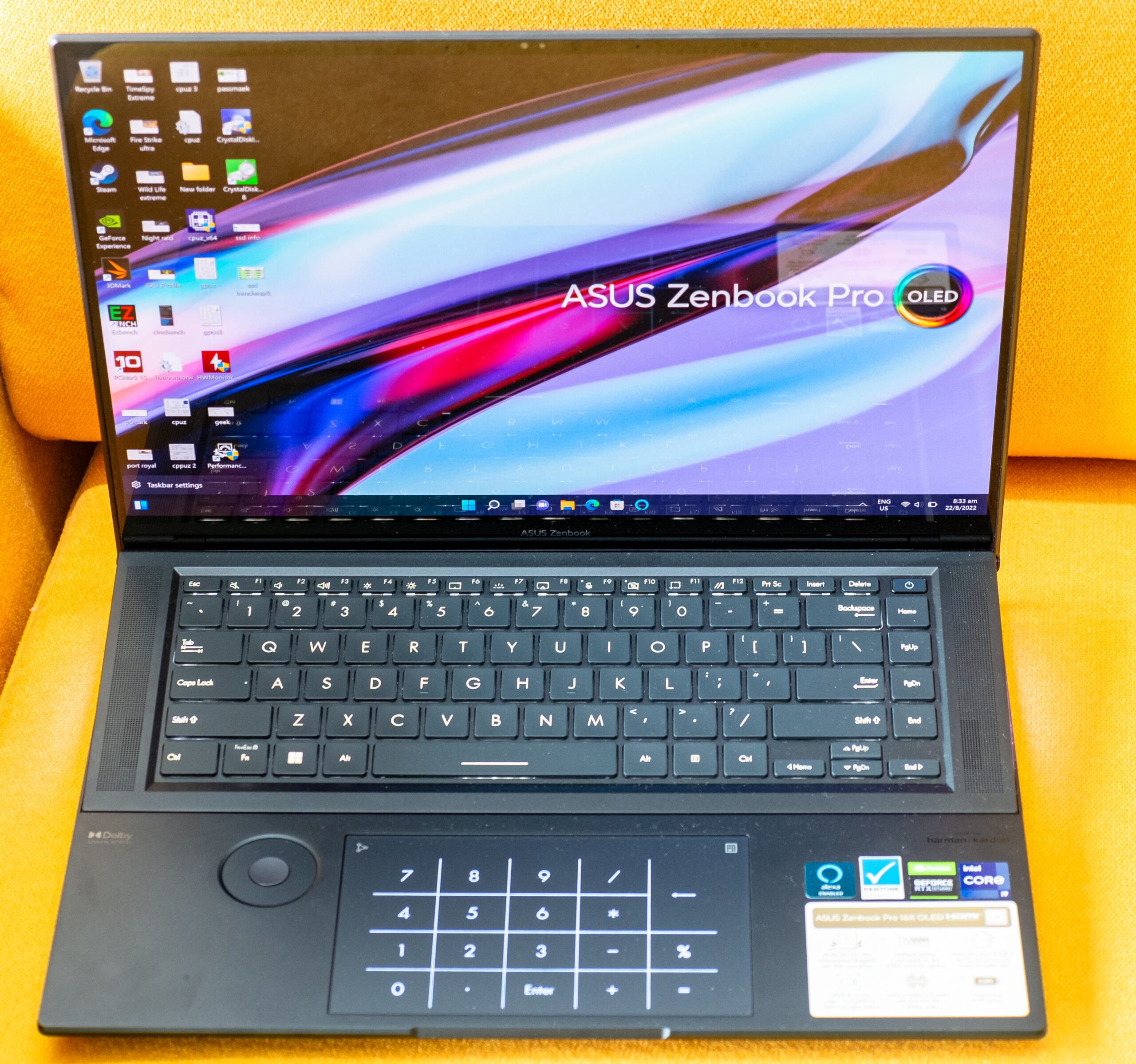 The design turned out to be quite rigid: the panels flex slightly even with fairly strong pressure, but the torsional strength of a thin cover with an OLED screen leaves much to be desired.
The frame around the screen is nano edge thin: 5.3 mm on the sides, 7.7 mm at the top (there is a webcam with an indicator, but without a shutter), 11.5 mm at the bottom to the bend of the lid.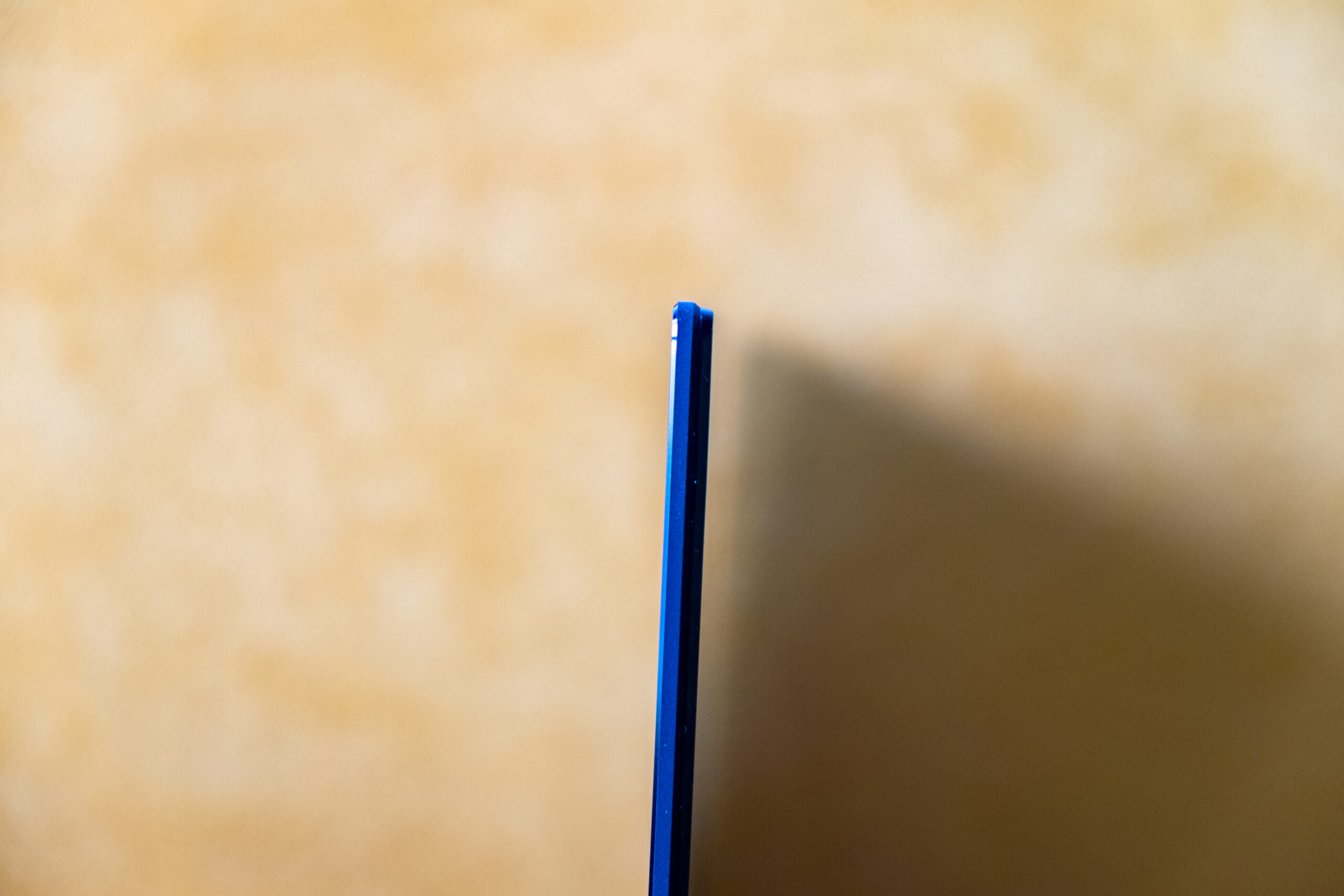 Cooling System
The precision engineered AAS Ultra mechanism raises the rear of the keyboard by up to 14.5 mm, tilting it by 7° when laptop is opened. This positions it at the perfect angle for comfortable typing. It also enhances cooling by allowing 30% more airflow. This in turn reduces the laptop's surface temperature by up to 7°C2, increasing both comfort and CPU performance. And finally, the tilting mechanism directs the sound from the dual tweeters to create a better stereo image for enhanced listening pleasure.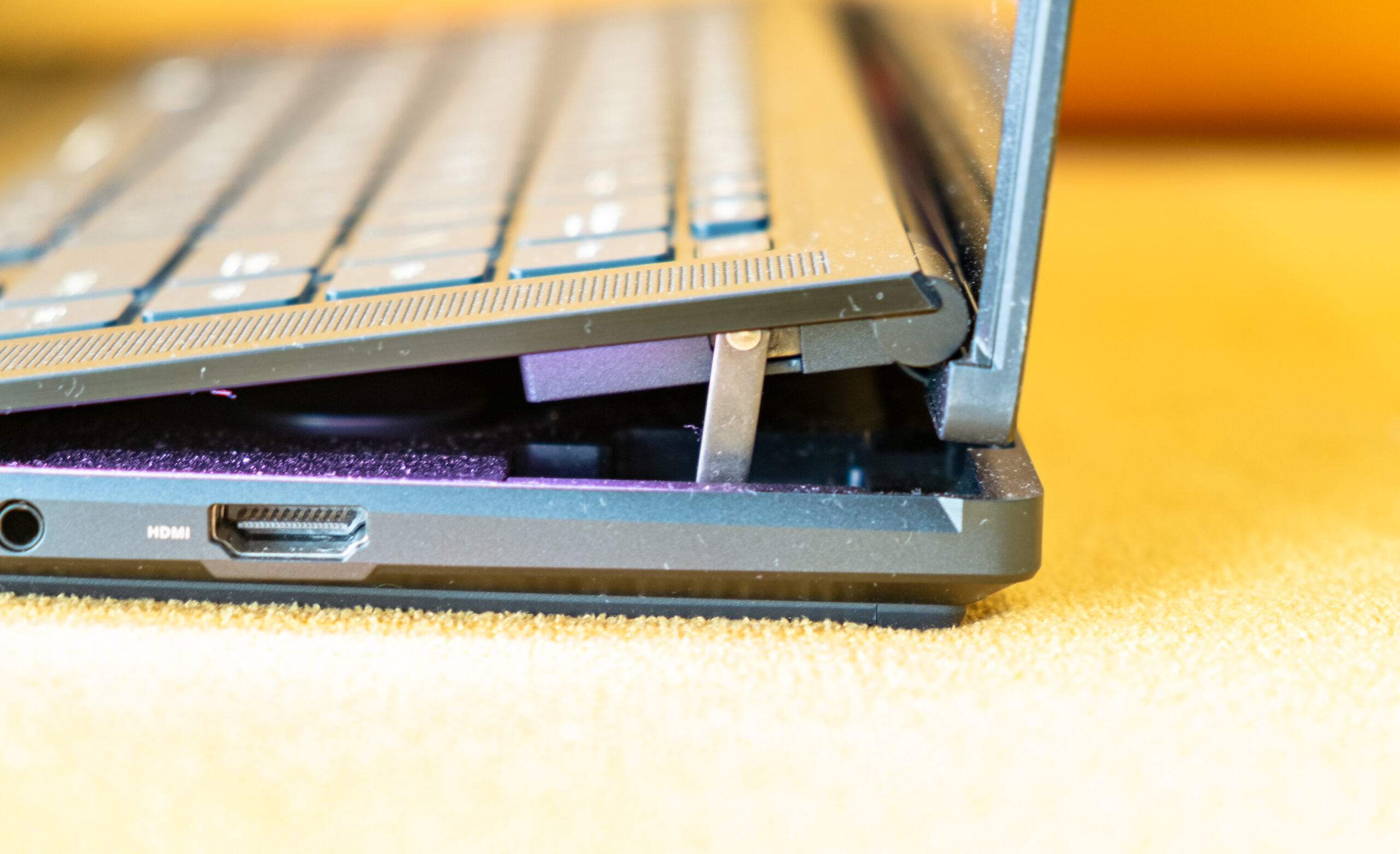 On the bottom there is a huge area of ventilation hole, through which air is taken from both up and bottom to cool the components, so you should not put the laptop on a soft surface.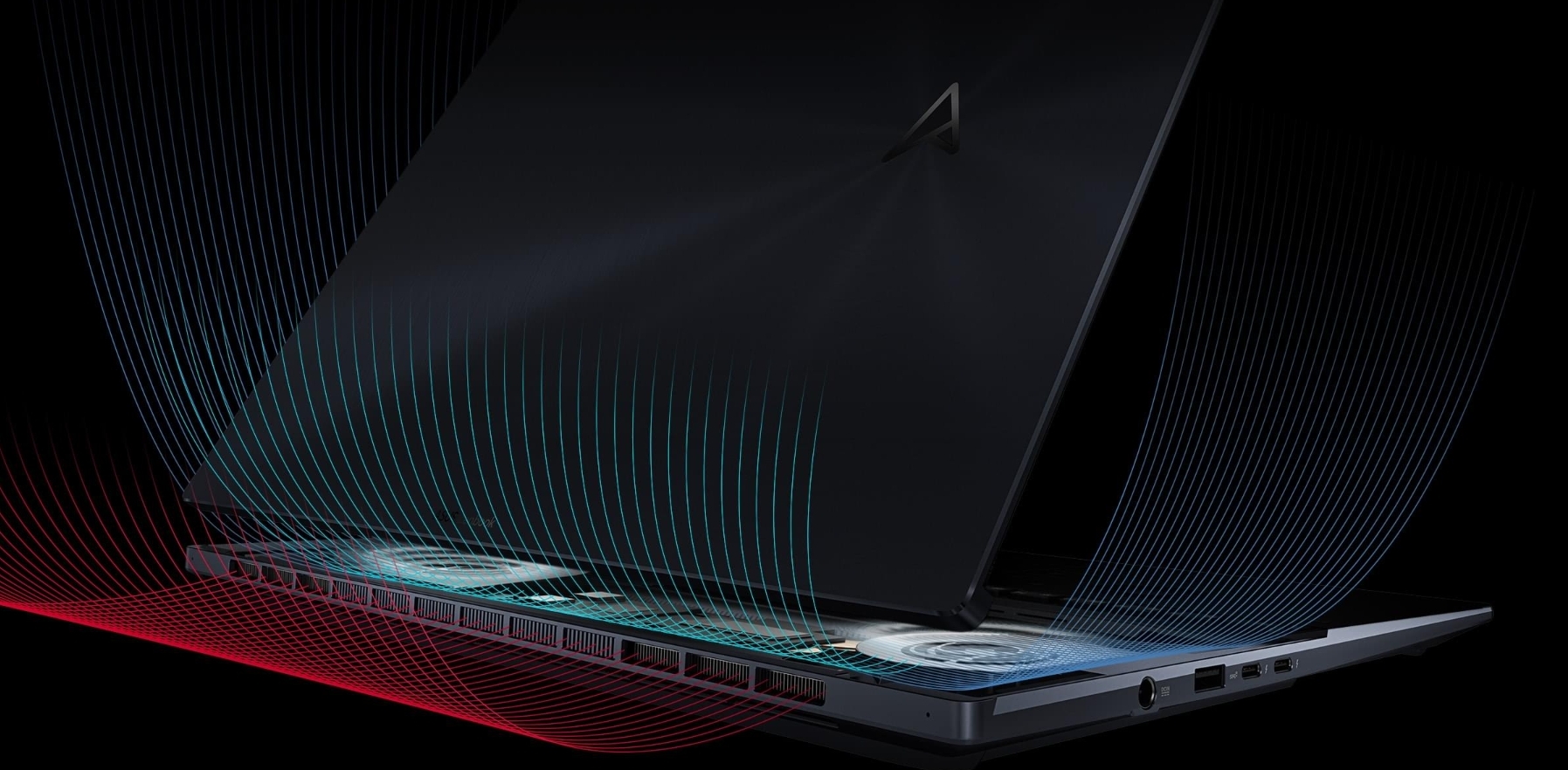 At the rear end of the case there are a number of larger holes through which the ventilation system ejects heated air. As often happens in such designs, the lower part of the screen is heated, which turned out during the launch of "heavy load", but ASUS manage to redesign the cooling system with the first AAS Ultra mechanism provides 30% extra airflow for a given fan speed. Secondly, the Aero-Jet Flow (AJF) system can cool the laptop's surface temperature by up to 7°C. Finally, there's a highly efficient vapor chamber cooling technology that's up to 9x more efficient than heat pipes.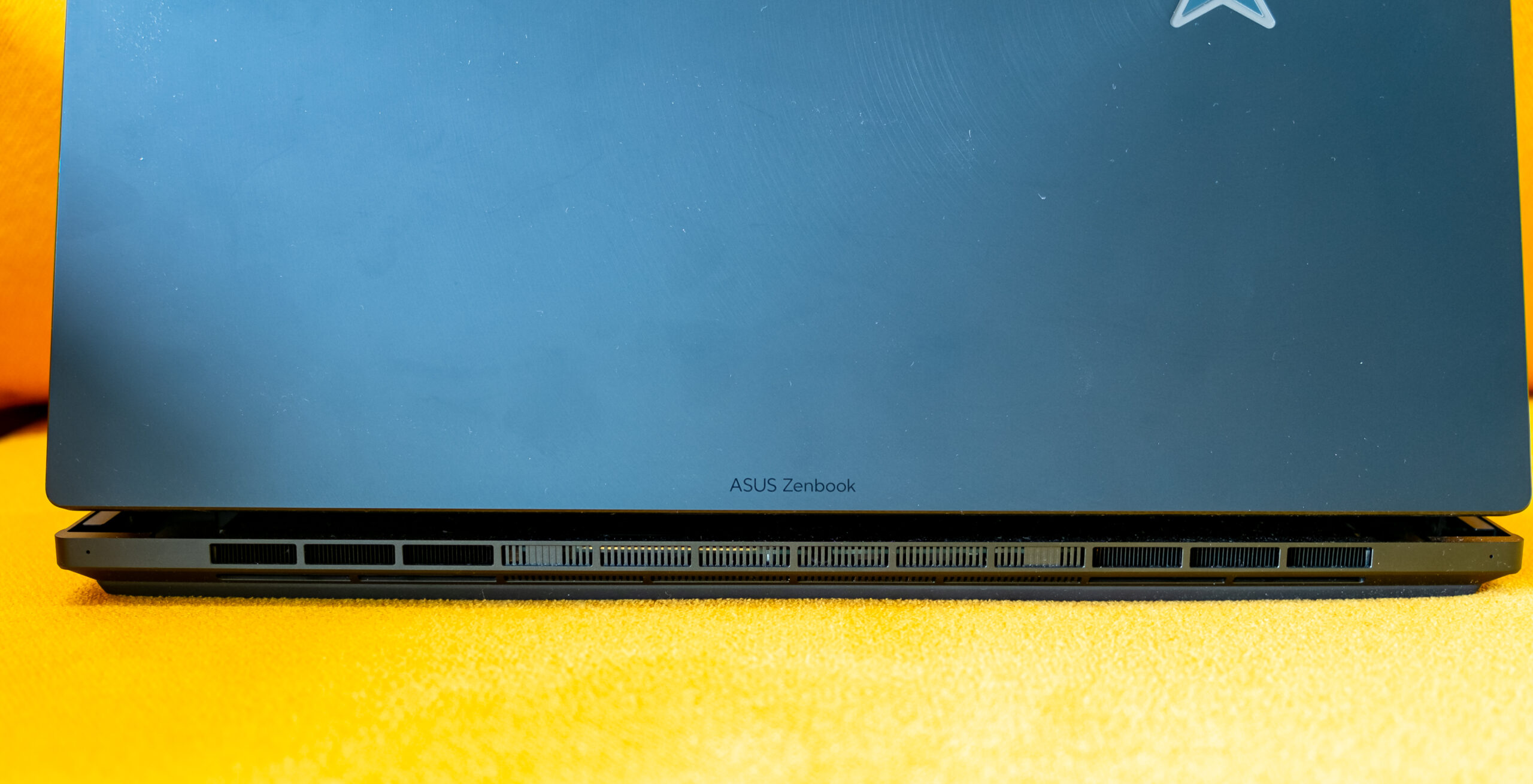 Audio & Microphone
There are six speakers: two tweeters and four woofers with grills from Harman/Kardon located towards the front edge of the keyboard. In terms of audio, it is powered by Realtek Audio chip and Cirrus Logic amplifier that support Dolby Atmos – Multi Dimensional Audio.
It has two holes on the front display and two rear microphones for recording 360-degree surround sound.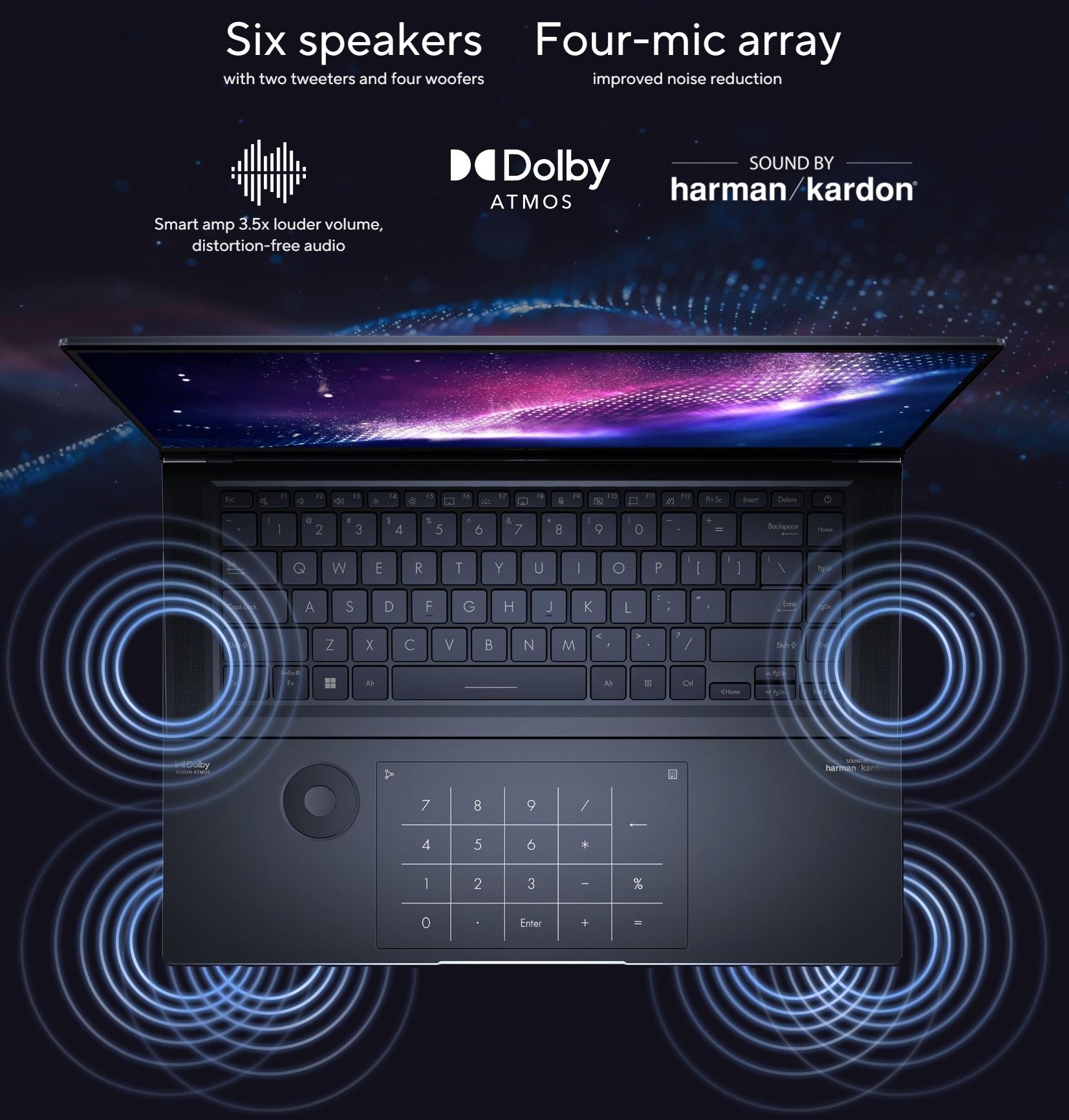 Keyboard & touchpad & ASUS Dial
The machine has the ASUS Dial, a physical dial that links with creative applications. On the other hand, ASUS has included a raised keyboard deck, designed to improve ergonomics and cooling. It also has a glass-covered surface to making gliding easier. When it comes to changing brushes and other settings in Photoshop, anyone who has ever created digital artwork will appreciate its efficiency.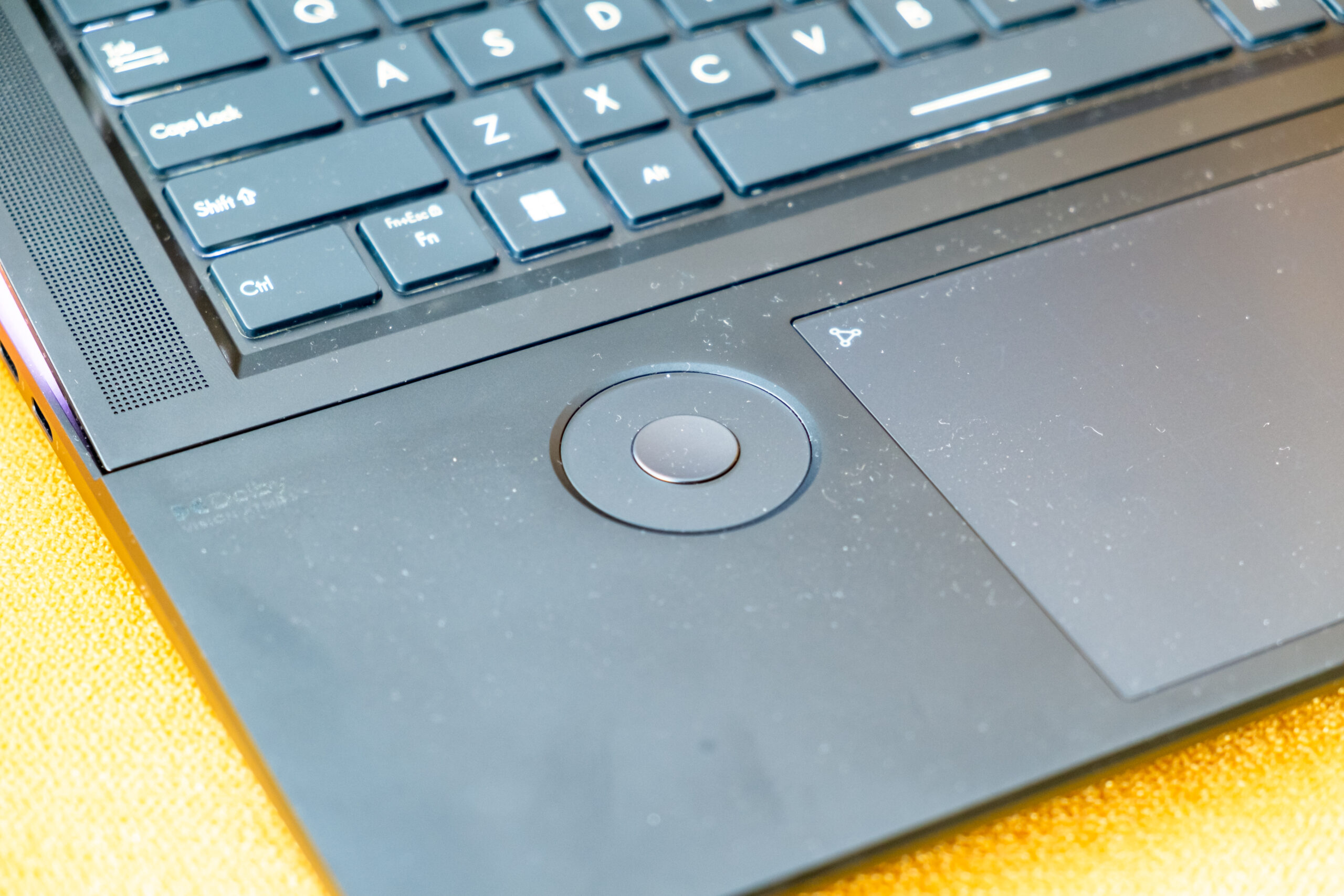 Zenbook Pro 16X OLED is equipped with a new and enlarged haptic touchpad. Using linear resonant actuator (LRA) technology for the most precise haptic feedback, this 150 x 90 mm touchpad also has pressure sensors underneath the surface, so you can tap anywhere and it will understand what you want to do.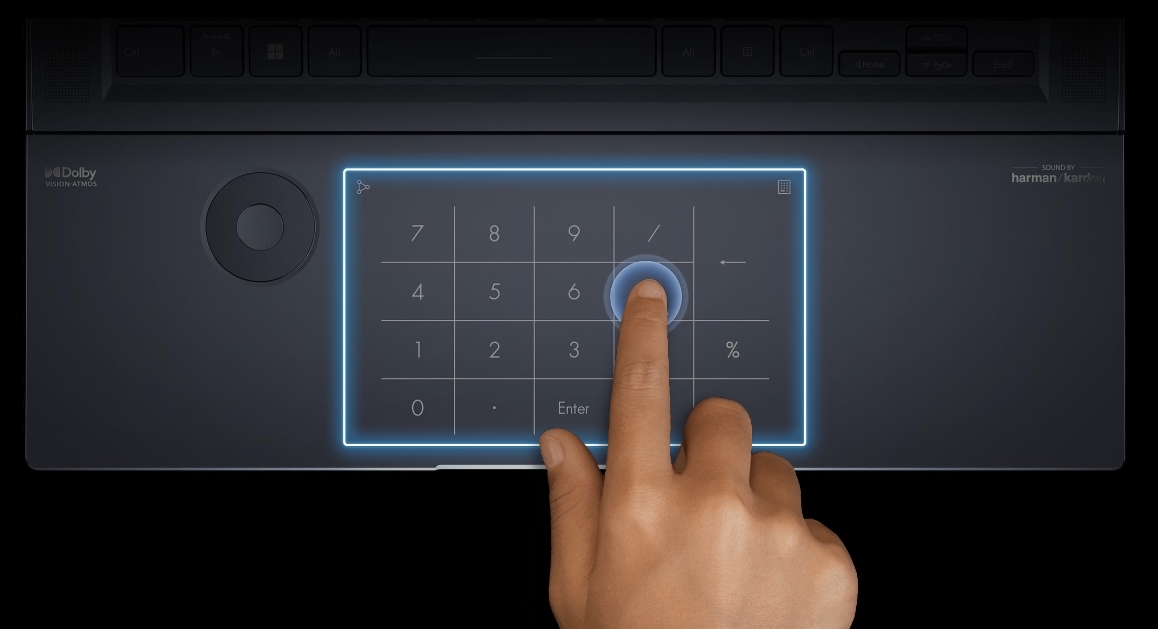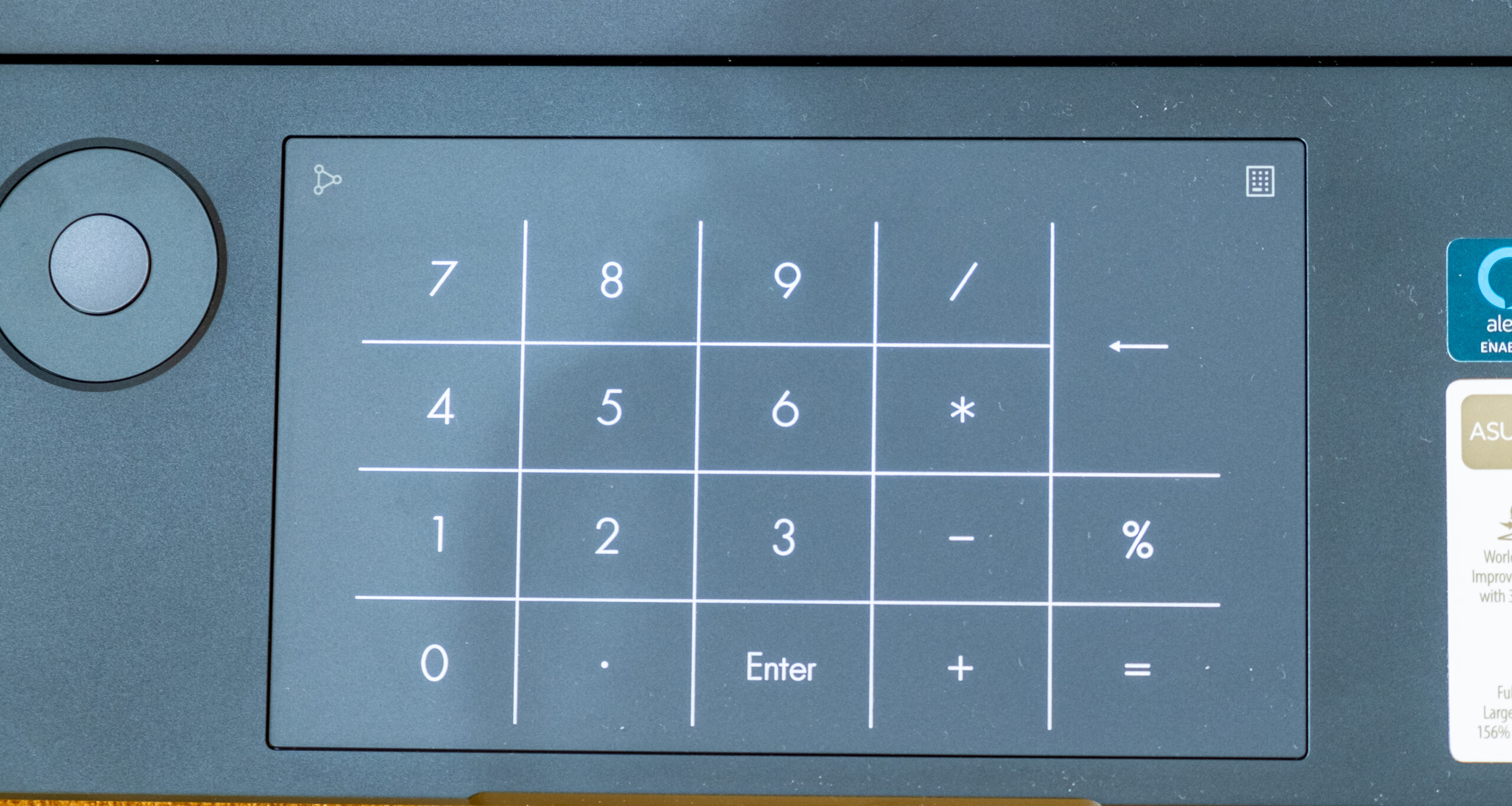 Each key in one row is separated by 1.4 millimeters, and each key edge by 0.2 millimeters. It is quite comfortable to press, and the sounds during pressing are quite quiet. It's come with an illuminated monogram lid logo, there's per-key White RGB keyboard backlighting, augmented by light bars on either side of the keyboard. This system enables a variety of smart interactive effects.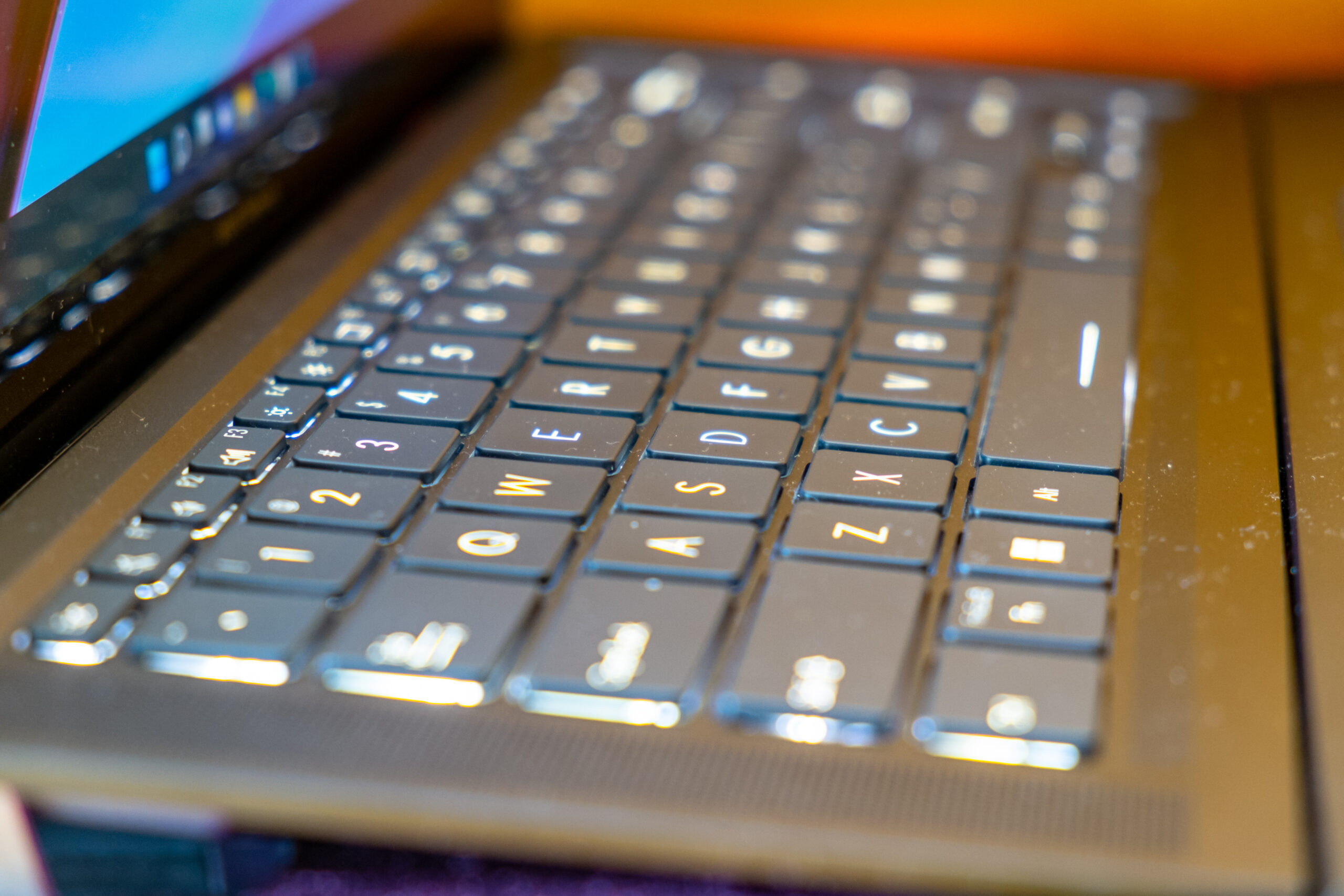 When you power the laptop on or off, or switch performance modes, your laptop can display an exclusive light effect. If your battery's low on juice, all the lights will glow red. Plug in a USB device to see yet another light effect, and when you receive a new email you'll get a handy visual reminder. You can also configure a variety of animated ambient lighting modes to match your mood or the atmosphere of the room.
Display OLED & Camera
The TÜV Rheinland certified 4K OLED HDR touchscreens produce vivid colours and reduce eyestrain thanks to low blue-light emissions. Additionally, it is equipped with VESA Display HD RTM True Black 500 "for ultra-realistic detail in even the darkest scenes".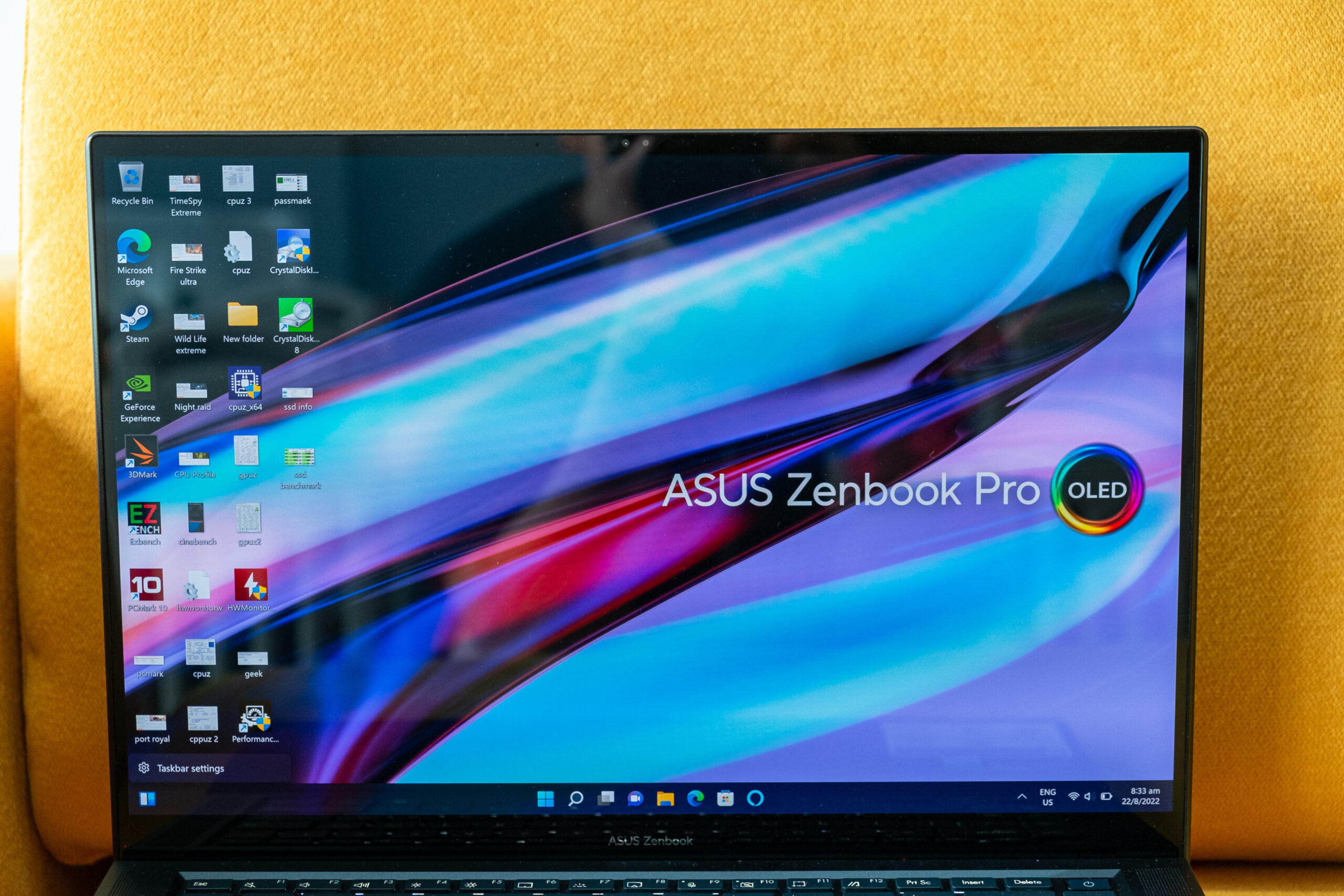 Additionally, the touch display supports the ASUS Pen 2.0 with 4096 pressure levels, four interchangeable pen tips, and fast USB-C® charging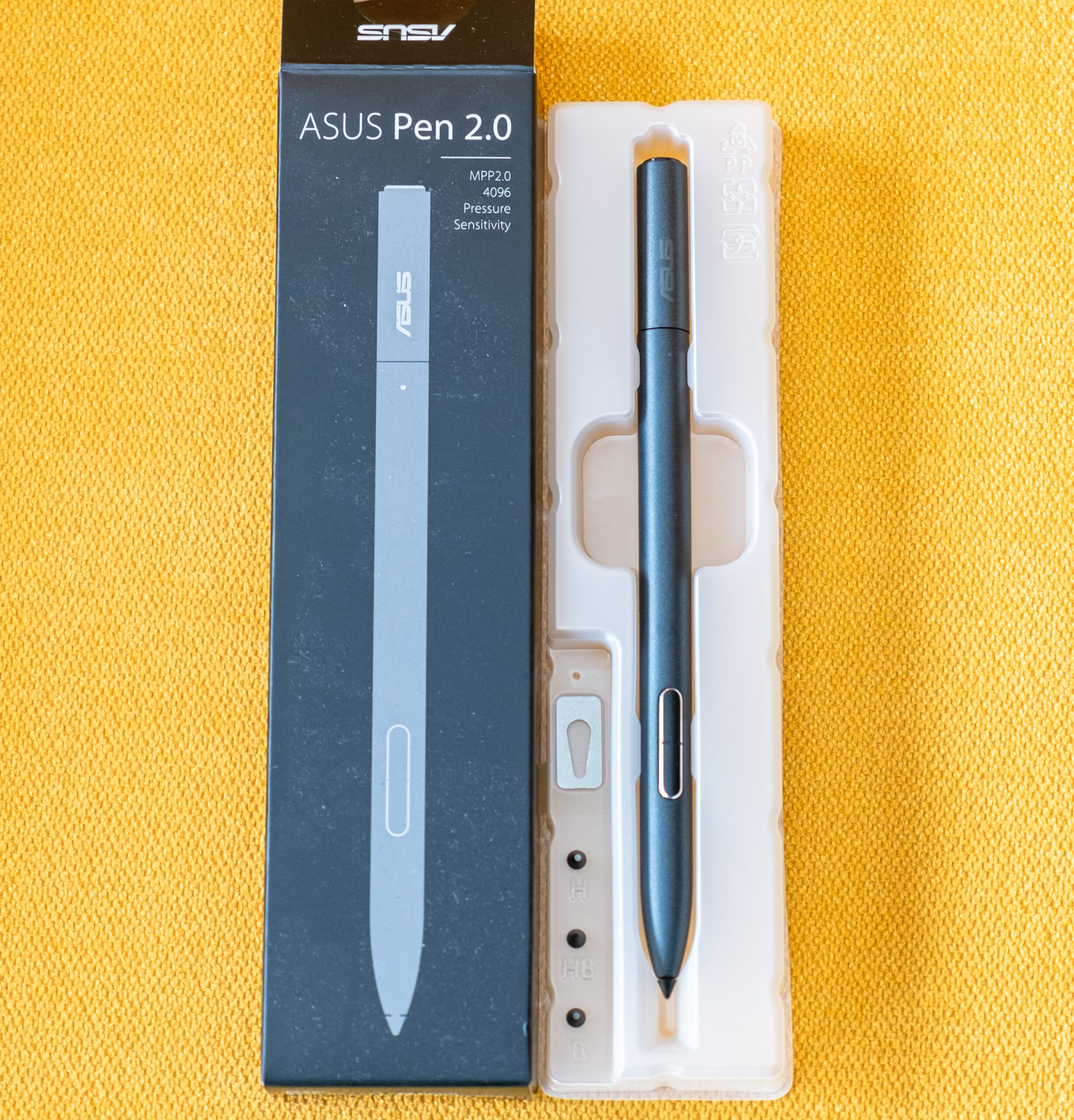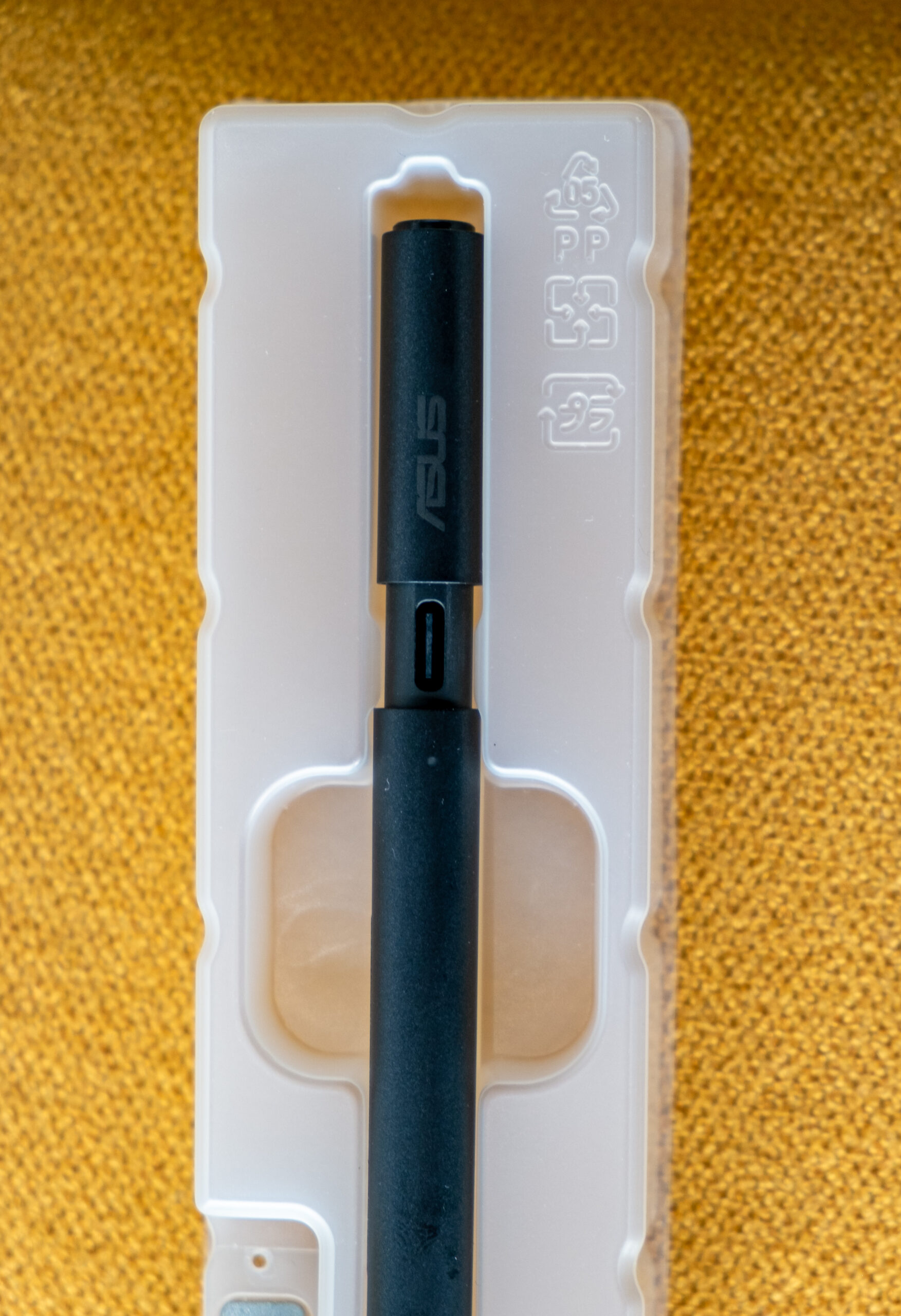 The webcam is located above the screen. You can rejoice not only for a more correct angle (Large 1.4 µm pixels for 156% more light capture), but also for a higher resolution: 1080p@30 fps (that is, 1920 × 1080 – Full HD).
I/O Ports
On the left side of the laptop there are connectors: a pair of USB-C (These two can be used for data transfer, charge devices with Power Delivery technology and video output.), a USB 3.2 Gen 1 Type-A and DC power input.
On the right are full-size HDMI, a combo minijack for an audio headset and a card reader. There is a tiny indicator that, when the adapter is connected, blinks while the battery is charging and stays on when the charge is close to full; in the normal position of the operator.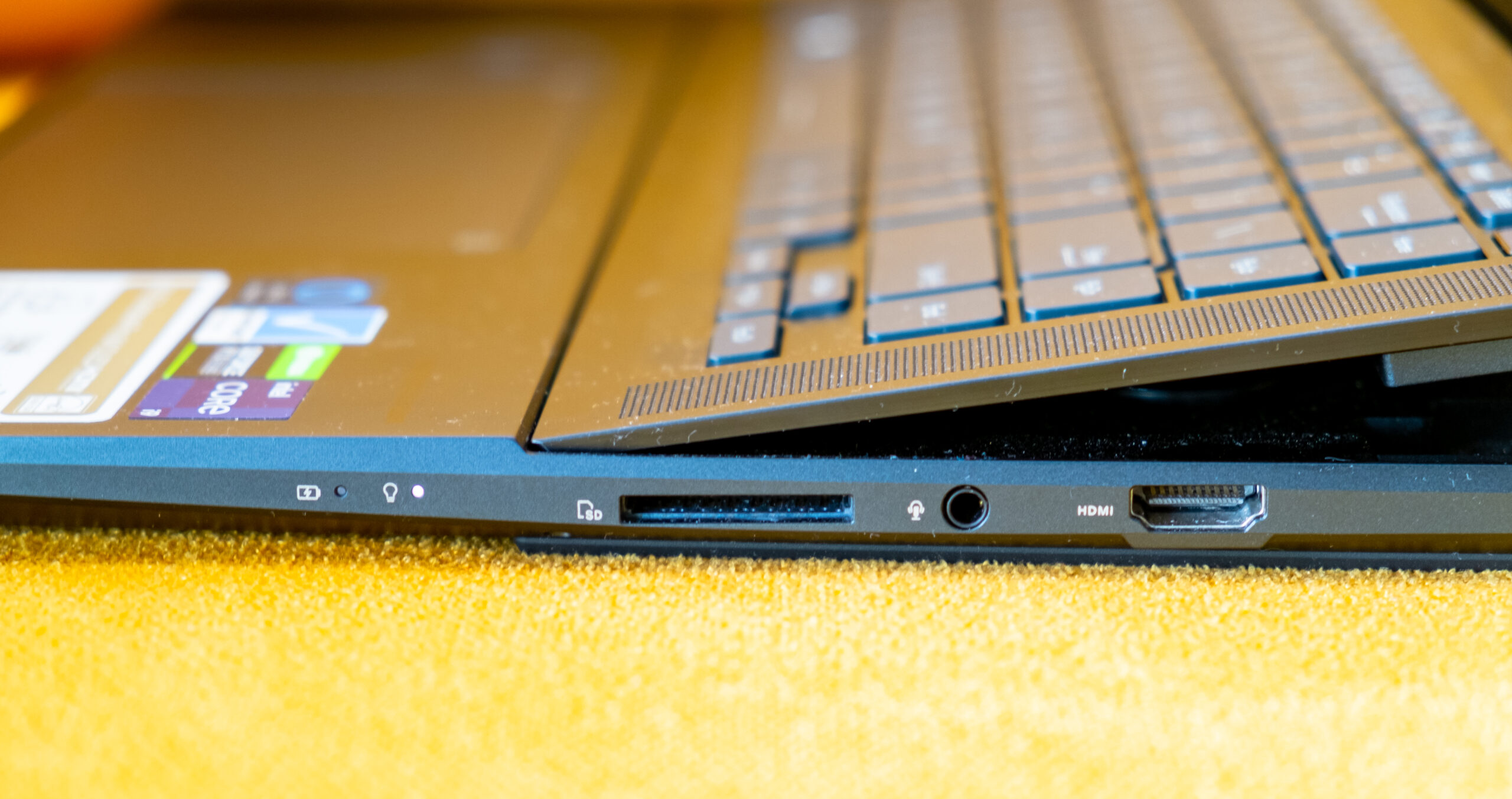 The power adaptor: ADP-200JB D 200W AC Adapter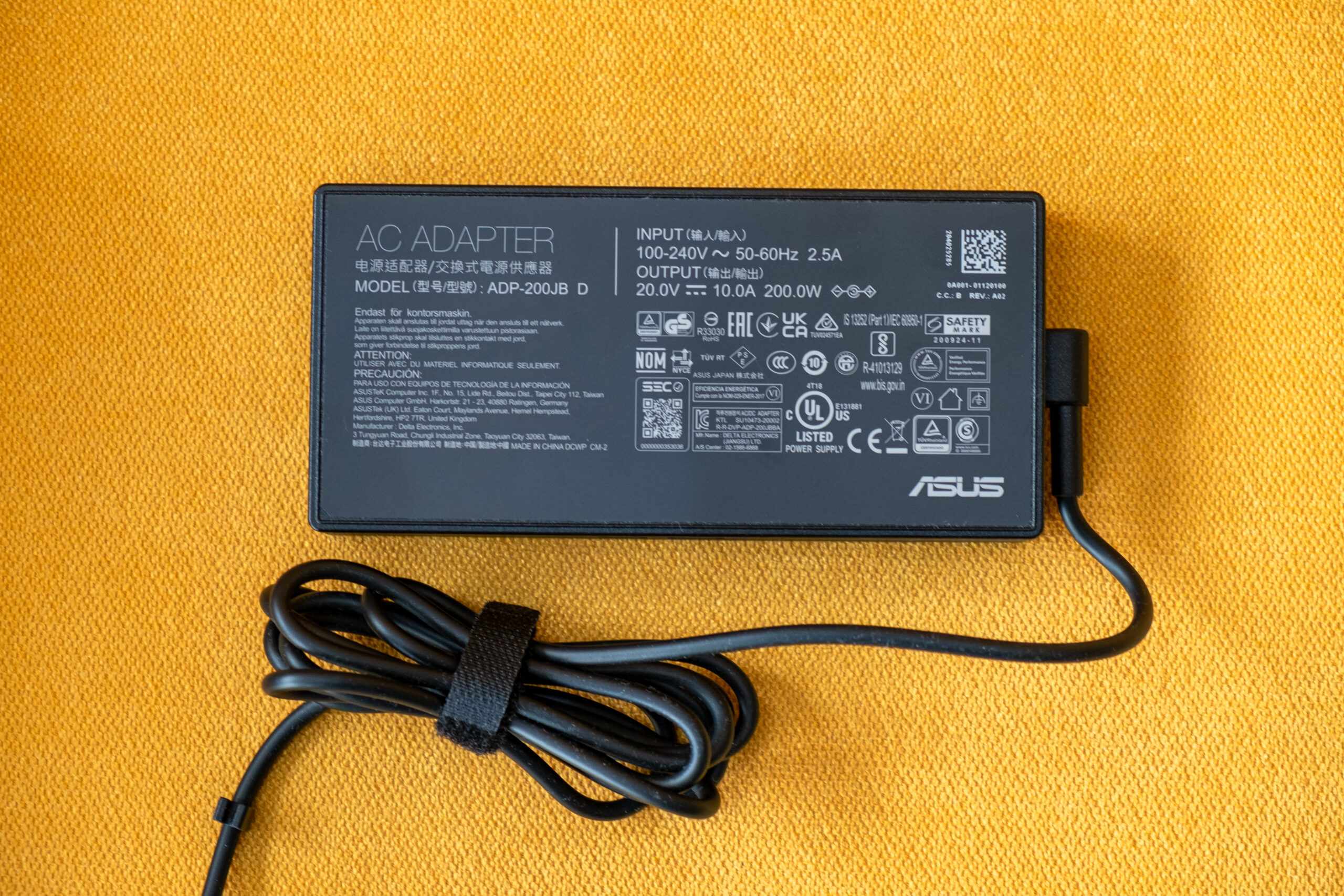 Benchmark & Information