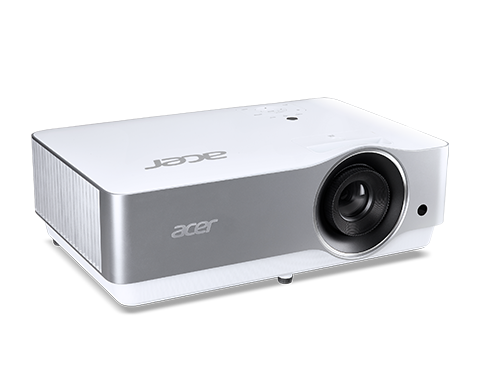 Acer VL7860 delivers incredible image quality with laser diode projection technology, UltraHD 4K (8.3megapixels on screen) and 1,500,000:1 DynamicBlack™ contrast optimization
Acer P8800 provides a UltraHD 4K experience with up to 5,000 lumens of brightness and 1,200,000:1 contrast ratio
Both projectors are HDR-compatible (High Dynamic Range) and able to reproduce a greater dynamic range of luminosity with expanded contrast and a wider range of brightness
Acer today unveiled two new projectors including the Acer VL7860, catering to the home cinema enthusiast looking for the best on the market, and the Acer P8800, ideal for those that need top-notch image quality for public venues or larger rooms.
"An ultra high-definition experience with cinema-quality visuals and audio is becoming increasingly essential to both home and professional customers" said Victor Chien, President, Digital Display Business at Acer. "With the Acer VL7860 and P8800, we have responded to our customers' needs and created two projectors that enable them to have top-quality experiences. Whether presenting at a conference or having friends over for a movie, the idea is the same: impeccable image and sound quality is key."
Acer VL7860
Film fanatics can truly enjoy the cinema at home with an intensely sharp 120-inch 4K UHD (3,840 x 2,160) resolution display with 8.3 megapixel on screen thanks to XPR technology from Texas Instruments. Reaching up to 3,000 ANSI lumens and boasting 1,500,000:1 DynamicBlack contrast (dynamically adjusting lamp power to optimize black levels) for crystal clear projections, the Acer VL7860 is designed to deliver on all forms of video and image content.
The projector supports a wide color gamut of 110% of the Rec. 709 color space and is Rec. 2020 (also known as BT.2020) compatible, ensuring cinema-like color accuracy. On top of that, using the sRGB color standard, the VL7860 guarantees color consistency and eliminates deviation in color reproduction. The projector ensures visuals are ultra-smooth even in fast moving scenes with the AcuMotion frame interpolation system, which calculates and generates intermediate frames, inserting them into existing ones for seamless motion.
The HDR-compatible projector (High Dynamic Range) is able to reproduce a greater dynamic range of luminosity with expanded contrast and a wider range of brightness – it adjusts to brighter scenes so the highlights glimmer with detail, while in darker scenes rich blacks are preserved and details typically hidden in the shadows are enhanced for greater overall luminance. Combined with two built-in 5W speakers, the VL7860 is an ideal home entertainment package for the home cinema enthusiast.
As the world's smallest 4K UHD laser projector1, the VL7860 features a compact design that allows users to enjoy laser-quality visuals in a wider range of environments. Utilizing laser diode technology the projector does away with the need to replace burnt-out mercury-based lamps, saving users money and the environment. For further saving, users can engage the ECO mode to reduce power consumption and extend lamp life up to 30,000 hours.
The VL7860 offers great versatility during installation with 1.6X zoom, allowing users the flexibility to position the projector at a range of different throw distances. What's more, users can take advantage of the ISFccc-certified (Certified Calibration Controls) Professional Calibration mode to balance color and brightness based on the surroundings.
Acer P8800
The Acer P8800 projector is also equipped with TI XPR technology, serving more than 8.3 million on-screen pixels – four times that of a Full HD screen. Combining this 4K UHD sharpness with a brightness of up to 5,000 lumen keeps images vivid and crystal clear regardless of daylight, throw distance or venue size. This is all brought together with a 1,200,000:1 contrast ratio that delivers vivid blacks and brilliant whites on screen. Along with the same AcuMotion technology in the VL7860 as well as the same Rec. 709 and Rec. 2020 capabilities, these display features work together to deliver a richer viewing experience.
Easy control of the projector is provided with the Crestron® Network System which allows LAN-based or multi-user control of the screen. During installation, the P8800 offers great flexibility in terms of placement and image adjustment with 1.96X motorized zoom, H/V lens shift and a central lens design.