Powerful all-in-one NAS solution optimized for your growing needs
Taipei, Taiwan—June 12017—Synology® Inc. launched the new DiskStation DS1517 and DS1817, powerful and scalable 5 and 8 bay desktop NAS. DS1817 is the first Value series equipped with built-in 10GbE LAN ports and expandable RAM module, delivering future-proof, high-speed storage for professionals and growing small/medium-sized businesses.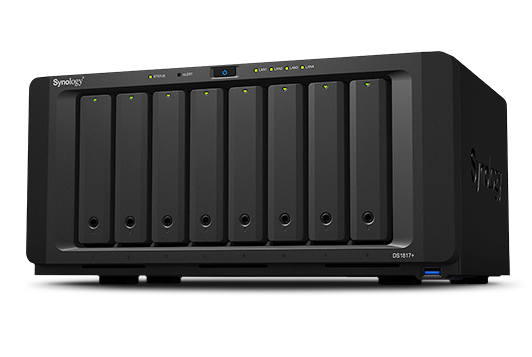 DS1817 is powered by a quad-core 1.7GHz processor with RAM module expandable to 8GB. Thanks to the built-in 10GbE interfaces, DS1817 can achieve outstanding sequential throughput performance exceeding 1,577 MB/s reading and 739 MB/s writing when using RAID 5. The built-in 10GBASE-T ports and 1GBASE-T LAN ports pave the way for businesses to upgrade to a 10GbE environment, and provide the support of Link Aggregation and failover.
DS1517 is powered by a quad-core 1.7GHz processor, 2GB RAM, and four Gigabit LAN ports featuring failover and Link Aggregation. It delivers sequential throughput performance over 449 MB/s writing and 436 MB/s reading when using RAID 5.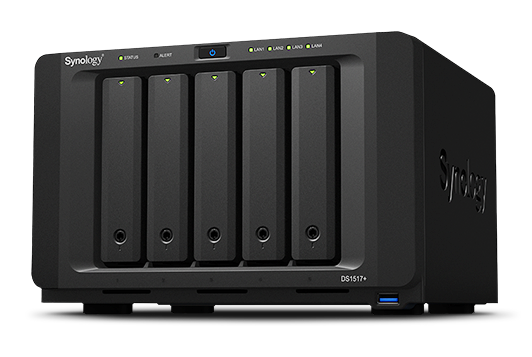 "Growing small and medium-sized businesses expect a cost-effective storage solution that is versatile and expandable for their future demands, while minimizing the initial investment required," said Katarina Shao, Product Manager at Synology Inc. "The DS1517 and DS1817 are engineered to fulfill such needs, and provides the high performance and flexible scalability to manage, protect, and share data at work."
Both DS1517 and DS1817 can be scaled up to a raw capacity of 150 and 180TB respectively with two DX517 expansion units. DS1517 and DS1817 support Synology High Availability (SHA), providing redundancy in case of unexpected network failure or disasters, and ensuring seamless transition between clustered servers. Moreover, DS1817 provides storage solutions for virtualization environments with VMware®, Citrix®, and Microsoft Hyper-V® certificates.
DS1517 and DS1817 run with DiskStation Manager (DSM) 6.1, the powerful and intuitive operating system for Synology NAS devices. Featuring a wide range of applications to bring better productivity at intensive work, DS1517 and DS1817 can serve as a centralized data backup destination. Synology has received numerous media accolades, such as topping the mid-range NAS category in TechTarget's storage solution survey.
DS1517 and DS1817 are backed by a limited 3-year hardware warranty. An additional extended warranty option is available in select regions for up to five years of coverage.