IRVINE, Calif.–(BUSINESS WIRE)–Toshiba America Electronic Components, Inc. (TAEC), a committed technology leader, today announced the availability of the state-of-the-art BG3 series, its next generation single-package ball grid array (BGA) solid state drive (SSD) product line based on Toshiba's latest 64-layer, 3-bit-per-cell TLC (triple-level cell) BiCS FLASH™. Designed to fuel the future of mobile devices, Toshiba's BG3 SSDs deliver better performance1 and a smaller footprint than traditional SATA-based drives. Moreover, with its cost-effective DRAM-less design, the unique BG3 series enables a high quality user experience at a fraction of the power requirement of other NVM Express®2 (NVMe™) SSDs3.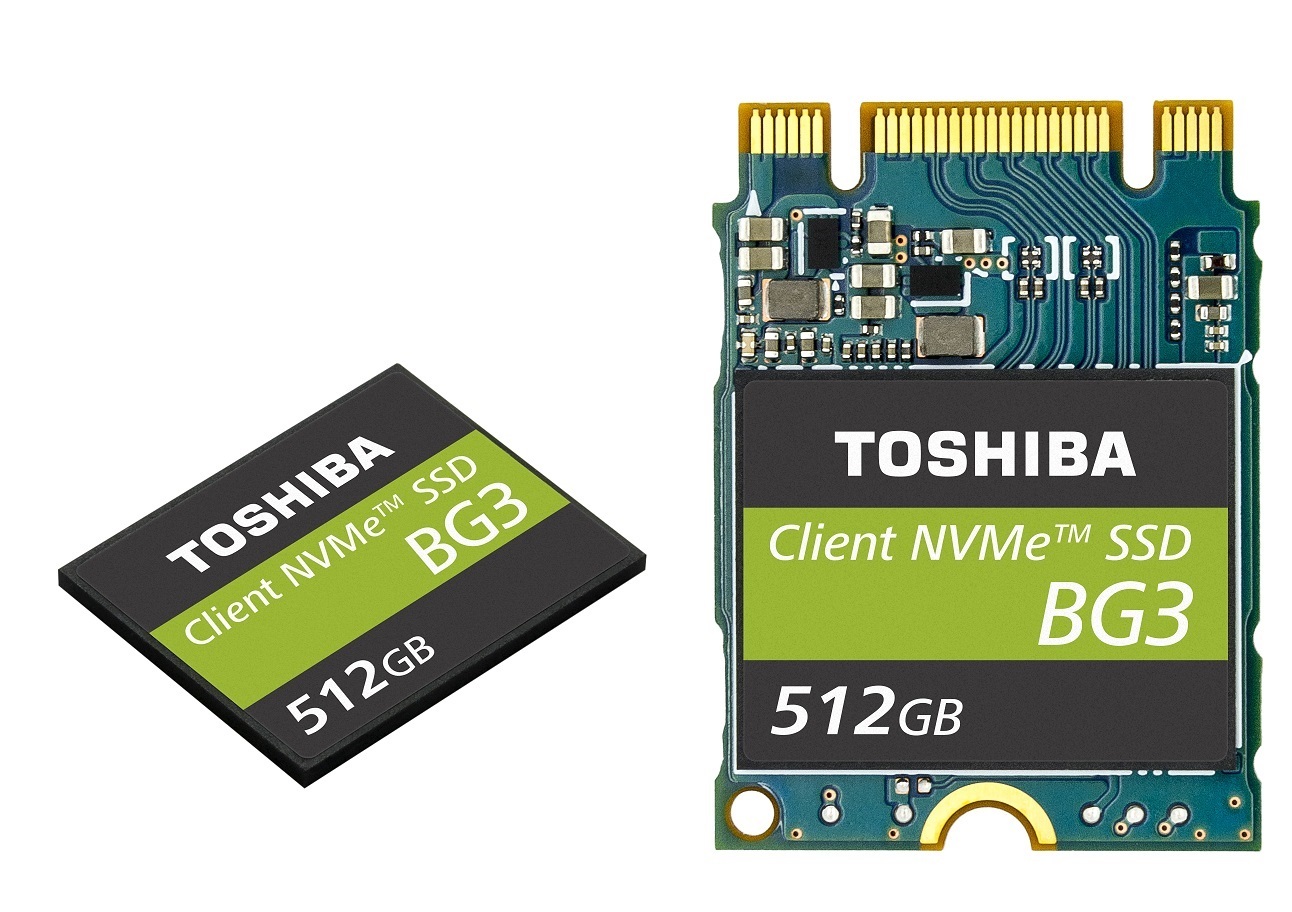 Toshiba's BG3 series leverages the Host Memory Buffer (HMB) feature in NVMe Revision 1.2.1 to maintain high performance without integrated DRAM by using host memory for flash management purposes. This powerful combination allows devices to harness the performance of NVMe storage while maximizing footprint and affordability to deliver a next-generation mobile experience to end users. Both fast and economical, these miniaturized SSDs also offer data center and enterprise applications an alternative solution for server boot storage.
With style and portability top of mind for today's laptop and tablet manufacturers, the BG3 series was designed specifically to enable even slimmer and more power efficient devices. By eliminating DRAM from its design, Toshiba's BG3 series offers the world's thinnest SSDs4 available at just 1.3mm high and delivers lower power consumption to maximize battery life.
Toshiba BG3 SSDs are small in size but not performance. Featuring a PCI Express® (PCIe®)5Gen3 x2 lane and NVMe Revision 1.2.1 architecture, BG3 delivers to up to 1520 MB/s sequential read, 2.7 times the theoretical maximum bandwidth of SATA 6Gbit/s and up to 840 MB/s sequential write6, 1.5 times the theoretical maximum bandwidth of SATA 6Gbit/s. Additionally, BG3 also features SLC cache for excellent performance to accelerate burst type workloads, such as those routinely experienced on Windows®7-based PCs.
The ultra-compact BG3 series is available in 128GB, 256GB, and 512GB capacities8. All three models are available in a surface-mount BGA (M.2 1620) or a removable module (M.2 2230) form factor for platform design flexibility.
"Toshiba's third generation BG SSDs were designed to not spark, but fuel a revolution in mobile and IoT computing," said Jeremy Werner, vice president SSD marketing and product planning at Toshiba America Electronic Components, Inc. "The BG3 series is not only smaller and lighter, but smarter thanks to its cost-effective DRAM-less design with HMB technology combined with Toshiba 64-layer 3D flash memory with TLC technology. These SSDs enable OEMs to reimagine what's possible for their customers."
"When it comes to the data center, Toshiba BG3 series SSDs can help bridge the power and price gap between enterprise SATA and mainstream client NVMe SSDs," said Neville Ichhaporia, director client and datacenter SSD marketing at Toshiba America Electronic Components, Inc. "Every data center is pursuing ways to reduce both capital and operating expenses. The BG3 series addresses these concerns by providing boot storage with improved power consumption and a compact footprint at appropriate capacities."
BG3's single-package design features a Toshiba-developed controller and firmware, tightly integrated with Toshiba Flash memory and is optimized for performance, low power, and reliability. To address modern security needs, self-encrypting drive options (SED) with TCG9 Opal Version 2.01 are available.