The New Powerful Linksys WRT32X Gaming Router Leverages Killer Networking Prioritization Engine to Optimize the Gaming Experience For Killer-Enabled Gaming PC Users
New Firmware and GUI Is Custom-Built For Gaming Traffic Control
Playa Vista, CA and Austin, TX – August 2017– Linksys, a leader in home and business networking solutions and Rivet Networks, makers of the award winning line of high-performance Killer™ Networking products for desktop and notebook PCs, today announced at Gamescom in Cologne, Germany, the upcoming availability of the new Linksys WRT™ gaming edition router – the WRT32X. This first of its kind collaboration, Linksys and Rivet Networks teamed to incorporate the Killer Prioritization Engine (KPE) to provide serious online gamers the only router optimized for high-speed gaming for users with Killer-enabled gaming PCs. The KPE optimizes traffic for low latency and less lag and ensures that the Killer-enabled PC's gaming, audio, and video is fast and smooth, while simultaneously managing other online traffic in the home to ensure other devices and activities are not compromised. The new firmware and graphical user interface (GUI) was also custom-built from the ground up with a focus on monitoring and controlling gaming network traffic. The Linksys WRT32X is available for pre-order starting today and plans to ship starting in September 2017.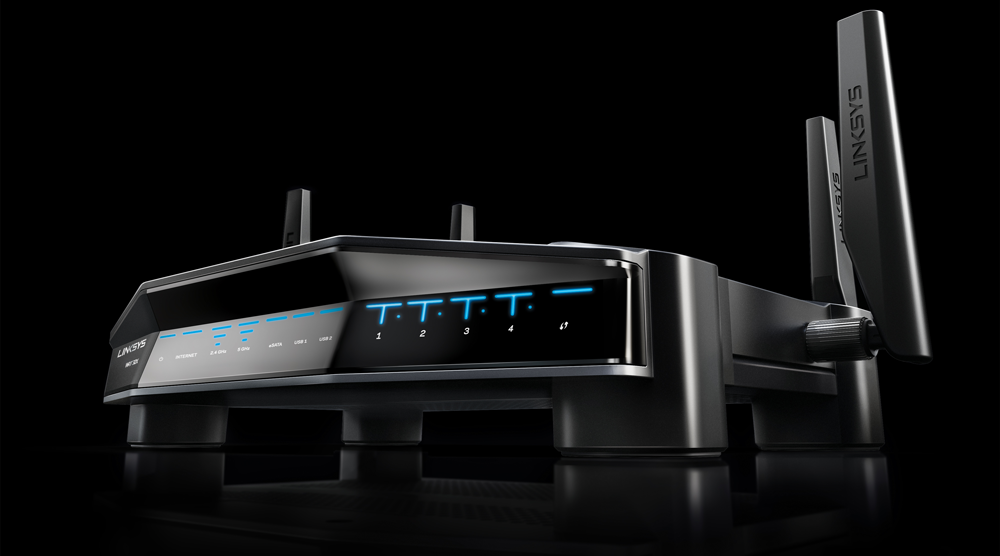 The global gaming market of more than 2.2 billion gamers are expected to generate $109 billion dollars of revenue this year of which 27% is from PC Gamers and 31% from Console Gamers or combined 58% according to the latest Global Gaming Market Report from Newszoo. "Serious gamers are spending money on game play and expect to have technology that provides significant advantages to beat their opponents", said Vince La Duca, global product manager at Linksys. "The Linksys WRT32X provides advantages that no other routers have – and that is the Killer Prioritization Engine. The router, when paired with a Killer-enabled PC –from makers such as Alienware®, Gigabyte®, MSI®, or Razer® and others, provides a powerful end-to-end connection to prioritize gaming traffic to reduce peak ping times up to 77%*, providing a real advantage for faster kills over opponents that use regular "so-called" gaming routers."
La Duca continued, "When exploring how online gaming enthusiasts used their internet connections and the networking technology in their home, we witnessed use of what others called "gaming routers", but on deeper investigation, all we found were standard consumer routers but with some "gamer-bait" visual accents coupled with some smart marketing, but no real technical substance or innovation. This drove us to create a true gaming-focused router that delivers the best networking experience for online gaming with low latency and the fastest speeds. The WRT32X utilizes enterprise-grade hardware DNA found in the WRT line of routers, but the WRT32X takes on a unique persona from both a visual standpoint as well as a firmware/software perspective. The new stealth livery informs this is not the WRT router you know, but WRT as a performance networking platform built to deliver the best online gaming experience."
"Integrating Killer Networking technology to the WRT32X is a huge win for gamers" said Bob Grim, vice president of marketing and business development at Rivet Networks. "For the first time, Gamers will have a router that is designed specifically to work with their Killer-enabled PCs to identify and prioritize important gaming network traffic and ensure their online gaming experience is fast and smooth no matter what else is going on in their home network."
The Killer Prioritization Engine (KPE)
The WRT32X utilizes the Killer Prioritization Engine (KPE) to determine which devices are connected to the router that are enabled with and using Killer Networking hardware. This hardware can be found in gaming and performance PCs and motherboards from companies like Dell® (Both Alienware and XPS models), Gigabyte, MSI, or Razer, as well as Acer®, Lenovo®, and more.
The KPE works in tandem with Killer-enabled computers to prioritize important gaming and video networking traffic above other devices in the home. When a user starts a game, the Killer hardware on the PC communicates with the router and tells the router to treat the gaming packets special and with high priority. If the network is bogged down from other users, the WRT32X is able to keep the gameplay fast and smooth because it prioritizes the Killer game traffic above other traffic in the home. Conversely, the PC also communicates to the router when a less important activity is taking place (like a download) so that the router won't let the download impact the Internet experience of other users in the home.
Since network priorities are fully customizable on Killer-Enabled PCs, the KPE on the WRT32X is able to honor those priorities. So if the user configures the Killer Control Center to make streaming videos their top priority, the WRT32X will treat those packets like gold and ensure nothing in the home slows down those streaming video networking packets.
The Custom-Built Firmware and Graphical User Interface (GUI)
Gamers will also welcome the new custom-built firmware and GUI specifically for this WRT32X. The firmware won't be found on any other router. The GUI is used to promote important network settings for gaming, provide network usage statics, and it's wrapped in a design that appeals to gamers while matching the edgy design of the WRT hardware. The new GUI also has a unified responsive design across the desktop, tablet and mobile device.
Users on a Killer-enabled PC will also now see a "router" tab on Killer's Control Center App on the PC when the WRT32X is attached. This provides easier access to router KPE controls for settings while gaming without launching the router GUI.
Linksys WRT32X Enterprise Grade Hardware
The WRT32X Wi-Fi Gaming Router, a CES 2017 Innovations Award Honoree, starts with enterprise grade hardware: 1.8 GHz Dual-Core ARM CPU, 802.11ac Wave 2 Dual-band 3×3 wireless radio, 256MB Flash and 512MB of DDR3 Memory, and 5-port SOHO-grade Gigabit Ethernet switch with TCAM. For the software, the core firmware level uses the latest stable Linux kernel version for a streamlined and lightweight code base with low latency as the top focus. The secret ingredient and key innovation is the integration of the Killer Prioritization Engine.
WRT32X Key Benefits:
Wi-Fi router built purely for gaming identifies, prioritizes gaming network above all else to give users an edge
Synchronization with Killer-enabled PCs gives gaming traffic a priority on wired and Wi-Fi connections
Prioritization engine powered by Killer Networking delivers up to 77% reduction* in peak ping for faster response time
Blazing fast 1.8GHz Dual-Core processor for simultaneous high-speed data processing
Custom-built gaming user interface and firmware specially tuned for online gaming traffic
Exclusive optimization for Killer Networking gaming clients found in computers from Alienware, Gigabyte, MSI, Razer and more
WRT32X Key Benefits:
Wi-Fi Technology: AC3200 MU-MIMO
Network Standards: 802.11a/g, 802.11n, 802.11ac
Wi-Fi Speed: AC3200 (N600 + AC2600) ‡
Wi-Fi Bands: 2.4 and 5 GHz (simultaneous dual-band)
DFS certified for operation in the clear DFS channel airspace
5-port Pro-grade Gigabit Ethernet ports: 1x Gigabit WAN port, 4x Gigabit LAN ports
Other: One(1) USB 3.0 port, One(1) Combo eSATA/USB 2.0 port, Power
Antennas: 4x external, dual-band, detachable antennas
Processor: 1.8 GHz dual-core
Memory: 512MB DDR3 RAM / 256MB Flash
Wireless Encryption: WPA2 Personal
VPN Support: PPTP IPSec pass‐through
Storage File System Support: FAT, NTFS, and HFS+
Browser-based Setup and custom graphical user interface
Open Source ready for OpenWrt
More details can be found in the WRT32X product video found here.
The WRT32X will be on display at the Linksys Booth – Hall 5, Stand D042 at the Gamescom show in Cologne, Germany this week.
Pricing and Availability
The new Linksys WRT32X Wi-Fi Gaming Router is available for pre-order starting today at Amazon, BestBuy.com and Linksys.com and plans to begin shipping September 21, 2017. The WRT32X will being rolling out to leading retailers such as Best Buy, B&H, Fry's, Micro Center, New Egg and Target, throughout September for an estimated MSRP of $299.99 USD.
About Rivet Networks
Rivet Networks is a technology and products company that focuses on creating the best possible networking experience. Rivet offers a mix of hardware, software, and cloud-based technologies to deliver solutions that are both powerful and intuitive. Through their Killer™ line of networking products, Rivet Networks offers unprecedented speed, intelligence, and control for gamers and performance users alike. For more information about their Killer brand of technologies, please visit www.killernetworking.com.