Based on AMD's X399 platform, the ROG Zenith Extreme, ROG Strix X399-E Gaming and ASUS Prime X399-A series are designed for gaming enthusiasts and prosumers
Singapore, July 2017 — The latest generation of high-end desktops debuts today with AMD's new X399 platform and accompanying Ryzen™ Threadripper™ processors featuring up to 16 cores, 32 threads of desktop pounding performance. These SocketTR4 processors require new motherboards, and ASUS is ready with a trio of innovative products. Built for power users, gaming enthusiasts and prosumers, the new lineup of Republic of Gamers (ROG) and ASUS X399 motherboards represent the culmination of decades of experience refining all aspects of motherboard technology.
All our X399 boards share core DNA that includes one-touch intelligent overclocking, refined cooling control, advanced connectivity and improved RGB lighting. Yet they each have their own distinct flavor as well. The ROG Zenith Extreme brings Threadripper into the world of premium dream PCs with provisions for custom liquid cooling and 10Gbps networking. With the ROG Strix X399-E Gaming, hardcore gamers can build stylish rigs with power to spare for high-quality streaming. And then there's the Prime X399-A and its well-rounded foundation channeling the professional side of the platform's prodigious power.
Which X399 motherboard should you buy for your build? We answer that question and more in our X399 buyer's guide at EdgeUp ASUS.
Ryzen gets ripped
There are two kinds of desktop CPU platform. The mainstream tier runs from two cores up to eight, and it's great for gaming and general use. Its high-end sibling takes everything up a level with more cores, more memory channels, and more bandwidth for graphics and storage. A considerable upgrade in every regard, this high-end desktop platform appeals to power users, content creators, gaming enthusiasts and prosumers who want to blur the line between desktop and workstation. AMD's Threadripper CPU is the latest addition to the desktop's heavyweight division, and for good reason.
With up to 16 CPU cores and 32 threads, Threadripper doubles the computing resources of AMD's most powerful desktop chips. It's a musclebound monster hungry for complex video editing, 3D rendering, gaming and heavy multitasking that lets you run a staggering 128GB of DDR4 memory on a single board.
Bandwidth ripples across every inch of the processor. The PCI Express® 3.0 controller boasts 64 individual lanes, 60 of which are available for graphics cards, NVMe® SSDs, and other peripherals. Most high-end desktop chips stop there, but not Threadripper. It incorporates even more I/O with eight USB 3.1 Gen 1 ports that don't have to share interconnect bandwidth with the X399 chipset. Additional USB ports are available in its chipset sidekick, which also serves up six SATA ports and PCIe® 2.0 lanes for onboard peripherals like networking.
Each of our X399 motherboards is tailored slightly differently, and it shows in the specs. Here's a quick rundown of how our Threadripper motherboards stack up.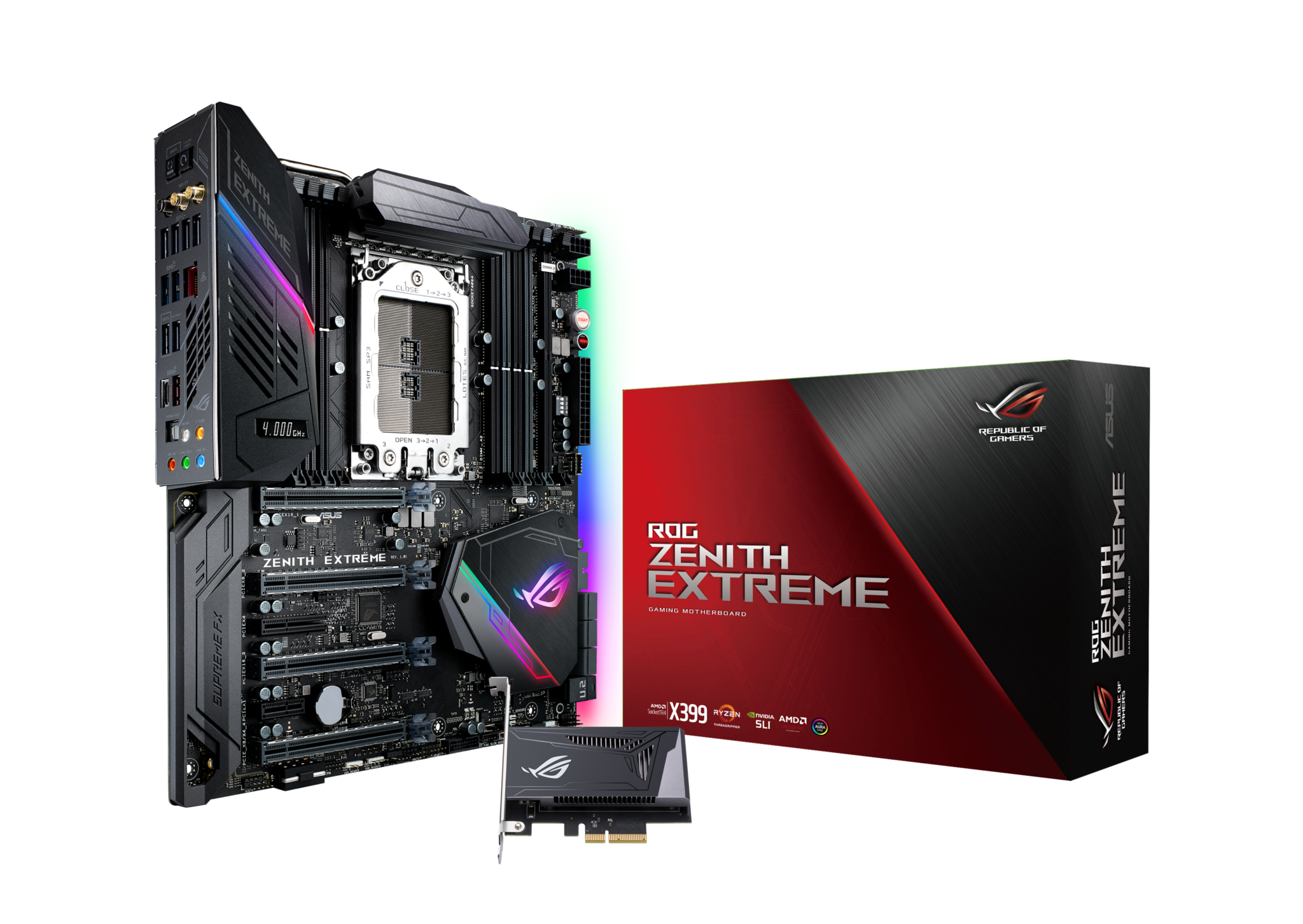 The ROG Zenith Extreme lives up to its name
All-new for this generation, the Zenith Extreme is the flagship of the ROG AMD motherboard lineup. It comes with all our latest features, including innovations available only on a select group of top-of-the-line models.
For liquid cooling, the standard assortment of pump and flow headers is augmented by a consolidated connector for monoblocks. With compatible blocks, you can monitor coolant temperatures, flow, and even the presence of leaks over a single cable. That leaves the individual flow, temperature, and pump headers available for a dedicated graphics loop. The accompanying array of onboard fan headers includes one high-amperage option for finger shredders. Plug in the included Fan Extension Card, and you've got enough headers to power up to nine fans using the same onboard intelligence.
Although all our X399 motherboards have four PCIe x16 slots hooked up to the CPU, only the Zenith Extreme is designed for that many graphics cards. Its slots are spaced for double-wide coolers if you want to horde GPU power to leave your mark on benchmark leaderboards. On a more practical note, adding a fourth card can further accelerate compute-heavy workloads like 3D rendering and deep learning. To combat GPU sag, we include our ROG VGA Holder, which is strong enough to keep even the heaviest graphics cards horizontal.
Room for up to four NVMe SSDs means you can hit breakneck speeds on all of your drives, from boot disks to scratch space to game libraries. One M.2 slots sits under the chipset heatsink for improved cooling, while the other two ride a DIMM.2 module that plugs in next to the memory slots. After introducing DIMM.2 with the Maximus IX Apex, our engineers developed a second generation with better airflow for the drives, headers for two temperature sensors, and a mount for up to two 50mm fans.
Our Extreme motherboards are defined by their pursuit of new technology in every area. This is evident in the networking, which includes a 10Gbps (10G) add-in card that increases wired bandwidth by an order of magnitude over Gigabit Ethernet. You don't have to jump to top speed right away, either. The card supports intermediate 2.5Gbps (2.5G) and 5Gbps (5G) tiers that work with more conventional cabling. The onboard wireless is a triple-barreled shotgun, with a 1×1 antenna for wicked-fast 802.11ad links, plus a 2×2 setup for dual-band 802.11ac Wi-Fi.
Premium boards need to look the part, so the Zenith Extreme has enough lighting capacity to turn heads. Its onboard highlights and glowing edge lay the foundation, leaving standard and addressable RGB headers to paint the rest of your system. In a subtler twist, we've added a LiveDash OLED to the I/O shroud that can show custom logos, small animated GIFs, and system vitals like temperatures, voltages, and frequencies. There's even a music mode that tracks the audio output.
Another marriage of flash and function is found at the rear, where I/O ports pierce an integrated shield that simplifies installation. The audio jacks are LED-backlit for better visibility behind your battlestation or at dimly lit LAN parties. Along with the usual assortment of SupremeFX onboard sound enhancements, you get HRTF-powered surround effects compatible with VR headsets like the HTC Vive™ or Oculus Rift™ VR.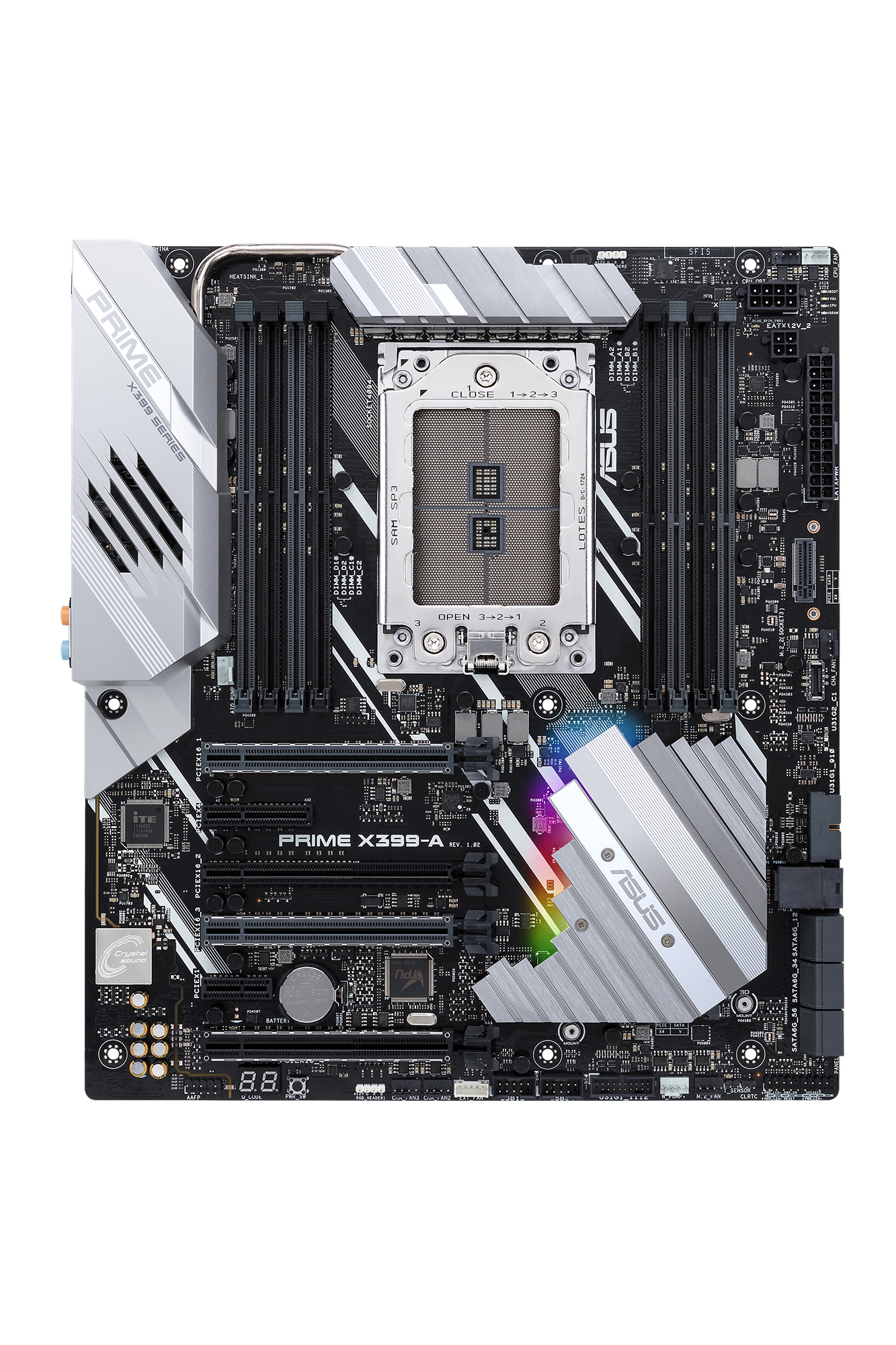 The Prime X399-A strikes the right balance for prosumers
An oasis in a market flooded with gaming everything, the Prime X399-A dresses Threadripper in more professional attire while maintaining a stylish edge. It's the most logical choice for a do-everything workhorse that plays to Threadripper's strengths without spending too much of the budget on extras.
Three SafeSlots offer plenty of capacity for multiple graphics cards, and you still get a fourth slot linked to the CPU. Each of those has a dedicated connection, with no sharing between them, and the same is true for the PCIe pathways for storage. The primary M.2 slot shares a heatsink with the chipset to lower drive temperatures under load, and the secondary slot protrudes outward near the DIMM slots, where drives can be cooled by airflow from adjacent system and radiator fans. Factor in the U.2 port, and you've got a solid recipe for future SSD expansion or loading up from the start.
Although not equipped for elaborate liquid loops, the Prime X399-A still comes with two headers that simplify connecting pumps and all-in-one coolers. Along with those, its eight fan headers deliver enough smart cooling management for an entire build. The Prime is no stranger to overclocking, either. It has the same 5-Way Optimization auto-tuner as the ROG boards, as well as all the manual tweaking options that the vast majority of overclockers will ever need.
The processor's full USB bounty is delivered through a multitude of ports in the rear cluster, and additional ports are accessible through onboard headers. There's enough for a stack of devices, from peripherals to VR trackers, with room to add more down the road.
Two RGB headers prime the X399-A to illuminate up to four meters of lighting at optimal brightness. The lighting on the board itself is discreet, with a gentle glow emanating from below the chipset heatsink. Even with the lights turned off, the interplay of angular lines and bare metal makes the Prime stand out.
AVAILABILITY & PRICING
ROG Zenith Extreme
ASUS Prime X399-A
Pricing
$969
TBA
Availability
August 10, 2017

Pre orders are available at selected retailers.

TBA