Optimal Support for AMD Wraith Max CPU Cooler and Ryzen 7 CPUs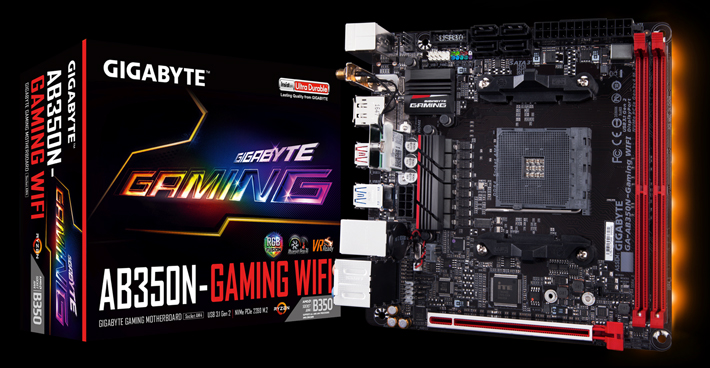 Taiwan-Taipei, June  2017-GIGABYTE TECHNOLOGY Co. Ltd, a leading manufacturer of motherboards and graphics cards, unveiled the AMD AB350N-Gaming WIFI Mini-ITX motherboard, based on AMD B350 chipset. Besides built-in Smart-Fan 5, Hybrid Fan Pin Header, RGB fusion and server-class components, GIGABYTE AB350N-Gaming WIFI motherboards have been designed to support AMD flagship-class Wraith Max CPU cooler, a high-performance cooling solution for the latest AMD CPUs, including Ryzen 7 processors.
"GIGABYTE has been building strong relationships with AMD. When AMD published the latest Wraith Max, we released a corresponding model to meet the demand" said Henry Kao, the Vice President of GIGABYTE Motherboard Business Unit. "Even more so, GIGABYTE's R&D put great efforts on re-arranging the components on the board in order to make mini motherboards achieve optimal compatibility for larger thermal cooling solutions. In the future, we will continue to cooperate with AMD and create more unique, creative products to address the demands from gamers and enthusiasts."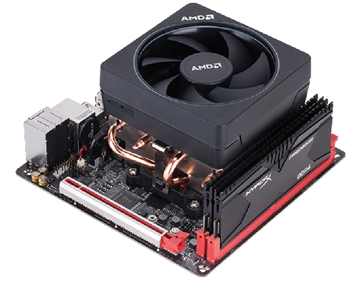 Unlike most conventional CPU coolers, AMD's newly released Wraith Max has larger dimensions and weight, making the traditional Mini-ITX designs more challenging. Due to the limited space, GIGABYTE redesigned AB350N-Gaming WIFI motherboards to enlarge the zones between the CPU socket and DIMM Slots so that AB350N-Gaming WIFI can support larger CPU coolers and other components, and improve the air circulation at the same time. End-users can install memory modules with larger coolers without any interference.                                                                                                 
In order to provide gamers a more stable and durable experience, AB350N-Gaming WIFI uses server-class digital power design from International Rectifier which includes both 4th Generation Digital PWM Controllers, industry-leading 3rdGeneration PowlRstage controllers, and the new generation of IR all digital power controllers. These digital controllers offer incredible precision in delivering power to motherboard's essential components, allowing enthusiasts to get the maximum performance from their new AMD Ryzen™ PU.
In addition, GIGABYTE AB350N-Gaming WIFI comes with the latest Smart Fan 5 technology which allows users to change their fan headers to different locations, and read thermal sensors at different locations on the motherboard, and lower the temperature accordingly. Furthermore, Smart Fan 5 uses hybrid fan headers which support both PWM and Voltage types fans, and also make the motherboard more liquid cooling friendly
GIGABYTE AB350N-Gaming WIFI build-in Realtek® GbE LAN features cFosSpeed, a network traffic management application which helps to improve network latency. In addition, the onboard 802.11ac WIFI module from Intel® supports up to 433 Mbps, 3x faster WIFI speed than 802.11n, and also supports BLUETOOTH 4.2, maintaining low ping times to deliver better responsiveness in crowded LAN environments.
GIGABYTE decided to carry on with our popular RGB Fusion feature. Users will have access to different preset lighting configurations, including a choice of colors for LEDs and RGBW/UV. Also, users can set the LEDs to synchronize with Wraith Max coolers or have them change colors to indicate the CPU temperature.
The innovative one piece stainless steel shielding design from GIGABYTE reinforces the PCIe connectors providing the extra strength required to support heavy graphic cards. This motherboard design will give our customers the option to build high performance PCs in very small gaming cases. To learn more about AB350N-Gaming WIFI, please visit gigabyte official website: https://www.gigabyte.com/Motherboard/GA-AB350N-Gaming-WIFI-rev-10#kf