[Taipei, Taiwan] With gaming being all the rage in recent years, much attention at COMPUTEX TAIPEI 2017 will go to the latest gaming innovations from the world leading gaming brand MSI. The best VR platform provider since 2015 and the world leader in gaming hardware, MSI is back again with awesome products that echo with COMPUTEX 2017's Gaming & VR theme. "For years, MSI has been engineering futuristic gaming rigs that bring new dimension to PC gaming. We are looking forward to wowing COMPUTEX visitors with our latest gaming tech, the new and upgraded MSI GAMING lineup as well as stunning VR gaming experiences," says Sam Chern, MSI Global Marketing Director.
Aimed to lead visitors into the Next Gaming Dimension, the MSI booth is spectacularly themed around games with its iconic black and red. Brimming with the world's most advanced gaming innovations, MSI's booth gives visitors a clearer picture of the future of gaming. Static product showcase aside, action-packed VR Motion Simulators and MSI GAMING Series guarantee visitors the most amazing, heart-racing gaming experiences ever. More to expect from MSI at COMPUTEX are its award-winning lineup and new exciting product announcements. Be sure to step onto the show floor to explore MSI's booth at L0617, May 30 through June 3.


Read on for a sneak peek at MSI's advanced PC gaming weaponry on display.
COMPUTEX Best Choice Golden Award Winner: MSI GT83VR Titan SLI Gaming Notebook
First up is MSI's highly appraised GT83VR Titan SLI gaming laptop that has been recently honored as COMPUTEX Best Choice Golden Award Winner. Supporting Intel®'s latest processors, GeForce® GTX 1080 and 1070 SLI dual graphics and a plethora of game enhancing features, the GT83VR is a perfect machine for 4K and VR gaming. It comes with an enhanced Cherry MX Silver mechanical keyboard with Per-Key RGB backlighting and SteelSeries Engine 3 for Macro Keys setup. Incorporating ESS Sabre Hi-Fi DAC, Dynaudio speakers and Nahimic 2+ software, the GT83VR provides a fully immersive sound experience. The world's first Nahimic VR with 7.1 sound is another MSI exclusive that will further enhance VR immersion. Awarded for its extraordinary technical ingenuity and outstanding design, the MSI GT83VR Titan SLI is proudly the king of the SLI gaming platform to date.

COMPUTEX Best Design Award Winner: MSI VR One Backpack PC
Named as COMPUTEX Best Design Award Honoree, the MSI VR One is the thinnest and lightest VR backpack around, weighing in merely at 3.6kg. It allows users to walk around comfortably and freely in their virtual worlds without the constraints of cables, all thanks to its ergonomic back, decompression straps and batteries. Powered by the latest in gaming tech, the VR One comes with a unique cooling system and hot swappable batteries for prolonged VR gaming sessions and a truly wireless VR experience.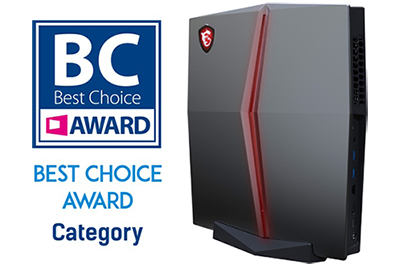 COMPUTEX Best Choice Category Award Winner: Ultra Compact MSI Vortex G25VR Gaming Desktop
MSI is also rolling out the impossibly compact and incredibly powerful Vortex G25VR, the proud COMPUTEX Best Choice Category Award Winner. With an ultra compact 2.5-liter form factor, the Vortex G25VR packs dual fans and 8 heat pipes to maximize its cooling performance. For best home theater and VR gaming experience, the Exclusive Hi-Res Audio and Nahimic 2+/VR intelligently create immersive surround sound and enhance dialogue clarity for gamers. Perfect for gaming and ideal as the center of smart-home solutions, the Vortex G25VR can be integrated with VR arcade machines and other devices, making it a revolutionary product that redefines compact gaming desktops.

Gaming Never Stops with MSI Infinite Series Gaming Desktops
MSI is proudly expanding its Gaming Desktop lineup with the MSI Infinite A. Inspired by gamers who have a never-ending desire to game and want infinite possibilities to play the way they want, the MSI Infinite A promises the best gaming performance with the award winning MSI GAMING graphics card and the latest Intel® Core™ processor. It allows users to upgrade the system with ease, expand their storage and be ready for future games. Coupled with MSI's exclusive Silent Storm Cooling 3 thermal design, Infinite A's cooling efficiency is unmatched, making it as quiet as an assassin. Get ready for your next gaming adventure because with MSI Infinite A, gaming never stops and the only challenge is to stay awake.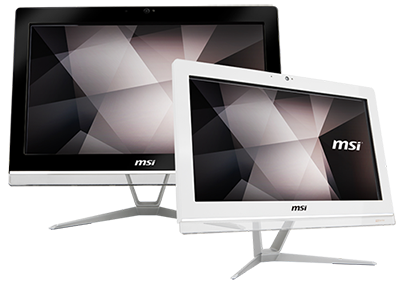 MSI PRO 20EX, Your Ideal Business All-in-One PC
MSI PRO 20EX is an excellent business all-in-one desktop that is crafted with reliable materials to deliver powerful performance for various applications. With its elegant crystal frame, versatile I/O ports and a screen that reduces blue light and flickering for long working periods, the PRO 20EX is a strong performer and an ideal business partner for all kinds of tasks at work.
MSI Z270 GODLIKE GAMING Motherboard, One Board to Rule Them All
As the pinnacle of GAMING in terms of design, performance and features, the new Z270 GODLIKE GAMING raises the bar once again for motherboard development. As an exclusive, the new GODLIKE features the latest and greatest in LAN technologies aimed towards high performance online gaming. Besides Killer™ LAN E2500, GODLIKE features Killer™ MULTI GIG technology that makes Z270 GODLIKE GAMING the center of your gaming household. Simply connect other gaming devices, such as other gaming PCs and notebooks, via the additional Killer™ Ethernet ports to transfer Internet to these devices using Killer's unique bandwidth management for the lowest latency. Using your Z270 GODLIKE GAMING fueled gaming rig, you can even bridge your Internet connection to other mobile devices and consoles through Killer™ WIFI by using the all-new Killer™ xTend technology, in order to get the best gaming experience on them as well.
Besides offering the best LAN options, the new Z270 GODLIKE GAMING motherboard also offers the ultimate audio solution with AUDIO BOOST 4 XTREME. Using an ESS DAC and 2x dedicated audio processors, it allows for the most immersive gaming experience and ability to use headphones and speakers at the same time.
More features include front USB 3.1 Gen2 type C, 3 x Turbo M.2 with patented M.2 Shield, onboard Turbo U.2 with Steel Armor and much more. Dominate your opponents with this unique piece of divinity. The new Z270 GODLIKE GAMING motherboard is the best motherboard we have ever made.
Master the Game with MSI X370 GAMING M7 Motherboard
To offer RYZEN fans something extreme, MSI is proud to announce the new X370 GAMING M7 motherboard. Influenced by the contours of a spaceship with strong armor, the design features sharp and strong heatsinks. Built upon Military Class 6 components, the X370 GAMING M7 doesn't just deliver extreme performance, it also stands for outstanding reliability in the toughest conditions. Thanks to an enhanced 13-phase power design, the inclusion of a dedicated clock gen, DDR4 BOOST and Game Boost, it allows for the best overclocking and stability at higher CPU and memory speeds. By adopting the latest fast storage standards, such as U.2, Twin Turbo M.2 with patented M.2 shield, lightning fast USB 3.1 gen2 and front USB type C, this motherboard allows you to maximize the speed of any data transfer operation. In addition, Mystic Light RGB is available for those looking to customize their gaming rig to any color scheme. The MSI X370 GAMING M7 is one of the most high-end and desirable X370 motherboards to build any gaming system with.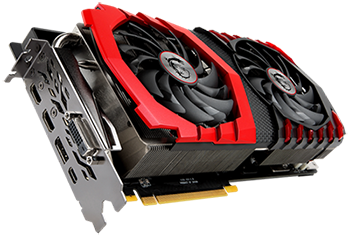 MSI GTX 1080 Ti Lightning Z Graphics Card
Evolving from the Lightning Series and built to be perfect, the MSI GeForce GTX 1080 Ti Lightning Z graphics card combines groundbreaking new technology with proven features such as TriFrozr, TORX 2.0 Fan, Military Class 4 components and Mystic Light.
MSI GTX 1080 Ti GAMING X 11G Graphics Card with USB Type C
MSI GeForce GTX 1080 Ti GAMING X 11G features Pascal-powered graphics and MSI's exclusive TWIN FROZR VI Thermal Design to deliver cool and quiet gaming graphics with unprecedented performance and power efficiency. With a revolutionary USB Type C, the interface support is even more flexible.
COMPUTEX d&i Award Winner: MSI Immerse GH70 GAMING Headset
An honoree for COMPUTEX d&i Awards 2017, MSI Immerse GH70 GAMING Headset recognizes the importance of true detailed Hi-Fi sound reproduction in games and features certified Hi-Res drivers with Virtual 7.1 Surround sound. This tough headset is crafted with a stainless steel headband and ear cups that swivel for easy transport or storage. Complementing the classy, yet aggressive design, the Immerse GH70 comes with RGB color effects through MSI Mystic Light Sync.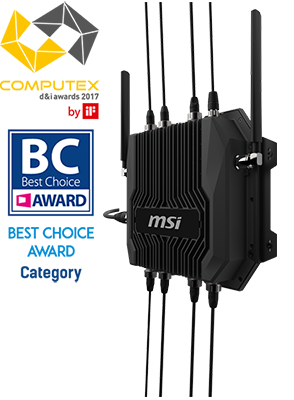 COMPUTEX d&i Award and Best Choice Category Award Winner: MSI X1000 IoT Gateway
Looking to expand its computing, security and IoT gateway lineup for various server and networking applications, MSI is launching new server products with Intel® Purley while new IoT gateways with Intel® Apollo Lake at COMPUTEX. Among the new lineup, the MSI X1000 IoT Gateway is a double honoree for both COMPUTEX d&i Awards 2017 and Best Choice Category Award. With a robust and stylish look through its octagonal outlined, matte black chassis, the X1000 meets the rugged IP68 Criterion that outshines the competition's IP65 standard. Integrating aesthetics, innovation and functionality, it is no doubt that X1000 is favored by the jury and wins the awards. The outstanding design of X1000 has opened a new chapter for next generation IoT gateways. Be sure to visit the MSI booth for a closer look at this revolutionary award winner. With its cutting-edge technology and thorough solutions, MSI is your best IT solution provider.