New AC4000 Wireless Router Delivers the Latest Wi-Fi Technology with New Features that Help Families Get More Performance from their Internet Connection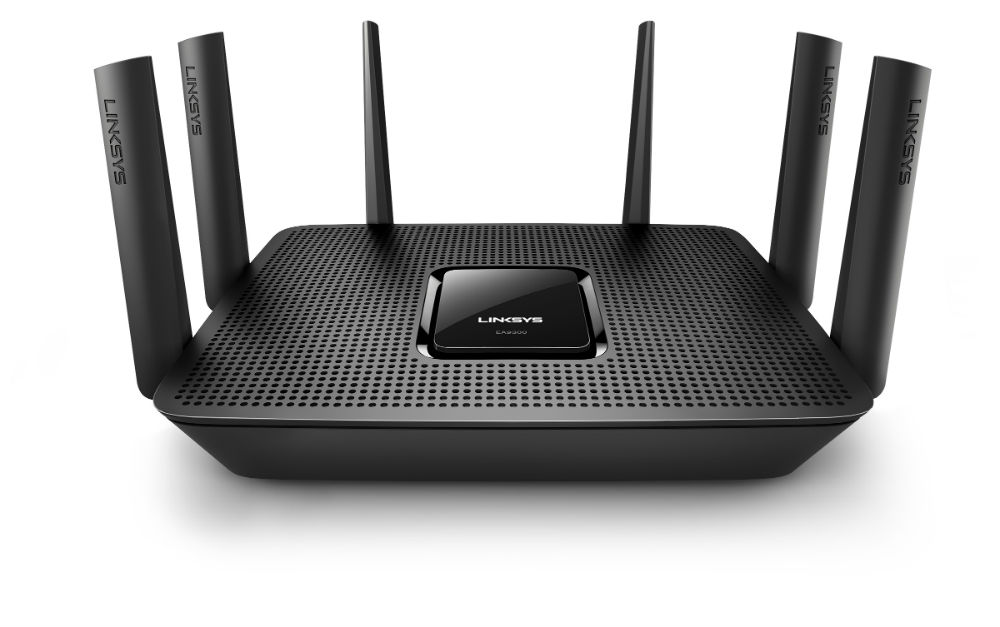 Playa Vista, CA – May 2017– Linksys, a leader in networking solutions for the home and business and the first to ship 100 million routers, today announced, it is shipping its new 802.11ac Tri-Band MU-MIMO Router. The Linksys Max-Stream™ EA9300 is an AC4000 MU-MIMO Tri-Band router delivering wireless speeds up to 4Gbps* for simultaneous downloading, streaming, gaming and surfing. Offering MU-MIMO (Multi-User, Multiple-Input, Multiple Output), the next generation Wi-Fi 802.11ac Wave 2 technology, helps improve overall performance and efficiency of a Wi-Fi network while providing dedicated bandwidth to MU-MIMO capable client devices as if they have their own dedicated router. Linksys offers the largest and broadest portfolio of MU-MIMO Wi-Fi solutions on the market.
"Our latest AC4000 Max-Stream MU-MIMO Tri-band router features blazing-fast Wi-Fi speeds up to 4Gbps, MU-MIMO technology, six high-gain antennas and three radios (one 2.4Ghz and two 5GHz) which helps eliminate buffering or lag for movie streamers and gamers when everyone in the household is on the Wi-Fi network, said Justin Doucette, senior director, product management at Linksys. "With upcoming new features such as Dual WAN capabilities, Link Aggregation or DFS, this router can work well for the most demanding home networks for super-fast video streaming and data backup or for work from home users that need a VPN connection to the office network for a more secure remote access connection."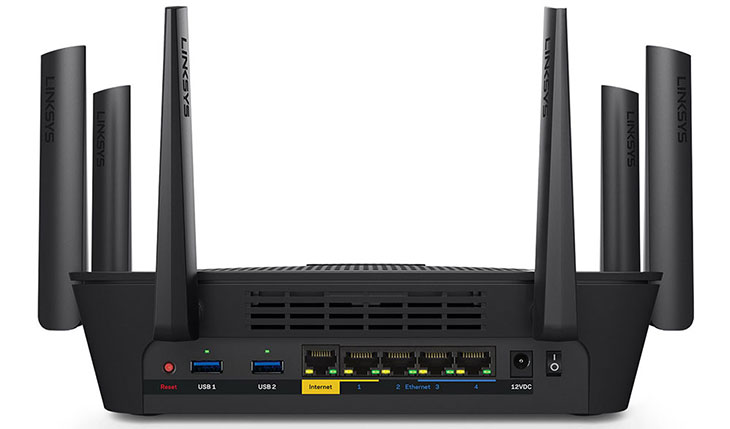 Linksys Max-Stream™ AC4000 MU-MIMO Tri-Band Router (EA9300)
The Linksys Max-Stream AC4000 MU-MIMO Tri-Band Router is outfitted with Next Gen AC Wi-Fi technologies such as Multi-User MIMO (MU-MIMO) and Tri-Band that work in concert to deliver powerful Wi-Fi at the same time and same speed to multiple connected devices including TVs, gaming consoles, wireless printers, laptops plus others at combining speeds up to 4 Gbps*. The Linksys Max-Stream AC4000 provides easy setup options to get a home office up and running quickly along with the exclusive Linksys app that provides added control of the EA9300 Wi-Fi Router from anywhere at any time using a mobile device. The Max-Stream EA9300 Wi-Fi Router also features a robust set of advanced offerings:
Tri-Band AC4000 (3x3x3) – Up to 4 Gbps Max combined – 2x 1625 Gbps (5GHz) + 750 Mbps (2.4GHz) †
MU-MIMO 802.11AC Wave 2 technology for simultaneous 4K Streaming on multiple devices at the same time
Quad-Core 1.8GHz CPU with three offload processors provide the fastest processing speed.
Airtime Fairness – Allows faster devices to have more airtime than slower devices
Auto Firmware Updates – Linksys automatically pushes the software update to the router overnight and seamlessly brings the latest features and security to a home network
Amazon Alexa support – Three new skills including turning guest access on and off, obtaining guest Wi-Fi credentials, as well as getting main network credentials read back to the user.
Linksys App lets users monitor and control their home Wi-Fi from anywhere on their mobile device
Advanced Beamforming – Beamforming technology helps reduce and maximize the Wi-Fi performance and coverage for both 2.4 and 5GHz bands.
SmartConnect Band Steering – Band steering balances your 5GHz Wi-Fi connections and intelligently choose the best radio band for your devices for the best Wi-Fi performance on your network
Seamless Roaming± – Technology provides Room-to-Room Wi-Fi with one network name when paired with a Max-Stream Range Extender (RE7000)
Active Antennas – Six active high performance antennas with 9x High Power Amplifiers help to provide optimal coverage and maximum signal strength
Gigabit Ports – Five Gigabit Ethernet ports (4 LAN + 1 WAN)
USB 3.0 Port – Connect shared network storage devices and printers
Network Security – SPI Firewall and DoS Protection provide the best in class network security
Upcoming features (via automatic firmware update)
Dual WAN – Dual WAN can aggregate the bandwidths of two WAN connections to achieve a higher Internet bandwidth greater than 1Gbps
Link Aggregation – Supports up to 2Gbps for file transfer
Advanced Band Steering – Auto select the most appropriate band between 2.4 and 5Ghz for client devices to achieve the best Wi-Fi performance
DFS Channels Support – DFS (Dynamic Frequency Selection) will provide up to four times more channels within the 5GHz band helping to improve the internet speed with less traffic congestion. This feature can help users achieve true lag free 4K content streaming
OpenVPN Server – VPN feature allows users too remotely and securely access resources shared within their home local area network
Availability
The Linksys AC4000 MU-MIMO Tri-Band Router (EA9300) is available immediately on Linksys.com, Amazon and Best Buy.com and is planned to be available at Best Buy, B& H, Fry's, Meijer, Micro Center, Nebraska Furniture Mart, New Egg, Office Depot and Walmart this weekend for an estimated street price of $299.99.
TECHNICAL SPECS
Wi-Fi Technology:
AC4000 MU-MIMO Tri-band Gigabit, 750+1625+1625 Mbps
Key Features:

Tri-Band (5 GHz + 5GHz + 2.4 GHz), 3x3AC
MU-MIMO/ Seamless Roaming
Auto Firmware Update
1.8 Ghz Quad-Core CPU+ 3 offload Processors
Advanced SPI+ DoS protection Security
Advanced Beamforming+ Technology
Airtime Fairness
USB 3.0 Port x2
Smart Connect Band Steering
6 Adjustable Antennas+ 9 High Power Amplifiers
Smart Wi-Fi Cloud Management

Network Standards:

802.11b
802.11a/g
802.11n
802.11ac

Wi-Fi Speed:
AC4000 (N750+AC1625 + AC1625)
Wi-Fi Bands:
Simulateous Tri-band (2.4GHz + 5GHz + 5GHz)
Wi-Fi Range:
Large Household
Number of Ethernet Ports:

1x Gigabit WAN port
4x Gigabit LAN ports

Other Ports:
Antennas:
6x external adjustable antennas
Processor:
1.8GHz Quad-core
Memory:
RAM:512MB; Flash: 256MB
LEDs:
Illuminated Linksys logo , Wi-Fi Protected Setup, Internet connection, Network cable connection to Internet port, USB 1, USB 2, Ethernet (1-4), Internet
Wireless Encryption:
64/128-bit WEP, WPA2 Personal, WPA2 Enterprise
Operation Modes:

Wireless Router,
Wired Bridge

Storage File System Support:
Easy Setup:
Browser-based Setup
Minimum System Requirements:
Latest versions of Google ChromeTM, Firefox®, Safari® (for Mac® and iPad®), Microsoft Edge and Internet Explorer® version 8 and newer
Dimensions (LxWxH):
297 x 229.5 x 63.5mm (with antennas folded down)
Security Features:

WPA/WPA2
128 bit AES link encryption

Regulatory Compliance:
FCC class B
Other Certifications:
Wi-Fi
Power Supply:
Input: 100-240V ~ 50-60Hz; Output: 12V, 5A