New 2 in 1 Cable Modem + Router Reduces Clutter and Provides High Speed Wi-Fi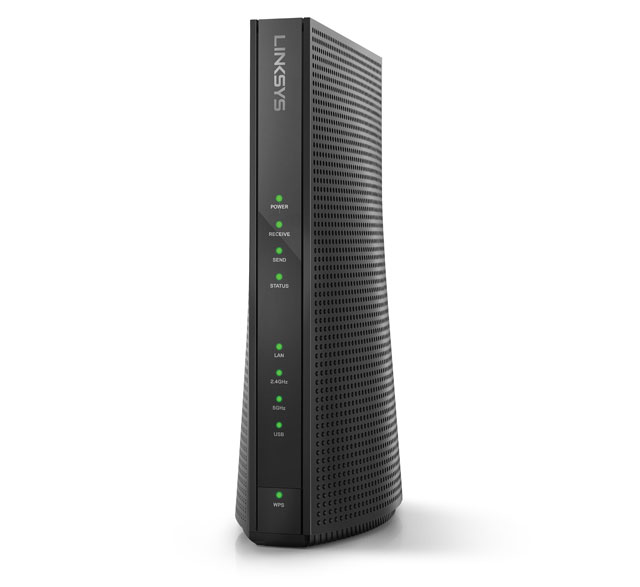 Playa Vista, CA – May 2017– Linksys, a leader in networking solutions for the home and business today announced it is shipping its first Cable Modem + Router (also known as a Gateway): the new AC1900 Dual-Band Cable Modem Router (CG7500). The 2-in-1 AC1900 Cable Modem Router combines a DOCSIS 3.0 24×8 Modem and AC1900 Wi-Fi Router into one space saving, high-performing wireless device, with wireless speeds up to 1.9 Gbps*. This new gateway eliminates the need for a separate cable modem, so users have fewer devices cluttering their space, and is ideal for busy online households offering ample bandwidth for streaming, online gaming, and more. Built for internet plans up to 300 Mbps*, it's compatible with major service providers including Spectrum® and Xfinity® – helping to eliminate annual rental fees up to $120.
As cable broadband service providers roll out more premium cable services, the requirement for having the right hardware to go along with new services is critical to ensuring customers maximize their internet speeds. "Combining the Wi-Fi router with a cable modem as a single solution helps consumers declutter their home environments while eliminating extra hardware rental costs charged by most cable companies" said Brian Nickell, product manager at Linksys. "Our entrance into the gateway market shows our commitment in providing consumers with high performance cable products combined with the latest wireless technology to deliver the ultimate Wi-Fi experience throughout the home."
Linksys High Speed AC1900 Dual-Band Cable Modem Router, DOCSIS 3.0 24X8 (CG7500)
The Linksys AC1900 Cable Modem Router is a 24X8 DOCSIS 3.0 cable modem and a wireless AC1900 router all-in-one. Users will get superior Wi-Fi performance and enjoy networking speeds of AC1900 Mbps (N600 + AC1300),† making it ideal for large households, gamers, and HD video enthusiasts. With DOCSIS 3.0, this Wi-Fi cable modem router uses 24 download and 8 upload channels that maximize media streaming and file transfers to create a more efficient broadband connection.
Upgraded Wireless-AC Speeds: Wi-Fi speeds up to 1.9 Gbps*
Eliminate Rental Fees: Save up to $120 a year in rental fees by not having to rent a separate cable modem or modem router
DOCSIS 3.0 24X8 Cable Modem for broadband packages up to 300 Mbps
Optimize your existing cable broadband connectivity with 24 download and eight upload bonded channels
Simple Plug-and-Play Setup: Get started right out of the box with no CD setup
Compatible with all major cable providers
Certified for DOCSIS 3.0 Cable Internet Standard
Powerful Dual-Core processor for maximum performance
Advanced Connectivity: Four Gigabit and one USB 2.0 port
Pricing and Availability
The Linksys AC1900 Dual Band Cable Modem Router (CG7500) is available immediately for pre-order and will be available for instore purchase this weekend. The CG7500 will be available at Amazon, Best Buy.com, B&H, Micro Center, New Egg, Office Depot, Target and Walmart, Fry's, Meijer and Linksys.com for an estimated street price of $199.97.
TECHNICAL SPECS
Wi-Fi Technology:
AC1900 Dual-band Gigabit, 600+1300 Mbps
Key Features:
Easy Setup, Medium Household, Up to 12 Devices, 3×3 AC, Advanced Security, USB 2.0 Port, Dual-Core CPU, Beamforming Technology
Cable (DOCSIS) Standards:

DOCSIS 1.1 Certified
DOCSIS 2.0 Certified
DOCSIS 3.0 Certified

Network Standards:

IEEE802.3
IEEE802.3u
IPv6 support (Internet Protocol Version 6)
802.11b
802.11a/g
802.11n
802.11ac

Wi-Fi Speed:
AC1900 (N600 + AC1300)
Wi-Fi Bands:
2.4 and 5 GHz (simultaneous dual band)
Wi-Fi Range:
Medium Household
Ports:

4 x Gigabit Ethernet
1x USB 2.0 port
Cable: F-type female 75 ohm
Power

Number of Ethernet Ports:
4x Gigabit LAN ports
Other Ports:
1x USB 2.0 port, Cable: F-type female 75 ohm, Power
Maximum Line Rate:
Up to 960Mbps Download, Up to 240 Mbps Upload
Antennas:
3x internal, dual-band antennas
LEDs:
Power, DS (Downstream), US (Upstream), Status, Link
Buttons:
Reset
Power:
12V 1.5A
Interfaces:
Cable: F-type female 75 ohm
Warranty and Support:

1-year limited warranty
90-day complimentary assisted technical support