BREA, Calif. – Apr. 12, 2017 – TP-Link®, a leading global provider of consumer and business networking products, today announced the availability of Deco M5 Whole-Home Wi-Fi Systems. Deco M5 is a mesh networking solution that provides seamless wireless internet coverage and comprehensive security via TP-Link HomeCare. With built-in antivirus and malware protection powered by Trend Micro*, Deco M5 provides a truly secure whole-home Wi-Fi system. Currently available as a three-unit multi-pack, Deco M5 Whole-Home Wi-Fi systems may be purchased from leading entertainment and lifestyle retailer, HSN and other retailers online and in stores.
"HSN is proud to serve as a launch partner for TP-Link's Deco M5 Whole Home Wi-Fi Systems," said Neal Martinelli, vice president of electronics, at HSN. "Deco M5 is the complete Wi-Fi package for the modern home. From simple setup and ease of use, to reliable Wi-Fi coverage for the entire home, Deco is a simple solution that delivers what our customers demand from their home networking system. The added security and flexibile management tools are unique to TP-Link, putting Deco in a class of its own."
Equipped with TP-Link HomeCare, Deco M5 systems offer an impressive line-up of built-in security features. TP-Link HomeCare provides exploit and malware protection, powered by TrendMicro*, along with an SPI firewall, device access control and secure remote control of the network via the TP-Link Deco mobile app, ensuring that your home network is always safe and secure. This network security protection safeguards every device in your home safe from malware and hackers, while security patterns provide peace of mind that your family is always protected from the latest threats. Robust parental controls allow you to manage and monitor access of network services, regardless of applications or URLs, for children by time allowance, even when you're not home. Monthly usage reports are automatically sent to your phone to keep you apprised of activity on your network.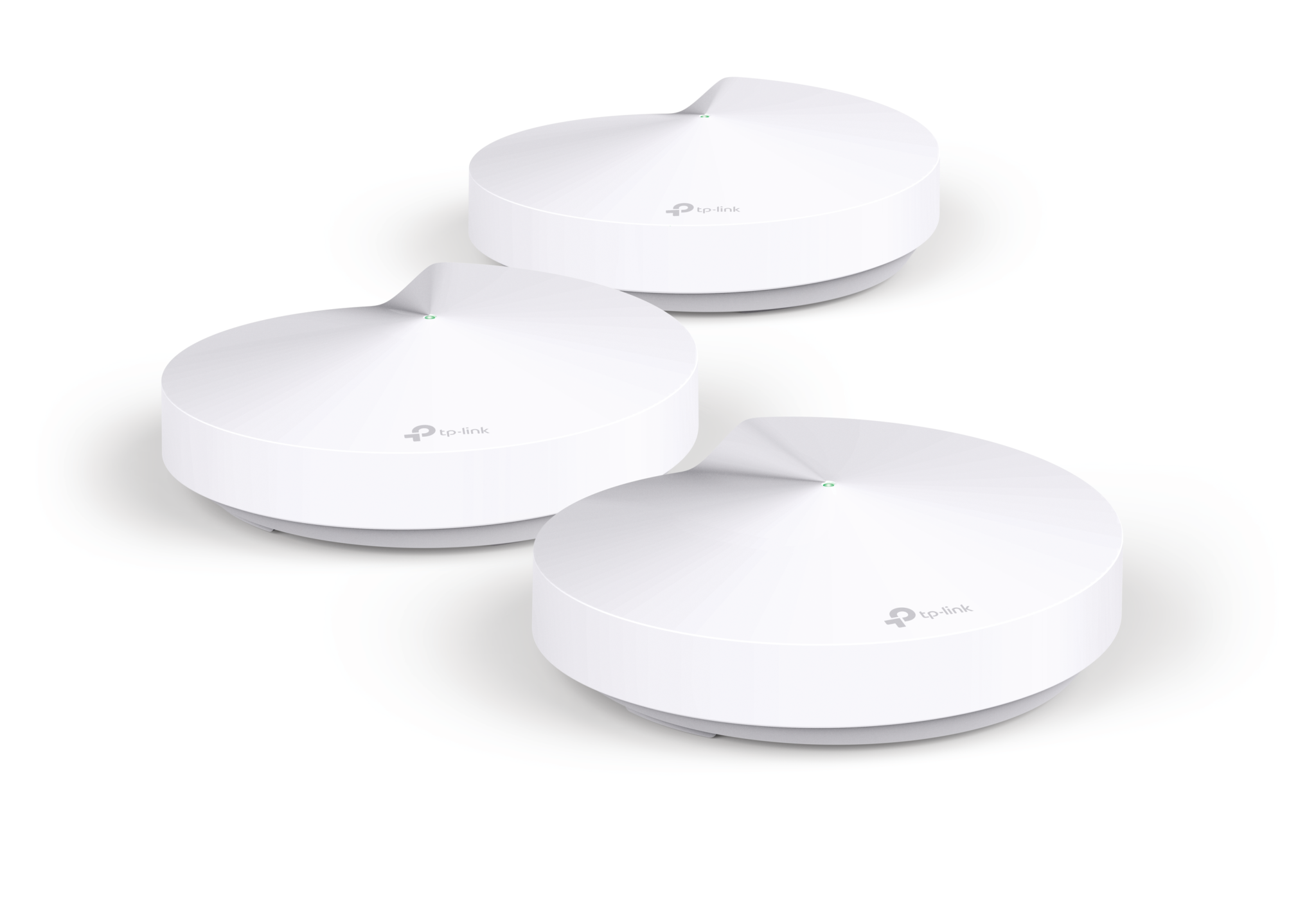 "As home Wi-Fi networks are supporting more users and mobile devices than ever before, security across your home network becomes increasingly important," said Dr. Terence Liu, TrendMicro vice president. "Through our integration in TP-Link HomeCare, Deco M5 Whole Home Wi-Fi Systems are equipped with a comprehensive package of security features, so you can trust that your home network is always protected."
Powered by a quad-core processor, Deco M5 Whole-Home Wi-Fi Systems deploy the latest mesh technology to paint your home in Wi-Fi. The dual-band AC1300 system is capable of throughput speeds of 400 Mbps on the 2.4GHz band and 867Mbps on the 5GHz band, and it supports MU-MIMO data streaming. Deco M5 is comprised of a system of three units that can be customized to fit your WI-Fi coverage needs, up to 4,500 square feet. With additional units, the Deco M5 system can easily scale up to accommodate even larger spaces. Up to ten Deco M5 units can be added to a single network at any given time for seamless Wi-Fi coverage across incredibly large spaces.
"Today's consumers want wireless connectivity across their home, from the living room to the bedroom to the kitchen. Deco M5 creates seamless Wi-Fi that allows them to stream, game and browse the internet in any room," said Lewis Wu, executive vice president of TP-Link USA Corp. "Deco M5 automatically optimizes Wi-Fi connections for every device, and it comes equipped with TP-Link HomeCare, which allows consumers to customize their network security through powerful features that include robust parental controls."
Deco M5 utilizes TP-Link's Adaptive Routing Technology (ART) to ensure your network is always operating at top speeds, quickly identifying and selecting the fastest path for your devices to connect to the network. This intelligent selection removes the guesswork from reliable connectivity. Deco M5 also optimizes connections between devices to deliver the very best in coverage and ensure you receive the strongest performance throughout your entire home at all times. With Deco, you also have the ability to control how bandwidth is used, making it easy to prioritize services and devices for heavy-bandwidth tasks such as HD video streaming, online gaming or video chats.
Plus, with its flexible configuration and intuitive set-up process, creating your mesh network at home is simple. TP-Link's Deco mobile app, available for Android and iOS, allows consumers to easily set up whole-home Wi-Fi coverage in minutes. With step-by-step instructions and visuals, TP-Link's Deco app guides you through the entire setup process.
Key Features at a Glance:
Seamless wireless connectivity throughout every room in the home
Comprehensive security features and robust parental controls via TP-Link HomeCare
Antivirus and malware protection powered by Trend Micro*
Simple installation with guided visuals via the TP-Link Deco mobile app (iOS and Android)
Adaptive Routing Technology (ART) selects the best path for device connections and keeps the network running as fast as possible
QoS prioritizes your home's Wi-Fi experience by optimizing bandwidth to devices as needed
Remote management and control of the network from anywhere
2-year limited warranty and 24/7 unlimited technical support by phone or email
Price & Availability
The TP-Link Deco M5 Whole Home Wi-Fi System is now available at HSN and other leading retailers in store and online with an MSRP of $299 (USD) for a three-pack system.