Almost three years ago, MSI introduced the world's first AMD-based GAMING motherboard. Today, together with AMD, MSI sets a new standard for AMD-based GAMING motherboards with the launch of Ryzen. Based on the new AM4 platform, MSI unleashes a complete lineup of game-changing motherboards, ready to cater to gamers worldwide. Available in three GAMING segments: Enthusiast GAMING, Performance GAMING and Arsenal GAMING, there's a motherboard for every type of gamer.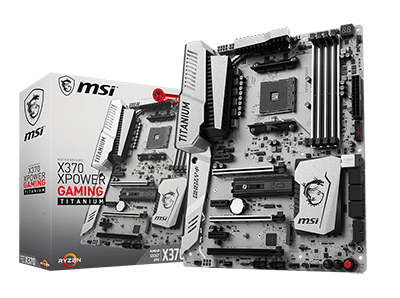 BULLETPROOF GAMING: X370 XPOWER GAMING TITANIUM
Enthusiast gamers are looking for the absolute best in terms of performance, style and pushing the limits. To satisfy even the most demanding enthusiast, the X370 XPOWER GAMING TITANIUM is built on MSI's award-winning TITANIUM concept, using only the best components. Introduced in the industry in 2015, TITANIUM models inherit a sleek and unique silver design, beefed up with solid silver heatsinks and enough power to break world records when overclocking. The X370 XPOWER GAMING TITANIUM is the first of its kind based on an AMD platform. For gamers looking to top the ranks in the world of eSports and enjoy the most immersive gameplay, this motherboard offers performance-oriented gaming features like: Audio Boost 4, GAMING LAN, Turbo U.2/M.2, M.2 Shield and VR Boost.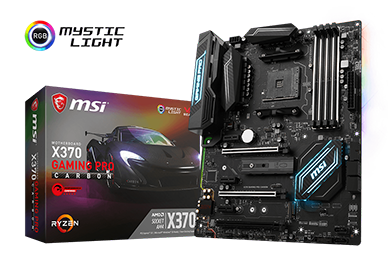 EXCEPTIONAL BY DESIGN: X370 GAMING PRO CARBON
Ready to game in style, the X370 GAMING PRO CARBON is sure to offer gamers unlimited options to customize gaming rigs in any way using RGB Mystic Light. Taking it one-step further, Mystic Light Sync is available through the Gaming App, to synchronize other brands' RGB LED products. Simply control and change the colors and effects using a smartphone, tablet or windows PC. Supported products include popular brands cases, keyboards and other peripheral devices with RGB, which pass the Mystic Light Sync certification. Inheriting its CARBON design from the critically acclaimed CARBON motherboards means the new X370 GAMING PRO CARBON motherboard is also packed with high-end gaming features. Similar to the XPOWER TITANIUM, Audio Boost 4 and GAMING LAN are ready to give you the best audio and network performance when gaming. VR Boost provides the best VR gameplay experience with lower latency and reduces the chance of motion sickness.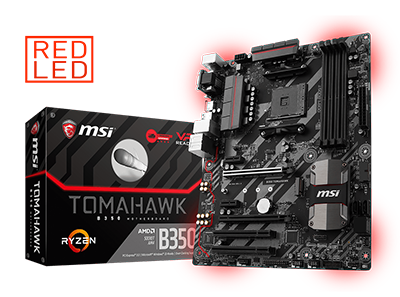 READY TO DOMINATE: B350 TOMAHAWK
Based on the iF DESIGN AWARD 2017 winning design, the B350 TOMAHAWK motherboards' design perfectly illustrates the evolution of this new generation MSI motherboards. Inspired by the concept of main battle tanks, the design, from its heavy plated heatsinks to the military-themed PCB print, displays strength and sophistication. The B350 TOMAHAWK is built to last and makes sure a gaming system performs perfectly for long gaming sessions with top performance. With a long list of specifications and gaming features, such as Turbo M.2, GAMING LAN and Audio Boost, the B350 TOMAHAWK offers a solid gaming platform for you to dominate the battlefield.
MSI AM4 MOTHERBOARDS – GAMING FEATURES
TURBO M.2 AND M.2 SHIELD, SUPPORTS NVME MEMORY
Turbo M.2 connectivity delivers PCI-E Gen3 x4 performance with transfer speeds up to 32 Gb/s using the latest SSDs. It also supports NVMe technology for an optimized storage experience. The M.2 thermal solution, M.2 Shield, ensures any NVMe based SSD delivers maximum performance and protects it at the same time.
VR READY & VR BOOST
VR Boost is a smart chip that ensures a clean and strong signal to a VR-optimized USB port located on the back, to reduce the risk of motion sickness caused by a bad signal. The VR Ready option in the MSI Gaming App primes your PC for VR use in just a single click, applying max. performance and preventing applications from impacting your VR experience.
RGB MYSTIC LIGHT AND MYSTIC LIGHT EXTENSION
Design your own color scheme in seconds with RGB Mystic Light using 16.8 million colors and 17 effects, simply by using the MSI Gaming App or a smartphone. Mystic Light Extension provides an intuitive way to control additional RGB strips or other RGB products added to your system, without the need for a separate RGB controller.
AUDIO BOOST 4 WITH NAHIMIC 2
With Audio Boost, powered by Nahimic, MSI motherboards deliver the highest sound quality by using premium grade audio components and an isolated audio PCB. Adding an audio cover and golden audio connectors ensures the purest audio signal.
MSI GAMING LAN
Get ready to crush your enemies on the battlefield with MSI® GAMING LAN, featuring carefully selected components to ensure the best online gaming experience without lag. With optimized traffic prioritization and low latency, MSI GAMING LAN Manager automatically identifies and prioritizes the latency-sensitive applications for online games.
MSI AM4 GAMING MOTHERBOARDS AVAILABLE NOW:
Enthusiast GAMING
X370 XPOWER GAMING TITANIUM
Performance GAMING
X370 GAMING PRO CARBON
B350M GAMING PRO
Arsenal GAMING
B350 TOMAHAWK
B350M MORTAR
FOR MORE INFORMATION ABOUT THE MSI AM4 MOTHERBOARDS CLICK HERE