The Asus ROG Maximus Z790 Formula motherboard is packaged in a traditional thick box, following the distinctive design style of the ROG series. However, the packaging has departed from the usual black and red color scheme and adopted a gray and white theme to highlight the board's unique feature – white cooling radiators. Inside the box, you'll find the components neatly organized in a separate compartment located beneath the motherboard.
The Maximus Formula motherboard has established itself as a preferred choice for enthusiasts over the years. It sits in the middle ground between the Hero, known for being one of the finest gaming platforms, and the Extreme, which represents the pinnacle of ROG boards. Despite this challenging position, the Z790 Formula manages admirably, delivering a comprehensive range of connectivity options, including Thunderbolt 4 and USB 3.2 Gen2x2. It also features 5Gbe support through the Realtek LAN chipset and boasts top-tier audio quality with the new Realtek ALC4082.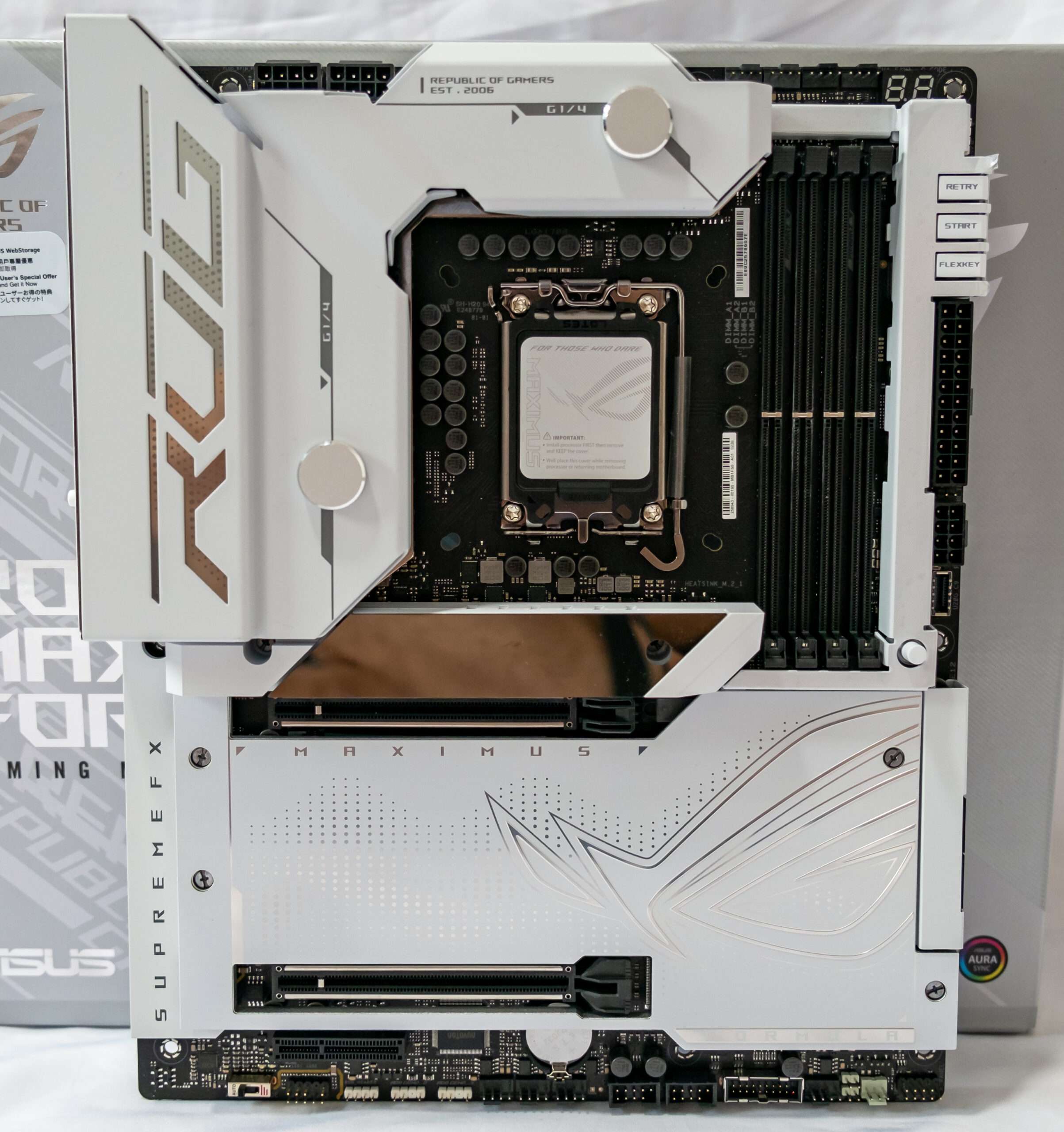 Form factor
The ATX form factor typically has dimensions of up to 305×244 mm, while the E-ATX form factor can go up to 305×330 mm. The Asus ROG Maximus Z790 Formula motherboard, with its dimensions of 305×244 mm, falls within the ATX form factor category. It's important to note that this motherboard features a total of nine mounting holes for installation within a computer case. However, it's worth mentioning that one of these nine mounting holes is partially obstructed by a heatsink for the M.2 slot.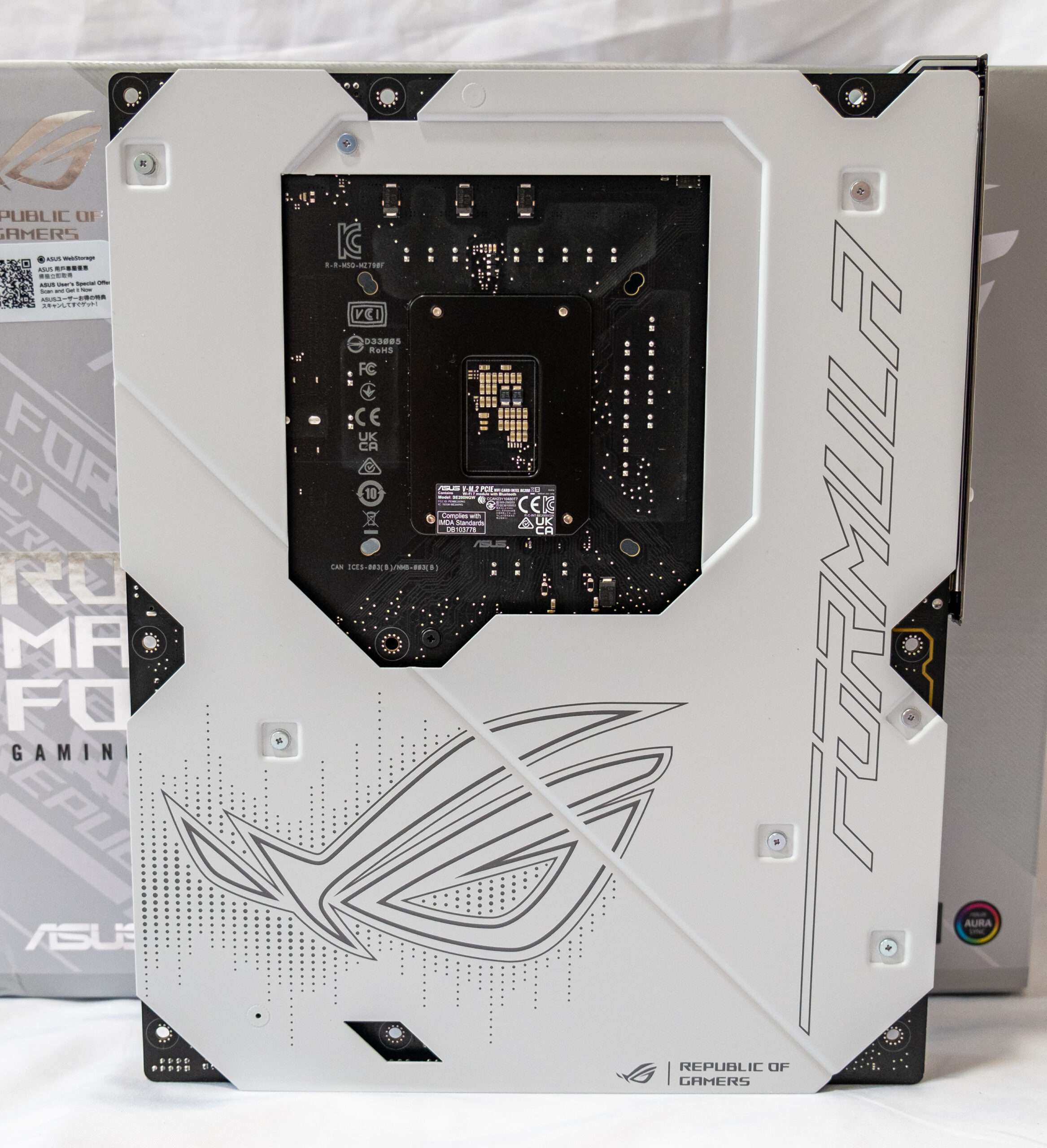 On the reverse side of the motherboard, you'll find several controllers and some conventional logic components. The textolite, which is the material used for the motherboard's substrate, is skillfully treated. All soldering points are not just trimmed to remove sharp edges, but they are also finely polished. Additionally, the board features a backplate (back plate) on its reverse side.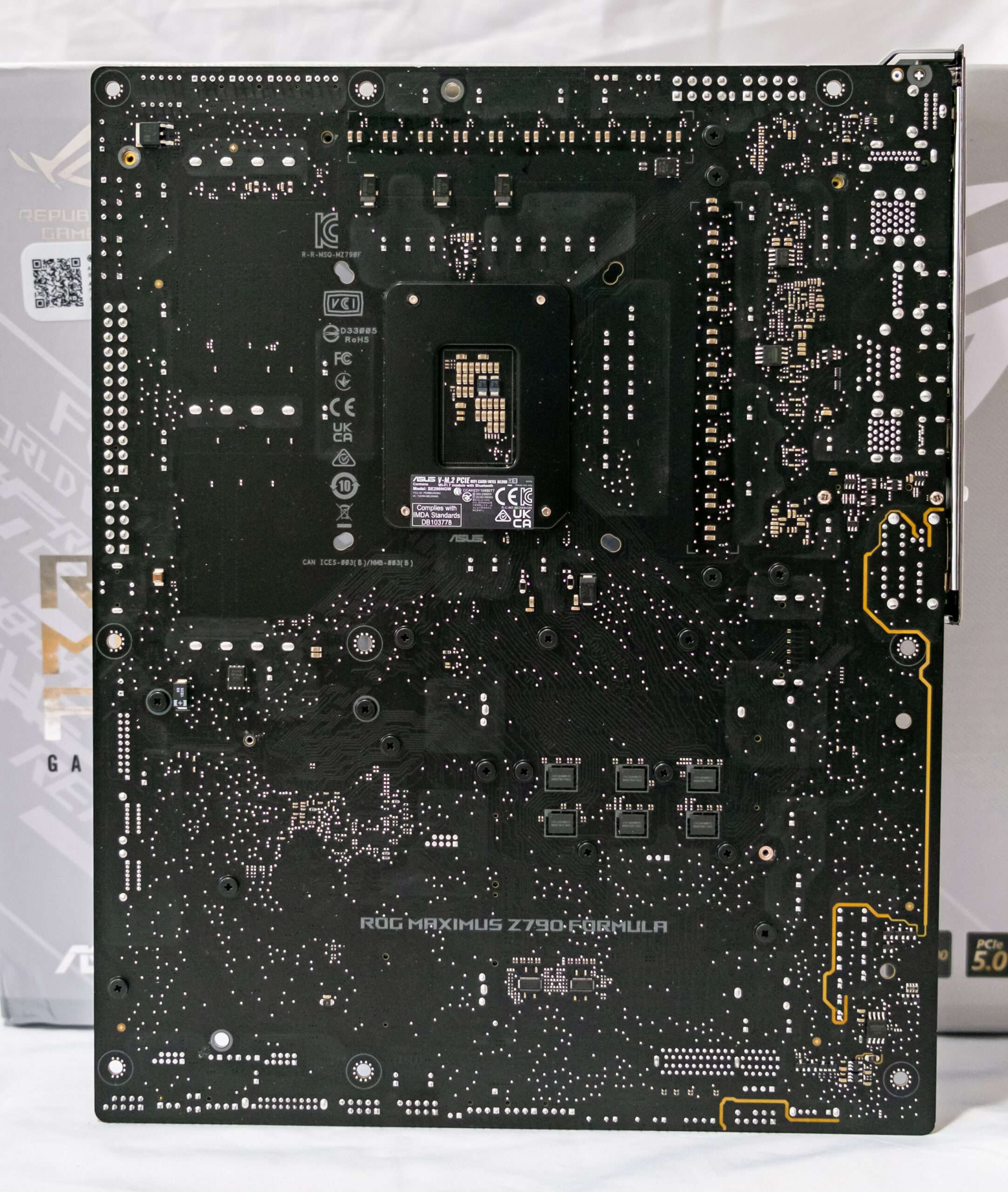 Specifications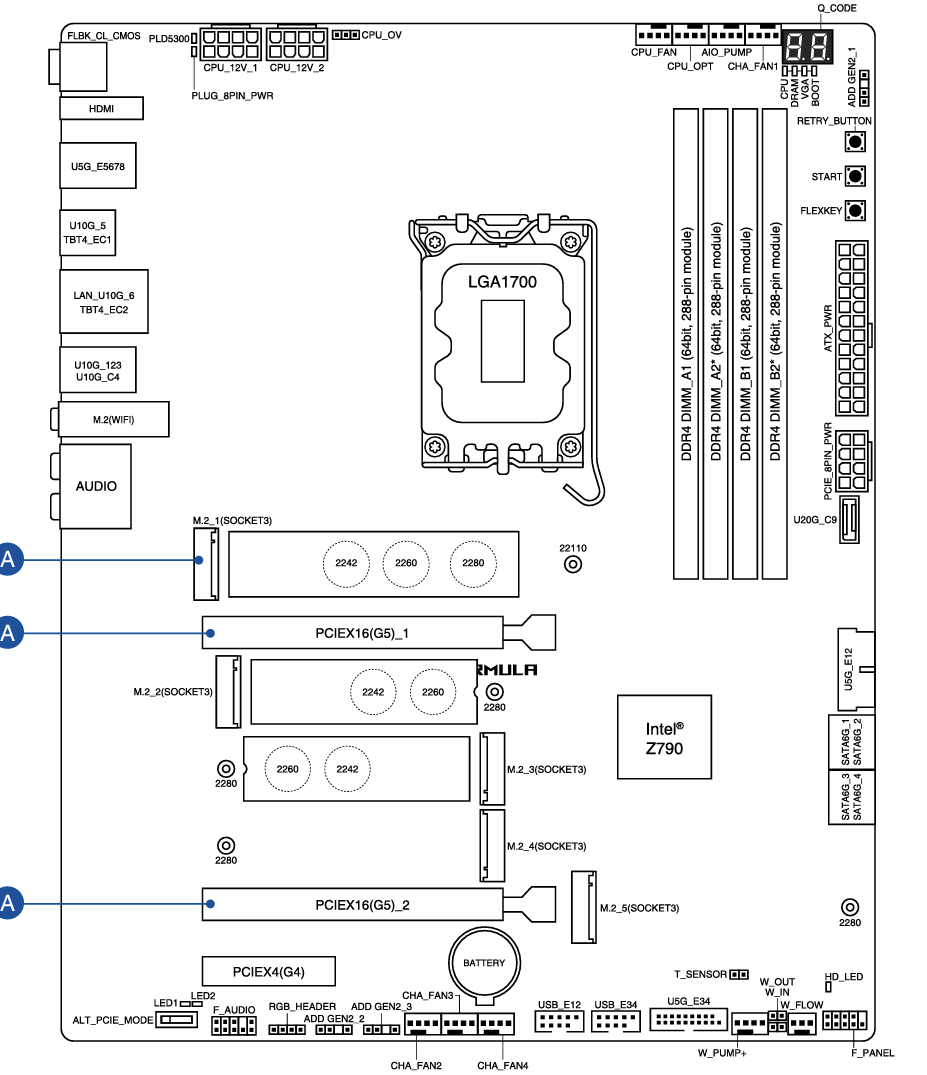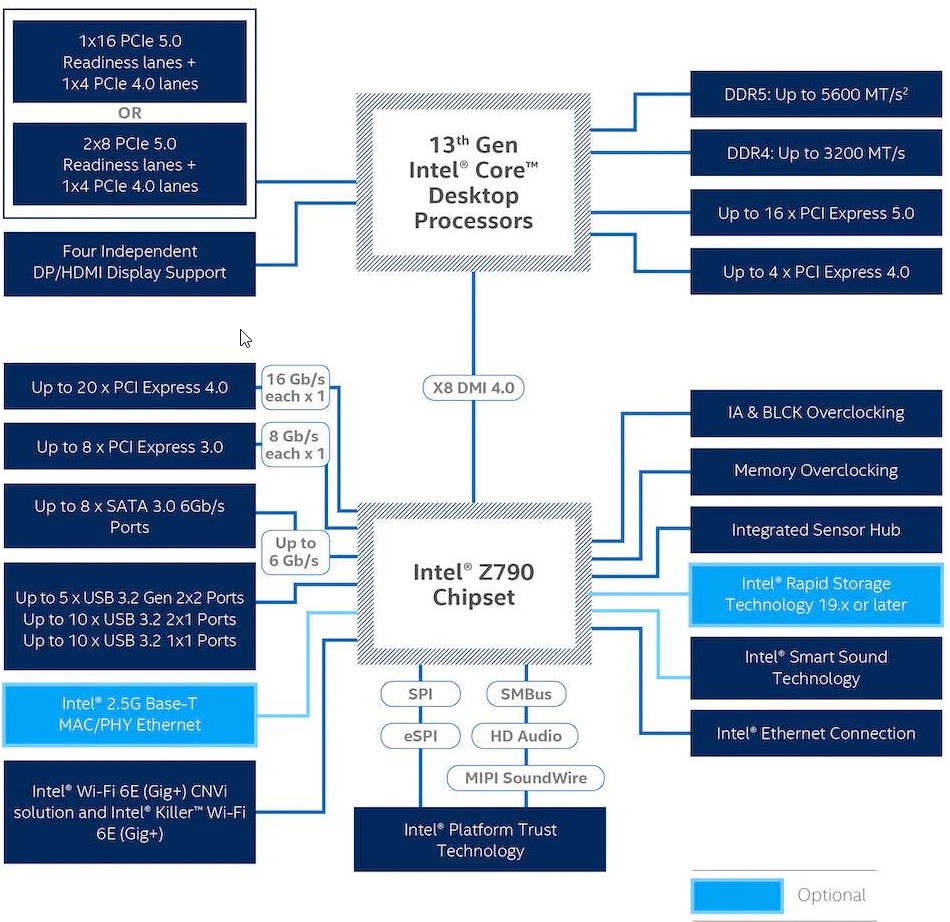 Supported processors
12th/13th/14th Generation Intel Core
Processor socket
LGA 1700
Chipset
Intel Z790
Memory
4 × DDR5, up to 7800 MHz (XMP), up to 192 GB, two channels
Audio subsystem
1 × Realtek ALC4082 (7.1, renamed SupremeFX) + ESS ES9218 DAC
Network controllers
1 × Realtek Ethernet 5Gbps RTL8126
1 × Intel WiFi 7 BE200 (Wi-Fi 802.11a/b/g/n/ac/ax/be (2.4/5/6GHz) + Bluetooth 5.4)
Thunderbolt
1 × Intel JHL8540 Thunderbolt 4: 2 × Type-C (TB4 (40 Gb/s), USB 3.2 (20.10 Gb/s))
Expansion slots
2 x PCIe 5.0 x16 (x16, x8+x8 modes)
1 x PCIe 4.0 x16 (x4, x4/x4 mode)
Drive Connectors
4 x SATA 6Gb/s (Z790)
1 x M.2 (CPU, PCIe 5.0 x4 for 2242/2260/2280/22110 devices)
1 x M.2 (CPU, PCIe 4.0 x4 for 2242/2260/2280/22110 devices)
1 x M.2 (Z790, PCIe 4.0 x4 for 2242 devices) /2260/2280)
1 × M.2 (Z790, PCIe 4.0 x4/SATA for 2242/2260/2280 devices)
USB ports
4 x USB 2.0: 2 x 4 ports internal (AU6260)
4 x USB 3.2 Gen1: 2 x 5 ports internal (ASM1074)
4 x USB 3.2 Gen1: 4 x Type-A (ASM1074)
1 x USB 3.2 Gen2x2: 1 Internal Type-C (Z790)
1 x USB 3.2 Gen2: 1 x Type-C (Z790)
2 x USB 3.2 Gen2: 2 x Type-C (Thunderbolt4)
5 x USB 3.2 Gen2: 5 x Type-A (red) (Z790+AU6260)
Connectors on the rear panel
3 x USB 3.2 Gen2 (Type-C)
5 x USB 3.2 Gen2 (Type-A)
4 x USB 3.2 Gen1 (Type-A)
1 x RJ-45
5 x minijack audio
1 x S/PDIF (optical out)
1 × HDMI 2.1
2 antenna connectors
CMOS reset button
BIOS flashing button – Flashback
Other internal elements
24-pin ATX power connector
2 8-pin EPS12V power connector
1 6-pin PCIe power connector
1 M.2 slot (E-key), occupied by wireless network adapter
1 USB 3.2 Gen2x2 Type-C connector
2 connectors for connection 4 x USB 3.2 Gen1
2 x 4 x USB 2.0
8 x 4-pin fan and water pump
1 x non-addressable RGB
3 x addressable ARGB
1 x front panel audio
1 x OC button Retry
1 PCIe version switch
1 thermal sensor slot
3 connectors for branded Asus CBO pumps
1 connector for control from the front panel of the case
1 Power button
1 Reset button
Form Factor
ATX (305x244mm)
Cost
SGD $1269
Peripheral functionality: USB ports, network interfaces, I/O
Now it's the turn of USB ports and other I/O. And let's start with the back panel, where most of them are displayed.
On the back I/O panel of connections including 1x HDMI (iGPU), 4x USB-A 3.2 Gen1 (5Gb/s), 6 x USB-A 3.2 Gen2 (10Gb/s), 1x USB-C Gen 2 (10Gb/s), 1x 5 GBase-T (Realtek 5Gbe), Intel WiFI 7 2x Thunderblot 4 USB- C, 5x 3.5mm Audio Jack and 1x S/PDIF. Also present on the rear panel feature for the bios flashback and Clear CMOS is included.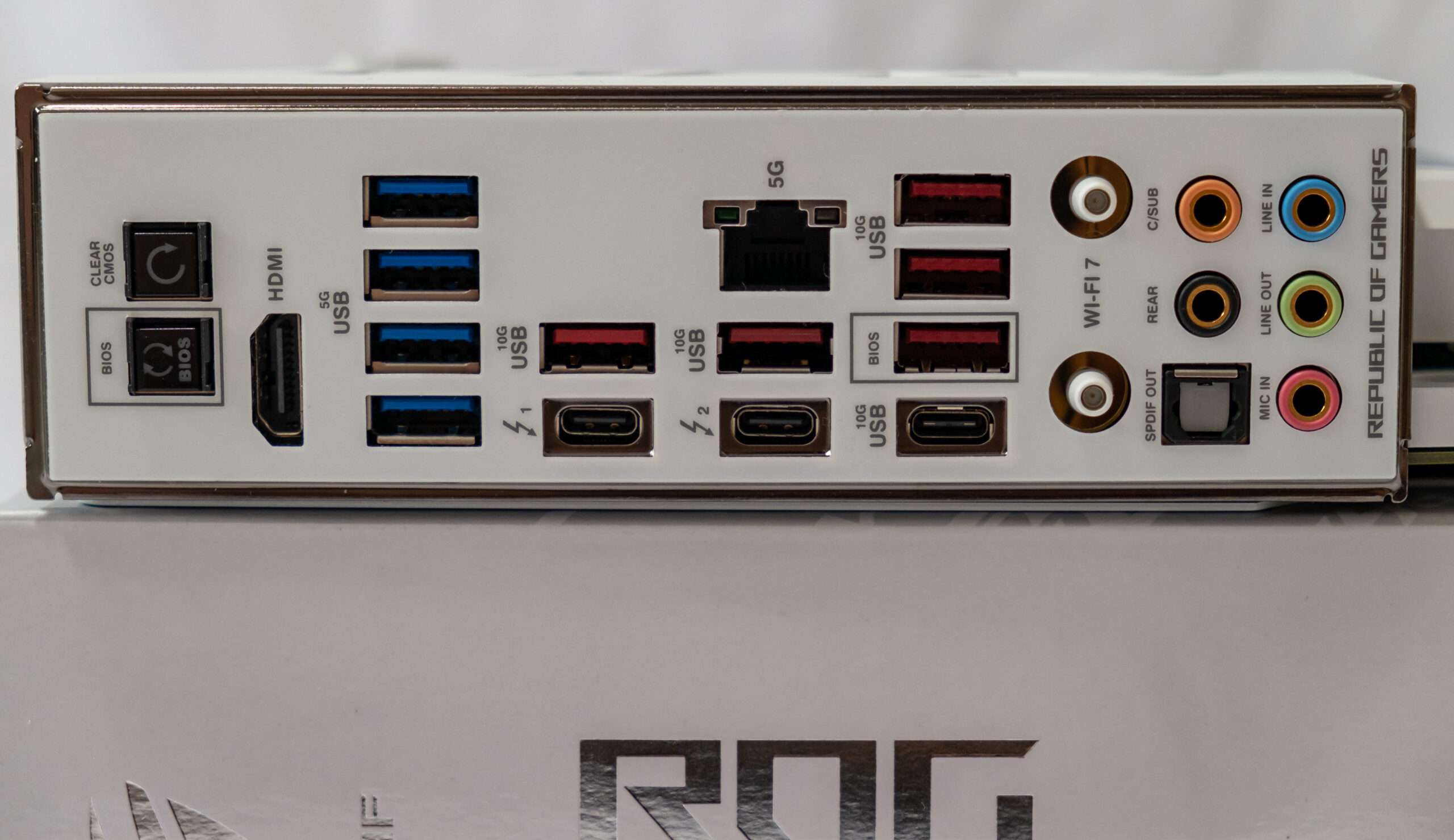 ROG Formula included Next-gen WiFi 7* chipset introduces all-new ultrawide 320 MHz channel bandwidth in the 6 GHz band and 4096 QAM, delivering up to 2.4X ultra-fast WiFi speeds**. The revolutionary Multi-Link Operation (MLO) provides a more stable WiFi connection and lower latency, unlocking the realms of the unknown in gaming, streaming, and industrial IoT.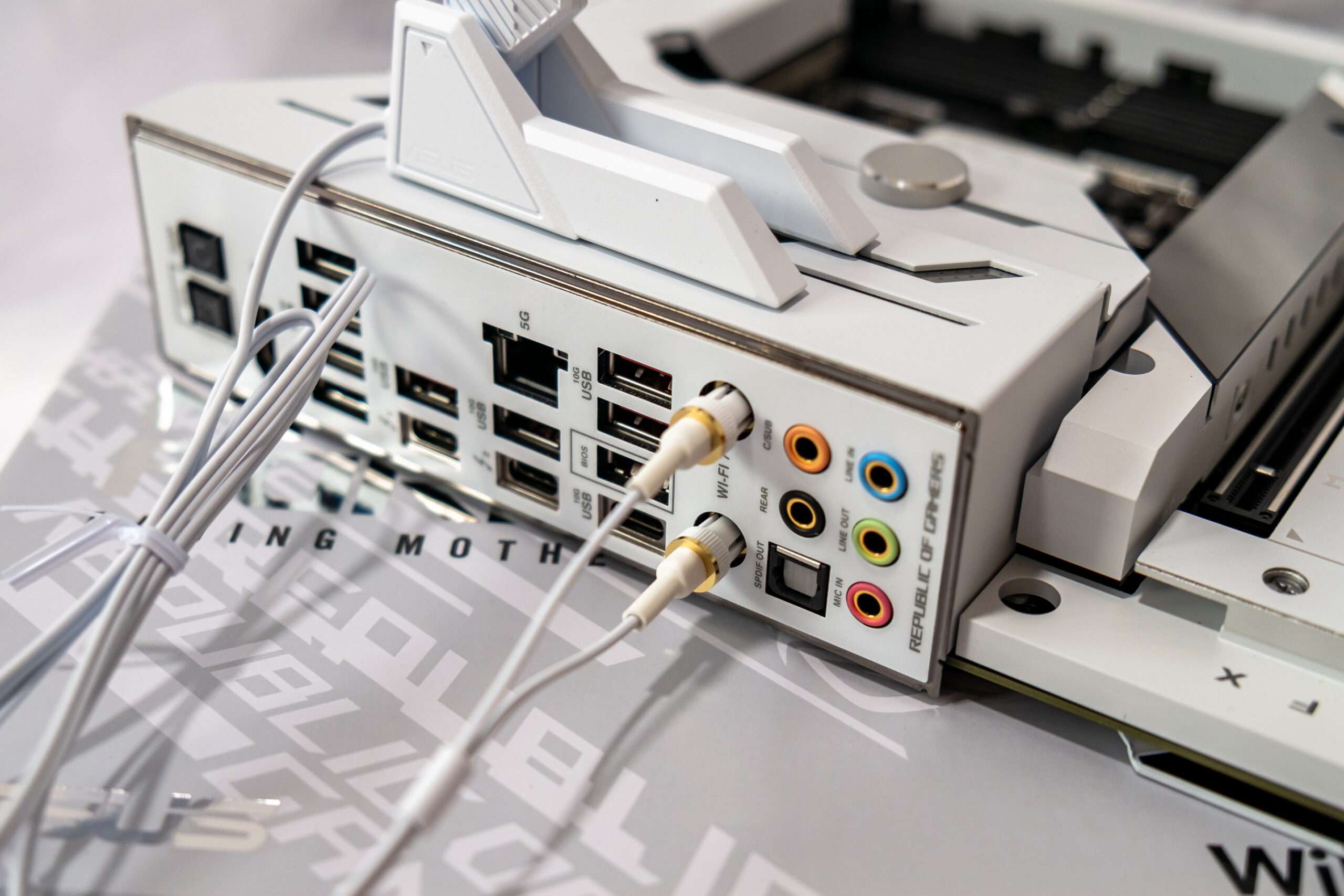 RAM DDR5:
There are four DIMM slots for installing memory modules on the Asus board (for memory to work in Dual Channel, if only 2 modules are used, they should be installed in A2 and B2.. The board supports unbuffered DDR5 (non-ECC) memory, and the maximum memory capacity is 192 GB. Of course, XMP profiles are supported.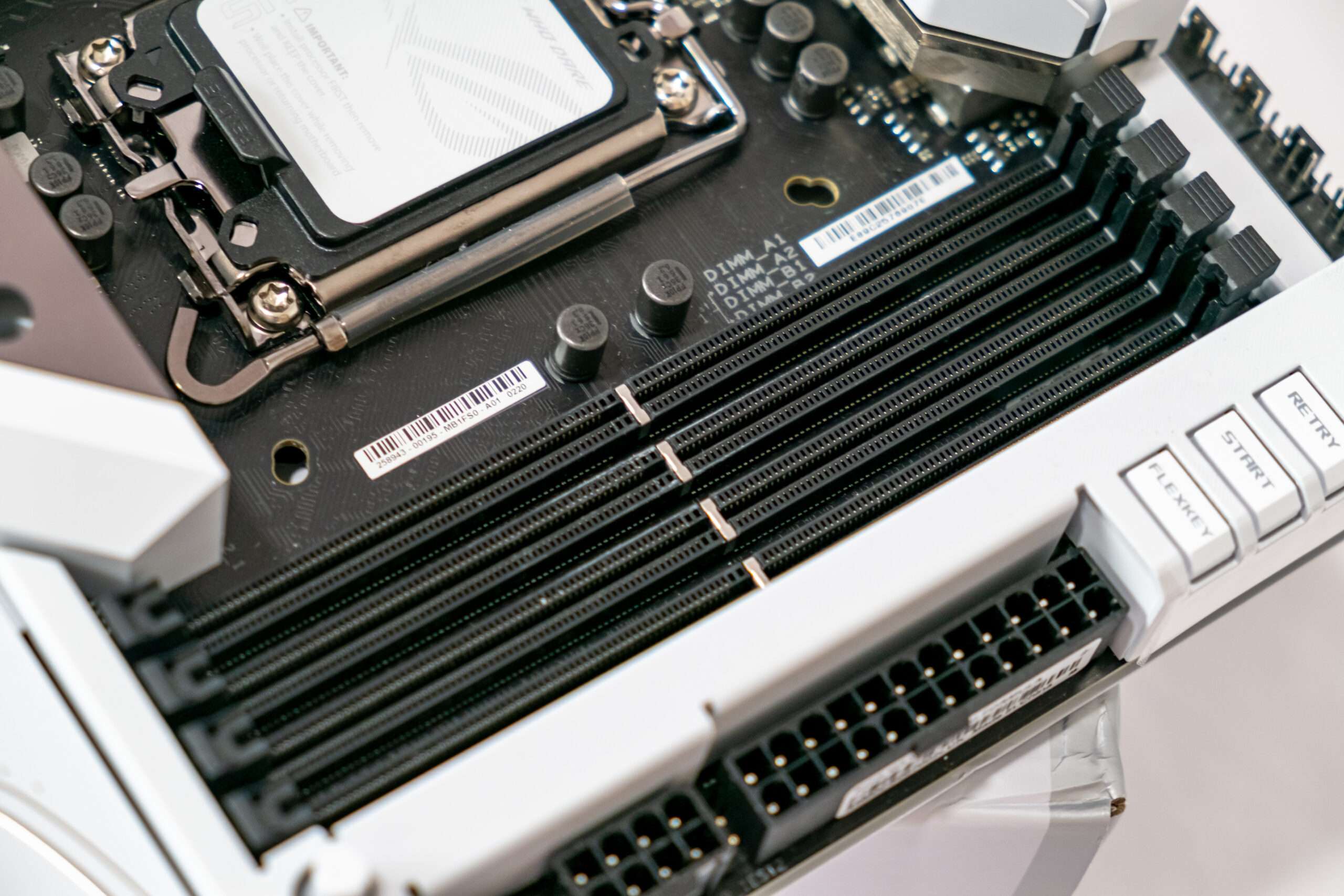 The three buttons are built into the shroud for you to easy access during overclocking or troubleshooting.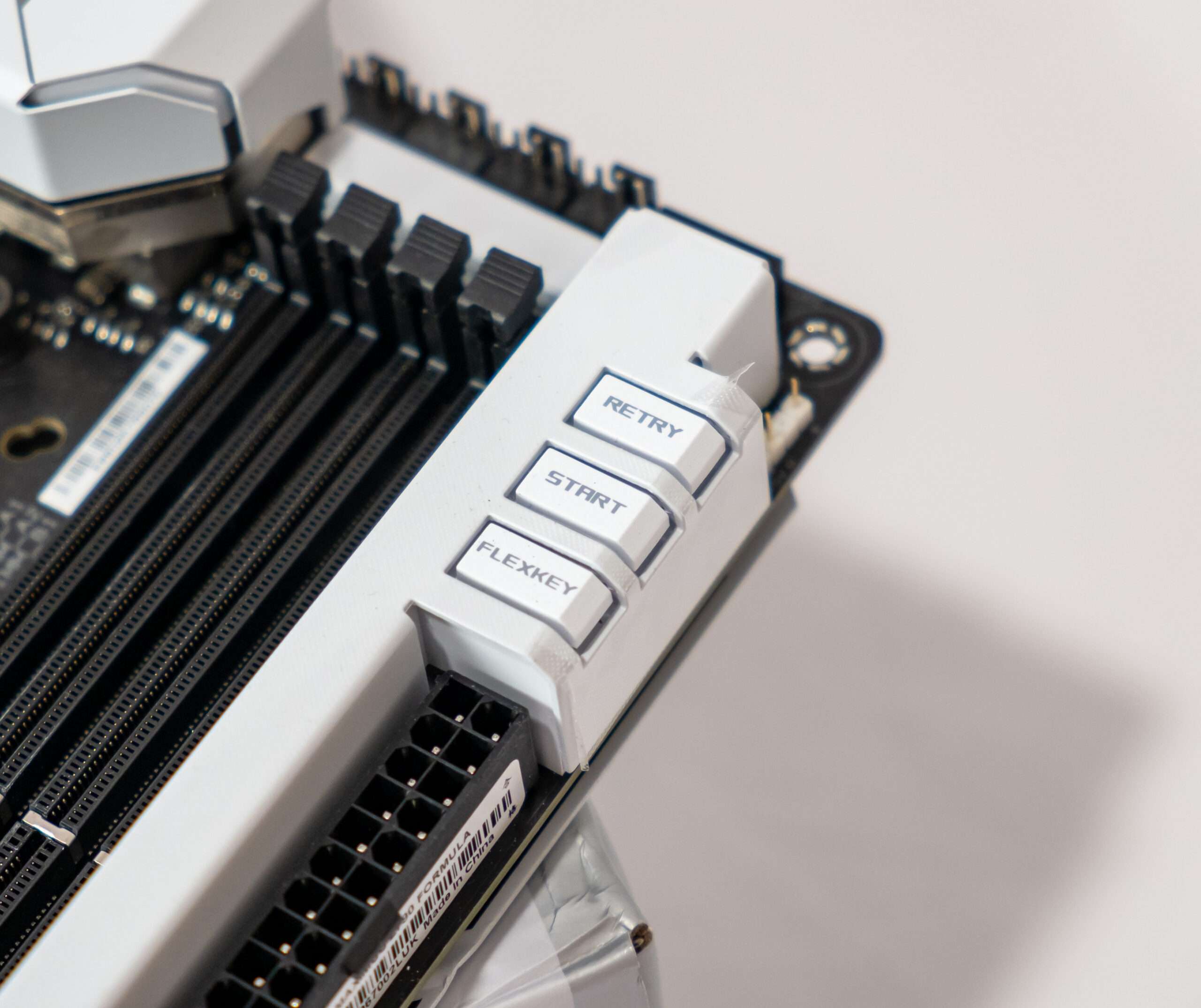 The first two PCIe x16 slot has stainless steel reinforcement that increases durability (which can be important if you change graphics cards quite often, but more importantly, such a slot can more easily withstand bending loads in case of installing a very heavy top-level graphics card. In addition, such protection protects the slot from electromagnetic interference.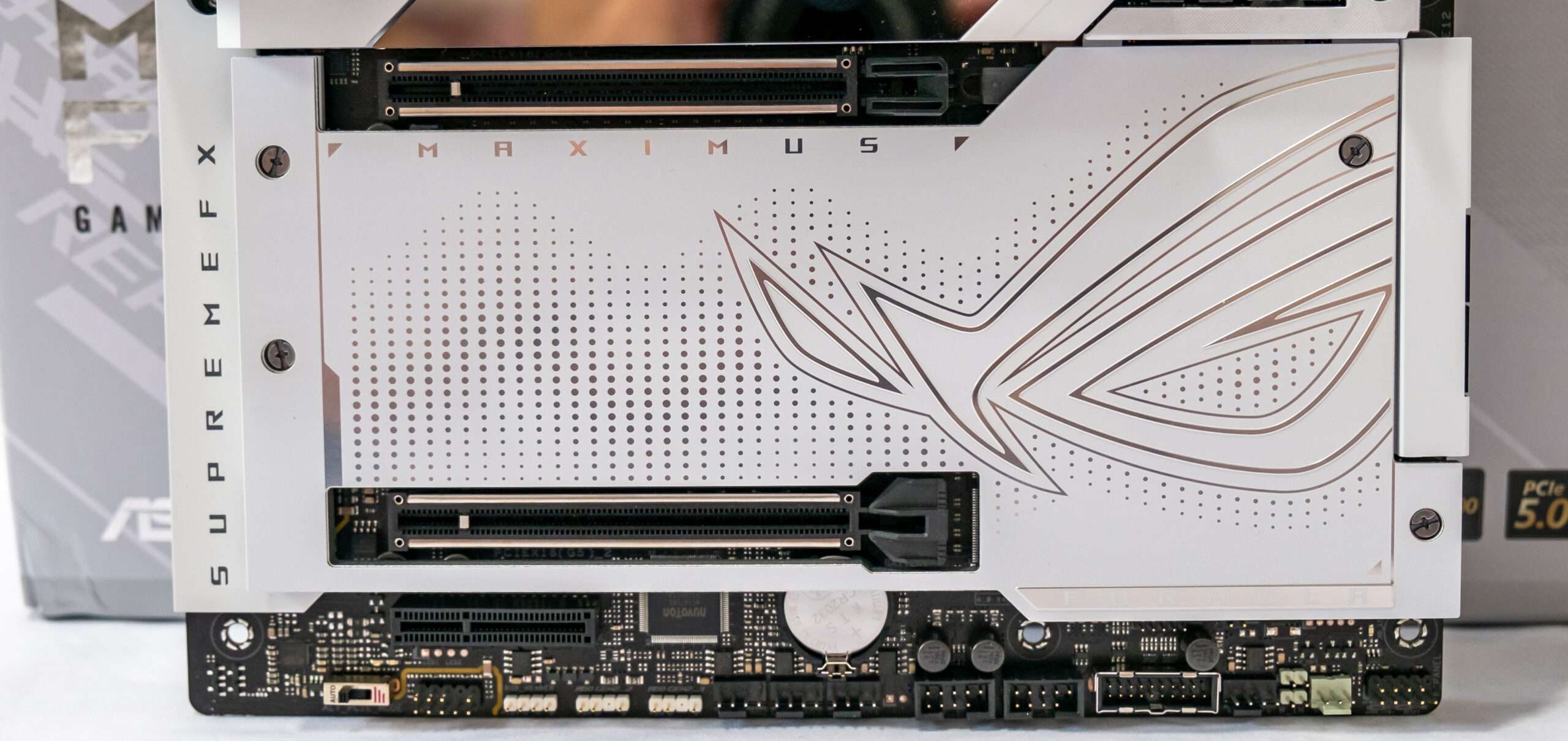 The new Q-Release is a new eject mechanism for ASUS motherboards with graphics card PCIe slots. It "unlocks the first PCIe slot's security latch with one tap, greatly simplifying the process of detaching a PCIe card."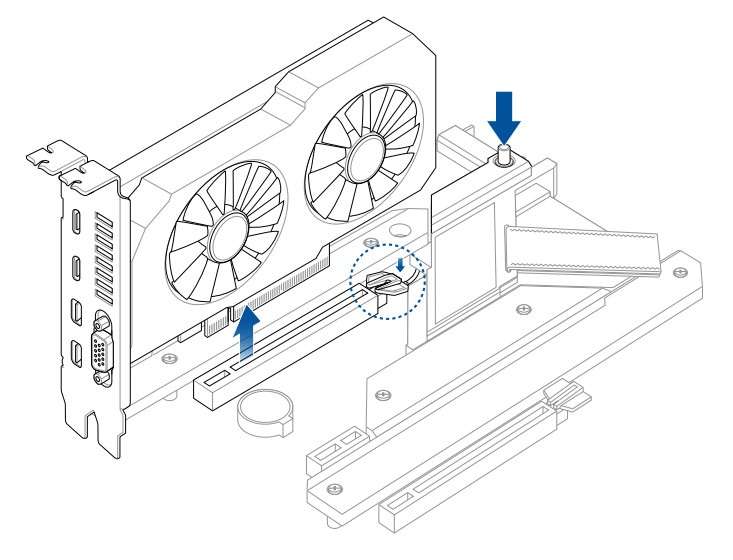 Storage:
In total, the board has 4 Serial ATA 6 Gb / s connectors + 3 slots for drives in the M.2 form factor. 4 SATA 1,2,3,4 ports are implemented through the Z790 chipset and support RAID creation.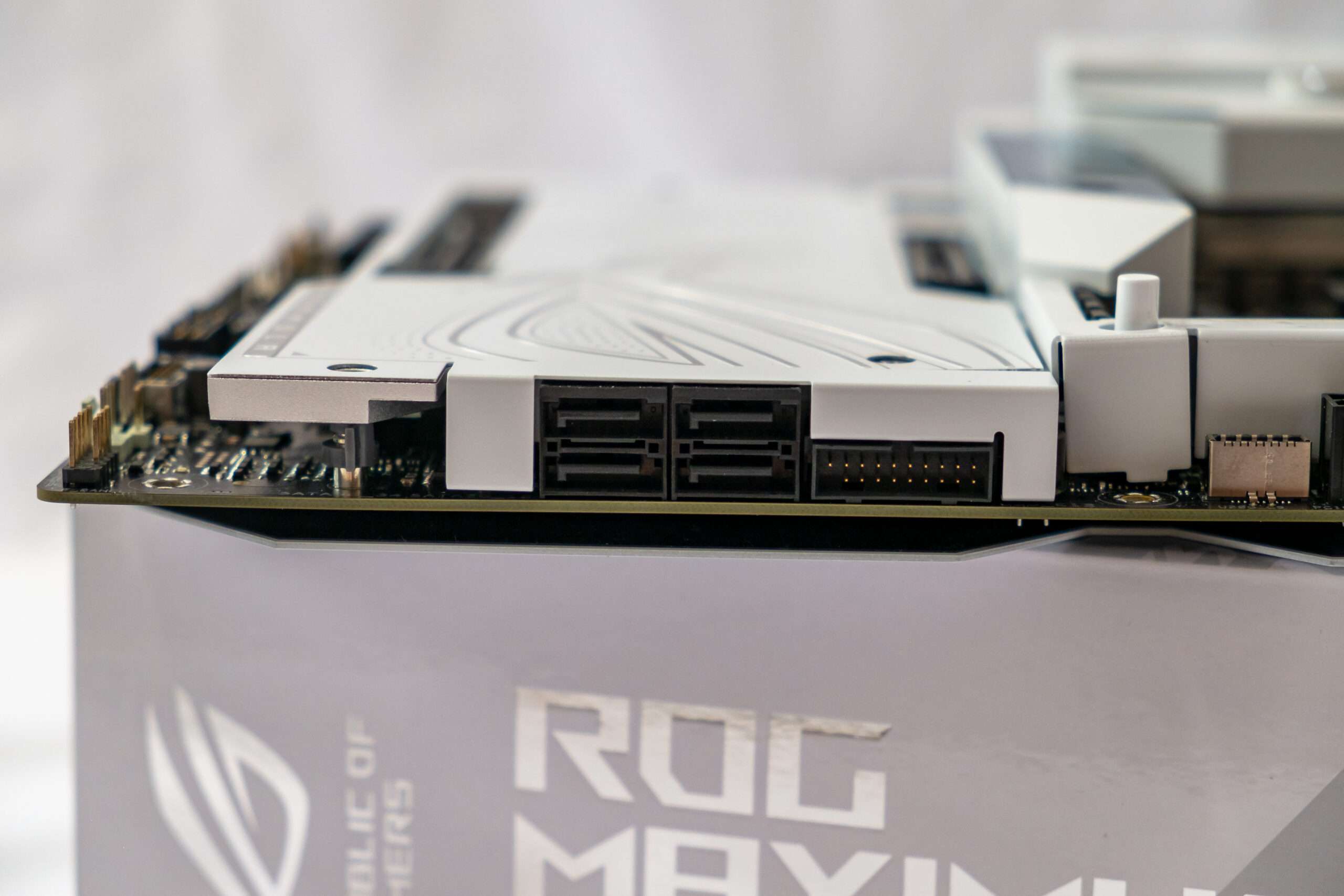 The First M.2_1 and second M.2_2 slots directly receive data from the Intel processor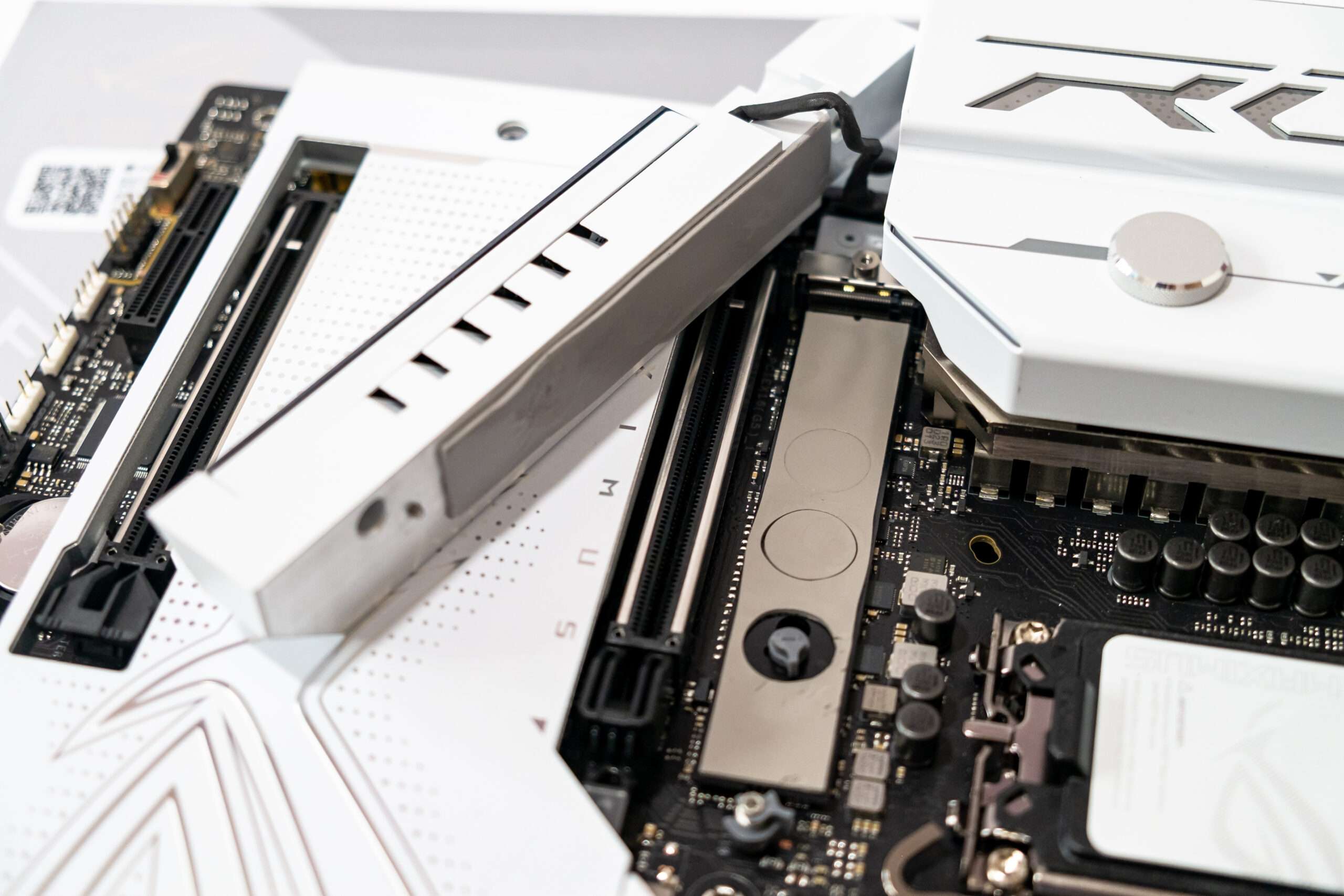 The third, fourth and fifth M.2 slots (M2_3, M2_4 and M2_5) receive data from the Z790 chipset(PCIe 4.0). At the same time, only M2_1 shares bandwidth with PCIEX16(G5)_2. When M.2_1 is enabled, PCIEX16(G5)_2 will be disabled and PCIEX16(G5)_1 will run x8 only.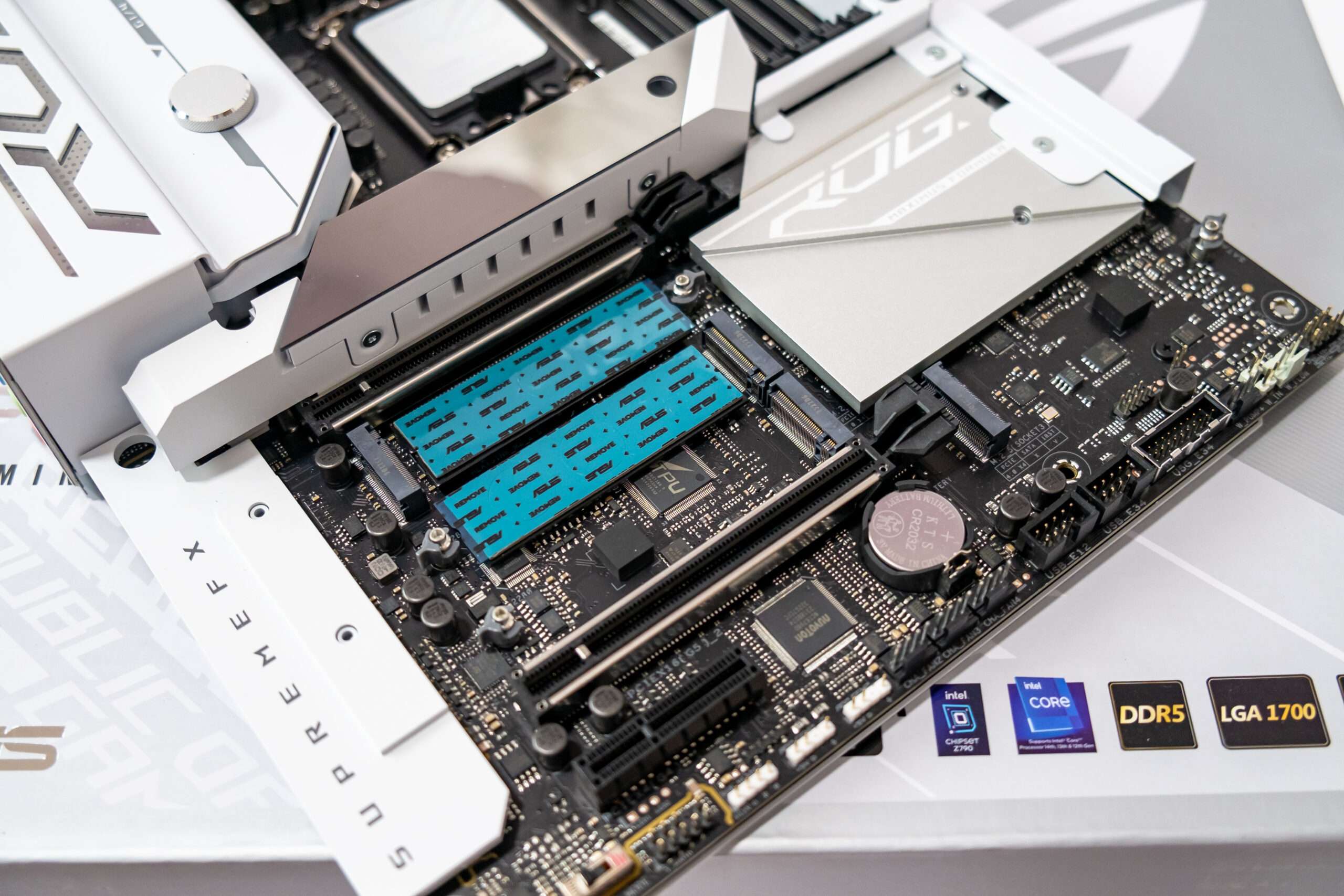 Audio: SupremeFX ALC4082
The ROG Hero using ALC4082 audio chip from Realtek. It's support high definition audio 32-bit / 384 kHz characteristics and provides up to 7.1 channel audio output.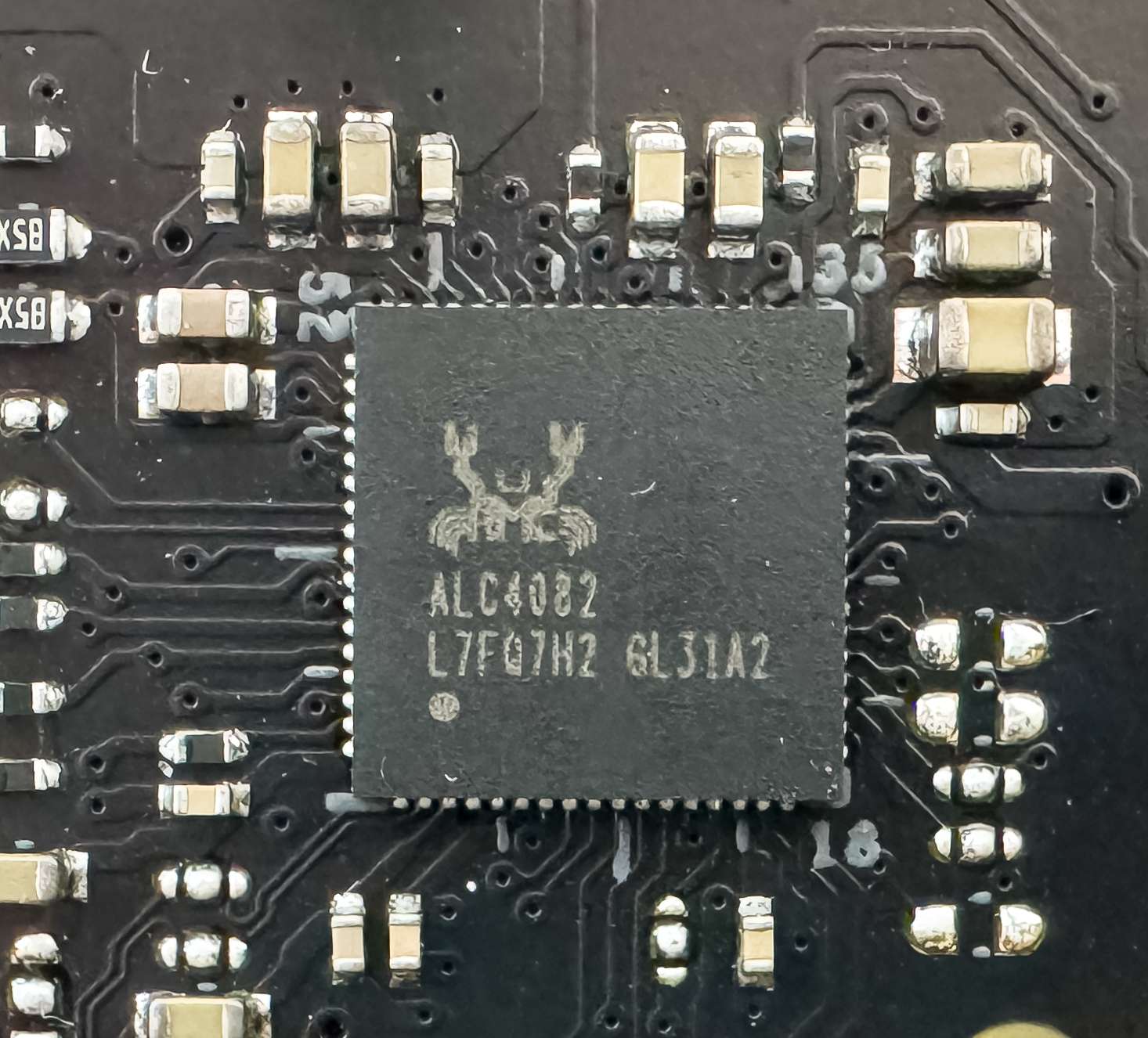 The DAC uses an ESS Sabre9218 and an oscillator to ensure accurate DAC operation.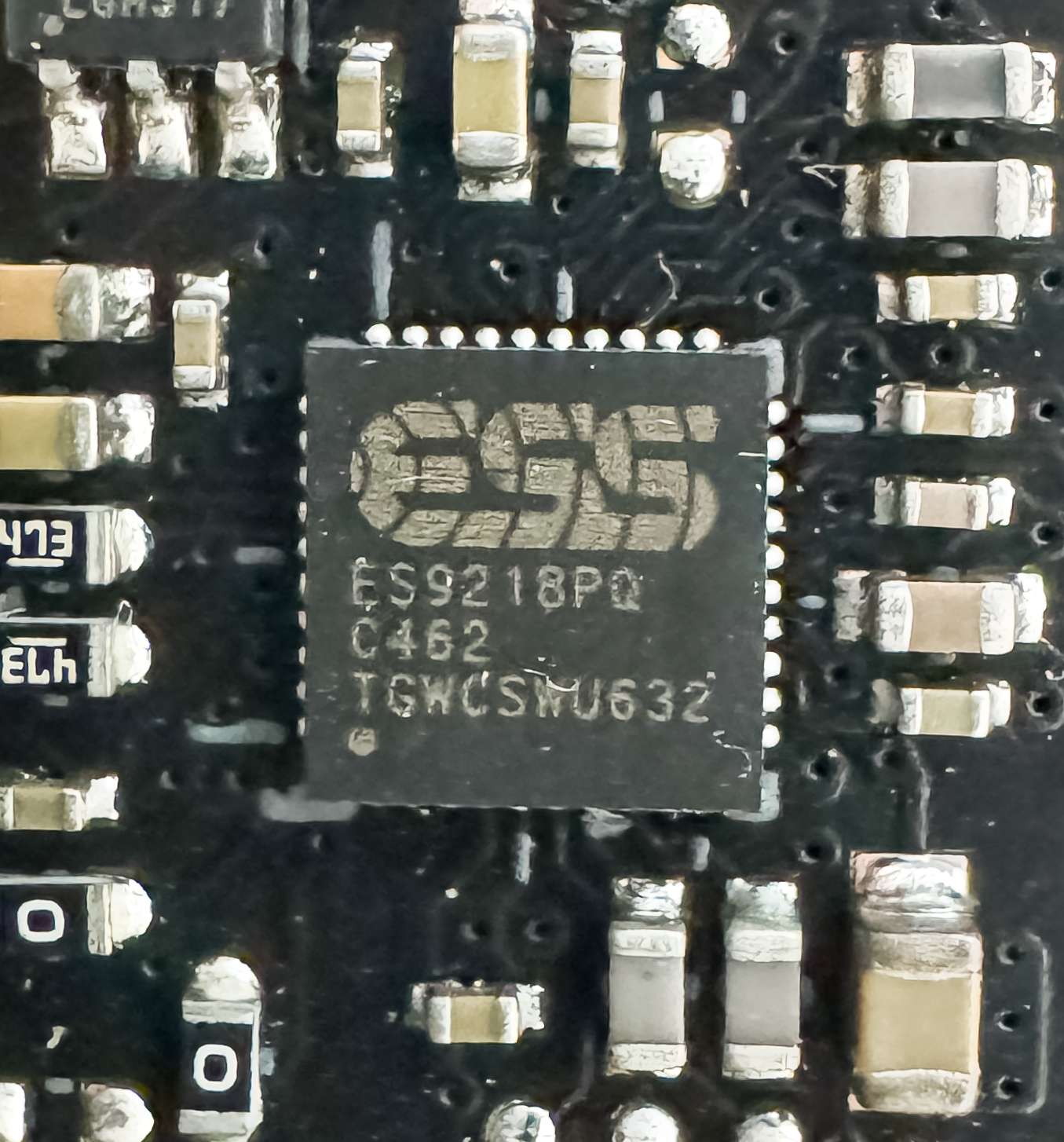 Power Connector & CPU VRM
There are 4 connectors for powering the board: in addition to the 24-pin ATX (it is on the right side of the board, there are two more 8-pin EPS12V and one 6-pin PCIe (to support the power supply of especially powerful video cards, installed in the first two PCIe x16 slots, as well as USB 3.2 ports through which mobile devices can be charged in fast charging mode).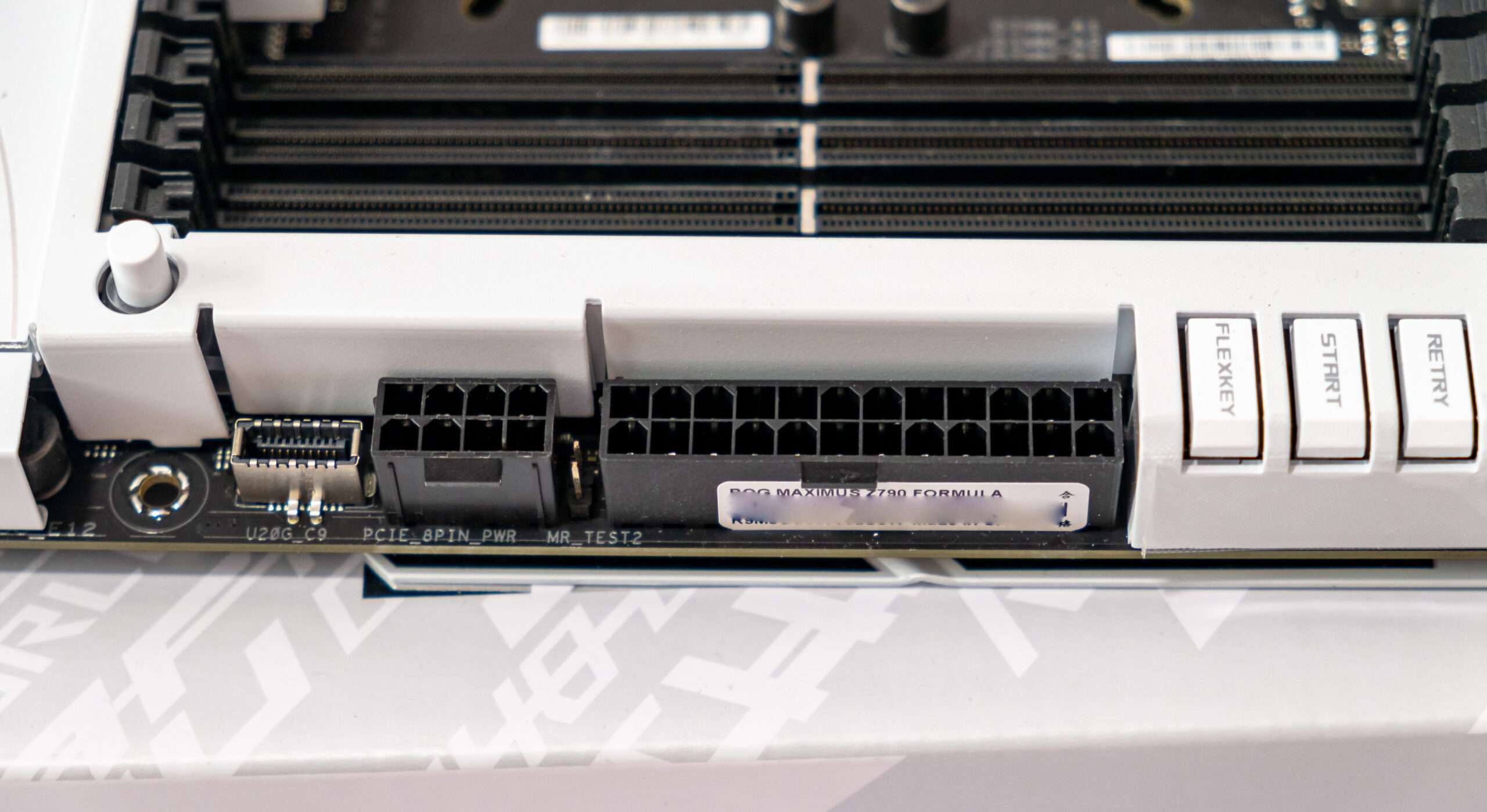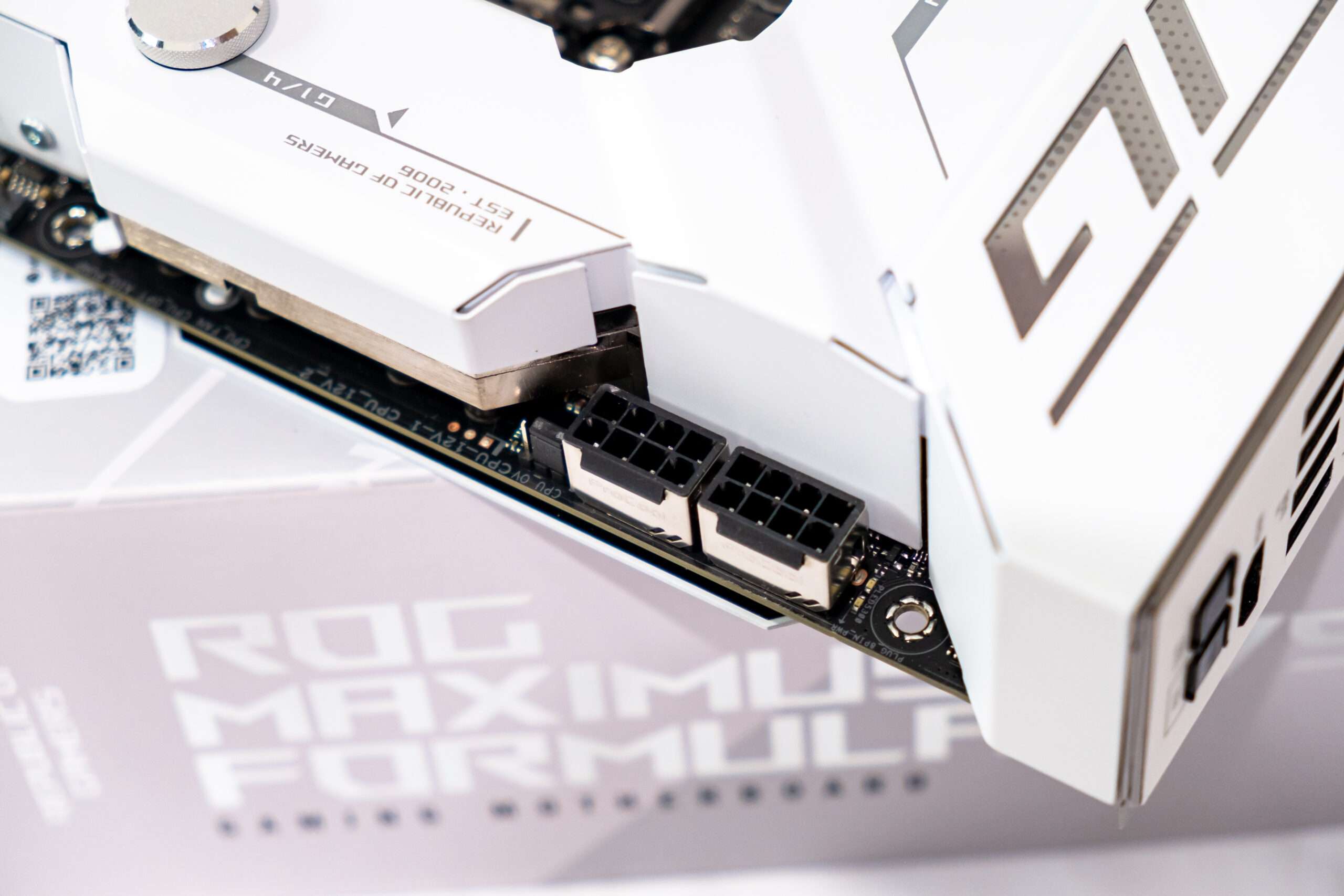 The ASUS HybridChill water block leverages a fusion of passive and liquid cooling to achieve highly efficient VRM operation. Its copper water channels resist corrosion and offer excellent heat dissipation, while its threaded fittings use the G1/4" industry standard to ensure compatibility with a wide variety of custom cooling setups.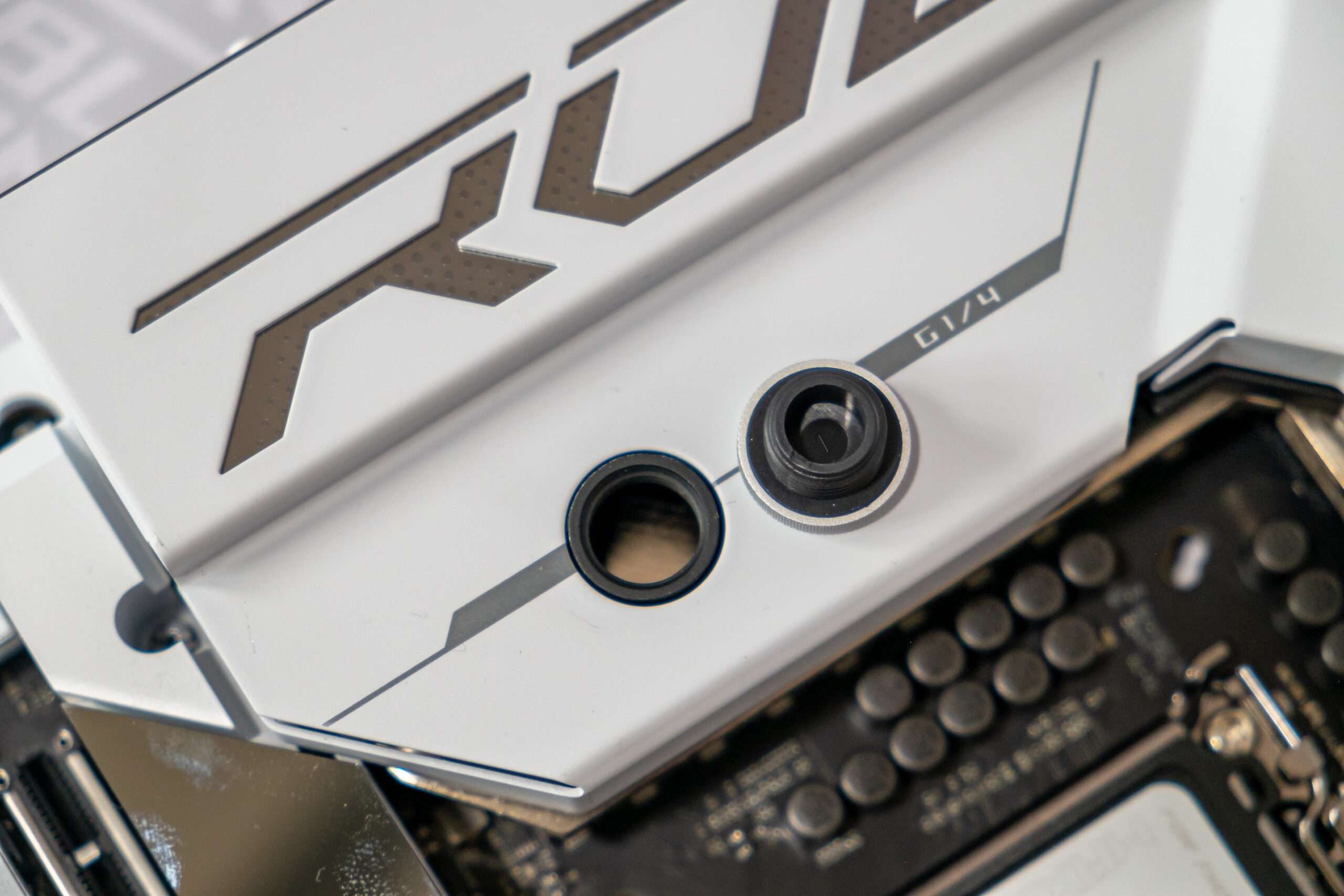 The processor power delivery according to the 20+1+2 scheme (23 phases in total, 18 for VCore, 2 for VCCIO and 1 for the integrated graphics core).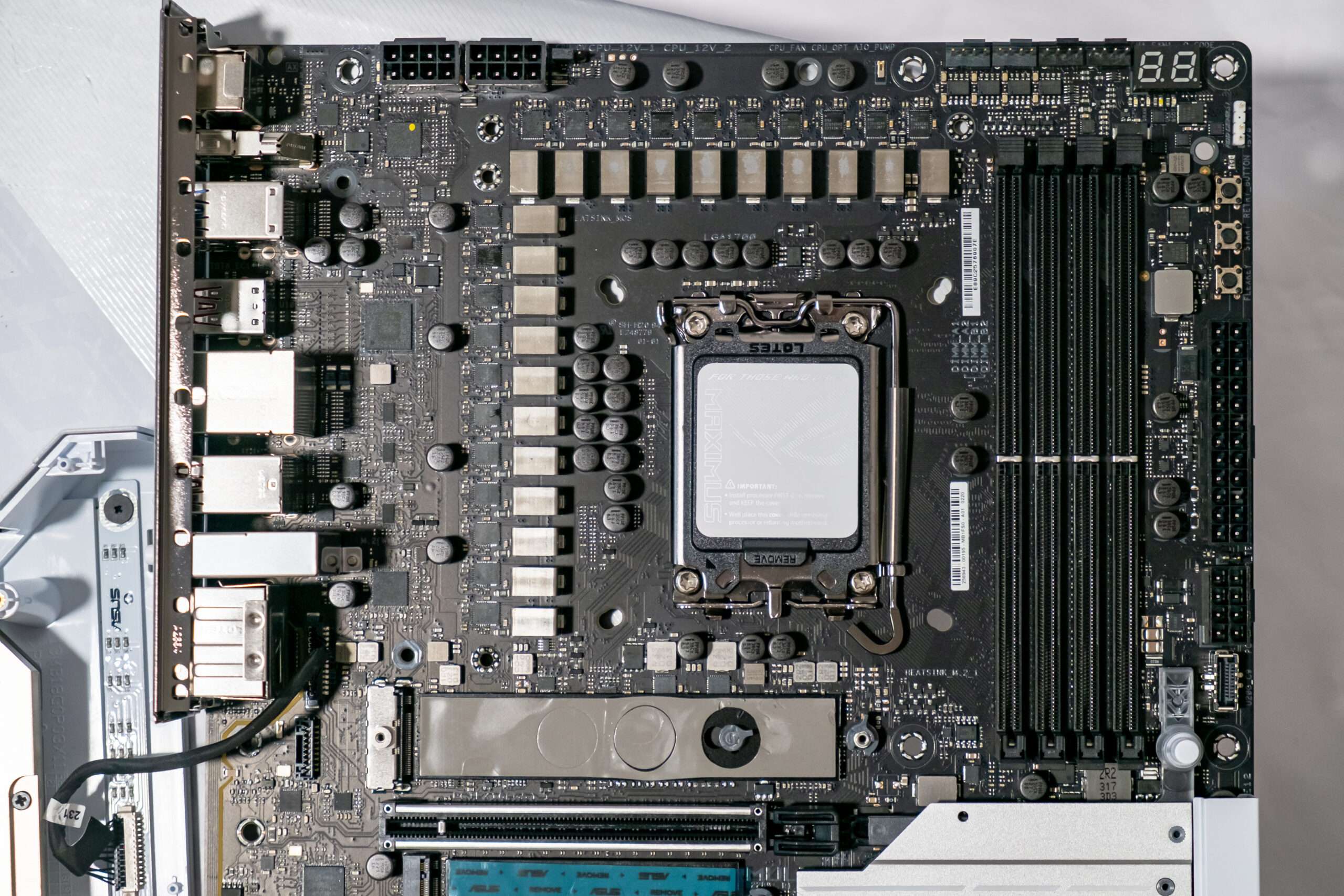 Each phase channel has a super ferrite choke and an RAA22010540 MOSFET from Renesas at 105A.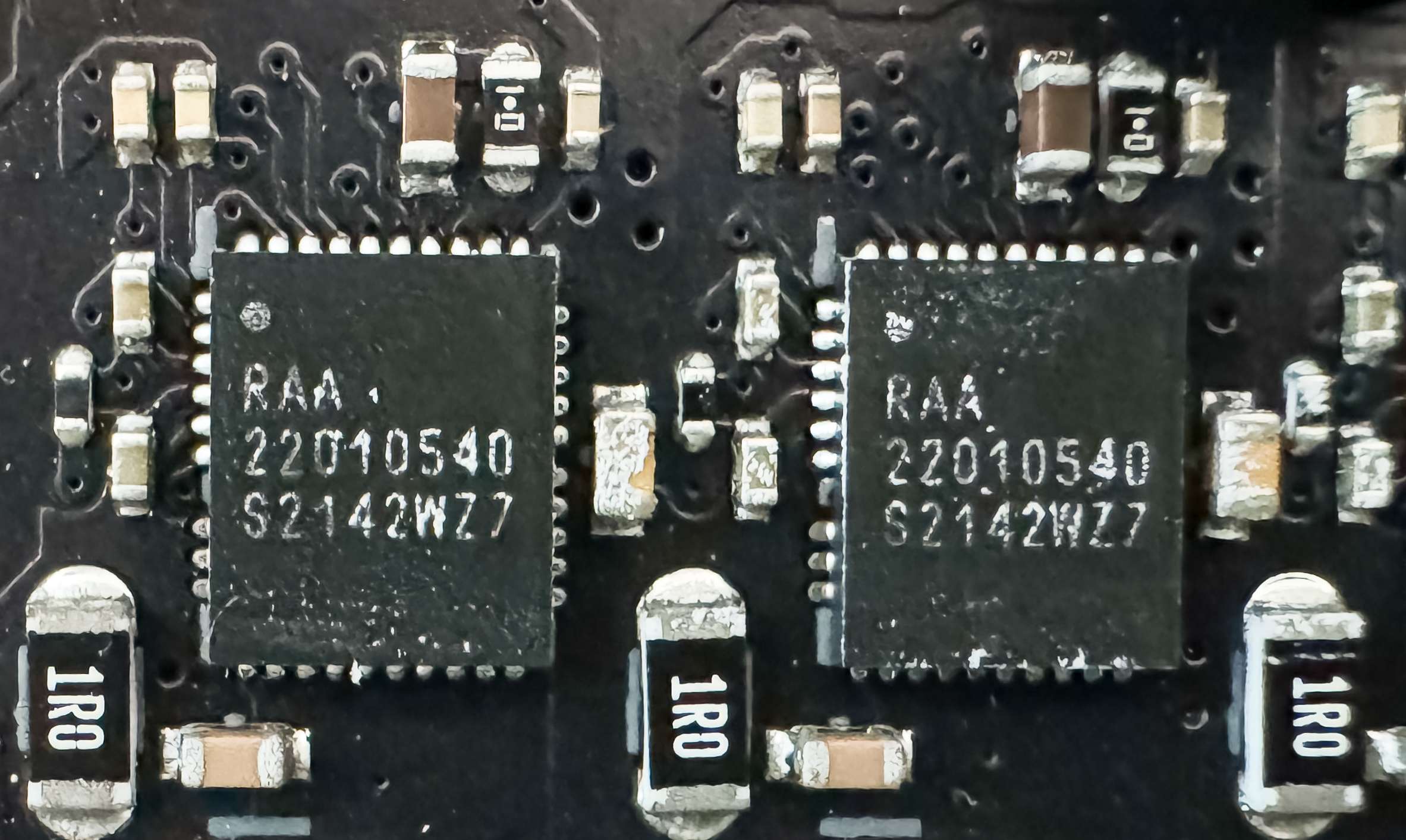 The circuit is controlled by a Renesas RAA229131 PWM controller with a maximum of 20 phases.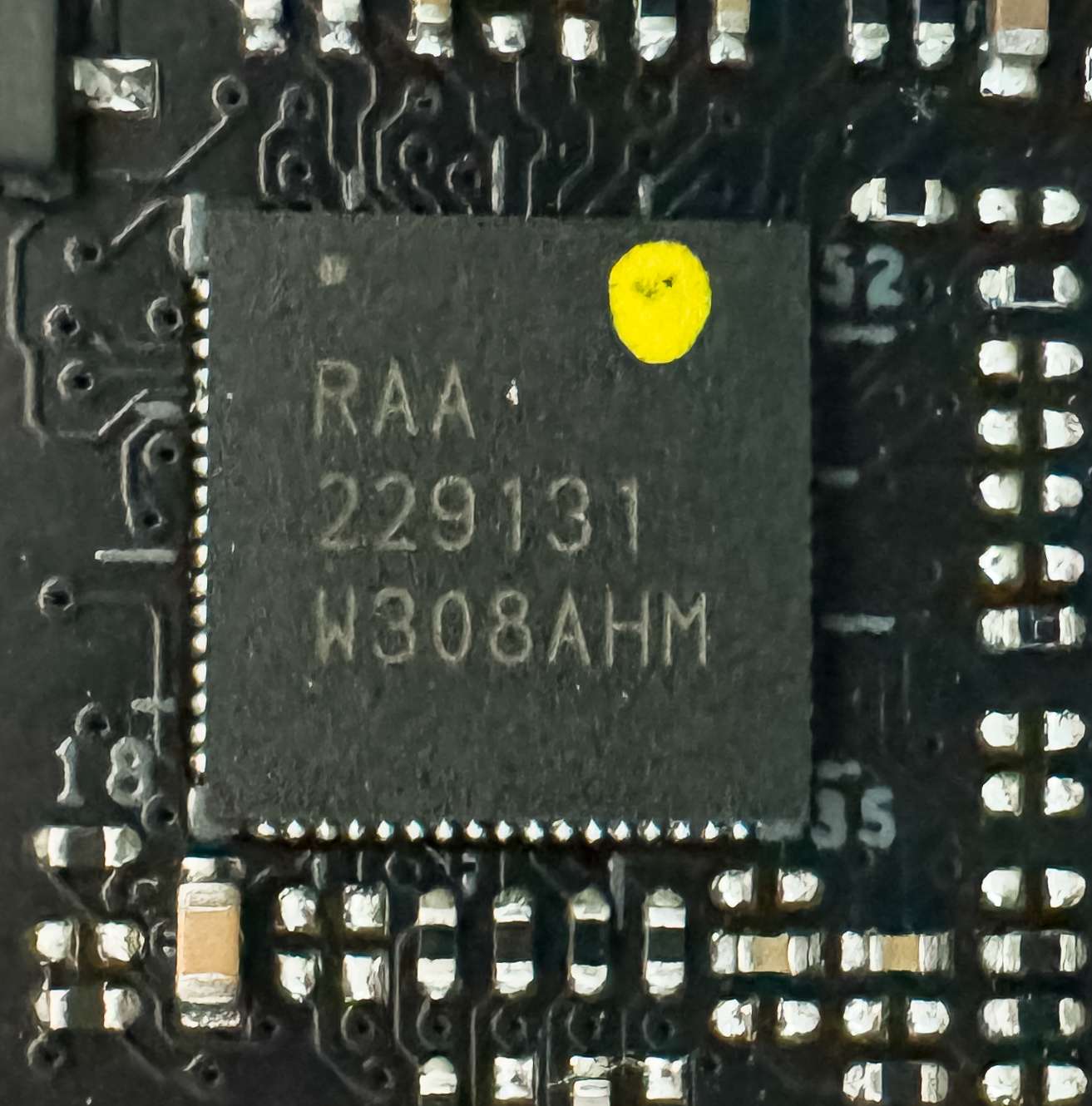 You can find a proprietary digital TPU controller, which is just engaged in smart assemblies of power phases for the PWM controller. In particular, here we have: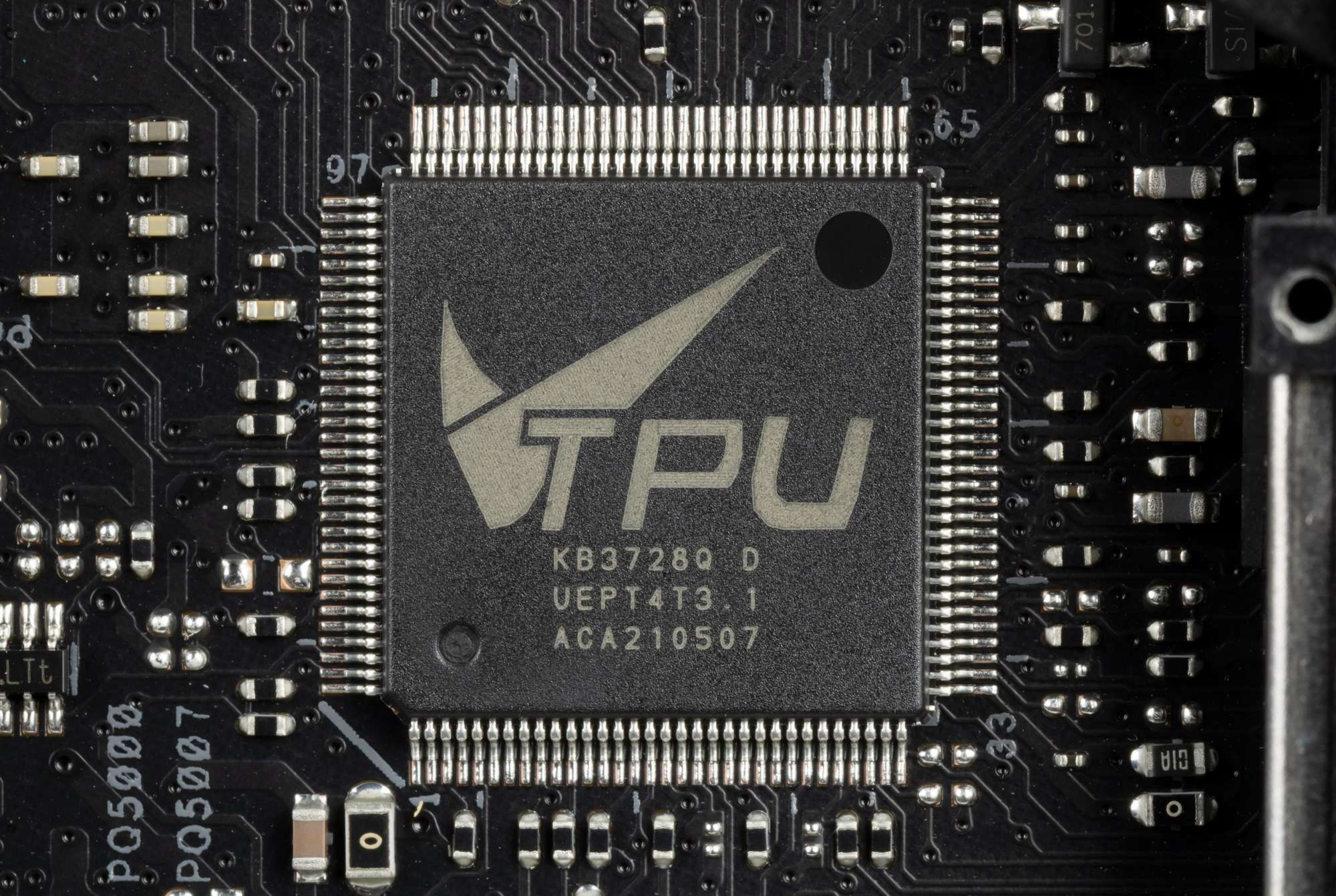 System Information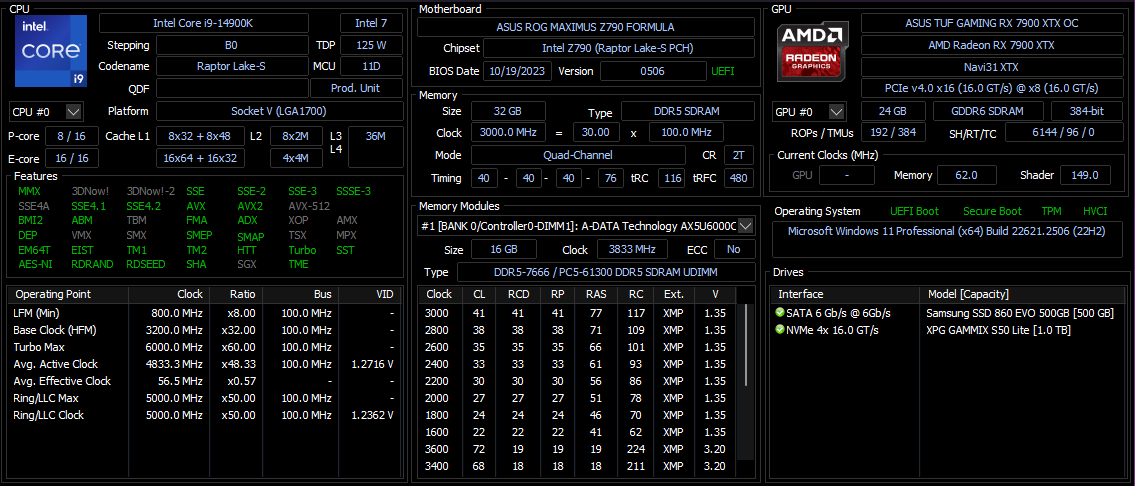 How We Test ASUS ROG Maximus Z790 Formula?
ASUS ROG Hero is a second flagship motherboard from ASUS. As such, our workstation, based on a ASUS ROG Hero motherboard and Intel Core i9 13900K 24 cores 32 threads processor. The ram we will be using XPG DDR5 6000Mhz memory kit. ASUS TUF Gaming Radeon RX 7900 XTX OC and ADATA PCIe 4.0 1TB SSD is used as well to run with benchmark.
Notice: In this review we have adjust some bios settings
PL 1 & PL 2 @ 300W
Offset VF 5-11 -0.04
Cinebench R24
Improvements to Cinebench Release 24 reflect the overall advancements to CPU and rendering technology in recent years, providing a more accurate measurement of Cinema 4D's ability to take advantage of multiple CPU cores and modern processor features available to the average user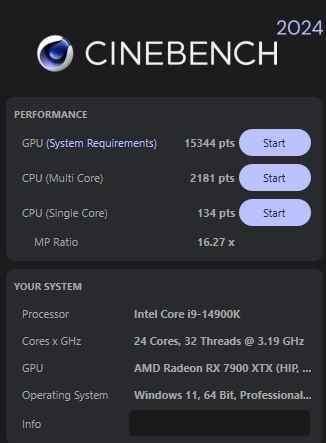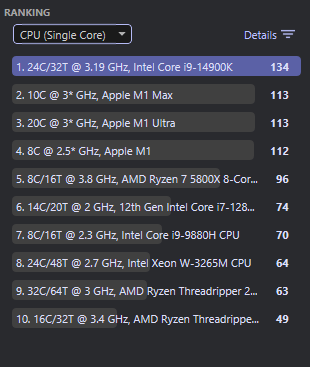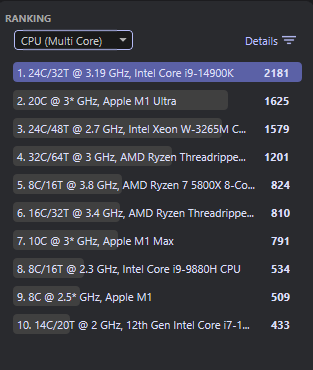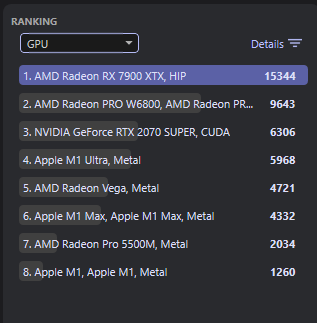 PCMark 10
PCMark 10 features a comprehensive set of tests that cover the wide variety of tasks performed in the modern workplace. With a range of performance tests, custom run options, Battery Life Profile, and new Storage benchmarks, PCMark 10 is the complete PC benchmark for the modern office.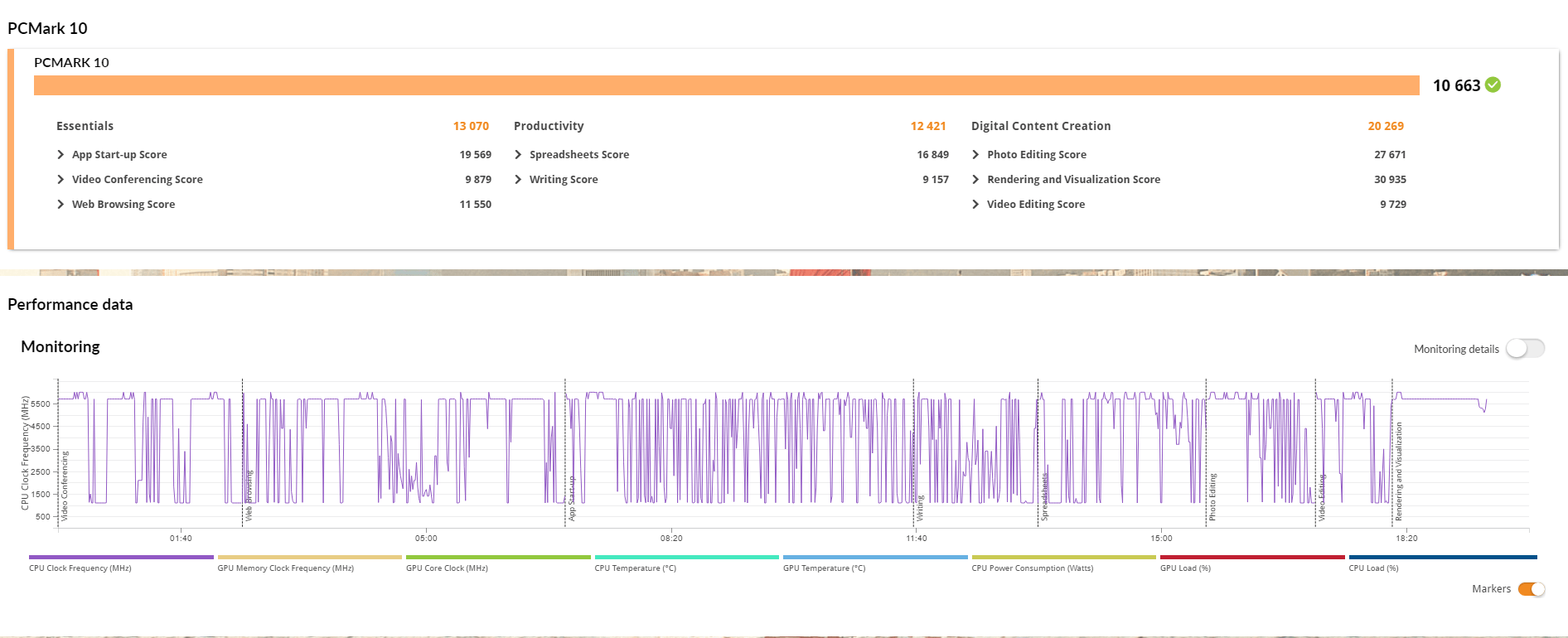 3Dmark Advanced Edition
3DMark includes everything you need to benchmark your PC and mobile devices in one app. Whether you're gaming on a smartphone, tablet, notebook, or a desktop gaming PC, 3DMark includes a benchmark designed specifically for your hardware.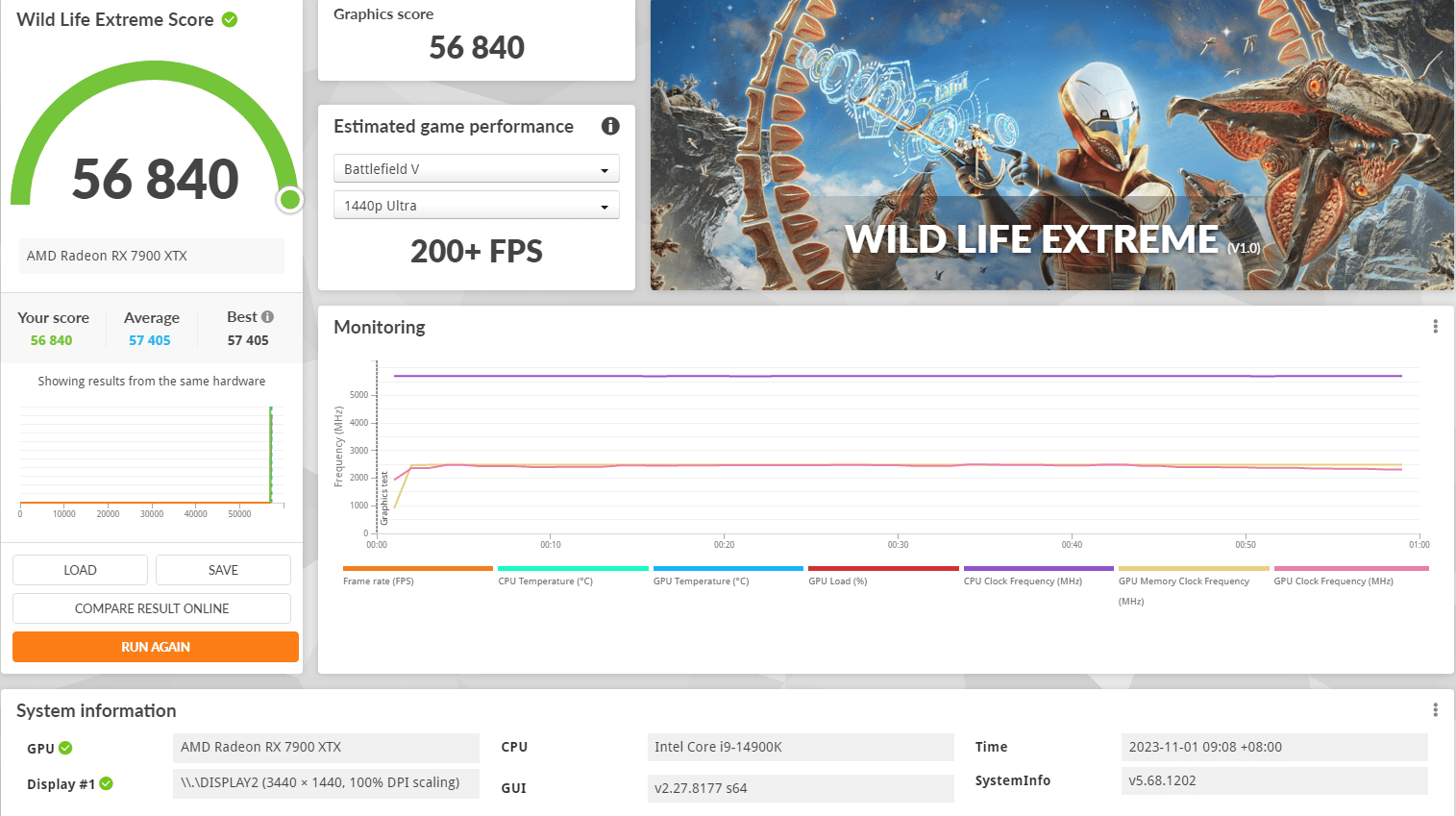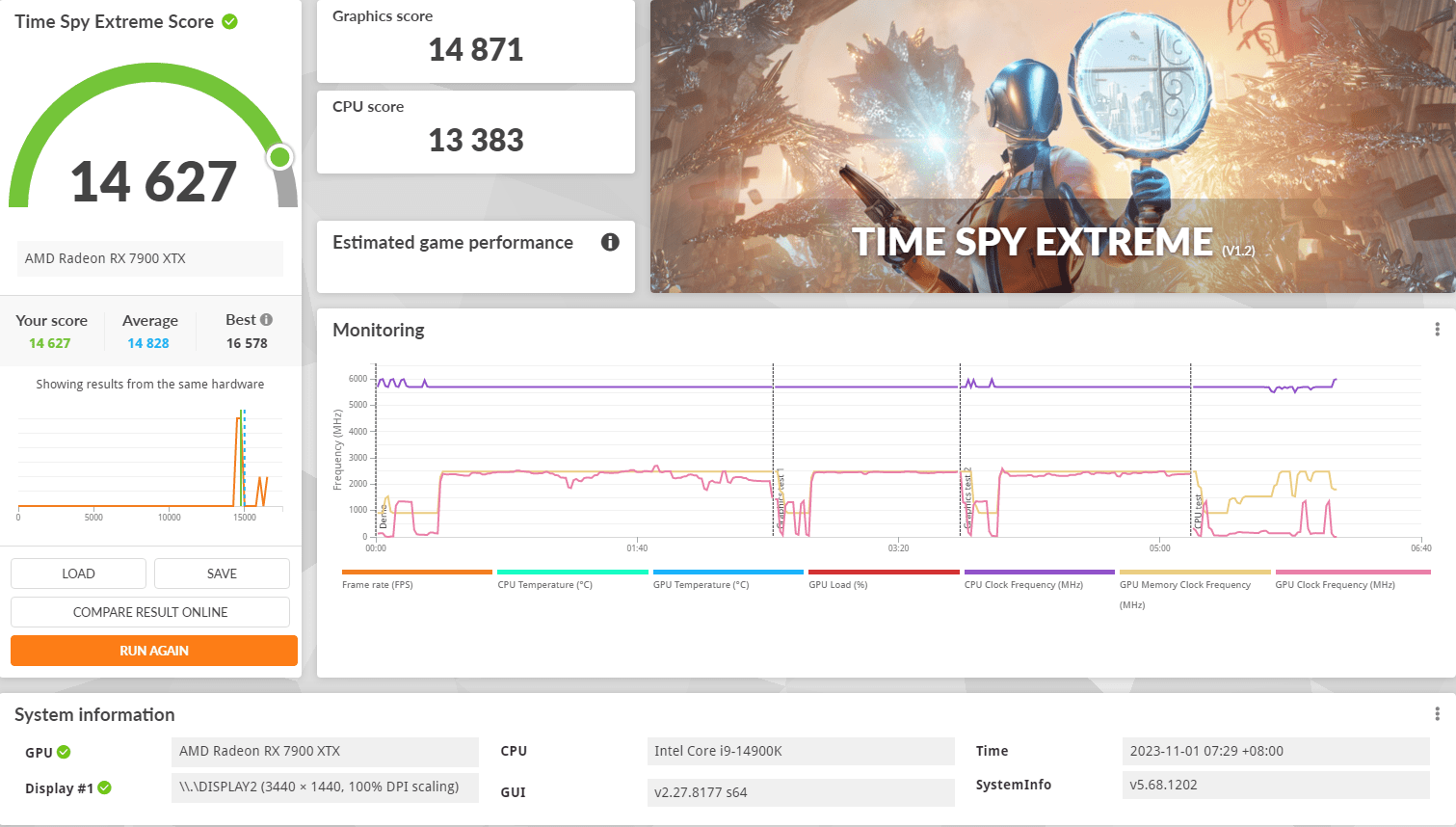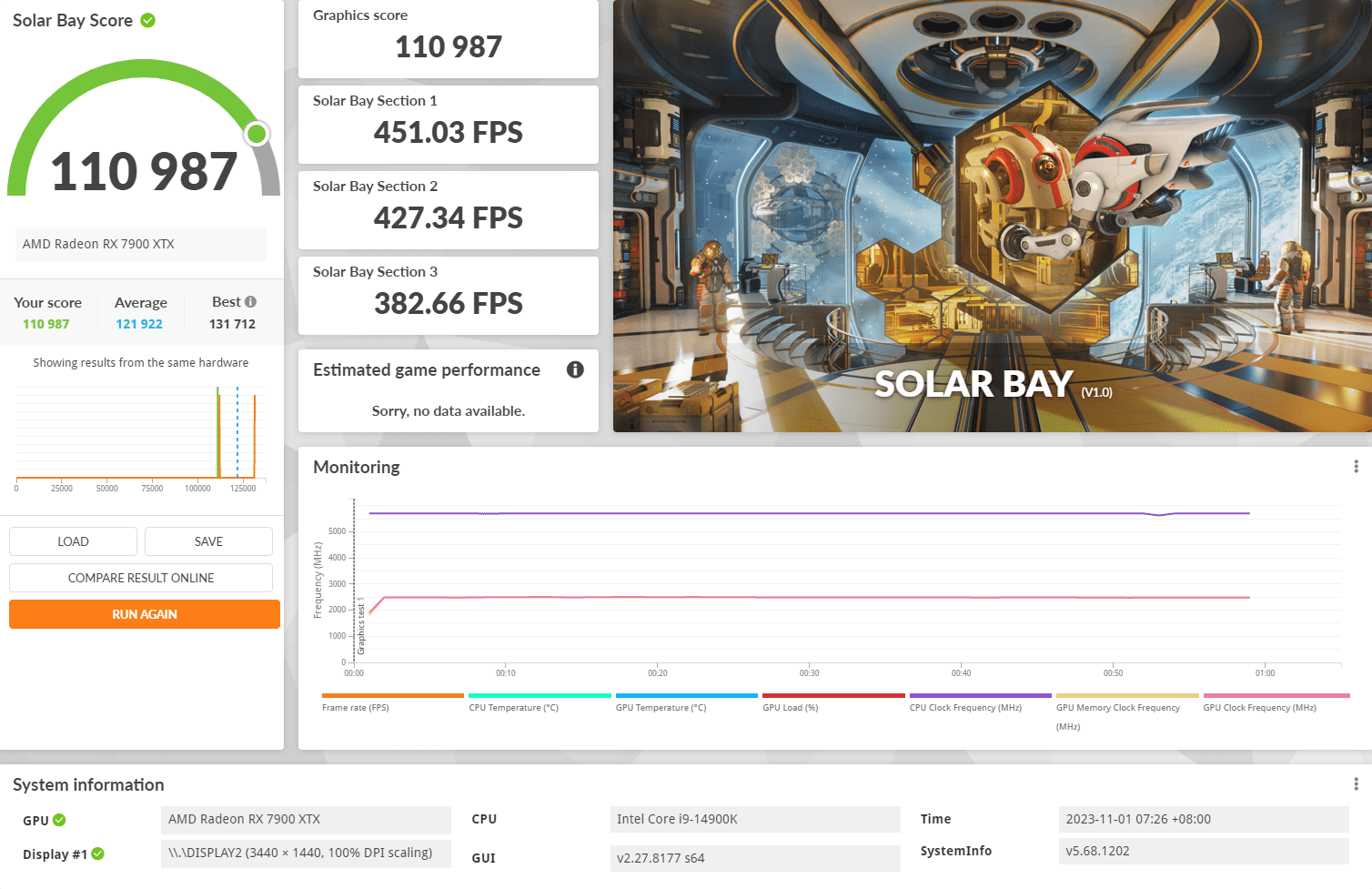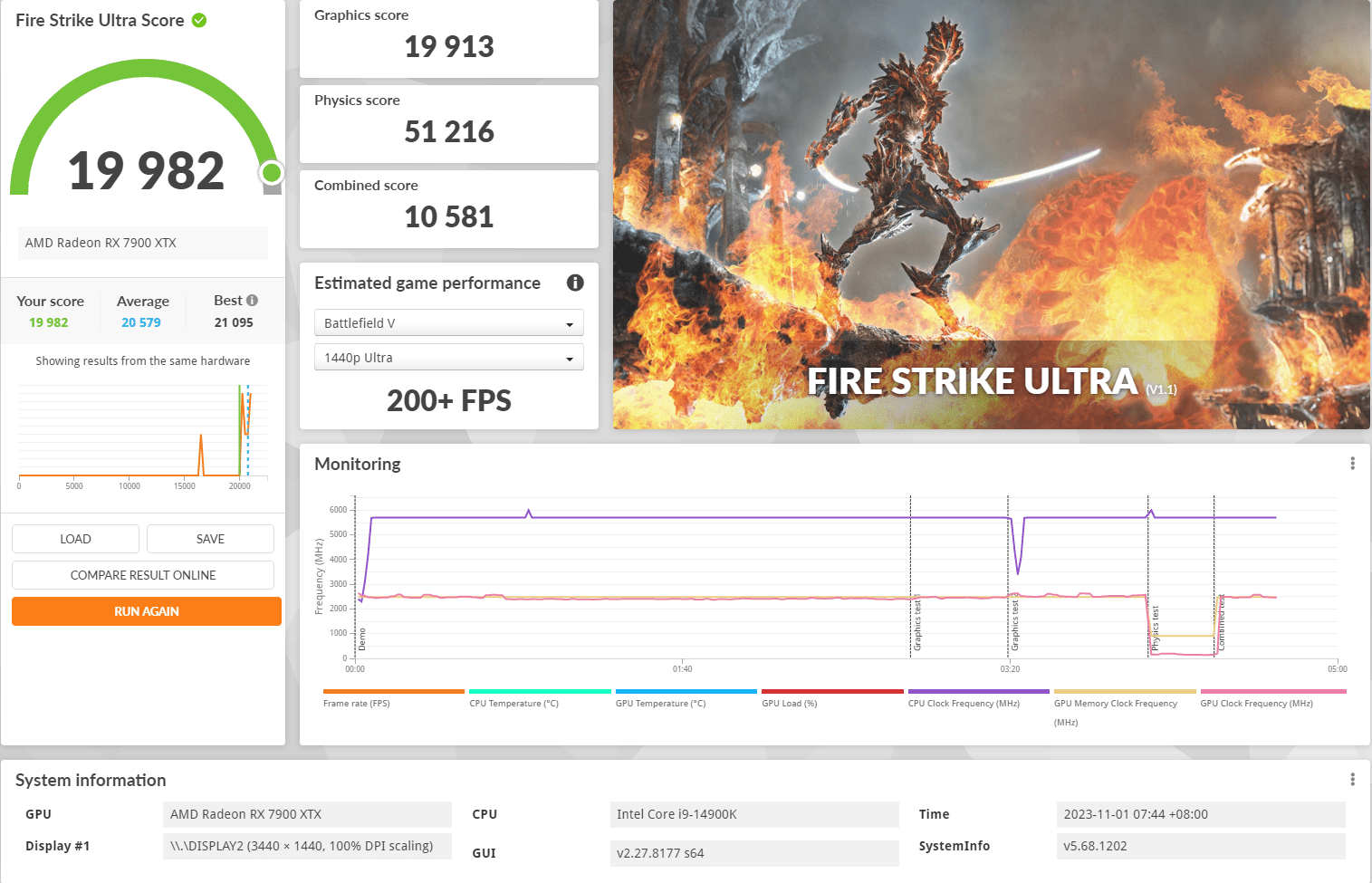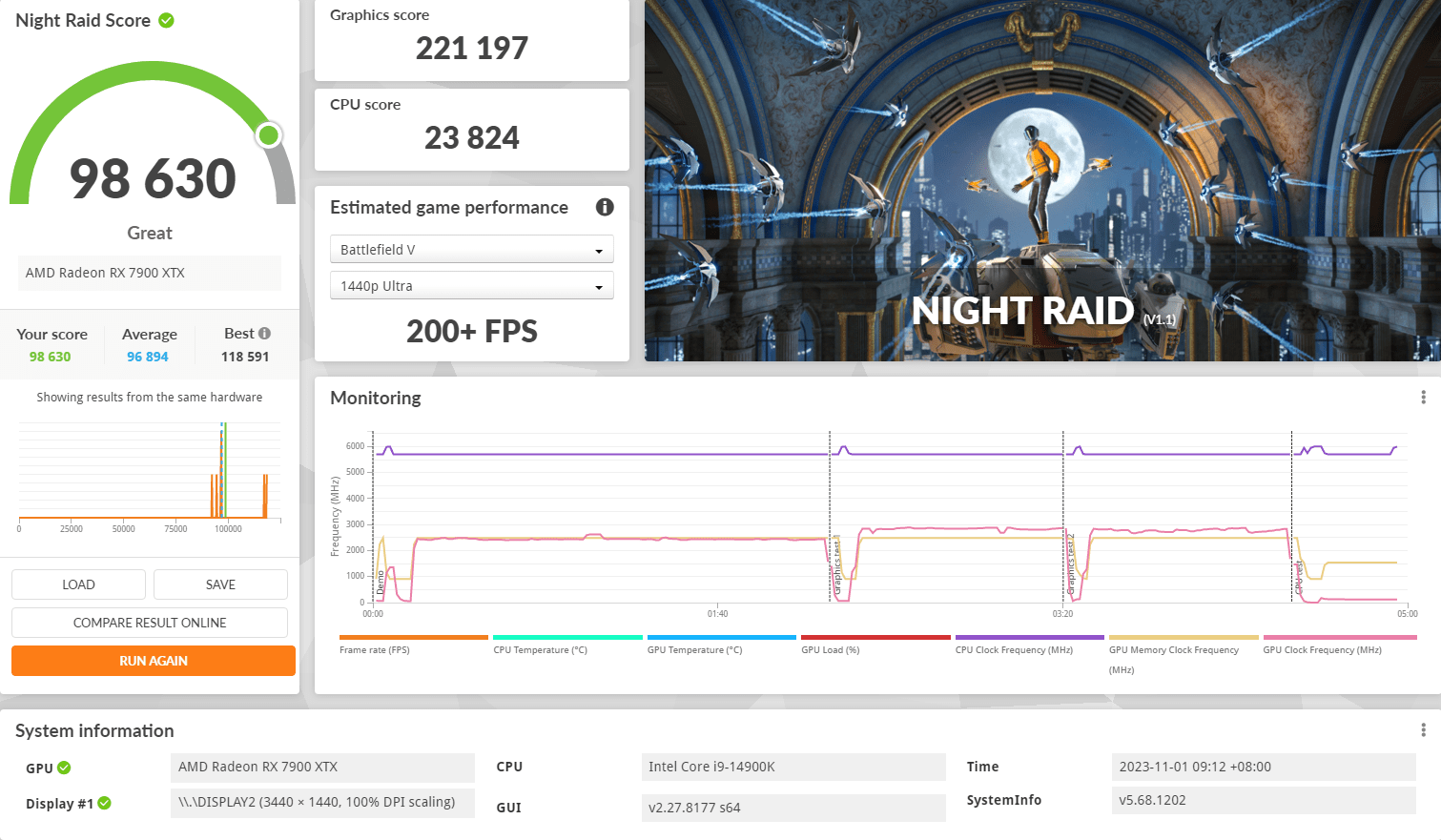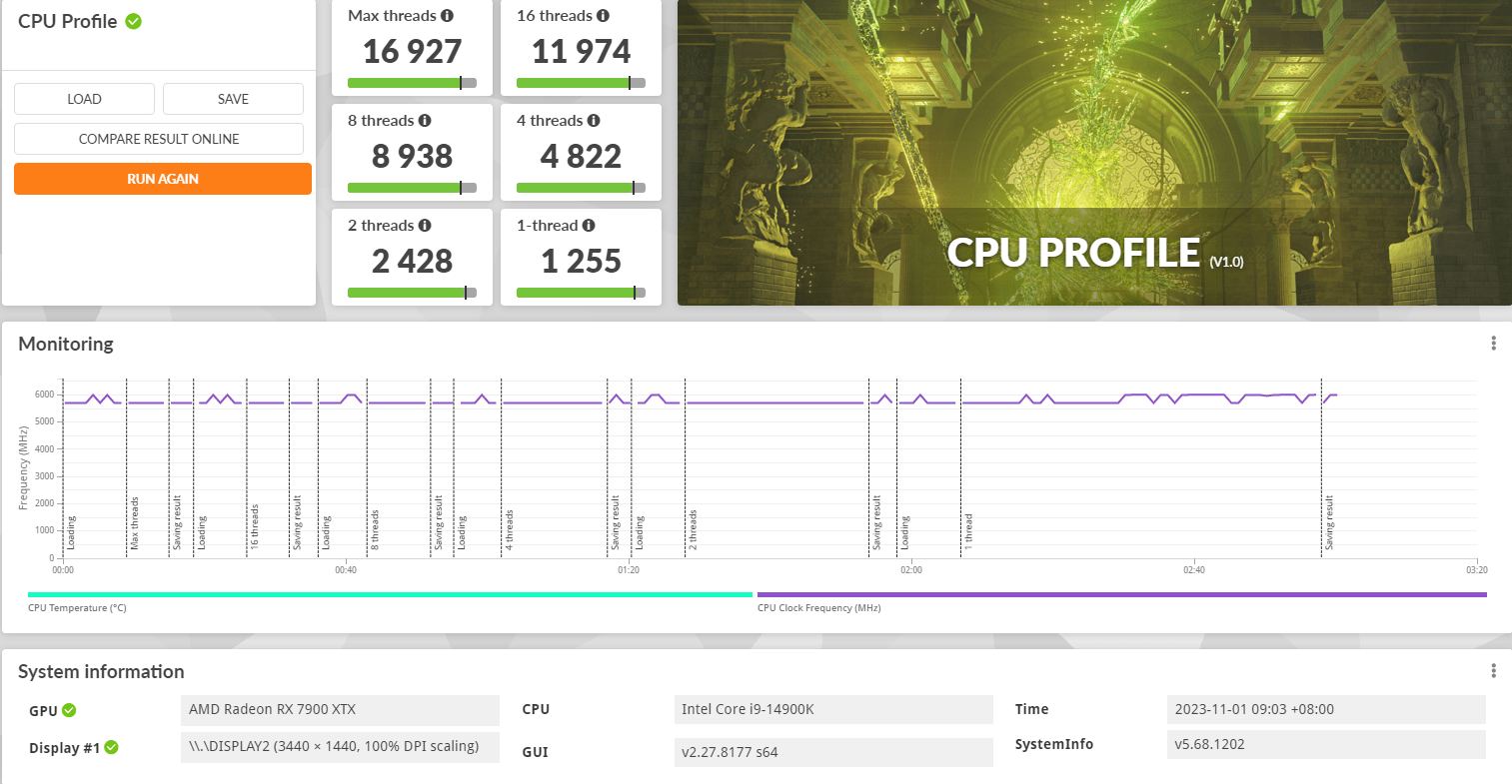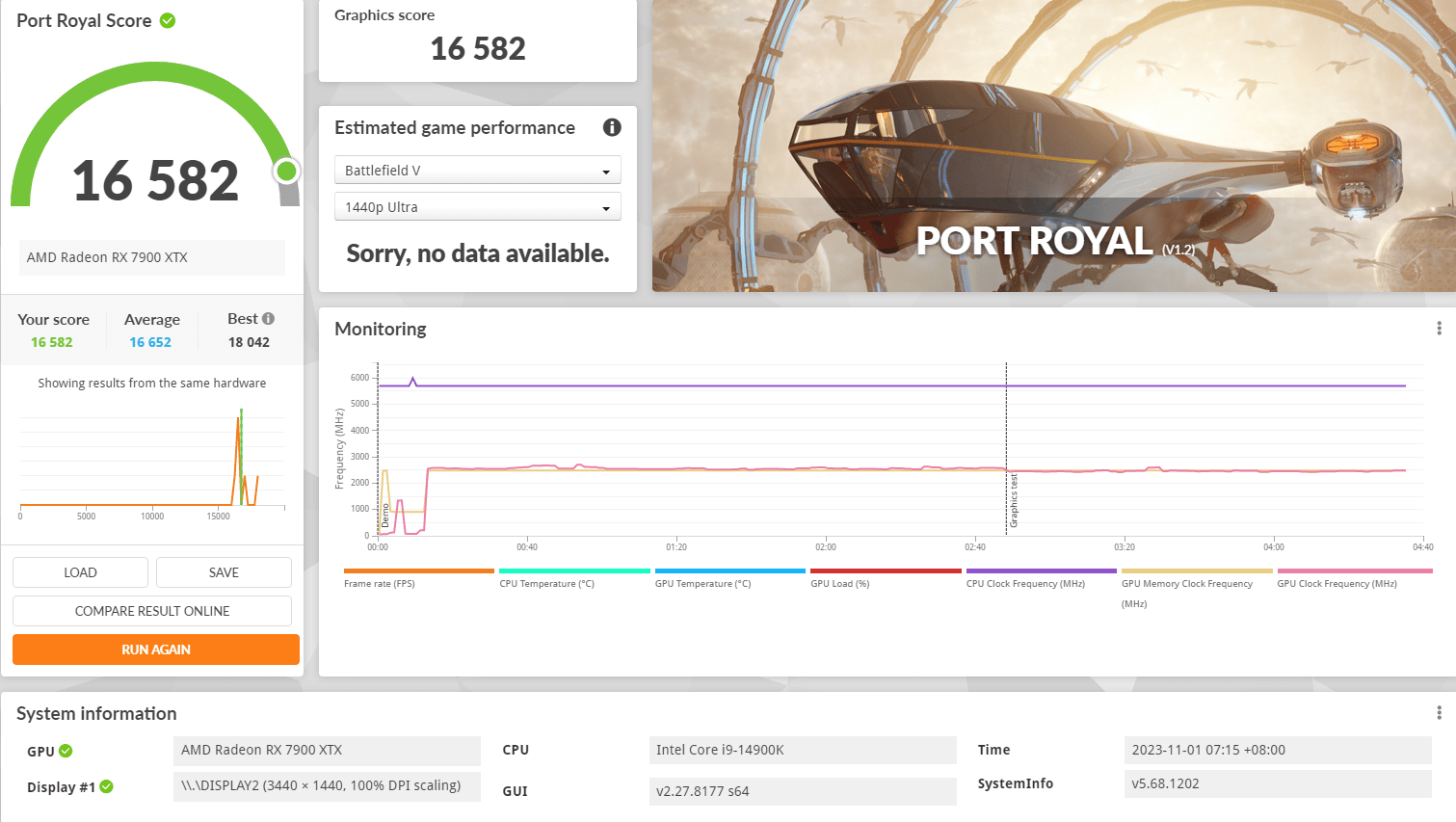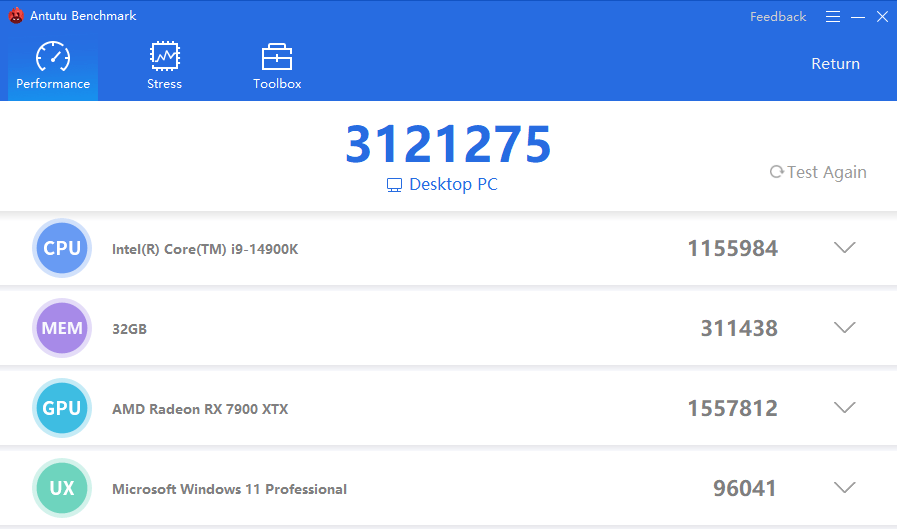 Intel WIFI 7 BE200