A Network Interface Controller (NIC) is a hardware component typically found integrated into a PC or laptop's motherboard, providing a port for connecting an Ethernet cable to access networks or the internet. In modern laptops, NICs are sometimes omitted to reduce size and weight. This is where a product like the ASUSTOR AS-U2.5 G2 becomes essential, as it offers extremely fast 2.5 Gigabit Ethernet (2.5Gbe) connectivity to laptops that lack built-in NICs, ensuring high-speed network access.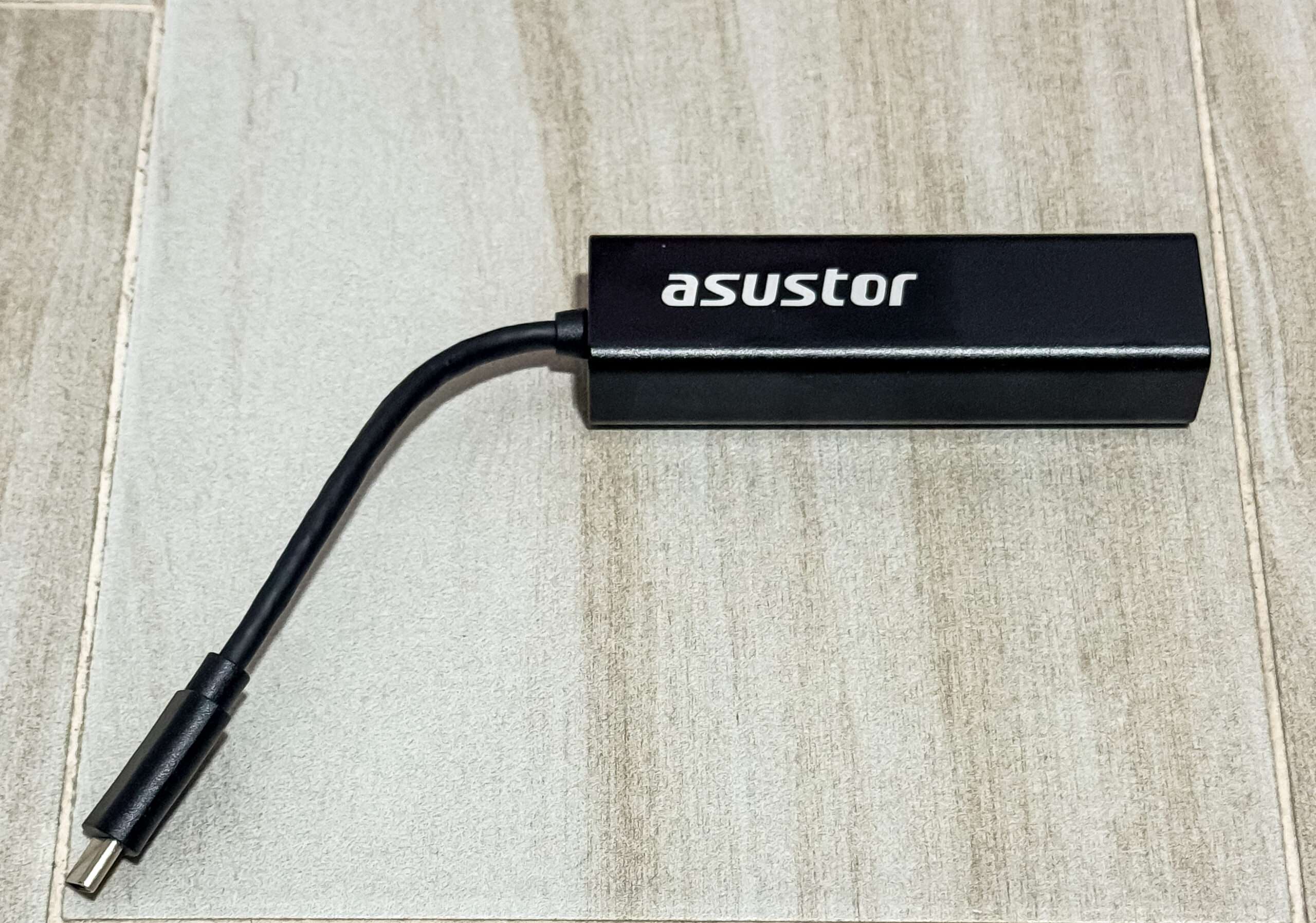 ASUSTOR's AS-U2.5 G2 USB adapter provides a convenient solution for adding a Network Interface Controller (NIC) to your system. Furthermore, the U2.5 G2 adapter offers straightforward installation, advanced networking features, and a substantial boost in network throughput when compared to most other USB adapters on the market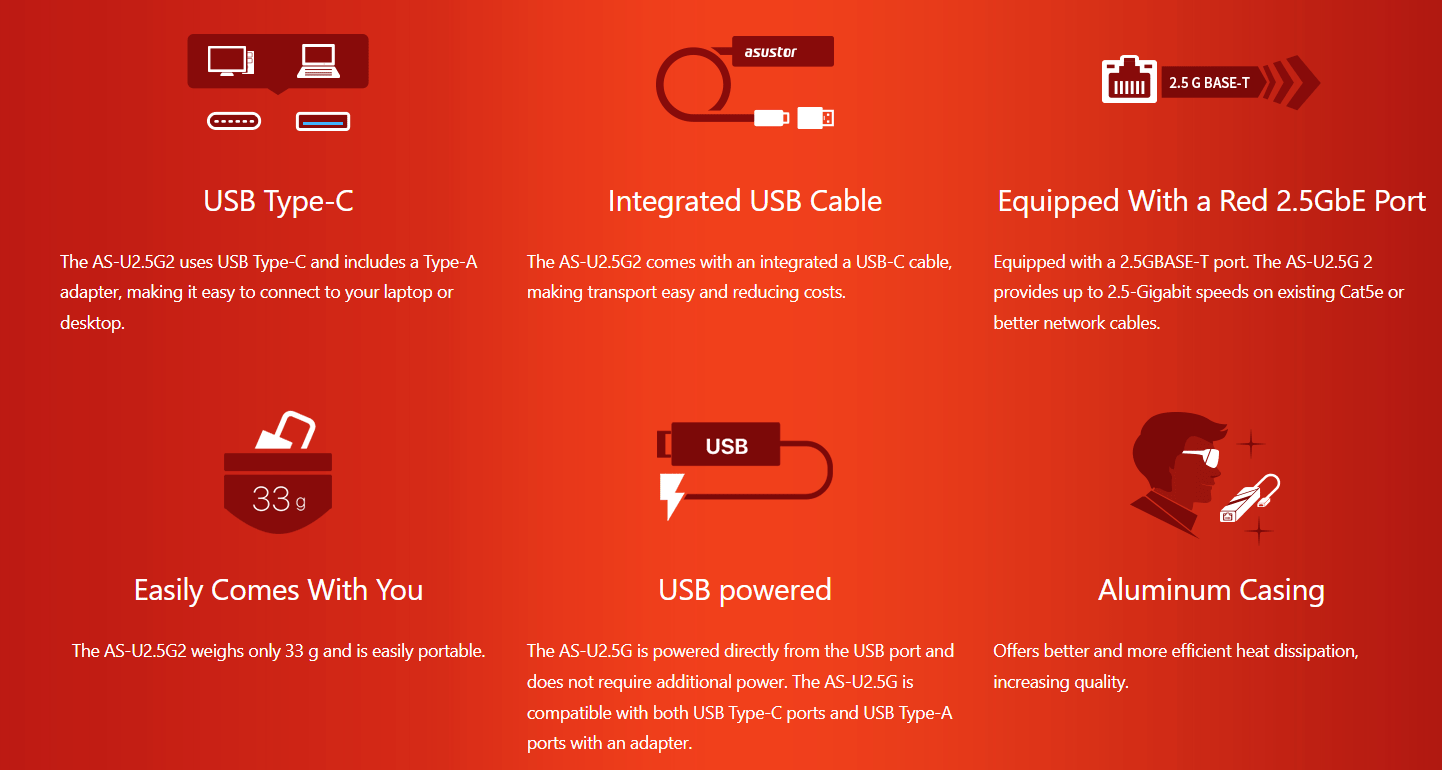 ASUSTOR's adapter is a compact device featuring a Type C connector and includes a Type A adapter USB plug at one end, complemented by an RJ45 2.5 Gigabit port at the other. While optimal performance is achieved when connecting to a USB 3.2 Gen 1 port, it's worth noting that the adapter is also compatible with the Thunderbolt 3 interface, providing versatility in connectivity options.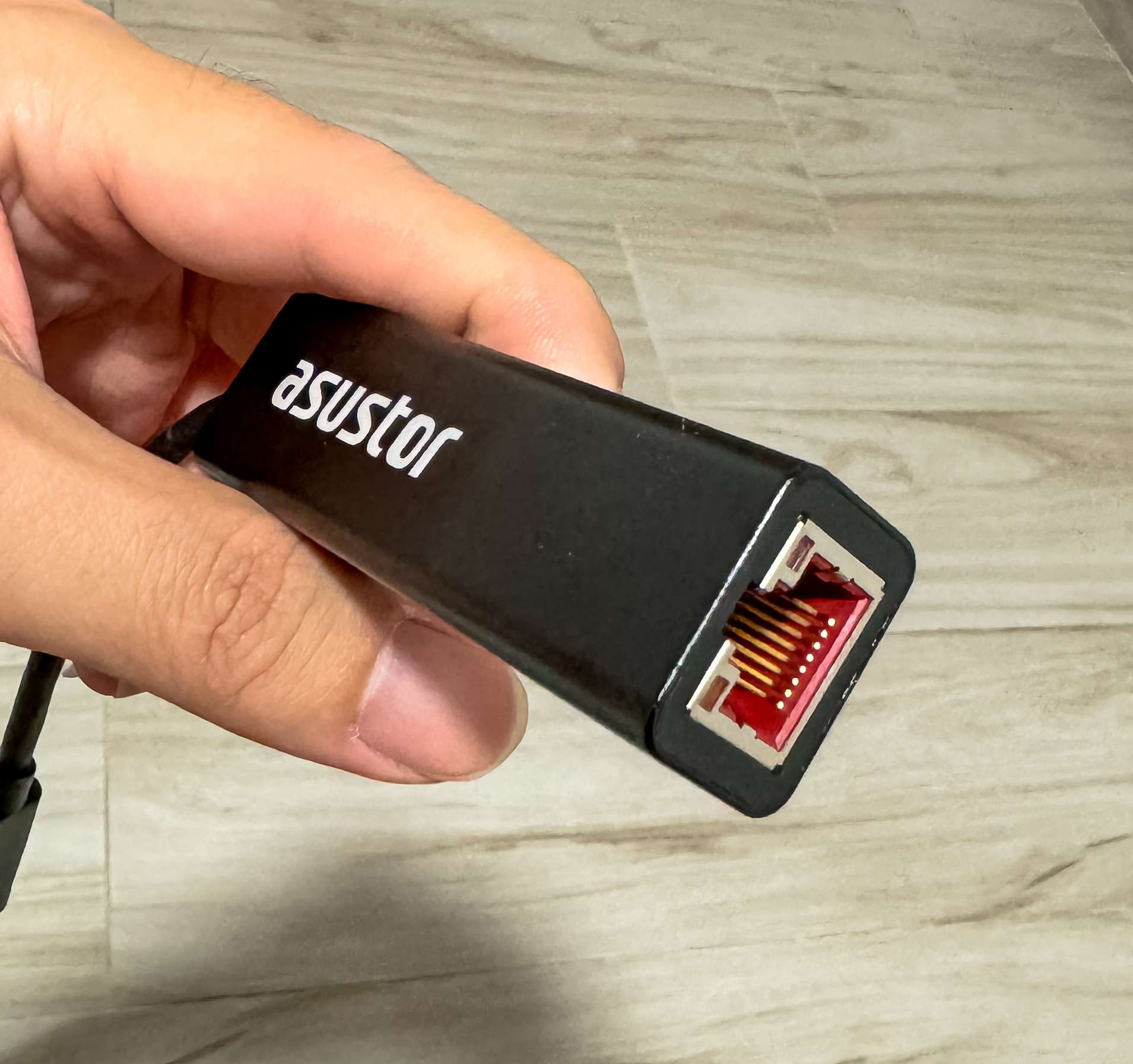 Let's us explain the USB naming
The difference between USB 3.1 Gen 1 and USB 3.1 Gen 2 is only in terms of speed. USB 3.1 Gen 1 supports speeds of up to 5Gbit/s, while USB 3.1 Gen 2 supports speeds of up to 10Gbit/s. The USB-IF originally planned to use a set of different names for USB 3.1 Gen 1 and USB 3.1 Gen 2 for marketing purposes. They wanted to name USB 3.1 Gen 1 "SuperSpeed USB" and and Gen 2 "SuperSpeed USB+", but the industry never caught on. Often, OEMs will add the speeds of 5Gbps or 10Gbps to their spec tables in order to differentiate between the two USB standards. The rest of the industry simply refers to them as "USB 3.1 Gen 1" or "USB 3.1 Gen 2".
USB technology has advanced even further with USB 3.2 arriving in 2017. There are four different variations of USB 3.2 with their own special names and meanings. Four variations of USB 3.2 are:
USB 3.2
Gen 1×1
USB 3.2
Gen 1×2
USB 3.2
Gen 2×1
USB 3.2
Gen 2×2
Transfer Speed
5Gbps
10Gbps
10Gbps
20Gbps
Previously
Known As
USB 3.1 Gen 1
and USB 3.0
—
USB 3.1 Gen 2
—
Interface Options
USB-A, USB-C,
microUSB
USB-C Only
USB-A, USB-C,
microUSB
USB-C Only
There are some advanced settings in the adapter's properties worth exploring. For example, you can enable VLAN tagging and Wake on LAN. There's also support for more granular controls such as Jumbo Frames, ARP Offload, and Flow Control.
The AS-U2.5 G2 adapter supports client machines running ASUSTOR ADM 3.5.1, Window 7 and 8 (32 and 64 bit), as well as Server 2008 R2, and, Linux 5.6 and Mac systems running OS X 12.1 and later.
AS-U2.5 G2 Hardware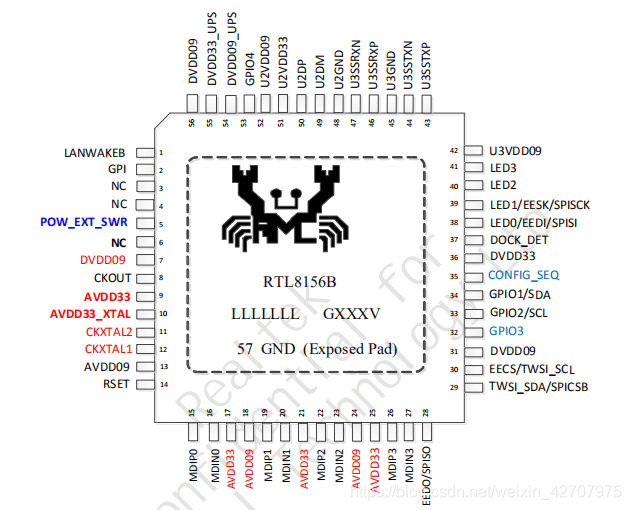 The ASUTOR AS-U2.5 G2 adapter is powered by Realtek RTL8156B 10/100/1000M/2.5G Ethernet controller combines a four-speed IEEE 802.3 compatible Media Access Controller (MAC) with a four-speed Ethernet transceiver.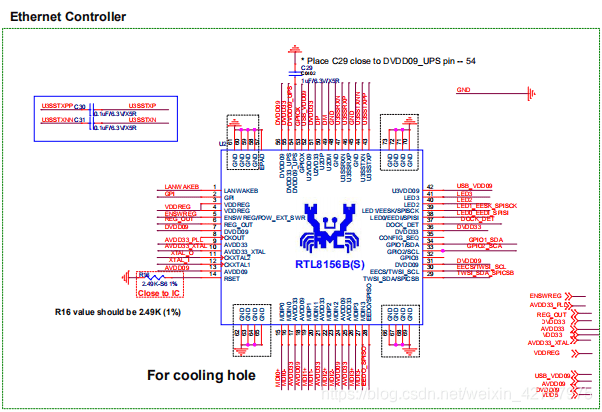 Included functions such as Crossover Detection and Auto-Correction, polarity correction, MDI swap, adaptive equalization, cross-talk cancellation, echo cancellation, timing recovery, RFI protection, thermal management, loopback diagnostic capability, and error correction are implemented to provide robust transmission and reception capabilities. The maximum supported jumbo frame length of the RTL8156B is 16384 bytes.
Driver Information
We have installed latest driver from Realtek.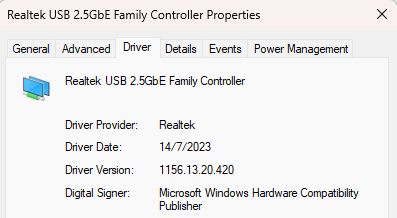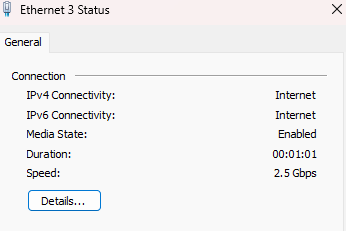 Benchmark/Transferring file Gaming Desktop
Network/System Configure:
| | |
| --- | --- |
| Main Router | ASUS ZenWiFi Pro [XT12] |
| NAS | ASUSTOR AS6604T |
| Switch | ASUSTOR ASW205T [2.5Gbe] |
Speedtest benchmark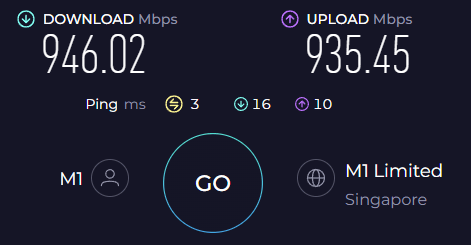 Transferring a game as large as Forspoken, which occupies 103 GB of space, from our ASUSTOR NAS AS6604T to a gaming desktop equipped with a Samsung 980 Pro 2TB M.2 SSD will be a relatively swift and efficient process.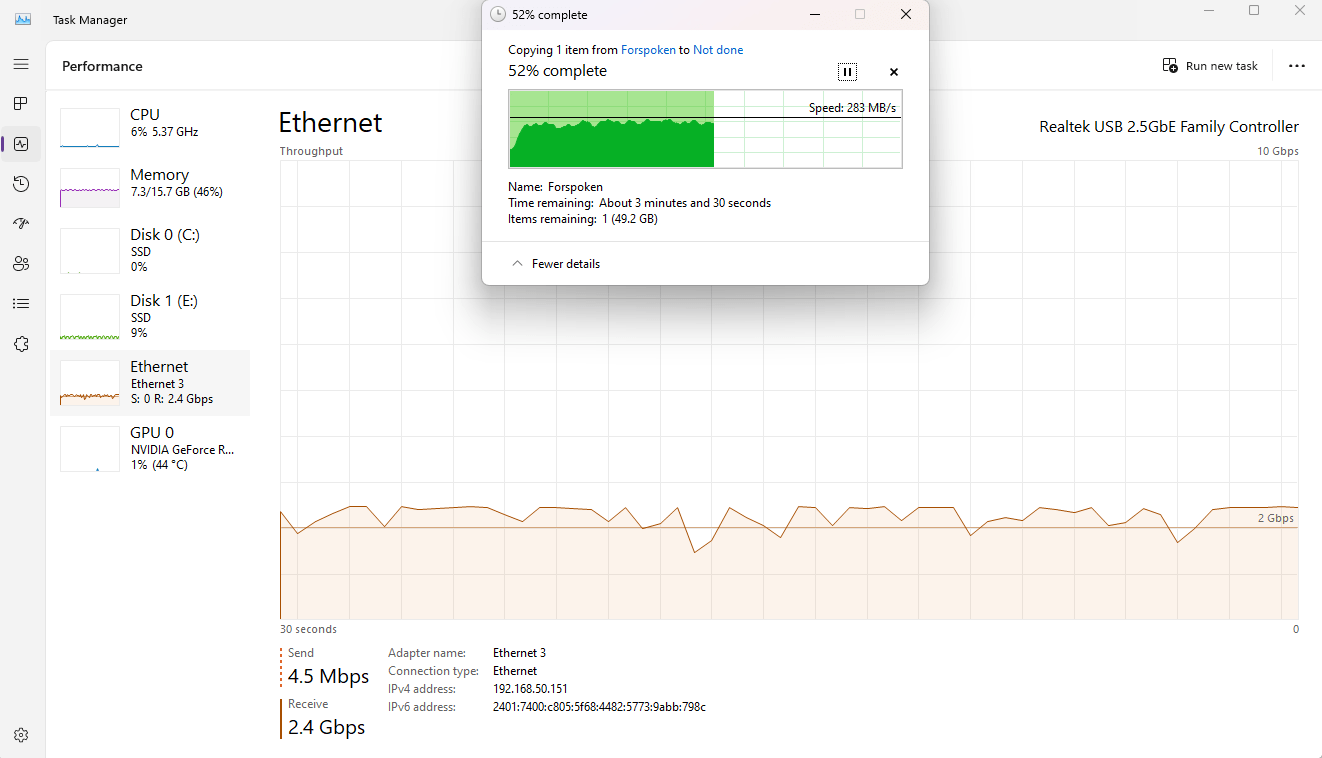 Benchmark on Apple iPhone 15 Pro Max
Network/System Configure:
| | |
| --- | --- |
| Main Router | ASUS ZenWiFi Pro [XT12] |
| NAS | ASUSTOR AS6604T |
| Switch | ASUSTOR ASW205T [2.5Gbe] |

Wireless AX connection Benchmark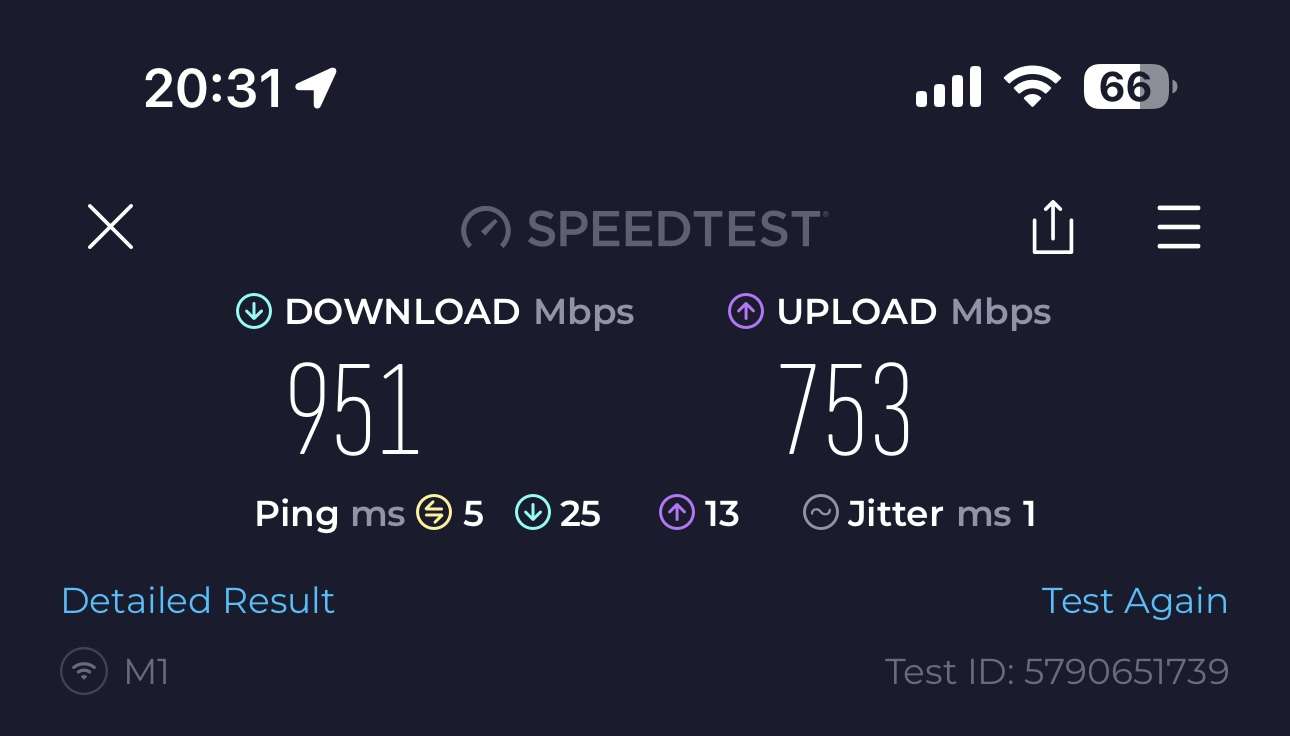 Wire connection directly from AS-U2.5 G2