First ROG 75% wireless custom gaming keyboard features a unique gasket mount design, tri-mode connectivity, OLED display, and hot-swappable ROG NX mechanical switches
KEY POINTS
OLED display with intuitive controls: View system info and keyboard settings at a glance, and use built-in three-way knob for quick adjustments
Unique gasket mount design: Silicone gasket mount with three-layer foam dampening provides unrivaled typing experiences
Hot-swappable ROG NX mechanical switches: Smooth pre-lubed switches; fast actuation and ROG-tuned force curves for feel and consistency
ROG Keyboard Stabilizer: Low-friction pre-lubed stabilizers for smooth, stable long keys; durable ROG PBT doubleshot keycaps offer a premium feel
Singapore, 4 January 2023 — ASUS Republic of Gamers (ROG) today announced the ROG Azoth, the first ROG 75% wireless custom gaming keyboard, bristling with features typically only found on premium DIY keyboards. The ROG Azoth has a built-in 2-inch OLED panel that can show keyboard status, Caps Lock status, connection mode, and PC/Mac mode indicators. It can also display battery level, multimedia info, custom animations, as well as system parameters such as CPU temperature. Intuitive tweaks and settings adjustments can be made via the three-way control knob and a button.
Unique gasket-mount design
A premium gasket-mount design featuring 10 silicone gaskets and three-layer foam dampening gives the ROG Azoth a slightly cushioned feel with sublime acoustics. A durable 3.5 mm-thick silicone pad inside the keyboard absorbs noise, while PORON® foam absorbs pings and echoes within the keyboard. Additionally, the silicone-foam-lined base completely eliminates echoes and provides a flat surface for the PORON foam.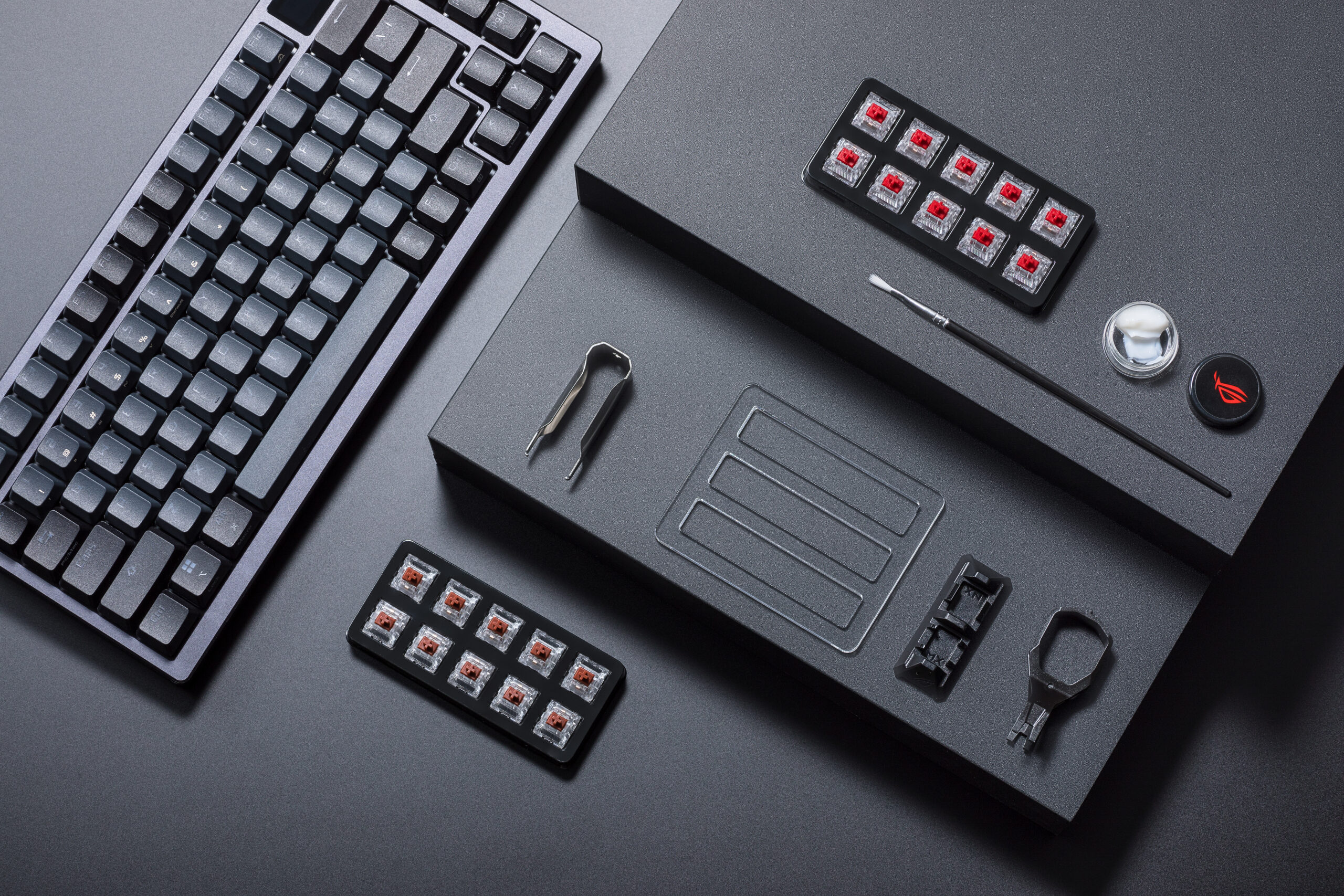 ROG NX mechanical switches
The ROG NX mechanical switches used in the ROG Azoth have pre-lubed stems and base housings that offer a smoother click feel and eliminate spring bouncing noises. Plus, ROG-tuned force curves and a fast-actuation design ensure great keystroke feel and consistency. The switches are hot-swappable[i] for a unique and customized feel.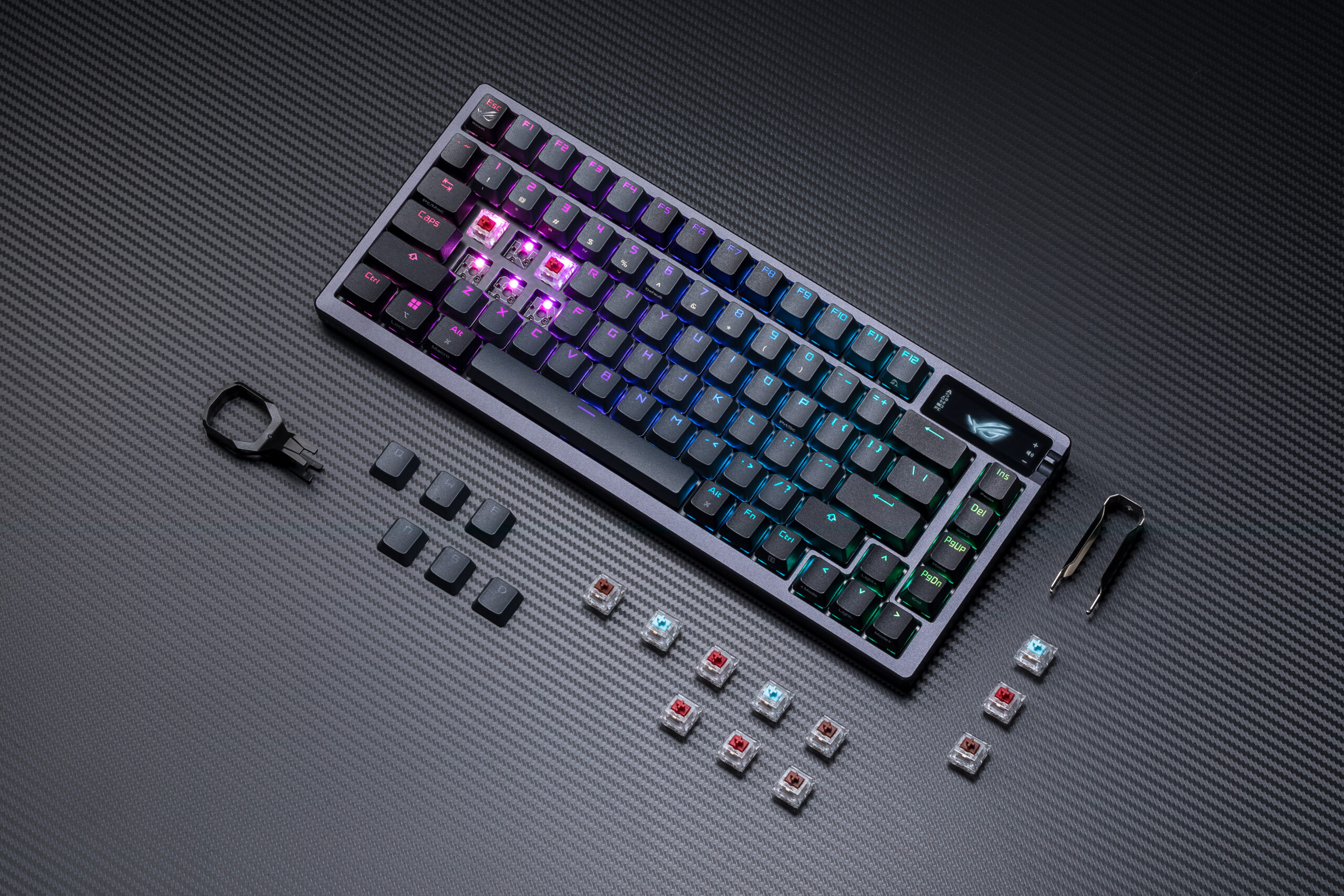 ROG Keyboard Stabilizer
The ROG Keyboard Stabilizer[ii] is pre-lubed and specially tuned for gaming: it produces less friction, allowing long keys such as Spacebar, Shift and Enter to stay true to the original switch feel. The Spacebar has extra lubing and modification for enhanced acoustics and feel.
ROG PBT doubleshot keycaps[iii] provide a premium feel and offer long-lasting durability. The design of the keys has been optimized with mid-height keycaps and a shorter stem to reduce key wobble and provide more comfortable typing experiences.
Bundled lube kit
The ROG Azoth is the ideal keyboard for those looking to get into keyboard DIY customization. Bundled essentials include Krytox™ GPL-205-GD0 lubricant, three additional switches, keycap and switch pullers, a switch opener, and a lube rack for switches.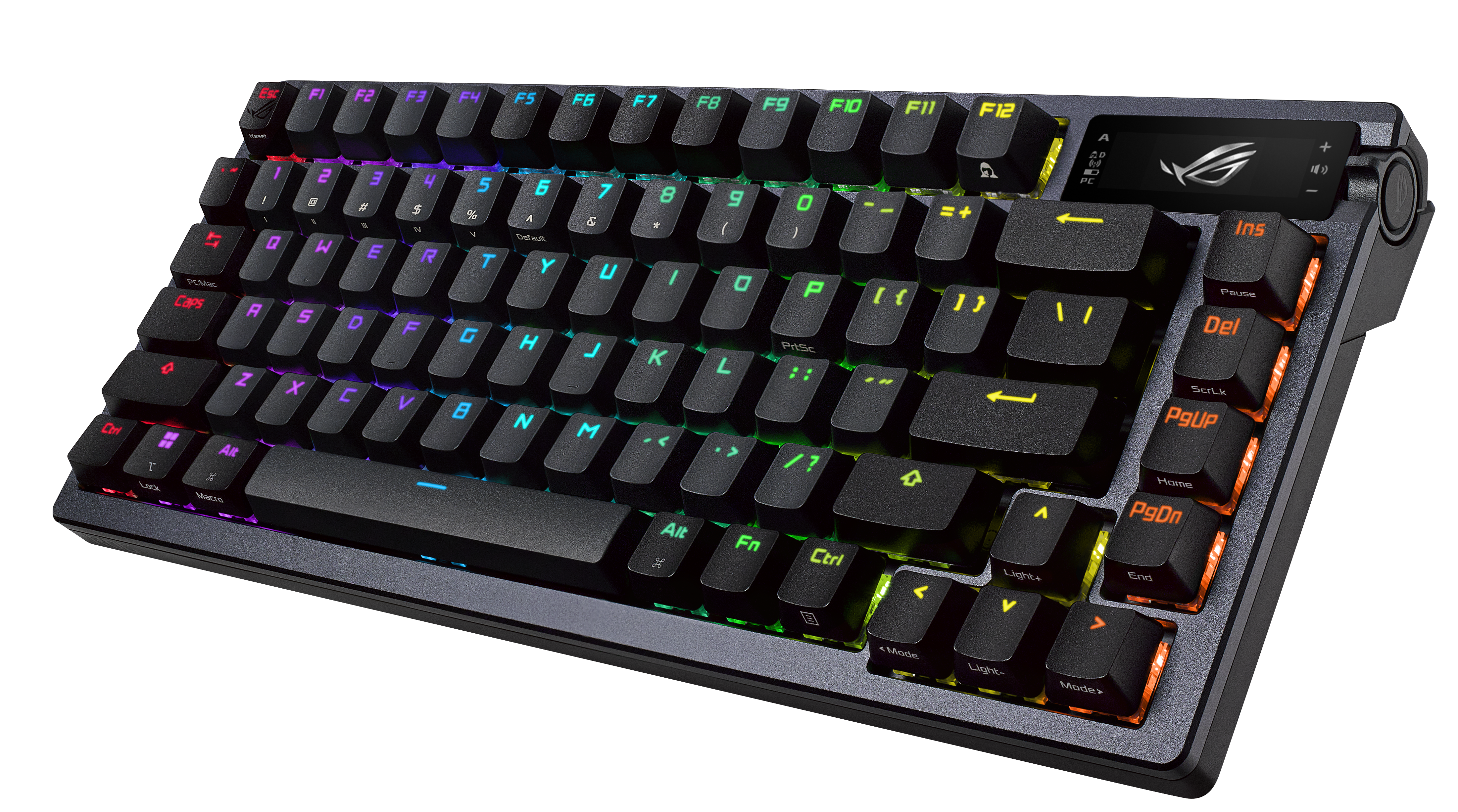 Tri-mode connectivity and other features
ROG SpeedNova wireless technology offers up to 2000+ hours of stable, uninterrupted near-zero-latency gameplay in 2.4 GHz RF mode (with RGB and OLED off). Bluetooth® mode enables users to connect the ROG Azoth to three devices simultaneously. Gamers can also charge the Azoth while in play by using the wired USB mode.
The ROG Azoth has two pairs of built-in keyboard feet to provide users with three tilt angles for a comfortable typing position. Plus, a MacOS mode remaps the keys for use with MacBooks and Macs.
Availability & Pricing
ROG Azoth will be available in End Jan 2023 with a suggested retail price of $429 SGD.
Specifications[iv]
ASUS ROG Azoth
Key Switches
ROG NX: Red, Brown, Blue
Connection
RF 2.4 GHz / USB 2.0 / Bluetooth® Low Energy
Layout
75% (81/82 keys)
Keyboard backlighting
Per-key RGB LEDs
OLED
256*64 grayscale OLED
Top case
Alloy
Anti-ghosting
N-Key Rollover
Polling rate
1000 Hz
Macro keys
All keys are programmable
Macro recording
On-the-fly recording support
Wrist rest
N
USB passthrough
N
Cable type
Braided fiber
Cable length
2.0 m
Supported OS
Win 11 / Win 10 / macOS
Onboard memory
5 customizable profiles & 1 default profile
Basic hot keys
Profile switch:

Fn + 1/ 2 / 3/ 4/ 5/ 6: Profile 1 – 6 (6 is the default profile)

Clear customized settings From onboard memory:

Hold Fn + Esc for 15 Seconds

Lighting hot keys
Lighting effects switch within a profile:

Fn + Right or Fn + Left

Lighting brightness level switch within a profile:

Fn + Up or Fn + Down

Color customization:

Fn + Delete: Red increase (10 Levels)

Fn + End: Green increase (10 Levels)

Fn + PageDown: Blue increase (10 Levels)

Hot Keys for special functions
On-the-fly macro recording:

Step 1: Fn + Left-ALT to start recording

Step 2: Fn + Left-ALT to end recording

Step 3: Assign Macro Key

WIN Lock switch button

Fn + windows key

Software
Armoury II Enabled / Armoury Crate
Media keys
Lever switch up / Lever switch down

Switch mode button

Dimensions
326 x 136 x 40 mm
Weight
1.186 kg (PBT)

1.17 kg (ABS)

Package contents
1 x ROG Azoth gaming keyboard
1 x ROG switch opener
1 x ROG keycap puller
1 x ROG switch puller
1 x Lube station
1 x Lube brush
1 x Lube
3 x ROG NX Switch
8 x Stabilizer mat
1 x USB dongle
1 x USB extender
1 x USB cable
1 x ROG sticker
1 x Quick Start guide
1 x Warranty booklet
[i] Even though the switches are hot-swappable, it is not recommended to swap out switches when the keyboard is on, to prevent short circuits.
[ii] The ROG Azoth is also compatible with costar stabilizers.
[iii] Keycap material may vary by region.
[iv] Specifications, content and product availability are all subject to change without notice and may differ from country to country. Actual performance may vary depending on applications, usage, environment and other factors. Full specifications are available at http://www.asus.com