Let's look at the main differences between the X670 and B650 chipsets.
AMD AM5 Chipset Comparison
Feature
X670E
X670
B650E
B650
CPU PCIe (PCIe)
5.0 (Essentially Mandatory)
4.0
(5.0 Optional)
5.0 (Essentially Mandatory)
4.0
(5.0 Optional)
CPU PCIe (M.2 Slots)
At Least 1 PCIe 5.0 Slot
Total CPU PCIe Lanes
24
Max Chipset PCIe Lanes
12x 4.0 + 8x 3.0
8x 4.0 + 4x 3.0
SuperSpeed 10Gbps USB Ports
4 CPU + 12 Chipset
or
4 CPU + 10 Chipset + 1 Chipset 20Gbps
or
4 CPU + 8 Chipset + 2 Chipset 20Gbps
4 CPU + 6 Chipset
or
4 CPU + 4 Chipset + 1 Chipset 20Gbps
DDR5 Support
Quad Channel (128-bit bus)
Speeds TBD
Wi-Fi 6E
Yes
CPU Overclocking Support
Y
Y
Y
Y
Memory Overclocking Support
Y
Y
Y
Y
Available
September 2022
October 2022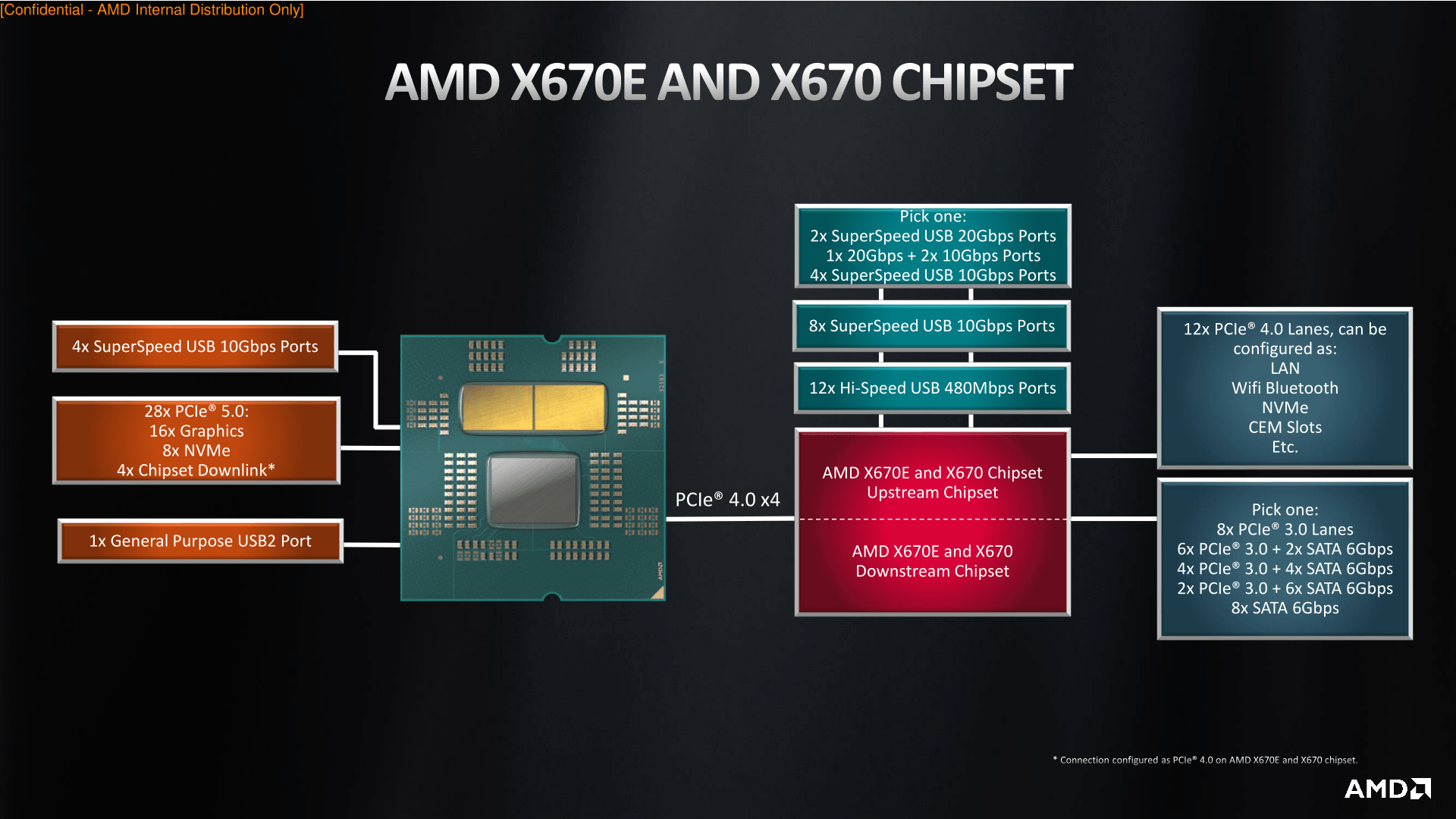 X670 is a two-chip solution, using what AMD terms the "downstream" and "upstream" chipsets. The upstream chip is connected to the CPU via a PCIe 4.0 x4 connection, and meanwhile the downstream chip is connected to the upstream chip via another PCIe 4.0 x4 connection.
By doubling up on the number of chips on board, the number of I/O lanes and options are virtually doubled. The sum total of the two chips offers up to 12 PCIe 4.0 lanes (the last 4 are consumed by the upstream chip feeding the downstream chip) and a further 8 PCIe 3.0 lanes that can be shifted between PCIe and up to 8 SATA ports.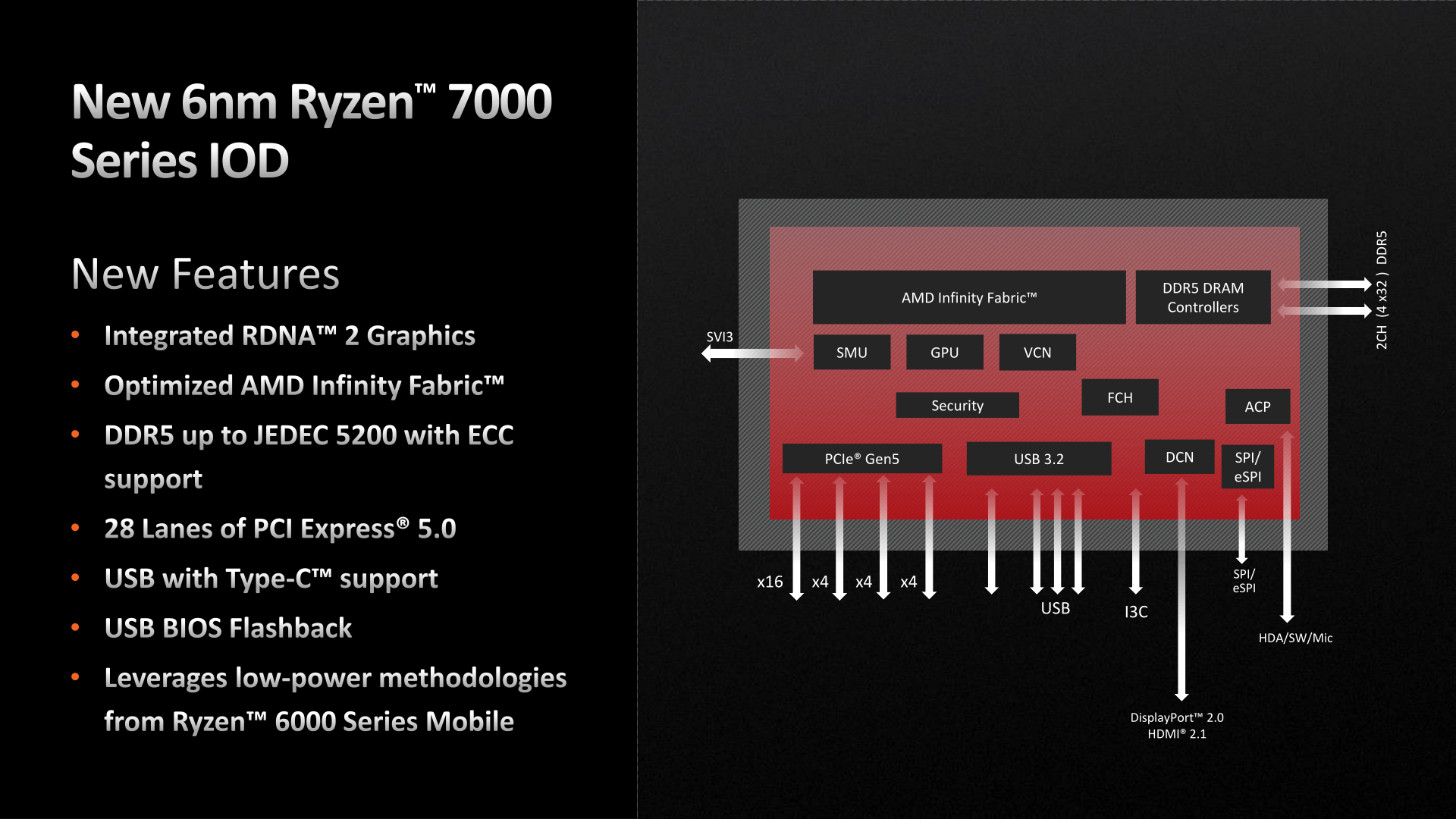 Meanwhile on the USB front, there are now 8 fixed USB 2 ports and 8 fixed SuperSpeed USB 10Gbps ports. For USB flex I/O, motherboard makers can select from either 2 20Gbps ports, 1 20Gbps port plus 2 10Gbps ports, or 4 10Gbps ports.
And while this configuration adds more I/O lanes (and thus more I/O bandwidth), it should be noted that all of these I/O lanes are still gated behind the PCIe 4.0 x4 connection going back to the CPU. So the amount of backhaul bandwidth available between the chipsets and the CPU is not any higher than it is on B650. The name of the game here is flexibility; AMD is not designing this platform for lots of sustained, high-speed I/O outside of the CPU-connected x16 PCIe graphics slot and M.2 slots. Rather, it's designed to have a lot of peripherals attached that are either low bandwidth, or only periodically need high bandwidths. If you need significantly more sustained I/O bandwidth, then in AMD's ecosystem there is a very clear push towards Threadripper Pro products.
Finally, X670 Extreme (X670E) will impose the same PCIe 5.0 requirements as B650E. This means Extreme boards will offer PCIe 5.0 connectivity for at least one PCIe lane, while X670 boards are expected to come with just PCIe 4.0 slots. These will be the most expensive boards, owing to a combination of requiring two chipsets, as well as the extra costs and redrivers that go into extending PCIe 5.0 farther throughout a motherboard.
On that note, when discussing the new chipsets with AMD, the company did offer an explanation for why X670 daisy chains the chipsets. In short, daisy chaining allows for additional routing – the downstream chipset can be placed relative to the upstream chipset, instead of relative to the CPU (and PCIe devices then placed relative to the chipsets). In other words, this allows for spreading out I/O so that it's not all so close to the CPU, making better use of the full (E)ATX board. As well, hanging both chipsets off of the CPU would consume another 4 PCIe lanes, which AMD would rather see going to additional storage.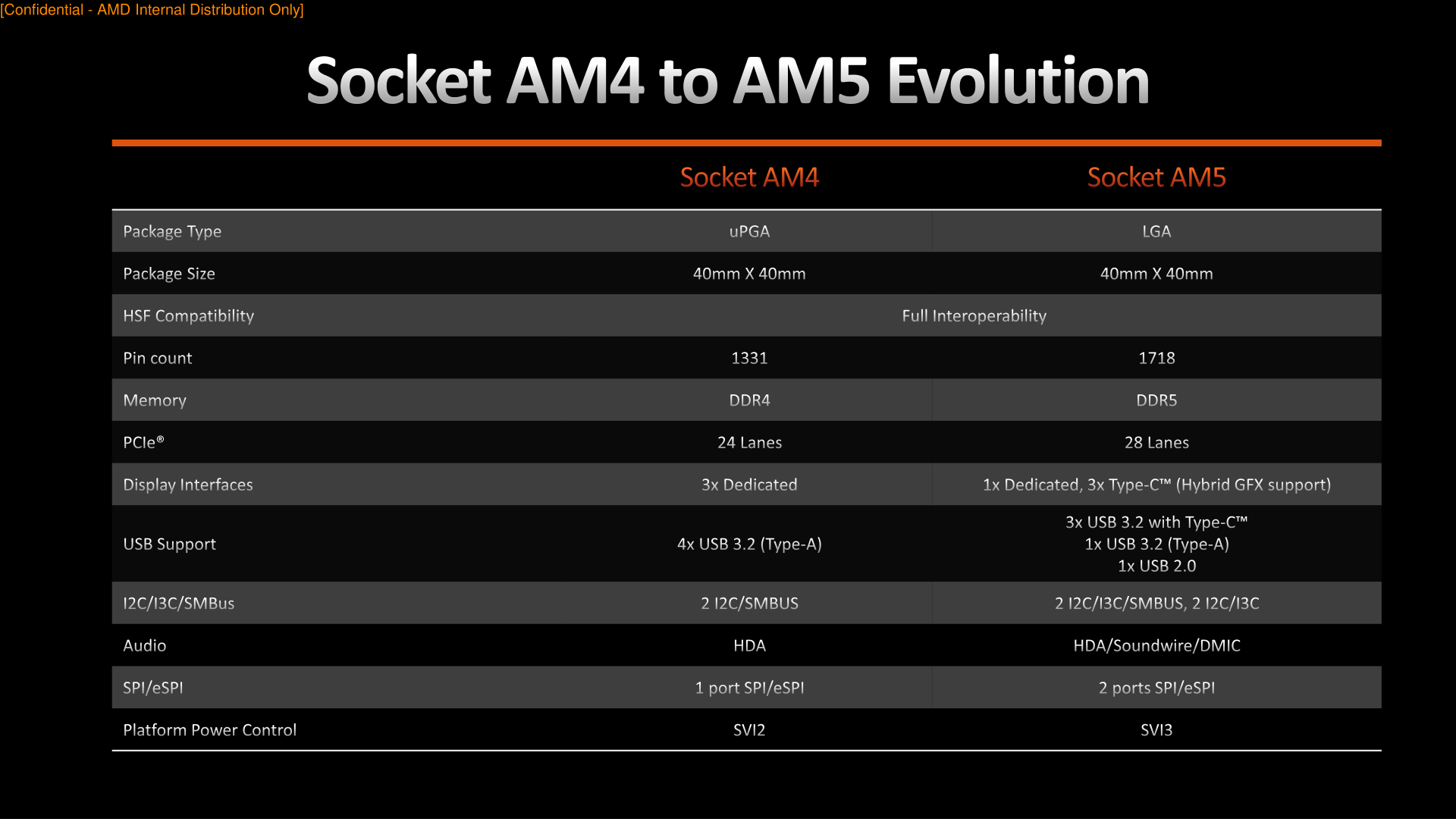 The Ryzen 7000 generation of processors has 28 PCIe lanes to this set, while 16 lanes (used for PCIe x16 slots) of the PCIe 5.0 version, the remaining lanes go to the M.2 slot and USB. Let me remind you about the LGA 1718 processor socket, so there is no mutual compatibility with AMD4 generation processors.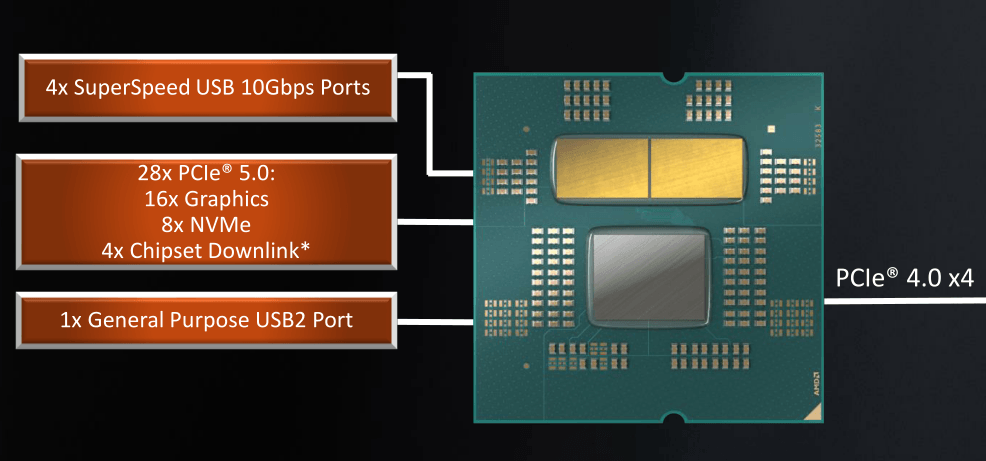 Ryzen 7000 Becomes Whole: Integrated Graphics At Last
Of the additional 1.31B transistors in AMD's new IOD, the single biggest spend against that budget comes from the long-awaited inclusion of integrated graphics on high-end Ryzen desktop parts. Up to this point, AMD's high-end consumer Ryzen processors have not included integrated graphics; both the early monolithic parts and later chiplet-style parts have forgone them for cost and integration reasons. But now with AMD's modern RDNA 2 graphics architecture and TSMC fabrication process, AMD has finally seen the (ray traced) light, and is building a small GPU block into the IOD to offer integrated graphics throughout the Ryzen 7000 product stack.
To be sure, this iGPU is not a very powerful one – and it's not meant to be. With just 2 CUs (technically a single RDNA 2 dual compute unit), it offers one-sixth the number of CUs on AMD's top-end Ryzen Mobile APUs, or in the bottom-of-the-stack discrete Radeon RX 6400. So this is not a configuration meant to replace AMD's traditional APUs in laptop or desktop scenarios. None the less, it is a full implementation of the RDNA 2 architecture – ray tracing and all – in a very low performance configuration.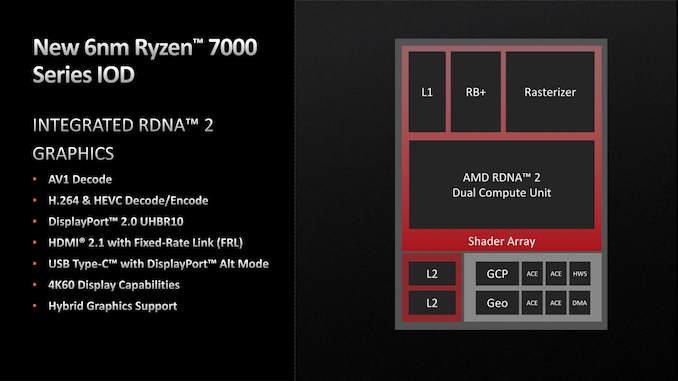 Besides enabling basic pixel processing, the other major function of the Ryzen 7000 iGPU is to enable all of the video decoding and video output functionality expected from a modern GPU. As this part is derived from the integrated GPU that when into Ryzen 6000 Mobile (Rembrandt), it comes with a very familiar feature set. That includes AV1, HEVC, and H.264 video decoding, as well as HEVC and H.264 video encoding.  And, as AMD is keen to point out, these video encode/decode blocks remain accessible even with a discrete GPU in play; so unless a user outright disables the iGPU, every Ryzen 7000 system will have access to a modern suite of video encode and decode features.
Meanwhile on the display controller side of matters, this is the block that's enabling Ryzen 7000 CPUs to drive up to 4 4K@60Hz displays. The iGPU display controllers can drive HDMI 2.1 up to its maximum 48Gbps data rate, or it can drive a DisplayPort 2.0 output at up to the UHBR10 data rate (a feature not even found on NVIDIA's forthcoming RTX 40 series cards). And as mentioned previously when talking about motherboards and chipsets, motherboard vendors will have the option of exposing these DP outputs either via USB-C alt mode, or by implementing fixed DisplayPorts. All of which, in turn, can be used as active display outputs even if a discrete video card is installed, via AMD's new hybrid graphics mode.
All told, AMD is taking a similar tack as Intel here with their desktop CPUs. Most (but not all) Intel desktop parts contain a basic UHD-class integrated Xe-LP GPU, which Intel does for many of the same reasons as AMD now is. AMD has a leg-up on Intel in as much as they offer a newer architecture and features to much, such as AV1 decoding. But we'll have to see where performance lands; 2 Radeon CUs is low enough that these parts may not even catch up to Intel's 32 EU integrated graphics.
AMD Radeon Graphics
(Raphael)
AMD Radeon 680M
(Rembrandt)
AMD Radeon RX 6400
Stream Processors
128
(2 CUs)
768
(12 CUs)
768
(12 CUs)
Boost Clock
2200MHz
2400MHz
2321MHz
Peak Throughput (FP32)
0.56 TFLOPS
3.7 TFLOPS
3.6 TFLOPS
Memory Clock
DDR5-5200
LPDDR5-6400
16 Gbps GDDR6
Memory Bus Width
128-bit
128-bit
64-bit
Infinity Cache
N/A
N/A
16MB
Manufacturing Process
TSMC N6
TSMC N6
TSMC N6
Transistor Count
N/A
N/A
5.4B
Architecture
RDNA2
RDNA2
RDNA2
GPU
Raphael Integrated
Rembrandt Integrated
Navi 24
The product under consideration today belongs to the top series of ROG Strix ITX motherboards, though not to the flagship ROG Maximus, well, simply because it is based on the top-tier X670E chipset, but this does not detract from some of the advantages of this motherboard, for example, its form factor. However, let's go in order.
Today we will be using AMD Ryzen 7900X – IGPU with ASUS ROG STRIX X670E-I GAMING WIFI Motherboard.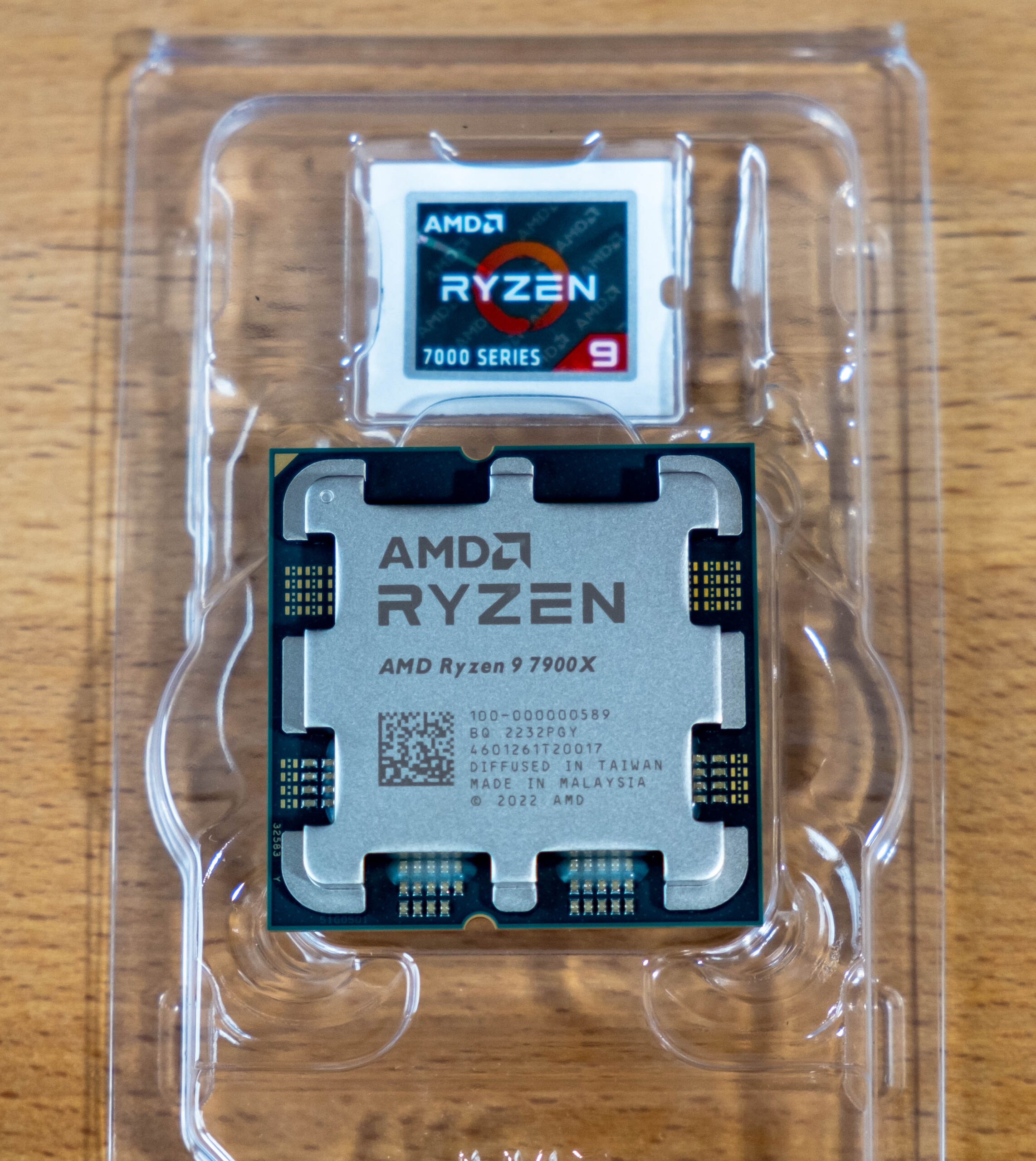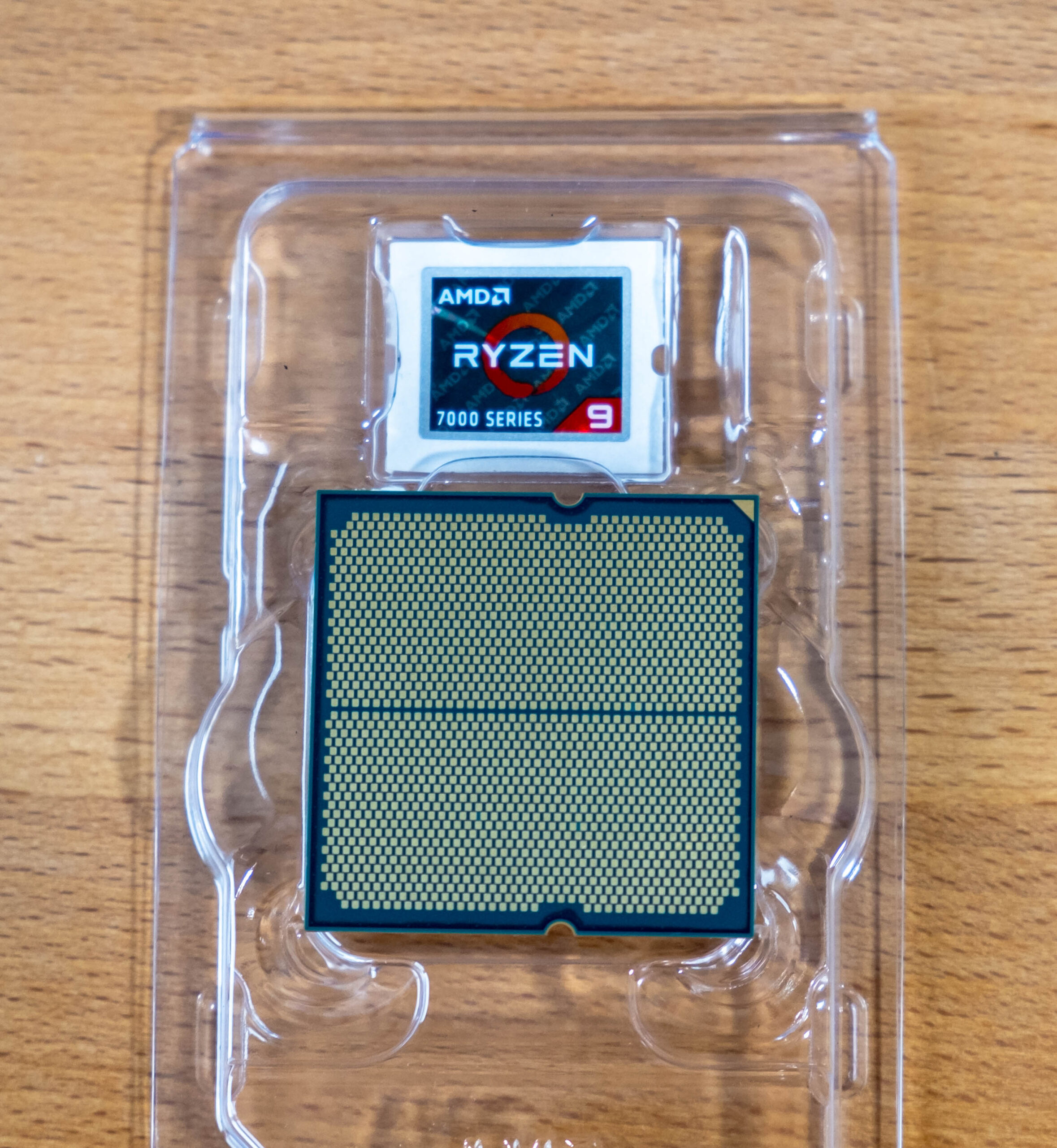 Form factor
Form factor Mini-ITX measures 170x170mm, Micro-ATX up to 244x244mm, ATX up to 305x244mm, and E-ATX up to 305x330mm. The Asus ROG Strix X670E-I Gaming WiFi motherboard is made in a Mini-ITX form factor, measures 170x170mm, and has 4 mounting holes for chassis installation.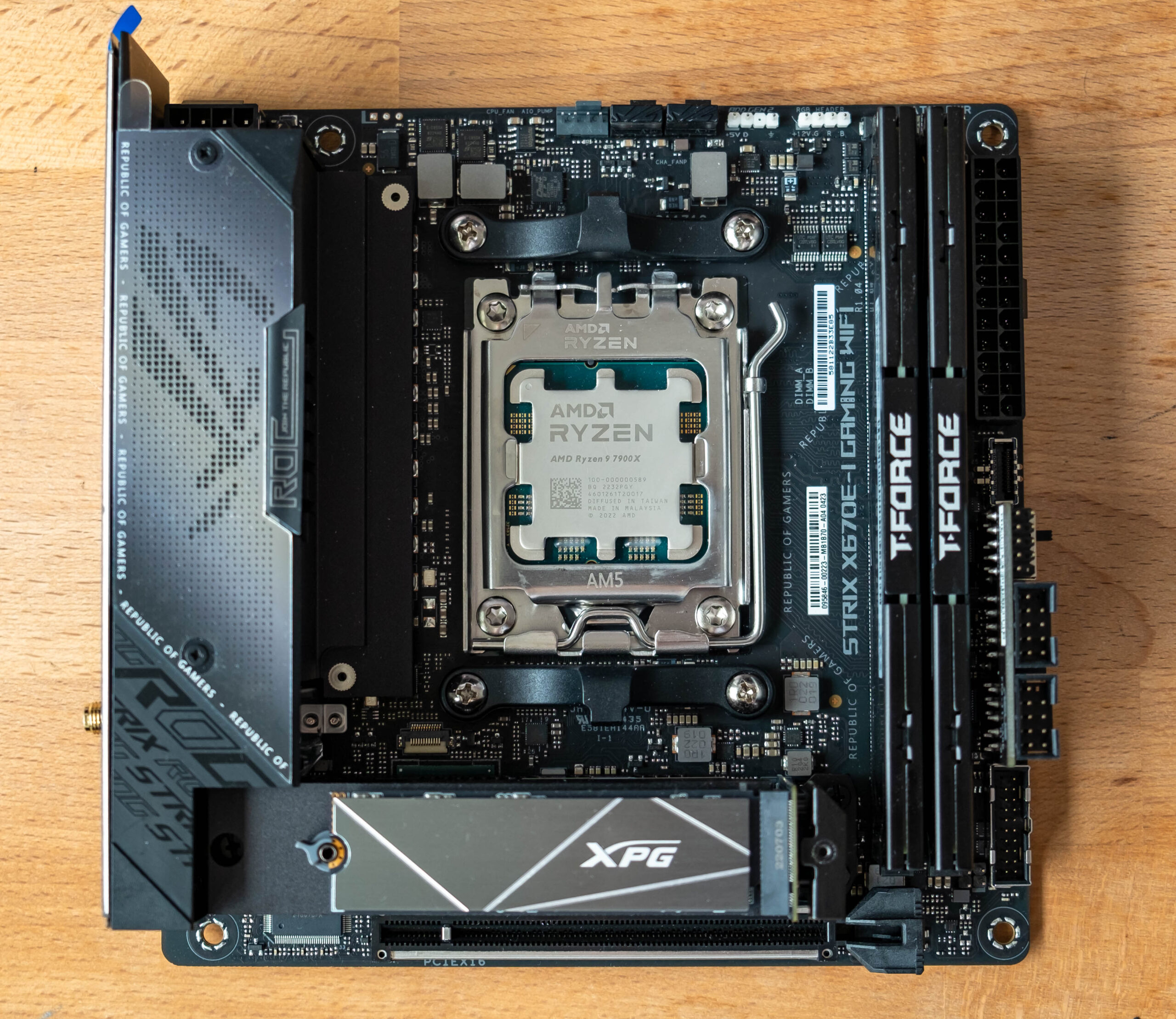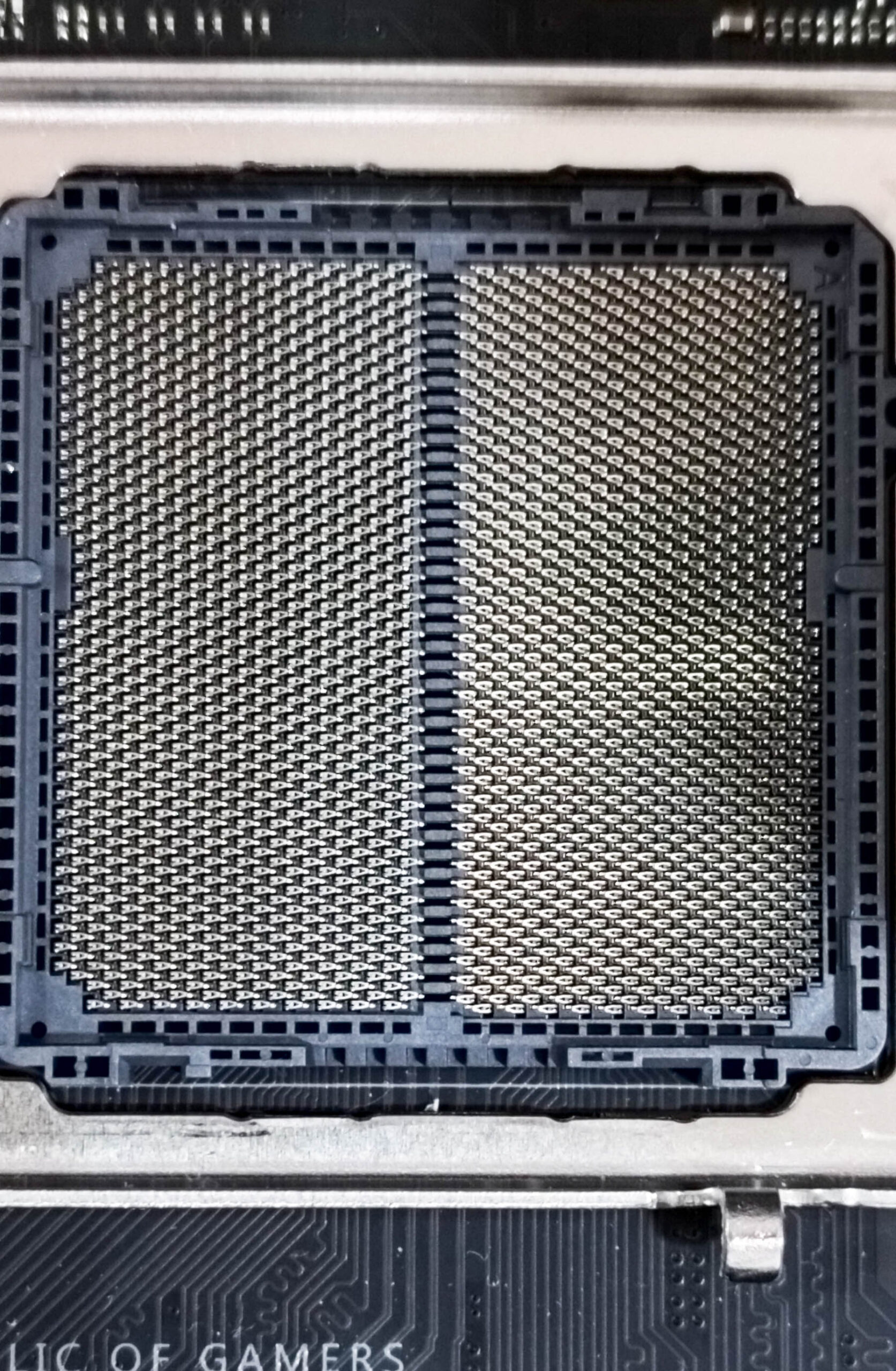 AMD new socket LGA1718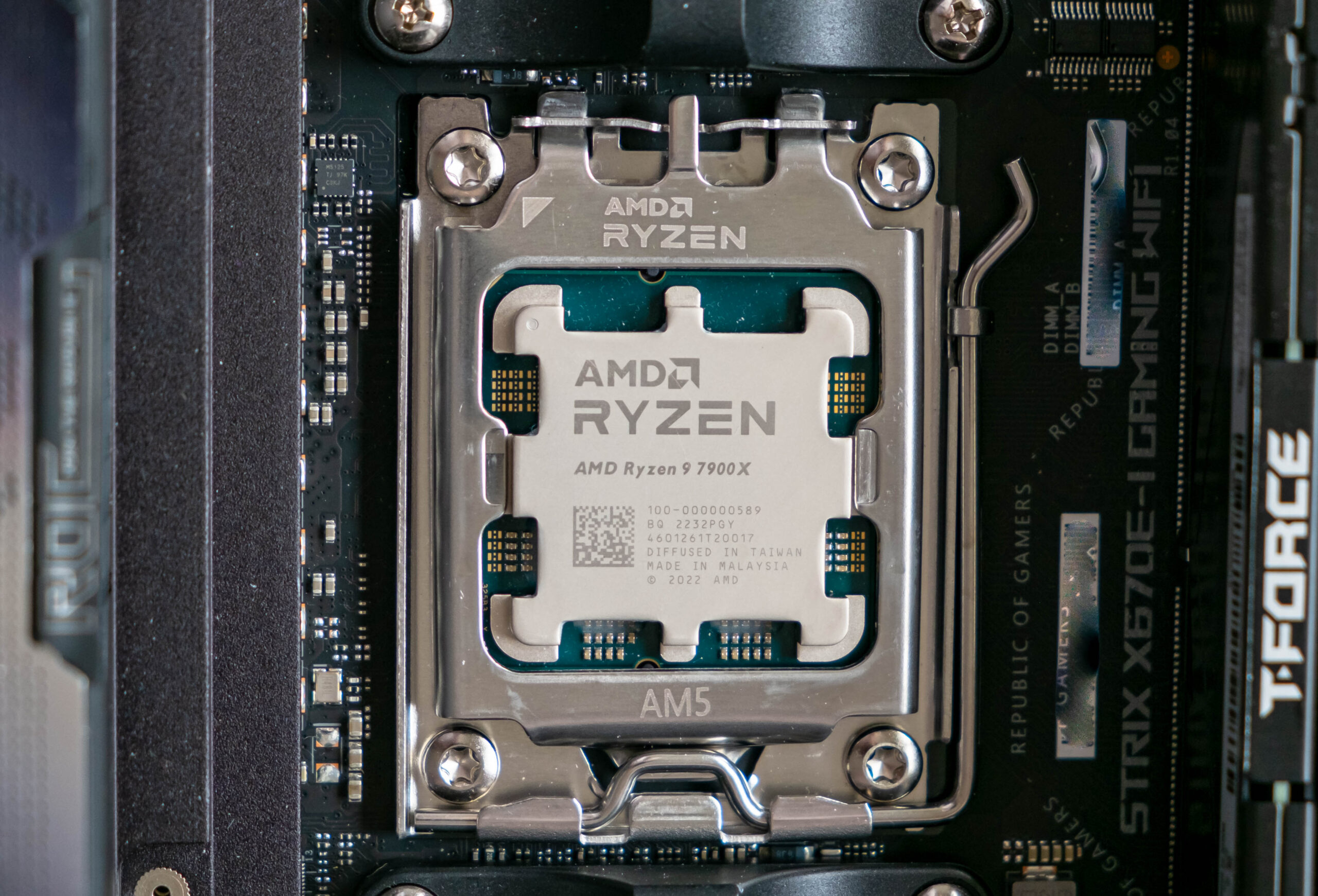 The reverse side is not empty, there is small black plate VRM Heatsink.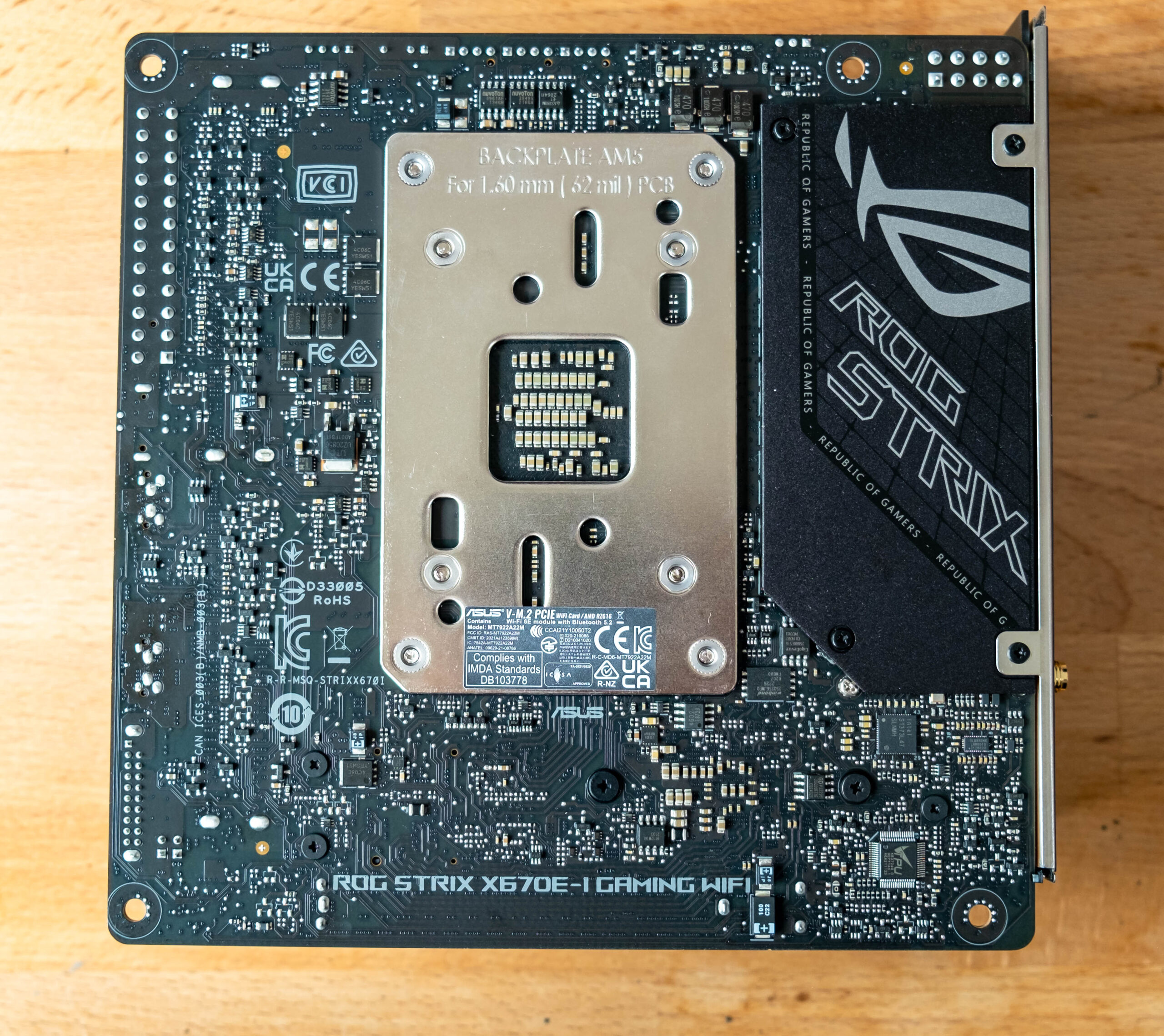 Peripheral functionality: USB ports, network interfaces, I/O
Now it's the turn of USB ports and other I/O. And let's start with the back panel, where most of them are displayed.
On the back I/O panel of connections including 1x HDMI (iGPU), 5x USB-A 3.2 Gen2 (10Gb/s), 3 x USB-A 2.0 (480Mb/s), 2x USB-C USB 4.0 Thunderbolt 4 (Intel JHL8540), 1x 2.5GBase-T (Intel I225-V), Intel WiFI 6E, Also present on the rear panel feature for the bios flashback is included.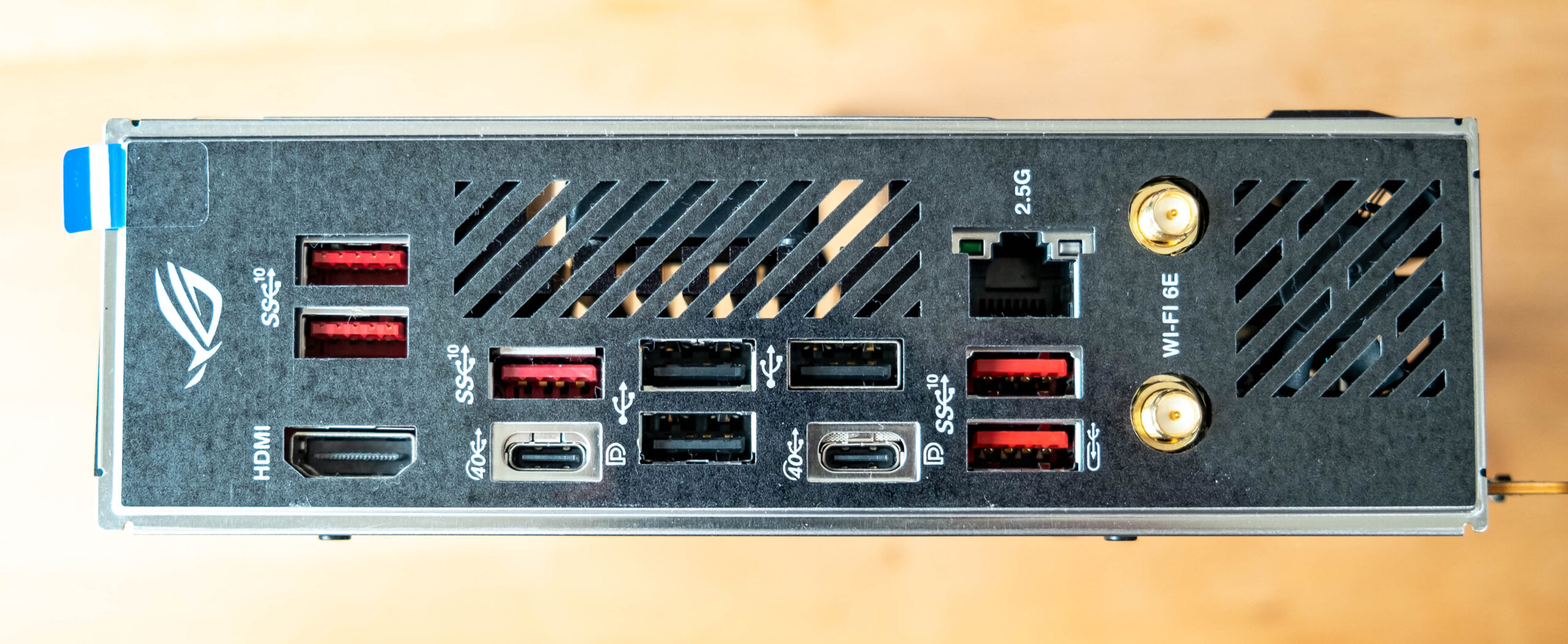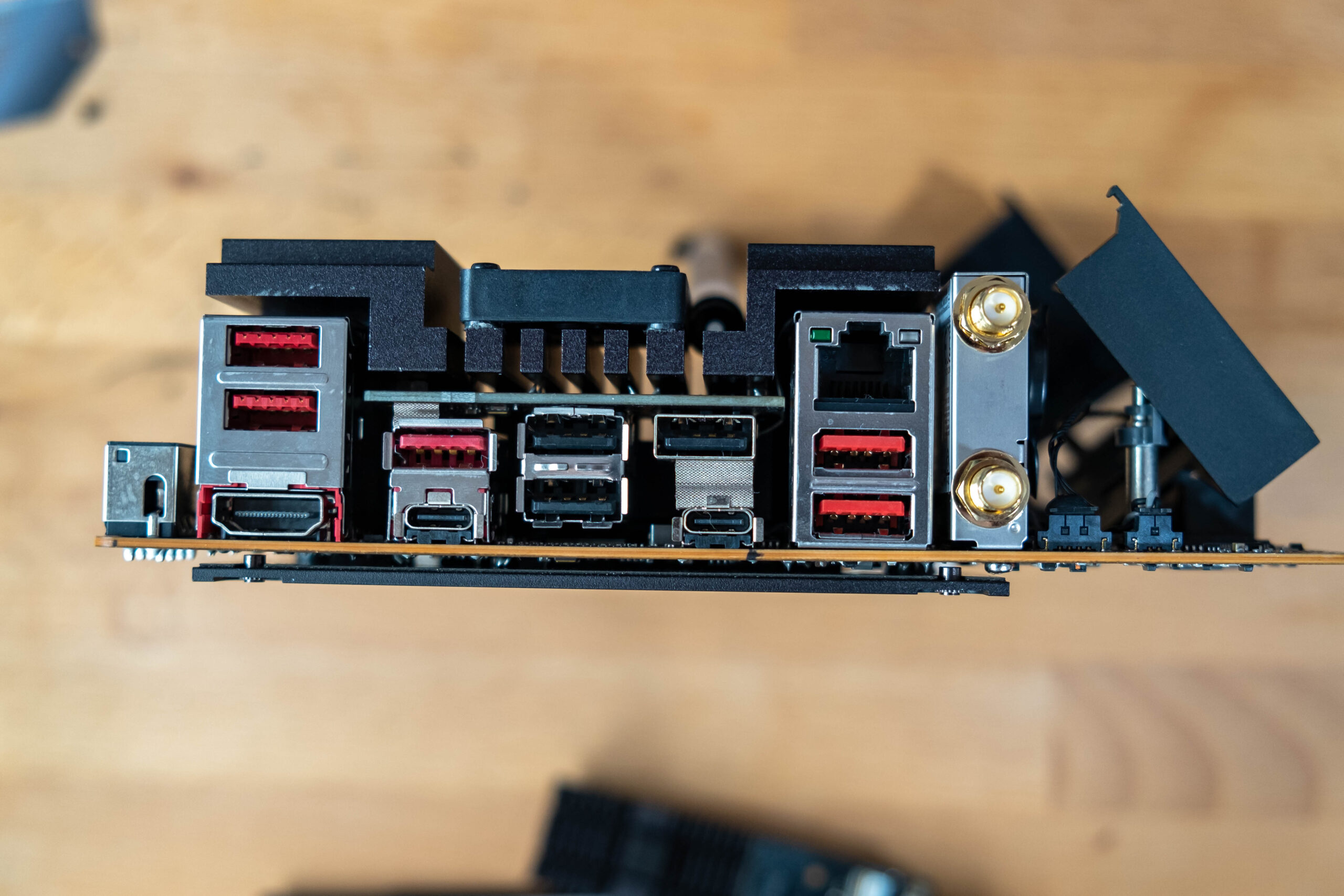 As we can see, the chipset cooling (a small heatsink located under the M.2_1 slot) is organized separately from the power converters. The M.2_1 & M.2_2 slot also has its own heatsink.
AMD Ryzen™ 7000 Series Desktop Processors
M.2_1 slot (Key M), type 2280(supports PCIe 5.0 x4 mode)
AMD X670 Chipset
M.2_2 slot (Key M), type 2242/2260/2280
(supports PCIe 4.0 x4 mode)
Two Phison's PCIe 5.0 Redriver IC PS7101 provides high-speed transmission and multi-band independent bandwidth to M.2 and PCIE.

To reiterate, the X670E chipset is capable of implementing a maximum of 4x PCIe Gen 5/4 interconnection between Ryzen and Chipset.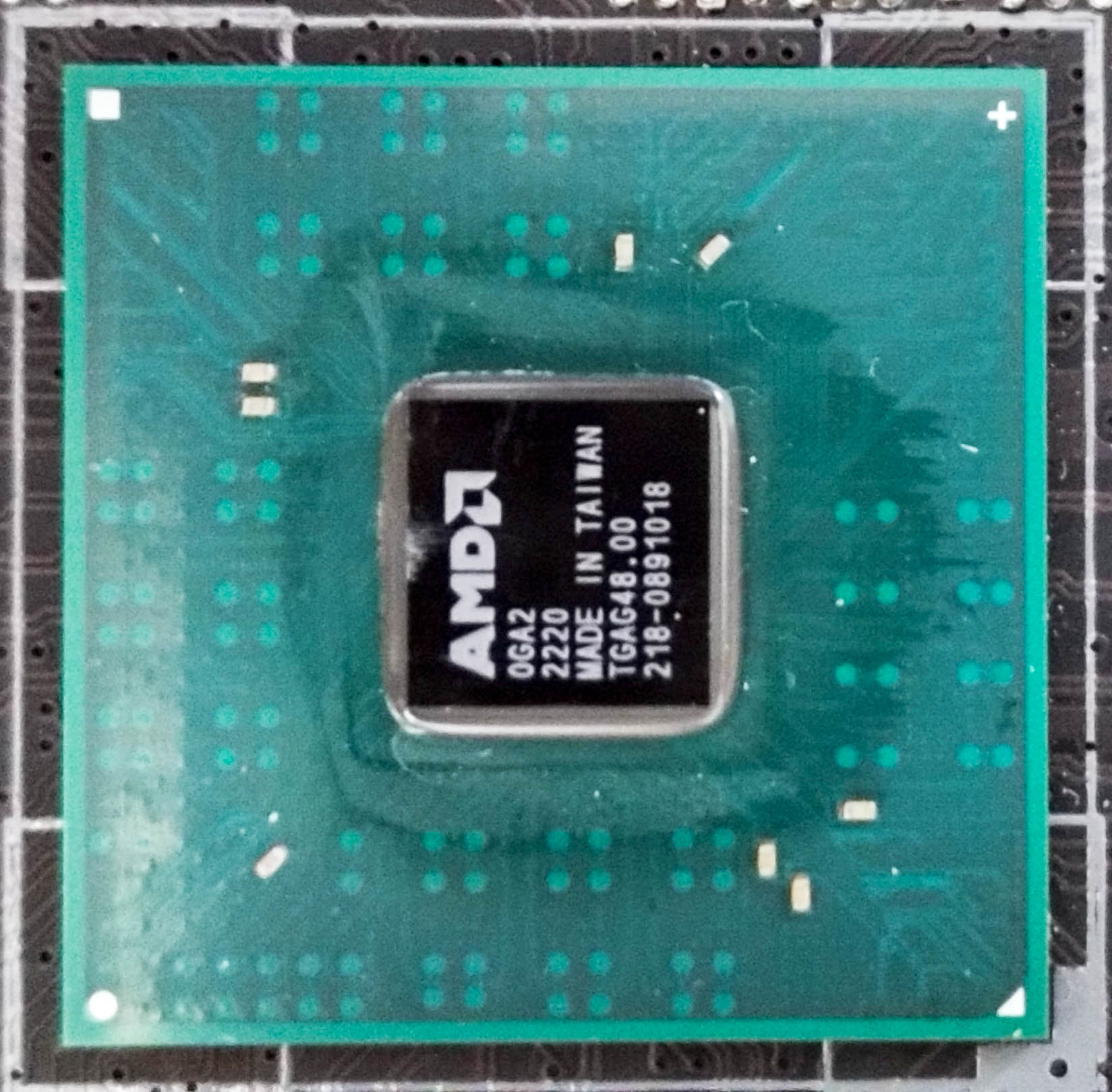 Delta ASB0312HP-00 fan blow directly inward to cool down chipset and M.2 heatsink.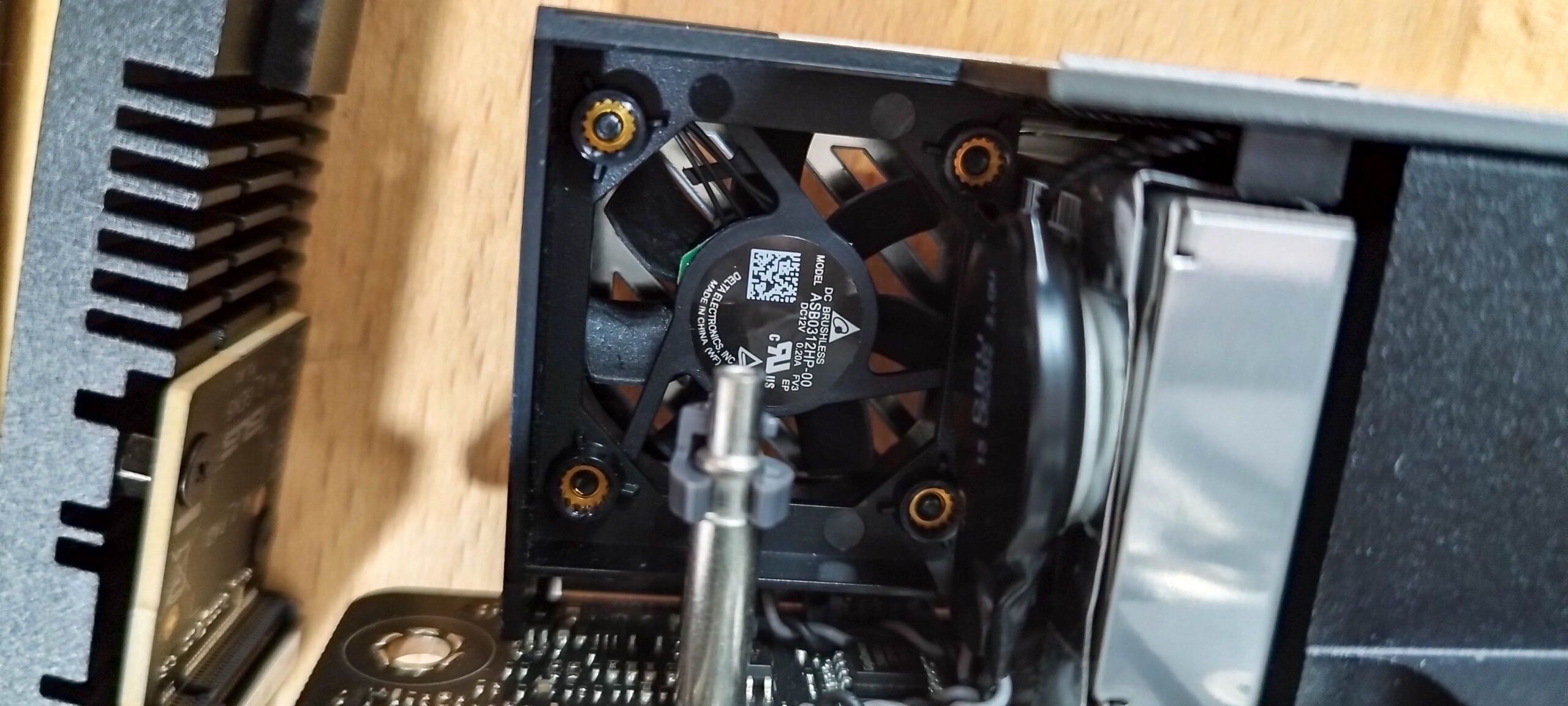 ARGB2 Control over the synchronization of the backlight is assigned to the proprietary controller Aura 32UA0.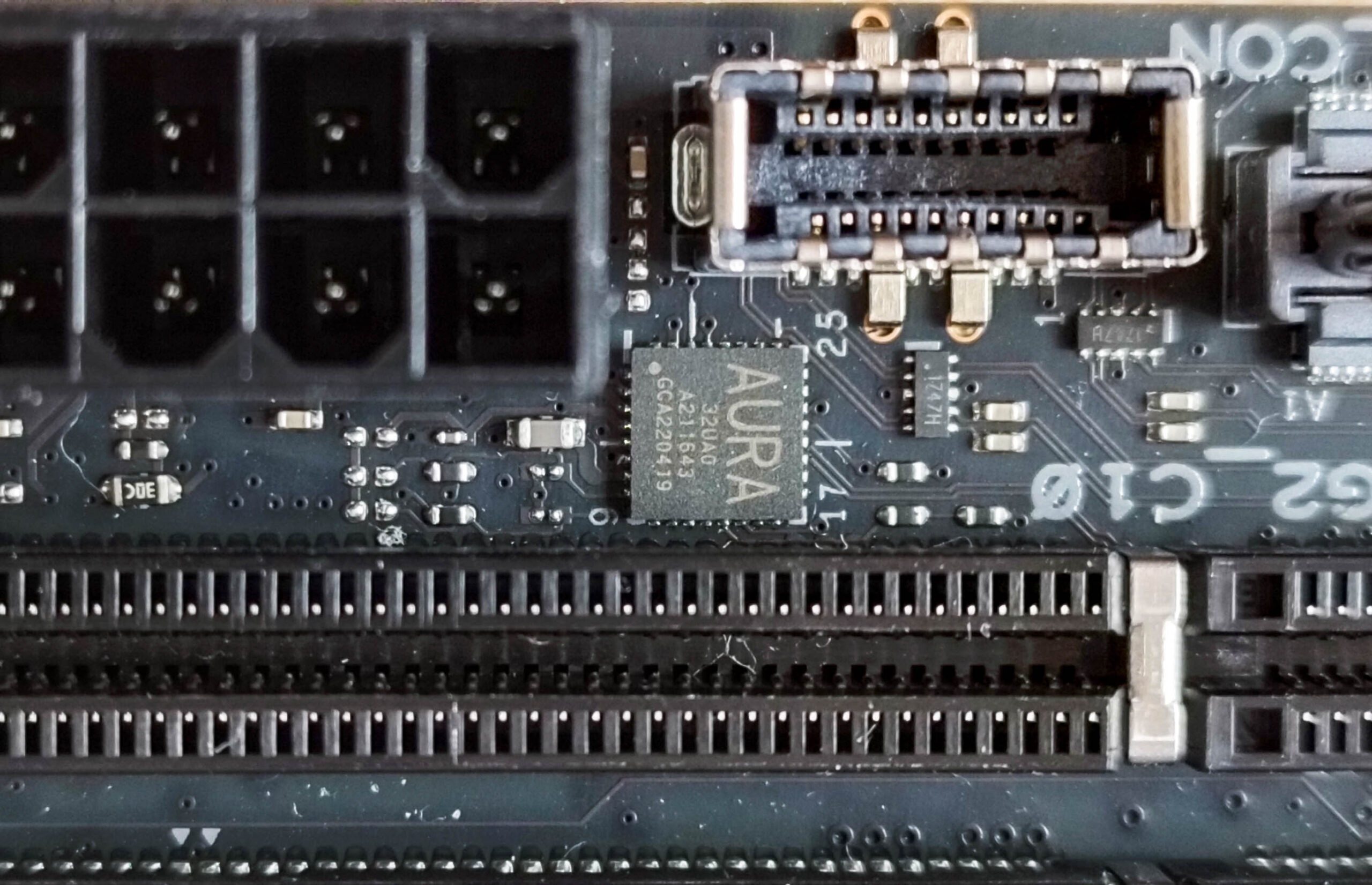 Two USB-C port connector for plug in ROG FPS-II card.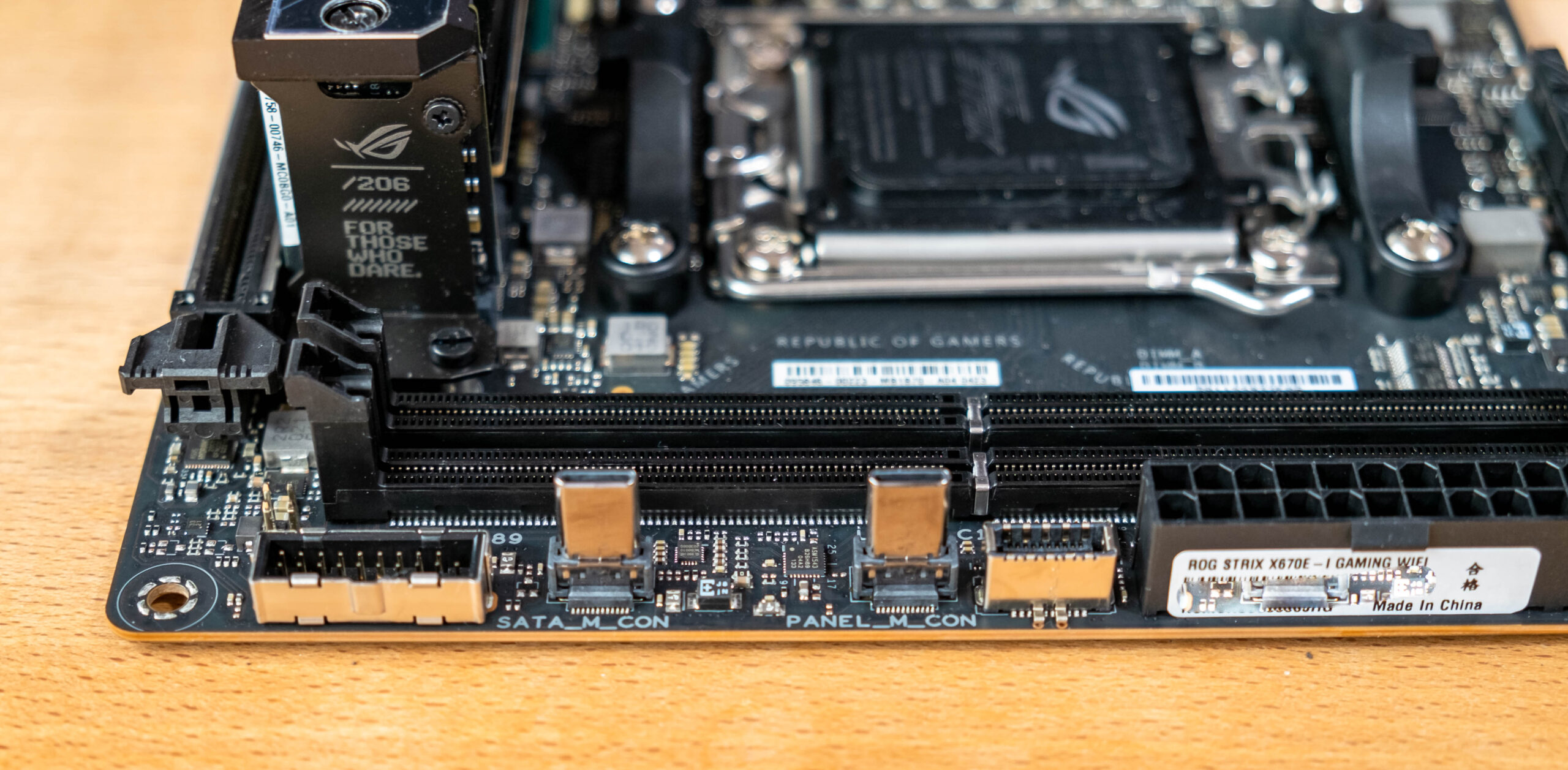 ROG FPS-II Card: 2x USB 2.0 Header, 2x SATA 6.0, Clear CMOS, F_Panel and Alteration mode switch.
The Alteration Mode switch allows you to switch the PCIe signal which comes from
the CPU from between Gen4 or Gen3 for the PCIe slot.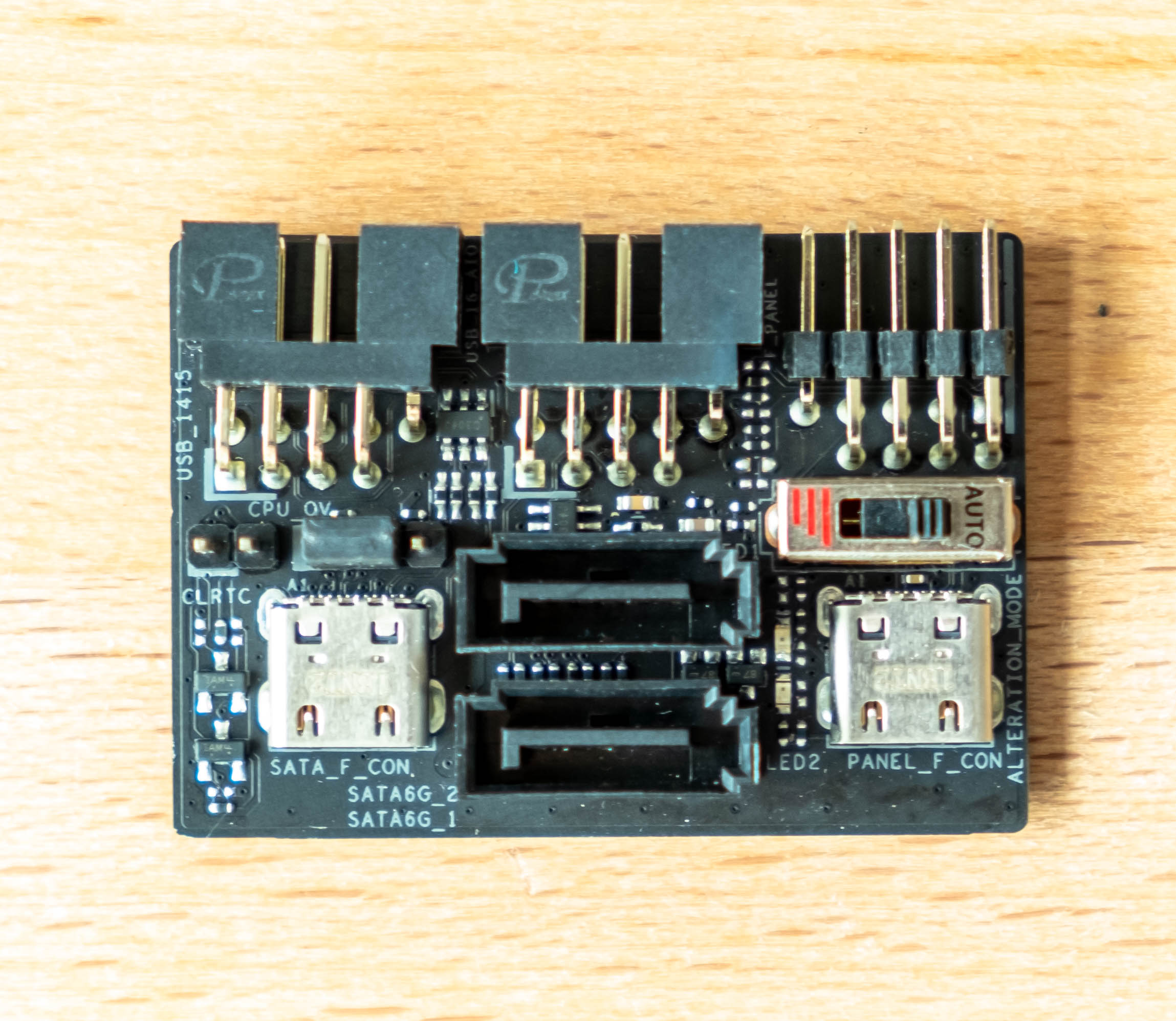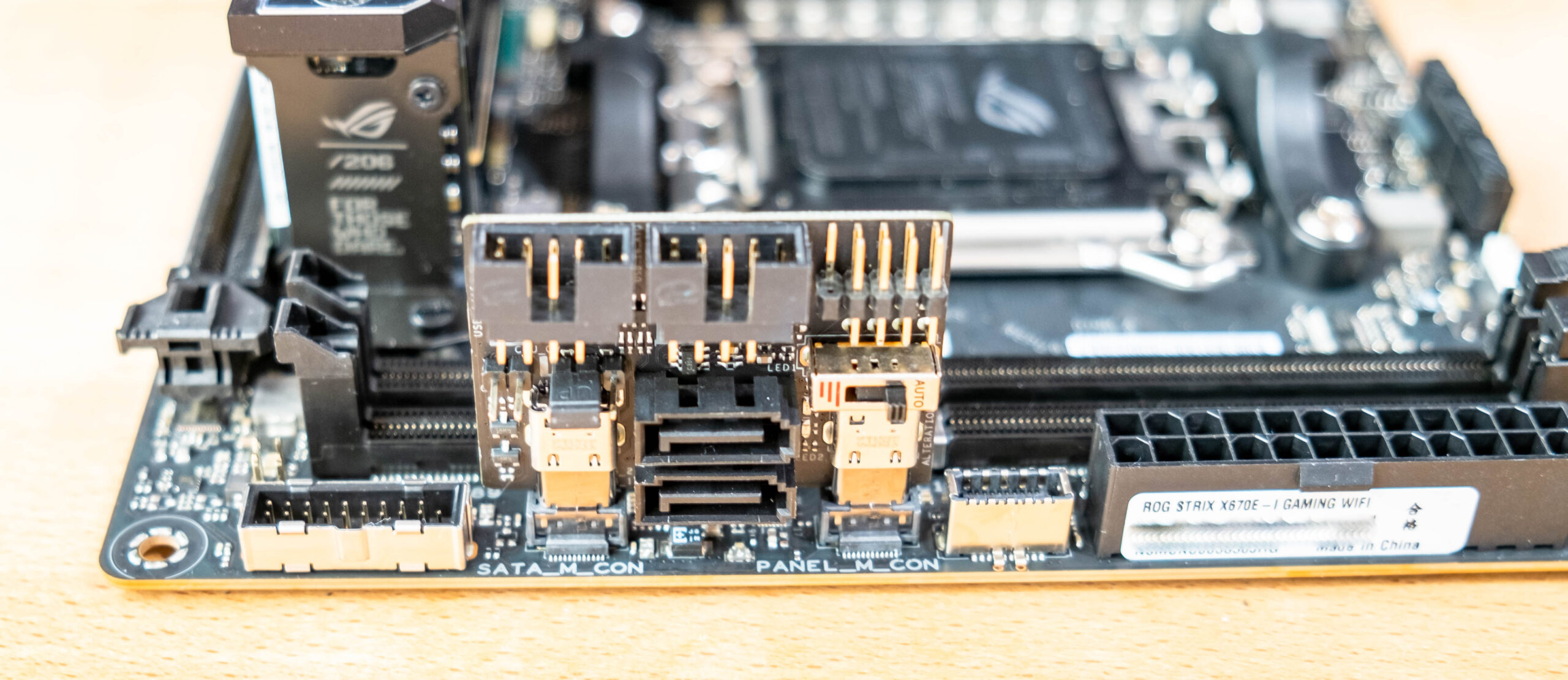 Let's us talk about VRM area.

The processor power supply scheme is made according to the 10 + 2 + 1 scheme (10 phases in total, 8 on VCore, 2 on iGPU and 1 on VccAUX).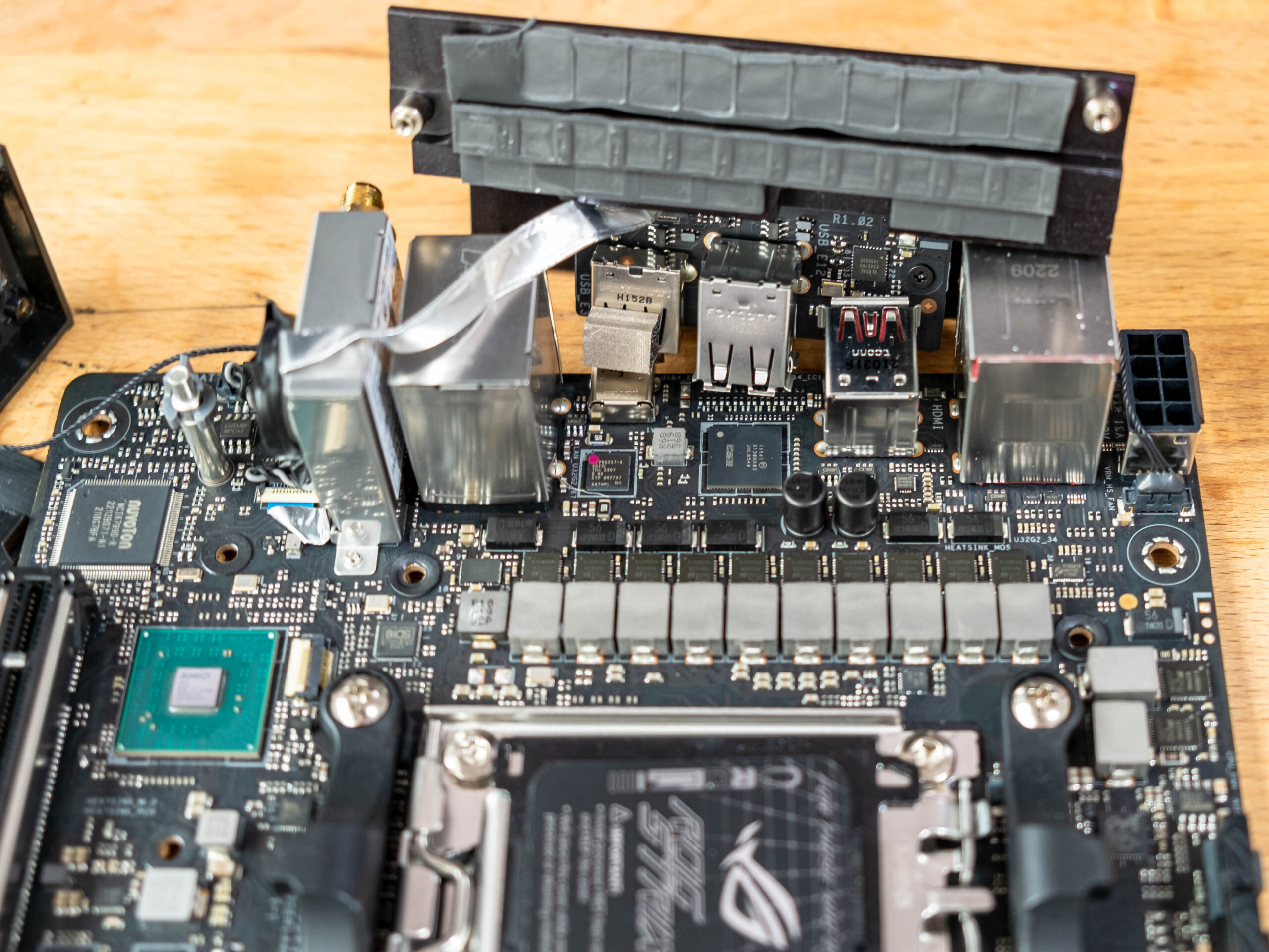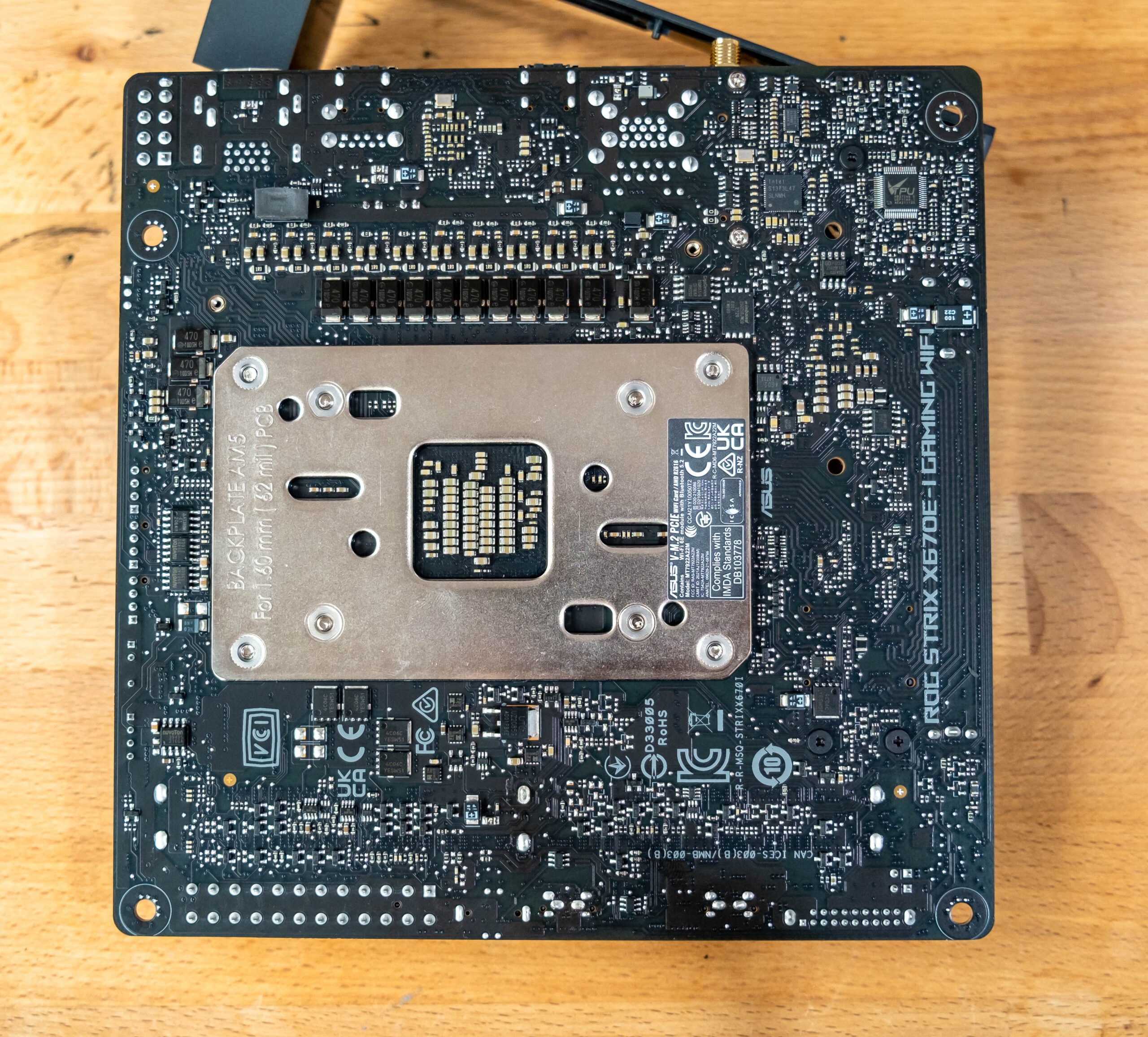 Each phase channel has a super ferrite choke and Vishay 80A SiC850A MOSFET for VCore and integrated graphics core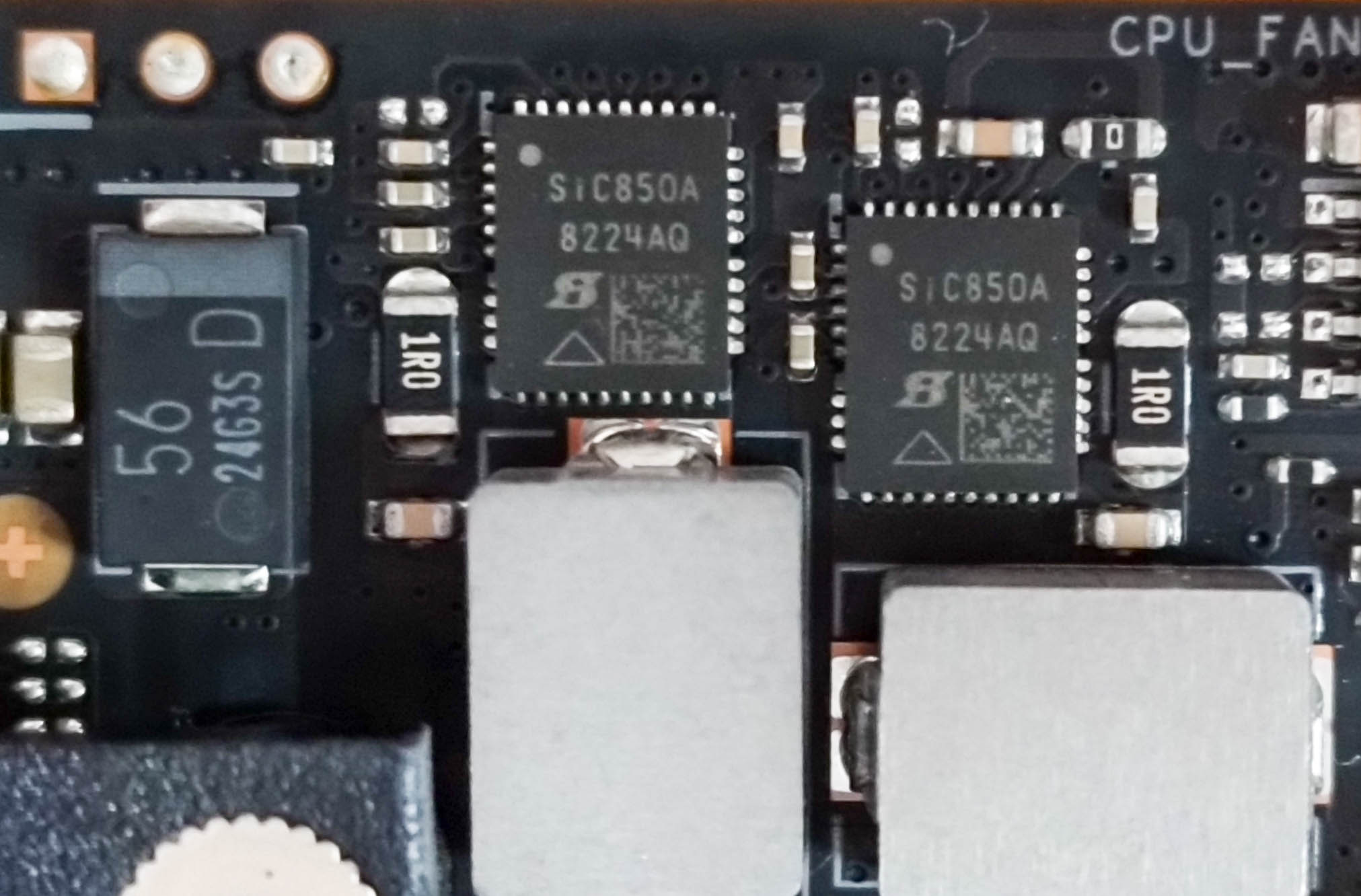 The Digi + ASP2203 proprietary PWM controller controls the power supply circuit of the VCore and iGPU.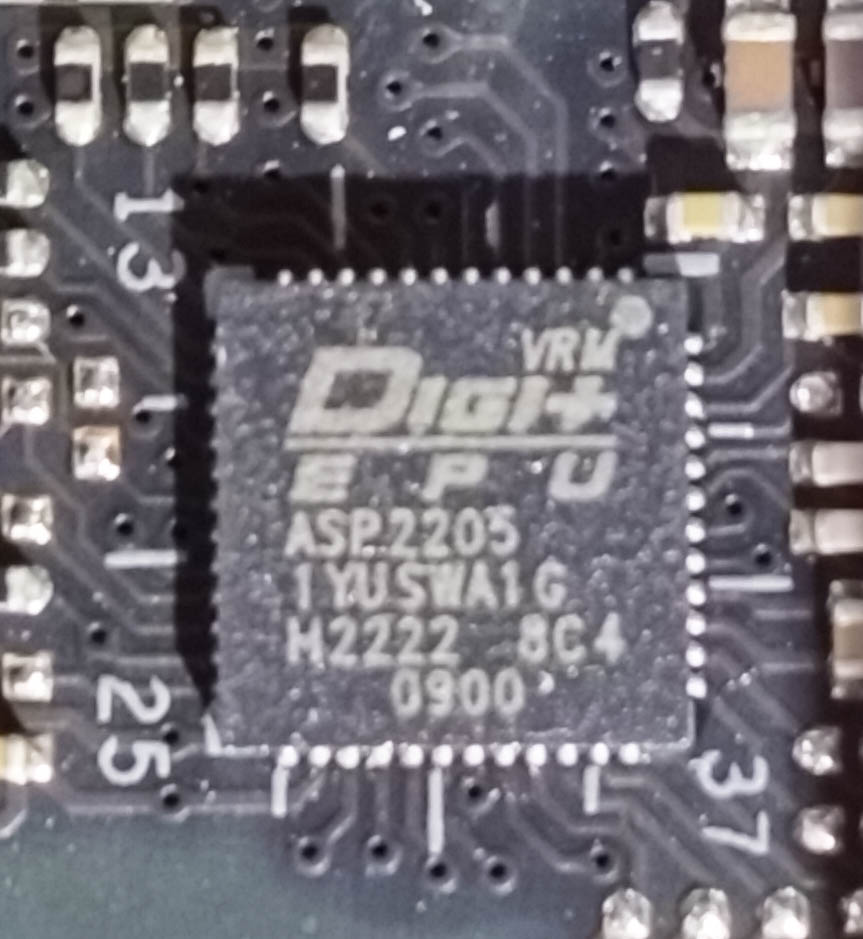 ROG STRIX HIVE
The all-new ROG Strix Hive brings critical controls and I/O within arm's reach, moving them from the cramped quarters of an SFF chassis to a compact peripheral that sits on the desktop. DIY-friendly buttons and diagnostic LEDs are brought front and center along with a large volume dial. On the sides, a varied group of I/O ports handle audio input and output and provide convenient connectivity for grab-and-go peripherals.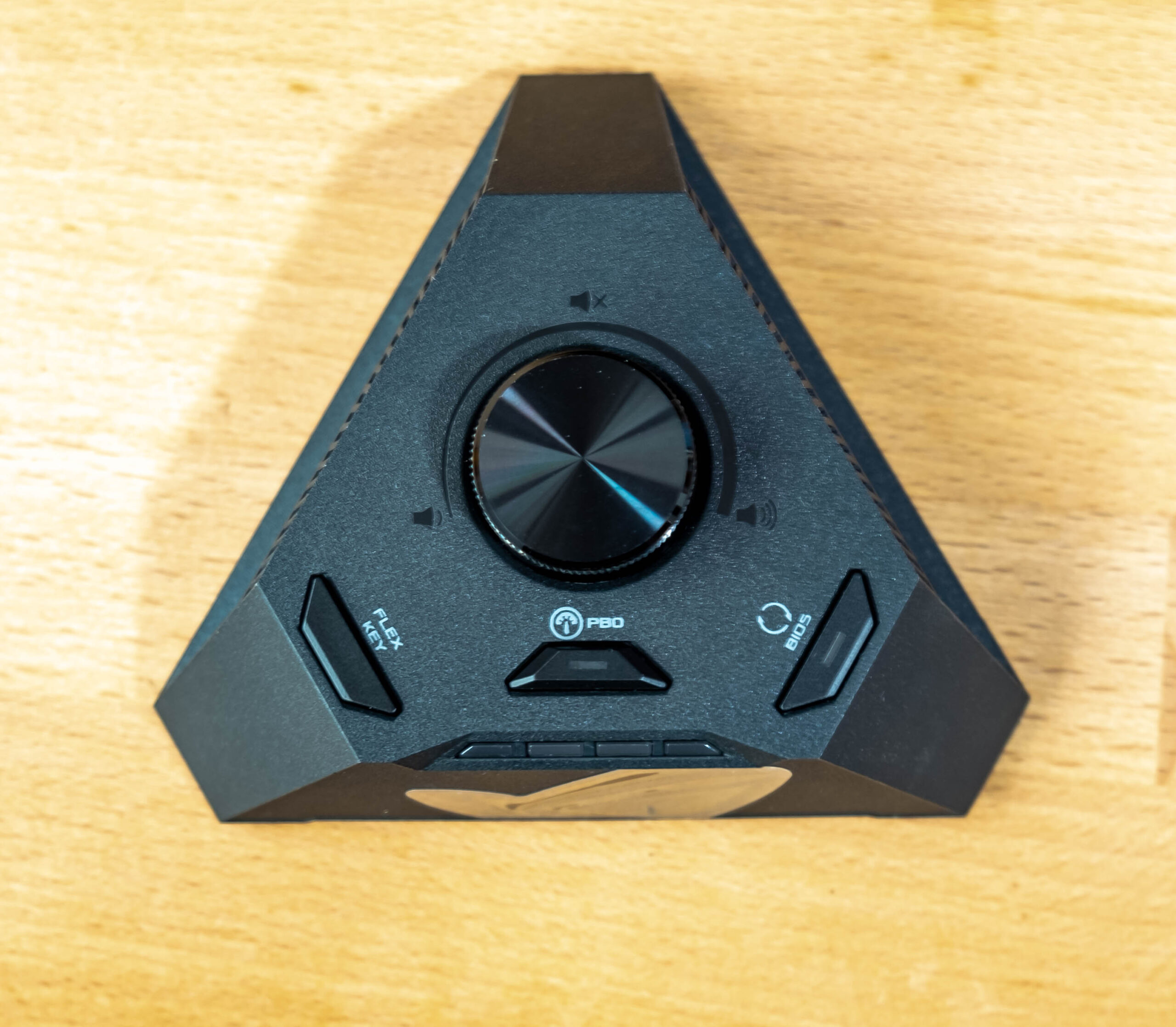 REALTEK ALC4050 CODEC & ESS® SABRE9260Q DAC
Typically, audio components are built into the motherboard's PCB. The ROG Strix Hive flips the script and offloads all of the audio processing to an external module. Inside, an ALC4050 codec is paired with an ESS® SABRE9260Q DAC, producing clean high-res audio with 118 dB SNR output and 94 dB SNR input and 32-bit / 384 kHz playback. I/O includes S/PDIF out that also supports 3.5mm mic input, and an additional 3.5mm combo jack that can host mics or headphones.
HYPER-GROUNDING TECHNOLOGY
The Hive's audio PCB features ROG Hyper-Grounding technology, which divides up analog and digital current return paths across separate layers to reduce noise, lower crosstalk, and deliver purer sound.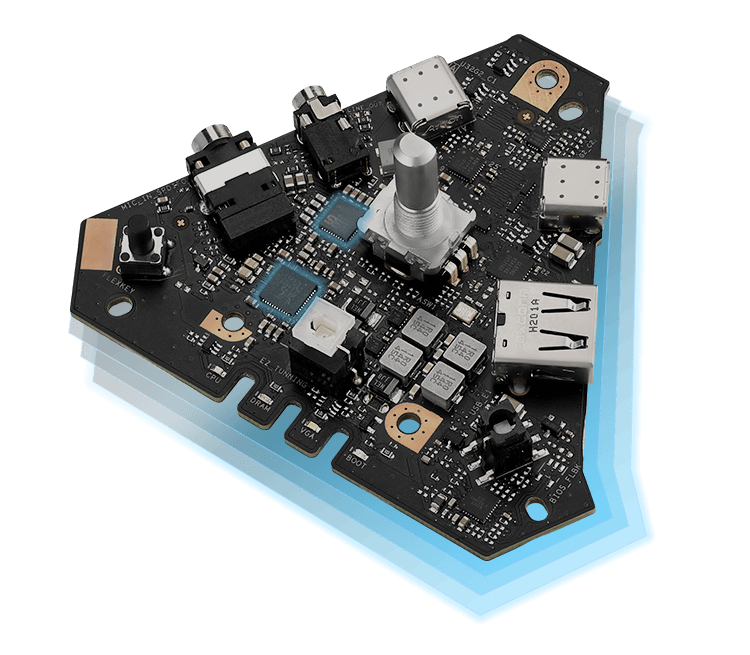 How We Test ASUS ProArt X570 Creator WiFi
ASUS ROG STRIX X670E-I Gaming  WiFi is a top range-level motherboard in X670 chipset. As such, our workstation, based on AMD Ryzen 9 790X 12cores 24 threads processor.  The Storage Adata 1TB PCI-E 4.0 M.2 SSD and Built- in AMD RDNA2  is used as well to run with benchmark.
We will be using latest AMD Adrenalin 22.10.1 and Windows 11 Professional 2H22.