Technology's 1.2Gbps downlink speed enables
mobile HD movie downloads in 10 seconds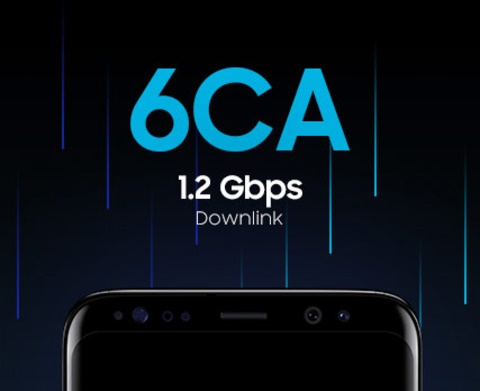 Samsung Electronics, a world leader in advanced semiconductor technology, today announced that it has developed LTE modem technology for the company's next-generation mobile processors that supports 6CA (carrier aggregation) for the first time in the industry. The new technology has successfully achieved a maximum downlink speed of 1.2 gigabits per second (Gbps).
Earlier this year, the Samsung Exynos 9 Series (8895) SoC presented its Cat.16 LTE modem with 1.0 gigabit (Gb) downlink speed and the industry's first 5CA support. By working closely with Anritsu, a telecommunication measuring instrument provider, Samsung's new Cat.18 6CA-supported LTE modem technology achieves up to 1.2 Gbps downlink speed. The 20-percent improvement in maximum downlink speed can allow mobile device users to download a full-length movie in HD resolution within 10 seconds. Users will also be able to enjoy buffer-less video calls and mobile live-broadcasting.
Carrier aggregation (CA) combines a given number of component carriers with various bandwidths, improving data transfer rates and network performance. By increasing the aggregation capability from the previous model's five bandwidths to six, the new LTE modem technology will offer faster yet more stable data transfers. Furthermore, the technology supports 4×4 MIMO (Multiple-Input, Multiple-Output) and higher-order 256 QAM (Quadrature amplitude modulation) scheme to maximize the data transfer rate. By utilizing enhanced Licensed-Assisted Access (eLAA) that can aggregate licensed and unlicensed spectra, the technology also allows telecommunications operators to make fuller use of their equipment.
"With the increase of high-quality online content services, the demand for high-performance LTE modems continue to rise as well," said Woonhaing Hur, Vice President of System LSI Protocol Development at Samsung Electronics. "The 1.2Gbps maximum downlink speed with 6CA support highlights Samsung's leading design capabilities and well-positions Samsung for the upcoming 5G era."
Samsung's mobile processor adopting the new Cat.18 6CA-supported LTE modem technology is expected to be in mass production by the end of this year.