MSI, the leading gaming motherboard brand, is proud to announce the all-new X399 GAMING PRO CARBON AC with the launch of new high-end AMD's flagship Ryzen Threadripper processors. Built on the SocketTR4 platform, featuring up to 16 cores and 32 threads, the new Ryzen Threadripper 1950X CPU is capable of scoring over 3000 points in Cinebench, showing its true colors as the new ultra-premium desktop processor.
Like AMD, MSI continuously strives to push the gaming industry forward and emphasizes on gamers' demand. To deliver pure, unprecedented, power and great efficiency when using the new high-end 16-core Threadripper processor, the MSI X399 GAMING PRO CARBON AC is built on a massive 13 phase (10+) DrMOS power design. This not allows for better overclocking, it also helps harness all the power and temperature generated by the massive number of cores. The X399 GAMING PRO CARBON comes with the strongest power design when comparing it to other brands and their current offerings. Besides this, it also features plenty of genuine gaming features and exclusive technologies.
At the same time, broadening the choice for RYZEN enthusiasts, MSI launches the new X370 GAMING M7 ACK motherboard, featuring 2x M.2 Shield FROZR and Killer Wireless-AC combined with Killer E2500 LAN. Another new models, the B350 TOMAHAWK PLUS, is made available as an more beefier brother for the very popular B350 TOMAHAWK.
PERFORM IN STYLE
X399 GAMING PRO CARBON AC
With unlimited customization options and packed with exclusive gaming features, the renowned GAMING PRO CARBON is ready to astonish once again, this time as the new AMD X399 HEDT #1 choice. As world's first motherboard with fully exchangeable heatsink covers and X-Mounting accessories to support 3D printing and modding, combined with the latest generation MYSTIC LIGHT RGB LEDs, the X399 GAMING PRO CARBON AC is any modders' dream!
MULTI-GPU TECHNOLOGY
Experience the best in graphics power. The X399 GAMING PRO CARBON AC is equipped with 4x PCI-E slots with Steel Armor for the best thermal protection and performance. This allows GAMING PRO CARBON AC to support up to 4-way NVIDIA SLI™ technology and 4-way AMD CrossFire™ technology for multiple graphic cards use.
TRIPLE TURBO M.2 WITH M.2 SHIELD V2
Enjoy a blazing fast system boot up and insanely quick loading of applications and games, Triple Turbo M.2 delivers PCI-E Gen3 x4 performance with transfer speeds up to 96 Gb/s for the latest SSDs. All Turbo M.2 feature patented M.2 Shield v2 as the best thermal solution to keep the M.2 devices safe and cool to prevent damage and thermal throttling.
LIGHTNING USB 3.1 GEN2
Continue having close relationship with ASMedia to develop the next generation USB controllers, MSI X399 GAMING PRO CARBON AC is powered by the latest ASMedia ASM3142 USB 3.1 controller, the world's fastest USB solution. Lightning USB with ASMedia 3142 offers performance enhancement and achieves higher energy efficiency, consuming at least 50% less energy than former USB solutions ASMedia ASM2142 USB 3.1 Gen2 controller.
MYSTIC LIGHT & EXTENSION WITH RAINBOW STRIPS
The X399 GAMING PRO CARBON AC motherboard comes with customizable RGB LED on the heatsinks and PCB. For those who want a complete black motherboard, simply switch the LEDs off. Controlling additional RGB strips and other RGB peripherals by Mystic Light Extension, X399 GAMING PRO CARBON AC motherboard supports the brand-new Rainbow Strips to further personalize any gaming rig and enhance the experience for gamers and modders around the globe. By supporting the rainbow stripes with 15 high quality LEDs, which can be controlled independently, combined with a new 4pin pin-header, you can show different colors on the LED strip at the same time.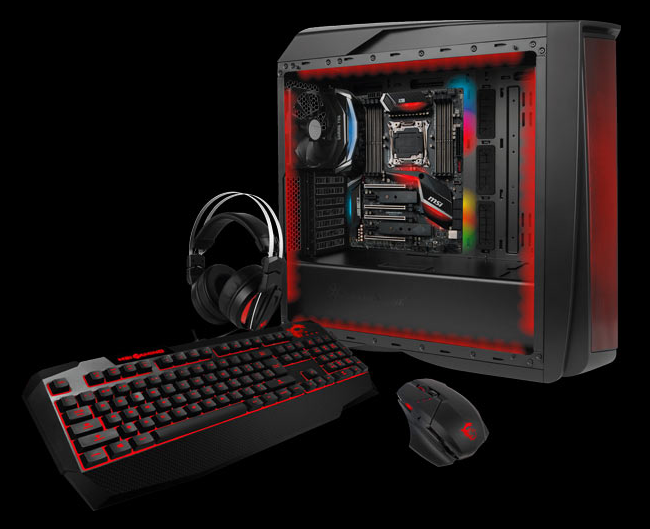 OTHER GAMING PRO CARBON AC FEATURES By fully isolating the memory circuit design, DDR4 Boost, accompanied by DDR4 Steel Armor, ensures maximum performance and stability at higher memory speeds. More features include front USB 3.1 Gen2 type C for ultra-high speed (up to 10 Gb/s) and MSI exclusive GAMEBOOST with eight gears to deliver best overclocking experiences.
FLAWLESS SUPREMACY
X370 GAMING M7 ACK
The new X370 GAMING M7 ACK motherboard is also on the way for enthusiast gamers to enjoy. To satisfy even the most demanding gamers who are looking for the best performance and style, X370 GAMING M7 ACK offers three significant new features, the latest M.2 Shield FROZR, KILLER DoubleShot Pro and Audio Boost 4 Pro.
M.2 SHIELD FROZR
X370 GAMING M7 ACK adapts two Turbo M.2 slots for gamers to enjoy a blazing fast system boot up and insanely quick loading of applications when using fast NVMe based SSDs. M.2 Shield FROZR is also present to make sure SSDs never throttle. By being integrated with the heatsink design, it prevents throttling even better than ever by cooling down M.2 devices, allowing them to continuously operate at maximum performance during long gaming sessions. M.2 Shield FROZR also protects M.2 SSDs from damage and makes them look much cooler with a nice cover.
KILLER DOUBLESHOT PRO
Killer DoubleShot Pro allows the Killer™ Ethernet connectors and the Killer™ Wi-Fi adapter to work together to form the best online gaming networking solution. The Killer Network Manager decides which app runs on which connection for gaming traffic optimization. Combining Killer™ Wireless-AC 1535 with ExtremeRange™ Technology, this will give you the max throughput as high as 1.867 Gbps to deliver the best online gaming experience without lag.
AUDIO BOOST 4 PRO
X370 GAMING M7 ACK also provides best audio solution for enthusiast gamers. Powered by two EMI-shielded HD audio processors with built-in amplifiers, Audio Boost 4 PRO lets you enjoy the purest sound quality in both stereo and surround sound. Both front and rear connectors are fueled by a dedicated HD audio processor to make sure you get to experience studio grade sound quality and gives you the option to even play 2 different audio sources at the same time.

B350 TOMAHAWK PLUS
Underlined by winning the prestigious iF DESIGN AWARD 2017, the B350 TOMAHAWK has become one of the most popular B350 models to date. With the new B350 TOMAHAWK PLUS, it has evolved once again to the next level. By adding MSI Mystic Light RGB LED, users can now customize and set up your own color schemes, simply changing the complete look and feel of a system in 1 second!
OC ENGINE 2
In addition to the appearance, B350 TOMAHAWK PLUS also features OC ENGINE 2 for the best performance. Adding this additional clock generator gives users more freedom in BCLK adjustments to achieve the maximum overclock for any setup. It also offers lower jitter & power consumption resulting in a rocksolid system under extreme conditions. USB 3.1 Gen 2 Type – C, Turbo M.2, Steel Armor and more MSI exclusive gaming features can also be found on the new B350 TOMAHAWK PLUS.