IRVINE, Calif.–(BUSINESS WIRE)–Toshiba America Electronic Components, Inc. (TAEC), a committed technology leader, today unveiled the TR200 SATA solid state drive (SSD) series for the retail market. Leveraging Toshiba's advanced 3-bit-per-cell TLC (triple-level cell) BiCS FLASH™, the TR200 series offers PC gamers and DIY enthusiasts Toshiba's first upgrade SSD with 64-layer 3D flash memory.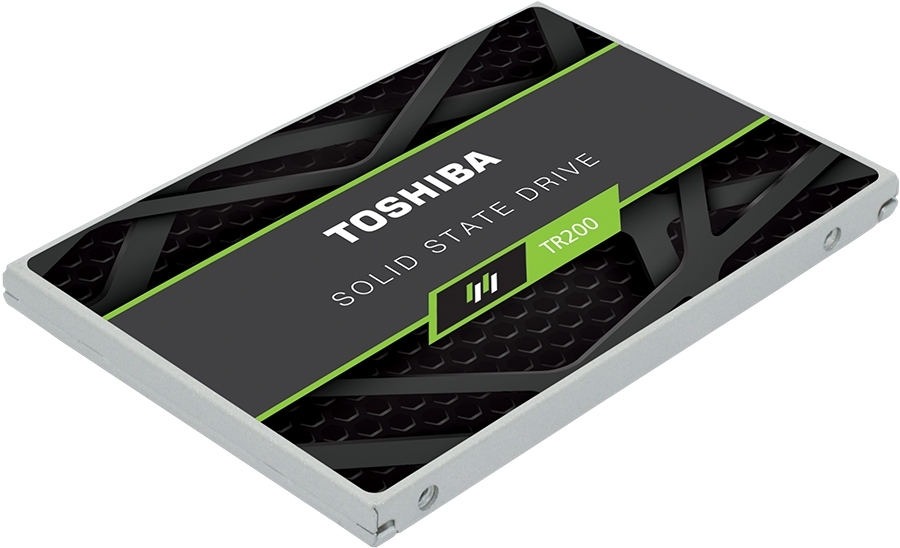 Toshiba TR200 SSDs are an easy and affordable way to enhance notebook or desktop experiences by increasing system responsiveness and productivity over traditional hard disk drives (HDDs). With a 6Gbit/s SATA interface, the TR200 series is rated for sequential read/write speeds(1) of up to 550MB/s and 525MB/s(2) and random read/write performances(3) of up to 80,000 and 87,000 input/output operations per second (IOPS)(4). In addition to excellent SATA performance, TR200 SSDs provide low power consumption that translates into a longer battery life for on-the-go users.
"We are excited to provide consumers with the new TR200 series, our first retail branded SATA 6Gbit/s drives to leverage state-of-the-art Toshiba 64-layer TLC BiCS FLASH™," said Alex Mei, vice president consumer SSDs and storage outbound marketing at Toshiba America Electronics Corporation, Inc. "Seeking to provide enhanced real world performance and value to customers, the TR200 SSDs were engineered from the ground up utilizing the advanced 3D flash memory technology to be a cost-effective and power-optimized storage solution for desktop and mobile upgraders, gamers, and system builders."
The TR200 series will be showcased at the China Digital Entertainment Expo & Conference (ChinaJoy) in Shanghai, China from July 27-30 and GamesCom in Cologne, Germany from August 22-26. TR200 drives will be offered in a 2.5-inch form factor and are available in 240GB, 480GB, and 960GB capacities(5) and will be available at retailers and etailers this fall.