Intel Data Center Platform Offers Industry's Highest Levels of Perform, Biggest Data Center Advancement in a Decade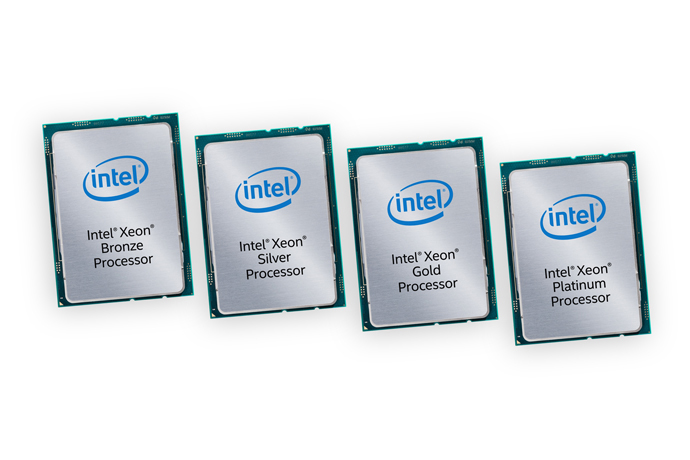 HIGHLIGHTS
Intel® Xeon® Scalable processors are uniquely architected for today's evolving data center and network infrastructure — offering businesses the industry's highest energy efficiency and system-level performance averaging 1.65x higher performance2 over the prior generation. In growing workloads like AI, Intel Xeon Scalable processors deliver 2.2x performance3 over the prior generation.
Designed to support an expanding range of existing and emerging data center, and network workloads, including cloud computing, high-performance computing and artificial intelligence.
Features the richest suite of platform innovations and several integrated performance-boosting technologies including Intel AVX-512, Intel Mesh Architecture, Intel QuickAssist, Intel Optane SSDs, Intel Omni-Path Fabric and more delivering up to 4.2x more virtual machines13 (VMs) versus a 4-year-old system leading to 65 percent TCO improvement.14
Intel also announced Intel Select Solutions delivering a choice of optimized solution configurations to help speed evaluation and deployment of data center and communications network infrastructure.
SANTA CLARA, Calif., July 2017 – Intel today launched its new Intel® Xeon® Scalable processors, providing businesses with breakthrough performance to handle compute-hungry tasks including real-time analytics, virtualized infrastructure and high-performance computing. Today's launch marks the greatest set of data center and network processor advancements in a decade.
"Data center and network infrastructure is undergoing massive transformations to support emerging use cases like precision medicine, artificial intelligence and agile network services paving the path to 5G," said Navin Shenoy, executive vice president and general manager of the Intel Data Center Group. "Intel Xeon Scalable processors represent the biggest data center advancement in a decade."
Editorial: The Intel Xeon Scalable – a Truly Big Day for the Data Center
Press Kit: Intel Xeon Scalable Processors
Today's general availability announcement follows Intel's largest data center early ship program with more than 500,000 Intel Xeon Scalable processors already sold to leading enterprise, high-performance computing, cloud and communication services provider customers. Customers will benefit from a dramatic performance increase of 1.65x on average2 over previous generation technology. With 58 world records and counting, Intel Xeon Scalable delivers industry leading performance across the broadest range of workloads.
Intel Xeon Scalable processors also provide businesses with the richest suite of platform feature innovations that deliver significant performance increases across key workloads. These include:
The Intel Xeon Scalable processor features a new core microarchitecture, new on-die interconnects and memory controllers. The resulting platform optimizes performance as well as the reliability, security and manageability necessary in data centers and networking infrastructure.
Performance: The Intel Xeon Scalable processors deliver an overall performance increase up to 1.65x2 versus the previous generation, and up to 5x19 OLTP warehouse workloads versus the current install base—accelerating today's modern-day workloads including modeling and simulation, machine learning, HPC and digital content creation. These significant performance gains are enabled through new features such as Intel Advanced Vector Extensions 512 (Intel AVX-512), which boost performance of computationally intensive tasks, a new Intel Mesh Architecture for reduced system latency, Intel QuickAssist Technology for hardware acceleration of cryptography and data compression operations and integrated high-speed fabric with Intel Omni-Path Architecture for cost-effective deployment of HPC clusters.
Scalability: Optimized to meet the wide range of performance demands in data centers and communications networks, the Intel Xeon Scalable processors offer up to 28 cores and up to 6 terabytes of system memory (4-socket systems), and scale to support 2-socket through 8-socket systems and beyond, powering entry-level workloads to the most mission-critical applications.
Agility: Compute, network and storage performance and software ecosystem optimizations of the Intel Xeon Scalable processors make it ideal for software defined, TCO (total cost of ownership)-optimized, data centers that dynamically self-provision resources — on premise, through the network, and in the cloud — based on workload needs.
Security without Compromise: Data protection through full encryption has long carried a significant performance overhead. Application can now run with less than 1 percent16overhead with data-at-rest encryption turned on. The new Intel Xeon Scalable processor also delivers a 3.1x performance18 improvement generation-over-generation in cryptography performance. Intel has extended processor security features with Intel Key Protection Technology delivering enhanced protection to security key attacks. In addition Intel Xeon Scalable is designed to secure the platform with further advancements in hardware root of trust.
Foundation for Next-Generation Data Centers and Communications Networks
Intel also introduced Intel Select Solutions, a solutions brand aimed at simplifying and speeding the deployment of data center and network infrastructure, with initial solutions delivery on Canonical Ubuntu*, Microsoft SQL 16* and VMware vSAN 6.6*. Intel Select Solutions is an expansion of the company's deep investment in Intel Builders ecosystem collaborations and will deliver a choice of Intel-verified configurations to the market, enabling customers to speed return on investment in Intel Xeon Scalable processor-based infrastructure for user-prioritized workloads.
Uniquely architected to help customers accelerate the deployment of cloud infrastructure, transform communications networks and unleash artificial intelligence, the Intel Xeon Scalable platform is supported by 100s of ecosystem of partners, more than 480 Intel builders and more than 7,000 software vendors to drive software optimizations that take advantage of the platform. The Intel Xeon Scalable processor has received broad supportfrom a variety of companies, including Amazon*, AT&T*, BBVA*, Google*, Microsoft*, Montefiore*, Technicolor* and Telefonica*.
Learn more about the innovations Intel is bringing to the data center with the new Intel Xeon Scalable processors, Intel Select Solutions, by visiting www.intel.com/xeonscalable, or visit http://launchevent.intel.com to experience a deep dive into the platform.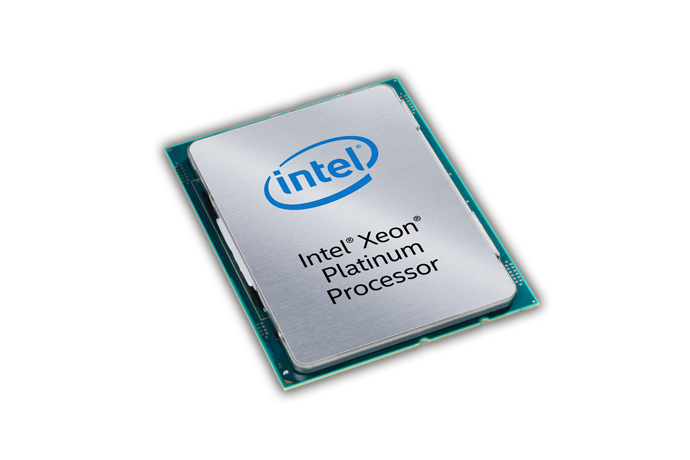 Intel Xeon Scalable processors are optimized for today's evolving data center and network infrastructure requirements. The scalable processor family provides businesses with breakthrough performance to handle system demands ranging from entry-cloud servers to compute-hungry tasks including real-time analytics, virtualized infrastructure and high-performance computing. (Credit: Intel Corporation)