Taipei, Taiwan, April, 2017 – QNAP® Systems, Inc. today launched the TS-x53B series NAS (available in 2-bay, 4-bay and 6-bay models) with a PCIe expansion slot to meet the growing performance and functional demands from SMB and SOHO users.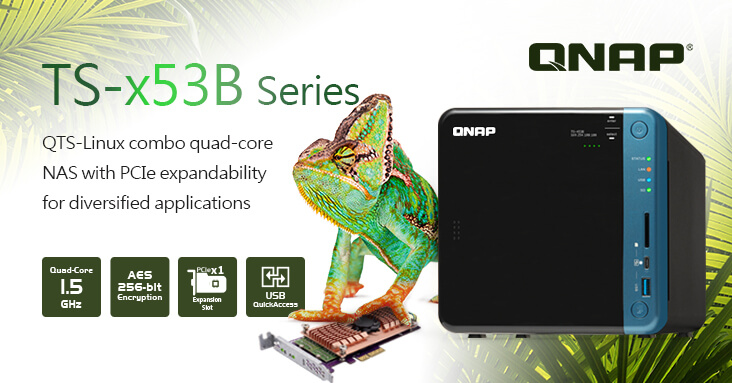 "The TS-x53B is the first NAS in its class to provide PCIe expansion, which provides fantastic long-term potential for the NAS to be upgraded to include features such as SSD caching and 10GbE connectivity," said Jason Hsu, Product Manager of QNAP. "For users who seek high productivity and smart workflows, the TS-x53B series offers a compelling choice in big features," Hsu added.
Powered by the 14nm Intel® Celeron® J3455 quad-core 1.5GHz processor (burst up to 2.3GHz), dual-channel 4GB/8GB DDR3L RAM (upgradable to 8GB), SATA 6Gb/s drive support with integrated dual Gigabit LAN ports, the TS-x53B series delivers up to 224 MB/s read and write speeds while also maintaining the same outstanding performance with AES-NI accelerated encryption.
The PCIe slot allows for adding the newly-released QNAP QM2 M.2 SSD/10GbE LAN adapters to enhance NAS performance while adding 10GbE 10GBASE-T LAN connectivity. Coupled with SSD caching or Qtier™ auto-tiering technology, the TS-x53B helps achieve optimum storage utilization. Alternatively, users can install a 10GbE 10GBASE-T/ SFP+ adapter, a USB 3.1 10Gbps adapter, or a wireless adapter for using the WirelessAP Station App to meet diversified application demands.
Featuring an all-new design with a sliding cover, the TS-x53B series has an OLED panel with dual-capacitive buttons and HDD drive bays with tool-less installation, allowing users to easily install, monitor and manage the NAS. Featuring a USB Type-C QuickAccess port, a SD memory card slot, and a front USB 3.0 port with copy button, transferring files to a NAS has never been easier. The integrated speaker allows for audio alerts and playback while a 3.5mm audio jack allows for the TS-x53B to be connected to dedicated speakers. The dual HDMI output support up to 4K 30Hz display and the included remote control allows for easy navigation.
Powered by the latest QTS 4.3 operating system, the TS-x53B provides rich applications for everyday tasks from the built-in App Center. With "IFTTT Agent" and "Qfiling", the TS-x53B helps automates common tasks and workflows to improve efficiency and productivity. "Cinema28" allows for managing connected media devices from a single platform. "Qsync" and "Hybrid Backup Sync" make file sharing and syncing across devices more easily. "QmailAgent" and "Qcontactz" allow management of multiple email accounts and contact information. "Qsirch" provides full-text search for users to quickly find files needed. "Surveillance Station" offers 4 free IP camera channels (up to 40 channels by purchasing additional licenses). "QVR Pro (Beta)" integrates video surveillance features into QTS, providing user-defined recording storage space, cross-platform client tools, camera controls, and intelligent storage management functions.
The QTS-Linux dual systems TS-x53B series also allows users to develop or utilize IoT packages for Linux® and display them using HDMI output. Users can also host virtual machines and containers on the TS-x53B through Virtualization Station and Container Station. Storage space can be flexibly expanded using 8-bay UX-800P or 5-bay UX-500P expansion units or with QNAP VJBOD technology that allows the unused space of a QNAP NAS to expand the capacity of other QNAP NAS.
Key specifications of new models
TS-253B-4G/8G: 2-bay, 4GB/8GB DDR3L RAM
TS-453B-4G/8G: 4-bay, 4GB/8GB DDR3L RAM
TS-653B-4G/8G: 6-bay, 4GB/8GB DDR3L RAM
Tower model; Quad-core Intel® Celeron® J3455 1.5GHz processor (burst up to 2.3GHz), dual-channel DDR3L SODIMM RAM (user upgradable to 8GB); hot-swappable 2.5"/3.5" SATA 6Gbps HDD/SSD; 2 x Gigabit LAN ports; 2 x HDMI v1.4b, up to 4K UHD; 5 x USB 3.0 Type-A ports; 1 x USB-C QuickAccess Port; 1 x PCIe Gen2x2 slot; 1 x SDXC slot; 1 x USB-copy button; 0.96" OLED display with touch-sensitive buttons, 1 x speaker, 2 x 3.5mm microphone jacks (supporting dynamic microphones); 1 x 3.5mm Line Out audio jack.