Hyper 212 LED Turbo (Black Top Cover) – universal air cooler with black top cover and red LED fans
Hyper 212 LED Turbo (Red Top Cover) – universal air cooler with red top cover and red LED fans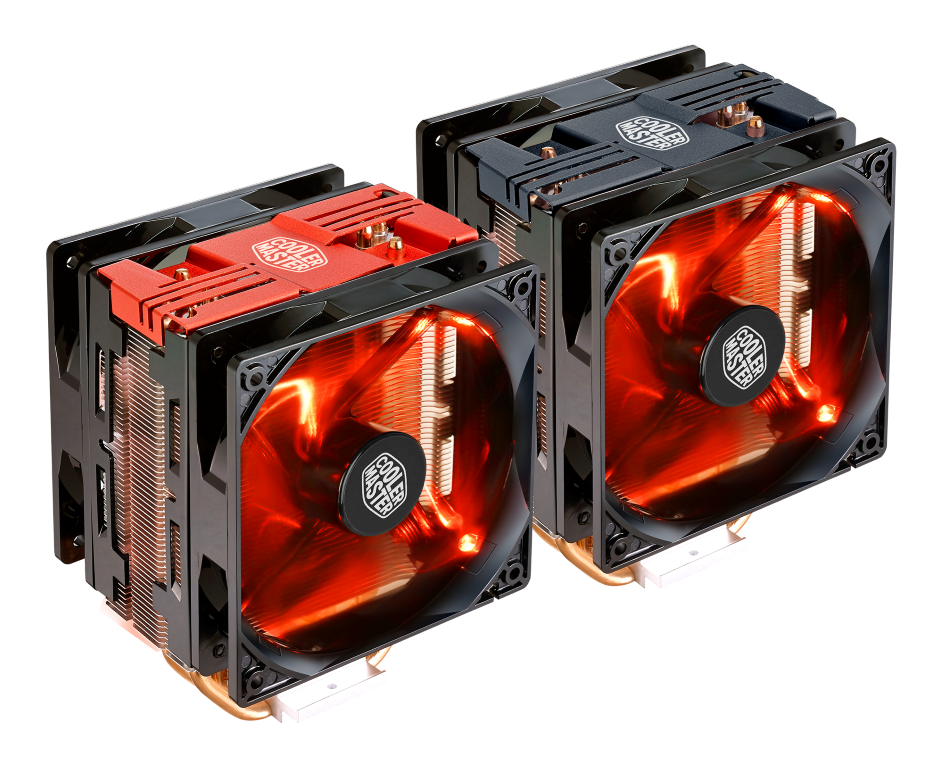 SINGAPORE – Cooler Master, a leader in design and manufacturing computer components and peripherals, recently launched the Hyper 212 LED Turbo, a dual-fan, red LED edition of the top-selling Hyper 212 series. This high-performance air cooler delivers hassle-free installation with universal compatibility for both Intel and AMD socket types, and it does not break the bank. The Hyper 212 LED Turbo is available with either red or black top cover.
The Hyper 212 LED Turbo is equipped with dual XtraFlo 120mm PWM fans to provide the perfect balance between airflow and static pressure, ensuring the best overall performance for normal use desktops and workstations. This cooler is easy to install and compatible with all current CPUs including the new AM4 Ryzen chipset, making it the ideal purchase for upgrading your system.
4 x Direct Contact Heatpipes
Four direct contact heatpipes with funnel shaped fins provide higher efficiency and excellent heat dissipation by pulling heat directly from the CPU.
Dual XtraFlo 120mm PWM Fans with Quick-snap Fan Bracket Design
Efficient dual fan design allows for double the fans of standard air coolers. Gain twice the airflow for only a fraction of additional space. The new 120mm PWM fans with anti-vibration rubber pads and wide 600-1600 RPM range offer quieter cooling and better performance. Quick-snap design allows for easy fan installation and removal for cleaning.
Universal Mounting Kits
The improved universal bracket design ensures easy installation on all platforms, allowing you to keep this cooler for the latest platforms whether Intel or AMD (including AM4).
Pricing & Availability:
The Hyper 212 LED Turbo is now available locally with the suggested retail price of SGD 72.