In May 2023 , Lexar introduced the NM790, a solid-state drive that utilizes the M.2 2280 form factor and available in capacities ranging from 512 GB to 4 TB, but without a cooler and a 5-year warranty.
Today we will be testing on 2 TB model (there are also larger capacity available, such as the 4 TB model). however, it may not be affordable for everyone due to its relatively higher cost when compared to the 2 TB model. Ultimately, the choice between the 2 TB and 4 TB models depends on your specific needs, budget, and the amount of storage.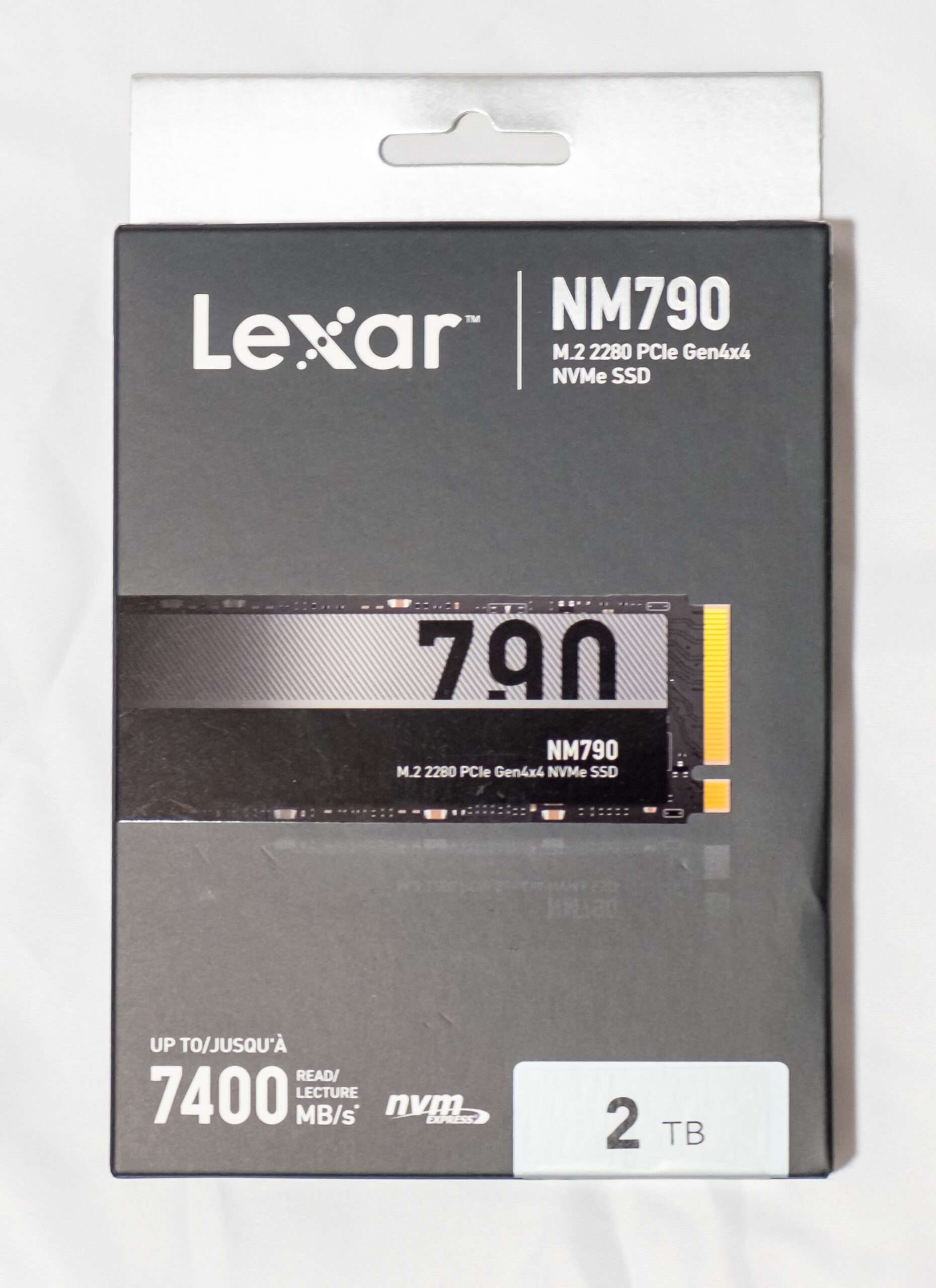 The NM790 does not come with a heat sink included, and it does not require the installation of drivers or software to activate the RAM cache. This is because the native Nvme firmware handles these functionalities seamlessly. It's supports both Trim and SMART, it uses Active State Power Management (ASPM), Autonomous Power State Transition (APST) and ultra-low power state. Thermal throttling is implemented in the NM790, but there is no need for concern as the motherboard is equipped with a built-in heatsink to effectively cool down the controller.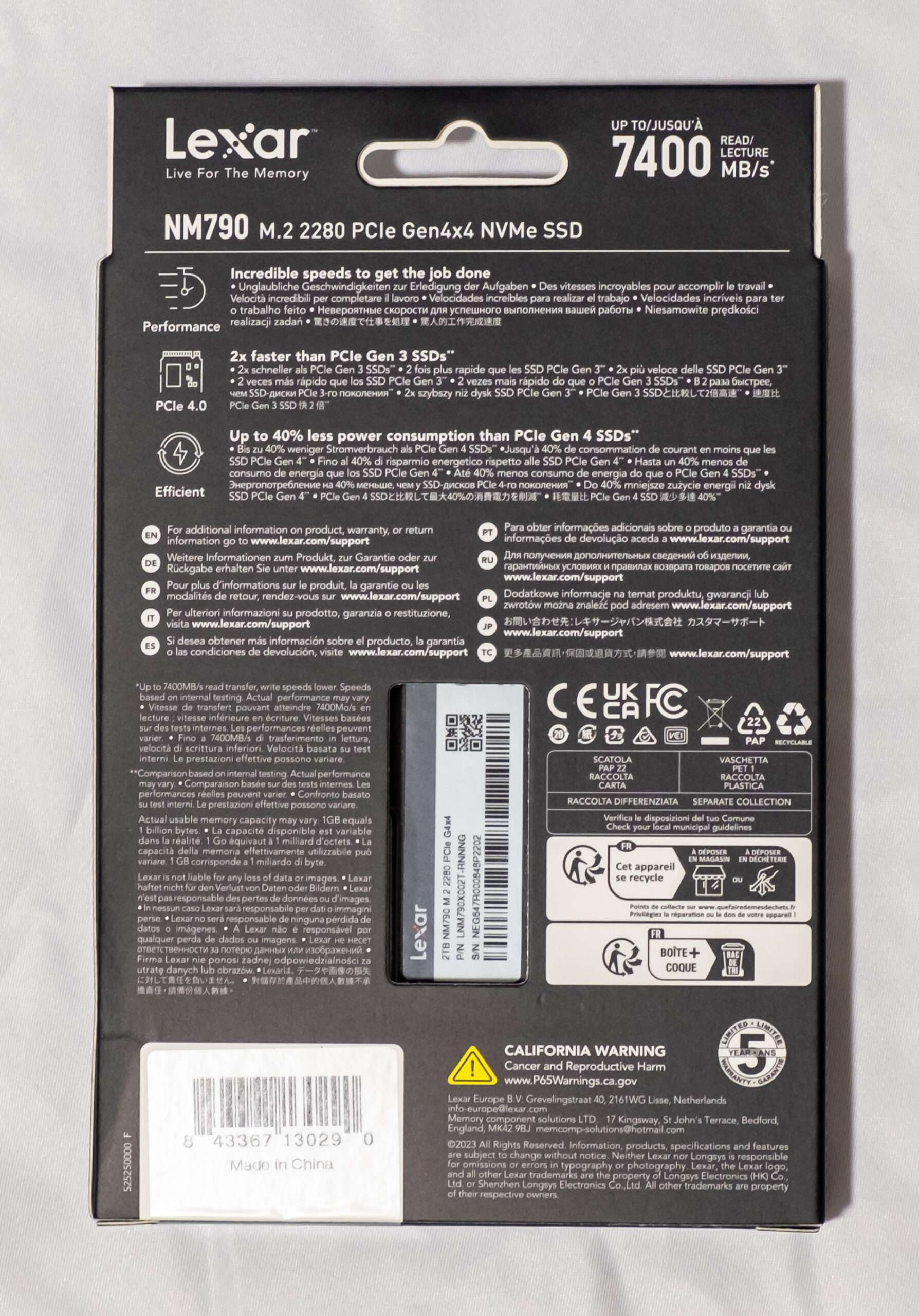 It utilizes the third-generation Agile ECC (4K LDPC) error correction technology, which enhances error correction capabilities and improves data reliability. Additionally, it features hardware RAID5/6 support, allowing for efficient data storage and protection against data loss in case of failures. The NM790 employs YMTC 232-layer TLC (Triple-Level Cell) NAND flash memory, which provides high-density storage capacity and efficient data retention. It features a 2400MT/s  interface.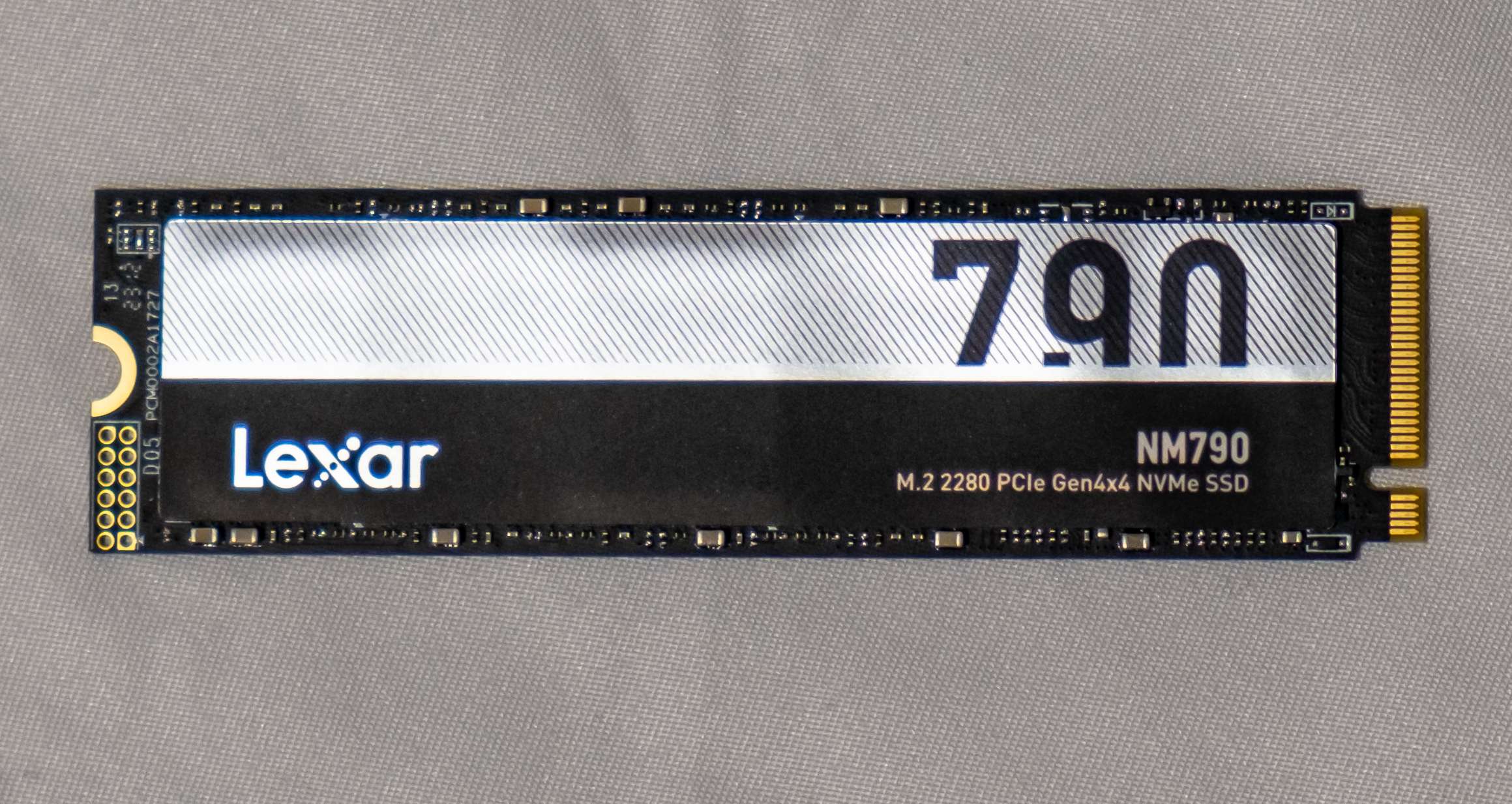 Specification
Key Features:
Exceptional performance of up to 7400MB/s read, 6500MB/s write1
2x faster than PCIe Gen 3 SSDs2
Up to 40% less power consumption than DRAM cache-enabled PCIe Gen 4 SSDs2
Host Memory Buffer (HMB) 3.0 for smoother transfers and seamless performance
Designed for hardcore gamers, professionals, and creators
Compatible with PlayStationr® 5
| | |
| --- | --- |
| Capacities | 2TB |
| Form Factor | M.2 2280 |
| Interface | PCIe Gen4x4 |
| Speed | 2TB—Sequential read up to 7400MB/s, sequential write up to 6500MB/s¹ |
| Operating Temperature | 0°C to 70°C (32°F to 158°F) |
| Storage Temperature | -40°C to 85°C (-40°F to 185°F) |
| Dimensions (L x W x H) | 80 x 22 x 2.45 mm (3.15" x 0.87" x 0.10") |
| Weight | 6g / 0.013 lbs |
| Warranty | Five-year limited warranty |
| Shock-resistant | 1500G, duration 0.5ms, Half Sine Wave |
| Vibration-resistant | 10~2000Hz, 1.5mm, 20G, 1 Oct/min, 30min/axis (X,Y,Z) |
| TBW | 1500TBW |
| MTBF | 1,500,000 Hours |
| Price | $149 – Available Lazada |
The 12nm process MAP1602-I SSD controller is a DRAM-less chips developed by Maxio based on PCIe Gen4x4 NVMe 1.4 interface and  adopts with ARM R5 high-performance CPU core. The MAP1602 can support 2400MT/s NAND flash memory and without external cache ; the world's first four-channel (no external Built-in cache) PCIe 4.0 SSD main control chip with measured sequential read performance up to 7400MB/s. The package size 65mm, 7.1mm*11mm.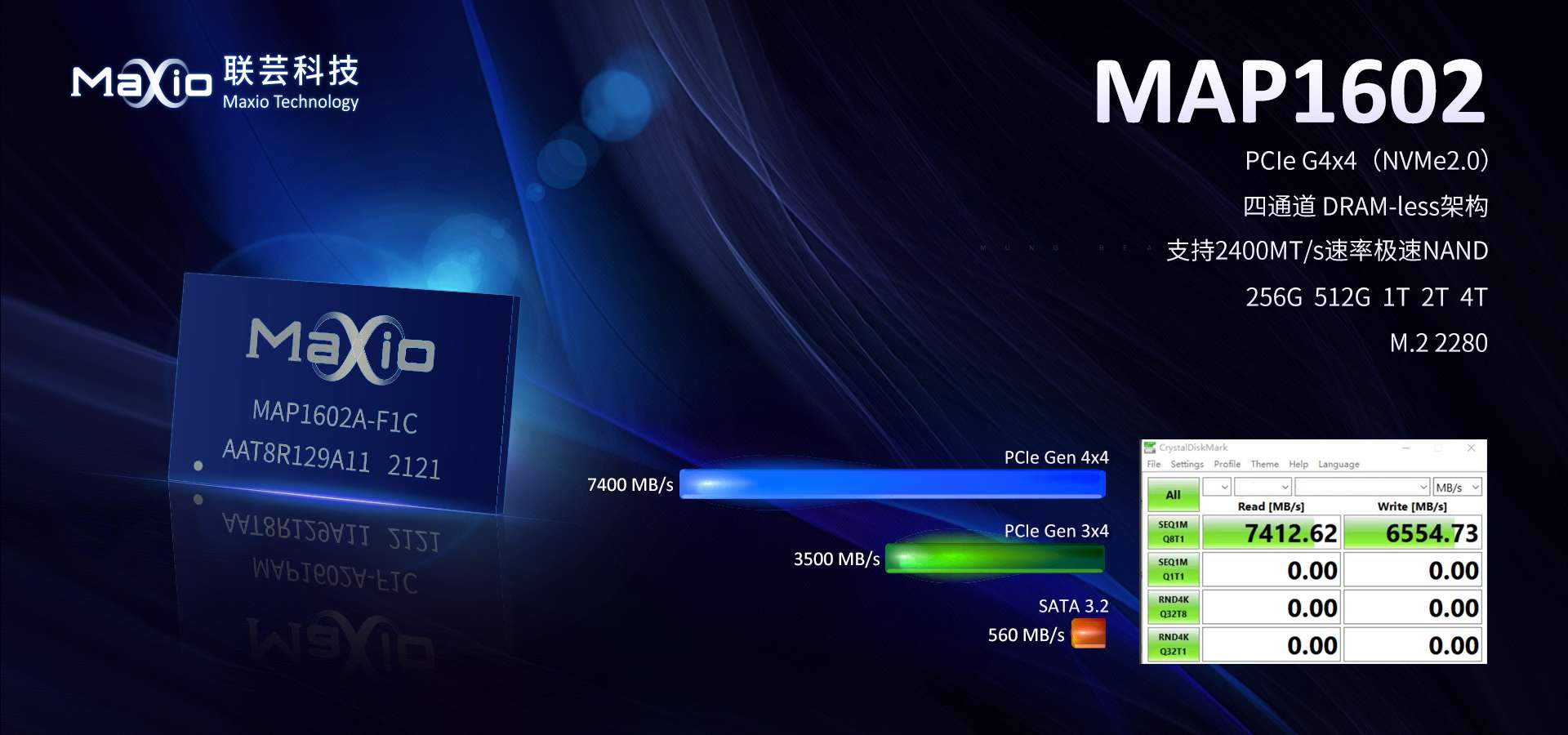 The NM790 supports Host Memory Buffer (HMB) 3.0 technology, which enables the drive to utilize the DRAM memory available on your device. By utilizing this memory, the drive can enhance its overall performance and responsiveness. Additionally, the drive employs Dynamic SLC (Single-Level Cell) cache writes. This means that it temporarily treats a portion of the TLC (Triple-Level Cell) NAND flash memory as SLC, which is faster and more durable. This technique helps maintain high-speed performance and ensures smooth and seamless operation for various tasks and applications.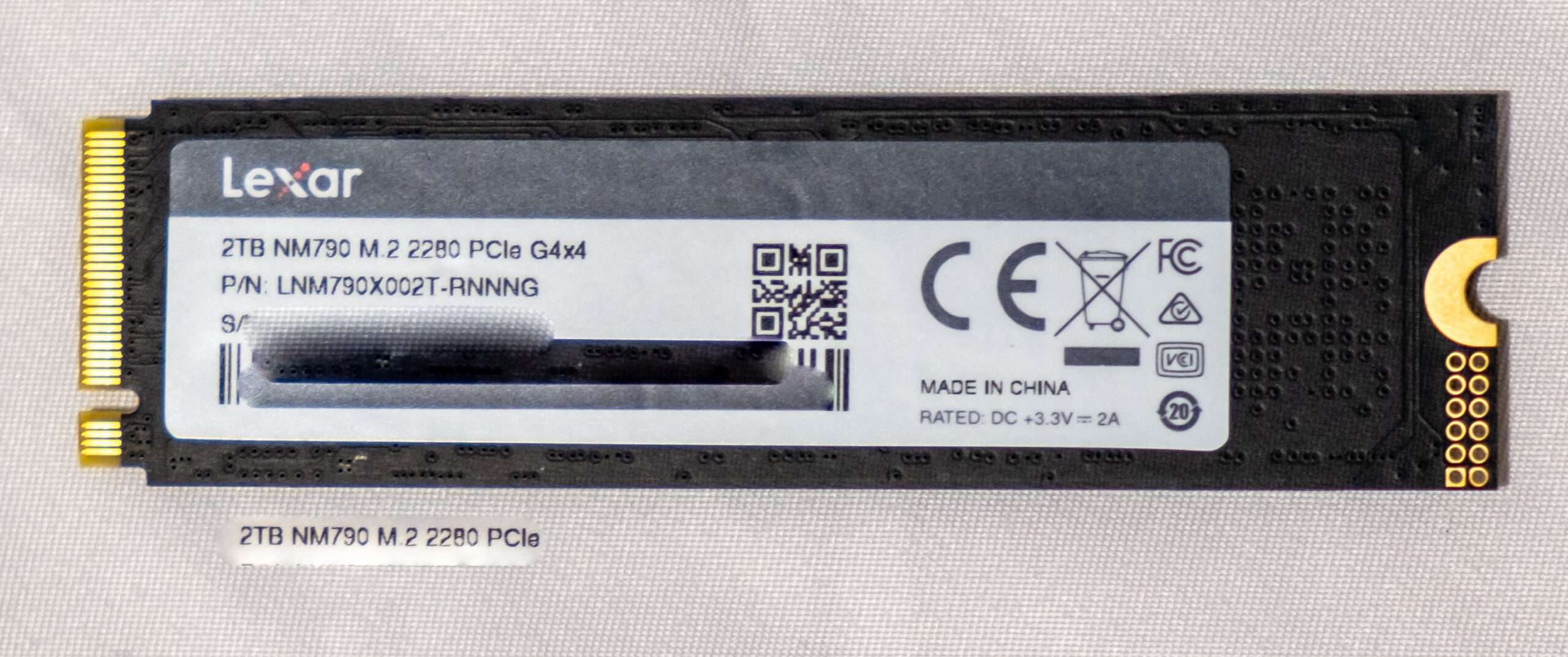 How We Test Lexar NM790?
Our setup system based on a AsRock B760M Pro RS motherboard and Intel Core i5 13500 – 14 Cores 20 threads processor. The ram we will be using XPG DDR5 6000Mhz memory kit. PowerColor RX7600 Fighter. We will run comparison benchmark with Samsung 980Pro, Lexar NM790 and XPG Gammix S50 Lite.
| | | | | | | |
| --- | --- | --- | --- | --- | --- | --- |
| Model | Capacity | PCIe Interface | Sequential Read Speed | Sequential Write Speed | Nvme interface | Nvme Driver |
| Lexar NM790 | 2TB | Gen4x4 | 7400MB | 6500MB/s | 1.4 | Native Firmware |
| Samsung 980 Pro | 2TB | Gen4x4 | 7000MB | 5100MB/s | 1.3C | Native Firmware |
| XPG Gammix S50 Lite | 1TB | Gen4x4 | 3900MB | 3200MB/s | 1.4 | Native Firmware |
3Dmark Advanced Edition
The 3DMark Storage Benchmark DLC, purchased separately, extends 3DMark with a dedicated component test for measuring the gaming performance of SSDs and other storage hardware. It supports all the latest storage technologies and tests practical, real-world gaming performance for activities such as loading games, saving progress, installing game files, and recording gameplay video streams.
3DMark Storage Benchmark
Score
Lexar NM790
3572
Samsung 980 Pro
2940
XPG Gammix S50 Lite
1772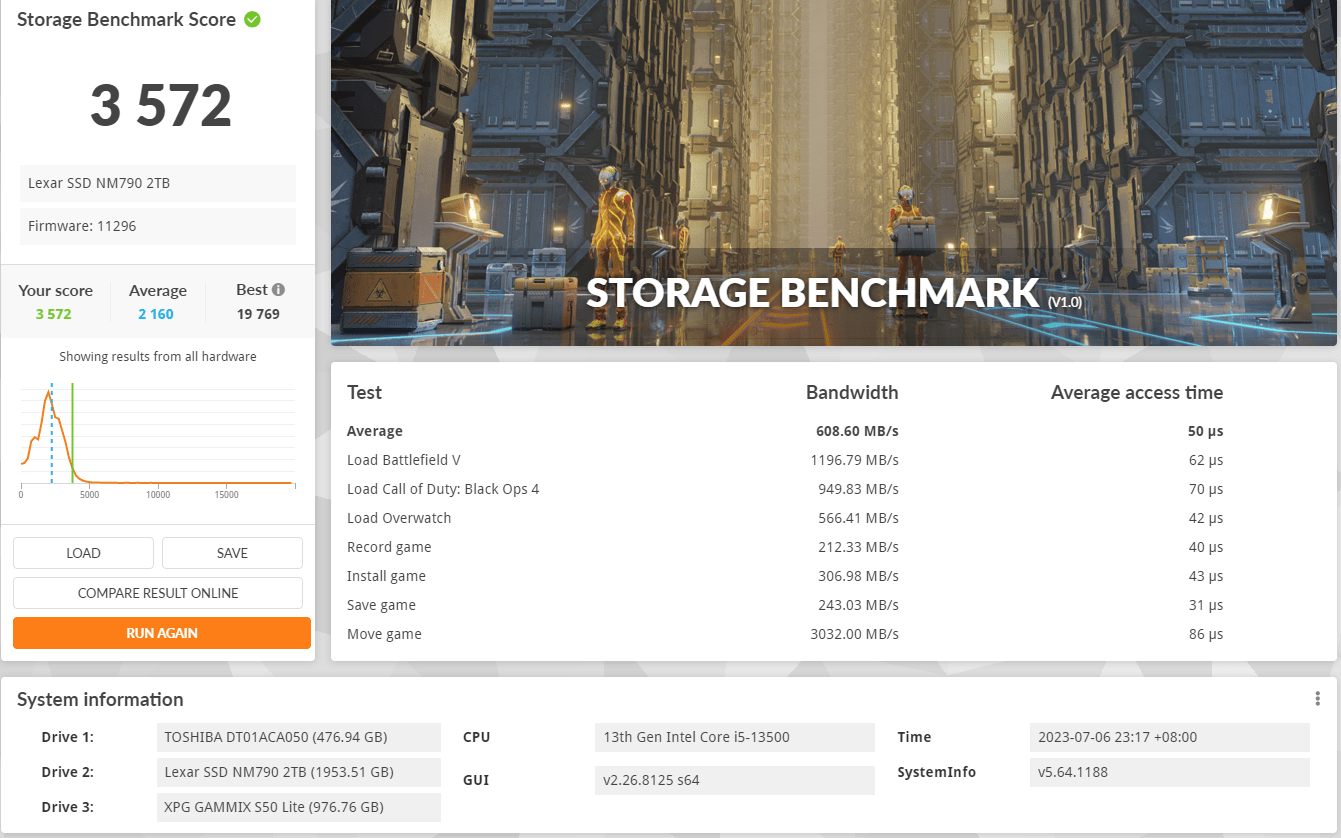 Passmark Benchmark
PassMark disk test exercise the storage connected to your computer. Involves sequential read, write, random seek write+read and IOPS measurement.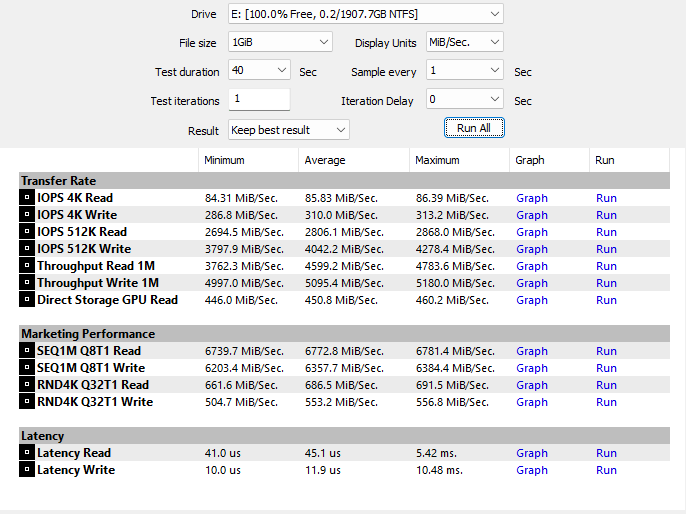 CrystalDiskMark
CrystalDiskMark is an excellent tool for testing the speed of any storage device or memory card. The program measures the read and write speeds for an accurate measure of performance.
CrystalDiskMark Read
SEQ1M Q8T1
SEQ1M Q1T1
RND4K Q3T1
RND4K Q1T1
Lexar NM790
7110.33
4943.19
734.47
89.23
Samsung 980 Pro
6826.07
3733.57
1062.54
91.79
XPG Gammix S50 Lite
3297.78
3226.01
735.94
55.41
CrystalDiskMark Write
SEQ1M Q8T1
SEQ1M Q1T1
RND4K Q3T1
RND4K Q1T1
Lexar NM790
6604.91
5441.67
599.58
329.51
Samsung 980 Pro
5008.82
3866.64
964.14
281.55
XPG Gammix S50 Lite
2866.02
1602.78
600.73
261.85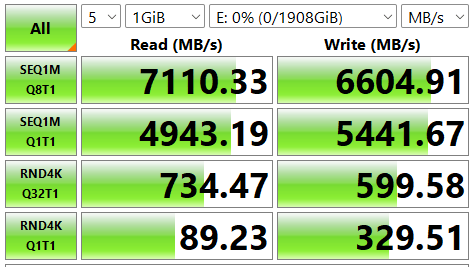 Temperature 
Temperature
Idle
Load
Lexar NM790
44
74
Samsung 980 Pro
54
62
XPG Gammix S50 Lite
43
74