AsRock Z790 PG-ITX/TB4 is the topic of today's review. Phantom Gaming motherboards are not among the most powerful motherboards (all flagship motherboards belong to Taichi and AQUA), but the Phantom Gaming motherboard is still a powerful motherboard for a modern PC with all of its peripherals and power options.
This Phantom Gaming series motherboard measures 170x170mm in Mini-ITX form factor and has 4 mounting holes for chassis installation.
The reverse side is not empty (and this is logical, because the compactness of the PCB forces engineers to place part of the important element base on the back side), there are a number of controllers, some IC and two slots for an M.2 drive. The textolite is well processed: at all soldering points, not only the sharp ends are cut off, but everything is well polished. On the same side, a aluminum plate is installed. Also, the plate helps to remove heat from the back of the PCB through the thermal interface and provides rigidity to the motherboard.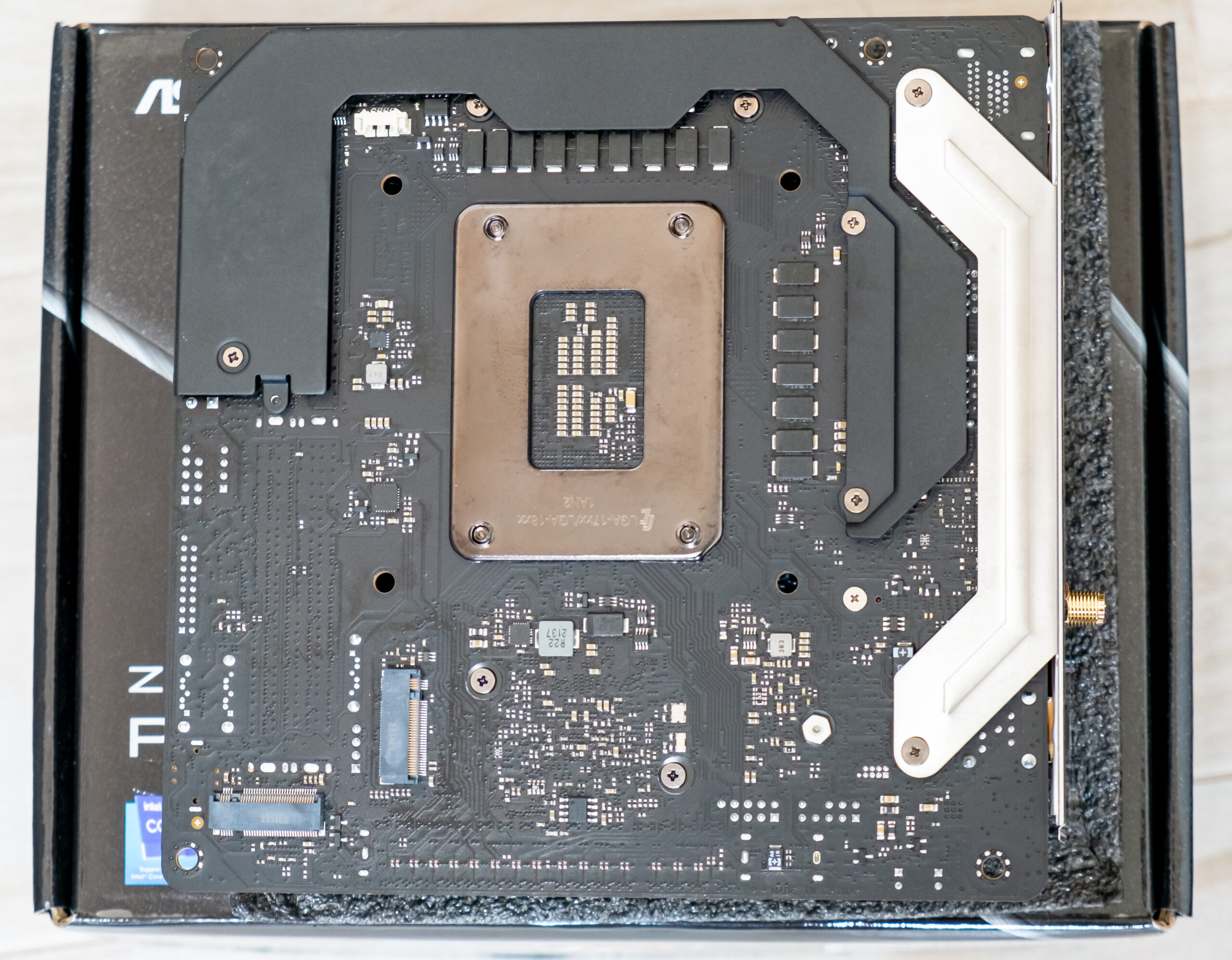 Intel's 13th generation CPUs will feature higher core clock speeds, feature more E-cores, support an additional USB 3.2 Gen2x2 connection, and support faster DDR5 memory.
Raptor Lake will not support Intel's AVX-512 instructions, a feature that was removed from Intel's desktop CPU lineup with Alder Lake after it was added with their 11th Generation Rocket Lake processors.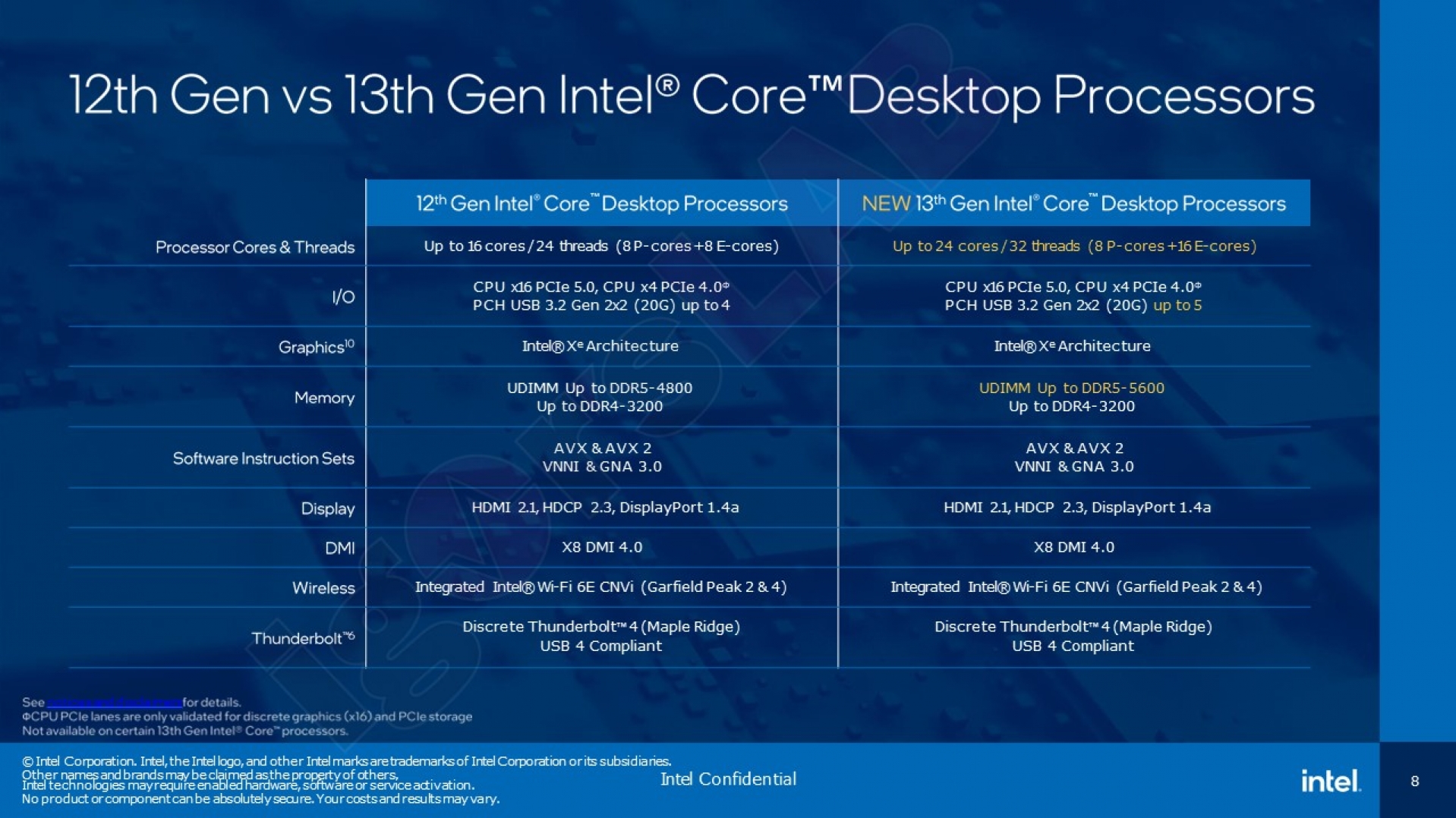 Motherboard Layout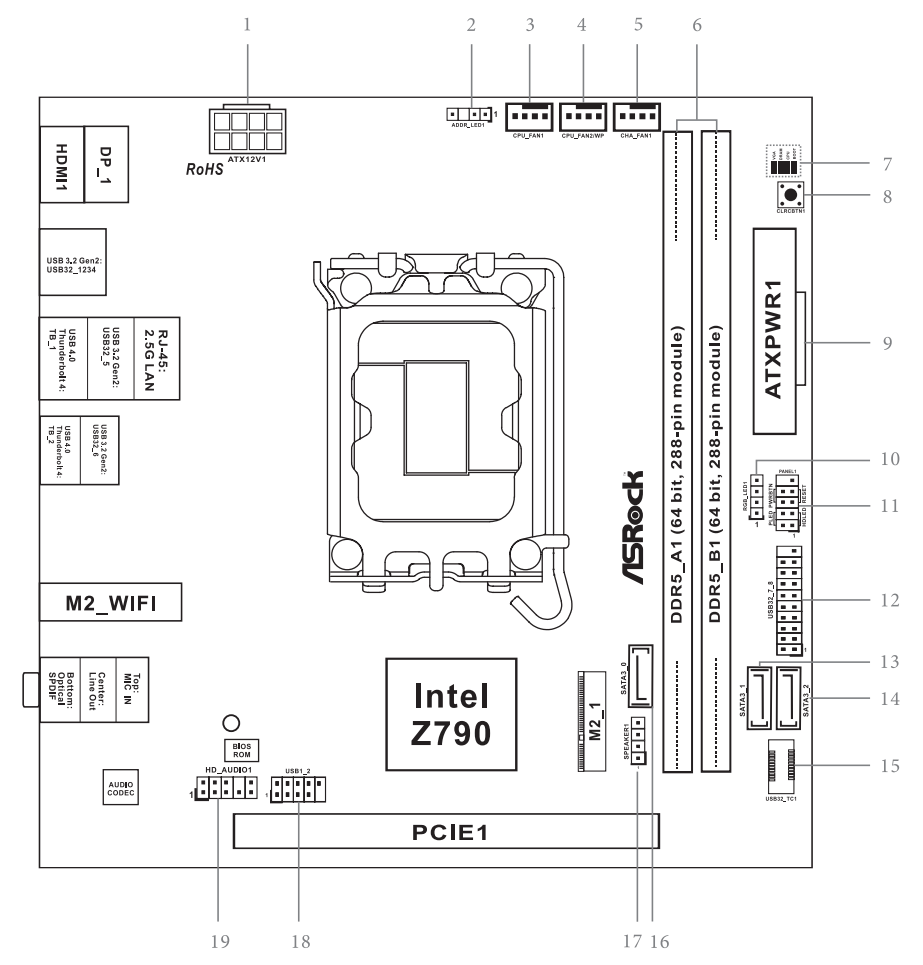 The Z790 system chipset received 28 PCI-e lanes (20 downstream PCIe Gen 4 lanes and up to 8 downstream PCIe Gen 3 lanes), a total of 38 high-speed ports (High Speed ​​​​In Out, HSIO), up to 4x integrated USB 3.2 Gen2x2 (up to 20 Gb / s) ports (although each of them requires support from two USB 3.2 Gen2, no matter from the Z790 itself or third-party hubs). The 13th generation of processors gives another 20 PCIe lanes, while 16 lanes are PCIe 5.0, 4 lanes are PCIe 4.0.'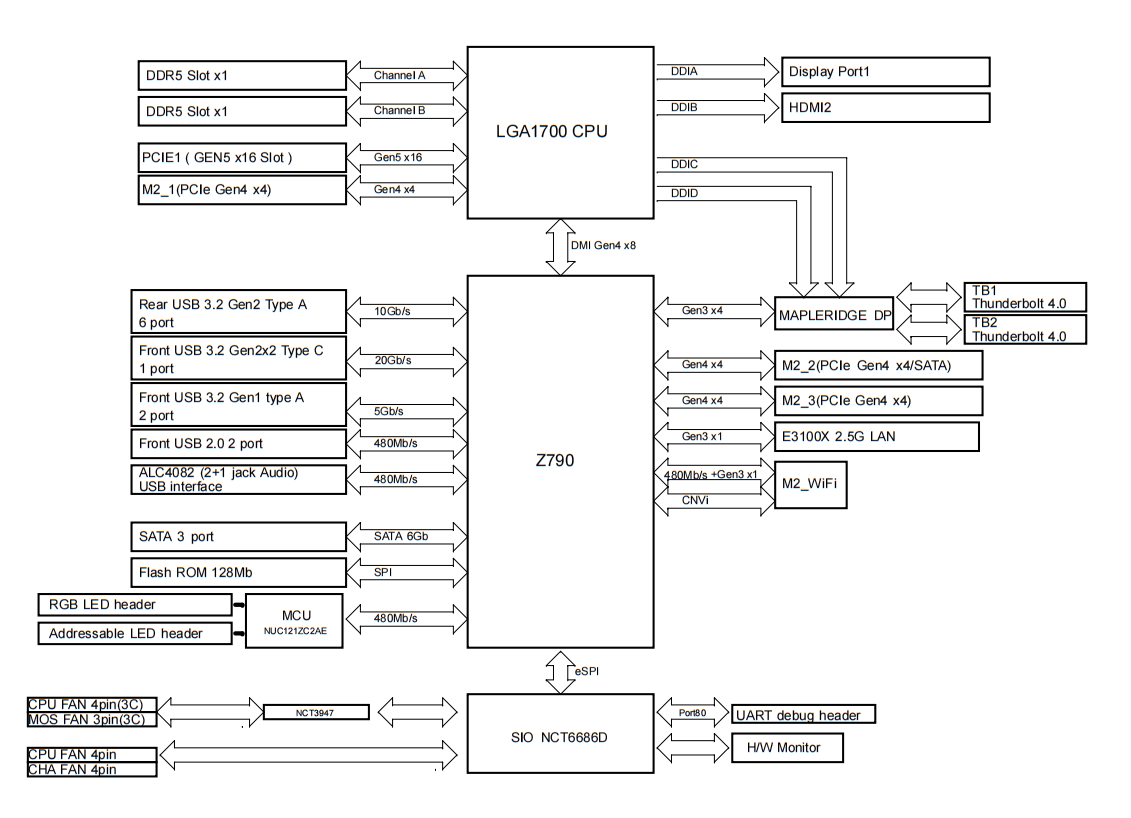 The AsRock Phantom Gaming Z790 PG-ITX/TB4 supports 12th and 13th generation Intel Core processors.
Supported processors
12th & 13th gen Intel Core
Processor socket
LGA 1700
Chipset
Intel Z790
Memory
2 × DDR5, up to 6800 MHz (XMP), up to 64 GB, two channels
Audio subsystem
1 × Realtek RTL4082 (7.1)
Network controllers
1 × Intel Killer E3100 Ethernet 2.5Gbps
1 × Intel Killer Wi-Fi 6E AX1675 (Wi-Fi 802.11a/b/g/n/ac/ax (2.4/5/6GHz) + Bluetooth 5.3)
Expansion slots
1 x PCIe 5.0 x16 (x16 mode)
Drive connectors
3 × SATA 6Gb/s (Z790)
1 × M.2 (M.2_1: CPU, PCIe 4.0 x4 for 2280 format devices)
1 × M.2 (M.2_2: Z790, PCIe 4.0 x4 / SATA for 2280 format devices) 2280)
1 × M.2 (M.2_3: Z790, PCIe 4.0 x4 for 2280 devices)
2 x USB 2.0: 1 x 2-port internal header (GL850G)
2 x USB 3.2 Gen2: 1 x 2-port internal header (Z790)
1 x USB 3.2 Gen2x2: 1 x Type-C internal header (Z790)
2 x USB 3.2 Gen2: 2 x Type-C (Thunderbolt 4)
6 x USB 3.2 Gen2: 2 x Type-A (Blue) (Z790)
Connectors on the rear panel
2 × USB 3.2 Gen2 (Thunderbolt 4 Type-C)
6 × USB 3.2 Gen2 (Type-A)
1 × RJ-45
2 audio jacks
2 antennas
HDMI
Display Port 1.4
Other internal elements
24-pin ATX power connector
8-pin EPS12V power connector
1 M.2 slot (E-key), occupied by wireless network adapter
1 USB 3.2 Gen2×2 Type-C
1 2 x USB 2.0 ports
3 x 4-pin fans and AIO pumps
1 x ARGB Header
1x RGB LED Header
1x Audio Header
1 x PCIe x4 slot occupied by Intel Thunderbolt 4 discrete adapter
1 x Clear CMOS Button
Form Factor
Mini-ITX (170x170mm) [10 Layer PCB]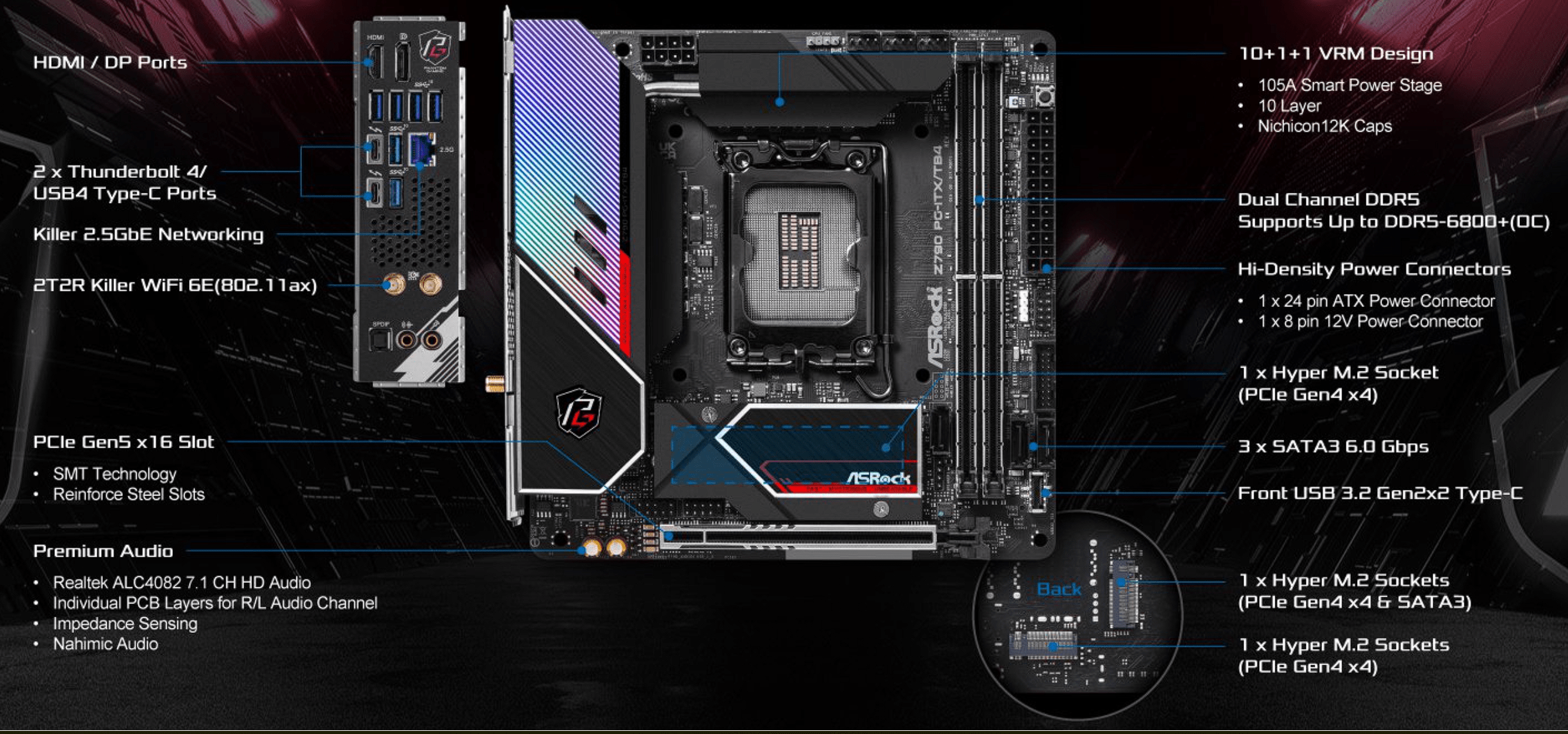 On the rear IO itself, there are a total of eight USB ports, 2 of which are USB 3.2 Gen 2×2 (Both Thunderbolt 4 Type-C ports). The other six Type-A are USB 3.2 Gen 2 Type-A ports. Also located on the rear IO are the Wi-Fi antenna headers, the Intel Killer 2.5Gbe LAN port, as well as a Realtek ALC4082  2-plug audio stack with SPDIF. When you're using an Intel  processor come with IGPU and need video outputs, HDMI and DisplayPort 1.4 here have that covered.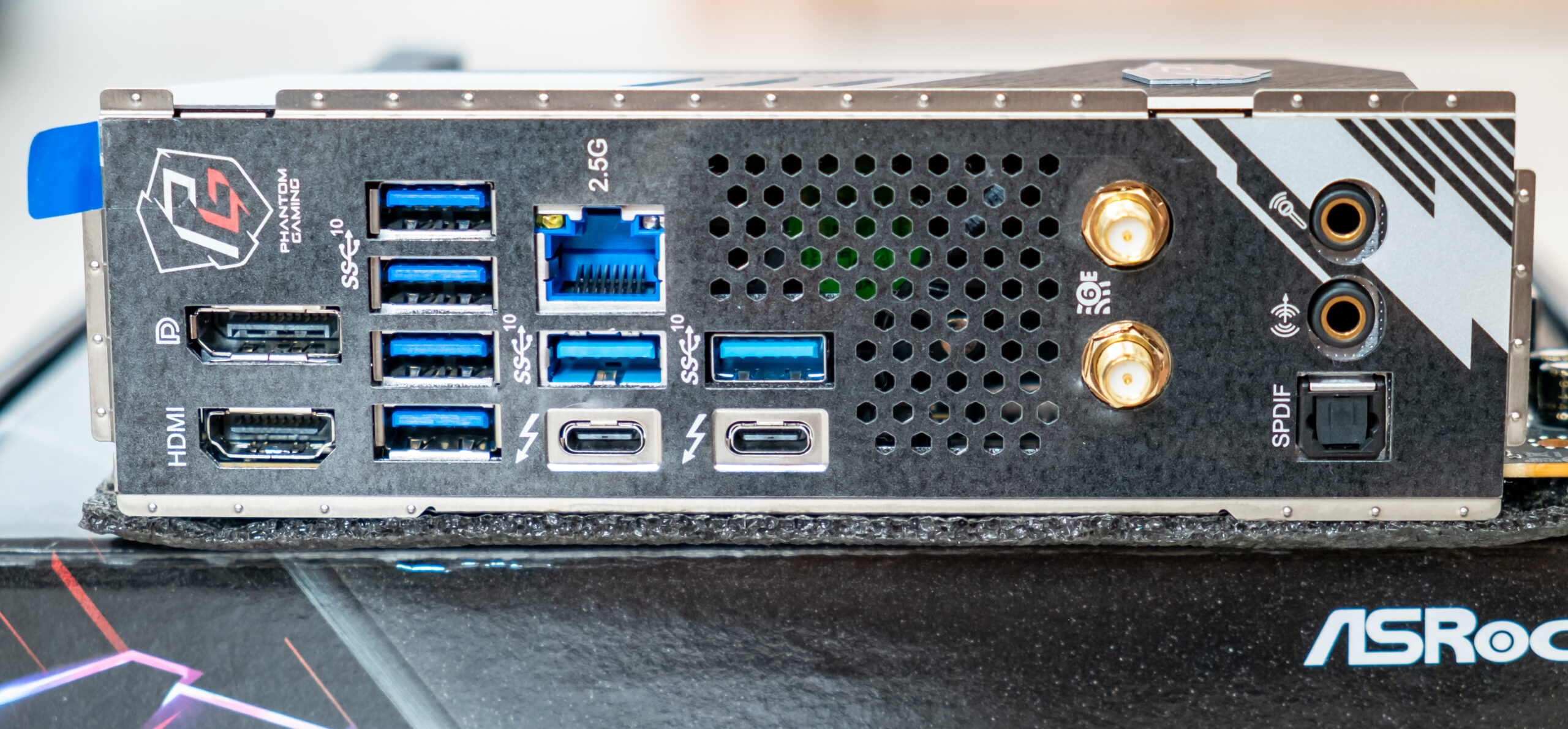 The AsRock board has two DIMM slots for installing memory modules. The board supports unbuffered DDR5 (non-ECC) memory, and the maximum memory capacity is 64 GB. Of course, XMP profiles are supported. DIMM slots included metal edging to protect them from both physical damage and interference.

The PCIe x16 slot has stainless steel reinforcement that increases durability (which can be important if you change graphics cards quite often, but more importantly, such a slot can more easily withstand bending loads in case of installing a very heavy top-level graphics card. In addition, such protection protects the slot from electromagnetic interference.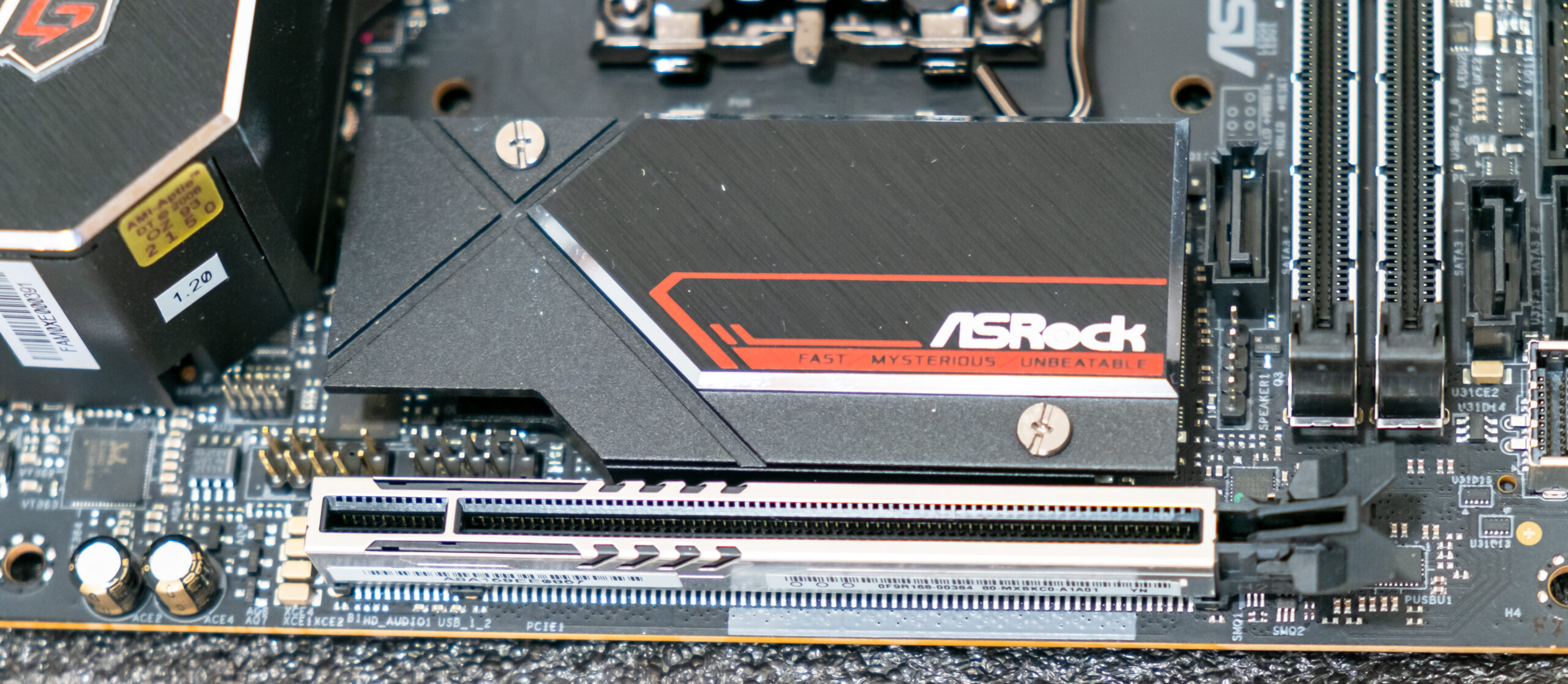 The first M.2_1 receives data from the CPU (PCIe 4.0) and is mounted alongside the PCH heatsink.

Intel Z790 Chipset is directly below the heat sink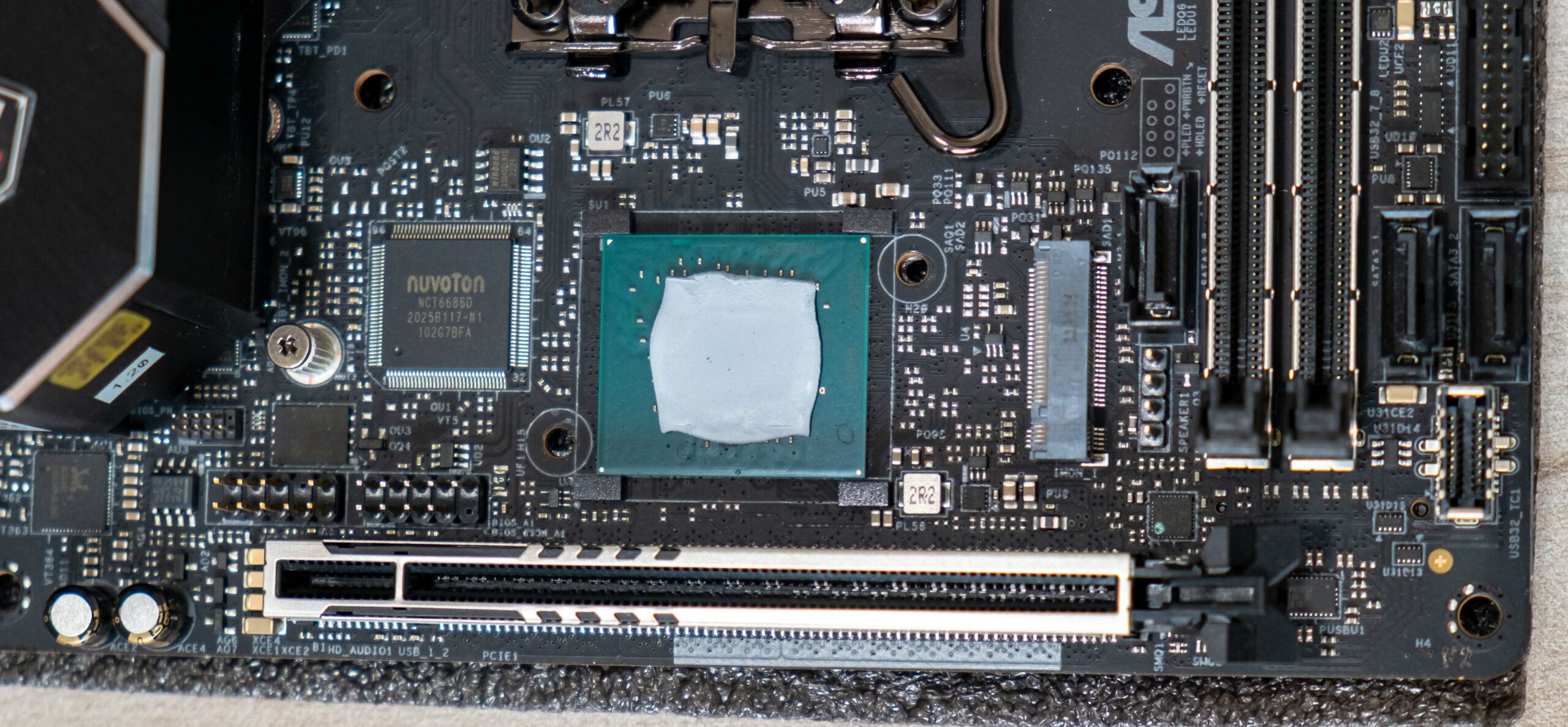 One fan cools down the heat sink that connects directly to the heat pipe on the VRM components.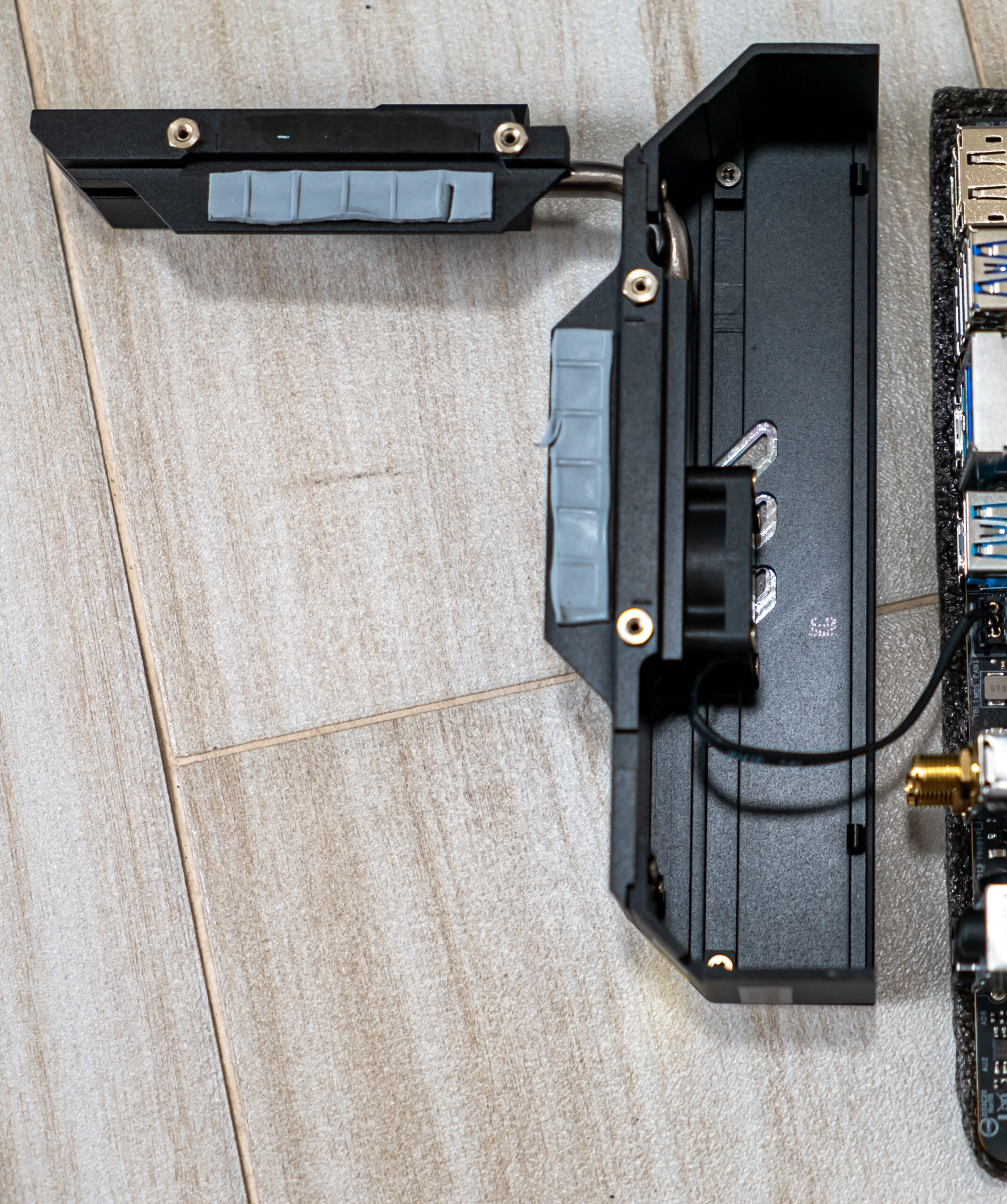 To power the board, it has 2 connectors: in addition to the 24-pin ATX (it is on the right side of the board (on the left in the photo), there is also an 8-pin EPS12V.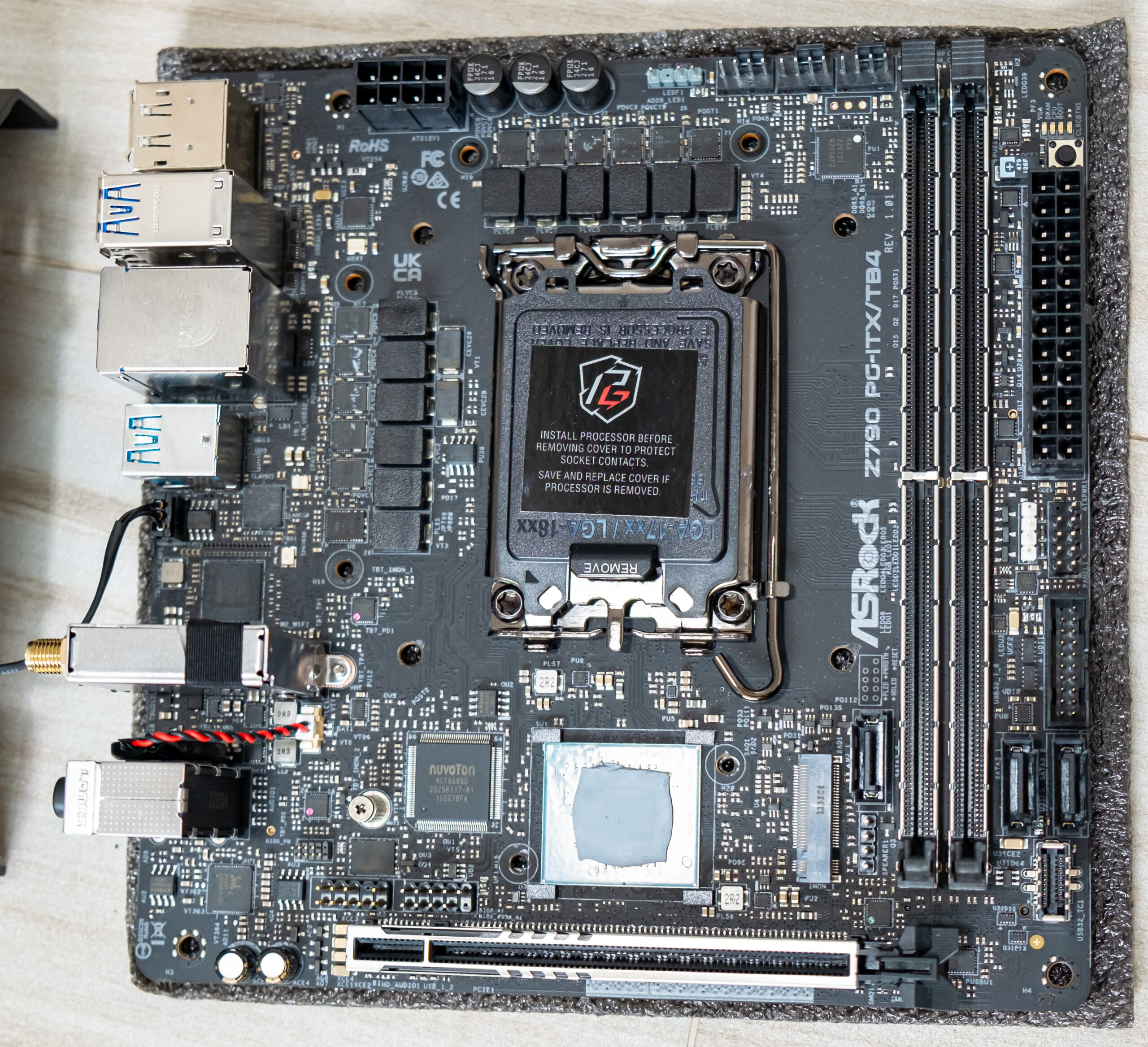 The processor power supply scheme is made according to the 10 + 1 + 1 scheme (12 phases in total, 10 for VCore, 1 for iGPU and 1 for VCCIO).
Each phase channel has a super ferrite choke and RAA 22010540 MOSFET from Renesas at 105A for VCore, ISL99360 at 60A for the integrated graphics core and SiC450 from Vishay for VCCIO at 40A. Powering the VCore and iGPU is Renesas' RAA229131 PWM controller with a maximum of 20 phases, so we see that the power circuit is fully direct without doublers or parallel flows.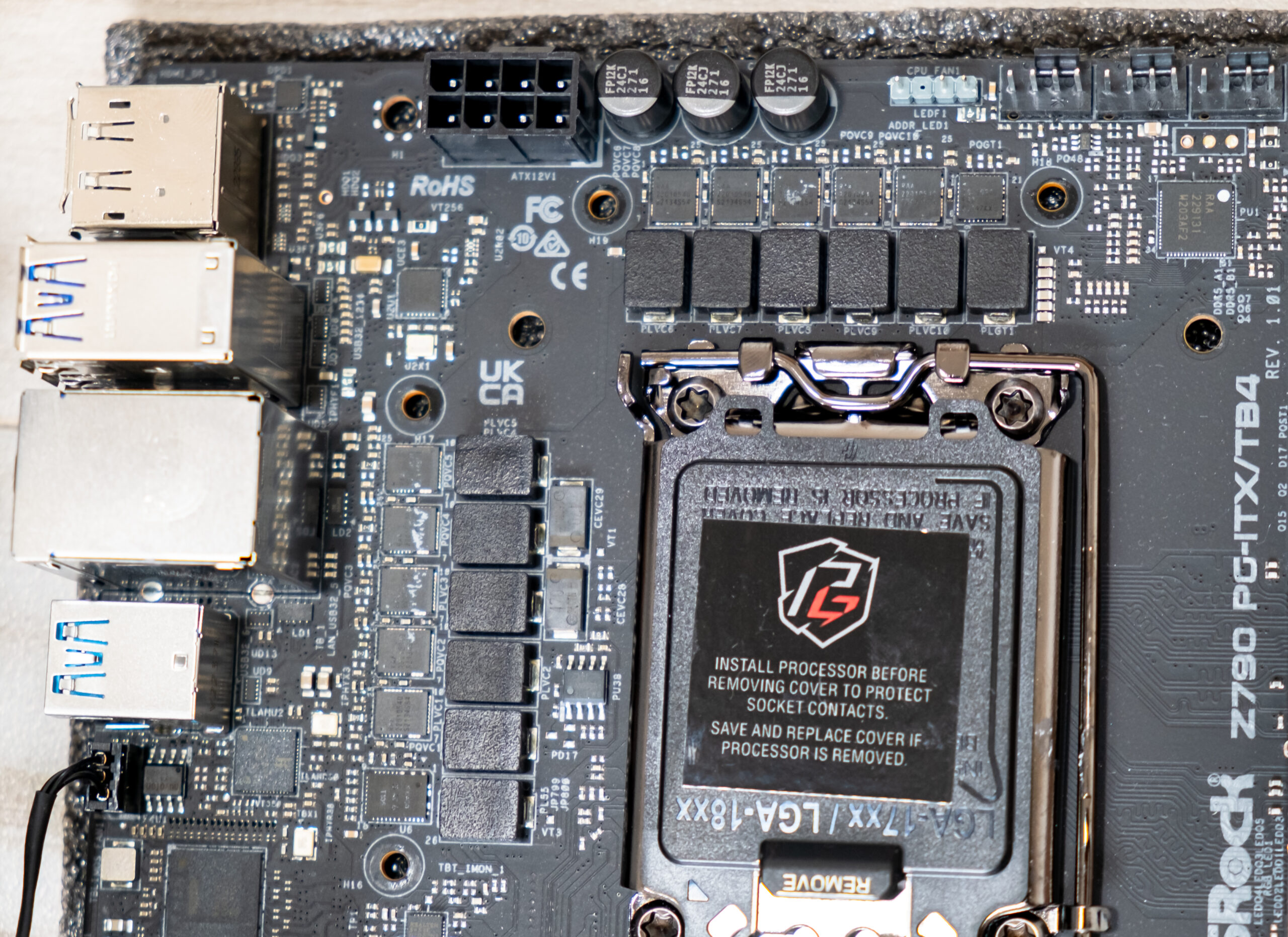 How We Test AsRock Z790 PG-ITX/TB4?
Intel Z790 PG-ITX/TB4 is a gaming motherboard from AsRock. As such, our workstation, based on an Z790 PG-ITX/TB4 motherboard and Intel Core i9 13900K 24 cores 32 threads processor.  The ram we will be using TeamGroup DDR5 4800Mhz memory kit. Intel UHD 770 and ADATA PCIe 4.0 1TB SSD is used as well to run with benchmark. On the Comparison, we will be using ASUS TUF X670E- Plus WIFI with AMD Ryzen 9 7900X and ASUS ROG STRIX Z790-I Gaming WIFI with Intel Core i9 13900K to run side by side to see perform better.
| | | | |
| --- | --- | --- | --- |
| | SYSTEM 1 | SYSTEM 2 | SYSTEM 3 |
| Motherboard | ASUS TUF X670E PLUS WIFI | AsRock Z790 PG-ITX/TB4 | ASUS ROG STRIX Z790-I Gaming WIFI |
| CPU | AMD Ryzen 9 7900X | Intel Core i9 13900K | Intel Core i9 13900K |
| Ram | TeamGroup DDR5 5200Mhz | TeamGroup DDR5 4800Mhz | TeamGroup DDR5 5200Mhz |
| GPU | AMD RDNA2 -2CU | Intel UHD 770 -32EUs | Intel UHD 770 -32EUs |
| SSD | ADATA PCIe 4.0 1TB | ADATA PCIe 4.0 1TB | ADATA PCIe 4.0 1TB |
| OS | Microsoft Windows 11 Pro 22H2 | Microsoft Windows 11 Pro 22H2 | Microsoft Windows 11 Pro 22H2 |
| Bios | 0809 – 23/10/22 | 2.03 – 6/10/22 | 0703 – 8/11/22 |
Cinebench R23
Improvements to Cinebench Release 20 reflect the overall advancements to CPU and rendering technology in recent years, providing a more accurate measurement of Cinema 4D's ability to take advantage of multiple CPU cores and modern processor features available to the average user
CineBench R23
Single Core
Multi Core
ASUS TUF X670E PLUS WIFI
2003
28176
AsRock Z790 PG-ITX/TB4
2226
35939
ASUS ROG STRIX Z790-I Gaming WIFI
2221
36064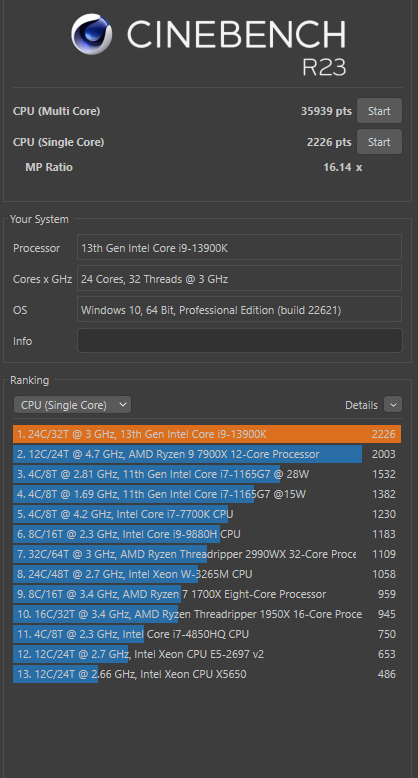 PCMark 10
PCMark 10 features a comprehensive set of tests that cover the wide variety of tasks performed in the modern workplace. With a range of performance tests, custom run options, Battery Life Profile, and new Storage benchmarks, PCMark 10 is the complete PC benchmark for the modern office.
PCMark 10
Essentials
Productivity
Digital Content
Score
ASUS TUF X670E PLUS WIFI
12512
11849
6867
7212
AsRock Z790 PG-ITX/TB4
12079
8537
7648
6624
ASUS ROG STRIX Z790-I Gaming WIFI
12091
8712
7807
6716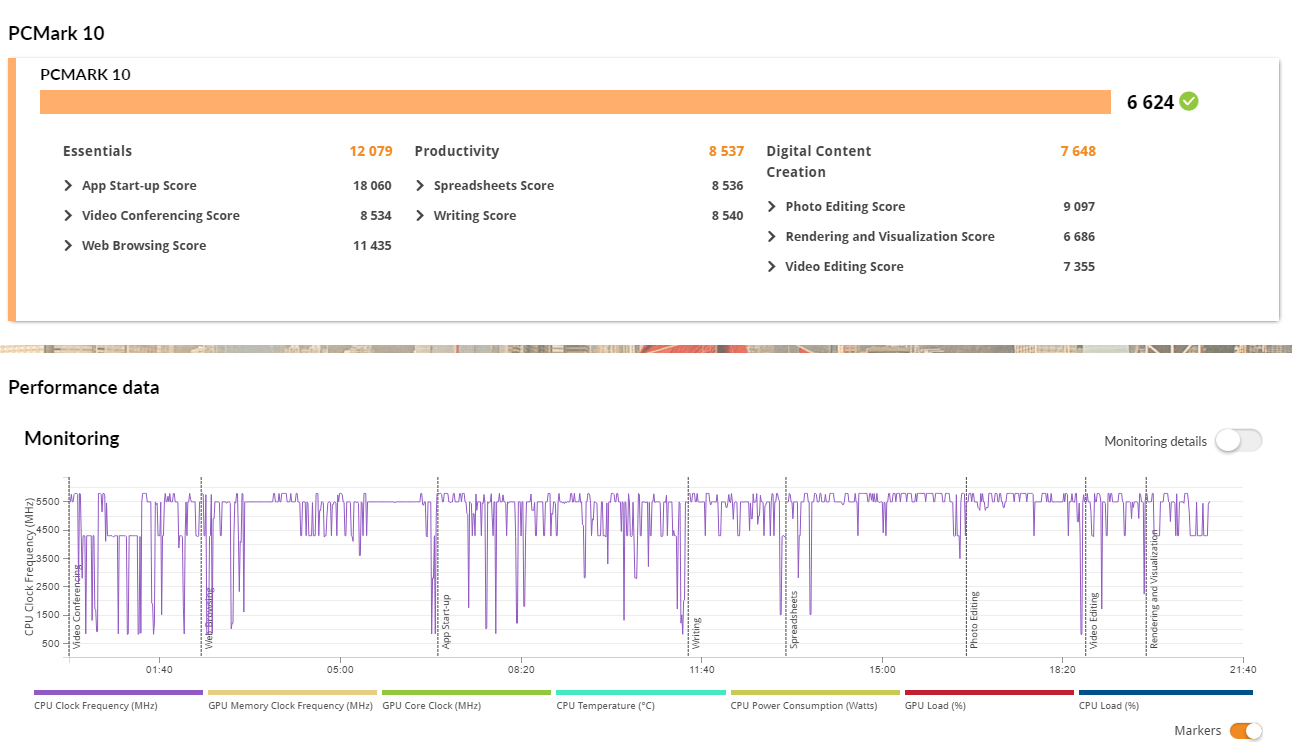 Geekbench 5
Geekbench 5 measures your processor's single-core and multi-core power, for everything from checking your email to taking a picture to playing music, or all of it at once. Geekbench 5's CPU benchmark measures performance in new application areas including Augmented Reality and Machine Learning, so you'll know how close your system is to the cutting-edge.
GeekBench
Single Core
Multi Core
OpenCL
ASUS TUF X670E PLUS WIFI
2156
18646
7618
AsRock Z790 PG-ITX/TB4
2166
22510
9797
ASUS ROG STRIX Z790-I Gaming WIFI
2197
24341
9707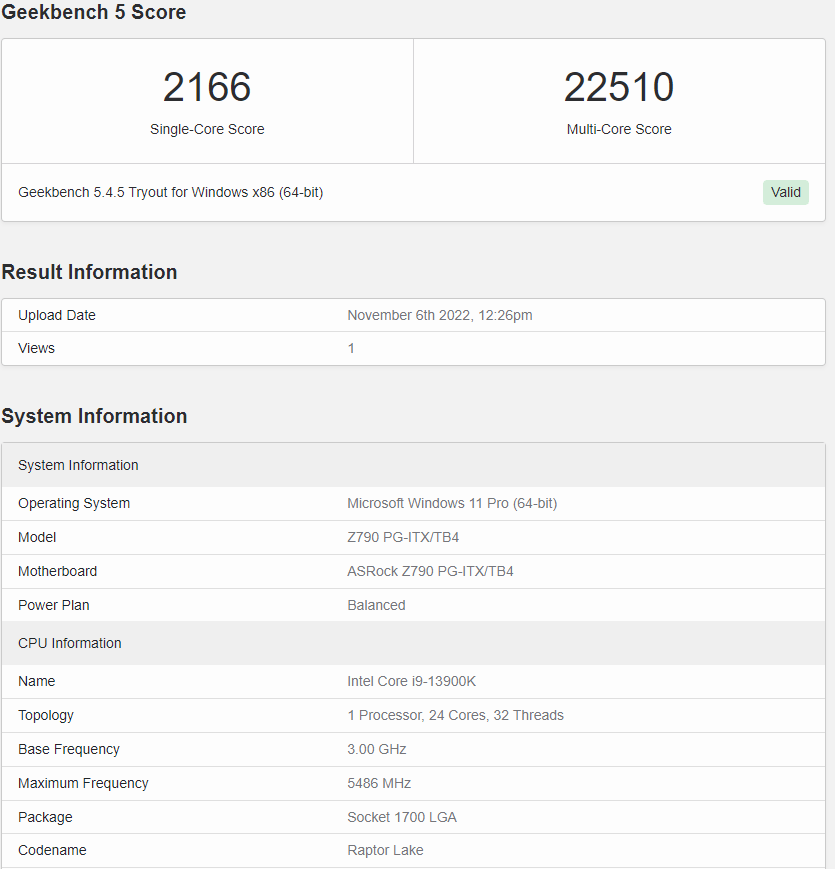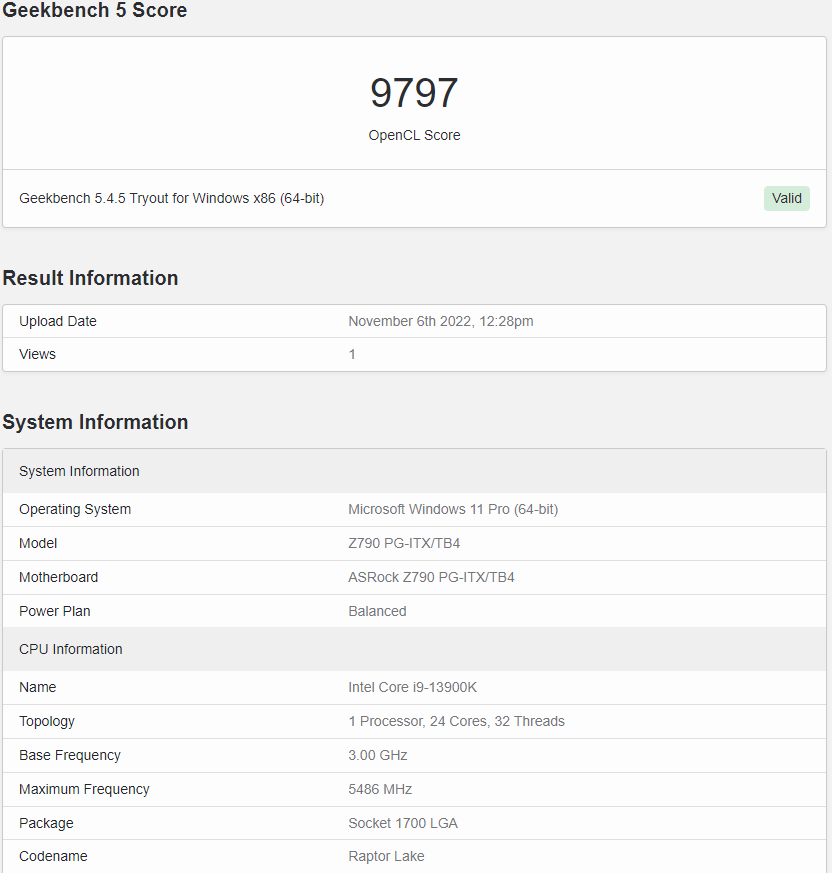 3Dmark Advanced Edition
3DMark includes everything you need to benchmark your PC and mobile devices in one app. Whether you're gaming on a smartphone, tablet, notebook, or a desktop gaming PC, 3DMark includes a benchmark designed specifically for your hardware.
3DMark Advanced Edition – CPU Profile
1 Thread
2 Threads
4 Threads
8 Threads
16 Threads
Max Threads
ASUS TUF X670E PLUS WIFI
1110
2177
4252
8001
11710
12853
AsRock Z790 PG-ITX/TB4
1237
2435
6473
8800
10685
14209
ASUS ROG STRIX Z790-I Gaming WIFI
1231
2369
4686
8845
11519
16443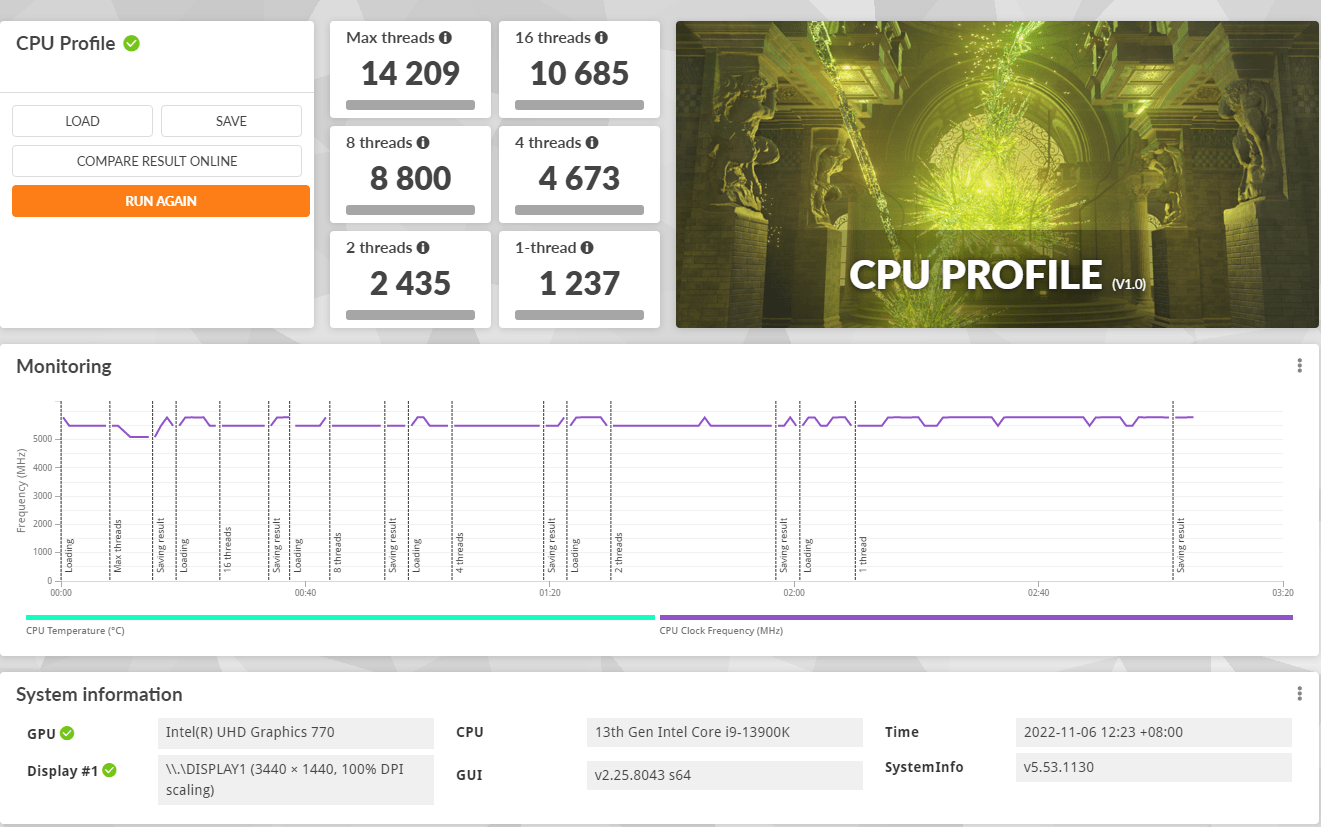 3DMark Advanced Edition
Fire Strike
Night Raid
Port Royal
Storage
Time Spy
Wild Life Extreme
ASUS TUF X670E PLUS WIFI
2150
10492
303
2598
818
1367
AsRock Z790 PG-ITX/TB4
2801
13617
Fail
2264
965
1981
ASUS ROG STRIX Z790-I Gaming WIFI
2840
13749
Fail
2945
975
1954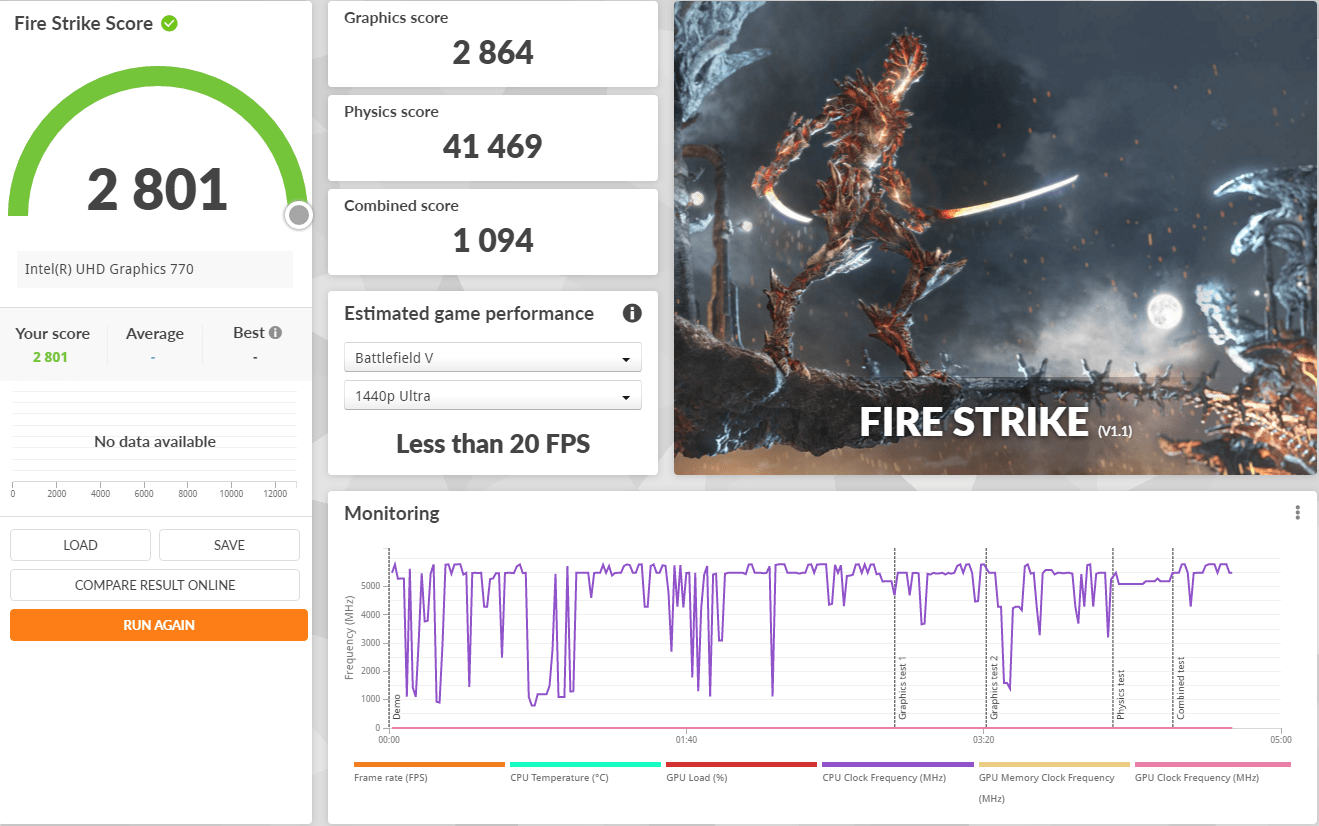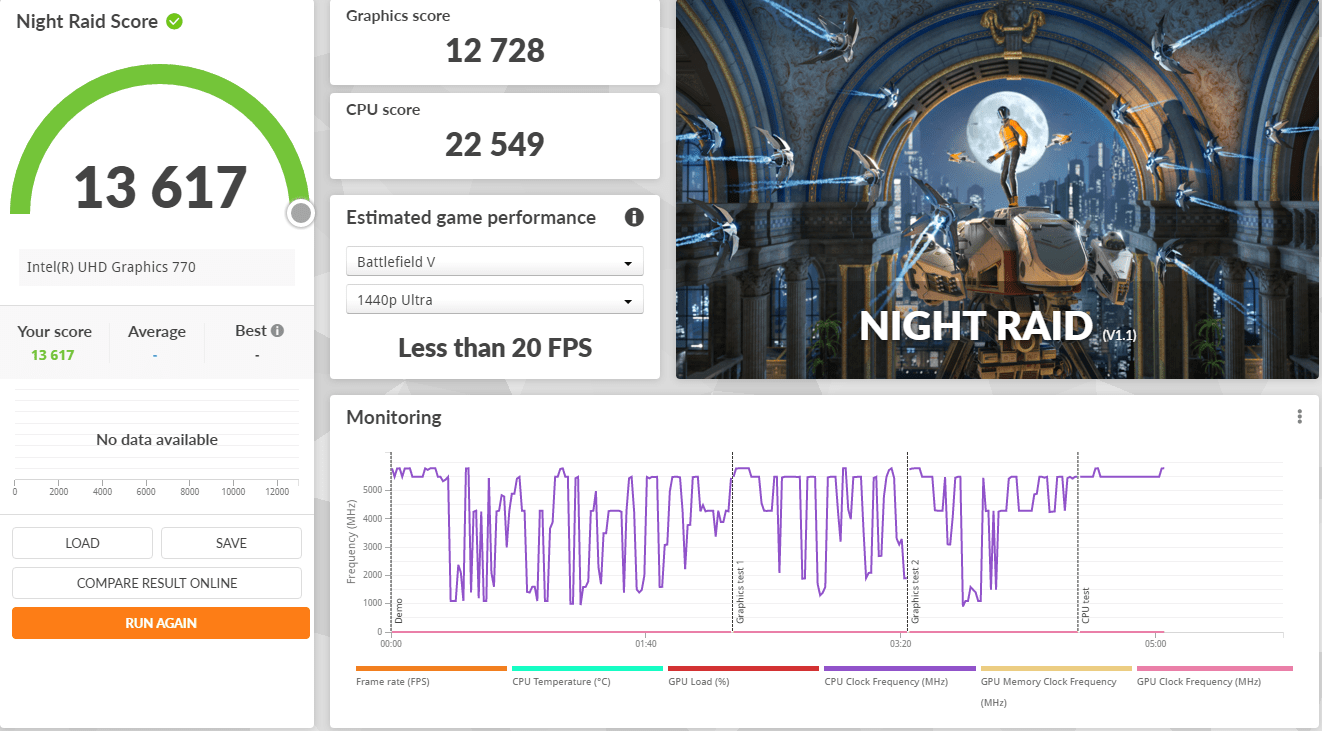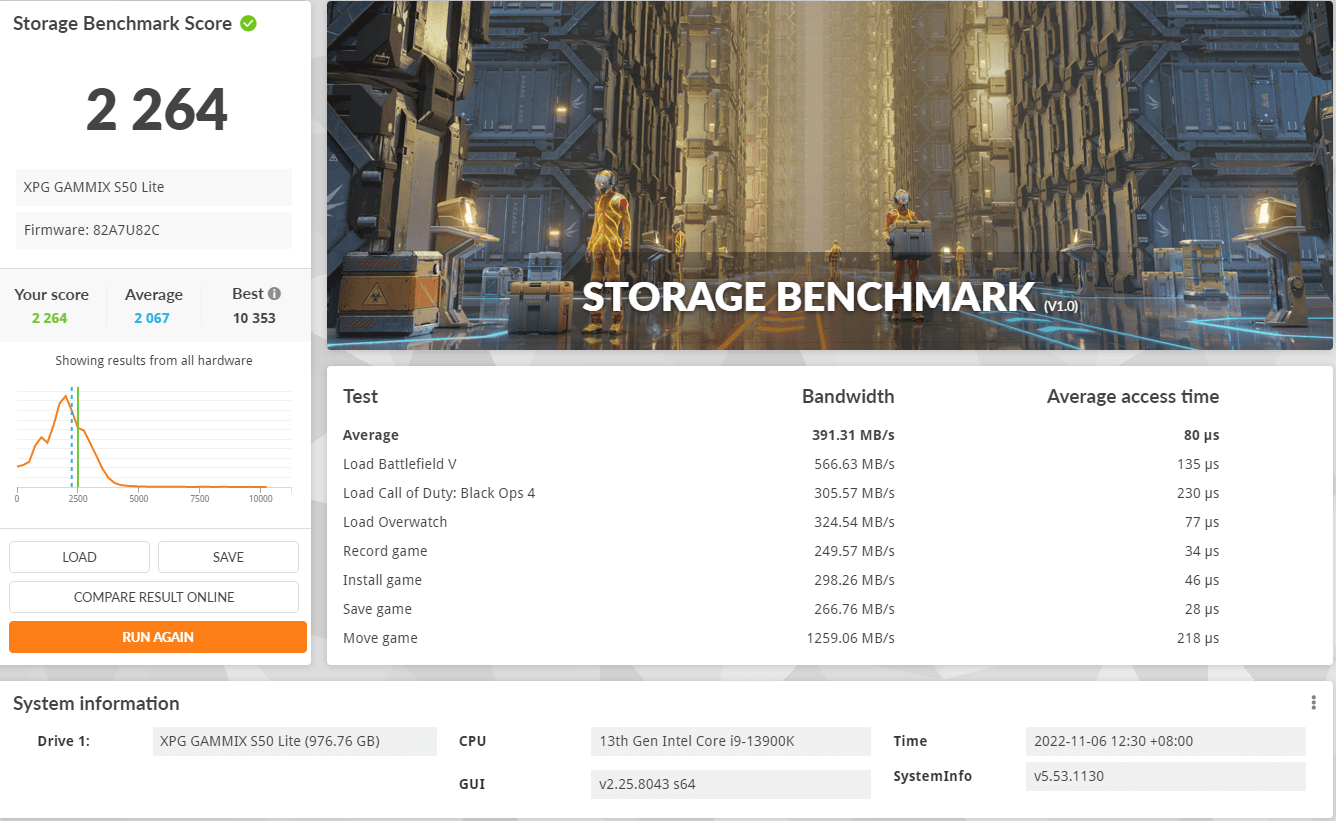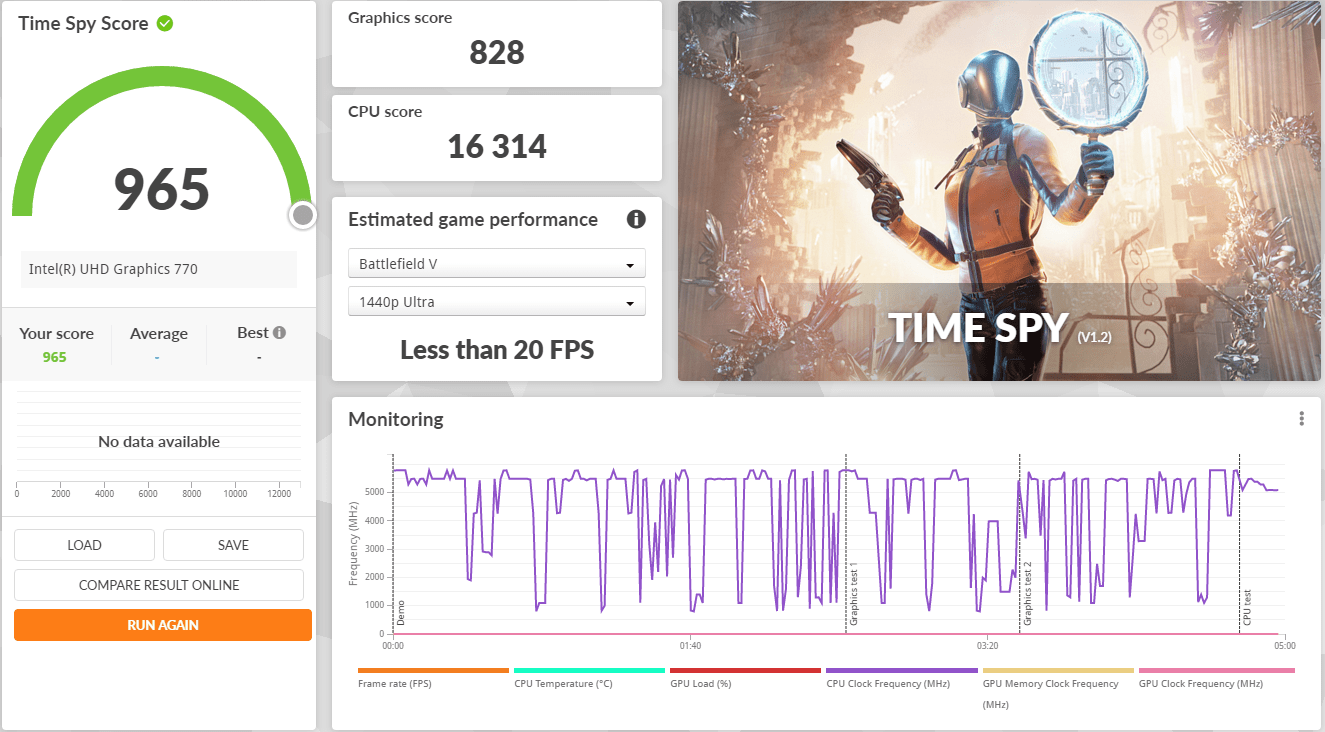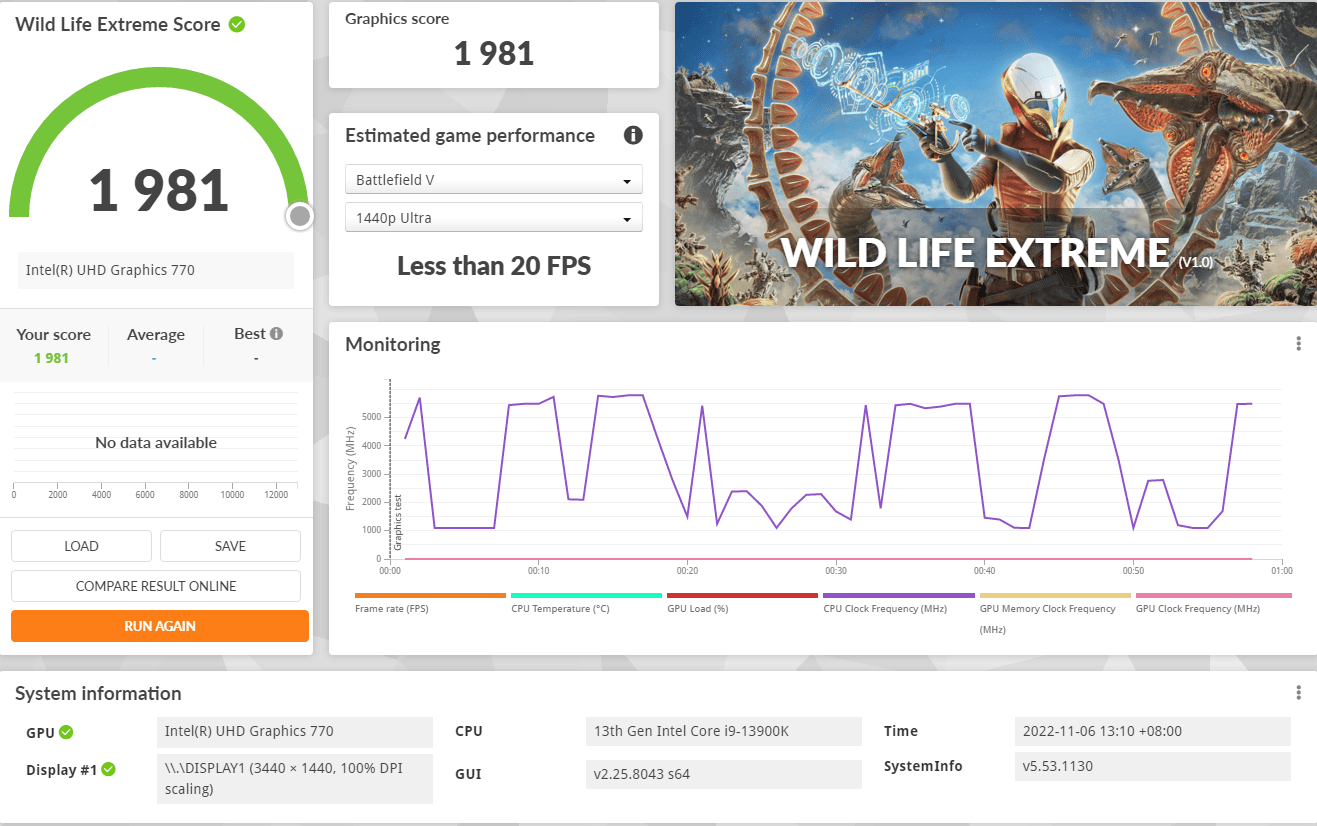 Passmark Benchmark
PassMark runs heavy mathematical calculations that stress the CPU's performance at compression, encryption, and physics-related tasks.
PassMark
CPU
2D
3D
Memory
Disk
Score
ASUS TUF X670E PLUS WIFI
52337.9
610.3
1587.3
3578.5
26947.8
5027.9
AsRock Z790 PG-ITX/TB4
58647
493
1983.1
3393.3
2167.8
3773.3
ASUS ROG STRIX Z790-I Gaming WIFI
62159.2
444.4
2013.3
3686.9
29809.8
4466