Gold is the quintessential symbol of status, power, immortality, and wealth, often reserved for royalty, so why not add some to your PC? After the immense success and popularity of gold-plated EK-Torque fittings, EK®, the premium custom loop liquid cooling manufacturer, has decided to expand its golden portfolio even further. In the past few weeks, several gold-plated products made it to the EK Webshop, and with the most recent launch of the golden EK-Quantum Convection M.2 NVMe heatsink, EK has rounded up the expansion of its golden portfolio. For now.  
You can browse all gold-plated EK products here.
We must not forget to mention that genuine gold was used for the plating of all these products, so it's not a sham. Plus, everyone knows these are good times to invest in gold. 
EK-Quantum Velocity²
Two brass-top, gold-plated EK-Quantum Velocity² CPU water blocks are available – one for socket LGA1700 and one for AM4. EK-Quantum Velocity² series water blocks embed the next-generation cooling engine named OptiFlow. They use a precise combination of mounting pressure and coldplate geometry tailored for the IHS and die layout, specific to the socket. Low hydraulic flow restriction enables these products to be used with weaker water pumps or at lower pump speeds for added silent operation while still achieving top performance. The lathe-turned coldplate is made with precision to cover the IHS effectively and put pressure on the die area.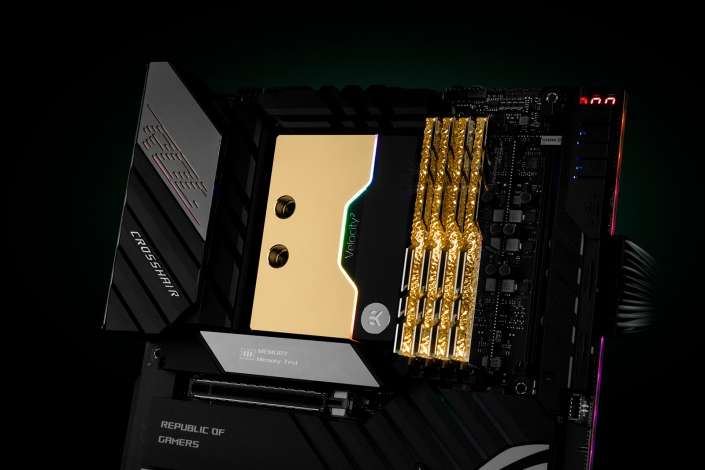 EK-Quantum Velocity²  water blocks are EK-Matrix7 compatible products and use EK-Exact Mount – the patent-pending mounting system designed and engineered by EK in search of an easy-to-use, aesthetically pleasing mounting mechanism. It is made of only three pieces – the backplate, mounting screws, and the water block itself. It's screwed in from the back, allowing for seamless and clean front aesthetics without any screws disrupting the harmony of shape. The system uses pre-tensioned springs concealed in the water block's top so you can get the exact mounting pressure needed and complete the installation with just a few turns of the thumb nuts. 
EK-Quantum Convection Pump Covers
The EK-Quantum Convection D5 and DDC premium pump covers also got their genuine gold-plated editions. The D5 pump cover is made of nickel-plated CNC-machined aluminum, followed by a second plating layer of actual gold. Designed to improve the aesthetics of D5 pumps, it features a rectangular design with a user-friendly hole for cable routing that hides it as much as possible, allowing for a cleaner look. The DDC version acts as an aluminum heatsink for DDC pumps. This add-on vastly improves the cooling performance of the motor and electronics and thus prolongs the lifespan of the water pump.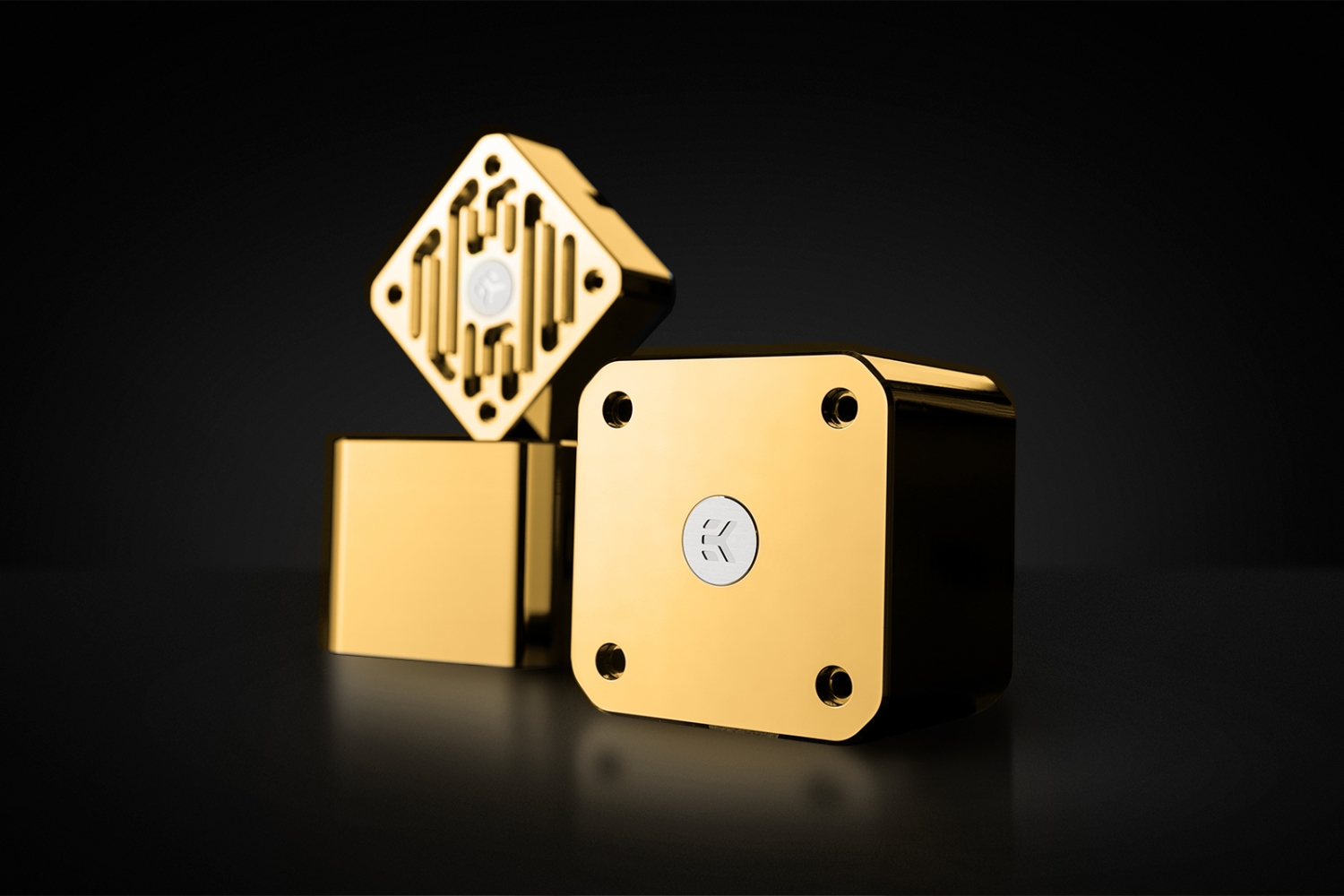 EK-Quantum Convection M.2 NVMe
The EK-Quantum Convection M.2 NVMe is a passive aluminum heatsink for M.2 NVMe solid state drives. Although it's not a water-cooling component, it is a much-needed solution for many PC owners in terms of cooling and overall aesthetics. It's no secret that M.2 NVMe SSDs can quickly overheat and be subdued to thermal throttling, resulting in significant performance loss. However, this latest heatsink will either completely prevent thermal throttling in cases with sufficient airflow or significantly prolong the time before thermal throttling of the SSD occurs.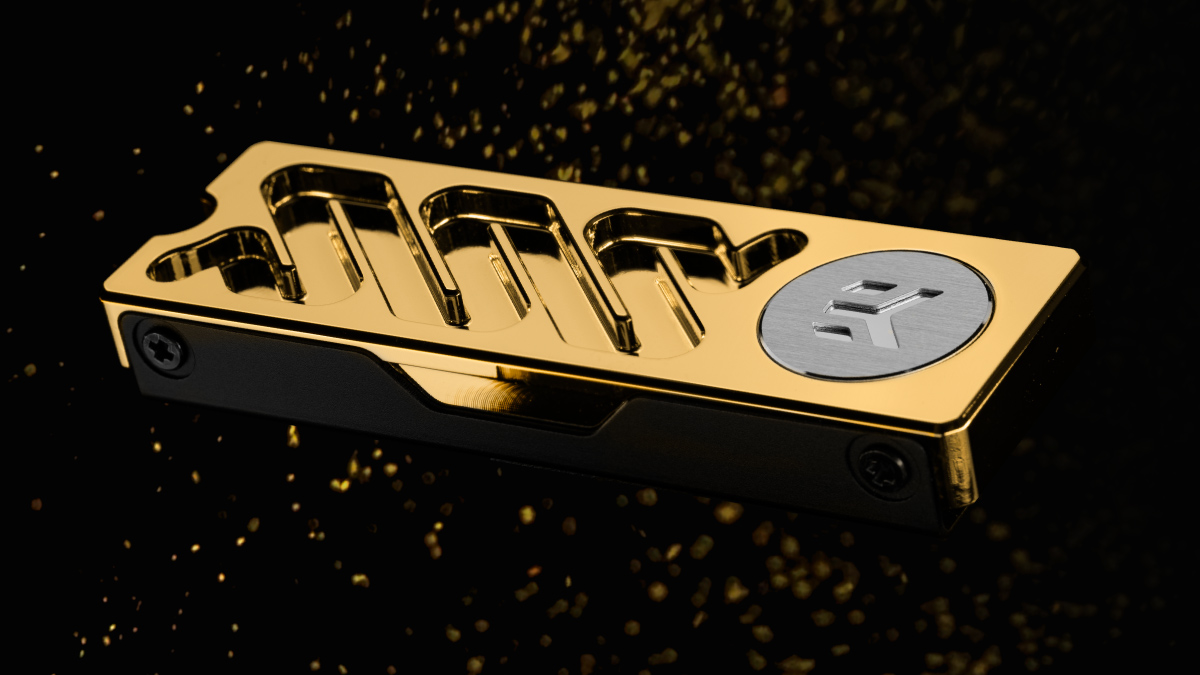 The heatsink is CNC-machined out of high-grade aluminum and has a high-quality nickel finish that has subsequently been plated with real gold. The backplate is also made of aluminum with a black anodized finish. Its unique Quantum-like design makes this heatsink the perfect addition to your build. The simple, understated look makes it sleek and non-intrusive, while the compact design makes it highly compatible and does not interfere with other components. 
Availability and Pricing
The entire gold-plated portfolio of premium EK custom loop water cooling products is made in Slovenia, Europe, and is available through EK Webshop and Partner Reseller Network. The table below shows the manufacturer suggested retail price (MSRP), VAT included. Don't forget to explore the entire portfolio of gold-plated EK products on our webshop.