Taipei, Taiwan, August 24th, 2017 – ASUSTOR Inc., a leading innovator and provider of network storage solutions, has announced the official launch of ASUSTOR Data Master (ADM) 3.0. ADM 3.0 enhances the ASUSTOR NAS experience with a freshly redesigned interface that creates an intuitive tablet-like usage experience while also integrating Internet Passthrough functionality. All ASUSTOR NAS users can now upgrade to ADM 3.0 via the online firmware update function in order to enjoy a brand new usage experience and enhanced overall system performance.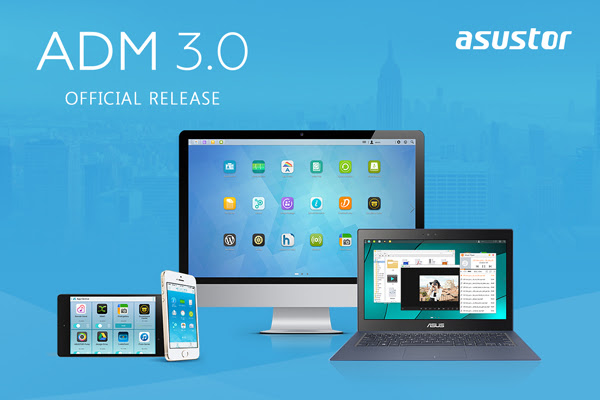 New functions for ADM 3.0 include:
Brand new interface design elements: ADM 3.0 features 3 different desktop icon layout configurations for optimal browsing (5×3, 6×3, 7×4) and a flexibly designed desktop icon layout that can provide an optimal configuration based on the display resolution. Desktop background themes can be changed according to user preferences. Users can also upload their own images to use as the desktop background. The interface font and window button colors can now also be customized for added visual comfort.
Flexible Use of Desktop Space: Convenient App organization is now provided by the grouping function. Users can drag icons to group them together and create names for the groups. Users can also drag and drop frequently used folder or files to the desktop to create shortcuts. Additionally, there is now a desktop icon list and support for the creation of desktop snapshots along with a restore function, ensuring that users will always be able to find the Apps they need.
Quickly Browse Photos and Play Music: ADM 3.0 introduces the ability to browse photos and play music straight from File Explorer. Users can choose to play single or multiple songs.
Effortless Connections to Your NAS: ADM 3.0 provides easy connections by supporting a new Internet Passthrough function that helps users to simplify previously complex router configurations. Even if users with mobile devices are under local network or multi-router environments, all they need to do is upgrade their apps to the latest version supporting ADM 3.0 and they will be able to easily connect to their NAS to access their data from anywhere and at any time. For computer users, they only need to install the new ASUSTOR EasyConnect (AEC) utility to utilize the Internet Passthrough function and conveniently connect to their NAS at home. Furthermore, they will also be use AEC to map their NAS to their computer as a network drive for convenient access.
Desktop widgets for efficient real-time monitoring: System administrators can now self-define desktop widgets in order to monitor the system status in real-time. Widgets include Storage Manager, Activity Monitor, online users and important logs.
Added functionality to the login screen: New functions have been added to the ADM login screen including system announcements, an online help assistant and App shortcuts for added convenience.
IronWolf Health Management: ADM 3.0 integrates Seagate IronWolf Health Management, which improves system reliability through comprehensive embedded analysis and recovery software in order to provide intelligent analysis of drive health that goes beyond traditional diagnostic tools. Leveraging information gathered from additional operating conditions like temperature and humidity, IronWolf Health Management also recommends preventative actions users can take to avoid having issues arise in the first place.
"Since the launch of the ADM 3.0 Beta, we have consistently been receiving great feedback for its intuitive and easy to use interface," said Leon Huang, Product Manager at ASUSTOR. "The invaluable feedback that we have received during beta testing has allowed us to successfully launch this official version. We encourage all ASUSTOR NAS users to upgrade to the new official ADM 3.0 in order to enjoy all of the latest features from ASUSTOR."
ADM 3.0 is now available via online firmware update on all ASUSTOR NAS devices. We recommend users to upgrade their firmware in order to enjoy all of the latest features and enhanced performance from ASUSTOR.
For more product information please visit: http://www.asustor.com
For more information about ADM 3.0, please visit: https://www.asustor.com/adm/adm3_0