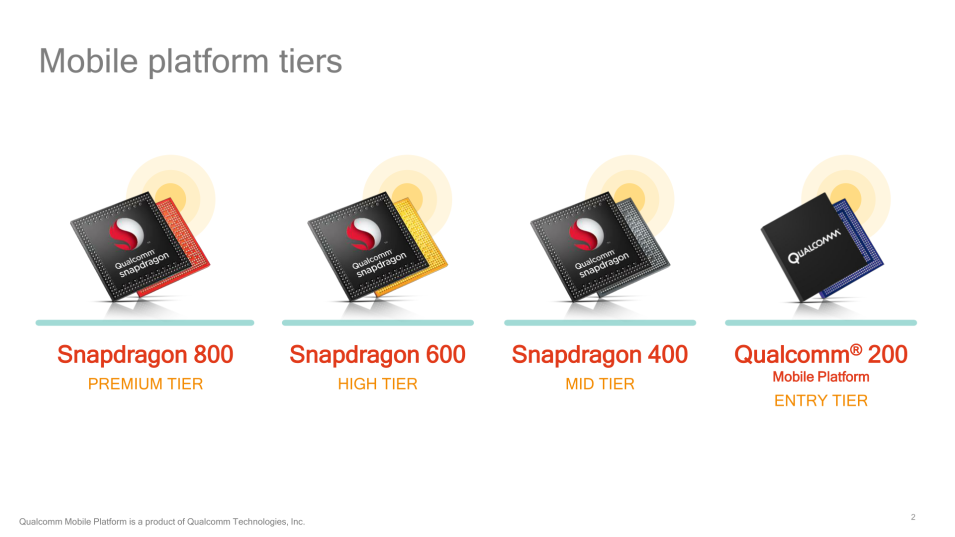 At Mobile World Congress Shanghai 2017, Qualcomm Incorporated (NASDAQ: QCOM) announced that its subsidiary, Qualcomm Technologies, Inc., has introduced the Qualcomm® Snapdragon™ 450 Mobile Platform, a new entry to the Snapdragon 400 Mobile Platform tier. Catered to mid-range smartphones and tablets, the Snapdragon 450 is the first in its tier to use 14nm FinFET process and is designed to deliver significant improvements in battery life, graphics and compute performance, imaging and LTE connectivity over its predecessor, the Snapdragon 435 Mobile Platform.
The Snapdragon 450 Mobile Platform focuses on improvements compared to its predecessor in four key categories of features:
Improved CPU and GPU: Higher performing octa-core ARM Cortex A53 CPU results in 25 percent increase in compute performance compared to its predecessor. Additionally, the integrated Qualcomm® Adreno™ 506 GPU delivers a 25 percent increase in graphics performance over the Snapdragon 435.
Battery life: Power management improvements result in up to four additional hours of usage time compared to the Snapdragon 435, as well as up to a 30 percent reduction in power when gaming, helping consumers stay connected and productive for much longer. The Snapdragon 450 also comes with Qualcomm® Quick Charge™ 3.0 support, which can charge a typical smartphone from zero to 80 percent in about 35 minutes.
Camera and multimedia: The Snapdragon 450 is the first in the 400-tier to support real-time Bokeh (Live Bokeh) effects. It is also designed to improve on previous generations by including support for enhanced dual camera at 13+13MP, or single camera support up to 21MP; hybrid autofocus; and 1080p video capture and playback at up to 60fps, enabling slow motion capture. The Snapdragon 450 also includes support for 1920×1200 full HD displays, as well as the Qualcomm® Hexagon™ DSP, which enables multimedia, camera and sensor processing at greater performance and lower power than the previous generation.
Connectivity and USB: Users will enjoy fast LTE connectivity with the Snapdragon X9 LTE modem, which utilizes 2x20MHz carrier aggregation in both downlink and uplink for peak speeds of 300 Mbps and 150 Mbps respectively, support for a large number of mobile networks with Snapdragon All Mode, and 802.11ac with MU-MIMO support. The Snapdragon 450 also supports USB 3.0 which is first in its tier to support fast USB data transfer.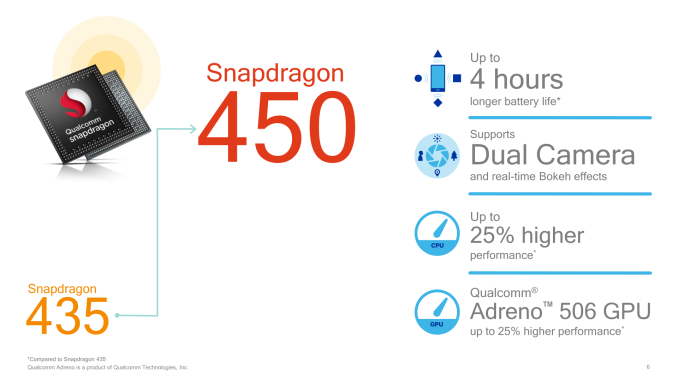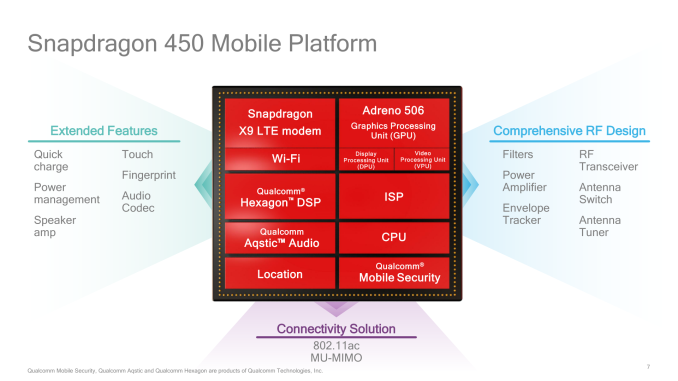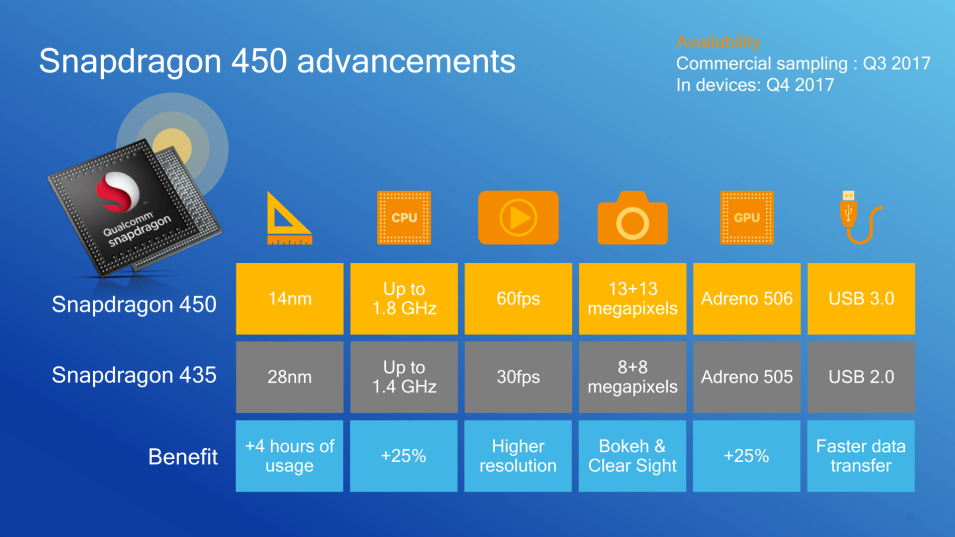 Qualcomm Midrange Snadpragon Family
SoC
Snapdragon 450
Snapdragon 435
Snapdragon 625
CPU
4x A53 @ 1.8GHz

4x A53 @ 1.8GHz

4x A53 @ 1.4GHz

4x A53 @ 1.4GHz

4x A53 @ 2.0GHz

4x A53 @ 2.0GHz

Memory
1x 32-bit LPDDR3
1x 32-bit @ 800MHz
LPDDR3

6.4GB/s b/w

1x 32-bit @ 933MHz
LPDDR3

7.45GB/s b/w

GPU
Adreno 506
Adreno 505
Adreno 506
Encode/
Decode
1080p
H.264 & HEVC (Decode)
1080p
H.264 & HEVC (Decode)
2160p
H.264 & HEVC (Decode)
Camera/ISP
Dual ISP
13MP + 13 MP (Dual)
21MP (Single)
Dual ISP
8MP + 8MP (Dual)
21MP (Single)
Dual ISP
24MP
Integrated
Modem
"X9 LTE" Cat. 7
300Mbps DL 150Mbps UL

2x20MHz C.A.
(DL & UL)

"X9 LTE" Cat. 7
300Mbps DL 100Mbps UL

2x20MHz C.A.
(DL & UL)

"X9 LTE" Cat. 7
300Mbps DL 150Mbps UL

2x20MHz C.A.
(DL & UL)

USB
3.0
w/QuickCharge 3.0
2.0
w/QuickCharge 3.0
3.0
w/QuickCharge 3.0
Mfc. Process
14nm
28nm LP
14nm