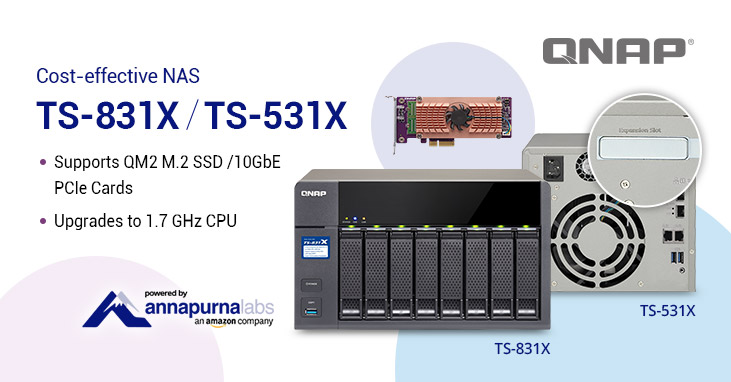 Taipei, Taiwan, June 2017 – QNAP® Systems, Inc. announced that its cost-effective, 10GbE-ready TS-831X and TS-531X business NAS now support QNAP's innovative QM2 PCIe expansion cards. By installing a QM2 card, users can easily configure M.2 SSDs for the NAS to enjoy boosted performance with SSD caching or a caching pool, or add additional 10GbE 10GBASE-T connectivity. Both the TS-831X and TS-531X now also ship with an upgraded AnnapurnaLabs, an Amazon company Alpine AL-314 quad-core 1.7 GHz processor that delivers higher performance.
Both the 8-bay TS-831X and 5-bay TS-531X feature a pair of 10GbE SFP+ ports to facilitate bandwidth-demanding tasks. To tackle IOPS-demanding applications, a QM2 M.2 SSD/10GbE PCIe expansion card can be installed in the NAS to add up to two M.2 PCIe/SATA SSDs for increasing read/write performance and to add extra 10GbE connectivity (individual QM2 cards may vary in functionality). Besides SSD caching, QM2 can form a RAID 1 or RAID 0 caching pool or auto-tiering volume, while Qtier auto-tiering technology can be enabled at the same time to ensure 24/7 optimized storage efficiency.
"QM2 is ideal for NAS with a single PCIe slot to boost performance and connectivity," said Jason Hsu, Product Manager of QNAP, adding "It allows M.2 SSD caching and a caching pool without occupying any drive bays, and optimizes storage efficiency across M.2 SSD and high-capacity SATA HDDs with around-the-clock acceleration."
The 1.7 GHz quad-core TS-831X and TS-531X deliver private cloud functionality to fulfill business needs in storage and backup/restoration. Both models are scalable by attaching QNAP expansion enclosures, support VJBOD (Virtual JBOD) to expand the storage of other QNAP NAS, and feature Container Station for developing containerized applications, IoT and microservices.