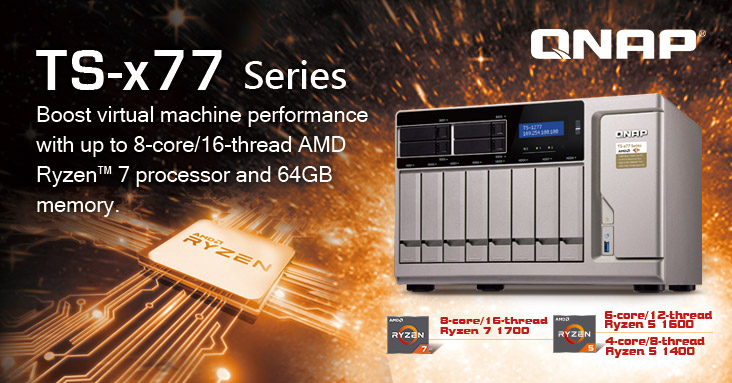 The new TS-x77 series leverages the incredible power of Ryzen, featuring processors with up to 8-cores/16-threads with Turbo Core up to 3.7 GHz to greatly boost virtualization performance. The TS-x77 is designed as a high-performance, highly-capable tiered storage geared for I/O intensive and virtualization applications, and also supports AMD Radeon™ and NVIDIA® graphics cards to satisfy resource-demanding video editing and playback.
The TS-x77 series will be available in 6, 8, and 12-bay models with AMD Ryzen 7 (8-cores/16-threads) and AMD Ryzen 5 (6-cores/12-threads and 4-core/8-thread) processors that support AES-NI encryption acceleration and up to 64GB DDR4 RAM. Every model in the series provides three PCIe Gen.3 slots for incredible expansion potential for supporting 10GbE/40GbE NICs, PCIe NVMe SSD, graphics cards, and USB 3.1 expansion cards. Two M.2 SATA 6 GB/s SSD slots are provided for cache acceleration or high-performance storage pools. Incorporating incredible performance, scalability and reliability, the TS-x77 series provides an exceptional business-ready storage solution for running a wide range of business tasks (including cross-platform file sharing, backup, disaster recovery, and iSCSI & virtualization tasks) without breaking a sweat.
The TS-x77 series features an excellent combination of hardware and software that delivers high expandability, high reliability, and all the tools necessary to satisfy IOPS-demanding workloads and multitasking. Download the TS-x77 datasheet for more information.