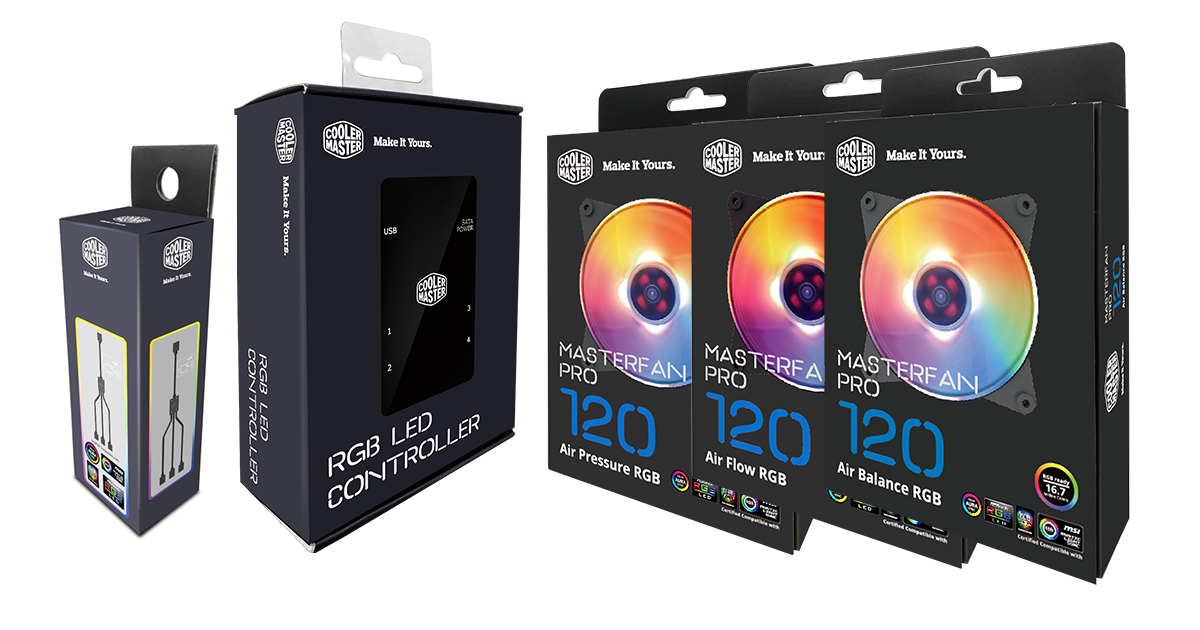 MasterFan Pro RGB Series – Comes with 3 different blade designs providing specific air cooling solution
RGB LED Controller – Each port can be expanded using splitter cable to equip with more RGB fans or LED strips
RGB Splitter Cable – Connects 3 RGB fans or LED strips via daisy-chain
SINGAPORE – Cooler Master, a leader in design and manufacturing computer components and peripherals, has today launched its completed series of MasterFan Pro RGB along with the RGB LED Controller and RGB Splitter Cable. Together with Cooler Master Software control, this marks a new thermal solution from Cooler Master.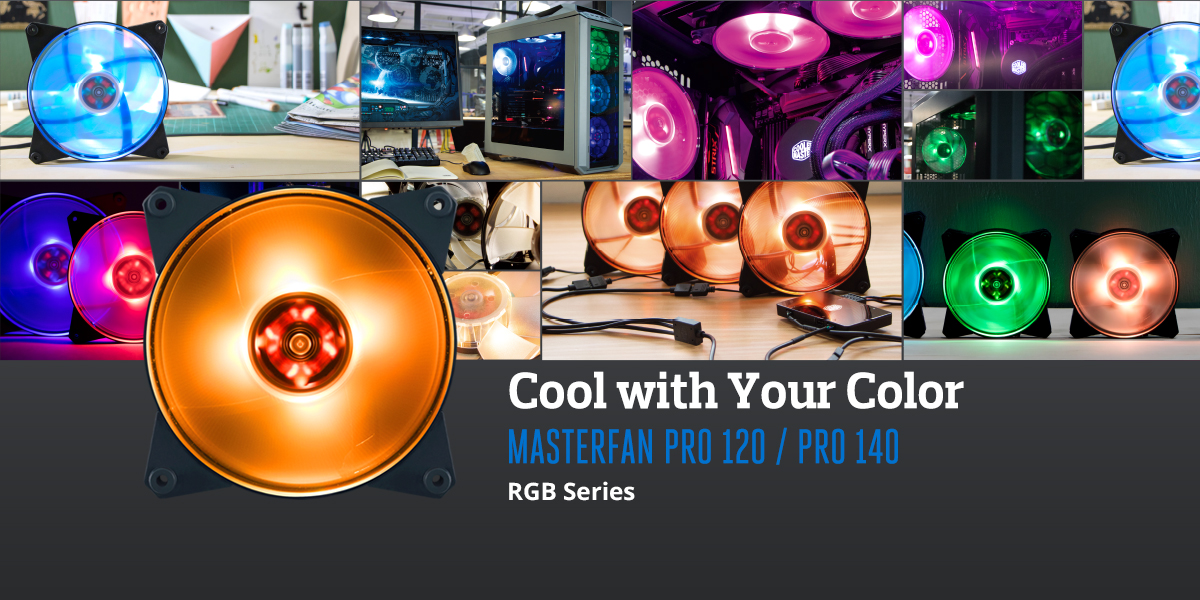 MasterFan Pro RGB Series – Certified Compatible, Various Blade Design and Size
At this year's CES, Cooler Master launched its very first RGB fan, the MasterFan Pro 120 Air Balance RGB. The high performance fan was designed to sync its lighting with any RGB capable motherboards. It was tested and certified compatible with top name motherboards in the market such as ASUS Aura Sync, ASRock RGB LED, GIGABYTE RGB Fusion and MSI Mystic Light. The case fan was very well-received.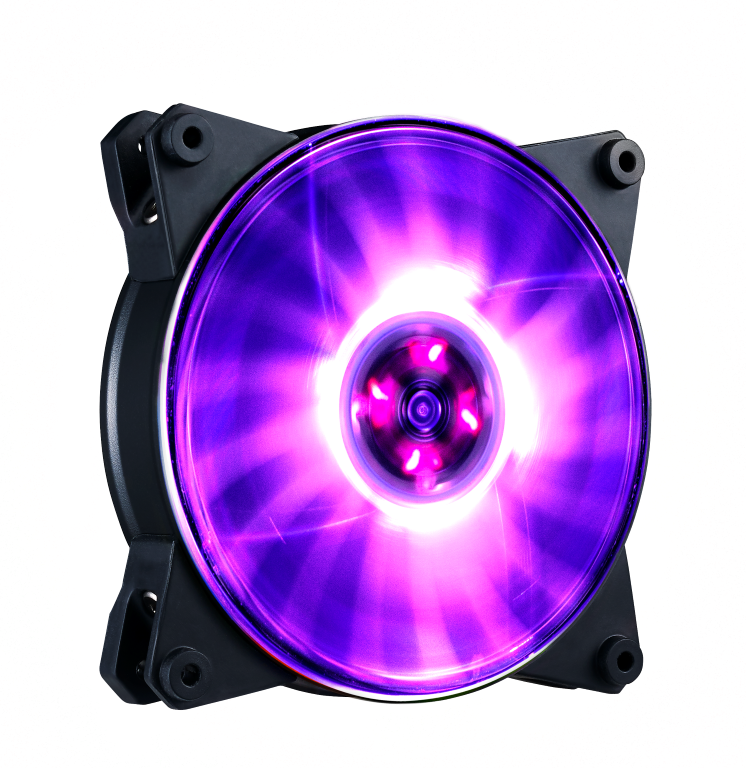 Now the same top grade RGB fans have not only been released in variant blade designs, Air Pressure and Air Flow, but in 2 different sizes, 120mm and 140 mm also. Each of Cooler Master's fan blade design provides a specific air cooling solution for CPU cooler and chassis. The Air Flow blades quickly exhaust large volume of air out of chassis, while Air Pressure blades generate powerful static pressure for funneling concentrated air through tight space. And the Air Balance is the ideal mix of the two. They are all equipped with multiple noise reduction technologies. Alone, they excel at their targeted functions. Put together, they are a completed cooling solution for your entire case.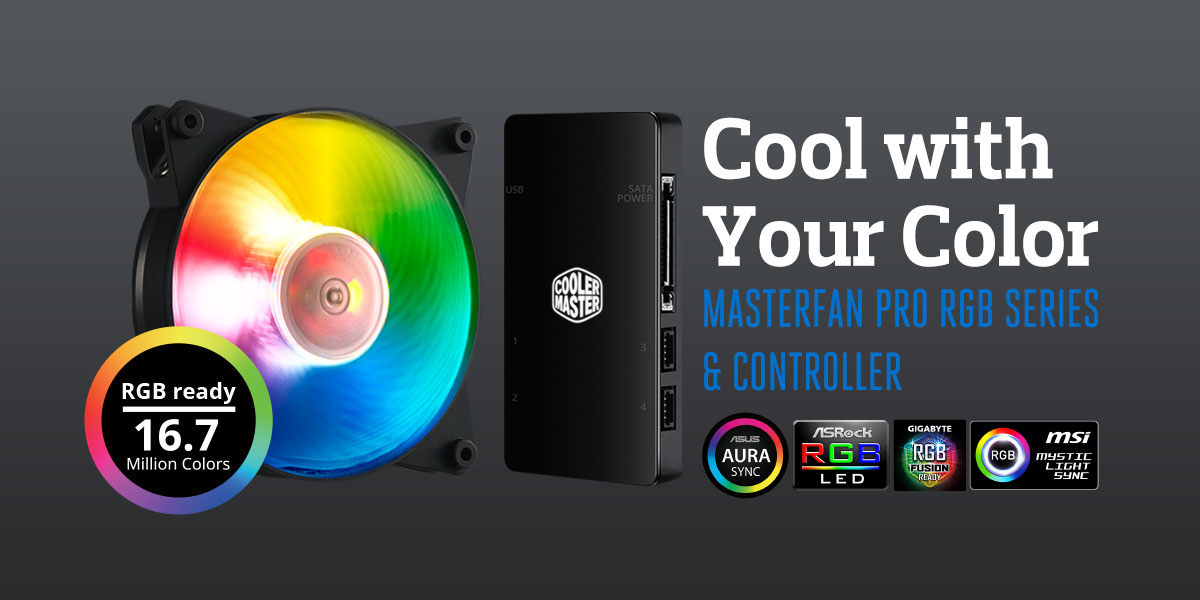 RGB LED Controller – From Presets to Full Customization
It is also an opportunity for customers who do not possess an RGB capable motherboard because Cooler Master has together released the dedicated RGB LED Controller. With its built-in magnet, this compact controller can be conveniently attached inside any PC chassis. The intuitive software control that comes together allows its user to freely choose from presets to full customization of their lighting effects.
Cooler Master believes that PC users shouldn't be limited to just preset modes. So when it comes to software control, Cooler Master will allow their users to take advantage of access to light frequency settings which let them create and set their own level of illumination. The software can be installed and upgraded by downloading directly from the product page. The combo sets of three MasterFan Pro RGB fans that comes with the RGB LED Controller is also available for purchase.

RGB Splitter Cable – Extend RGB Fans and RGB Strips
The 1-to-3 RGB Splitter Cable allows users to extend multiple RGB LED fans and strips to build up aesthetically beautiful lighting systems. It is both capable of connecting with standard 4-pin RGB header and 5-pin RGBW header without an adapter. Also with the length of 58 cm and very flexible material, you can get the lighting that you want with none of the hassle. It is certified compatible with ASUS, ASrock, GIGABYTE and MSI RGB capable motherboards.
Pricing & Availability
The following MasterFan Pro RGB Series, RGB LED Controller & RGB Splitter Cable are now available for purchase in Singapore.
Single Pack                
MasterFan Pro 120 Air Balance RGB : SGD 35
MasterFan Pro 120 Air Flow RGB : SGD 35
MasterFan Pro 120 Air Pressure RGB : SGD 35
MasterFan Pro 140 Air Flow RGB : SGD 38
MasterFan Pro 140 Air Pressure RGB : SGD 38
3-in1 Pack
MasterFan Pro 120 Air Balance RGB 3 in 1 with RGB LED Controller : SGD 119
MasterFan Pro 120 Air Flow RGB 3 in 1 with RGB LED Controller : TBA
MasterFan Pro 120 Air Pressure RGB 3 in 1 with RGB LED Controller : TBA
MasterFan Pro 140 Air Balance RGB 3 in 1 with RGB LED Controller : TBA
MasterFan Pro 140 Air Pressure RGB 3 in 1 with RGB LED Controller : TBA
Accessories
RGB LED Controller : SGD 59
RGB Splitter Cable : SGD 10