The Zotac GTX 1070 Mini Powered by Pascal GP104 chipset and is a Nvidia graphics series that actually was released to replace the GeForce GTX 970. Custom PCB design and fitted with Zotac latest IceStorm & Freeze Tech cooling system – dual 9cm fans. The copper base heatpipe direct touch on the GPU core. You will spot one 8-pin power connector and at the backside you'll find a sturdy metal backplate.
Nvidia GeForce GTX 1070 Architecture
The Nvidia GTX 1070 based on GP104 chipset can be found on GTX 1080, but with 1 of the 4 Graphics Processing Clusters (GPCs) disabled, the video memory controllers and ROP remain. With the new architecture GP104 – GTX 1070 fully replace the predecessor GTX970.
| | | |
| --- | --- | --- |
| Model: | GTX 1070 | GTX 970 |
| GPU Chipet | GP104 | GM204 |
| Codename | Pascal | Maxwell |
| Process | 16nm | 28nm |
| CUDA CORES | 1920 | 1664 |
| TEXTURE UNITS | 120 | 109 |
| ROPS | 64 | 56 |
| CORE CLOCK | 1506MHZ | 1050MHZ |
| BOOST CLOCK | 1683MHZ | 1178MHZ |
| MEMORY BUS WIDTH | 256-BIT | 224-BIT l 32-BIT |
| MEMORY SPEED | 8GHZ | 7GHZ |
| MEMORY BANDWIDTH | 256GB/S | 196GB/S  l 28GB/S |
| MEMORY SIZE | 8GB GDDR5 | 3.5GB l 0.5GB GDDR5 |
| TDP | 150W | 145W |
The memory for GTX 1070 doesn't get GDDR5X, instead the card gets 8GB of GDDR5 running at 8Gbps. This delivers a total memory bandwidth of 256GB/sec. The GTX 1070 is rated for a 150W TDP increase 5W over its predecessor.
Nvidia GeForce GTX 1070 GPU Boost 3.0
Pascal also upgraded a new version of GPU Boost 3.0. The Nvidia GPU Boost 3.0 adjust the clockspeed for all voltage points  at the same time. It limits the highest stable overclock to the lowest point on the voltage/frequency curve. Each point on the curve can be adjusted individually. This means the weakest points can be overclocked to a lower degree while the strongest points can be more significantly higher clock speed. However, if your cooling system is good and you can maintain at the high point of the clock speed while playing high demand game. It's same as temperature protection on the hardware when the core temperature reach the chipset recommendation limit and the GPU will automatically lower down the clock speed and voltage to prevent damage.
Let's unbox this card.
The Zotac GTX1070 Mini has default clock frequencies of 1708 MHz (boost) / 1518 MHz (base) with a reference clocked 8192 MB GDDR5 / 8008 MHz effective data-rate on the memory. We test the graphics card at its default out of the box and thus software settings.
In the box you'll find:
– A User Guide and Quick Installation Guide
– Driver DVD
– 2x 4-Molex to 8-pin Power Adapter
A closer look at Zotac GTX 1070 MINI
Zotac has created IceStorm cooler for the Geforce 100 series. We were impressed with the cooling performance and the build quality. The next image shows the back plate.
Zotac uses two 9cm fans cooler for IceStorm & Freeze Tech, the large dark grey parts made of metal. On the back, you find a sturdy metal backplate. Dimensions of the card are 210mm x 122 mm.
ZOTAC has always impress us with their IceStorm cooling technology and the cooler that keeps the temperature low.
The card has a 150 Watt rated TDP, 75 Watts is delivered though the PCIe slot and another 75 Watts through the single 8-pin PEG (PCI Express graphics) power connector.
Display connectivity options include a DVI port, an HDMI port, and three DisplayPorts.
Zotac's Freeze Tech technology stops the fans in low-load situations such as web browsing or light gaming to remain fully silent.
Pictured below are the front and back, showing the disassembled board.
Let's move on to take a closer look at the components on the PCB which are hiding under the cooler. On the left, we have the I/O backpanel containing the five digital video outputs, followed by the graphics processor at the middle surrounded by eight pieces of GDDR5 memory chips. The left side of the PCB sports a number of voltage regulation components (MOSFETs) and controllers. The pcb circuit design look alike ASUS GTX760 Direct Cu Mini. However, this graphics card is design for small form factor casing.
At the back of the PCB doesn't have any video memory chip but fill with components.
Let us list down the components.
| | | |
| --- | --- | --- |
| Components | Brand | Model |
| 8 x 1GB DDR5 Video Memory | Micron | 60A47 |
| 5x Mosfet – MultiPhase | UBIQ | M3816N |
| PWM controller IC | uPI | uP95110 |
| DC input/output current buck controller | uPI | uP1735P |
| Mosfet switches IC | uPI | uP19625 |
| Polymer capacitors | Fujitsu | 2.5v, 1200uf |
| Polymer capacitors | Fujitsu | 2v, 330uF |
| Polymer capacitors | Fujitsu | 6.3v, 560uF |
| Choke | Unknown | Custom AIO R22 |
The heat sink has three copper heat pipe connected to a large area of copper based, through two Apistek 9cm fans to blow away the heat. The Freeze Tech control fan speed to stop by the BIOS setting to achieve the graphics card fan at low load to be stopped, the GTX 1070 graphics card can achieve zero noise at low load.
The ZOTAC GTX 1070 Mini comes with a full coverage resign sturdy backplate.
Specifications
Zotac GeForce GTX 1070 Mini
Graphics Core
GP106
Process Node
16nm FinFET
CUDA Cores
1920 CUDA Cores
Base Clock
1518 MHz
Boost Clock
1708 MHz
VRAM
8 GB GDDR5
Bus Interface
256-bit bus
Power Connector
Single 8-Pin Power
TDP
150W
Display Outputs
3x Display Port 1.4
1x HDMI 2.0
1x DVI
GPUZ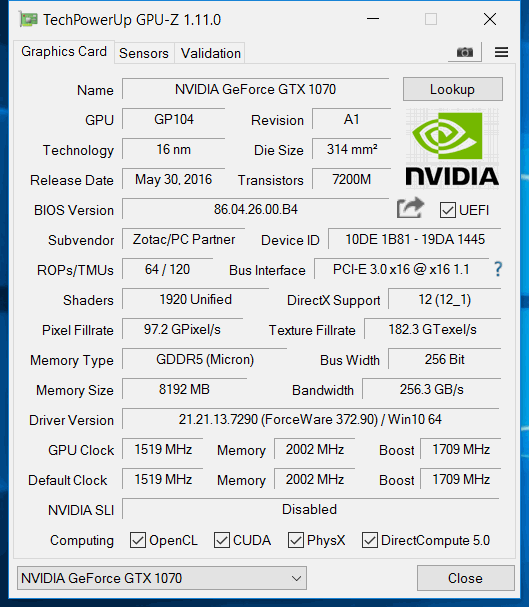 System Configure
Processor
Intel Xeon E5-2683 v4 -16 Cores/ 32Threads
Ram
Crucial 16GB Kit (8GBx2) DDR4 2133 ECC
Motherboard
AsRock X99 Extreme 6 Bios 3.20
Power Supply
Power PC & Cooling 850W Gold
OS
Windows 10 Professional Build 14926
Driver
372.90
Benchmark
3DMark
3DMark includes everything you need to benchmark your hardware in one software.
Ashes of the Singularity
Ashes of the Singularity takes place in a post-technological singularity universe in which humans have begun to colonize the stars.
Valley Benchmark
Valley Benchmark is a new GPU stress-testing tool from the developers of the very popular and highly acclaimed Heaven Benchmark.
Heaven Benchmark
Intensive benchmark that hammers graphics cards to the limits. This powerful tool can be effectively used to determine the stability of a GPU under extremely stressful conditions, as well as check the cooling system's potential under maximum heat output.
Zotac – FireStorm overclocking utility
FireStorm includes GPU monitoring capabilities to let users keep an eye on GPU temperatures and fan speed of their ZOTAC GeForce series graphics card. Advanced users can monitor the GPU load, voltages and available GPU memory of their ZOTAC GeForce series graphics card with FireStorm as well.
Heaven Benchmark – Overclocking
We manage hit the sweet spot of 1.9Ghz on Boost clock at 15% increase voltage on gpu and we didn't want to push the memory clock speed any higher than 100mhz. We just want to focus on GPU clock speed.